John Deere wires and wiring harnesses
Modern John Deere Construction equipment, is saturated with a large number of electronics, ranging from the illumination of devices and ending with electronic equipment. For the functioning of the entire John Deere Construction electrical system, as for any electrical system need wires.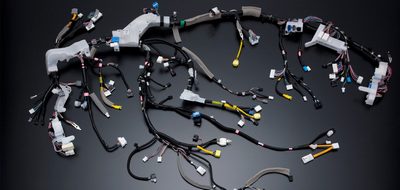 John Deere Construction wiring comes in 2 types: high and low voltage. The first option is used in the ignition circuit, the second - to connect elements of the onboard John Deere Construction electric system. Each wire is a collection of thin copper wires. Insulation is performed by winding John Deere Construction wires.
The selection of such materials is dictated by the main requirements imposed on wires and John Deere Construction wiring harnesses. Among them are: the flexibility of the wires, good conductive properties, resistance of the insulating material, both to high and to too low temperature conditions, non-propagation of the insulation of the combustion process, resistance to aggressive media such as gasoline or oil.
John Deere Construction wiring is a collection of wires that are bundled together. In this case, the most optimal for use in such harnesses are considered to be wires with a length of at least 100mm. The harnesses also include tips, braid, caps that perform a protective function and are made, as a rule, of rubber. Since the wires are exposed to heat, this fact must be taken into account when choosing the size of the cross-section of the wires to be bundled. This is also influenced by the design features of the harness itself, the number of wires of which it consists and the strength indicators necessary for the installation and operation of wires. In the John Deere Construction wiring, mainly wires with a cross section are used, the indicators of which are in the range of 0.5-95 mm, and the data on the insulation, respectively, are 0.35-1.6 mm. Depending on the color of the wires, there are several types of labeling. This helps to simplify their installation and helps to simplify the search in case of breakage. The color of the wires can be either completely single-colored (consists of 11 colors), or, in addition to the main color, contain stripes or rings that are colored differently.
In order to reduce radio interference, a braid of wires made of shielding material can be used, and to resist all sorts of mechanical effects that can damage wires, it is possible to use armored insulation.
The main requirements for these John Deere Construction wires harnesses - resistance to high temperatures, oils, interference, no leakage current.
| | |
| --- | --- |
| MT1725 - Wire MT1725 | FF513334 - Wire |
| MT1726 - Wire MT1726 | FYA00014545 - Wire |
| MT1727 - Wire MT1727 | F016423 - Wire |
| MT1728 - Wire MT1728 | F017294 - Wire |
| TCA19333 - Wire TCA19333 | F020114 - Wire |
| LVA10095 - Wire LVA10095 | F026199 - Wire Twister |
| LVU801214 - Wire LVU801214 | F028217 - Wire |
| AM127181 - Wire AM127181 | F030472 - Wire |
| AM127576 - Wire AM127576 | F040838 - Wire |
| AM127586 - Wire AM127586 | F042548 - Wire |
| AM130389 - Wire AM130389 | F044397 - Wire |
| AM200122 - Wire AM200122 | F049361 - Wire Twister |
| AM31929 - Wire AM31929 | F050979 - Wire |
| LG496868 - Wire LG496868 | F051525 - Wire |
| LG691402 - Wire LG691402 | F051526 - Wire |
| LG692037 - Wire LG692037 | F052751 - Wire |
| M113577 - Wire M113577 | F055862 - Wire |
| M113605 - Wire M113605 | F059547 - Wire Twister |
| M118670 - Wire M118670 | F061728 - Wire |
| M123974 - Wire M123974 | F064465 - Wire |
| M128275 - Wire M128275 | F064470 - Wire |
| M134104 - Wire M134104 | F064474 - Wire |
| M138444 - Wire M138444 | F064498 - Wire |
| M140251 - Wire M140251 | F064499 - Wire |
| M143372 - Wire M143372 | F069296 - Wire Twister |
| M143637 - Wire M143637 | F071578 - Wire |
| M147563 - Wire M147563 | F076455 - Wire |
| M148869 - Wire M148869 | F076823 - Wire |
| M148871 - Wire M148871 | F076824 - Wire |
| M155543 - Wire M155543 | F279174 - Wire |
| M155544 - Wire M155544 | F281863 - Wire |
| M159011 - Wire M159011 | F281864 - Wire |
| M159012 - Wire M159012 | F286160 - Wire |
| M40693 - Wire M40693 | F288271 - Wire |
| M70032 - Wire M70032 | F297333 - Wire |
| M70033 - Wire M70033 | F387806 - Wire |
| M70115 - Wire M70115 | F387811 - Wire |
| M70132 - Wire M70132 | F613300 - Wire |
| M70220 - Wire M70220 | F618982 - Wire |
| M71935 - Wire M71935 | F619213 - Wire |
| M72322 - Wire M72322 | F620744 - Wire |
| M74250 - Wire M74250 | F621476 - Wire |
| M74265 - Wire M74265 | F624508 - Wire |
| M74268 - Wire M74268 | F625623 - Wire |
| M74273 - Wire M74273 | F628356 - Wire |
| M74274 - Wire M74274 | HF235742712 - Wire |
| M77851 - Wire M77851 | HF235742720 - Wire |
| M77852 - Wire M77852 | HF235742721 - Wire |
| M77856 - Wire M77856 | HMFW00307100 - Wire |
| M77857 - Wire M77857 | H3773000421 - Wire |
| M78725 - Wire M78725 | H3773000422 - Wire |
| M79481 - Wire M79481 | KV26695 - Wire |
| M803300 - Wire M803300 | LVU13669 - Wire |
| M803302 - Wire M803302 | LVU14351 - Wire |
| M803343 - Wire M803343 | LVU14352 - Wire |
| M803795 - Wire M803795 | L207374 - Wire |
| M804285 - Wire M804285 | MIU13379 - Wire |
| M805361 - Wire M805361 | MIU13477 - Wire |
| M806489 - Wire M806489 | M166935 - Wire |
| M92717 - Wire M92717 | M70044 - Wire |
| M92721 - Wire M92721 | M70134 - Wire |
| M94587 - Wire M94587 | M74294 - Wire |
| M95930 - Wire M95930 | PA10164 - Wire |
| MIA10780 - Wire MIA10780 | PE60121011 - Wire |
| MIU11331 - Wire MIU11331 | PM01301 - Wire |
| MIU12335 - Wire MIU12335 | PM50100 - Wire |
| MIU12535 - Wire MIU12535 | PM50101 - Wire |
| MIU12868 - Wire MIU12868 | PM50102 - Wire |
| AM141614 - Wire AM141614 | PM50106 - Wire |
| GXH11485 - Wire GXH11485 | PM50120 - Wire |
| MG619788 - Wire MG619788 | PM50121 - Wire |
| MG86502498 - Wire MG86502498 | PM50122 - Wire |
| MG86594208 - Wire MG86594208 | PM50126 - Wire |
| MG9806506 - Wire MG9806506 | PM50140 - Wire |
| MIA11722 - Wire MIA11722 | PM50141 - Wire |
| MIA11723 - Wire MIA11723 | PM50142 - Wire |
| MIA11724 - Wire MIA11724 | PM50146 - Wire |
| MIU13568 - Wire MIU13568 | PT11190 - Wire |
| M162838 - Wire M162838 | PT12666 - Wire |
| M163977 - Wire M163977 | PT12957 - Wire |
| AA35874 - Wire AA35874 | PT15475 - Wire |
| AA40321 - Wire AA40321 | PT16224 - Wire |
| AA4882R - Wire AA4882R | PT16276 - Wire |
| AA54879 - Wire AA54879 | P66225 - Wire |
| AA69738 - Wire AA69738 | SAU11670 - Wire |
| AH167538 - Wire AH167538 | SAU11811 - Wire |
| H152089 - Wire H152089 | SAU11866 - Wire |
| H169902 - Wire H169902 | SAU12000 - Wire |
| H169905 - Wire H169905 | SAU12589 - Wire |
| RE15058 - Wire RE15058 | SAU12987 - Wire |
| RE39033 - Wire RE39033 | SJ315782 - Wire |
| RE42401 - Wire RE42401 | SJ315863 - Wire |
| RE520227 - Wire RE520227 | SJ318039 - Wire |
| RE56723 - Wire RE56723 | SJ321191 - Wire |
| R32006 - Wire R32006 | SJ328876 - Wire |
| R77498 - Wire R77498 | SU321712 - Wire |
| R83562 - Wire R83562 | SU328854 - Wire |
| L35778 - Wire L35778 | SW08357 - Wire Twister |
| L39178 - Wire L39178 | TCA16298 - Wire |
| L63453 - Wire L63453 | TCU19059 - Wire |
| AE30663 - Wire AE30663 | TH4423475 - Wire |
| AR48647 - Wire AR48647 | TY16061 - Wire |
| AR87914 - Wire AR87914 | TY16062 - Wire |
| AR95434 - Wire AR95434 | TY16063 - Wire |
| AT130715 - Wire Rope AT130715 | TY16064 - Wire |
| AT211825 - Wire AT211825 | TY16065 - Wire |
| AT222476 - Wire AT222476 | TY16066 - Wire |
| A55085 - Wire A55085 | TY16067 - Wire |
| BA31326 - BRACKET, WIRE HARNESS GUIDE BA31326 | TY16068 - Wire |
| BH84227 - LARGE WIRE CONCAVE BH84227 | TY16069 - Wire |
| BH84229 - NARROW SPACE SMALL WIRE CON BH84229 | TY16070 - Wire |
| BH84285 - SML WIRE EXTNDD WEAR CONCAV BH84285 | TY16071 - Wire |
| BH84286 - LRG WIRE EXTNDD WEAR CONCAV BH84286 | TY16072 - Wire |
| BH84290 - CONCAVE LARGE WIRE BH84290 | TY16073 - Wire |
| B32208 - Wire B32208 | TY16074 - Wire |
| BXE10064 - FD WIRE HARNESS ADAPTOR BXE10064 | TY16075 - Wire |
| E14298 - Wire E14298 | TY16076 - Wire |
| E14301 - Wire E14301 | TY16077 - Wire |
| E60780 - Wire E60780 | TY16078 - Wire |
| E63158 - Wire E63158 | TY16079 - Wire |
| E70966 - Wire E70966 | TY16080 - Wire |
| H35A6109900 - Wire H35A6109900 | TY16081 - Wire |
| H3723200423 - Wire H3723200423 | TY16082 - Wire |
| H3753003400 - Wire H3753003400 | TY16083 - Wire |
| H3753003500 - Wire H3753003500 | TY16084 - Wire |
| H3753020700 - Wire H3753020700 | TY16085 - Wire |
| H3753020800 - Wire H3753020800 | TY16086 - Wire |
| H4820205800 - Wire H4820205800 | TY16087 - Wire |
| H81316 - Wire H81316 | TY16088 - Wire |
| PE62116622 - Wire PE62116622 | TY16089 - Wire |
| PE78121028 - Wire PE78121028 | TY16090 - Wire |
| PE78121032 - Wire PE78121032 | TY16091 - Wire |
| A-DCW1 - Wire | TY16092 - Wire |
| A-01138 - Wire | TY16093 - Wire |
| A-03431 - Wire | TY16094 - Wire |
| A-1000100 - Wire | TY25927 - Wire |
| A-1000102 - Wire | T256076 - Wire Twister |
| A-1000103 - Wire | T305279 - Wire |
| A-1000104 - Wire | T31558 - Wire |
| A-1000108 - Wire | UP07374 - Wire |
| A-1000111 - Wire | UP07375 - Wire |
| A-1000113 - Wire | WZ2606410 - Wire |
| A-1000114 - Wire | W40557 - Wire |
| A-1000115 - Wire | YC10876 - Wire |
| A-1000116 - Wire | YC13057 - Wire |
| A-1000892 - Wire | YC17484 - Wire |
| A-1002190 - Wire | YC18069 - Wire |
| A-1002207 - Wire | YC18070 - Wire |
| A-1002254 - Wire | YZP997366 - Wire |
| A-1002695 - Wire | YZ100837 - Wire |
| A-1003808 - Wire | YZ102005 - Wire |
| A-1700005 - Wire | YZ4023931 - Wire |
| A-1700006 - Wire | Z101468 - Wire |
| A-1700071 - Wire | Z102088 - Wire |
| A-1700451 - Wire | Z20064 - Wire |
| A-1700462 - Wire | Z25894 - Wire |
| A-1701359 - Wire | Z41246 - Wire |
| A-1701360 - Wire | Z41567 - Wire |
| A-1701361 - Wire | Z66386 - Wire |
| A-1701362 - Wire | 268108 - Wire |
| A-1701364 - Wire | 360175926 - Wire |
| A-1701398 - Wire | 360214050 - Wire |
| A-1701399 - Wire | 360296815 - Wire |
| A-1701400 - Wire | 360298696 - Wire |
| A-1701401 - Wire | 360313321 - Wire |
| A-1701402 - Wire | 360313322 - Wire |
| A-1701491 - Wire | 360313326 - Wire |
| A-1701565 - Wire | 390006554 - Wire |
| A-1701585 - Wire | 397822 - Wire |
| A-26A10 - Wire | 630039047 - Wire |
| A-26A12 - Wire | 658006 - Wire |
| A-26A14 - Wire | 658107 - Wire |
| A-26A16 - Wire | 797047 - Wire |
| A-26A18 - Wire | 830036825 - Wire |
| A-26A410 - Wire | 1190297596 - Wire |
| A-26A412 - Wire | 4041069 - Wire |
| A-26A414 - Wire | 4232654 - Wire |
| A-26A416 - Wire | 4235107 - Wire |
| A-26A418 - Wire | 4281186 - Wire |
| A-712-760 - Wire | 4293439 - Wire |
| A-712-770 - Wire | 4302691 - Wire |
| AT121323 - Wire Rope | 4313740 - Wire |
| AT155018 - Wire | 4325651 - Wire |
| AT158362 - Wire | 4328667 - Wire |
| AT162729 - Wire | 4348661 - Wire |
| AT175927 - Wire | 4349944 - Wire |
| AT175942 - Wire | 4423475 - Wire |
| AT179600 - Wire | 4429270 - Wire |
| AT179601 - Wire | 4456171 - Wire |
| AT179602 - Wire | 4514053 - Wire |
| AT184618 - Wire | 4609421 - Wire |
| AT191008 - Wire | 4623165 - Wire |
| AT205739 - Wire | 4639709 - Wire |
| AT337259 - Wire | 4639710 - Wire |
| AT337324 - Wire | 4665493 - Wire |
| AT341756 - Wire | 4672779 - Wire |
| AT379279 - Wire | 4684665 - Wire |
| AU43775 - Wire | 4711740 - Wire |
| AYC11766 - Wire | 4711741 - Wire |
| AZ33805 - Wire | 5FE8300033 - Wire |
| CB01414601 - Wire | 5HPBFR667 - Wire |
| CB01473993 - Wire | 5HPSWM78 - Wire |
| CB01477373 - Wire | 5HPWM265 - Wire |
| CB01493218 - Wire | 5HPWM266 - Wire |
| CB11408915 - Wire | 5HPWM267 - Wire |
| CB11423789 - Wire | 5HPWM268 - Wire |
| CB11427723 - Wire | 5HPWM358 - Wire |
| CB11438884 - Wire | 5HPWM359 - Wire |
| CB11443664 - Wire | 5NT3659580 - Wire |
| CH10544 - Wire | 5RD4000096 - Wire |
| CH20152 - Wire | 5RD4000098 - Wire |
| CH20157 - Wire | 5RD666054 - Wire |
| CJV10883 - Wire | 5RD666056 - Wire |
| C703500744 - Wire | 5RD667713 - Wire |
| ER207810 - Wire | 700604600 - Wire |
| ER359028 - Wire | 811054700 - Wire |
| ER370597 - Wire | 825083900 - Wire |
| ER372036 - Wire | 825084000 - Wire |
| ER372756 - Wire | 825252100 - Wire |
| ER372757 - Wire | 843101700 - Wire |
| ER372758 - Wire | 9813254460 - Wire |
| ER393949 - Wire | |