John Deere Construction Hydraulic Pumps
The John Deere Construction hydraulic system works as follows: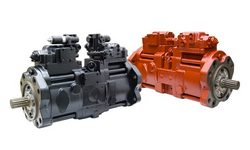 The diesel engine rotates the shaft of the John Deere Construction hydraulic pump, which converts mechanical energy into energy hydraulic.
The hydraulic fluid is piped into the John Deere Construction hydraulic pump and the John Deere Construction hydraulic cylinders through the John Deere Construction control valve system and converted there into mechanical energy of rotation or reciprocating motion.
After performing the work, the hydraulic fluid returns to the hydraulic oil tank and enters the John Deere Construction hydraulic pump. The cycle of work is repeated.
Exist two types of heavy equipment Hydraulic systems:
A volumetric hydraulic system for its operation uses hydraulic motors and hydraulic pumps operating under high pressure up to 350 MPa. This system uses the principle of alternately filling the working chambers of the pump and the hydraulic motor with a hydraulic fluid and displacing it from there under high pressure. The speed of movement of the working fluid in such a system is small. The main factor of the system is pressure. The volumetric hydraulic drive in physical dimensions is more compact and has received wider application than hydrodynamic.
If you are looking for the original John Deere Construction hydraulic pump or the replacement or aftermarket John Deere Construction hydraulic pump, you can buy them from us online
| | |
| --- | --- |
| MG858002 - Hydraulic Pump MG858002 | CB11423082 - Hydraulic Pump |
| AMT1551 - Hydraulic Pump AMT1551 | CB11424327 - Hydraulic Pump |
| AMT1951 - Hydraulic Pump AMT1951 | CB11427130 - Hydraulic Pump |
| AMT2343 - Hydraulic Pump AMT2343 | CB11427231 - Hydraulic Pump |
| AMT2613 - Hydraulic Pump AMT2613 | CB11432249 - Hydraulic Pump |
| AMT920 - Hydraulic Pump AMT920 | CB11437143 - Hydraulic Pump |
| LVA10328 - Hydraulic Pump LVA10328 | CB11437148 - Hydraulic Pump |
| LVA10329 - Hydraulic Pump LVA10329 | CB11447159 - Hydraulic Pump |
| LVA10330 - Hydraulic Pump LVA10330 | CB11451507 - Hydraulic Pump |
| LVA10331 - Hydraulic Pump LVA10331 | CB11451991 - Hydraulic Pump |
| LVA10915 - Hydraulic Pump LVA10915 | CB11456864 - Hydraulic Pump |
| LVA11451 - Hydraulic Pump LVA11451 | CB11462363 - Hydraulic Pump |
| LVA11452 - Hydraulic Pump LVA11452 | CB11462593 - Hydraulic Pump |
| LVA11453 - Hydraulic Pump LVA11453 | CB11462595 - Hydraulic Pump |
| LVA12934 - Hydraulic Pump LVA12934 | CB11462853 - Hydraulic Pump |
| LVA15347 - Hydraulic Pump LVA15347 | CB11463677 - Hydraulic Pump |
| LVA15511 - Hydraulic Pump LVA15511 | CB11464791 - Hydraulic Pump |
| LVA802861 - Hydraulic Pump LVA802861 | CB11464792 - Hydraulic Pump |
| AET11053 - Hydraulic Pump AET11053 | CB11481580 - Hydraulic Pump |
| AET11054 - Hydraulic Pump AET11054 | CB11481581 - Hydraulic Pump |
| LVA16388 - Hydraulic Pump LVA16388 | CB11481582 - Hydraulic Pump |
| LVA10915CC1 - Hydraulic Pump LVA10915 Out of package | CB11484118 - Hydraulic Pump |
| AM105016 - Hydraulic Pump AM105016 | CB11484273 - Hydraulic Pump |
| AM122948 - Hydraulic Pump AM122948 | CB11487507 - Hydraulic Pump |
| AM131584 - Hydraulic Pump AM131584 | CB11487508 - Hydraulic Pump |
| AM131892 - Hydraulic Pump AM131892 | CB11487656 - Hydraulic Pump |
| AM136028 - Hydraulic Pump AM136028 | CB11487658 - Hydraulic Pump |
| AM875160 - Hydraulic Pump AM875160 | CB11487661 - Hydraulic Pump |
| AM876750 - Hydraulic Pump AM876750 | CB11487721 - Hydraulic Pump |
| AM876753 - Hydraulic Pump AM876753 | CB11487722 - Hydraulic Pump |
| AM877525 - Hydraulic Pump AM877525 | CB11487723 - Hydraulic Pump |
| AM880199 - Hydraulic Pump AM880199 | CB11489484 - Hydraulic Pump |
| AM880753 - Hydraulic Pump AM880753 | CB11489486 - Hydraulic Pump |
| MIA880655 - Hydraulic Pump MIA880655 | CB11516168 - Hydraulic Pump |
| MIU800689 - Hydraulic Pump MIU800689 | CH13990 - Hydraulic Pump |
| MG9806488 - Hydraulic Pump MG9806488 | CH15096 - Hydraulic Pump |
| AH118324 - Hydraulic Pump AH118324 | CXM103668 - Hydraulic Pump |
| AH118325 - Hydraulic Pump AH118325 | CXM103670 - Hydraulic Pump |
| AH118326 - Hydraulic Pump AH118326 | CXM30102 - Hydraulic Pump |
| AH118327 - Hydraulic Pump AH118327 | CXM30103 - Hydraulic Pump |
| AH121099 - Hydraulic Pump AH121099 | CXM30717 - Hydraulic Pump |
| AH128573 - Hydraulic Pump AH128573 | DC208887 - Hydraulic Pump |
| AH131175 - Hydraulic Pump AH131175 | DC31579 - Hydraulic Pump |
| AH131178 - Hydraulic Pump AH131178 | DMA210760 - Hydraulic Pump |
| AH131182 - Hydraulic Pump AH131182 | DMA210977 - Hydraulic Pump |
| AH131183 - Hydraulic Pump AH131183 | DP41453 - Hydraulic Pump |
| AH133698 - Hydraulic Pump AH133698 | EPC205085 - Hydraulic Pump |
| AH160785 - Hydraulic Pump Reman AH160785 | ER196150 - Hydraulic Pump |
| AH161647 - Hydraulic Pump AH161647 | ER196381 - Hydraulic Pump |
| AH163144 - Hydraulic Pump AH163144 | ER196639 - Hydraulic Pump |
| AH165115 - Hydraulic Pump AH165115 | FG0039286 - Hydraulic Pump |
| AH165120 - Hydraulic Pump AH165120 | FG2030136 - Hydraulic Pump |
| AH170342 - Hydraulic Pump AH170342 | FG2030149 - Hydraulic Pump |
| AH201881 - Hydraulic Pump AH201881 | FG2030165 - Hydraulic Pump |
| AH212539 - Hydraulic Pump AH212539 | FG2030237 - Hydraulic Pump |
| AH212540 - Hydraulic Pump AH212540 | FG2030330 - Hydraulic Pump |
| AH214329 - Hydraulic Pump AH214329 | FG2030332 - Hydraulic Pump |
| AH214330 - Hydraulic Pump AH214330 | FG2030336 - Hydraulic Pump |
| AH214331 - Hydraulic Pump AH214331 | FG2030339 - Hydraulic Pump |
| AH225944 - Hydraulic Pump AH225944 | FG2030345 - Hydraulic Pump |
| AH226238 - Hydraulic Pump AH226238 | FG2030349 - Hydraulic Pump |
| AH227021 - Hydraulic Pump AH227021 | FG2030385 - Hydraulic Pump |
| AH227024 - Hydraulic Pump AH227024 | FG2030395 - Hydraulic Pump |
| AH227027 - Hydraulic Pump AH227027 | FG2030410 - Hydraulic Pump |
| AH227028 - Hydraulic Pump AH227028 | FG2030416 - Hydraulic Pump |
| AH227029 - Hydraulic Pump AH227029 | FYA00003065 - Hydraulic Pump |
| AH227030 - Hydraulic Pump AH227030 | FYA00003077 - Hydraulic Pump |
| AH227031 - Hydraulic Pump AH227031 | FYA00003078 - Hydraulic Pump |
| AH227548 - Hydraulic Pump AH227548 | FYA00003086 - Hydraulic Pump |
| AH227549 - Hydraulic Pump AH227549 | FYB60000041 - Hydraulic Pump |
| AH227550 - Hydraulic Pump AH227550 | FYB60000111 - Hydraulic Pump |
| AH227551 - Hydraulic Pump AH227551 | FYB60000174 - Hydraulic Pump |
| AH227554 - Hydraulic Pump AH227554 | FYB60000191 - Hydraulic Pump |
| AH227556 - Hydraulic Pump AH227556 | FYB60000230 - Hydraulic Pump |
| AH227557 - Hydraulic Pump AH227557 | FYB60000231 - Hydraulic Pump |
| AH227558 - Hydraulic Pump AH227558 | FYB60000412 - Hydraulic Pump |
| AH227559 - Hydraulic Pump AH227559 | FYB60000413 - Hydraulic Pump |
| AH227561 - Hydraulic Pump AH227561 | FYB60000957 - Hydraulic Pump |
| AH227985 - Hydraulic Pump AH227985 | F005550 - Hydraulic Pump |
| AH228005 - Hydraulic Pump AH228005 | F008308 - Hydraulic Pump |
| AH228006 - Hydraulic Pump AH228006 | F017918 - Hydraulic Pump |
| AH228008 - Hydraulic Pump AH228008 | F017919 - Hydraulic Pump |
| AH229415 - Hydraulic Pump AH229415 | F045578 - Hydraulic Pump |
| AH229416 - Hydraulic Pump AH229416 | F047399 - Hydraulic Pump |
| AH229779 - Hydraulic Pump AH229779 | F050873 - Hydraulic Pump |
| AH230810 - Hydraulic Pump AH230810 | F055206 - Hydraulic Pump |
| AH231025 - Hydraulic Pump AH231025 | F056321 - Hydraulic Pump |
| AH231625 - Hydraulic Pump AH231625 | F056599 - Hydraulic Pump |
| AH233210 - Hydraulic Pump AH233210 | F057740 - Hydraulic Pump |
| AH233212 - Hydraulic Pump AH233212 | F057759 - Hydraulic Pump |
| AH233870 - Hydraulic Pump AH233870 | F058046 - Hydraulic Pump |
| AH234462 - Hydraulic Pump AH234462 | F058246 - Hydraulic Pump |
| AH75514 - Hydraulic Pump AH75514 | F058420 - Hydraulic Pump |
| AH79773 - Hydraulic Pump AH79773 | F058421 - Hydraulic Pump |
| AH89065 - Hydraulic Pump AH89065 | F058422 - Hydraulic Pump |
| AH89359 - Hydraulic Pump AH89359 | F058423 - Hydraulic Pump |
| AH89479 - Hydraulic Pump AH89479 | F058428 - Hydraulic Pump |
| AL161041 - Hydraulic Pump AL161041 | F058429 - Hydraulic Pump |
| AL161043 - Hydraulic Pump AL161043 | F058461 - Hydraulic Pump |
| AL161044 - Hydraulic Pump AL161044 | F058593 - Hydraulic Pump |
| AL163918 - Hydraulic Pump AL163918 | F060455 - Hydraulic Pump |
| AL178213 - Hydraulic Pump AL178213 | F061002 - Hydraulic Pump |
| AL37750 - Hydraulic Pump AL37750 | F061336 - Hydraulic Pump |
| AL37751 - Hydraulic Pump AL37751 | F061339 - Hydraulic Pump |
| AL37752 - Hydraulic Pump AL37752 | F062193 - Hydraulic Pump |
| AL37753 - Hydraulic Pump AL37753 | F062625 - Hydraulic Pump |
| AL75305 - Hydraulic Pump AL75305 | F062637 - Hydraulic Pump |
| H1522005420 - Hydraulic Pump H1522005420 | F062758 - Hydraulic Pump |
| RE11213 - Hydraulic Pump RE11213 | F062759 - Hydraulic Pump |
| RE11716 - Hydraulic Pump RE11716 | F062760 - Hydraulic Pump |
| RE158888 - Hydraulic Pump RE158888 | F062972 - Hydraulic Pump |
| RE16582 - Hydraulic Pump RE16582 | F064223 - Hydraulic Pump |
| RE171587 - Hydraulic Pump RE171587 | F066764 - Hydraulic Pump |
| RE172985 - Hydraulic Pump RE172985 | F069146 - Hydraulic Pump |
| RE174793 - Hydraulic Pump RE174793 | F069894 - Hydraulic Pump |
| RE175609 - Hydraulic Pump RE175609 | F070748 - Hydraulic Pump |
| RE182200 - Hydraulic Pump RE182200 | F070999 - Hydraulic Pump |
| RE190687 - Hydraulic Pump RE190687 | F071584 - Hydraulic Pump |
| RE194267 - Hydraulic Pump RE194267 | F071590 - Hydraulic Pump |
| RE194281 - Hydraulic Pump RE194281 | F071592 - Hydraulic Pump |
| RE194536 - Hydraulic Pump RE194536 | F071594 - Hydraulic Pump |
| RE195820 - Hydraulic Pump RE195820 | F071596 - Hydraulic Pump |
| RE197207 - Hydraulic Pump RE197207 | F072669 - Hydraulic Pump |
| RE197623 - Hydraulic Pump RE197623 | F072737 - Hydraulic Pump |
| RE198342 - Hydraulic Pump RE198342 | F072824 - Hydraulic Pump |
| RE200379 - Hydraulic Pump RE200379 | F072854 - Hydraulic Pump |
| RE203958 - Hydraulic Pump RE203958 | F072855 - Hydraulic Pump |
| RE203959 - Hydraulic Pump RE203959 | F073625 - Hydraulic Pump |
| RE20839 - Hydraulic Pump RE20839 | F073834 - Hydraulic Pump |
| RE208450 - Hydraulic Pump RE208450 | F074557 - Hydraulic Pump |
| RE210000 - Hydraulic Pump RE210000 | F074558 - Hydraulic Pump |
| RE214405 - Hydraulic Pump RE214405 | F074559 - Hydraulic Pump |
| RE223233 - Hydraulic Pump RE223233 | F074560 - Hydraulic Pump |
| RE223967 - Hydraulic Pump RE223967 | F074561 - Hydraulic Pump |
| RE228005 - Hydraulic Pump RE228005 | F074832 - Hydraulic Pump |
| RE228042 - Hydraulic Pump RE228042 | F074859 - Hydraulic Pump |
| RE229648 - Hydraulic Pump RE229648 | F075177 - Hydraulic Pump |
| RE229649 - Hydraulic Pump RE229649 | F075178 - Hydraulic Pump |
| RE235706 - Hydraulic Pump RE235706 | F075240 - Hydraulic Pump |
| RE240475 - Hydraulic Pump RE240475 | F075265 - Hydraulic Pump |
| RE241577 - Hydraulic Pump RE241577 | F075294 - Hydraulic Pump |
| RE241578 - Hydraulic Pump RE241578 | F075627 - Hydraulic Pump |
| RE252181 - Hydraulic Pump RE252181 | F075628 - Hydraulic Pump |
| RE258467 - Hydraulic Pump RE258467 | F076734 - Hydraulic Pump |
| RE264112 - Hydraulic Pump RE264112 | F076735 - Hydraulic Pump |
| RE264113 - Hydraulic Pump RE264113 | F076736 - Hydraulic Pump |
| RE266562 - Hydraulic Pump RE266562 | F076737 - Hydraulic Pump |
| RE267657 - Hydraulic Pump RE267657 | F076738 - Hydraulic Pump |
| RE275747 - Hydraulic Pump RE275747 | F076739 - Hydraulic Pump |
| RE278479 - Hydraulic Pump RE278479 | F076740 - Hydraulic Pump |
| RE279132 - Hydraulic Pump RE279132 | F076741 - Hydraulic Pump |
| RE279133 - Hydraulic Pump RE279133 | F076941 - Hydraulic Pump |
| RE28153 - Hydraulic Pump RE28153 | F123457 - Hydraulic Pump |
| RE288862 - Hydraulic Pump RE288862 | F123495 - Hydraulic Pump |
| RE288863 - Hydraulic Pump RE288863 | F123495RM - Hydraulic Pump Reman |
| RE289097 - Hydraulic Pump RE289097 | F123855 - Hydraulic Pump |
| RE29101 - Hydraulic Pump RE29101 | F125038 - Hydraulic Pump |
| RE29102 - Hydraulic Pump RE29102 | F125307 - Hydraulic Pump |
| RE29103 - Hydraulic Pump RE29103 | F125318 - Hydraulic Pump |
| RE29104 - Hydraulic Pump RE29104 | F125382 - Hydraulic Pump |
| RE29106 - Hydraulic Pump RE29106 | F125383 - Hydraulic Pump |
| RE29107 - Hydraulic Pump RE29107 | F125384 - Hydraulic Pump |
| RE29108 - Hydraulic Pump RE29108 | F125497 - Hydraulic Pump |
| RE29109 - Hydraulic Pump RE29109 | F125498 - Hydraulic Pump |
| RE302758 - Hydraulic Pump RE302758 | F436083 - Hydraulic Pump |
| RE305639 - Hydraulic Pump RE305639 | F670298 - Hydraulic Pump |
| RE33467 - Hydraulic Pump RE33467 | F674382 - Hydraulic Pump |
| RE33468 - Hydraulic Pump RE33468 | GB60000800 - Hydraulic Pump |
| RE37220 - Hydraulic Pump RE37220 | GB60001100 - Hydraulic Pump |
| RE40444 - Hydraulic Pump RE40444 | GB60001400 - Hydraulic Pump |
| RE40463 - Hydraulic Pump RE40463 | H3266514440 - Hydraulic Pump |
| RE50005 - Hydraulic Pump RE50005 | KV11873 - Hydraulic Pump |
| RE60323 - Hydraulic Pump RE60323 | KV15079 - Hydraulic Pump |
| RE60672 - Hydraulic Pump RE60672 | KV20044 - Hydraulic Pump |
| RE60870 - Hydraulic Pump RE60870 | KV21019 - Hydraulic Pump |
| RE64001 - Hydraulic Pump RE64001 | KV24982 - Hydraulic Pump |
| RE68887 - Hydraulic Pump RE68887 | KV24983 - Hydraulic Pump |
| RE73947 - Hydraulic Pump RE73947 | KV24984 - Hydraulic Pump |
| AW26443 - Hydraulic Pump AW26443 | KV24985 - Hydraulic Pump |
| AR97872 - Hydraulic Pump AR97872 | KV24986 - Hydraulic Pump |
| AE36444 - Hydraulic Pump AE36444 | KV25010 - Hydraulic Pump |
| AE42256 - Hydraulic Pump AE42256 | KV25950 - Hydraulic Pump |
| AE42257 - Hydraulic Pump AE42257 | KV25951 - Hydraulic Pump |
| AE44126 - Hydraulic Pump AE44126 | KV25952 - Hydraulic Pump |
| AE44550 - Hydraulic Pump AE44550 | KV26367 - Hydraulic Pump |
| AE45332 - Hydraulic Pump AE45332 | KV26710 - Hydraulic Pump |
| AE46283 - Hydraulic Pump AE46283 | LCA102719 - Hydraulic Pump |
| AE46586 - Hydraulic Pump AE46586 | LVA17639 - Hydraulic Pump |
| AE52057 - Hydraulic Pump AE52057 | LVU804126 - Hydraulic Pump |
| AE56364 - Hydraulic Pump AE56364 | LW10009497 - Hydraulic Pump |
| AE70117 - Hydraulic Pump AE70117 | LW10043951 - Hydraulic Pump |
| AE70122 - Hydraulic Pump AE70122 | LW10115390 - Hydraulic Pump |
| AE70123 - Hydraulic Pump AE70123 | LW10219089 - Hydraulic Pump |
| AE70181 - Hydraulic Pump AE70181 | LW10327124 - Hydraulic Pump |
| AE70189 - Hydraulic Pump AE70189 | LW10356729 - Hydraulic Pump |
| AE70995 - Hydraulic Pump AE70995 | LW10356732 - Hydraulic Pump |
| AE71265 - Hydraulic Pump AE71265 | LW10409610 - Hydraulic Pump |
| AE71529 - Hydraulic Pump AE71529 | LW10409612 - Hydraulic Pump |
| AE73324 - Hydraulic Pump AE73324 | LW10425010 - Hydraulic Pump |
| AE73781 - Hydraulic Pump AE73781 | LW10425011 - Hydraulic Pump |
| AE73783 - Hydraulic Pump AE73783 | LW10425012 - Hydraulic Pump |
| AE73784 - Hydraulic Pump AE73784 | LW10440653 - Hydraulic Pump |
| AE73811 - Hydraulic Pump AE73811 | LW10440679 - Hydraulic Pump |
| AN192970 - Hydraulic Pump AN192970 | LW10476397 - Hydraulic Pump |
| AN193161 - Hydraulic Pump AN193161 | LW10476399 - Hydraulic Pump |
| AN193249 - Hydraulic Pump AN193249 | LW10664186 - Hydraulic Pump |
| AN202916 - Hydraulic Pump AN202916 | LW11002938 - Hydraulic Pump |
| AN203152 - Hydraulic Pump AN203152 | LW7415316 - Hydraulic Pump |
| AN205025 - Hydraulic Pump AN205025 | PE54420920 - Hydraulic Pump |
| AN206024 - Hydraulic Pump AN206024 | PG200001 - Hydraulic Pump Reman |
| AN220026 - Hydraulic Pump AN220026 | PG200007 - Hydraulic Pump Reman |
| AN220365 - Hydraulic Pump AN220365 | PG200021 - Hydraulic Pump Reman |
| AN220366 - Hydraulic Pump AN220366 | PG200027 - Hydraulic Pump Reman |
| AN220604 - Hydraulic Pump AN220604 | PG200028 - Hydraulic Pump Reman |
| AN220843 - Hydraulic Pump Reman AN220843 | PG200040 - Hydraulic Pump Reman |
| AN221374 - Hydraulic Pump AN221374 | PG200041 - Hydraulic Pump Reman |
| AN272474 - Hydraulic Pump AN272474 | PG200042 - Hydraulic Pump Reman |
| AN272979 - Hydraulic Pump AN272979 | PG200048 - Hydraulic Pump Reman |
| AN274488 - Hydraulic Pump AN274488 | PG200049 - Hydraulic Pump Reman |
| AN274940 - Hydraulic Pump AN274940 | PG200073 - Hydraulic Pump Reman |
| AN274941 - Hydraulic Pump AN274941 | PG200118 - Hydraulic Pump Reman |
| AN277475 - Hydraulic Pump AN277475 | PG200133 - Hydraulic Pump Reman |
| AN279297 - Hydraulic Pump AN279297 | PG200134 - Hydraulic Pump Reman |
| AN279367 - Hydraulic Pump AN279367 | PG200135 - Hydraulic Pump Reman |
| AN304297 - Hydraulic Pump AN304297 | PG200168 - Hydraulic Pump Reman |
| AN306427 - Hydraulic Pump AN306427 | PG200169 - Hydraulic Pump Reman |
| AN372129 - Hydraulic Pump AN372129 | PG200170 - Hydraulic Pump Reman |
| AN372201 - Hydraulic Pump AN372201 | PG200171 - Hydraulic Pump Reman |
| AN372962 - Hydraulic Pump AN372962 | PG200172 - Hydraulic Pump Reman |
| AN373491 - Hydraulic Pump AN373491 | PG200173 - Hydraulic Pump Reman |
| AN374676 - Hydraulic Pump AN374676 | PG200177 - Hydraulic Pump Reman |
| AN375055 - Hydraulic Pump AN375055 | PG200183 - Hydraulic Pump Reman |
| AR39029 - Hydraulic Pump AR39029 | PG200184 - Hydraulic Pump Reman |
| AR103036 - Hydraulic Pump AR103036 | PG200234 - Hydraulic Pump Reman |
| AFH202880 - Hydraulic Pump AFH202880 | PG200235 - Hydraulic Pump Reman |
| AFH203439 - Hydraulic Pump AFH203439 | PG200236 - Hydraulic Pump Reman |
| AFH203516 - Hydraulic Pump AFH203516 | PG200237 - Hydraulic Pump Reman |
| AFH204531 - Hydraulic Pump AFH204531 | PG200238 - Hydraulic Pump Reman |
| AFH204532 - Hydraulic Pump AFH204532 | PG200274 - Hydraulic Pump Reman |
| AFH204685 - Hydraulic Pump AFH204685 | PG200276 - Hydraulic Pump Reman |
| AFH205373 - Hydraulic Pump AFH205373 | PG200319 - Hydraulic Pump Reman |
| AFH205374 - Hydraulic Pump AFH205374 | PG200320 - Hydraulic Pump Reman |
| AFH205773 - Hydraulic Pump AFH205773 | PG200335 - Hydraulic Pump Reman |
| AH75517 - Hydraulic Pump AH75517 | PG200336 - Hydraulic Pump Reman |
| AN306832 - Hydraulic Pump AN306832 | PG200337 - Hydraulic Pump Reman |
| AN374888 - Hydraulic Pump AN374888 | PG200338 - Hydraulic Pump Reman |
| AN374889 - Hydraulic Pump AN374889 | PG200339 - Hydraulic Pump Reman |
| AN374890 - Hydraulic Pump AN374890 | PG200342 - Hydraulic Pump Reman |
| AN402495 - Hydraulic Pump AN402495 | PG200343 - Hydraulic Pump Reman |
| AN402498 - Hydraulic Pump AN402498 | PG200344 - Hydraulic Pump Reman |
| AN402541 - Hydraulic Pump AN402541 | PG200367 - Hydraulic Pump Reman |
| AN403794 - Hydraulic Pump AN403794 | PG200368 - Hydraulic Pump Reman |
| AP32912 - Hydraulic Pump AP32912 | PG200369 - Hydraulic Pump Reman |
| AR101117 - Hydraulic Pump AR101117 | PG200370 - Hydraulic Pump Reman |
| AR101807 - Hydraulic Pump AR101807 | PG200381 - Hydraulic Pump Reman |
| AR102502 - Hydraulic Pump AR102502 | PG200382 - Hydraulic Pump Reman |
| AR102507 - Hydraulic Pump AR102507 | PG200383 - Hydraulic Pump Reman |
| AR102545 - Hydraulic Pump AR102545 | PG200403 - Hydraulic Pump |
| AR102720 - Hydraulic Pump AR102720 | PG200404 - Hydraulic Pump |
| AR103033 - Hydraulic Pump AR103033 | PG200405 - Hydraulic Pump |
| AR38225 - Hydraulic Pump AR38225 | PG200406 - Hydraulic Pump |
| AR39810 - Hydraulic Pump AR39810 | PG200440 - Hydraulic Pump |
| AR94660 - Hydraulic Pump AR94660 | PG200444 - Hydraulic Pump Reman |
| AR94661 - Hydraulic Pump AR94661 | PG200454 - Hydraulic Pump Reman |
| AR96177 - Hydraulic Pump AR96177 | PG200455 - Hydraulic Pump Reman |
| AT114134 - Hydraulic Pump AT114134 | PG200458 - Hydraulic Pump Reman |
| AT124224 - Hydraulic Pump AT124224 | PG200459 - Hydraulic Pump Reman |
| AT125498 - Hydraulic Pump AT125498 | PG200460 - Hydraulic Pump Reman |
| AT132820 - Hydraulic Pump AT132820 | PG200461 - Hydraulic Pump Reman |
| AT140603 - Hydraulic Pump AT140603 | PG200462 - Hydraulic Pump Reman |
| AT141071 - Hydraulic Pump AT141071 | PG200464 - Hydraulic Pump Reman |
| AT164404 - Hydraulic Pump AT164404 | PG200465 - Hydraulic Pump Reman |
| AT181864 - Hydraulic Pump AT181864 | PG200466 - Hydraulic Pump Reman |
| AT189997 - Hydraulic Pump Reman AT189997 | PG200472 - Hydraulic Pump |
| AT196326 - Hydraulic Pump AT196326 | PG200473 - Hydraulic Pump |
| AT196327 - Hydraulic Pump AT196327 | PG200476 - Hydraulic Pump |
| AT197225 - Hydraulic Pump AT197225 | PG200477 - Hydraulic Pump |
| AT199709 - Hydraulic Pump AT199709 | PG200478 - Hydraulic Pump |
| AT212086 - Hydraulic Pump AT212086 | PG200479 - Hydraulic Pump |
| AT216859 - Hydraulic Pump AT216859 | PG200480 - Hydraulic Pump |
| AT217323 - Hydraulic Pump Reman AT217323 | PG200482 - Hydraulic Pump |
| AT217330 - Hydraulic Pump Reman AT217330 | PG200483 - Hydraulic Pump |
| AT217335 - Hydraulic Pump Reman AT217335 | PG200484 - Hydraulic Pump |
| AT217344 - Hydraulic Pump Reman AT217344 | PG200485 - Hydraulic Pump |
| AT217353 - Hydraulic Pump Reman AT217353 | PG200497 - Hydraulic Pump Reman |
| AT217361 - Hydraulic Pump Reman AT217361 | PG200509 - Hydraulic Pump |
| AT218536 - Hydraulic Pump AT218536 | PG200513 - Hydraulic Pump Reman |
| AT218539 - Hydraulic Pump AT218539 | PG200567 - Hydraulic Pump |
| AT220681 - Hydraulic Pump AT220681 | PG200571 - Hydraulic Pump |
| AT220909 - Hydraulic Pump Reman AT220909 | PG200572 - Hydraulic Pump Reman |
| AT220910 - Hydraulic Pump Reman AT220910 | PG200576 - Hydraulic Pump Reman |
| AT222628 - Hydraulic Pump Reman AT222628 | PG200585 - Hydraulic Pump |
| AT222629 - Hydraulic Pump Reman AT222629 | PG200619 - Hydraulic Pump Reman |
| AT224353 - Hydraulic Pump AT224353 | PG200689 - Hydraulic Pump Reman |
| AT224354 - Hydraulic Pump AT224354 | PG200690 - Hydraulic Pump |
| AT224355 - Hydraulic Pump AT224355 | PG200691 - Hydraulic Pump Reman |
| AT224356 - Hydraulic Pump AT224356 | PG200692 - Hydraulic Pump Reman |
| AT225504 - Hydraulic Pump AT225504 | PG200693 - Hydraulic Pump |
| AT226221 - Hydraulic Pump AT226221 | PG200694 - Hydraulic Pump |
| AT226656 - Hydraulic Pump Reman AT226656 | PG200695 - Hydraulic Pump Reman |
| AT226657 - Hydraulic Pump Reman AT226657 | PG200696 - Hydraulic Pump |
| AT226658 - Hydraulic Pump Reman AT226658 | PG200697 - Hydraulic Pump Reman |
| AT227016 - Hydraulic Pump AT227016 | PG200698 - Hydraulic Pump |
| AT227195 - Hydraulic Pump AT227195 | PG200708 - Hydraulic Pump Reman |
| AT227232 - Hydraulic Pump Reman AT227232 | PG200709 - Hydraulic Pump Reman |
| AT227702 - Hydraulic Pump AT227702 | PG200722 - Hydraulic Pump Reman |
| AT23837 - Hydraulic Pump AT23837 | PG200760 - Hydraulic Pump Reman |
| AT250717 - Hydraulic Pump AT250717 | PG200766 - Hydraulic Pump Reman |
| AT250719 - Hydraulic Pump AT250719 | PG200768 - Hydraulic Pump Reman |
| AT252806 - Hydraulic Pump AT252806 | PG200770 - Hydraulic Pump Reman |
| AT254686 - Hydraulic Pump AT254686 | PG200774 - Hydraulic Pump Reman |
| AT255478 - Hydraulic Pump AT255478 | PG200796 - Hydraulic Pump Reman |
| AT255924 - Hydraulic Pump AT255924 | PG200798 - Hydraulic Pump Reman |
| AT256253 - Hydraulic Pump AT256253 | PG200813 - Hydraulic Pump Reman |
| AT261747 - Hydraulic Pump AT261747 | PG200814 - Hydraulic Pump Reman |
| AT265075 - Hydraulic Pump AT265075 | PG200852 - Hydraulic Pump Reman |
| AT265076 - Hydraulic Pump AT265076 | PG200853 - Hydraulic Pump Reman |
| AT265366 - Hydraulic Pump AT265366 | PG200854 - Hydraulic Pump Reman |
| AT266155 - Hydraulic Pump AT266155 | PG200855 - Hydraulic Pump Reman |
| AT274828 - Hydraulic Pump AT274828 | PG200856 - Hydraulic Pump Reman |
| AT276927 - Hydraulic Pump AT276927 | PG200857 - Hydraulic Pump Reman |
| AT276944 - Hydraulic Pump AT276944 | PG200858 - Hydraulic Pump Reman |
| AT276954 - Hydraulic Pump AT276954 | PG200859 - Hydraulic Pump Reman |
| AT280523 - Hydraulic Pump AT280523 | PG200860 - Hydraulic Pump Reman |
| AT280524 - Hydraulic Pump AT280524 | PG200864 - Hydraulic Pump Reman |
| AT310225 - Hydraulic Pump AT310225 | PG200865 - Hydraulic Pump Reman |
| AT310322 - Hydraulic Pump AT310322 | PG200866 - Hydraulic Pump Reman |
| AT310773 - Hydraulic Pump AT310773 | PG200867 - Hydraulic Pump Reman |
| AT312765 - Hydraulic Pump AT312765 | PG200868 - Hydraulic Pump Reman |
| AT312781 - Hydraulic Pump AT312781 | PG200869 - Hydraulic Pump Reman |
| AT312783 - Hydraulic Pump AT312783 | PG200884 - Hydraulic Pump Reman |
| AT312978 - Hydraulic Pump AT312978 | PG200890 - Hydraulic Pump Reman |
| AT320396 - Hydraulic Pump AT320396 | PG200951 - Hydraulic Pump Reman |
| AT332043 - Hydraulic Pump AT332043 | PG201015 - Hydraulic Pump Reman |
| AT335289 - Hydraulic Pump AT335289 | PG201016 - Hydraulic Pump Reman |
| AT338922 - Hydraulic Pump AT338922 | PG201019 - Hydraulic Pump Reman |
| AT347901 - Hydraulic Pump AT347901 | PG201020 - Hydraulic Pump Reman |
| AT347910 - Hydraulic Pump AT347910 | PG201021 - Hydraulic Pump Reman |
| AT349012 - Hydraulic Pump AT349012 | PG201022 - Hydraulic Pump Reman |
| AT349013 - Hydraulic Pump AT349013 | PG201024 - Hydraulic Pump Reman |
| AT353759 - Hydraulic Pump AT353759 | PG201103 - Hydraulic Pump Reman |
| AT355607 - Hydraulic Pump AT355607 | PG201104 - Hydraulic Pump Reman |
| AT355608 - Hydraulic Pump AT355608 | PG201121 - Hydraulic Pump Reman |
| AT355609 - Hydraulic Pump AT355609 | PG201122 - Hydraulic Pump Reman |
| AT356382 - Hydraulic Pump AT356382 | PG201123 - Hydraulic Pump Reman |
| AT356389 - Hydraulic Pump AT356389 | PG201134 - Hydraulic Pump Reman |
| AT357360 - Hydraulic Pump AT357360 | PG201138 - Hydraulic Pump Reman |
| AT357361 - Hydraulic Pump AT357361 | PG201139 - Hydraulic Pump Reman |
| AT357362 - Hydraulic Pump AT357362 | PG201525 - Hydraulic Pump Reman |
| AT357363 - Hydraulic Pump AT357363 | PG201526 - Hydraulic Pump Reman |
| AT367109 - Hydraulic Pump AT367109 | PG201544 - Hydraulic Pump Reman |
| AT367110 - Hydraulic Pump AT367110 | PG201545 - Hydraulic Pump Reman |
| AT367111 - Hydraulic Pump AT367111 | PG201546 - Hydraulic Pump Reman |
| AT372778 - Hydraulic Pump AT372778 | PG201547 - Hydraulic Pump Reman |
| AT391312 - Hydraulic Pump AT391312 | PG201548 - Hydraulic Pump Reman |
| AT391313 - Hydraulic Pump AT391313 | PG201549 - Hydraulic Pump Reman |
| AT44150 - Hydraulic Pump AT44150 | PG201550 - Hydraulic Pump Reman |
| AXE11598 - Hydraulic Pump AXE11598 | PG201551 - Hydraulic Pump Reman |
| AXE11641 - Hydraulic Pump AXE11641 | PG201552 - Hydraulic Pump Reman |
| AXE11707 - Hydraulic Pump AXE11707 | PG201558 - Hydraulic Pump Reman |
| AXE12142 - Hydraulic Pump AXE12142 | PG201559 - Hydraulic Pump Reman |
| AXE14670 - Hydraulic Pump AXE14670 | PG201560 - Hydraulic Pump Reman |
| AXE16072 - Hydraulic Pump AXE16072 | PG201561 - Hydraulic Pump Reman |
| AXE16073 - Hydraulic Pump AXE16073 | PG201562 - Hydraulic Pump Reman |
| AXE18771 - Hydraulic Pump AXE18771 | PG201563 - Hydraulic Pump Reman |
| AXE19716 - Hydraulic Pump AXE19716 | PG201564 - Hydraulic Pump Reman |
| AXE20048 - Hydraulic Pump AXE20048 | PG201565 - Hydraulic Pump Reman |
| AXE21252 - Hydraulic Pump AXE21252 | PG201566 - Hydraulic Pump Reman |
| AXE21253 - Hydraulic Pump AXE21253 | PG201567 - Hydraulic Pump Reman |
| AXE21254 - Hydraulic Pump AXE21254 | PG201568 - Hydraulic Pump Reman |
| AXE21343 - Hydraulic Pump AXE21343 | PG201606 - Hydraulic Pump Reman |
| AXE21873 - Hydraulic Pump AXE21873 | PG201607 - Hydraulic Pump Reman |
| AXE21874 - Hydraulic Pump AXE21874 | PG201816 - Hydraulic Pump Reman |
| AZ101133 - Hydraulic Pump AZ101133 | PG201817 - Hydraulic Pump Reman |
| AZ101446 - Hydraulic Pump AZ101446 | PG201850 - Hydraulic Pump Reman |
| AZ101779 - Hydraulic Pump AZ101779 | PG201852 - Hydraulic Pump Reman |
| AZ102340 - Hydraulic Pump AZ102340 | PG201855 - Hydraulic Pump Reman |
| AZ102695 - Hydraulic Pump AZ102695 | PG201935 - Hydraulic Pump Reman |
| AZ102696 - Hydraulic Pump AZ102696 | PG201978 - Hydraulic Pump Reman |
| AZ103951 - Hydraulic Pump AZ103951 | PG202076 - Hydraulic Pump Reman |
| AZ25982 - Hydraulic Pump AZ25982 | PG202077 - Hydraulic Pump Reman |
| AZ25983 - Hydraulic Pump AZ25983 | PG202078 - Hydraulic Pump Reman |
| AZ32157 - Hydraulic Pump AZ32157 | PG202079 - Hydraulic Pump Reman |
| AZ36555 - Hydraulic Pump AZ36555 | PG202080 - Hydraulic Pump Reman |
| AZ44740 - Hydraulic Pump AZ44740 | PG202084 - Hydraulic Pump Reman |
| AZ49120 - Hydraulic Pump AZ49120 | PG202085 - Hydraulic Pump Reman |
| AZ49121 - Hydraulic Pump AZ49121 | PG202087 - Hydraulic Pump Reman |
| AZ53766 - Hydraulic Pump AZ53766 | PG202088 - Hydraulic Pump Reman |
| AZ53801 - Hydraulic Pump AZ53801 | PG202090 - Hydraulic Pump Reman |
| AZ53802 - Hydraulic Pump AZ53802 | PG202121 - Hydraulic Pump Reman |
| AZ54257 - Hydraulic Pump AZ54257 | PG202123 - Hydraulic Pump Reman |
| AZ54376 - Hydraulic Pump AZ54376 | PG202165 - Hydraulic Pump Reman |
| AZ56793 - Hydraulic Pump AZ56793 | PG202166 - Hydraulic Pump Reman |
| AZ57138 - Hydraulic Pump AZ57138 | PG202169 - Hydraulic Pump Reman |
| AZ57608 - Hydraulic Pump AZ57608 | PG203168 - Hydraulic Pump Reman |
| AZ61111 - Hydraulic Pump AZ61111 | PG203169 - Hydraulic Pump Reman |
| AZ61880 - Hydraulic Pump AZ61880 | PG203170 - Hydraulic Pump Reman |
| AZ64862 - Hydraulic Pump AZ64862 | PG203171 - Hydraulic Pump Reman |
| AZ71379 - Hydraulic Pump AZ71379 | PG203172 - Hydraulic Pump Reman |
| H3263520010 - Hydraulic Pump H3263520010 | PG203173 - Hydraulic Pump Reman |
| H35A6506060 - Hydraulic Pump H35A6506060 | PG203210 - Hydraulic Pump Reman |
| KV25873 - Hydraulic Pump KV25873 | PG203211 - Hydraulic Pump Reman |
| PE78420179 - Hydraulic Pump PE78420179 | PG203277 - Hydraulic Pump Reman |
| RE297024 - Hydraulic Pump RE297024 | PG203278 - Hydraulic Pump Reman |
| RE297025 - Hydraulic Pump RE297025 | PG203338 - Hydraulic Pump Reman |
| RE297027 - Hydraulic Pump RE297027 | PG203339 - Hydraulic Pump Reman |
| RE301503 - Hydraulic Pump RE301503 | PG203340 - Hydraulic Pump Reman |
| RE309348 - Hydraulic Pump RE309348 | PG203596 - Hydraulic Pump Reman |
| RE311020 - Hydraulic Pump RE311020 | PG203597 - Hydraulic Pump Reman |
| RE317275 - Hydraulic Pump RE317275 | PG203651 - Hydraulic Pump Reman |
| RE320441 - Hydraulic Pump RE320441 | PG203656 - Hydraulic Pump Reman |
| RE320443 - Hydraulic Pump RE320443 | PG203770 - Hydraulic Pump Reman |
| RE322339 - Hydraulic Pump RE322339 | PG203773 - Hydraulic Pump Reman |
| RE322340 - Hydraulic Pump RE322340 | PG203774 - Hydraulic Pump Reman |
| RE322341 - Hydraulic Pump RE322341 | PG203788 - Hydraulic Pump Reman |
| RE322665 - Hydraulic Pump RE322665 | PG203789 - Hydraulic Pump Reman |
| RE322950 - Hydraulic Pump RE322950 | PG203790 - Hydraulic Pump Reman |
| RE324645 - Hydraulic Pump RE324645 | PG203792 - Hydraulic Pump Reman |
| RE331268 - Hydraulic Pump RE331268 | PG203835 - Hydraulic Pump Reman |
| RE331269 - Hydraulic Pump RE331269 | PG203836 - Hydraulic Pump Reman |
| RE334813 - Hydraulic Pump RE334813 | PG203896 - Hydraulic Pump Reman |
| SJ11665 - Hydraulic Pump SJ11665 | PG203910 - Hydraulic Pump Reman |
| SJ12029 - Hydraulic Pump SJ12029 | PG203916 - Hydraulic Pump Reman |
| SJ293405 - Hydraulic Pump SJ293405 | PG203917 - Hydraulic Pump Reman |
| SJ293406 - Hydraulic Pump SJ293406 | PG203918 - Hydraulic Pump Reman |
| AT407466 - Hydraulic Pump AT407466 | PG203919 - Hydraulic Pump Reman |
| AT407584 - Hydraulic Pump AT407584 | PG203920 - Hydraulic Pump Reman |
| PG201527 - Hydraulic Pump Reman PG201527 | PG203950 - Hydraulic Pump Reman |
| PG201528 - Hydraulic Pump Reman PG201528 | PG203985 - Hydraulic Pump Reman |
| PG201851 - Hydraulic Pump Reman PG201851 | PG203986 - Hydraulic Pump Reman |
| PG203791 - Hydraulic Pump Reman PG203791 | PG203990 - Hydraulic Pump Reman |
| AT390044 - Hydraulic Pump AT390044 | PG203999 - Hydraulic Pump Reman |
| AT390049 - Hydraulic Pump AT390049 | PG204000 - Hydraulic Pump Reman |
| AT394644 - Hydraulic Pump AT394644 | PM9302CHM1C - Hydraulic Pump |
| AL205568 - Hydraulic Pump AL205568 | PM9302CHM4C - Hydraulic Pump |
| AT108912 - Hydraulic Pump AT108912 | PM9303CH1CBU - Hydraulic Pump |
| SJ13339 - Hydraulic Pump SJ13339 | PM9306CH1CBU - Hydraulic Pump |
| A-AHS2082 - Hydraulic Pump | PM9306CH5CBU - Hydraulic Pump |
| A-AH153175 - Hydraulic Pump | RE227447 - Hydraulic Pump |
| A-AL75305-R - Hydraulic Pump | RE263418 - Hydraulic Pump |
| A-AR101288-R - Hydraulic Pump | RE332585 - Hydraulic Pump |
| A-AR101807-R - Hydraulic Pump | RE332586 - Hydraulic Pump |
| A-AR102245-R - Hydraulic Pump | RE340042 - Hydraulic Pump |
| A-AR102545-R - Hydraulic Pump | RE340415 - Hydraulic Pump |
| A-AR103033 - Hydraulic Pump | RE345294 - Hydraulic Pump |
| A-AR103033-R - Hydraulic Pump | RE345295 - Hydraulic Pump |
| A-AR103034-R - Hydraulic Pump | RE345335 - Hydraulic Pump |
| A-AR38217-R - Hydraulic Pump | RE345336 - Hydraulic Pump |
| A-AR39695-R - Hydraulic Pump | RE561327 - Hydraulic Pump |
| A-AR56160-R - Hydraulic Pump | SJ13305 - Hydraulic Pump |
| A-AR94660-R - Hydraulic Pump | SJ13340 - Hydraulic Pump |
| A-AR94661 - Hydraulic Pump | SJ13608 - Hydraulic Pump |
| A-AR94661-R - Hydraulic Pump | SJ13609 - Hydraulic Pump |
| A-AR97872-R - Hydraulic Pump | SJ16732 - Hydraulic Pump |
| A-ATJ6597 - Hydraulic Pump | SJ313973 - Hydraulic Pump |
| A-AT71451 - Hydraulic Pump | SW00603 - Hydraulic Pump |
| A-A139692 - Hydraulic Pump | SW00670 - Hydraulic Pump |
| A-A37570 - Hydraulic Pump | SW00672 - Hydraulic Pump |
| A-CKPN600A - Hydraulic Pump | SW00676 - Hydraulic Pump |
| A-C5NNN879A - Hydraulic Pump | SW00677 - Hydraulic Pump |
| A-D0NN600F - Hydraulic Pump | SW01163 - Hydraulic Pump |
| A-D0NN600F-E - Hydraulic Pump | SW01790 - Hydraulic Pump |
| A-D0NN600G - Hydraulic Pump | SW01791 - Hydraulic Pump |
| A-D0NN600G-E - Hydraulic Pump | SW01792 - Hydraulic Pump |
| A-D1NN600B - Hydraulic Pump | SW02104 - Hydraulic Pump |
| A-D2NN600B - Hydraulic Pump | SW02265 - Hydraulic Pump |
| A-D5NN600C - Hydraulic Pump | SW03806 - Hydraulic Pump |
| A-D5NN600C-E - Hydraulic Pump | SW03810 - Hydraulic Pump |
| A-D53690 - Hydraulic Pump | SW07477 - Hydraulic Pump |
| A-D8NN600AA - Hydraulic Pump | SW07826 - Hydraulic Pump |
| A-D8NN600DA - Hydraulic Pump | SW08938 - Hydraulic Pump |
| A-D8NN600KB - Hydraulic Pump | SW08971 - Hydraulic Pump |
| A-ESL11276 - Hydraulic Pump | TCA10020 - Hydraulic Pump |
| A-E0NN535AA - Hydraulic Pump | TCA12335 - Hydraulic Pump |
| A-E1NN600AA - Hydraulic Pump | TCA12525 - Hydraulic Pump |
| A-E1NN600EA - Hydraulic Pump | TCA13629 - Hydraulic Pump |
| A-E2NN600AB - Hydraulic Pump | TCA13896 - Hydraulic Pump |
| A-E2NN600BA - Hydraulic Pump | TCA14307 - Hydraulic Pump |
| A-E9NN600BC - Hydraulic Pump | TCA14308 - Hydraulic Pump |
| A-F0NN600BB - Hydraulic Pump | TCA14636 - Hydraulic Pump |
| A-H142314 - Hydraulic Pump | TCA14808 - Hydraulic Pump |
| A-H142315 - Hydraulic Pump | TCA15870 - Hydraulic Pump |
| A-K310386 - Hydraulic Pump | TCA15875 - Hydraulic Pump |
| A-K916535 - Hydraulic Pump | TCA17271 - Hydraulic Pump |
| A-K919048 - Hydraulic Pump | TCA17472 - Hydraulic Pump |
| A-K944907 - Hydraulic Pump | TCA17486 - Hydraulic Pump |
| A-K948432 - Hydraulic Pump | TCA17721 - Hydraulic Pump |
| A-K949605 - Hydraulic Pump | TCA17723 - Hydraulic Pump |
| A-K952465 - Hydraulic Pump | TCA18087 - Hydraulic Pump |
| A-K954263 - Hydraulic Pump | TCA18316 - Hydraulic Pump |
| A-K957318 - Hydraulic Pump | TCA18317 - Hydraulic Pump |
| A-K962635 - Hydraulic Pump | TCA18603 - Hydraulic Pump |
| A-LCRK5354 - Hydraulic Pump | TCA18619 - Hydraulic Pump |
| A-LCRK65UP - Hydraulic Pump | TCA18934 - Hydraulic Pump |
| A-NTJ369 - Hydraulic Pump | TCA19007 - Hydraulic Pump |
| A-R38348 - Hydraulic Pump | TCA19008 - Hydraulic Pump |
| A-TX11234 - Hydraulic Pump | TCA19563 - Hydraulic Pump |
| A-TX17112 - Hydraulic Pump | TCA19564 - Hydraulic Pump |
| A-TX17203 - Hydraulic Pump | TCA19565 - Hydraulic Pump |
| A-T22915 - Hydraulic Pump | TCA19718 - Hydraulic Pump |
| A-UR12805 - Hydraulic Pump | TCA19758 - Hydraulic Pump |
| A-VCK01 - Hydraulic Pump | TCA20661 - Hydraulic Pump |
| A-VPJ4912 - Hydraulic Pump | TCA20856 - Hydraulic Pump |
| A-VPK0104 - Hydraulic Pump | TCA21081 - Hydraulic Pump |
| A-VPK0105 - Hydraulic Pump | TCA22984 - Hydraulic Pump |
| A-VPK1002 - Hydraulic Pump | TCA22985 - Hydraulic Pump |
| A-VPK1003 - Hydraulic Pump | TCA23000 - Hydraulic Pump |
| A-VPK1010 - Hydraulic Pump | TCA23001 - Hydraulic Pump |
| A-VPK1011 - Hydraulic Pump | TCA23171 - Hydraulic Pump |
| A-VPK1012 - Hydraulic Pump | TCA23172 - Hydraulic Pump |
| A-VPK1013 - Hydraulic Pump | TCU19667 - Hydraulic Pump |
| A-VPK1014 - Hydraulic Pump | TH0768218 - Hydraulic Pump |
| A-VPK1017 - Hydraulic Pump | TH4415266 - Hydraulic Pump |
| A-VPK1019 - Hydraulic Pump | TH4438459 - Hydraulic Pump |
| A-VPK1020 - Hydraulic Pump | TH4438461 - Hydraulic Pump |
| A-VPK1021 - Hydraulic Pump | TT210249 - Hydraulic Pump Reman |
| A-VPK1025 - Hydraulic Pump | TT210958 - Hydraulic Pump |
| A-VPK1026 - Hydraulic Pump | WZW11398 - Hydraulic Pump |
| A-VPK1028 - Hydraulic Pump | WZ2466003 - Hydraulic Pump |
| A-VPK1029 - Hydraulic Pump | WZ2504011 - Hydraulic Pump |
| A-VPK1031 - Hydraulic Pump | YZ4101397 - Hydraulic Pump |
| A-VPK1038 - Hydraulic Pump | YZ4101415 - Hydraulic Pump |
| A-VPK2205 - Hydraulic Pump | YZ502246 - Hydraulic Pump |
| A-ZT80420 - Hydraulic Pump | 30007612 - Hydraulic Pump |
| A-01175656 - Hydraulic Pump | 30007883 - Hydraulic Pump |
| A-1075358M1 - Hydraulic Pump | 30008556 - Hydraulic Pump |
| A-1076957M91 - Hydraulic Pump | 30017592 - Hydraulic Pump |
| A-1081639M91 - Hydraulic Pump | 30022806 - Hydraulic Pump |
| A-1176451 - Hydraulic Pump | 30027831 - Hydraulic Pump |
| A-1176452 - Hydraulic Pump | 30032003 - Hydraulic Pump |
| A-120114C91 - Hydraulic Pump | 30032514 - Hydraulic Pump |
| A-128190C91 - Hydraulic Pump | 30032853 - Hydraulic Pump |
| A-128191C91 - Hydraulic Pump | 30036553 - Hydraulic Pump |
| A-1346425C1 - Hydraulic Pump Reman | 30036776 - Hydraulic Pump |
| A-142867C92 - Hydraulic Pump | 30036778 - Hydraulic Pump |
| A-1543241C1 - Hydraulic Pump | 30038006 - Hydraulic Pump |
| A-1543242C1 - Hydraulic Pump | 30040629 - Hydraulic Pump |
| A-1683301M1 - Hydraulic Pump | 30042781 - Hydraulic Pump |
| A-1683301M92 - Hydraulic Pump | 30043750 - Hydraulic Pump |
| A-1685031M92 - Hydraulic Pump | 30053514 - Hydraulic Pump |
| A-180924M2 - Hydraulic Pump | 30312580 - Hydraulic Pump |
| A-181999M1 - Hydraulic Pump | 30312581 - Hydraulic Pump |
| A-184473M93 - Hydraulic Pump | 31305475 - Hydraulic Pump |
| A-191196 - Hydraulic Pump | 31307000 - Hydraulic Pump |
| A-192161 - Hydraulic Pump | 31307470 - Hydraulic Pump |
| A-207001354 - Hydraulic Pump | 31308227 - Hydraulic Pump |
| A-207130065 - Hydraulic Pump | 31308601 - Hydraulic Pump |
| A-251000375 - Hydraulic Pump | 31311757 - Hydraulic Pump |
| A-252569M94 - Hydraulic Pump | 31320902 - Hydraulic Pump |
| A-272085M94 - Hydraulic Pump | 31321116 - Hydraulic Pump |
| A-290421 - Hydraulic Pump | 31321429 - Hydraulic Pump |
| A-291061 - Hydraulic Pump | 31324846 - Hydraulic Pump |
| A-291315 - Hydraulic Pump | 31325909 - Hydraulic Pump |
| A-3B5354 - Hydraulic Pump | 31327129 - Hydraulic Pump |
| A-3B6523 - Hydraulic Pump | 31327135 - Hydraulic Pump |
| A-303062449 - Hydraulic Pump | 31328932 - Hydraulic Pump |
| A-3038732M2 - Hydraulic Pump | 31331969 - Hydraulic Pump |
| A-3063911R93 - Hydraulic Pump | 31331972 - Hydraulic Pump |
| A-308873A1 - Hydraulic Pump | 31332568 - Hydraulic Pump |
| A-3146446R93 - Hydraulic Pump | 31332578 - Hydraulic Pump |
| A-3382280M1 - Hydraulic Pump | 31335067 - Hydraulic Pump |
| A-352035R94 - Hydraulic Pump | 31339697 - Hydraulic Pump |
| A-3597420M91 - Hydraulic Pump | 31339698 - Hydraulic Pump |
| A-3701159M91 - Hydraulic Pump | 31341802 - Hydraulic Pump |
| A-3790722M1 - Hydraulic Pump | 31344064 - Hydraulic Pump |
| A-382332R1 - Hydraulic Pump | 31346088 - Hydraulic Pump |
| A-384506R94 - Hydraulic Pump | 31346294 - Hydraulic Pump |
| A-398285R2 - Hydraulic Pump | 31348753 - Hydraulic Pump |
| A-405181R1 - Hydraulic Pump | 31351615 - Hydraulic Pump |
| A-406763R91 - Hydraulic Pump | 31352019 - Hydraulic Pump |
| A-4345365 - Hydraulic Pump | 31352020 - Hydraulic Pump |
| A-5121276 - Hydraulic Pump | 31352021 - Hydraulic Pump |
| A-5129483 - Hydraulic Pump | 31352224 - Hydraulic Pump |
| A-5129486 - Hydraulic Pump | 31355895 - Hydraulic Pump |
| A-5129488 - Hydraulic Pump | 31356062 - Hydraulic Pump |
| A-5129493 - Hydraulic Pump | 31358875 - Hydraulic Pump |
| A-5169772 - Hydraulic Pump | 31358877 - Hydraulic Pump |
| A-5179722 - Hydraulic Pump | 31359052 - Hydraulic Pump |
| A-5179724 - Hydraulic Pump | 31359783 - Hydraulic Pump |
| A-5179726 - Hydraulic Pump | 31371008 - Hydraulic Pump |
| A-527397R93 - Hydraulic Pump | 31371263 - Hydraulic Pump |
| A-531607M1 - Hydraulic Pump | 31372003 - Hydraulic Pump |
| A-531607M93 - Hydraulic Pump | 31372015 - Hydraulic Pump |
| A-53202101 - Hydraulic Pump | 31374050 - Hydraulic Pump |
| A-544017R91 - Hydraulic Pump | 31375594 - Hydraulic Pump |
| A-544708R92 - Hydraulic Pump | 31378620 - Hydraulic Pump |
| A-70114610 - Hydraulic Pump | 31378844 - Hydraulic Pump |
| A-70248735 - Hydraulic Pump | 31378846 - Hydraulic Pump |
| A-70248736 - Hydraulic Pump | 31379069 - Hydraulic Pump |
| A-70249437 - Hydraulic Pump | 31379076 - Hydraulic Pump |
| A-70249469 - Hydraulic Pump | 31379275 - Hydraulic Pump |
| A-70249828 - Hydraulic Pump | 31379384 - Hydraulic Pump |
| A-70256067 - Hydraulic Pump | 31381052 - Hydraulic Pump |
| A-70257005 - Hydraulic Pump | 33004480 - Hydraulic Pump |
| A-70257213 - Hydraulic Pump | 33005191 - Hydraulic Pump |
| A-70263552 - Hydraulic Pump | 430033994 - Hydraulic Pump |
| A-70269937 - Hydraulic Pump | 430035627 - Hydraulic Pump |
| A-70270905 - Hydraulic Pump | 471336017 - Hydraulic Pump |
| A-70271875 - Hydraulic Pump | 630044558 - Hydraulic Pump |
| A-704330R1 - Hydraulic Pump | 630045977 - Hydraulic Pump |
| A-704330R95 - Hydraulic Pump | 630201672 - Hydraulic Pump |
| A-70931C91 - Hydraulic Pump | 630293782 - Hydraulic Pump |
| A-70932C91 - Hydraulic Pump | 631325607 - Hydraulic Pump |
| A-70933C91 - Hydraulic Pump | 695722 - Hydraulic Pump |
| A-70935C91 - Hydraulic Pump | 735001 - Hydraulic Pump |
| A-72074076 - Hydraulic Pump | 768218 - Hydraulic Pump |
| A-72074620 - Hydraulic Pump | 831325326 - Hydraulic Pump |
| A-72163355 - Hydraulic Pump | 869606 - Hydraulic Pump |
| A-7700013742 - Hydraulic Pump | 1015614 - Hydraulic Pump |
| A-7700035327 - Hydraulic Pump | 1131001912 - Hydraulic Pump |
| A-7700706110 - Hydraulic Pump | 1131002010 - Hydraulic Pump |
| A-79016058 - Hydraulic Pump | 1131002040 - Hydraulic Pump |
| A-83903943 - Hydraulic Pump | 1131002080 - Hydraulic Pump |
| A-83913537 - Hydraulic Pump | 1131002330 - Hydraulic Pump |
| A-84420901 - Hydraulic Pump | 1131002770 - Hydraulic Pump |
| A-886821M94 - Hydraulic Pump | 1131100300 - Hydraulic Pump |
| A-897146M95 - Hydraulic Pump | 1136108040 - Hydraulic Pump |
| A-93835C1 - Hydraulic Pump | 1136108250 - Hydraulic Pump |
| A-93835C91 - Hydraulic Pump | 1136109471 - Hydraulic Pump |
| A-93835C92 - Hydraulic Pump | 1136109580 - Hydraulic Pump |
| AET10971 - Hydraulic Pump | 1136109581 - Hydraulic Pump |
| AFH200134 - Hydraulic Pump | 1136109670 - Hydraulic Pump |
| AFH208580 - Hydraulic Pump | 1136500261 - Hydraulic Pump |
| AH219692 - Hydraulic Pump | 1136500991 - Hydraulic Pump |
| AL156335 - Hydraulic Pump | 1156020430 - Hydraulic Pump |
| AL202473 - Hydraulic Pump | 1156020443 - Hydraulic Pump |
| AL205561 - Hydraulic Pump | 1156020580 - Hydraulic Pump |
| AMT1557 - Hydraulic Pump | 1156026582 - Hydraulic Pump |
| AN278775 - Hydraulic Pump | 1156026990 - Hydraulic Pump |
| AN302416 - Hydraulic Pump | 1156031641 - Hydraulic Pump |
| AN303818 - Hydraulic Pump | 1156032630 - Hydraulic Pump |
| AN304890 - Hydraulic Pump | 1157500500 - Hydraulic Pump |
| AN372130 - Hydraulic Pump | 1157500570 - Hydraulic Pump |
| AN400899 - Hydraulic Pump | 1157500680 - Hydraulic Pump |
| AN405049 - Hydraulic Pump | 1157500800 - Hydraulic Pump |
| AN405050 - Hydraulic Pump | 1157500810 - Hydraulic Pump |
| AN405128 - Hydraulic Pump | 1157501210 - Hydraulic Pump |
| AP35371 - Hydraulic Pump | 1157501511 - Hydraulic Pump |
| AR93313 - Hydraulic Pump | 1157501590 - Hydraulic Pump |
| AT103945 - Hydraulic Pump | 1157501600 - Hydraulic Pump |
| AT103946 - Hydraulic Pump | 1157502090 - Hydraulic Pump |
| AT113550 - Hydraulic Pump | 1157610010 - Hydraulic Pump |
| AT114133 - Hydraulic Pump | 1157610040 - Hydraulic Pump |
| AT128798 - Hydraulic Pump | 1196000140 - Hydraulic Pump |
| AT132819 - Hydraulic Pump | 15010J2001 - Hydraulic Pump |
| AT143542 - Hydraulic Pump | 161451800 - Hydraulic Pump |
| AT149945 - Hydraulic Pump | 1679090208 - Hydraulic Pump |
| AT157170 - Hydraulic Pump | 2221350348 - Hydraulic Pump |
| AT159036 - Hydraulic Pump | 336711-11000 - Hydraulic Pump |
| AT159745 - Hydraulic Pump | 4037030 - Hydraulic Pump |
| AT161530 - Hydraulic Pump | 4061411 - Hydraulic Pump |
| AT164392 - Hydraulic Pump | 4068361 - Hydraulic Pump |
| AT164396 - Hydraulic Pump | 4068906 - Hydraulic Pump |
| AT169030 - Hydraulic Pump | 4071357EX - Hydraulic Pump |
| AT174041 - Hydraulic Pump | 4077542EX - Hydraulic Pump |
| AT174042 - Hydraulic Pump | 4083755 - Hydraulic Pump |
| AT174043 - Hydraulic Pump | 4093830 - Hydraulic Pump |
| AT174044 - Hydraulic Pump | 4114896 - Hydraulic Pump |
| AT174045 - Hydraulic Pump | 4127934 - Hydraulic Pump |
| AT175572 - Hydraulic Pump | 4133429 - Hydraulic Pump |
| AT177588 - Hydraulic Pump | 4135157 - Hydraulic Pump |
| AT179792 - Hydraulic Pump | 4138734 - Hydraulic Pump |
| AT182570 - Hydraulic Pump Reman | 4149012 - Hydraulic Pump |
| AT182571 - Hydraulic Pump Reman | 4160879EX - Hydraulic Pump |
| AT182572 - Hydraulic Pump Reman | 4162092 - Hydraulic Pump |
| AT182573 - Hydraulic Pump Reman | 4173870 - Hydraulic Pump |
| AT184447 - Hydraulic Pump Reman | 4175372 - Hydraulic Pump |
| AT184448 - Hydraulic Pump Reman | 4177632 - Hydraulic Pump |
| AT184450 - Hydraulic Pump Reman | 4179264 - Hydraulic Pump |
| AT185235 - Hydraulic Pump Reman | 4181205 - Hydraulic Pump |
| AT186167 - Hydraulic Pump | 4181206 - Hydraulic Pump |
| AT187101 - Hydraulic Pump | 4187134EX - Hydraulic Pump |
| AT187103 - Hydraulic Pump | 4187849 - Hydraulic Pump |
| AT189668 - Hydraulic Pump Reman | 4201139 - Hydraulic Pump |
| AT189669 - Hydraulic Pump Reman | 4208231EX - Hydraulic Pump |
| AT189671 - Hydraulic Pump Reman | 4228546 - Hydraulic Pump |
| AT189672 - Hydraulic Pump Reman | 4228629 - Hydraulic Pump |
| AT189999 - Hydraulic Pump Reman | 4231912 - Hydraulic Pump |
| AT190309 - Hydraulic Pump | 4233095 - Hydraulic Pump |
| AT191375 - Hydraulic Pump Reman | 4255182 - Hydraulic Pump |
| AT191634 - Hydraulic Pump | 4263772 - Hydraulic Pump |
| AT191698 - Hydraulic Pump | 4266812 - Hydraulic Pump |
| AT191699 - Hydraulic Pump | 4275051 - Hydraulic Pump |
| AT192356 - Hydraulic Pump | 4287340 - Hydraulic Pump |
| AT195117 - Hydraulic Pump | 4287341 - Hydraulic Pump |
| AT195321 - Hydraulic Pump | 4289655 - Hydraulic Pump |
| AT197383 - Hydraulic Pump | 4289655EX - Hydraulic Pump Reman |
| AT197843 - Hydraulic Pump | 4291162 - Hydraulic Pump |
| AT205016 - Hydraulic Pump | 4291284EX - Hydraulic Pump Reman |
| AT205018 - Hydraulic Pump | 4292740 - Hydraulic Pump |
| AT217326 - Hydraulic Pump Reman | 4292740EX - Hydraulic Pump Reman |
| AT217360 - Hydraulic Pump Reman | 4292751 - Hydraulic Pump |
| AT223518 - Hydraulic Pump | 4297193 - Hydraulic Pump |
| AT223519 - Hydraulic Pump | 4330469 - Hydraulic Pump |
| AT226655 - Hydraulic Pump Reman | 4341307 - Hydraulic Pump |
| AT227018 - Hydraulic Pump | 4346169 - Hydraulic Pump |
| AT250722 - Hydraulic Pump | 4347232 - Hydraulic Pump |
| AT276925 - Hydraulic Pump | 4359575 - Hydraulic Pump |
| AT280243 - Hydraulic Pump | 4360412 - Hydraulic Pump |
| AT280245 - Hydraulic Pump | 4363627 - Hydraulic Pump |
| AT300479 - Hydraulic Pump Reman | 4363731 - Hydraulic Pump |
| AT302309 - Hydraulic Pump | 4365856EX - Hydraulic Pump Reman |
| AT302661 - Hydraulic Pump | 4369439 - Hydraulic Pump |
| AT302662 - Hydraulic Pump | 4371962 - Hydraulic Pump |
| AT302848 - Hydraulic Pump | 4377971 - Hydraulic Pump |
| AT303013 - Hydraulic Pump Reman | 4383576 - Hydraulic Pump |
| AT303127 - Hydraulic Pump | 4391028 - Hydraulic Pump |
| AT304117 - Hydraulic Pump | 4391028EX - Hydraulic Pump Reman |
| AT304665 - Hydraulic Pump Reman | 4391030 - Hydraulic Pump |
| AT304666 - Hydraulic Pump Reman | 4391030EX - Hydraulic Pump Reman |
| AT304714 - Hydraulic Pump Reman | 4391031 - Hydraulic Pump |
| AT304718 - Hydraulic Pump Reman | 4391031EX - Hydraulic Pump Reman |
| AT307823 - Hydraulic Pump | 4391032 - Hydraulic Pump |
| AT308143 - Hydraulic Pump Reman | 4391036 - Hydraulic Pump |
| AT308144 - Hydraulic Pump Reman | 4395063 - Hydraulic Pump |
| AT308145 - Hydraulic Pump Reman | 4397674 - Hydraulic Pump |
| AT308355 - Hydraulic Pump | 4403501 - Hydraulic Pump |
| AT308557 - Hydraulic Pump | 4422386 - Hydraulic Pump |
| AT310590 - Hydraulic Pump | 4427045 - Hydraulic Pump |
| AT311663 - Hydraulic Pump | 4428612 - Hydraulic Pump |
| AT312402 - Hydraulic Pump | 4428614 - Hydraulic Pump |
| AT314170 - Hydraulic Pump | 4434308 - Hydraulic Pump |
| AT316120 - Hydraulic Pump | 4437197 - Hydraulic Pump |
| AT317637 - Hydraulic Pump | 4438459 - Hydraulic Pump |
| AT317810 - Hydraulic Pump | 4438493 - Hydraulic Pump |
| AT317811 - Hydraulic Pump | 4438709 - Hydraulic Pump |
| AT318422 - Hydraulic Pump | 4449531 - Hydraulic Pump |
| AT321531 - Hydraulic Pump Reman | 4454047 - Hydraulic Pump |
| AT321536 - Hydraulic Pump Reman | 4455485 - Hydraulic Pump |
| AT321538 - Hydraulic Pump Reman | 4466791 - Hydraulic Pump |
| AT325014 - Hydraulic Pump | 4466797 - Hydraulic Pump |
| AT325862 - Hydraulic Pump | 4467966 - Hydraulic Pump |
| AT327079 - Hydraulic Pump | 4475217 - Hydraulic Pump |
| AT327420 - Hydraulic Pump | 4482892 - Hydraulic Pump |
| AT327458 - Hydraulic Pump | 4487108 - Hydraulic Pump |
| AT329495 - Hydraulic Pump | 4511877 - Hydraulic Pump |
| AT329832 - Hydraulic Pump | 4610804 - Hydraulic Pump |
| AT330119 - Hydraulic Pump | 4620473 - Hydraulic Pump |
| AT330447 - Hydraulic Pump Reman | 4621873 - Hydraulic Pump |
| AT330448 - Hydraulic Pump Reman | 4621874 - Hydraulic Pump |
| AT330449 - Hydraulic Pump Reman | 4621875 - Hydraulic Pump |
| AT330450 - Hydraulic Pump Reman | 4621876 - Hydraulic Pump |
| AT332426 - Hydraulic Pump | 4621880EX - Hydraulic Pump Reman |
| AT333822 - Hydraulic Pump Reman | 4621881 - Hydraulic Pump |
| AT333823 - Hydraulic Pump Reman | 4621883EX - Hydraulic Pump Reman |
| AT333840 - Hydraulic Pump | 4621890 - Hydraulic Pump |
| AT334876 - Hydraulic Pump | 4622371EX - Hydraulic Pump Reman |
| AT335159 - Hydraulic Pump | 4626267EX - Hydraulic Pump Reman |
| AT336025 - Hydraulic Pump | 4636018 - Hydraulic Pump |
| AT336026 - Hydraulic Pump | 4642385 - Hydraulic Pump |
| AT336274 - Hydraulic Pump | 4642386 - Hydraulic Pump |
| AT336275 - Hydraulic Pump | 4653325 - Hydraulic Pump |
| AT337774 - Hydraulic Pump | 4653326 - Hydraulic Pump |
| AT337775 - Hydraulic Pump | 4658831 - Hydraulic Pump |
| AT337776 - Hydraulic Pump | 4658832 - Hydraulic Pump |
| AT337777 - Hydraulic Pump | 4661507 - Hydraulic Pump |
| AT337816 - Hydraulic Pump | 4661756 - Hydraulic Pump |
| AT33822 - Hydraulic Pump | 4667614 - Hydraulic Pump |
| AT343118 - Hydraulic Pump | 4668462 - Hydraulic Pump |
| AT343119 - Hydraulic Pump | 4676993 - Hydraulic Pump |
| AT343125 - Hydraulic Pump | 4693315 - Hydraulic Pump |
| AT343981 - Hydraulic Pump | 4699382 - Hydraulic Pump |
| AT343982 - Hydraulic Pump | 4699383 - Hydraulic Pump |
| AT343983 - Hydraulic Pump | 4707019 - Hydraulic Pump |
| AT343984 - Hydraulic Pump | 4708424 - Hydraulic Pump |
| AT344795 - Hydraulic Pump | 4712984 - Hydraulic Pump |
| AT347681 - Hydraulic Pump | 4712992 - Hydraulic Pump |
| AT347683 - Hydraulic Pump | 5PQ900323 - Hydraulic Pump |
| AT347903 - Hydraulic Pump | 5RD3910079 - Hydraulic Pump |
| AT347904 - Hydraulic Pump | 5RD669155 - Hydraulic Pump |
| AT347909 - Hydraulic Pump | 5TB5X2101181 - Hydraulic Pump |
| AT348384 - Hydraulic Pump Reman | 5TB500100181 - Hydraulic Pump |
| AT348386 - Hydraulic Pump Reman | 5131001373 - Hydraulic Pump |
| AT350210 - Hydraulic Pump | 5157500510 - Hydraulic Pump |
| AT350213 - Hydraulic Pump | 5157610040 - Hydraulic Pump |
| AT353755 - Hydraulic Pump | 5157610050 - Hydraulic Pump |
| AT353756 - Hydraulic Pump | 7005972RM - Hydraulic Pump Reman |
| AT353757 - Hydraulic Pump | 7005977RM - Hydraulic Pump Reman |
| AT353758 - Hydraulic Pump | 7007063RM - Hydraulic Pump Reman |
| AT353760 - Hydraulic Pump | 700847200 - Hydraulic Pump |
| AT353936 - Hydraulic Pump | 7157772002 - Hydraulic Pump |
| AT353937 - Hydraulic Pump | 8100205789 - Hydraulic Pump |
| AT354782 - Hydraulic Pump | 8941744181 - Hydraulic Pump |
| AT354981 - Hydraulic Pump | 8943763781 - Hydraulic Pump |
| AT356350 - Hydraulic Pump | 8944042406 - Hydraulic Pump |
| AT356387 - Hydraulic Pump | 8944470493 - Hydraulic Pump |
| AT356483 - Hydraulic Pump | 8970157890 - Hydraulic Pump |
| AT358187 - Hydraulic Pump | 8970314861 - Hydraulic Pump |
| AT360385 - Hydraulic Pump | 8970314863 - Hydraulic Pump |
| AT360388 - Hydraulic Pump | 8970653840 - Hydraulic Pump |
| AT361090 - Hydraulic Pump | 8970693870 - Hydraulic Pump |
| AT364474 - Hydraulic Pump | 8971289631 - Hydraulic Pump |
| AT366474 - Hydraulic Pump | 8971332270 - Hydraulic Pump |
| AT366668 - Hydraulic Pump | 8971385570 - Hydraulic Pump |
| AT366703 - Hydraulic Pump | 8971619771 - Hydraulic Pump |
| AT367442 - Hydraulic Pump | 8971685600 - Hydraulic Pump |
| AT368732 - Hydraulic Pump | 8971783320 - Hydraulic Pump |
| AT370019 - Hydraulic Pump | 8973148952 - Hydraulic Pump |
| AT370229 - Hydraulic Pump | 8973571140 - Hydraulic Pump |
| AT371543 - Hydraulic Pump | 8973572650 - Hydraulic Pump |
| AT372881 - Hydraulic Pump | 8973654850 - Hydraulic Pump |
| AT373263 - Hydraulic Pump | 8973682750 - Hydraulic Pump |
| AT373265 - Hydraulic Pump | 9044461 - Hydraulic Pump |
| AT374507 - Hydraulic Pump | 9044462 - Hydraulic Pump |
| AT375802 - Hydraulic Pump | 9053743 - Hydraulic Pump |
| AT376093 - Hydraulic Pump | 9056060 - Hydraulic Pump |
| AT376449 - Hydraulic Pump | 9060320 - Hydraulic Pump |
| AT376450 - Hydraulic Pump | 9060321 - Hydraulic Pump |
| AT377262 - Hydraulic Pump | 9060322 - Hydraulic Pump |
| AT377526 - Hydraulic Pump | 9063411 - Hydraulic Pump |
| AT378791 - Hydraulic Pump | 9064918 - Hydraulic Pump |
| AT379178 - Hydraulic Pump | 9072451 - Hydraulic Pump |
| AT379179 - Hydraulic Pump | 9073449EX - Hydraulic Pump Reman |
| AT379370 - Hydraulic Pump | 9077423 - Hydraulic Pump |
| AT379371 - Hydraulic Pump | 9077424 - Hydraulic Pump |
| AT381381 - Hydraulic Pump | 9077555EX - Hydraulic Pump Reman |
| AT381724 - Hydraulic Pump | 9077958 - Hydraulic Pump |
| AT383038 - Hydraulic Pump | 9078606 - Hydraulic Pump |
| AT383295 - Hydraulic Pump | 9084969 - Hydraulic Pump |
| AT383297 - Hydraulic Pump | 9086055 - Hydraulic Pump |
| AT384094 - Hydraulic Pump | 9107253EX - Hydraulic Pump Reman |
| AT388452 - Hydraulic Pump | 9107254EX - Hydraulic Pump Reman |
| AT388455 - Hydraulic Pump | 9122262 - Hydraulic Pump |
| AT389895 - Hydraulic Pump | 9127385 - Hydraulic Pump |
| AT389903 - Hydraulic Pump | 9127385EX - Hydraulic Pump Reman |
| AT390104 - Hydraulic Pump | 9131008014 - Hydraulic Pump |
| AT391073 - Hydraulic Pump | 9132521 - Hydraulic Pump |
| AT391079 - Hydraulic Pump | 9133005 - Hydraulic Pump |
| AT391080 - Hydraulic Pump | 9133005EX - Hydraulic Pump Reman |
| AT391097 - Hydraulic Pump | 9133006EX - Hydraulic Pump Reman |
| AT391098 - Hydraulic Pump | 9133569EX - Hydraulic Pump Reman |
| AT391122 - Hydraulic Pump | 9136529EX - Hydraulic Pump Reman |
| AT398801 - Hydraulic Pump | 9136850EX - Hydraulic Pump Reman |
| AT398802 - Hydraulic Pump | 9149225 - Hydraulic Pump |
| AT403401 - Hydraulic Pump | 9149801 - Hydraulic Pump |
| AT403659 - Hydraulic Pump | 9150326 - Hydraulic Pump |
| AT409887 - Hydraulic Pump | 9152593EX - Hydraulic Pump Reman |
| AT409888 - Hydraulic Pump | 9152668EX - Hydraulic Pump Reman |
| AT410590 - Hydraulic Pump | 9153026EX - Hydraulic Pump Reman |
| AT413824 - Hydraulic Pump | 9155142EX - Hydraulic Pump Reman |
| AT55869 - Hydraulic Pump | 9155144 - Hydraulic Pump |
| AT57563 - Hydraulic Pump | 9155144EX - Hydraulic Pump Reman |
| AT57568 - Hydraulic Pump | 9159228 - Hydraulic Pump |
| AT57577 - Hydraulic Pump | 9159230 - Hydraulic Pump |
| AT62527 - Hydraulic Pump | 9169054EX - Hydraulic Pump Reman |
| AT62647 - Hydraulic Pump | 9169055 - Hydraulic Pump |
| AT69456 - Hydraulic Pump | 9175295 - Hydraulic Pump |
| AT72674 - Hydraulic Pump | 9177392 - Hydraulic Pump |
| AT72677 - Hydraulic Pump | 9184686EX - Hydraulic Pump Reman |
| AT74412 - Hydraulic Pump | 9185525 - Hydraulic Pump |
| AU42492 - Hydraulic Pump | 9187863 - Hydraulic Pump |
| AXE15430 - Hydraulic Pump | 9195235 - Hydraulic Pump |
| AXE16074 - Hydraulic Pump | 9195235EX - Hydraulic Pump Reman |
| AXE16117 - Hydraulic Pump | 9195236EX - Hydraulic Pump Reman |
| AXE27489 - Hydraulic Pump | 9195237EX - Hydraulic Pump Reman |
| AXE29041 - Hydraulic Pump | 9197075EX - Hydraulic Pump Reman |
| AXE30234 - Hydraulic Pump | 9198958 - Hydraulic Pump |
| AXE30235 - Hydraulic Pump | 9199338 - Hydraulic Pump |
| AXE31655 - Hydraulic Pump | 9201020 - Hydraulic Pump |
| AXE35174 - Hydraulic Pump | 9201971 - Hydraulic Pump |
| AXE35277 - Hydraulic Pump | 9202400EX - Hydraulic Pump Reman |
| AXE35278 - Hydraulic Pump | 9207291EX - Hydraulic Pump Reman |
| AXE35279 - Hydraulic Pump | 9210213 - Hydraulic Pump |
| AXE35280 - Hydraulic Pump | 9212016EX - Hydraulic Pump Reman |
| AYC10755 - Hydraulic Pump | 9216333 - Hydraulic Pump |
| AYC10988 - Hydraulic Pump | 9227923 - Hydraulic Pump |
| AYC13150 - Hydraulic Pump | 9227923EX - Hydraulic Pump Reman |
| AZ53192 - Hydraulic Pump | 9236929 - Hydraulic Pump |
| AZ64045 - Hydraulic Pump | 9262320 - Hydraulic Pump |
| BZ100121 - Hydraulic Pump | 9279120 - Hydraulic Pump |
| CB01412141 - Hydraulic Pump | 9288367 - Hydraulic Pump |
| CB01420026 - Hydraulic Pump | 9298855 - Hydraulic Pump |
| CB01464332 - Hydraulic Pump | 9313588 - Hydraulic Pump |
| CB11421103 - Hydraulic Pump | |