Komatsu Water Pumps
The plunger and piston Komatsu water pump are widely distributed, as their work is effective at high final pressure.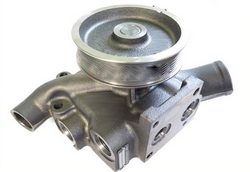 The purpose of the Komatsu water pump in the cooling system is to pump the cooling liquid through the cooling system. The main task is to force the coolant into the cooling Komatsu radiator, as a result of the operation of the Komatsu thermostat and the start of a large circle of engine cooling.
How does the Komatsu piston water pump work?
The principle of operation of the Komatsu piston water pump is to pump the liquid by suction. What does it mean? The piston creates a translational motion, through which the liquid enters the cavity of the lower part of the device from a special tube. When the piston does reverse movement, the valve on the pipeline closes and thereby prevents the fluid from flowing back. However, another valve opens on the discharge pipe. At the primary suction it was closed. These processes are repeated again and again, so that the fluid is constantly pumped by the pump.
Buy online original and replacement or aftermarket Komatsu water pumps
| | |
| --- | --- |
| CR1239487H91 - PUMP WATER | C735105C91 - PUMP WATER |
| CR1240520H91 - PUMP WATER | C735106C91 - PUMP WATER |
| CR1240520H92 - PUMP WATER | C749170C91 - PUMP WATER |
| CR1241170H91 - PUMP WATER | C749176C91 - PUMP WATER |
| CR1246566H92 - PUMP WATER | C749176C92 - PUMP WATER |
| CR1258150H91 - PUMP WATER | C749189C91 - PUMP WATER |
| CR1295271H91 - PUMP WATER | C749233C91 - PUMP WATER |
| CR1295271H92 - PUMP WATER | C749233C92 - PUMP WATER |
| CR1295446H92 - PUMP WATER | C749286C91 - PUMP WATER |
| CR1307560H91 - PUMP WATER | C749286C92 - PUMP WATER |
| CR1310706H91 - PUMP WATER | C749287C92 - PUMP WATER |
| CR1310727H1 - PUMP WATER | C749293C91 - PUMP WATER |
| CR1310884H91 - PUMP WATER | C749293C92 - PUMP WATER |
| CR6114-61-1100 - PUMP WATER | C749300C91 - PUMP WATER |
| CR6124-61-1004 - PUMP WATER | C749300C92 - PUMP WATER |
| CR6127-61-1008 - PUMP WATER | C749504C91 - PUMP WATER |
| CR6130-62-1302 - PUMP WATER | C749504C92 - PUMP WATER |
| CR6131-61-1202 - PUMP WATER | C749551C91 - PUMP WATER |
| CR6131-62-1205 - PUMP WATER | C749610C91 - PUMP WATER |
| CR6134-61-1410 - PUMP WATER | C749610C92 - PUMP WATER |
| CR6134-61-1430 - PUMP WATER | C749610C93 - PUMP WATER |
| CR6136-61-1102 - PUMP WATER | C749702C91 - PUMP WATER |
| CR6136-61-1401 - PUMP WATER | C749702C92 - PUMP WATER |
| CR6136-61-1402 - PUMP WATER | C749908C91 - PUMP WATER |
| CR6136-61-1500 - PUMP WATER | C749909C91 - PUMP WATER |
| CR6136-61-1501 - PUMP WATER | R1295271H91 - PUMP WATER |
| CR6136-61-1601 - PUMP WATER | R6138-61-1660 - PUMP WATER |
| CR6136-62-1100 - PUMP WATER | R6151-61-1102 - PUMP WATER |
| CR6138-61-1560 - PUMP WATER | R6151-61-1103 - PUMP WATER |
| CR6138-61-1570 - PUMP WATER | R6151-61-1104 - PUMP WATER |
| CR6138-61-1660 - PUMP WATER | R6151-61-1121 - PUMP WATER |
| CR6138-61-1700 - PUMP WATER | R6151-62-1102 - PUMP WATER |
| CR6138-61-1800 - PUMP WATER | R6151-62-1103 - PUMP WATER |
| CR6138-61-1860 - PUMP WATER | R6154-61-1100 - PUMP WATER |
| CR6138-62-1100 - PUMP WATER | R6154-61-1101 - PUMP WATER |
| CR6138-62-1101 - PUMP WATER | R6164-61-1031 - PUMP WATER |
| CR6150-61-1101 - PUMP WATER | R6165-61-1001 - PUMP WATER |
| CR6150-61-1102 - PUMP WATER | R6204-61-1303 - PUMP WATER |
| CR6150-61-1103 - PUMP WATER | R6205-61-1203 - PUMP WATER |
| CR6150-61-1104 - PUMP WATER | R6206-61-1504 - PUMP WATER |
| CR6151-61-1100 - PUMP WATER | R6211-61-1101 - PUMP WATER |
| CR6151-61-1101 - PUMP WATER | R6211-62-1400 - PUMP WATER |
| CR6151-61-1102 - PUMP WATER | R6211-62-1401 - PUMP WATER |
| CR6151-61-1103 - PUMP WATER | R6211-62-1402 - PUMP WATER |
| CR6151-61-1104 - PUMP WATER | R6212-61-1202 - PUMP WATER |
| CR6151-61-1105 - PUMP WATER | R6212-61-1203 - PUMP WATER |
| CR6151-61-1121 - PUMP WATER | R6212-61-1204 - PUMP WATER |
| CR6151-61-1122 - PUMP WATER | R6212-61-1301 - PUMP WATER |
| CR6151-61-1202 - PUMP WATER | R6212-61-1302 - PUMP WATER |
| CR6151-62-1100 - PUMP WATER | R6212-61-1303 - PUMP WATER |
| CR6151-62-1101 - PUMP WATER | R6215-61-1501 - PUMP WATER |
| CR6151-62-1102 - PUMP WATER | R6215-61-1503 - PUMP WATER |
| CR6151-62-1103 - PUMP WATER | R6215-61-1504 - PUMP WATER |
| CR6151-62-1104 - PUMP WATER | R6215-61-1505 - PUMP WATER |
| CR6154-61-1100 - PUMP WATER | R6215-61-9100 - PUMP WATER |
| CR6154-61-1101 - PUMP WATER | R6240-61-1103 - PUMP WATER |
| CR6154-61-1102 - PUMP WATER | R6251-61-1100 - PUMP WATER |
| CR6162-63-1010 - PUMP WATER | R6261-61-1102 - PUMP WATER |
| CR6162-63-1012 - PUMP WATER | R6261-61-1202 - PUMP WATER |
| CR6162-63-1013 - PUMP WATER | R6261-61-1203 - PUMP WATER |
| CR6162-63-1014 - PUMP WATER | R6676-63-1015 - PUMP WATER |
| CR6162-63-1015 - PUMP WATER | R6711-62-1101 - PUMP WATER |
| CR6164-61-1001 - PUMP WATER | R6731-62-1110 - PUMP WATER |
| CR6164-61-1030 - PUMP WATER | R6736-61-1402 - PUMP WATER |
| CR6164-61-1031 - PUMP WATER | R6746-61-1200 - PUMP WATER |
| CR6165-61-1001 - PUMP WATER | R6754-61-1210 - PUMP WATER |
| CR6165-61-1002 - PUMP WATER | YM129907-42001 - PUMP WATER |
| CR6204-61-1104 - PUMP WATER | 6743-61-1531 - XWATER PUMP |
| CR6204-61-1300 - PUMP WATER | CR6150-61-1105 - WATER PUMP |
| CR6204-61-1302 - PUMP WATER | CR6162-63-1016 - WATER PUMP |
| CR6204-61-1303 - PUMP WATER | CR6219-61-1100 - WATER PUMP A |
| CR6204-61-1304 - PUMP WATER | CR6219-61-1102 - WATER PUMP |
| CR6205-61-1202 - PUMP WATER | CR6251-61-1102 - WATER PUMP |
| CR6205-61-1203 - PUMP WATER | CR6252-61-1100 - WATER PUMP A |
| CR6206-61-1100 - PUMP WATER | CR6275-61-1100 - WATER PUMP |
| CR6206-61-1102 - PUMP WATER | CR6743-61-1531 - WATER PUMP K |
| CR6206-61-1103 - PUMP WATER | CR6743-61-1532 - WATER PUMP K |
| CR6206-61-1104 - PUMP WATER | CR6746-61-1100 - WATER PUMP |
| CR6206-61-1502 - PUMP WATER | CR6746-61-1201 - WATER PUMP |
| CR6206-61-1503 - PUMP WATER | HD19200ZA0010 - WATER PUMP A |
| CR6206-61-1504 - PUMP WATER | R6219-61-1100 - WATER PUMP A |
| CR6206-61-1505 - PUMP WATER | R6219-61-1102 - WATER PUMP |
| CR6206-61-1603 - PUMP WATER | R6251-61-1102 - WATER PUMP |
| CR6209-61-1100 - PUMP WATER | R6252-61-1100 - WATER PUMP A |
| CR6211-61-1100 - PUMP WATER | R6275-61-1100 - WATER PUMP |
| CR6211-61-1101 - PUMP WATER | R6743-61-1531 - WATER PUMP K |
| CR6211-61-1400 - PUMP WATER | R6743-61-1532 - WATER PUMP K |
| CR6211-61-1401 - PUMP WATER | R6746-61-1100 - WATER PUMP |
| CR6211-62-1400 - PUMP WATER | R6746-61-1201 - WATER PUMP |
| CR6211-62-1401 - PUMP WATER | XA5418 - WATER PUMP M |
| CR6211-62-1402 - PUMP WATER | YM119233-42000 - WATER PUMP A |
| CR6211-62-1403 - PUMP WATER | YM121000-42100 - WATER PUMP A |
| CR6212-61-1201 - PUMP WATER | YM129C20-42090 - WATER PUMP A |
| CR6212-61-1202 - PUMP WATER | YM129017-42120 - WATER PUMP A |
| CR6212-61-1203 - PUMP WATER | YM129900-42003 - WATER PUMP A |
| CR6212-61-1204 - PUMP WATER | YM129900-42056 - WATER PUMP A |
| CR6212-61-1205 - PUMP WATER | YM129907-42002 - WATER PUMP |
| CR6212-61-1301 - PUMP WATER | 5034679 - WATER PUMP |
| CR6212-61-1302 - PUMP WATER | 5055928 - WATER PUMP |
| CR6212-61-1303 - PUMP WATER | 5198173 - WATER PUMP |
| CR6212-61-1304 - PUMP WATER | 5199243 - WATER PUMP |
| CR6212-61-1305 - PUMP WATER | 5207519 - WATER PUMP |
| CR6215-61-1401 - PUMP WATER | 5247262 - WATER PUMP |
| CR6215-61-1500 - PUMP WATER | 5250610 - WATER PUMP |
| CR6215-61-1501 - PUMP WATER | 5265572 - WATER PUMP |
| CR6215-61-1502 - PUMP WATER | 6112-63-1102 - WATER PUMP A |
| CR6215-61-1503 - PUMP WATER | 6130-62-1606 - WATER PUMP A |
| CR6215-61-1504 - PUMP WATER | 6136-61-1202 - WATER PUMP A |
| CR6215-61-1505 - PUMP WATER | 6138-61-1560 - XWATER PUMP |
| CR6215-61-1506 - PUMP WATER | 6138-61-1660 - XWATER PUMP |
| CR6215-61-9100 - PUMP WATER | 6138-61-1670 - WATER PUMP A |
| CR6215-61-9101 - PUMP WATER | 6138-61-1700 - XWATER PUMP |
| CR6215-61-9102 - PUMP WATER | 6144-65-1201 - WATER PUMP A |
| CR6216-64-1110 - PUMP WATER | 6151-62-1201 - WATER PUMP A |
| CR6218-61-1101 - PUMP WATER | 6202-63-1401 - WATER PUMP A |
| CR6218-61-1102 - PUMP WATER | 6204-61-1204 - WATER PUMP A |
| CR6221-61-1101 - PUMP WATER | 6204-61-1602 - WATER PUMP A |
| CR6221-61-1102 - PUMP WATER | 6204-61-1603 - WATER PUMP A |
| CR6221-61-1502 - PUMP WATER | 6205-61-1203 - XWATER PUMP |
| CR6240-61-1100 - PUMP WATER | 6205-61-1204 - XWATER PUMP |
| CR6240-61-1102 - PUMP WATER | 6212-62-1400 - WATER PUMP A |
| CR6240-61-1103 - PUMP WATER | 6212-62-2200 - WATER PUMP A |
| CR6251-61-1100 - PUMP WATER | 6219-61-1102 - XWATER PUMP |
| CR6251-61-1101 - PUMP WATER | 6219-61-1150 - WATER PUMP A |
| CR6261-61-1101 - PUMP WATER | 6222-61-1200 - WATER PUMP A |
| CR6261-61-1102 - PUMP WATER | 6222-61-2200 - WATER PUMP A |
| CR6261-61-1201 - PUMP WATER | 6222-65-1901 - WATER PUMP A |
| CR6261-61-1202 - PUMP WATER | 6240-61-1103 - XWATER PUMP |
| CR6261-61-1203 - PUMP WATER | 6240-61-1104 - XWATER PUMP |
| CR6676-63-1015 - PUMP WATER | 6240-61-1105 - WATER PUMP A |
| CR6685-61-1024 - PUMP WATER | 6251-61-1102 - XWATER PUMP |
| CR6691-61-1301 - PUMP WATER | 6252-61-1100 - XWATER PUMP |
| CR6711-62-1101 - PUMP WATER | 6261-61-1102 - XWATER PUMP |
| CR6712-62-1100 - PUMP WATER | 6261-61-1103 - XWATER PUMP |
| CR6731-62-1110 - PUMP WATER | 6261-61-1202 - XWATER PUMP |
| CR6735-61-1100 - PUMP WATER | 6261-61-1203 - XWATER PUMP |
| CR6736-61-1200 - PUMP WATER | 6271-61-1601 - WATER PUMP A |
| CR6736-61-1401 - PUMP WATER | 6271-61-1801 - WATER PUMP A |
| CR6736-61-1402 - PUMP WATER | 6271-61-1802 - WATER PUMP A |
| CR6741-61-1530 - PUMP WATER | 6731-62-1100 - WATER PUMP A |
| CR6742-01-5145 - PUMP WATER | 6746-61-1201 - XWATER PUMP |
| CR6742-01-5577 - PUMP WATER | 6754-61-1010 - XWATER PUMP |
| CR6742-01-5578 - PUMP WATER | 6754-61-1210 - WATER PUMP K |
| CR6746-61-1200 - PUMP WATER | 6754-61-1310 - WATER PUMP K |
| CR6754-61-1010 - PUMP WATER | CR1310884H92 - PUMP, WATER |
| C1216540H91 - PUMP WATER | CR6205-61-1204 - PUMP, WATER |
| C1216541H91 - PUMP WATER | CR6240-61-1104 - PUMP, WATER |
| C735097C91 - PUMP WATER | R1310884H92 - PUMP, WATER |
| C735098C91 - PUMP WATER | R6205-61-1204 - PUMP, WATER |
| C735099C91 - PUMP WATER | R6240-61-1104 - PUMP, WATER |
| C735100C91 - PUMP WATER | 1295271H94 - PUMP, WATER |
| C735102C91 - PUMP WATER | 15807 - PUMP, WATER |
| C735103C91 - PUMP WATER | CR6261-61-1103 - PUMP,WATER |
| C735104C91 - PUMP WATER | R6261-61-1103 - PUMP,WATER |