Komatsu engine repair kits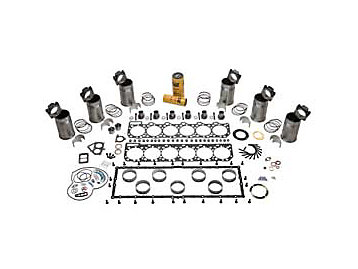 The Komatsu engine repair kit is a set of seals necessary to repair the engine.

The repair kit includes the following elements:
1. Cylinder head gasket.
2. Valve cover gasket.
3. Rings of wells of glow plugs.
4. Valve nuts for securing the valve cover.
5. Intake and exhaust manifold gaskets.
6. Throttle valve installation gasket.
7. A lining of the valve of idling.
8. Nozzle gaskets.
9. Oil-removing rings.
10. Seals: a camshaft, a cranked shaft (forward and back), the oil pump.
11. Oil pump Gaskets.
12. Turbocharger gasket.
13. Oil sump gasket.

It should also be understood that for Komatsu equipment it is justified to use both original Komatsu engine repair kits and aftermarket (replacement or duplicate) Komatsu engine repair kits.

The repair kits do not include piston rings and liners. These Komatsu parts are purchased separately.

You can buy engine repair kits for Komatsu Heavy Equipment online in our online original and aftermarket Komatsu parts store.
| | |
| --- | --- |
| 00370420 - KIT CYL | MK1397 - KIT |
| 00370720 - KIT CYL | MK1465 - KIT MAIN |
| 00370758 - KIT CYL | MK1538 - KIT, MAI |
| 00416027G - SEAL KIT | MK3231 - VLV KIT |
| 00416028G - SEAL KIT | MK3505 - KIT,SHUN |
| 00416063G - KIT-FLOA | MK3549 - KIT, PUM |
| 00421257 - SEAL KIT | MK3581 - KIT, PLA |
| 00659000 - KIT DUR | MK3699 - KIT,BRK |
| 00770003 - KIT ROL | MK3871 - KIT,HAND |
| 00934260000 - TOOL KIT | MK3873 - KIT,HAND |
| 00987856000 - TOOL KIT | MK3875 - KIT,HAND |
| 01020017 - SEAL KIT | MK3877 - KIT,HAND |
| 01020019 - SEAL KIT | MK3889 - KIT,BLD/ |
| 01020900 - KIT CYL | MK3891 - KIT,BLD/ |
| 01030027 - SEAL KIT | MK3939 - KIT,OIL |
| 01030901 - KIT CYL | MK3965 - KIT,POWE |
| 01030902 - KIT CYL | MK3999 - KIT, O/C |
| 01030904 - KIT CYL | MK4011 - KIT,TOW |
| 01040900 - KIT CYL | MK4015 - KIT,TOW |
| 01040900A - KIT CYL | MK4035 - KIT, PIS |
| 01040900B - KIT CYL | MK4087 - KIT, UNL |
| 01040901 - KIT CYL | MK4103 - KIT, O |
| 01040902 - KIT CYL | MY275-2111 - PAD KIT |
| 01040903 - KIT CYL | ND028099-5100 - KIT |
| 01040905 - KIT CYL | ND128099-5770 - KIT |
| 01040906 - KIT CYL | NFEB1601P8 - SEAL KIT |
| 01040909 - KIT CYL | PB5586 - KIT PLUG |
| 01040910 - KIT CYL | PB6368 - KIT,WIPE |
| 01040911 - KIT CYL | PB6895 - KIT |
| 01040912 - KIT CYL | PB7158 - GAUGEKIT |
| 01040913 - KIT SEA | PB7598 - CONT KIT |
| 01050900 - KIT CYL | PB8769 - KIT,ADPT |
| 01050900A - KIT CYL | PC0220 - KIT,AIRL |
| 01050903 - KIT CYL | PC1621 - KIT < |
| 01050904 - KIT CYL | PC1641 - KIT, RES |
| 01050905 - KIT CYL | PF005549611L - SEAL KIT |
| 01050906 - KIT CYL | PF008946066K - SEAL KIT |
| 01050907 - KIT SEA | PH4-83A - KITS, |
| 01060012 - SEAL KIT | PH46-83A - KITS, |
| 01060119 - SEAL KIT | PH5151HK-12 - KIT, |
| 01060121 - SEAL KIT | PH5151HK-16 - KIT, |
| 01060124 - SEAL KIT | PH5151HK-20 - KIT, |
| 01060145 - SEAL KIT | PH5151HK-24 - KIT, |
| 01070901 - KIT CYL | PH5151HK-32 - KIT, |
| 01070902 - KIT CYL | PH5151HK-8 - KIT, |
| 01080025 - SEAL KIT | PH652200 - KIT, |
| 01080901 - KIT CYL | PH652201 - KIT, |
| 01080903 - KIT CYL | PH83C-KDA - DIE KIT |
| 01080904 - KIT CYL | PH8GC-002 - KIT, |
| 01080905 - KIT CYL | PH8PC-001 - CRIMPKIT |
| 01080906 - KIT CYL | PH8WC-001 - KIT, |
| 01080909 - KIT CYL | PHCNGG3-4-KIT - ADAPTER |
| 01080910 - KIT CYL | PHCNGG3-6-KIT - ADAPTER |
| 01090017 - SEAL KIT | PHCNGG5-3-KIT - ADAPTER |
| 01090026 - SEAL KIT | PHCNGG5-4-KIT - ADAPTER |
| 01400421 - KIT ROT | PHCNGG5-8-KIT - ADAPTER |
| 01400566 - SEAL KIT | PHHFHFHK-12 - KIT, |
| 01400900 - KIT ROT | PHHFHFHK-16 - KIT, |
| 01400902 - SEAL KIT | PHHFHFHK-20 - KIT, |
| 01400906 - KIT SEA | PHHFHFHK-24 - KIT, |
| 01400909 - SEAL KIT | PHHFHFHK-32 - KIT, |
| 01400912 - SEAL KIT | PHHPB13X18KIT - KIT |
| 01490534 - SEAL KIT | PHHT-12-KIT - WRAP KIT |
| 01490620 - SHIM KIT | PHHT-16-KIT - WRAP KIT |
| 01490701 - SEAL KIT | PHHT-22-KIT - WRAP KIT |
| 01490703 - SEAL KIT | PHPKT13169 - KIT |
| 01490890 - KIT TILT | PHPLM-1 - HOSE KIT |
| 01490984 - KIT SPRO | PHPLM-2 - HOSE KIT |
| 01491050 - SEAL KIT | PKP000893 - KIT, BEA |
| 01491706 - KIT - MO | PKU5ME0006A - KIT, BEA |
| 01491707 - KIT - MO | PKULPR0005 - KIT-FUEL |
| 01499052 - KIT, MOT | PMD1551000 - KIT 1000 |
| 01679958 - KIT FRO | PMD155250 - KIT 250, |
| 01679959 - KIT GEA | PMD155500 - KIT 500, |
| 02310148 - KIT-BEAR | PMD652000 - KIT PM 2 |
| 02310285 - KIT SEA | PMD65250 - KIT 250, |
| 02310934 - KIT MUL | PMD65500 - KIT500,1 |
| 04201120 - KIT-REPA | PSTKIT001 - PL PUMP |
| 04201131 - KIT-SEAL | PSTKIT006 - PL ELECT |
| 04201144 - SEAL KIT | PSTKIT008 - PL PLUMB |
| 04403682 - KIT PUM | PSTKIT010 - PL PUMP |
| 04403776 - KIT SEN | PSTKIT011 - PL ELECT |
| 04405045 - KIT PIS | PSTKIT013 - PL PLUMB |
| 04409942 - KIT FAN | PSTKIT014 - PL PLUMB |
| 04409946 - KIT BOLT | PSTKIT016 - PL PLUMB |
| 04409964 - KIT RAD | PSTKIT017 - PL 6D114 |
| 04480769 - KIT CHA | PSTKIT019 - PL EVAC |
| 04519909 - KIT OIL | PSTKIT020 - FUSE 300 |
| 04610431 - KIT, STA | PSTKIT021 - PL SWITC |
| 04610942 - KIT VTU | PSTKIT021C - PL SWITC |
| 08246073 - SEAL KIT | PSTKIT022 - OIL EVAC |
| 101-14-05021 - SHIM KIT | PULPR0001 - KIT - RE |
| 10300552 - HOSE KIT | Q50912 - TEST KIT |
| 103743KF - SEAL KIT | R6743-61-1530 - KIT - WA |
| 10407 - KIT SEA | RE08201518 - KIT, REG |
| 10410063 - SEAL KIT | RE0820519 - KIT, REG |
| 10410130 - KIT, PIS | RE08250066 - SEAL KIT |
| 10410242 - SEAL KIT | RE08250618 - KIT |
| 10410271 - SEAL KIT | RK0107 - KIT,DEFL |
| 10410305 - SEAL KIT | RK0110 - KIT |
| 10410345 - KIT SPO | RK0117 - SHIM KIT |
| 10410346 - KIT LOA | RK0118 - SHIM KIT |
| 10410563 - KIT-FOOT | RK0129 - SEAL KIT |
| 10410666 - SEAL-KIT | RK0143 - SEAL KIT |
| 10410696 - SEAL-KIT | RK0179 - SEAL KIT |
| 10410802 - KIT-SEAL | RK0205 - SEAL KIT |
| 10410826 - SEAL KIT | RK0209 - KIT,CAN |
| 10410841 - SEAL KIT | RK0210 - KIT,DES |
| 10411386 - SEAL KIT | RK0211 - KIT,VLV |
| 10411409 - KIT-SEAL | RK0213 - KIT |
| 10411427 - SEAL KIT | RK0215 - KIT |
| 10411428 - SEAL KIT | RK0216 - KIT |
| 10411432 - SEAL KIT | RK0217 - SEAL KIT |
| 10412550 - SEAL KIT | RK0221 - SEALKIT |
| 10412570 - SEAL KIT | RK0223 - SEAL KIT |
| 10412571 - SEAL KIT | RK0229 - SEAL KIT |
| 10412572 - SEAL KIT | RK0230 - SEAL KIT |
| 10412573 - SEAL KIT | RK0231 - SHIM KIT |
| 10412574 - SEAL KIT | RK0233 - MTG KIT |
| 10412582 - SEAL KIT | RK0242 - KIT |
| 10412610 - SEAL KIT | RK0244 - KIT |
| 10412642 - SEAL KIT | RK0259 - SEAL KIT |
| 10412647S - KIT DIA | RK0260 - KIT |
| 10412665 - SEAL KIT | RK0261 - KIT MTG |
| 10412685 - SEAL KIT | RK0262 - KIT |
| 10412722 - SEAL KIT | RK0264 - SHIM KIT |
| 10412724 - KIT PIN | RK0265 - KIT |
| 10412747 - CAP KIT | RK0266 - KIT |
| 10412749 - SEAL KIT | RK0271 - KIT |
| 10412763 - SEAL KIT | RK1346 - SEAL KIT |
| 10412776 - SEAL KIT | RK1385 - KIT |
| 10412804 - SEAL KIT | RK1388 - KIT, UNL |
| 10412805 - SEAL KIT | RK1396 - KIT |
| 10412874 - SEAL KIT | RK1486 - KIT |
| 10412938 - KIT ACC | RK1572 - SEAL KIT |
| 10412975 - CAP KIT | RK1887 - KITAIR N |
| 10412985 - KIT ACC | RK1899 - KIT |
| 10413005 - STUD KIT | RK1930 - MAINTKIT |
| 10413008 - SEAL KIT | RK2001 - KIT |
| 10437 - KIT, SEA | RK2017 - SEAL KIT |
| 10444 - KIT SEA | RK2022 - SEAL KIT |
| 10459 - KIT SEA | RK2044 - KIT |
| 10468 - KIT, SEA | RK2063 - SEAL KIT |
| 10474 - KIT, SEA | RK2069 - KIT,BRAK |
| 105763 - KIT-REA | RK2091 - SEAL KIT |
| 106684 - KIT-REPA | RK2137 - SEAL KIT |
| 107-114-TIER3 - TOOL KIT | RK2151 - SEALKIT |
| 107341 - KIT-REPA | RK2157 - SEAL KIT |
| 107587H1 - KIT | RK2169 - SEAL KIT |
| 110055 - KIT-SEAL | RK2199 - 489 KIT |
| 110417 - KIT-SEAL | RK2202 - KIT |
| 1106526C1 - KIT | RK2203 - KIT |
| 1106822C1 - KIT | RK2204 - SEAL KIT |
| 1108325C1 - KIT | RK2205 - ADJ KIT |
| 1108462C1 - KIT | RK2206 - REPR KIT |
| 1113204C93 - SEAL KIT | RK2208 - PAWL KIT |
| 1113217C91 - KIT | RK2209 - PAWL KIT |
| 1113536C91 - KIT | RK2210 - PAWL KIT |
| 1113551C1 - KIT | RK2212 - SPRG KIT |
| 1113552C91 - KIT | RK2213 - SPRG KIT |
| 111582H1 - KIT | RK2214 - SPRG KIT |
| 1120400C1 - KIT | RT6696970590 - PLUG KIT |
| 112224 - KIT-SEAL | RT6698931013 - SEAL KIT |
| 112226 - KIT-SEA | SK01311 - KIT,SEAL |
| 112227 - KIT-SEAL | ST60539S - SEAL KIT |
| 1124734C91 - KIT | ST60540S - SEAL KIT |
| 1124749C94 - SEAL KIT | STBA0271A - SEAL KIT |
| 1124757C94 - KIT CYL | TZ1078 - SEAL KIT |
| 1124760C94 - KITICYL | TZ1083 - SEAL KIT |
| 1124775C92 - CS KIT | TZ1089 - SEAL KIT |
| 1124779C92 - CS KIT | TZ1096 - SEAL KIT |
| 1124853C96 - SEAL KIT | TZ1101 - SEAL KIT |
| 1124859C92 - CS KIT | TZ1103 - SEAL KIT |
| 1124860C95 - CS KIT | TZ1106 - SEAL KIT |
| 1124861C95 - CS KIT | TZ1107 - SEAL KIT |
| 1125008C91 - KIT | TZ1118 - SEAL KIT |
| 1125555C1 - KIT | TZ1120 - SEAL KIT |
| 1126596C91 - KIT | TZ1121 - SEAL KIT |
| 1126598C91 - KIT CYL | TZ150A1020-00 - RING KIT |
| 1126613C95 - SEAL KIT | TZ150A9000-00 - SEAL KIT |
| 1126768C91 - KIT | TZ150A9000-02 - SEAL KIT |
| 1127498C91 - KIT | TZ19223030-B - SEAL KIT |
| 1127499C91 - KIT | TZ200A1020-00 - KIT,RING |
| 1128526C2 - KIT | TZ205B9000-00 - SEAL KIT |
| 1129127C1 - KIT | TZ210A9000-00 - KIT |
| 113-06-A0450 - KIT WATE | TZ250-276-44-B - SEAL KIT |
| 113-33-05013 - KIT NON- | TZ277B2205-00 - KIT |
| 113-33-05014 - KIT NON | TZ300B9000-00 - SEAL KIT |
| 113110 - KIT-U-JO | TZ312B9000-00 - SEAL KIT |
| 11323 - KIT, SEA | TZ500B9000-00 - SEAL KIT |
| 1132702C1 - KIT | TZ504S9000-00 - SEAL KIT |
| 113506 - KIT-SHIM | TZ505D9000-00 - SEAL KIT |
| 1139875C3 - SHIM KIT | TZ511B9000-01 - SEAL KIT |
| 114-72-05010 - KIT | TZ516D9000-00 - SEAL KIT |
| 1151856C1 - KIT | TZ587B9000-00 - SEAL KIT |
| 1152641C1 - KIT | TZ684B1102-03 - KIT |
| 1173617C1 - SERV KIT | TZ881A9000-01 - SEAL KIT |
| 1173630C1 - KIT SERV | TZ910B9000-01 - SEAL KIT |
| 1173898C1 - KIT SER | TZ922A9000-01 - SEAL KIT |
| 11Y-32-05000 - KIT,SHOE | TZ922B9000-00 - SEAL KIT |
| 1206007H1 - SEAL KIT | TZ971B9000-00 - KIT |
| 1206008H1 - SEAL KIT | UC10260012421 - SEAL KIT |
| 1206088H91 - SEAL KIT | VE1750 - SEAL KIT |
| 1206151H1 - SEAL KIT | VE1974 - SEAL KIT |
| 1206157H1 - SEAL KIT | VE2073 - KIT |
| 1206379H2 - KIT | VE2236 - KIT BRG- |
| 1207046H91 - KIT | VE2238 - KIT |
| 1207750H1 - KIT SEAL | VE2239 - KIT |
| 1208009H2 - KIT | VE2243 - KIT |
| 1208545H92 - SEAL KIT | VE2473 - KIT |
| 1208547H92 - SEAL KIT | VE2529 - SEAL KIT |
| 1208548H93/D - SEAL KIT | VE2606 - SEAL KIT |
| 1208549H93 - SEAL KIT | VE2761 - KIT |
| 1208551H92 - SEAL KIT | VE2892 - KIT |
| 1208862H1 - KIT SEA | VE3059 - KIT |
| 1208890H1 - SEAL KIT | VE3278 - KIT |
| 1209764H1 - SEAL KIT | VE3350 - KIT |
| 121301 - KIT-BRG | VE3429 - KIT |
| 1213348H1 - KIT | VE3431 - KIT |
| 121400H - KIT | VE3434 - PLUG KIT |
| 121403HB - KIT | VE3594 - SEAL KIT |
| 1214110H92 - SEAL KIT | VE3742 - KIT |
| 1214116H91 - KIT | VE3789 - SEAL KIT |
| 1214891H1 - PUMP KIT | VE3958 - KIT |
| 1216224H1 - CAP KIT | VE4023 - KIT |
| 1216225H1 - CAP KIT | VE4183 - SEAL KIT |
| 1216460H2 - KIT SEAL | VE4253 - KIT |
| 1216475H2 - SEAL KIT | VE4457 - ACTU KIT |
| 1216480H1 - SEAL KIT | VE4458 - SEALKIT |
| 121762R92 - KIT | VE4569 - BARKIT |
| 1218041H91 - STUD KIT | VE4578 - HDW KIT |
| 1218880H1 - KIT | VE4580 - SPRNGKIT |
| 1219179H91 - SEAL KIT | VE4581 - ABSLKIT |
| 1219200H91 - SEAL KIT | VE4890 - TURB KIT |
| 121953 - KIT-RETA | VE4892 - VALVEKIT |
| 1222696H1 - COVERKIT | VE5182 - SENSRKIT |
| 122813 - KIT,U-J | VE5266 - SEALKIT |
| 122946 - KIT-WHL | VE5450 - HDW KIT |
| 1233105H1 - SEAL KIT | VE5496 - SEAL KIT |
| 1234207H92 - KIT, SWI | VE5671 - SERV KIT |
| 123912 - KIT-BUSH | VE5686 - SEAL KIT |
| 124-15-05101 - KIT | VE6031 - REPR KIT |
| 1240519H91 - STUD KIT | VE6101 - REWNDKIT |
| 1241669H92 - KIT - LI | VE6156 - SPDOMKIT |
| 1241689H92 - KIT, OIL | VE6205 - SERV KIT |
| 1241911H92 - KIT,CYL | VE6206 - SERV KIT |
| 1242026H92 - KIT, PIS | VE6656 - BAG KIT |
| 1242047H91 - CYL KIT | VE6659 - VLVKIT |
| 124301 - KIT-SWIT | VE6661 - CAMKIT |
| 1243279H91 - KIT SEAL | VE6695 - SEAL KIT |
| 1243284H91 - KIT | VE6715 - CRPT KIT |
| 1245344H2 - KIT FP R | VE6823 - PIN KIT |
| 1246213H2 - SEAL KIT | VE6837 - INSL KIT |
| 1246214H2 - SEAL KIT | VE6848 - INSL KIT |
| 125096 - KIT - C | VE7010 - SEALKIT |
| 1251506H1 - KIT | VE7012 - HDWKIT |
| 1257847H1 - KIT | VE7029 - REPR KIT |
| 1257988H1 - KIT SEAL | VE7284 - SEAL KIT |
| 1257990H1 - KIT SEAL | VE7463 - SEAL KIT |
| 1260478H1 - KIT SEAL | VE7621 - SERV KIT |
| 1261579H1 - KIT | VE7622 - SERV KIT |
| 1261950H91 - KIT S | VE7659 - SEAL KIT |
| 1262180H1 - KIT | VE7720 - SLNT KIT |
| 1262233H91 - KIT,TC S | VE7780 - SEAL KIT |
| 1262480H1 - SEAL KIT | VE7798 - SEAL KIT |
| 1262626H92 - KIT,ARMR | VE7826 - SEAL KIT |
| 1262627H92 - KIT,ARMR | VE7828 - SEAL KIT |
| 1262953H91 - KIT | VE7875 - SERV KIT |
| 126578 - KIT-PUM | VE7911 - LNG KIT |
| 1266282H1 - SEAL KIT | VE8108 - KIT |
| 1266286H1 - SEAL KIT | VE8362 - SUSP KIT |
| 1266287H91 - SHUTLKIT | VE8379 - KIT, LWR |
| 1266288H1 - SEAL KIT | VE8380 - KIT, CHK |
| 1266665H91 - GAUGEKIT | VE8381 - KIT, REP |
| 1266996H1 - SEAL KIT | VE8382 - KIT, VLV |
| 1267017H91 - SEAL KIT | VE8383 - KIT, REP |
| 1267876H91 - RING KIT | VE8384 - KIT, |
| 1268101H91 - SEALKIT | VE8528 - KIT, SPR |
| 1268133H91 - SEAL KIT | VE8529 - KIT, SEA |
| 1268135H91 - PLGR-KIT | VE8530 - KIT, BOO |
| 1268466H1 - SEAL KIT | VE8531 - KIT, SPO |
| 1268843H1 - KIT | VE8724 - KIT,AIR |
| 1269928H91 - MNFLDKIT | VE8735 - KIT AIR |
| 1269996H91 - COIL KIT | VE8863 - KIT, SLI |
| 1270003H91 - LUBEKIT | VE8866 - KIT, SEA |
| 1270913H92 - PUMP KIT | VE8867 - KIT, BOO |
| 127574R91 - KIT | VE8957 - SEAL KIT |
| 1277914H91 - COVERKIT | VE9079 - KIT, ELE |
| 1278362H91 - SEAL KIT | VE9240 - SEAL KIT |
| 1278363H91 - SEAL KIT | VE9284 - SEAL KIT |
| 1278364H91 - SEALKIT | VJ1638 - KIT |
| 1278367H91 - SEAL KIT | VJ1799 - KIT |
| 1278370H91 - SEAL KIT | VS1294 - VANE KIT |
| 1278371H91 - SEALKIT | VS7533 - KIT CLUT |
| 1278372H91 - SEAL KIT | WB1238 - KIT, PLA |
| 1278373H91 - SEAL KIT | WB1240 - KIT, PLA |
| 1278461H1 - SEAL KIT | WG86603396 - SEAL KIT |
| 1279385H91 - SEAL KIT | WG86622677 - KIT,SEAL |
| 1279386H91 - SEAL KIT | WG86634672 - KIT - SE |
| 1279388H91 - SEAL KIT | WG86634680 - KIT, SEA |
| 1279392H91 - KIT SEAL | WG95215 - KIT,CHAR |
| 1279393H91 - SEAL KIT | X97-1007220 - KIT NOSE |
| 1279394H91 - SEAL KIT | XA0052 - KIT, STA |
| 1279397H91 - SEALKIT | XA1957 - KIT, REP |
| 1279399H91 - SEALKIT | XA1973 - KIT, MOU |
| 1279402H91 - KIT CYL. | XA1990 - KIT, SER |
| 1279577H91 - WIPERKIT | XA2030 - KIT,SEAT |
| 1279578H91 - WIPERKIT | XA2042 - KIT, BEA |
| 1280821H91 - KIT VALV | XA2057 - KIT,CONT |
| 1283164H92 - KIT REPO | XA2086 - KIT < |
| 1285312H1 - GSKTKIT | XA2111 - KIT SERV |
| 1286062H91 - SEAL KIT | XA2240 - KIT SEAT |
| 1286688H91 - KIT CONN | XA2247 - KIT, HAR |
| 1286884H1 - SEAL KIT | XA2268 - KIT,VALV |
| 1287296H1 - SEAL KIT | XA2269 - KIT,CHEC |
| 1287513H91 - KIT ARM | XA2270 - KIT,UNLO |
| 1287534H91 - KIT | XA2271 - KIT, SEA |
| 1287543H1 - KIT, O | XA2291 - KIT,DAMP |
| 1287545H1 - SEAL KIT | XA2303 - KIT,STOP |
| 1287548H1 - SEAL KIT | XA2339 - KIT, SER |
| 1287603H1 - SEAL KIT | XA2369 - KIT,SUSP |
| 1287613H2 - SEAL KIT | XA2428 - KIT, SEA |
| 1287640H1 - KIT | XA2442 - KIT, SEA |
| 1287648H91 - KIT SEAL | XA2443 - KIT, SEA |
| 1294015H94 - SEAL,KIT | XA2444 - KIT, SEA |
| 1294017H94 - KIT,SEAL | XA2485 - KIT SOFT |
| 1294017H95 - KIT - SE | XA2486 - KIT SHAF |
| 1294018H93 - SEAL KIT | XA2645 - KIT, REP |
| 1294224H93 - KIT - WP | XA2663 - KIT, SEA |
| 1294243H91 - KIT,TRBO | XA2664 - KIT, SEA |
| 1294453H91 - KIT,CPR | XA2665 - KIT, SEA |
| 1294454H91 - KIT | XA2815 - KIT, SWI |
| 1295081H91 - KIT CPR | XA2818 - KIT, REP |
| 1295192H91 - LINERKIT | XA2824 - KIT, FRO |
| 1295444H93 - KIT,GEAR | XA2825 - KIT, REA |
| 1295691H91 - KIT P | XA2855 - KIT, STA |
| 1295693H91 - PSTN KIT | XA2856 - KIT, STA |
| 1295694H91 - CYL KIT | XA3071 - KIT, HAR |
| 1295706H91 - CYL KIT | XA3077 - KIT, PIN |
| 1296598H92 - KIT,PIST | XA3332 - KIT |
| 1296641H93 - KIT,EXHA | XA3351 - KIT, O-R |
| 1296642H92 - KIT INTA | XA3352 - KIT, CLU |
| 1296840H1 - SEAL KIT | XA3353 - KIT, COI |
| 1296915H91 - SEAL KIT | XA3354 - KIT, DRI |
| 1298357H91 - SEAL KIT | XA3355 - KIT, PLY |
| 1298690H91 - SEAL KIT | XA3356 - KIT, DUS |
| 1299227H1 - KIT,SEAL | XA3357 - KIT, TYP |
| 1299228H1 - KIT,STUD | XA3358 - KIT,CMPL |
| 1299229H1 - KIT,STUD | XA3359 - KIT, COI |
| 1299231H1 - KIT, SEA | XA3360 - KIT, DRI |
| 1299236H1 - KIT,SEAL | XA3361 - KIT, PLY |
| 1299237H91 - KIT | XA3362 - KIT, STF |
| 1299239H1 - KIT,SPOO | XA3363 - KIT,CMPL |
| 1299240H1 - KIT,SEAL | XA3364 - KIT, DUS |
| 1299958H91 - KIT, BRA | XA3365 - KIT,CMPL |
| 1299969H1 - SEAL KIT | XA3366 - KIT, PLY |
| 12F-63-05020 - SEAL KIT | XA3369 - KIT,CMPL |
| 12F-63-05060 - SEAL KIT | XA3370 - KIT, PLY |
| 12Y-60-11720 - KIT,SEAL | XA3371 - KIT, TYP |
| 12Y-60-11740 - KIT,WEAR | XA3376 - KIT,PLY& |
| 12Y-A27-0500 - KIT D51 | XA3399 - KIT, WIR |
| 130-63-05070 - KIT | XA3400 - KIT, WIR |
| 1300377H1 - KIT | XA3458 - KIT, DUA |
| 1301206H1 - SEAL KIT | XA3459 - KIT, SPR |
| 1301207H1 - KIT | XA3501 - KIT, SEA |
| 1301927H91 - SEAL KIT | XA3561 - KIT,MODI |
| 1305786H91 - KIT | XA3582 - KIT, TRE |
| 1305908H1 - KIT,SEAL | XA3631 - KIT, TES |
| 1305918H1 - KIT, SEA | XA3744 - KIT 6 PI |
| 1306082H1 - KIT SEAL | XA3825 - KIT,REPA |
| 1307084H1 - KIT,OIL | XA3841 - SEAL KIT |
| 1307230H91 - CYL.KIT | XA3842 - SEAL KIT |
| 1307286H93 - KIT,LOWE | XA3916 - KIT, RET |
| 1307303H91 - KIT,STC | XA3917 - KIT, RET |
| 1307425H1 - KIT, PIS | XA3918 - KIT, RET |
| 1307623H91 - KIT,CYLI | XA3919 - KIT, RET |
| 1307696H91 - KIT ASSE | XA4013 - KIT,TOOT |
| 1308573H91 - KIT,SEAL | XA4016 - KIT,AIRC |
| 1308912H91 - KIT, CYL | XA4112 - KIT,BLAD |
| 1308914H91 - KIT,STEE | XA4118 - SEAL KIT |
| 1309004H1 - KIT PINI | XA4122 - SEAL KIT |
| 1309007H1 - KIT TERM | XA4124 - SEAL KIT |
| 131-63-05020 - KIT | XA4125 - KIT,BRK |
| 131-63-05040 - KIT | XA4127 - SEAL KIT |
| 1310101H92 - KIT,CYL. | XA4378 - SEAL KIT |
| 1310234H1 - KIT,WTR | XA5075 - KIT,GASK |
| 1310339H3 - KIT ACC. | XK0001 - KIT, STR |
| 1310669H91 - VALVEKIT | XK0029 - KIT GUAR |
| 1310706H91 - XKIT, WA | XK0033 - KIT MOD |
| 1310718H2 - SEAL KIT | XK0035 - KIT GUAR |
| 131097R91 - KIT | XK0049 - KIT, STA |
| 1311359H91 - KIT,SEAL | XK0051 - KIT STAR |
| 1312035H91 - KIT SOLE | XK0057 - KIT, FUE |
| 1312743H91 - KIT,VALV | XK0109 - KIT,STRG |
| 1312846H91 - KIT,SEAL | XK0133 - KIT, HOI |
| 1313022H91 - KIT, SEA | XK0141 - KIT, HOI |
| 1313061H91 - KIT,PSTC | XK0145 - KIT GUAR |
| 1313133H91 - CYL KIT | XK0155 - KIT,STRG |
| 1313160H91 - KIT,CYLI | XK0161 - KIT, ASR |
| 1315152H91 - KIT FUEL | XK0171 - HOSE KIT |
| 1315153H91 - KIT INTA | XK0173 - KIT HOSE |
| 1315284H91 - KIT LINE | XK0179 - KIT INTA |
| 1315286H92 - SEAL KIT | XK0183 - KIT STRG |
| 1315287H91 - KIT SEAL | XK0185 - KIT WIPE |
| 1315934H91 - KIT,ELEC | XK0187 - KIT DRIL |
| 1315992H91 - KIT,MODU | XK0191 - KIT DOOR |
| 1316396H1 - KIT, SEA | XK0193 - KIT DRV |
| 1316403H1 - KIT, SEA | XK0195 - KIT DRV |
| 1317072H91 - SEAL KIT | XK0201 - KIT, HYD |
| 1317073H91 - SEAL KIT | XK0205 - KIT, HAN |
| 1317650H1 - KIT - PI | XK0207 - KIT, LEV |
| 132988 - KIT - RE | XK0209 - KIT,FUEL |
| 134-15-05140 - SHIM KIT | XK0223-01 - KIT, RAD |
| 134-15-05150 - SHIM KIT | XK0225 - KIT, INL |
| 134-22-05010 - SHIM KIT | XK0239 - KIT, SUP |
| 134-27-05010 - SHIM KIT | XK0251-2 - KIT, HYD |
| 134-27-05020 - SHIM KIT | XK0255 - KIT,STRG |
| 134-27-05030 - SHIM KIT | XK0257 - KIT,FRNT |
| 134-32-05010 - KIT,SHOE | XK0261 - KIT, OIL |
| 134303 - SEAL KIT | XK0287 - KIT, SUN |
| 134363 - KIT | XK0289 - KIT, MIR |
| 134754 - KIT-SHOE | XK0303 - KIT, ACC |
| 134959 - SEAL KIT | XK0307 - KIT ACC |
| 135-01-05100 - SHIM KIT | XK0317 - KIT,WARN |
| 135034 - SHIM KIT | XK0325 - KIT,FRAM |
| 135066H45 - SEAL KIT | XK0335 - KIT,A/C |
| 135379 - SEAL KIT | XK0339 - KIT, A/C |
| 135997 - KIT-CYL | XK0345-001 - KIT,A/C |
| 139804 - KIT - V | XK0355 - KIT, FRA |
| 13F-72-05010 - SHIM KIT | XK0357 - KIT,MANF |
| 1400237H1 - KIT,TRK | XK0369 - KIT, DEC |
| 1400798H1 - KIT,INST | XK0373 - KIT, PPG |
| 1400800H91 - KIT,PIN/ | XK0381 - KIT, HIG |
| 1400828H91 - KIT QUIC | XK0385 - KIT,AXLE |
| 1401002H91 - KIT DUMP | XK0391 - KIT, FRA |
| 1401003H91 - KIT,STEE | XK0415 - KIT, HOR |
| 1401100H92 - KIT,P&B | XK0417 - KIT,BRAK |
| 1401101H92 - KIT,P&B | XK0421 - KIT,AIRI |
| 1401102H92 - KIT,P&B | XK0423 - KIT,HAND |
| 1401104H92 - KIT,P&B | XK0427 - KIT,VHMS |
| 1401106H92 - KIT,P&B | XK0431 - KIT,ENG. |
| 1401107H92 - KIT D51 | XK0439 - KIT,ENG. |
| 1401108H92 - KIT, P&B | XK0449 - KIT,STAR |
| 1401109H92 - KIT,P&B | XK0451 - KIT,STAR |
| 1401110H92 - KIT,P&B | XK0469 - KIT,LED |
| 1401112H91 - KIT,P&B | XK0471 - KIT, TOW |
| 1401113H91 - KIT,P&B | XK0481 - KIT,SENS |
| 1401116H92 - KIT,P&B | XK0491 - KIT,STEE |
| 1401118H91 - KIT,P&B | XK0493 - KIT,A/C |
| 1401121H91 - KIT,P&B | XK0495 - KIT,A/C |
| 1401122H91 - KIT,P&B | XK0499 - KIT,TRAN |
| 1401126H91 - KIT,P&B | XK0505 - KIT,FAST |
| 1401128H91 - KIT,P&B | XK0507 - KIT,CAB |
| 1401135H92 - KIT,D37E | XK0509 - KIT,FILT |
| 1401139H91 - KIT,PC75 | XK0511 - KIT,BRAK |
| 1401140H91 - KIT,PC60 | XK0517 - KIT,RH P |
| 1401141H92 - KIT, D31 | XK0519 - KIT,RH P |
| 1401142H92 - KIT, D31 | XK0523 - KIT,A/C |
| 1401152H91 - KIT,P&B | XK0525 - KIT,FUEL |
| 1401153H91 - KIT,PIN& | XK0527 - KIT,TOW |
| 1401155H91 - KIT,P&B | XK0529 - KIT,EXH |
| 1401156H91 - KIT,P&B | XK0531 - KIT,HYD |
| 1401157H91 - KIT,P&B | XK0535 - KIT,COM/ |
| 1401158H91 - KIT,P&B | XK0541 - KIT,A.L. |
| 1401379H1 - KIT WATE | XK0547 - KIT,ACCU |
| 141-63-05010 - SEAL KIT | XK0549 - KIT,SEAT |
| 141-63-05050 - SEAL KIT | XK0553 - KIT,R.S. |
| 141716 - KIT-RIN | XK0609 - KIT,SMAR |
| 142896H2 - KIT | XK0611 - KIT,SMAR |
| 142897H3 - KIT | XK0613 - KIT,SMAR |
| 1430010H1 - KIT,HORN | XK0615 - KIT,HYD |
| 1430242H91 - KIT SEAL | XK0617 - KIT,BRAK |
| 1430321H91 - KIT BRAK | XK0621 - KIT,SMAR |
| 1430410H91 - YOKE KIT | XK0623 - KIT,L.H. |
| 1430411H91 - SEAL KIT | XK0625 - KIT,F T |
| 1432134H91 - SEAL KIT | XK0635 - KIT,HAND |
| 1432492H91 - KIT, BRA | XK0637 - KIT,HAND |
| 1432524H91 - KIT LINI | XK0639 - KIT, OVE |
| 1432540H92 - KIT REPA | XK0649 - KIT,DIR. |
| 1433278H91 - SEAL KIT | XK0657 - KIT,ANTI |
| 1433645H1 - KIT SEAL | XK0661 - KIT,TIME |
| 1433681H91 - KIT REPA | XK0663 - KIT,HI I |
| 1434325H91 - KIT, SEA | XK0669 - KIT, EXH |
| 1434418H91 - KIT, CYL | XK0671 - KIT, EXH |
| 1434651H91 - KIT,SUSP | XK0675 - KIT,EXHA |
| 1434653H91 - KIT,ARMR | XK0677 - KIT,EXHA |
| 1434654H91 - KIT,ARMR | XK0681 - KIT,EXHA |
| 1434655H91 - KIT,SEAT | XK0683 - KIT,RESE |
| 1434945H91 - KIT,SEAL | XK0685 - KIT,EXHA |
| 1434991H1 - KIT SEAL | XK0701 - KIT,STAR |
| 1435679H91 - KIT SPRI | XK0727 - KIT,FAST |
| 1436236H91 - KIT,TURN | XK0743 - KIT,SPD |
| 1436595H91 - KIT, TIM | XK0771 - KIT, SCO |
| 1438010H91 - KIT,JOUR | XK0773 - KIT,A/M |
| 1438021H91 - KIT,CROS | XK0775 - KIT,LWR |
| 1438027H91 - KIT SEAL | XK0793 - KIT,FLEX |
| 1438030H91 - KIT ARM | XK0801 - KIT,LAMP |
| 1438031H91 - KIT,HEAD | XK0811 - KIT, ACC |
| 1438045H91 - KIT,CENT | XK0877 - KIT, CAP |
| 1438078H91 - YOKE KIT | XK0879 - KIT, CAP |
| 1438324H92 - KIT DOOR | XK0881 - KIT, ACE |
| 1438667H91 - SEAL KIT | XK0885 - KIT,CUP |
| 1438878H91 - KIT,COMP | XK0895 - KIT, SEA |
| 1438879H91 - KIT,COMP | XK0931 - KIT,BLOW |
| 1439277H91 - KIT, DIF | XK0957 - KIT,TOW |
| 1439357H91 - KIT,SEAL | YM114250-53600 - SHIM KIT |
| 1439359H91 - KIT, SEA | YM129400-77571 - SEAL KIT |
| 1439484H91 - KIT, SEA | YM172148-70320 - SEAL KIT |
| 1439505H91 - KIT,SEAL | YM172164-37130 - KIT |
| 1439506H91 - KIT, LIN | YM172164-70380 - SEAL KIT |
| 1439507H91 - KIT,DISC | YM172168-71770 - SEAL KIT |
| 1439508H91 - KIT,URET | YM729408-92770 - KIT, GAS |
| 1439612H91 - KIT,CROS | YM729408-92940 - KIT - GA |
| 1439747H91 - KIT,SEAL | YM729408-92970 - KIT - GA |
| 1439954H1 - SEAL KIT | YM729601-92690 - KIT - GA |
| 1439957H1 - SEAL KIT | YM729612-92615 - KIT |
| 1439997H1 - SEAL KIT | YM729902-92600 - KIT GASK |
| 144-15-05012 - KIT | YM729907-92600 - KIT - GA |
| 144-15-06011 - SHIM KIT | YMR002659 - KIT SCRE |
| 144-33-05053 - KIT | ZLL246429 - KIT |
| 144-63-05050 - SEAL KIT | ZLL246430 - KIT POWE |
| 144-63-05080 - SEAL KIT | ZLL246431 - KIT |
| 1440222H1 - KIT,SEAL | ZLL246432 - KIT 2LT |
| 1440299H91 - KIT - CY | ZLL246433 - KIT PADD |
| 1440377H91 - KIT,REPA | ZLL246437 - KIT SEAL |
| 1440390H91 - KIT, SHI | ZLL246440 - KIT POWE |
| 1440398H91 - KIT,SWIT | ZLL246441 - KIT |
| 1440453H91 - KIT, SHI | ZLL249901 - KIT |
| 1440583H91 - KIT,PINI | ZLL249902 - KIT |
| 1440611H91 - KIT,ARMR | ZLL249904 - KIT |
| 1440612H91 - KIT,ARMR | ZLL270818 - KIT |
| 1460004H1 - SEAL KIT | ZLL402620 - KIT |
| 148301 - CYL KIT | ZLL402650 - KIT |
| 148666 - KIT MAG | ZLL402670 - KIT |
| 148885 - KIT-PUM | ZLL402718 - KIT |
| 149767 - SEAL KIT | ZLL402730 - KIT |
| 14X-06-00010 - KIT | ZLL402982 - KIT |
| 14X-15-05010 - SHIM KIT | ZLL544320-221 - KIT, RES |
| 14X-15-05120 - KIT | AK9183 - KIT,QSK PWR |
| 14X-15-05130 - KIT | 58F-00-40720 - KIT,STEERNG |
| 14X-15-05140 - KIT | 58F-00-40740 - KIT,STEERNG |
| 14X-15-05150 - KIT | 994484 - SEAL KIT |
| 14X-27-05010 - SHIM KIT | 799-201-1104 - KIT |
| 14X-960-0520 - SHIM KIT | AA02162-0 - KIT, STEERIN |
| 14X-960-0560 - SHIM KIT | AA2954 - AIR KIT DUAL |
| 15008 - KIT, TER | AA2958 - KIT, AIR |
| 15016 - KIT, TER | AA2990NF - IN OUT KIT |
| 150635R92 - KIT | AK0707 - SEAL KIT |
| 15111KF - KIT SPL | AK15524NF - COVER KIT |
| 15112 - KIT, SPL | AK3567 - CORE KIT |
| 15113KF - KIT SPL | AK3881 - PIN KIT TIE |
| 1517076 - KIT | AK4158 - KIT, MIRROR |
| 15186KF - KIT, SPL | AK4269 - KIT,FRT SUSP |
| 15193KF - KIT SPL | AK4277 - KIT, PRELUBE |
| 1525019 - SEAL KIT | AK4279 - KIT, PRELUBE |
| 1525024 - SEAL KIT | AK4433 - KIT,REPWR, Q |
| 1525025 - KIT, GAS | AK4580 - CONV KIT 3 T |
| 1525033 - SEAL KIT | AK4679 - KIT,ARMETURE |
| 1525046 - SEAL KIT | AK4809 - KIT, HOIST C |
| 1525054 - SEAL KIT | AK4824 - KIT HYD AUTO |
| 1525065 - SEAL KIT | AK4826 - KIT, ELEC HO |
| 1525066 - SEAL KIT | AK4827 - KIT, ELEC SE |
| 1525067 - SEAL KIT | AK4849 - KIT, INLINE |
| 1525068 - SEAL KIT | AK4865 - KIT, START E |
| 1525070 - SEAL KIT | AK4931 - KIT, BLOWER |
| 1525073 - SEAL KIT | AK4943 - KIT FRNT SEA |
| 1525080 - SEAL KIT | AK5016 - KIT,R.FRAME |
| 1525086 - SEAL KIT | AK5143 - TOOL KIT & B |
| 1525094 - SEAL KIT | AK5150 - KIT, MOUNT |
| 1525112 - SEAL KIT | AK5160 - KIT |
| 1525116 - SEAL KIT | AK5161 - KIT |
| 1525120 - SEAL KIT | AK5183 - KIT, STEP CO |
| 1525121 - SEAL KIT | AK5196 - KIT,GOOD/BAD |
| 1525126 - SEAL KIT | AK5221 - KIT, CABLE |
| 1525133 - SEAL KIT | AK5279 - KIT, BODY |
| 1525134 - SEAL KIT | AK5312 - KIT,PM= 2 CR |
| 1525137 - SEAL KIT | AK5314 - KIT, TIRE CO |
| 1525139 - SEAL KIT | AK5467 - KIT,REPOWER |
| 1525143 - SEAL KIT | AK5962 - KIT,4 CAMERA |
| 1525145 - SEAL KIT | AK5989 - KIT, 930E-4 |
| 1525147 - KIT BOOM | AK5994 - KIT, 250 HOU |
| 1525149 - SEAL KIT | AK5996 - KIT, 500 HOU |
| 1525158 - SEAL KIT | AK5997 - KIT,2500 HOU |
| 1525165 - KIT TEL. | AK7428 - O'RING KIT |
| 1525167 - SEAL KIT | AK7734 - INSTL KIT |
| 1525170 - SEAL KIT | AK7878 - STRG CYL KIT |
| 1525177 - SEAL KIT | AK8413 - LNG KIT |
| 15289 - KIT, SEA | AK8414 - LNG KIT |
| 154-13-05030 - KIT, SER | AK8416 - LNG KIT |
| 154-15-05111 - KIT | AK8417 - LNG KIT |
| 154-15-05150 - KIT, SER | AK8420 - LNG KIT |
| 154-15-05160 - KIT, SER | AK8656 - GE CONV. KIT |
| 154-15-05170 - KIT, SER | AK9018 - KIT, CABLE |
| 154-32-05200 - BOLT KIT | AK9020 - RADIO KIT XM |
| 155-15-05041 - KIT | AK9021 - RADIO KIT SI |
| 15873 - KIT, SEA | AK9041 - KIT,PM= 2 CR |
| 15874 - KIT, SEA | AK9042 - KIT,POWER MO |
| 15875 - KIT, SEA | AK9044 - KIT,PM= 2 CR |
| 15876 - KIT SEA | AK9051 - P BRK KIT |
| 158B8849 - KIT | AK9054 - KIT,PM =2 CR |
| 15916 - KIT SEA | AK9062 - KIT,POWER MO |
| 15918 - KIT, SEA | AK9065 - KIT,POWER MO |
| 15A-13-05011 - KIT | AK9070 - KIT,FRT BEAR |
| 15A-15-05040 - SHIM KIT | AK9075 - KIT,250/750 |
| 16005 - KIT, SEA | AK9079 - KIT, PLATFOR |
| 16037273 - SEAL KIT | AK9081 - KIT,DIFFEREN |
| 16083KF - KIT, CAR | AK9095 - KIT, CONTACT |
| 16084KF - KIT, CAR | AK9096 - KIT,DIFFEREN |
| 16086 - KIT, CAR | AK9097 - KIT,DIFFEREN |
| 161643H2 - KIT | AK9098 - KIT,DIFFEREN |
| 16261 - KIT SEA | AK9102 - KIT, BODY PI |
| 163115 - KIT - F | AK9125 - KIT,ACC UPGR |
| 163554 - KIT - T | AK9140 - KIT, REAR SU |
| 164191 - KIT VALV | AK9142 - KIT, U HOIST |
| 16496KF - KIT REP | AK9160 - KIT, HARNESS |
| 16497 - KIT REP | AK9184 - KIT, MTU PWR |
| 16498 - KIT, REP | AK9185 - KIT, QSK PWR |
| 16560 - KIT, SEA | AK9212 - KIT, ENGINE |
| 16565 - KIT, SEA | AK9215 - UPGRADE KIT |
| 165735H1 - KIT | AK9217 - KIT, OVERHAU |
| 16660KF - KIT SPL | AK9241 - KIT, 930E MO |
| 16668KF - KIT, O-R | AK9251 - KIT,BLWR MTR |
| 166739R91 - KIT | AK9260 - KIT,GEB25D W |
| 16674 - KIT HOS | AK9261 - KIT,GDY106 W |
| 166930R91 - KIT | AK9267 - KIT, PISTON |
| 16712 - KIT SEA | AK9268 - KIT, PISTON |
| 16713 - KIT, SEA | AK9274 - KIT, AIR RID |
| 16825 - KIT, THR | AK9275 - KIT, AIR RID |
| 16852 - KIT SEA | AK9277 - KIT, SPINDLE |
| 16868-1 - KIT SEA | AK9279 - HOSE KIT |
| 16868-2 - KIT, SEA | AK9281 - HOSE KIT, 83 |
| 16907 - KIT, SEA | AK9292 - KIT, BLDR ST |
| 16912 - KIT, ETH | AK9311 - KIT,PM= 2 CR |
| 16993 - KIT, SEA | AK9316 - STRG PIN KIT |
| 17004 - KIT, SEA | AK9318 - KIT, LWR PAN |
| 17005KF - KIT, SEA | AK9323 - PIN KIT STRG |
| 17046KF - KIT, SEA | AK9326 - 2 CAMERA KIT |
| 17047 - KIT, SEA | AK9343 - KIT, 500/100 |
| 17143 - KIT, REP | AK9345 - KIT, R SUSP |
| 17249 - KIT SEA | AK9347 - KIT, HOIST C |
| 175-13-05110 - KIT | AK9348 - KIT, STEER C |
| 175-15-05051 - SHIM KIT | AK9363 - KIT, GEB25C6 |
| 175-15-05160 - KIT | AK9365 - KIT, SUNCOR |
| 175-30-05050 - SHIM KIT | AK9366 - KIT, 860E FR |
| 175-30-05060 - SHIM KIT | AK9375 - KIT, DIAG LA |
| 175-30-05070 - SHIM KIT | AK9383 - KIT,3PT AIR |
| 175-63-05130 - KIT | AK9386 - KIT, AHT CAL |
| 17779 - KIT, SEA | AK9387 - KIT, EXH BOD |
| 17793 - KIT, SEA | AK9426 - HV CABLE KIT |
| 17799 - KIT, SEA | AK9450 - HARNKIT WO 3 |
| 178-32-05000 - KIT,SHOE | AK9460 - LUG NUT KIT |
| 17878 - KIT SEA | AK9484 - ACCM KIT- P6 |
| 17917 - KIT, SEA | AK9499 - SEAT KIT, PA |
| 17A-06-05010 - KIT | AK9525 - RADIO KIT |
| 17A-13-05110 - KIT, SER | AK9557 - MONITOR KIT |
| 17A-13-05120 - KIT, SER | AK9558 - 3 CAMERA KIT |
| 17A-13-05130 - KIT | ASCN-207117 - KIT |
| 17A-15-05020 - SHIM KIT | ASCN-207118 - KIT |
| 17A-15-05140 - KIT, SER | ASCN-207412 - KIT |
| 17A-15-05150 - KIT, SER | ASCN210039 - COVER KIT |
| 17M-11-A0010 - KIT, HEA | AS157192 - KIT, SUPPORT |
| 17M-32-08210 - LINK KIT | AS157335 - HEATER KIT |
| 17M-32-08220 - LINK KIT | AS159388 - BRACKET KIT |
| 18017340 - SEAL KIT | AS162658 - HANDLE KIT |
| 18017373 - SEAL KIT | AS163938 - KIT,SUPPORT |
| 18040573 - SEAL KIT | AS166011 - BEARING KIT |
| 18045 - KIT, REP | AS167554 - STOP KIT |
| 18056173 - SEAL KIT | AS172257 - KIT, FABRIC |
| 18087 - KIT, RAD | AS172258 - KIT, FABRIC |
| 1810358C94 - KIT PIST | AS174285 - COVER KIT |
| 18191 - KIT SEA | AS174812 - SEAT KIT |
| 18287 - KIT, TER | AS181904 - CONSOLD KIT |
| 18306KF - KIT, SPL | AS182413 - RISER KIT,HE |
| 18521 - KIT, SEA | AS182428 - COVER KIT |
| 185360H2 - KIT | AS182830 - KIT,POLY TUB |
| 18689 - KIT, SEA | AS185141 - SLIDER KIT |
| 18690 - KIT, SEA | AS189538 - KIT,LINING&C |
| 187452H1 - KIT | AS192161 - CABLE KIT |
| 18799 - KIT, SEA | AS192291 - SEAT KIT |
| 18848 - KIT, REP | AS195332 - KIT |
| 18914 - KIT SEA | AS195374 - KIT |
| 19037 - KIT, SEA | AS195399 - T4 UPPER KIT |
| 19105 - KIT, SEA | AS196008 - COVER KIT |
| 19106 - KIT, SEA | AS196185 - KIT |
| 19179 - KIT, CON | AS197031 - KIT |
| 19272 - KIT, SEA | AS200039 - COVER KIT |
| 19494 - KIT, REP | AS200179 - KIT RISER |
| 195-11-A0700 - KIT-HEAT | AS200301 - KIT |
| 195-13-05010 - SHIM KIT | AS202486 - SPRING KIT |
| 195-13-05020 - SHIM KIT | AS202487 - KIT |
| 195-15-05811 - KIT TRAN | AS202810 - HEATER KIT |
| 19515 - KIT, SEA | AS203493 - KIT |
| 19516 - KIT SEA | AS203495 - KIT |
| 19563 - KIT, SEA | AS203500 - KIT |
| 19564 - KIT, SEA | AS203504 - KIT |
| 19565 - KIT, SEA | AS203508 - KIT |
| 19619 - KIT, SEA | AS203510 - COVER KIT |
| 19688KF - KIT SEA | AS203512 - COVER KIT |
| 19689 - KIT SEA | AS203514 - COVER KIT |
| 19690 - KIT SEA | AS203518 - KIT |
| 19691 - KIT SEA | AS203519 - KIT |
| 19692 - KIT, SEA | AS203520 - KIT |
| 19695 - KIT, SEA | AS203522 - KIT |
| 19708 - KIT, REX | AS203526 - TILT KIT |
| 19709 - KIT, SEA | AS203527 - KIT |
| 19710 - KIT, SEA | AS203534 - KIT |
| 19750 - KIT SEA | AS203540 - KIT |
| 19757 - KIT, SEA | AS203541 - KIT |
| 19764 - KIT SHI | AS203544 - VALVE KIT |
| 198-32-08011 - LINK KIT | AS203546 - KIT |
| 198-32-08021 - LINK KIT | AS203547 - KIT |
| 198-32-08312 - LINK KIT | AS203548 - KIT |
| 198-32-08322 - LINK KIT | AS203549 - KIT |
| 198287H1 - KIT | AS207117 - SEAT KIT |
| 19949 - KIT SEA | AS207420 - KIT |
| 19958 - KIT, SEA | AS600122 - KIT |
| 20028 - KIT, UP- | BB160430 - FOAM KIT, BA |
| 20114 - KIT, SEA | BB160432 - FOAM KIT, SE |
| 201625H1 - KIT | BF0161 - KIT,ROLLER A |
| 203-32-05060 - BOLT KIT | BF0176 - KIT, DBL SHF |
| 203-32-05110 - KIT, SHO | BF0398 - KIT, ANTENNA |
| 203-32-05120 - KIT | BF0549 - TAG KIT |
| 206-32-A1510 - KIT TRAC | BF0550 - BEARING KIT |
| 206-57-A1550 - STOP KIT | BF1256 - SEAL KIT |
| 207-01-00010 - KIT | BF1526 - KIT,SEAL |
| 207-32-05061 - BOLT KIT | BF1601 - STUD KIT |
| 207-32-A1410 - KIT TRAC | BF1610 - KIT,SOFT GOO |
| 207-54-05010 - KIT | BF1675 - KIT,REACTION |
| 207-62-A1150 - SEAL KIT | BF2050 - KIT,SEAL |
| 20784 - KIT, REP | BF2068 - KIT,TILT BOL |
| 20788 - KIT, REP | BF2089 - KIT, GREASE |
| 208-32-05080 - KIT, NUT | BF2107 - KIT,SEAL |
| 208-32-05100 - KIT, BOL | BF2751 - BOOT KIT |
| 208-32-A1510 - KIT TRAC | BF2766 - SUSP HDW KIT |
| 208-43-K1070 - KIT,SLID | BF2953 - KIT,HOUSING |
| 20896073 - SEAL KIT | BF3084 - KIT, CORE |
| 209-38-00011 - SHIM KIT | BF3370 - CORE KIT |
| 209-54-05010 - KIT | BF4064 - KIT,SHAFT SE |
| 20E-23-K2770 - SEAL KIT | BF4496 - SEAL KIT |
| 20E-60-K3640 - SEAL KIT | BF4554 - KIT, REPAIR |
| 20E-60-K4010 - SEAL KIT | BF4638 - SEAL KIT |
| 20E-60-K4110 - SEAL KIT | BF4680 - KIT, AIRFLOW |
| 20E-60-K4920 - SEAL KIT | BF4851 - KIT, HEADRES |
| 20E-63-K5100 - SEAL KIT | BF4856 - KIT, BACK FO |
| 20G-30-H0P01 - SEAL KIT | BF4897 - KIT, SEAL |
| 20G-30-K2520 - SEAL KIT | BF4907 - KIT, REPAIR, |
| 20G-32-21221 - SEAL KIT | BF5314 - KIT,TURBO CO |
| 20G-32-21611 - PAD KIT | BF5545 - KIT, DEFLECT |
| 20G-60-K6530 - SEAL KIT | BK0080 - KIT, GLASS C |
| 20G-63-K5500 - SEAL KIT | BK1150 - KIT, HOSE |
| 20K-60-32350 - SEAL KIT | BK1162 - KIT, K85 100 |
| 20K-61-31570 - SEAL KIT | BK1179 - SEAT KIT |
| 20K-61-31880 - SEAL KIT | BS156713 - SPRING KIT |
| 20P-970-7271 - SEAL KIT | BS156717 - KIT |
| 20Y-04-K2190 - SEAL KIT | BS157130 - FRAME KIT |
| 20Y-60-A1540 - KIT, SEA | BS157332 - FOAM KIT,BAC |
| 20Y-60-A1580 - KIT,SEAL | BS163582 - HANDLE KIT |
| 20Y-60-A1620 - KIT,SEAL | BS164191 - VALVE KIT |
| 20Y-60-K1430 - SEAL KIT | BS167469 - HEADREST KIT |
| 20Y-62-00020 - KIT | BS167544 - KIT |
| 20Y-62-A1150 - KIT | BS171187 - ARMREST KIT, |
| 20Y-62-K3950 - SEAL KIT | BS171188 - ARMREST KIT, |
| 21048 - KIT, RET | BS173585 - BEARING KIT |
| 21146KF - KIT, HOS | BS174523 - COVER KIT |
| 21199 - KIT, RAD | BS176808 - HEADREST KIT |
| 21226KF - KIT, SPL | BS178168 - KIT,SUSPENSI |
| 21334KF - KIT HOS | BS179837 - KIT LH ARMRE |
| 21357 - KIT, REP | BS181903 - KIT, CONSOLE |
| 21358 - KIT, REP | BS182118 - FIXING KIT |
| 21418 - KIT, REP | BS182322 - KIT, BACK CO |
| 21635 - KIT, SEA | BS182323 - KIT SEAT COV |
| 21636 - KIT SEA | BS183676 - ASSEMBLY KIT |
| 21677 - KIT, SEA | BS183679 - FOAM KIT,BAC |
| 21678 - KIT, SEA | BS183682 - FOAM KIT, SE |
| 218288H1 - KIT | BS183686 - COVER KIT, S |
| 21884 - KIT, ELE | BS190472 - LEAD KIT |
| 21950 - KIT SEA | BS192555 - VALVE KIT |
| 21D-54-14760 - KIT, SIZ | BT41510580D - SEAL KIT |
| 21D-54-14761 - KIT - SI | BT41518680D - SEAL KIT |
| 21D-98-12801 - KIT-MARK | BT41519580D - SEAL KIT |
| 21K-00-K1150 - KIT, DEC | BW055660 - REPAIR KIT |
| 21M-32-05020 - BOLT KIT | CAA2954 - AIR KIT DUAL |
| 21P-26-K1250 - KIT | CAA2958 - KIT, AIR |
| 21P-26-K1270 - KIT | CAA2990NF - IN OUT KIT |
| 21P-60-K2370 - SEAL KIT | CAK15524NF - COVER KIT |
| 21P-60-K4490 - SEAL KIT | CA0049079 - SEAL KIT |
| 21T-01-00010 - SHIM KIT | CA0066185 - GEAR KIT |
| 21T-27-00070 - SHIM KIT | CA0066678 - KIT,SELF-ADJ |
| 22040 - KIT, SEA | CA0068004 - HUB KIT |
| 22043KF - KIT HOS | CA0068038 - REPAIR KIT-A |
| 22052 - KIT SHO | CA0068853 - SHAFT KIT |
| 22055 - KIT, TRA | CCV50304 - CCV KIT |
| 22126 - KIT REP | CFK22004 - KIT,FUEL |
| 22127 - KIT REP | CFK48004 - KIT,FUEL |
| 22235 - KIT, REP | CFK48555 - KIT FUEL FIL |
| 22236 - KIT HOS | CHBC1100 - HBC KIT |
| 22238KF - KIT, HOS | CHBC1101 - HBC KIT |
| 22270 - KIT, ROC | CHBC1102 - HBC KIT |
| 22459 - KIT SEA | CHBC1103 - HBC KIT |
| 22483 - KIT, SEA | CHBC1104 - HBC KIT |
| 22513 - KIT SEA | CHBC1105 - HBC KIT |
| 22514 - KIT SEA | CHBC1106 - HBC KIT |
| 22515 - KIT, SEA | CHBC1107 - HBC KIT |
| 22516KF - KIT REPA | CHBC1108 - HBC KIT |
| 22539 - KIT, SEA | CHBC1109 - HBC KIT |
| 22598 - KIT, SEA | CHBC1110 - HBC KIT |
| 22639KF - KIT SPL | CHBC1111 - HBC KIT |
| 22642173 - SEAL KIT | CHBC1112 - HBC KIT |
| 22686 - KIT SEA | CHBC1115 - HBC KIT |
| 22751 - KIT, SEA | CHBC1116 - HBC KIT |
| 22806 - KIT, SEA | CHBC1117 - HBC KIT |
| 22988 - KIT, SEA | CHBC1118 - HBC KIT |
| 22L-09-R2Y30 - SEAL KIT | CHBC1119 - HBC KIT |
| 22M-979-0510 - KIT | CHBC1120 - HBC KIT |
| 22U-01-A0170 - KIT,AIR | CHBC1121 - HBC KIT |
| 23113 - KIT, SEA | CHBC1122 - HBC KIT |
| 23220 - KIT, REP | CHBC1123 - HBC KIT |
| 23232240 - FILLKIT | CHBC1124 - HBC KIT |
| 23246 - KIT, SEA | CHBC1126 - HBC KIT |
| 23268040 - KIT, RIN | CHBC1127 - HBC KIT |
| 234-27-32660 - KIT | CHBC1128 - HBC KIT |
| 234-27-32661 - KIT P | CHBC3100 - HBC KIT |
| 234-27-32670 - KIT | CHBC3101 - HBC KIT |
| 234-27-32671 - KIT | CHBC3102 - HBC KIT |
| 23414 - KIT END | CHBC3104 - HBC KIT |
| 235-40-05020 - SEAL KIT | CHBC3105 - HBC KIT |
| 23615KF - KIT, ELE | CHBC3108 - HBC KIT |
| 23679 - KIT, SEA | CHBC3109 - HBC KIT |
| 23A-40-05020 - SEAL KIT | CHBC4000 - HBC KIT |
| 23A-60-05210 - SEAL KIT | CHBC4001 - HBC KIT |
| 23A-60-06220 - SEAL KIT | CHBC4100 - HBC KIT |
| 23A-60-06410 - SEAL KIT | CK0247662 - KIT, SPRING |
| 23A-60-06430 - SEAL KIT | CK4203440 - PAD KIT |
| 23A-60-06610 - SEAL KIT | CPSTKIT001 - PL PUMP 40 |
| 23B-27-31430 - KIT-BALL | CPSTKIT004 - PL PLUMB K19 |
| 23B-27-31500 - KIT-BALL | CPSTKIT005 - PL PLUMB V28 |
| 23B-27-31680 - KIT-BALL | CPSTKIT007 - PL ELECT 24V |
| 23B-32-31680 - SEAL KIT | CPSTKIT008 - PL PLUMB KV3 |
| 23B-61-05110 - SEAL KIT | CPSTKIT010 - PL PUMP 41 |
| 23B-62-05011 - SEAL KIT | CPSTKIT011 - PL ELECT 24V |
| 23S-65-31280 - KIT | CPSTKIT012 - PL ELECT 12V |
| 24367 - KIT, RAD | CPSTKIT013 - PL PLUMB 6D1 |
| 24414 - KIT, SEA | CPSTKIT014 - PL PLUMB 6D1 |
| 24568 - KIT, SEA | CPSTKIT015 - PL PLUMB 6D1 |
| 24570 - KIT, SEA | CPSTKIT017 - PL 6D114 KIT |
| 24649 - KIT SEA | CPSTKIT018 - PL 4/6D102 K |
| 24786KF - KIT, SEA | CPSTKIT019 - PL EVAC TOOL |
| 25223 - KIT, RAD | CPSTKIT020 - FUSE 300A SE |
| 25293 - KIT, SEA | CPSTKIT022 - OIL EVAC KIT |
| 25294 - KIT, SEA | CPSTKIT023 - PL4D95KIT |
| 25615573 - SEAL KIT | CPSTKIT024 - PL4/6D95KIT |
| 258-98-14924 - KIT | CQ347197 - HARDWARE KIT |
| 259370 - STARTKIT | CQ50912 - TEST KIT |
| 259371 - STARTKIT | CR6743-61-1530 - KIT - WATER |
| 259372 - STARTKIT | CSP1244 - KIT,COLLAR |
| 259373 - STARTKIT | CU3802401 - CYLINDER KIT |
| 259374 - STARTKIT | CV50304 - CCV KIT |
| 259375 - STARTKIT | C3918034S - KIT VALVE |
| 259384 - STARTKIT | C89761K - KIT,CLAMP |
| 259385 - STARTKIT | C89762K - KIT,CLAMP |
| 259386 - STARTKIT | C89763K - KIT,CLAMP |
| 259387 - STARTKIT | C89766K - KIT,CLAMP |
| 26137UNB - KIT GREA | C89767K - KIT,CLAMP |
| 26193KF - HOSE KIT | C89770K - KIT,CLAMP |
| 26194 - KIT, DUS | C89771K - KIT,CLAMP |
| 26283 - KIT, SEA | C90857K - KIT, CLAMP |
| 26395 - KIT SEA | C90891K - KIT,TUBECONN |
| 26417 - KIT SEA | C90892K - KIT,TUBE CON |
| 26418 - KIT SEA | C90893K - KIT,TUBE CON |
| 26509 - KIT, PRO | C90899K - KIT, CLAMP |
| 26538 - KIT, REX | C90900K - KIT, CLAMP |
| 26600 - KIT, SEA | C99963A - PARTS KIT |
| 26667 - KIT, HAN | DE00371 - DECAL KIT |
| 26672 - KIT, RAD | DG8100080 - GASKET KIT |
| 26683 - KIT, FAN | DK146232-0320 - SPRING KIT |
| 26720 - KIT, SEA | EA8094741 - GASKET KIT |
| 26722 - KIT, RAD | EA8094845 - RING KIT |
| 26732KF - KIT, 12 | EH8035 - KIT,A/F REWO |
| 26733 - KIT, 12 | EH8905 - KIT, PRELUBE |
| 26860 - KIT, RAD | EH8926 - KIT, PLUM |
| 26955 - KIT, UP- | EH8929 - KIT, PLUM |
| 26966 - KIT, SEA | EK0483 - KIT, SENSOR |
| 26978 - KIT CON | EK8753 - STEERING KIT |
| 27130KF - KIT, GRE | ENK5001 - WA500-1 KIT |
| 27131KF - KIT, FOO | E001.X09449 - LATCH KIT |
| 27232 - KIT COM | FDK1303260 - GASKET KIT |
| 27233KF - KIT, PLU | FK22004 - KIT,FUEL |
| 27258KF - KIT, SPL | FK48004 - KIT, FUEL |
| 27278 - KIT POR | FK48555 - KIT,FUEL FIL |
| 27329 - KIT, ALT | FUGCP05-1-8745 - SERVICE KIT |
| 27402 - KIT, VAC | FUGCS-1-4477 - SERVICE KIT |
| 27409 - KIT, SEA | FUGCS-1-5854 - SERVICE KIT |
| 27410 - KIT, SEA | FUGCS-1-8271 - SERVICE KIT |
| 27411 - KIT, SEA | FUGHB20018956 - HOUSING KIT |
| 27423 - KIT SEA | FUGHB20028956 - HOUSING KIT |
| 27424 - KIT, SEA | FUGHC-1-2-1185 - SERVICE KIT |
| 27475 - KIT, SEA | FUGHC20018956 - GEAR KIT |
| 27496 - KIT, FOO | FUGHS-25018388 - SEAL KIT |
| 27606 - SEAL KIT | FUGHS-25018688 - SEAL KIT |
| 27608 - KIT, SEA | FUGHS007B14736 - SERVICE KIT |
| 27777 - KIT, SEA | FUMCB05-1-4662 - SERVICE KIT |
| 27893 - KIT, GRE | FUMHB-1-4860 - FLANGE KIT |
| 27967KF - KIT, CON | FUMHB-1A4736 - SERVICE KIT |
| 28023 - KIT, SEA | FUMHB-1B4736 - SERVICE KIT |
| 28154 - SEAL KIT | FUMHB-2-4736 - SERVICE KIT |
| 28161 - PLUG KIT | FUMHB-2-4783 - SERVICE KIT |
| 28173 - KIT, FAN | FUMHCB-1-4736 - SERVICE KIT |
| 28181 - KIT, VAC | FUMHCB-1-4860 - CYLINDER KIT |
| 28202 - SEAL KIT | FUMHS-1B-14336 - SEAL KIT |
| 28209 - SEAL KIT | FUMHSH-1-4860 - SHAFT KIT |
| 28283 - KIT, (12 | FUMHS07B14428 - SEAL KIT |
| 28369 - KIT, SEA | FUMVS-20400P - SEAL KIT |
| 28439KF - SHIM KIT | FUPKG100000 - SERVICE KIT |
| 28502 - SEAL KIT | FUPKS100110 - SEAL KIT |
| 28505 - KIT - VE | GE0397 - KIT, MODIFIC |
| 28511 - SEAL KIT | GE0655 - KIT, SNUBBER |
| 28581 - KIT- SEA | GE0691 - KIT, CONTACT |
| 28698 - KIT- SEA | GE1075-1 - CONTACT KIT |
| 28715KF - KIT- TIE | GE1251 - KIT,SNUBBER- |
| 28777 - KIT- SEA | GJ1150898 - KIT |
| 28778KF - KIT- SEA | GJ1268523 - SERVICE KIT |
| 28780 - KIT- SEA | HBC1100 - HBC KIT |
| 28837 - KIT- FIE | HBC1101 - HBC KIT |
| 28848 - KIT- SEA | HBC1102 - HBC KIT |
| 28883KF - SEAL KIT | HBC1103 - HBC KIT |
| 28998 - KIT, UP- | HBC1104 - HBC KIT |
| 29096 - SEAL KIT | HBC1105 - HBC KIT |
| 29303 - SEAL KIT | HBC1106 - HBC KIT |
| 2938-54-2990 - KIT, DOO | HBC1107 - HBC KIT |
| 2938-6C-1290 - SEAL KIT | HBC1108 - HBC KIT |
| 2938-6C-1480 - SEAL KIT | HBC1109 - HBC KIT |
| 29422 - SEAL KIT | HBC1110 - HBC KIT |
| 29441KF - SEAL KIT | HBC1111 - HBC KIT |
| 29466 - SEAL KIT | HBC1112 - HBC KIT |
| 29496 - SEAL KIT | HBC1115 - HBC KIT |
| 29807 - SEAL KIT | HBC1116 - HBC KIT |
| 3031121R94 - CYL KIT | HBC1117 - HBC KIT |
| 31070001 - KIT CYL | HBC1118 - HBC KIT |
| 312612080 - KIT RETU | HBC1119 - HBC KIT |
| 3144440R91 - KIT | HBC1120 - HBC KIT |
| 3154106R91 - KIT | HBC1121 - HBC KIT |
| 3197140R94 - KIT | HBC1122 - HBC KIT |
| 3197141R92 - KIT | HBC1123 - HBC KIT |
| 3198632R91 - KIT | HBC1124 - HBC KIT |
| 32382340 - SEAL KIT | HBC1126 - HBC KIT |
| 32406740 - SEAL KIT | HBC1127 - HBC KIT |
| 32444073 - SEAL KIT | HBC1128 - HBC KIT |
| 32446373 - SEAL KIT | HBC3100 - HBC KIT |
| 3303779 - STARTKIT | HBC3101 - HBC KIT |
| 3303780 - STARTKIT | HBC3102 - HBC KIT |
| 3303781 - STARTKIT | HBC3104 - HBC KIT |
| 3310588 - STARTKIT | HBC3105 - HBC KIT |
| 3316413 - STARTKIT | HBC3108 - HBC KIT |
| 3318566S - RETROKIT | HBC3109 - HBC KIT |
| 3318568S - RETROKIT | HBC4000 - HBC KIT |
| 34200005 - SEAL KIT | HBC4001 - HBC KIT |
| 349356R91 - SEAL KIT | HBC4100 - HBC KIT |
| 35861440 - SEAL KIT | HKX-KC1085 - KIT PC200LC- |
| 362-64-51110 - SEAL KIT | HKX00013353 - PC200LC-8KIT |
| 363-43-25140 - KIT | HK0302 - HOSE KIT |
| 374544R94 - KIT | HK0350 - HOSE KIT |
| 37A-06-11560 - KIT-CIGA | JK9341-0014 - SERVICE KIT |
| 37A-99-11000 - KIT OVER | JK9341-0110 - REPAIR KIT |
| 37A-99-11042 - KIT-DISC | KB2000B-10282 - KIT |
| 37A-99-11160 - KIT-MUFF | KB2012B-60009 - SERVICE KIT |
| 37A-99-11170 - KIT-CATA | KB2012B-70004 - SEAL KIT |
| 37A-99-11230 - KIT-HAMM | KB2046A-35171 - SERVICE KIT |
| 37A-99-11820 - KIT,TROP | KB21003-0420 - SERVICE KIT |
| 37B-942-1960 - KIT | KC00400 - DS PRO KIT |
| 37B-99-10010 - KIT LIFT | KC1058-1 - HAMMER KIT P |
| 37B-99-17020 - KIT LIFT | KMBOX1KIT - POWER KIT 20 |
| 37B-99-17030 - KIT LIFT | KMBOX5KIT - POWER KIT 40 |
| 37C-942-1310 - KIT | KMKT1540EA - DECON KIT |
| 37C-942-1700 - A/C KIT | KM00400 - DS PRO KIT |
| 37C-99-11232 - KIT-HAMM | KM47320 - TOTE KIT 110 |
| 37C-99-17010 - KIT LIFT | KM47321 - TOTE KIT 110 |
| 3825408 - ETHERKIT | KM47322 - TOTE KIT |
| 3825409 - ETHERKIT | KM47323 - TOTE KIT 110 |
| 3825410 - ETHERKIT | KM47324 - TOTE KIT,12V |
| 3825416 - STARTKIT | KM47325 - TOTE KIT,12V |
| 3826037 - STARTKIT | KM47326 - TOTE KIT,12V |
| 3826255 - HEATRKIT | KM47327 - TOTE KIT,12V |
| 3826333S - RETROKIT | KM47340 - DRUM KIT 110 |
| 3826334S - RETROKIT | KM47341 - DRUM KIT 110 |
| 3826335S - RETROKIT | KM47343 - DRUM KIT 110 |
| 3826336S - RETROKIT | KM47344 - DRUM KIT,12V |
| 3830328 - STARTKIT | KM47345 - DRUM KIT,12V |
| 3830394 - STARTKIT | KM47346 - DRUM KIT,12V |
| 3830395 - STARTKIT | KM47347 - DRUM KIT,12V |
| 3830396 - STARTKIT | KM55-353 - WHEEL KIT |
| 3830397 - STARTKIT | KM98693 - REPAIR KIT |
| 3830398 - ELECTKIT | KOMEHC-09DL1 - KIT,ULTRASON |
| 3837317S - KIT, | KT1E051-2100-0 - PISTON KIT |
| 385-10178515 - SEAL KIT | KV-C112-233Z - KIT |
| 3888726S - KIT WASH | K3163611 - TOOL KIT |
| 3918034S - KIT VALV | LA0255 - SHOCKADJKIT |
| 3918240S - AIR KIT | LA0360 - HANDLKITW/CL |
| 392416R91 - KIT | LA0550 - TUBE KITPUMP |
| 3926758S - LID KIT | LA1118 - KIT,SWMK WIP |
| 3959449S - LID KIT | LI275383 - SEAL KIT |
| 3F3007067 - KIT | LK4386 - KIT,PUMP REW |
| 400656R95 - KIT | LK4392 - KIT, 500 HOU |
| 405924R91 - KIT | LK4426 - KIT, PC5500 |
| 416-64-35440 - SEAL KIT | LK4500 - MIRROR KIT, |
| 417-62-A1170 - SEAL KIT | LK4532 - KIT,1000 HR |
| 417-62-A1260 - KIT | LK4533 - KIT, 500 HR |
| 417-927-AT60 - KIT, WAS | MC7620999600 - SEAL KIT |
| 417-93-A1522 - KIT,DECA | MC7628999700 - SERVICE KIT |
| 418-62-A1660 - SEAL KIT | MI3211023 - GASKET KIT |
| 418-62-A2160 - COIL KIT | MK3799 - KIT,WINDSHLD |
| 418-62-A2180 - SEAL KIT | MK3941 - TOW BOSS KIT |
| 418-64-15810 - SEAL KIT | MK3945 - KIT, TOW ADA |
| 418-879-A400 - KIT,3RD | MK4055 - KIT, RAD STA |
| 418-93-A1511 - KIT,DECA | MK4085 - KIT, UNLOADE |
| 418-S99-A110 - KIT, SEA | MK4215 - KIT, RELAY |
| 418-U77-A520 - WEAR KIT | MT-85482RE - KIT |
| 419-62-A1210 - KIT SEAL | MY-211-8002-0 - SERVICE KIT |
| 419-62-A1390 - SEAL KIT | MY212-8034-00 - REPAIR KIT |
| 419-62-A1430 - GEAR KIT | MY212-8053-00 - REPAIR KIT |
| 419-62-A1450 - GR.KIT G | M5538670 - GRATE KIT |
| 419-93-A1422 - KIT,DECA | M5540120 - WINDOW KIT |
| 419-942-A400 - KIT FOAM | ND028099-3310 - STARTING KIT |
| 419-942-A500 - KIT HARD | ND094040-0410 - SERVICE KIT |
| 419-963-A510 - KIT HARD | ND094040-0510 - OVERHAUL KIT |
| 419-963-A720 - KIT HARD | ND094040-0530 - OVERHAUL KIT |
| 419-963-A810 - KIT HARD | ND857199-0320 - KIT |
| 419-963-A900 - KIT HARD | PB8323 - SEAT KIT& SU |
| 41B-33-05010 - SEAL KIT | PB9127 - KIT HEATEXCH |
| 41B-33-05030 - PAD KIT | PC0774 - FLANGE KIT |
| 421-04-31550 - KIT,ELEM | PC1264 - KIT, HINGE |
| 421-06-H0P01 - KIT,DOOR | PC2799 - KIT,RESERVE |
| 421-15-05040 - SHIM KIT | PC3255 - ARMREST KIT |
| 421-15-05115 - KIT | PC3302 - SEAL KIT |
| 421-15-05130 - KIT | PC3479 - KIT, CONVERS |
| 421-22-05040 - SHIM KIT | PC3480 - KIT, CONVERS |
| 421-22-05041 - SHIM KIT | PC3682 - HARDWARE KIT |
| 421-43-05120 - SEAL KIT | PC5850 - HARNESS KIT |
| 421-43-05130 - SEAL KIT | PF005649639M - REPAIR KIT |
| 421-43-05210 - PAD KIT | PHFS-751-KIT - FITTING |
| 421-62-A1370 - KIT,SEAL | PHFS-752-KIT - FITTING |
| 421-93-A2121 - KIT,DECA | PHMIK-1 - METRIC KIT |
| 421-960-A460 - KIT,AIR | PHWPT1095 - CLAMP KIT |
| 423-15-05121 - KIT | PHWPT2127 - CLAMP KIT |
| 423-15-05131 - KIT | PHWPT3190 - CLAMP KIT |
| 423-15-05132 - KIT | PKU5MK0244 - KIT |
| 423-15-05133 - KIT | PSTKIT004 - PL PLUMB K19 |
| 423-15-05134 - KIT | PSTKIT005 - PL PLUMB V28 |
| 423-15-05233 - KIT | PSTKIT007 - PL ELECT 24V |
| 423-20-A1130 - CAP KIT | PSTKIT012 - PL ELECT 12V |
| 423-22-05030 - SHIM KIT | PSTKIT015 - PL PLUMB 6D1 |
| 423-22-05040 - SHIM KIT | PSTKIT018 - PL 4/6D102 K |
| 423-57-A1201 - KIT,ARMR | PSTKIT023 - PL4D95KIT |
| 423-57-A1270 - SHOCKIT | PSTKIT024 - PL4/6D95KIT |
| 423-62-A1550 - STUD KIT | PU5LB0016 - GASKET KIT |
| 423-63-H2P07 - KIT PACK | PU5LT0046 - GASKET KIT |
| 423-64-45610 - SEAL KIT | PU5MH0024 - HOSE KIT |
| 424-15-05121 - KIT | PU7LW0157 - KIT - REPAIR |
| 424-62-A1810 - GR KIT G | P26561117 - ELEMENT KIT |
| 425-03-A2400 - KIT, COO | QF5228154 - KIT P |
| 425-15-05031 - SHIM KIT | QF5245498 - SPACER-KIT |
| 425-15-05040 - SHIM KIT | QF5248954 - RETROFIT KIT |
| 425-15-05050 - SHIM KIT | QS0028 - BUSBAR KIT |
| 425-15-05060 - SHIM KIT | RER908250865 - SEAL KIT |
| 425-15-05500 - SHIM KIT | RK0158 - KIT |
| 425-16-A1380 - KIT | RK0236 - GEAR KIT |
| 425-62-A1710 - KIT | RK0257 - KIT |
| 425-62-A1720 - SEAL KIT | RK1238 - VANE KIT |
| 425-S62-2101 - HOSE KIT | RK1317 - RINGKIT |
| 426-15-05050 - SHIM KIT | RK1387 - KIT |
| 426-15-05060 - SHIM KIT | RK1875 - SEAL KIT |
| 426-15-05101 - KIT | RK1908 - ELEMENT KIT |
| 426-15-05110 - KIT | RK2093 - KIT |
| 426-15-05310 - KIT | RK2119 - KIT |
| 426-32-15590 - KIT | R58B-PM-AK050 - KIT,980E PWR |
| 427-60-25310 - SEAL KIT | R58B-PM-AK060 - KIT,POWER MO |
| 428-13-05020 - KIT | R900310985 - KIT,SEAL |
| 428-22-05030 - SHIM KIT | SL114-71-90XS - KIT FULL LIN |
| 428-22-05040 - SHIM KIT | SL114-72-90XS - LINER KIT |
| 42C-13-05010 - SHIM KIT | SM403-21988 - SEAL KIT |
| 42C-13-05020 - SHIM KIT | SM403-29992 - SEAL KIT |
| 42C-13-05030 - SHIM KIT | SM5290 - CONV KIT |
| 42C-13-05040 - SHIM KIT | SP1244 - KIT,COLLAR |
| 42C-15-05010 - SHIM KIT | STAD1267A - SERVICE KIT |
| 42C-22-00030 - SHIM KIT | STBA0069A - SEAL KIT |
| 42C-22-00070 - SHIM KIT | STME9906 - KIT |
| 42C-64-05010 - SEAL KIT | ST64418 - SEAL KIT |
| 42C-64-05011 - SEAL KIT | ST9900287-000 - SEAL KIT |
| 42N-07-11400 - A/C KIT | TZ1086 - SEAL KIT |
| 42N-07-11800 - KIT-A/C | TZ1088 - SEAL KIT |
| 42N-33-11260 - SEAL KIT | TZ1092 - SEAL KIT |
| 42N-64-11760 - SEAL KIT | TZ1094 - SEAL KIT |
| 42N-64-11770 - SEAL KIT | TZ1100 - SEAL KIT |
| 42T-22-H0R14 - KIT,REPA | TZ18820528A627 - SEAL KIT |
| 42T-22-H0R15 - KIT,REPA | TZ209-234-42BA - SEAL KIT |
| 42T-22-H0R16 - KIT,REPA | TZ263B9000-00 - SERVICE KIT |
| 42T-63-H0P70 - KIT GASK | TZ314A9000-00 - SEAL KIT |
| 42U-17-H0S12 - KIT,PACK | TZ467B9000-00 - SERVICE KIT |
| 42U-22-H0P74 - KIT,REPA | TZ481B1204-00 - GEAR KIT |
| 42U-62-23530 - PIPE KIT | TZ500D2105-00 - PISTON KIT |
| 42U-62-H0P06 - SEAL KIT | TZ502D4110-00 - SPOOL KIT |
| 42W-06-H0P00 - KEY KIT | TZ531B9000-01 - SEAL KIT |
| 42W-62-H0P09 - KIT GASK | TZ600D2205-01 - CYLINDER KIT |
| 42Y-72-H0P14 - SEAL KIT | TZ844B2070-01 - PISTON KIT |
| 4593286 - SHIM KIT | TZ907S9000-00 - SEAL KIT |
| 46128773 - SEAL KIT | TZ922B9000-02 - SEAL KIT |
| 46128873 - SEAL KIT | UCR902103243 - SEAL KIT |
| 4659251 - KIT, HYD | UCR902603586 - SEAL KIT |
| 4876480 - SEAL KIT | UC4096041495 - KIT |
| 4876481 - SEAL KIT | VC5432 - KIT |
| 4876482 - KIT SAW | VE1762 - KIT |
| 5000608 - KIT SHA | VE2890 - KIT |
| 50060373 - SEAL KIT | VE3056 - KIT |
| 50060398 - SEAL KIT | VE3097 - KIT |
| 5006975 - SEAL KIT | VE3340 - KIT |
| 5007466 - SEAL KIT | VE4018 - SEAL KIT |
| 5007492 - SEAL KIT | VE4579 - CAMKIT |
| 5007720 - GEAR KIT | VE4891 - BRG KIT |
| 5008479 - GEAR KIT | VE4894 - HAMERKIT |
| 5009909 - KIT PUL | VE6168 - SEAL KIT |
| 5018456 - KIT GAS | VE6722 - REPRKIT |
| 50212073 - SEAL KIT | VE6843 - INSL KIT |
| 5026151 - SEAL KIT | VE6906 - INSLNKIT |
| 5026599 - SHIM KIT | VE6939 - SEALKIT |
| 5028425 - SEAL KIT | VE7064 - SEAL KIT |
| 5030372 - SEAL KIT | VE7689 - SEAL KIT |
| 5031645 - SEAL KIT | VE7729 - SEAL KIT |
| 5033128 - KIT BRA | VE8069 - MTG KIT |
| 5033261 - SEAL KIT | VE8739 - KIT, CAM |
| 5034100 - SEAL KIT | VE8742 - KIT, BUMPER |
| 5034310 - SEAL KIT | VE9619 - SEAL KIT |
| 5034749 - SEAL KIT | VE9620 - SEAL KIT |
| 5034750 - KIT, SEA | VF9255 - VANE KIT |
| 5036338 - SHIM KIT | VK2151 - KIT |
| 5036339 - SHIM KIT | VOS7MDCL1B - CAMERA KIT |
| 5036525 - SHIM KIT | VS7586 - KIT AIR |
| 5037752 - SHIM KIT | WTA3000-118 - CONV KIT CAT |
| 5037757 - KIT SEA | XA0056 - KIT, COIL UP |
| 5037828 - SHIM KIT | XA1964 - KIT, SEAL |
| 5038692 - SEAL KIT | XA2031 - KIT, KNOB |
| 5038984 - KIT GAT | XA2032 - KIT FOAM BAC |
| 5041993 - SEAL KIT | XA2033 - KIT BACK COV |
| 5046066 - SEAL KIT | XA2034 - KIT, FOAM SE |
| 5046339 - KIT, ASS | XA2035 - KIT,SEAT COV |
| 5047115 - DISC KIT | XA2036 - KIT, HIEGHT |
| 5047123 - GEAR KIT | XA2040 - KIT TETHER R |
| 5047126 - SHIM KIT | XA2041 - KIT SEAT COV |
| 5047383 - ASSY KIT | XA2043 - KIT, REEL CO |
| 5048066 - KIT, GAS | XA2051 - KIT, KNOB GR |
| 5048068 - KIT | XA2052 - KIT,FORE&AFT |
| 5048857 - DISC KIT | XA2053 - KIT,LH ARMRE |
| 5048869 - HOSE KIT | XA2054 - KIT,RH ARMRE |
| 5051185 - KIT GAS | XA2055 - KIT, PLINTH |
| 50516473 - SEAL KIT | XA2067 - KIT, SEAL PI |
| 5051933 - KIT WAT | XA2280 - KIT, CONVERS |
| 5053546 - SEAL KIT | XA2296 - KIT,CARTRIDG |
| 5055031 - KIT, GAS | XA2311 - KIT ACCUN RE |
| 5055064 - SEAL KIT | XA2312 - PLUMBING,KIT |
| 5057327 - TOOL KIT | XA2375 - KIT,GAP HIDE |
| 5058496 - KIT, REP | XA2376 - KIT,UP/LOW C |
| 5059000 - KIT, RET | XA2413 - KIT, SEAL OV |
| 5060601 - KIT, GAS | XA2478 - KIT, COIL 28 |
| 5060849 - SEAL KIT | XA2487 - KIT FLANGE |
| 5061031 - SEAL KIT | XA2488 - KIT,HARDWARE |
| 5061948 - DISC KIT | XA2539 - SEAL KIT |
| 5062455 - SEAL KIT | XA2653 - KIT, REBUILD |
| 5062464 - KIT, CYL | XA3287 - KIT, SEAL |
| 5062581 - TOOL KIT | XA4017 - KIT,BUMPER |
| 5062630 - SHIM KIT | XA4046 - KIT,INSTALLA |
| 5062662 - SHIM KIT | XA4462 - KIT,BOOT |
| 5062663 - SHIM KIT | XA4464 - KIT,LUMBAR A |
| 5062926 - SEAL KIT | XA5088 - KIT, BLADDER |
| 5063266 - SEAL KIT | XA5122 - KIT,CUSHION |
| 5063397 - KIT CYL | XA5484 - KIT, MIRROR |
| 5063457 - SHIM KIT | XA5485 - KIT, MIRROR |
| 5063731 - SEAL KIT | XA5486 - KIT, STUD AS |
| 5064218 - SEAL KIT | XA5487 - KIT, WIRE RE |
| 5065755 - GEAR KIT | XA5521 - ARMREST KIT, |
| 5066030 - SEAL KIT | XA5522 - ARMREST KIT, |
| 5066031 - SEAL KIT | XA5541 - KIT, OIL SEA |
| 5069050 - KIT, FIL | XA5602 - SEAL KIT |
| 5069580 - KIT, GAS | XA5634 - SILENCER KIT |
| 5069711 - SEAL KIT | XA5638 - POLE KIT |
| 5070736 - HOSE KIT | XA5643 - KIT, CONTACT |
| 5070783 - HOSE KIT | XA5688 - KIT, HYD PIP |
| 5071452 - HOSE KIT | XA5738 - SEAL KIT |
| 5071453 - HOSE KIT | XA6016 - KIT, FASTENE |
| 5071767 - GEAR KIT | XA6017 - KIT, FASTENE |
| 5073358 - HOSE KIT | XA6018 - KIT, FASTENE |
| 5073464 - SEAL KIT | XA6019 - KIT, FASTENE |
| 5075665 - SHIM KIT | XA6036 - FASTENER KIT |
| 5082346 - GEAR KIT | XA6046 - REPAIR KIT L |
| 5082432 - DISC KIT | XA6091 - ALT REWK KIT |
| 5090275 - SHIM KIT | XA6146 - WIRING KIT |
| 5092233 - HOSE KIT | XA6203 - LENS KIT |
| 5092234 - HOSE KIT | XA6204 - LENS KIT |
| 5092235 - HOSE KIT | XA6205 - LENS KIT |
| 5092236 - HOSE KIT | XA6206 - LENS KIT |
| 5092455 - GEAR KIT | XA6207 - LENS KIT |
| 51598773 - SEAL KIT | XB5521 - KIT, 1400 GA |
| 51711198 - SEAL KIT | XB5651 - KIT HRN STR |
| 5192281 - TOOL KIT | XB6756 - KIT, 1200 GA |
| 534262R91 - KIT | XK0039 - TOW BMPR KIT |
| 537006R92 - KIT | XK0321 - KIT FRNT SUS |
| 545299R93 - KIT | XK0687 - RESERVE KIT |
| 545829R93 - KIT | XK0699 - KIT,SPINDLE |
| 545831R93 - KIT | XK0717 - KIT,PPG HD15 |
| 546099R92 - KIT | XK0719 - KIT,TOW BUMP |
| 546214R93 - KIT | XK0901 - KIT, TOW BUM |
| 548413R92 - KIT | XK0943 - KIT,MIRROR L |
| 549-12900 - SEAL KIT | XK0945 - KIT,HANDRAIL |
| 561-15-05023 - KIT | XK0949 - KIT,GUSSET P |
| 561-15-05042 - KIT | XK0981 - KIT,FLX TRAN |
| 561-15-05230 - KIT | XK1021 - KIT,TOW BUMP |
| 561-15-05421 - KIT | XK1039 - KIT, BRAKE |
| 561-15-05440 - KIT | XK1041 - KIT, CUP HOL |
| 561-15-05450 - KIT | XK1155 - KIT,830 TOW |
| 561-15-05461 - KIT | XK1177 - KIT, A/C BEL |
| 561-32-05210 - KIT | XK1177SERV - KIT, A/C BEL |
| 561-35-05920 - KIT,SERV | XK1199 - KIT,GRID LOU |
| 561-40-00100 - SEAL KIT | XK1205 - KIT, ACCEL P |
| 561-40-00200 - SEAL KIT | XK1207 - KIT, TRANSIT |
| 562-13-05040 - KIT | XK1225 - KIT, ACCEL P |
| 562-15-05120 - KIT | XK1245 - KIT, BRAKE P |
| 566-13-05211 - KIT | XK1247 - KIT, BATTERY |
| 566-22-05012 - KIT | XK1263 - KIT, BELLY P |
| 566-22-05021 - KIT | XK1265 - KIT, TRANSIT |
| 566-35-05012 - KIT | XK1269 - KIT, PASS SE |
| 566-35-05910 - KIT, SER | XK1273 - KIT, SEAT BE |
| 566-35-09960 - KIT - DE | XK1279 - KIT, RADIATO |
| 566-35-09970 - KIT | XK1283 - KIT, WINDOW |
| 566-61-05011 - KIT | XK1285 - KIT, WINDOW |
| 567-13-05120 - KIT | XK1287 - KIT, WINDOW |
| 567-22-05010 - KIT | XK1289 - KIT, WINDOW |
| 567-32-05010 - KIT | XK1303 - KIT,STRNG CO |
| 567-35-11410 - RING KIT | XK1327 - REBUILD KIT |
| 569-15-05070 - KIT | YMTOL-97190080 - KIT |
| 569-15-05110 - KIT,TRAN | YM119266-13550 - SILENCER KIT |
| 569-15-05511 - KIT | YM119865-51600 - SHIM KIT |
| 569-63-05010 - SEAL KIT | YM129536-92040 - PACKING KIT |
| 56B-40-13610 - SEAL KIT | YM129612-77750 - SCREW KIT |
| 56B-40-13611 - SEAL KIT | YM172141-99380 - CYLINDER KIT |
| 56D-13-05010 - KIT, SER | YM172142-99340 - CYLINDER KIT |
| 56D-15-05000 - SHIM KIT | YM172142-99420 - CYLINDER KIT |
| 57603340 - SEAL KIT | YM172151-72020 - CYLINDER KIT |
| 581-43-05070 - KIT | YM172164-72360 - KIT |
| 585625C91 - KIT | YM172425-72500 - SEAL KIT |
| 58B-22-00110 - SHIM KIT | YM172425-72600 - SEAL KIT |
| 58C-22-00110 - SHIM KIT | YM172964-72360 - KIT, CYLINDE |
| 606628C91 - KIT | YM172975-72360 - CYLINDER KIT |
| 6150-72-9110 - KIT | YM714350-92602 - GASKET KIT |
| 6151-72-9110 - KIT | YM714350-92605 - GASKET KIT |
| 6151-72-9120 - KIT,TAMP | YM714650-92605 - GASKET KIT |
| 615156C92 - CAP KIT | YM719265-92610 - GASKET KIT |
| 6155-01-1020 - KIT P | YM719266-92610 - GASKET KIT |
| 6156-01-1010 - KIT P6 | YM719309-92650 - GASKET KIT |
| 619693C91 - KIT | YM719325-92601 - GASKET KIT |
| 6206-K2-9601 - KIT SEE | YM719623-92650 - GASKET KIT |
| 6212-72-9120 - KIT | YM719631-92601 - GASKET KIT |
| 6216-04-1020 - KIT - MO | YM719653-92600 - GASKET KIT |
| 6216-24-2280 - KIT LINE | YM719812-92620 - GASKET KIT |
| 6216-34-2160 - KIT,PIST | YM729100-92605 - GASKET KIT |
| 6216-64-1420 - KIT-WTR | YM729106-92601 - GASKET KIT |
| 6216-64-1430 - KIT-WTR | YM729211-92660 - GASKET KIT |
| 6218-K6-9900 - KIT,GASK | YM729246-92810 - GASKET KIT |
| 6221-41-0410 - KIT | YM729407-92830 - GASKET KIT |
| 6221-73-9110 - KIT | YM729407-92890 - GASKET KIT |
| 625877C91 - KIT | YM729408-92810 - GASKET KIT |
| 625878C91 - KIT | YM729408-92971 - KIT - GASKET |
| 625879C93 - KIT | YM729601-92680 - GASKET KIT |
| 625903C1 - KIT | YM729602-92790 - GASKET KIT |
| 625913C3 - KIT | YM729902-92610 - GASKET KIT |
| 625914C2 - KIT | YU802584-4 - VALVE KIT |
| 627312C91 - KIT | ZSSA39541.901 - CONTROL KIT |
| 627942C91 - KIT | ZSSA39548.901 - KIT |
| 627945C91 - KIT | 320105 - KIT SAE FLA |
| 631636C91 - KIT | 320106 - FLANGE KIT |
| 631804C1 - KIT | 320243 - FLANGE KIT ( |
| 631805C1 - KIT | 360900 - KIT CYLINDE |
| 631819C1 - KIT | 360910 - KIT CYLINDE |
| 63581C91 - KIT | 00416030G - KIT (CHECK P |
| 636123C92 - KIT CYL | 421250 - SEAL KIT |
| 636143C92 - KIT CYL | 680083 - KIT DECAL R |
| 636146C92 - KIT CYL | 740390 - KIT RADIO M |
| 636235C91 - KIT CYL | 749018 - KIT REAR WI |
| 63698C91 - KIT | 849041 - KIT HEATER |
| 637410C91 - KIT | 849054 - KIT A/C COM |
| 637473C91 - KIT | 849055 - KIT A/C RET |
| 637937C91 - KIT | 1020902 - KIT CYLINDE |
| 65001-05542 - SEAL KIT | 1040904 - KIT CYLINDE |
| 65001-06041 - SEAL KIT | 01350111S - KIT ACCUMUL |
| 65576740 - SEAL KIT | 1350124 - KIT FEEDROL |
| 6560-01-1110 - SEAL KIT | 1400944 - KIT HOSE PRO |
| 6560-01-1170 - CASE KIT | 1490532 - SEAL KIT TIL |
| 6560-01-1220 - KIT | 1490543 - KIT, TOPSAW |
| 6560-01-1230 - KIT | 1699045 - KIT SEALING |
| 65903140 - PIPE KIT | 1811397 - KIT WINDSHI |
| 662627C91 - KIT | 1819092 - KIT 503 CAB |
| 6672-22-3931 - SHIM KIT | 1819121 - KIT CAB BUF |
| 6731-21-1220 - KIT, CYL | 1819125 - KIT FABRICK |
| 6731-21-2180 - KIT LINE | 1819127 - KIT 2-SPEED |
| 6731-31-2180 - KIT, PIS | 2109000 - KIT KNUCKLE |
| 6731-31-2190 - KIT, PIS | 2269972 - KIT AXLE BO |
| 6731-32-2100 - KIT - PI | 2311236 - KIT ADJUSTI |
| 6731-81-1280 - KIT,COMP | 2311261 - COUPLING KIT |
| 6731-81-8140 - XKIT TUR | 2431039 - KIT HYDRAUL |
| 6731-81-8210 - XKIT,TUR | 2431040 - KIT HYDRAUL |
| 6731-81-9160 - KIT,FUEL | 02439961S - KIT HYDRAUL |
| 6731-81-9290 - KIT,SOLE | 2439969 - KIT HYDRAUL |
| 6732-11-3321 - KIT | 2480922 - KIT SEAT SU |
| 6732-32-2130 - KIT - EN | 2481064 - KIT BEARING |
| 6732-32-2140 - KIT - EN | 2481122 - KIT SERVICE |
| 6732-32-2150 - KIT - EN | 2482021 - ARMREST KIT |
| 6732-81-8650 - XKIT,TUR | 2482022 - ARMREST KIT |
| 6735-01-3110 - KIT,ENG | 2489918 - KIT SEAT RE |
| 6735-01-8810 - KIT,SPAR | 4400534 - GASKET KIT |
| 6735-31-2070 - KIT,PIST | 4400600 - LINER KIT-MA |
| 6735-38-2210 - KIT,ENG | 4400601 - LINER KIT-MA |
| 6735-39-2010 - KIT,ENG | 4400605 - LINER KIT-MA |
| 6735-39-2060 - KIT, PIS | 4400660 - KIT-PISTON R |
| 6735-61-1690 - KIT,THER | 4400672 - LINER KIT-BR |
| 6735-81-8030 - XKIT, TU | 4401049 - LINER KIT-BE |
| 6735-K2-3001 - KIT,CRAN | 4402062 - KIT-LINER, T |
| 6736-01-2110 - KIT,CYL | 4402121 - KIT-PISTON R |
| 6736-21-4221 - SEAL KIT | 4402567 - KIT OIL COO |
| 6736-31-2010 - KIT,PIST | 4403497 - LINER KIT M |
| 6736-39-1130 - KIT,WET | 4403505 - LINER KIT T |
| 6736-39-2010 - KIT,PIST | 4405034 - KIT COMPRESS |
| 6736-81-8030 - KIT | 4405775 - KIT REMOTE |
| 6736-81-8050 - KIT,REPA | 4409075 - KIT ENG. SH |
| 6737-81-8290 - XKIT-TUR | 4409951 - KIT EXPANSI |
| 6738-32-2010 - KIT,PIST | 4409957 - KIT RADIATO |
| 6742-01-1440 - KIT,CYLI | 4409966 - KIT EXP TAN |
| 6742-01-1500 - KIT,LINE | 4450143 - KIT TRANSMI |
| 6742-01-5201 - XKIT LUB | 4480706 - KIT RING GE |
| 6742-01-5233 - KIT MAIN | 4489936 - KIT TRANSMI |
| 6742-01-5281 - KIT,FUEL | 04489936S - KIT TRANSMI |
| 6742-02-1110 - SEAL KIT | 4510369 - KIT COMPUTE |
| 6742-82-9110 - KIT-FUEL | 4519938 - KIT LOW LEV |
| 6743-11-3310 - KIT,INJE | 4600012 - MOUNT KIT |
| 6743-11-3320 - KIT,NOZZ | 4600512 - KIT A/C COND |
| 6743-31-2101 - KIT,PIST | 4600513 - KIT TROPICA |
| 674399C96 - KIT, GAS | 4610356 - KIT STARTER |
| 6745-22-1210 - KIT - SE | 09940-00061 - O-RING KIT |
| 679327C92 - KIT CYL | 102-63-05020 - SERVICE KIT |
| 679329C92 - KIT CYL | 103-15-05111 - SERVICE KIT |
| 6810-01-1140 - KIT,GASK | 103-15-05200 - SERVICE KIT |
| 6810-31-2140 - KIT, PIS | 103-15-05410 - SERVICE KIT |
| 6810-31-2150 - RING KIT | 103-15-05500 - SERVICE KIT |
| 6810-61-1370 - KIT, HOS | 10300551 - HOSE KIT HE |
| 6810-71-3230 - KIT,REPA | 104-15-05101 - SERVICE KIT |
| 681495C92 - KIT--SOL | 104-15-05200 - SERVICE KIT |
| 684079C92 - KIT | 104-15-05201 - SERVICE KIT |
| 69033773 - SEAL KIT | 10410062 - SEAL KIT MP |
| 69038873 - SEAL KIT | 10410069 - SEAL KIT - P |
| 69049973 - SEAL KIT | 10410301 - SERVICEKIT |
| 691743 - SEAL KIT | 10410306 - SEAL KIT PL |
| 691744 - SEAL KIT | 10410344 - KIT RETAINE |
| 69177900 - SEAL KIT | 10410349 - KIT PLUG SE |
| 692132 - SEAL KIT | 10410394 - SEAL KIT MO |
| 69213200 - SEAL KIT | 10410489 - SEAL KIT F/1 |
| 692133 - SEAL KIT | 10410490 - SEALKIT F/10 |
| 692135 - SEAL KIT | 10410685 - SEAL KIT - A |
| 69216300 - SEAL KIT | 10410817 - SEAL KIT FOR |
| 69216400 - SEAL KIT | 10411282 - KIT O-RING |
| 69234400 - SEAL KIT | 10411286 - KIT 960 HEAD |
| 69234500 - SEAL KIT | 10411289 - KIT TAPERED |
| 692414 - SEAL KIT | 10411445 - KIT SPIKE R |
| 692910 - SEAL KIT | 10412048 - PLUNGER KIT |
| 69317400 - SEAL KIT | 10412049 - BODY KIT FO |
| 69443700 - SEAL KIT | 10412380 - KIT PUMP RE |
| 69456600 - SEAL KIT | 10412538 - KIT SHAFT S |
| 69562073 - SEAL KIT | 10412590 - SEAL KIT AC |
| 69562173 - SEAL KIT | 10412596 - REPAIR KIT |
| 69588273 - SEAL KIT | 10412602 - KIT MP18 VA |
| 69588973 - SEAL KIT | 10412694 - SEAL KIT (50 |
| 69601173 - SEAL KIT | 10412727 - KIT WORK BR |
| 69638973 - SEAL KIT | 10412734 - PLUG KIT |
| 69639073 - SEAL KIT | 10412790 - PLUG KIT LS |
| 69642673 - SEAL KIT | 10412798 - SEAL KIT PI |
| 69642773 - SEAL KIT | 10412867 - PIPE KIT IN |
| 69642873 - SEAL KIT | 10412892 - SEAL KIT |
| 69643073 - SEAL KIT | 10413007 - SEAL KIT |
| 69645873 - SEAL KIT | 10413017 - KIT, JOYSTIC |
| 69646273 - SEAL KIT | 10419016 - KIT FLOAT CI |
| 69646373 - SEAL KIT | 10426 - KIT, SEAL RE |
| 69662373 - SEAL KIT | 10429909 - KIT CASE DR |
| 69663373 - SEAL KIT | 107341H45 - KIT-REPA |
| 69714273 - SEAL KIT | 11Y-32-05010 - BOLT KIT,SHO |
| 69724073 - SEAL KIT | 113-15-00540 - SHIM KIT |
| 69726673 - SEAL KIT | 113-27-05040 - SERVICE KIT |
| 69726773 - SEAL KIT | 12Y-06-14120 - CLAMP KIT |
| 69756373 - SEAL KIT | 1211326H91 - SEAL KIT |
| 69756873 - SEAL KIT | 1212874H1 - SEAL KIT |
| 69761073 - SEAL KIT | 1214956H1 - CAP KIT |
| 69766373 - SEAL KIT | 1228947H91 - KIT |
| 69767773 - SEAL KIT | 1237937H92 - KIT - CYL BL |
| 69767873 - SEAL KIT | 124-01-05010 - SHIM KIT |
| 69789473 - SEAL KIT | 124-01-05020 - SHIM KIT |
| 69882773 - SEAL KIT | 124-13-05012 - SERVICE KIT |
| 69883073 - SEAL KIT | 1241565H91 - XTURBO KIT |
| 6DX992150A - KIT,REMO | 1241566H1 - REPAIR KIT |
| 702952C91 - KIT | 1241670H93 - LINER KIT |
| 704680C91 - KIT | 1241671H92 - LINER KIT |
| 704702C91 - KIT | 1241720H92 - CYL KIT |
| 707-00-H0P06 - KIT,PACK | 1241832H91 - KIT WATER PU |
| 707-01-H0P12 - KIT,PACK | 1242019H91 - KIT, TURBO R |
| 707-01-H0P13 - KIT,PACK | 1242046H91 - PISTON KIT |
| 707-39-10550 - RING KIT | 1242048H91 - CYL. KIT |
| 707-39-11150 - RING KIT | 1245179H91 - KIT,PISTON |
| 707-39-12560 - RING KIT | 1245183H92 - KIT ENG PIST |
| 707-98-03450 - KIT | 1245192H1 - GASKET KIT |
| 707-98-04600 - KIT, CYL | 1245248H1 - GASKET KIT |
| 707-98-05410 - KIT, CYL | 1245317H1 - FRAME KIT |
| 707-98-05420 - KIT, CYL | 1246657H91 - REPAIR KIT W |
| 707-98-05600 - KIT, CYL | 124703 - KIT-CASE |
| 707-98-11020 - KIT, CYL | 1249336H1 - GASKET KIT |
| 707-98-11070 - KIT, CYL | 125-15-05012 - SERVICE KIT |
| 707-98-11170 - KIT, CYL | 125-15-05100 - SERVICE KIT |
| 707-98-11180 - KIT, CYL | 125-15-05120 - SERVICE KIT |
| 707-98-11200 - KIT, CYL | 1252174H91 - XKIT TRBOC |
| 707-98-11210 - KIT, CYL | 1258202H92 - KIT REPOWER |
| 707-98-11220 - KIT, CYL | 1260286H91 - KIT |
| 707-98-12080 - KIT - CY | 1266452H91 - KIT REPOWER |
| 707-98-12200 - KIT, CYL | 1271293H91 - KIT REPOWER |
| 707-98-12211 - KIT, CYL | 1280386H91 - KIT REPOWER |
| 707-98-12280 - KIT | 1287740H91 - KIT REPOWER |
| 707-98-12310 - KIT, CYL | 1294224H94 - KIT REPAIR |
| 707-98-12410 - KIT, CYL | 1294227H91 - KIT,TRBO REP |
| 707-98-12440 - KIT, CYL | 1295204H91 - KIT, SPACER |
| 707-98-12470 - KIT, CYL | 1295707H91 - CYL KIT |
| 707-98-12490 - KIT, CYL | 1295832H91 - KIT PUMP REP |
| 707-98-12510 - KIT, CYL | 1295833H91 - KIT PUMPREPA |
| 707-98-12600 - KIT, CYL | 1296011H91 - XTURBO KIT |
| 707-98-12670 - KIT, CYL | 1296599H91 - XTURBO KIT |
| 707-98-13810 - KIT, CYL | 1296810H91 - TURBO KIT RE |
| 707-98-14030 - KIT, CYL | 1297313H91 - KIT REPOWER |
| 707-98-14220 - KIT, CYL | 1297621H92 - KIT REPOWER |
| 707-98-14610 - KIT, CYL | 1299135H91 - KIT REPOWER |
| 707-98-14650 - KIT, CYL | 1299235H91 - KIT,LOADCHEC |
| 707-98-14930 - KIT, SER | 13E-15-05010 - SERVICE KIT |
| 707-98-15400 - KIT, CYL | 13E-15-05011 - SERVICE KIT |
| 707-98-15610 - KIT, CYL | 13E-15-05040 - SERVICE KIT |
| 707-98-15620 - KIT, CYL | 1301085H91 - SEAL KIT |
| 707-98-15690 - KIT, CYL | 1304784H1 - KIT,PISTON |
| 707-98-22030 - KIT, CYL | 1307068H92 - KIT, PISTON |
| 707-98-22070 - KIT, CYL | 1307617H91 - KIT,TURBO BR |
| 707-98-22080 - KIT, CYL | 1307651H91 - KIT,WP REPAI |
| 707-98-22100 - KIT, CYL | 1307652H91 - KIT,WP REPAI |
| 707-98-22120 - KIT, CYL | 1308574H91 - SEAL KIT-CYL |
| 707-98-22140 - KIT, CYL | 1308913H91 - KIT, BUCKET |
| 707-98-22150 - KIT | 1308957H1 - TERMINALKIT |
| 707-98-22200 - KIT, CYL | 1310350H91 - KIT,OIL PAN |
| 707-98-22410 - KIT, CYL | 1310713H91 - KIT,WP REPAI |
| 707-98-22420 - KIT, CYL | 1310714H91 - KIT,TURBO RE |
| 707-98-22500 - KIT, CYL | 1310992H91 - KIT, TURBO B |
| 707-98-22820 - KIT, CYL | 1312887H91 - RELAY KIT |
| 707-98-23030 - KIT, CYL | 1313161H91 - KIT,PISTON |
| 707-98-23100 - KIT, CYL | 1315869H91 - KIT, ESTC MO |
| 707-98-23130 - KIT, CYL | 1315993H91 - KIT,MODULE |
| 707-98-23870 - KIT, SER | 1316573H1 - STARTER KIT |
| 707-98-24010 - KIT, CYL | 1317003H92 - KIT - SEAL |
| 707-98-24030 - KIT, CYL | 1317279H2 - KIT, CONTROL |
| 707-98-24040 - KIT, CYL | 1317568H92 - KIT, FUEL LI |
| 707-98-24060 - KIT, CYL | 1317968H91 - KIT, PST |
| 707-98-24120 - KIT, CYL | 1317968H92 - KIT, PST |
| 707-98-24150 - KIT, CYL | 1318151H91 - PISTON KIT |
| 707-98-24170 - KIT | 1318201H91 - KIT, PISTON |
| 707-98-24210 - KIT, CYL | 1318202H91 - KIT, PISTON |
| 707-98-24330 - KIT, SER | 1318204H91 - KIT LINER |
| 707-98-24430 - KIT, CYL | 1318262H91 - TURBO KIT |
| 707-98-24500 - KIT, CYL | 133975 - KIT - RI |
| 707-98-24530 - KIT, CYL | 134-15-05031 - SERVICE KIT |
| 707-98-24570 - KIT | 134691 - KIT-SEAL |
| 707-98-24610 - KIT | 134755 - KIT-LINI |
| 707-98-24700 - KIT,SERV | 135395 - KIT, BEARING |
| 707-98-24710 - KIT,SERV | 14X-13-05040 - SERVICE KIT |
| 707-98-24770 - KIT, SER | 14X-15-05082 - SERVICE KIT |
| 707-98-24820 - KIT, CYL | 14X-15-05170 - SERVICE KIT |
| 707-98-24840 - KIT, CYL | 14X-15-05180 - SERVICE KIT |
| 707-98-24890 - KIT, CYL | 14X-15-05181 - SERVICE KIT |
| 707-98-24910 - KIT,SERV | 14X-15-05190 - SERVICE KIT |
| 707-98-25030 - KIT, CYL | 14X-15-05210 - SERVICE KIT |
| 707-98-25040 - KIT, CYL | 14X-22-05010 - SERVICE KIT |
| 707-98-25050 - KIT, CYL | 14X-22-05011 - SERVICE KIT |
| 707-98-25070 - KIT, CYL | 14X-22-05020 - SERVICE KIT |
| 707-98-25080 - KIT, CYL | 14X-27-00390 - SHIM KIT |
| 707-98-25100 - KIT, CYL | 14X-43-00010 - SERVICE KIT |
| 707-98-25110 - KIT,CYL | 14X-960-0510 - SHIM KIT |
| 707-98-25170 - KIT, CYL | 14X-960-0530 - SHIM KIT |
| 707-98-25250 - KIT, CYL | 14X-960-0590 - KIT |
| 707-98-25430 - KIT, CYL | 14X3207070KIT - UC KIT D65EX |
| 707-98-25500 - KIT, CYL | 1400201H1 - RADIO KIT-BT |
| 707-98-25510 - KIT, CYL | 1400798H2 - KIT INSTALL |
| 707-98-25520 - KIT, CYL | 1401114H91 - KIT,P&B D85P |
| 707-98-25560 - KIT, CYL | 1401129H91 - KIT,P&B PC30 |
| 707-98-25620 - KIT | 1401131H91 - KIT,P&B PC40 |
| 707-98-25820 - KIT | 1401137H91 - KIT,D65EX-12 |
| 707-98-25920 - KIT, CYL | 1402000H91 - KIT, MAINT 5 |
| 707-98-25980 - KIT, SER | 1402001H91 - KIT, MAINT 1 |
| 707-98-26110 - KIT, CYL | 1402002H91 - KIT, MAINT 2 |
| 707-98-26120 - KIT, CYL | 1402003H91 - KIT, MAINT 5 |
| 707-98-26441 - KIT, CYL | 1402004H91 - KIT, MAINT 1 |
| 707-98-26490 - KIT | 1402005H91 - KIT, MAINT 2 |
| 707-98-26510 - KIT, CYL | 1402006H91 - K CARE KIT 2 |
| 707-98-26520 - KIT, CYL | 1402007H91 - K CARE KIT 5 |
| 707-98-26540 - KIT, CYL | 1402008H91 - K CARE KIT 1 |
| 707-98-26550 - KIT, CYL | 1402009H91 - K CARE KIT 2 |
| 707-98-26560 - KIT, CYL | 1402010H91 - K CARE KIT 2 |
| 707-98-26570 - KIT, CYL | 1402011H91 - K CARE KIT 5 |
| 707-98-26580 - KIT, CYL | 1402012H91 - K CARE KIT 1 |
| 707-98-26600 - KIT, CYL | 1402013H91 - K CARE KIT 2 |
| 707-98-26620 - KIT | 1402014H91 - K CARE KIT 2 |
| 707-98-26900 - KIT, CYL | 1402015H91 - K CARE KIT 1 |
| 707-98-27100 - KIT, CYL | 1402016H91 - K CARE KIT 2 |
| 707-98-27500 - KIT, CYL | 1402017H91 - K CARE KIT 5 |
| 707-98-27510 - KIT, CYL | 1402018H91 - K CARE KIT 1 |
| 707-98-27600 - KIT, CYL | 1402019H91 - K CARE KIT 2 |
| 707-98-28600 - KIT, CYL | 1402020H91 - K CARE KIT 2 |
| 707-98-29500 - KIT, SER | 1402021H91 - K CARE KIT 5 |
| 707-98-29630 - KIT, SER | 1402022H91 - K CARE KIT 1 |
| 707-98-29640 - KIT, SER | 1402023H91 - K CARE KIT 2 |
| 707-98-32050 - KIT, CYL | 1402024H91 - K CARE KIT 2 |
| 707-98-32080 - KIT, CYL | 1402025H91 - K CARE KIT 5 |
| 707-98-32120 - KIT, CYL | 1402026H91 - K CARE KIT 1 |
| 707-98-32550 - KIT, SER | 1402027H91 - K CARE KIT 2 |
| 707-98-32810 - KIT, CYL | 1402028H91 - K CARE KIT 2 |
| 707-98-32820 - KIT, CYL | 1402029H91 - K CARE KIT 5 |
| 707-98-33500 - KIT, SER | 1402030H91 - K CARE KIT 1 |
| 707-98-34100 - KIT, CYL | 1402031H91 - K CARE KIT 2 |
| 707-98-34120 - KIT | 1402032H91 - K CARE KIT 5 |
| 707-98-34140 - KIT | 1402033H91 - K CARE KIT 1 |
| 707-98-34540 - KIT, CYL | 1402034H91 - K CARE KIT 2 |
| 707-98-34560 - KIT | 1402035H91 - K CARE KIT 5 |
| 707-98-35110 - KIT, CYL | 1402036H91 - K CARE KIT 5 |
| 707-98-35180 - KIT, CYL | 1402037H91 - K CARE KIT 1 |
| 707-98-35510 - KIT, CYL | 1402038H91 - K CARE KIT 2 |
| 707-98-36100 - KIT, CYL | 1402039H91 - K CARE KIT 2 |
| 707-98-36110 - KIT, CYL | 1402040H91 - K CARE KIT 5 |
| 707-98-36140 - KIT, CYL | 1402041H91 - K CARE KIT 1 |
| 707-98-36200 - KIT, CYL | 1402042H91 - K CARE KIT 2 |
| 707-98-36210 - KIT, CYL | 1402043H91 - K CARE KIT 2 |
| 707-98-36230 - KIT, CYL | 1402044H91 - K CARE KIT 5 |
| 707-98-36240 - KIT, CYL | 1402045H91 - K CARE KIT 1 |
| 707-98-36411 - KIT, CYL | 1402046H91 - K CARE KIT 2 |
| 707-98-36450 - KIT, CYL | 1402047H91 - K CARE KIT 5 |
| 707-98-36510 - KIT | 1402048H91 - K CARE KIT 1 |
| 707-98-36590 - KIT, CYL | 1402049H91 - K CAR KIT 20 |
| 707-98-36600 - KIT | 1402050H91 - K CARE KIT 5 |
| 707-98-37100 - KIT, CYL | 1402051H91 - K CARE KIT 1 |
| 707-98-37110 - KIT, CYL | 1402052H91 - K CARE KIT 2 |
| 707-98-37130 - KIT, CYL | 1402053H91 - K CARE KIT 2 |
| 707-98-37410 - KIT, CYL | 1402054H91 - K CARE KIT 5 |
| 707-98-37500 - KIT, CYL | 1402055H91 - K CARE KIT 1 |
| 707-98-37510 - KIT, CYL | 1402056H91 - K CARE KIT 5 |
| 707-98-37570 - KIT, CYL | 1402057H91 - K CARE KIT 1 |
| 707-98-37580 - KIT, CYL | 1402058H91 - K CARE KIT 2 |
| 707-98-37600 - KIT, CYL | 1402059H91 - K CARE KIT 5 |
| 707-98-37610 - KIT, CYL | 1402060H91 - K CARE KIT 1 |
| 707-98-37620 - KIT, CYL | 1402061H91 - K CARE KIT 2 |
| 707-98-37670 - KIT, CYL | 1402062H91 - K CARE KIT 5 |
| 707-98-38500 - KIT, CYL | 1402063H91 - K CARE KIT 1 |
| 707-98-38510 - KIT, CYL | 1402064H91 - K CARE KIT 2 |
| 707-98-38520 - KIT, CYL | 1402065H91 - K CARE KIT 5 |
| 707-98-38551 - KIT, CYL | 1402066H91 - K CARE KIT 1 |
| 707-98-38600 - KIT, CYL | 1402067H91 - K CARE KIT 2 |
| 707-98-40020 - KIT, CYL | 1402068H91 - K CARE KIT 2 |
| 707-98-41010 - KIT, CYL | 1402069H91 - K CARE KIT 5 |
| 707-98-41020 - KIT, CYL | 1402070H91 - K CARE KIT 1 |
| 707-98-41110 - KIT, CYL | 1402071H91 - K CARE KIT 2 |
| 707-98-41120 - KIT, CYL | 1402072H91 - K CARE KIT 1 |
| 707-98-41130 - KIT, CYL | 1402073H91 - K CARE KIT 2 |
| 707-98-42100 - KIT, CYL | 1402074H91 - K CARE KIT 2 |
| 707-98-42410 - KIT, CYL | 1402075H91 - K CARE KIT 1 |
| 707-98-42420 - KIT, CYL | 1402076H91 - K CARE KIT 2 |
| 707-98-43200 - KIT | 1402077H91 - K CARE KIT 1 |
| 707-98-43260 - KIT,SERV | 1402078H91 - K CARE KIT 2 |
| 707-98-43530 - KIT,CYL | 1402079H91 - K CARE KIT 2 |
| 707-98-44200 - KIT, CYL | 1402080H91 - K CARE KIT 1 |
| 707-98-45100 - KIT | 1402081H91 - K CARE KIT 2 |
| 707-98-45200 - KIT, CYL | 1402082H91 - K CARE KIT 5 |
| 707-98-45220 - KIT, CYL | 1402083H91 - K CARE KIT 1 |
| 707-98-45240 - KIT, CYL | 1402084H91 - K CARE KIT 2 |
| 707-98-45250 - KIT, CYL | 1402085H91 - K CARE KIT 2 |
| 707-98-45610 - KIT, CYL | 1402086H91 - K CARE KIT 1 |
| 707-98-45620 - KIT, CYL | 1402087H91 - K CARE KIT 2 |
| 707-98-45700 - KIT, CYL | 1402088H91 - K CARE KIT 2 |
| 707-98-46100 - KIT, CYL | 1402089H91 - K CARE KIT 1 |
| 707-98-46200 - KIT, CYL | 1402090H91 - K CARE KIT 2 |
| 707-98-46220 - KIT, CYL | 1402091H91 - K CARE KIT 5 |
| 707-98-46270 - KIT, CYL | 1402092H91 - K CARE KIT 2 |
| 707-98-47500 - KIT, CYL | 1402093H91 - K CARE KIT 5 |
| 707-98-47600 - KIT, CYL | 1402094H91 - K CARE KIT 1 |
| 707-98-47620 - KIT, CYL | 1402095H91 - K CARE KIT 2 |
| 707-98-48510 - KIT, CYL | 1402096H91 - K CARE KIT 2 |
| 707-98-48600 - KIT, CYL | 1402097H91 - K CARE KIT 5 |
| 707-98-50100 - KIT, CYL | 1402098H91 - K CARE KIT 1 |
| 707-98-51100 - KIT, CYL | 1402099H91 - K CARE KIT 2 |
| 707-98-51110 - KIT, CYL | 1402100H91 - K CARE KIT 2 |
| 707-98-52100 - KIT, CYL | 1402101H91 - K CARE KIT 1 |
| 707-98-52110 - KIT, CYL | 1402102H91 - K CARE KIT 2 |
| 707-98-52130 - KIT, CYL | 1402103H91 - K CARE KIT 1 |
| 707-98-52140 - KIT, CYL | 1402104H91 - K CARE KIT 2 |
| 707-98-52410 - KIT, CYL | 1402105H91 - KCARE KIT 50 |
| 707-98-52420 - KIT, CYL | 1402106H91 - KCARE KIT 20 |
| 707-98-52430 - KIT, CYL | 1402107H91 - KCARE KIT 25 |
| 707-98-53100 - KIT, CYL | 1402108H91 - KCARE KIT 20 |
| 707-98-53410 - KIT, CYL | 1402109H91 - KCARE KIT 10 |
| 707-98-54500 - KIT, CYL | 1402110H91 - KCARE KIT 20 |
| 707-98-54510 - KIT, CYL | 1402111H91 - KCARE KIT 50 |
| 707-98-56600 - KIT, CYL | 1402112H91 - KCARE KIT 10 |
| 707-98-56610 - KIT, CYL | 1402113H91 - KCARE KIT 20 |
| 707-98-56620 - SEAL KIT | 1402114H91 - KCARE KIT 20 |
| 707-98-57200 - KIT, CYL | 1402115H91 - KCARE KIT 50 |
| 707-98-57201 - KIT, CYL | 1402116H91 - KCARE KIT 10 |
| 707-98-57251 - SEAL KIT | 1402117H91 - KCARE KIT 20 |
| 707-98-58200 - KIT, CYL | 1402118H91 - KCARE KIT 50 |
| 707-98-58210 - KIT, CYL | 1402119H91 - KCARE KIT 10 |
| 707-98-60100 - KIT, CYL | 1402120H91 - KCARE KIT 20 |
| 707-98-60110 - KIT, CYL | 1402121H91 - KCARE KIT 50 |
| 707-98-60120 - KIT, CYL | 1402122H91 - KCARE KIT 10 |
| 707-98-61100 - KIT, CYL | 1402123H91 - KCARE KIT 20 |
| 707-98-62100 - KIT, CYL | 141-15-05200 - SERVICE KIT |
| 707-98-62120 - KIT, CYL | 141-40-05101 - SERVICE KIT |
| 707-98-62131 - KIT, CYL | 1430041H91 - KIT REPOWER |
| 707-98-64400 - KIT, CYL | 1432830H91 - KIT, PISTON |
| 707-98-64410 - KIT, CYL | 1433828H91 - VALVE KIT |
| 707-98-64420 - KIT, CYL | 1434304H91 - SEAL KIT |
| 707-98-64450 - KIT, CYL | 1434650H91 - KIT,SUSPN CO |
| 707-98-66410 - KIT, CYL | 1434652H91 - KIT, SUPPORT |
| 707-98-66420 - KIT, CYL | 1434673H91 - KIT,REPRSEAL |
| 707-98-67010 - KIT, CYL | 1434908H91 - KIT, STATOR |
| 707-98-67100 - KIT, CYL | 1438016H91 - KIT JOURNAL& |
| 707-98-67110 - KIT, CYL | 1438029H91 - KIT ARM REST |
| 707-98-67120 - KIT, CYL | 1438594H91 - PUMP KIT |
| 707-98-67510 - KIT, CYL | 1439240H91 - KIT,BRAKE VA |
| 707-98-68400 - KIT, CYL | 1439829H91 - A/C KIT |
| 707-98-68500 - KIT, CYL | 145-15-05100 - SERVICE KIT |
| 707-98-68510 - KIT, CYL | 145-15-05102 - KIT |
| 707-98-71020 - KIT, CYL | 145-40-05041 - SERVICE KIT |
| 707-98-71400 - KIT, CYL | 15A-15-05050 - SHIM KIT |
| 707-98-73010 - KIT, CYL | 15B-13-05013 - GASKET KIT |
| 707-98-73020 - KIT, CYL | 15B-15-05021 - SERVICE KIT |
| 707-98-73400 - KIT, CYL | 150-15-05101 - KIT |
| 707-98-74100 - KIT, CYL | 150-81-05011 - SERVICE KIT |
| 707-98-74400 - KIT, CYL | 15114KF - KIT, SPLIT F |
| 707-98-74410 - KIT, CYL | 1525017 - SEAL KIT |
| 707-98-75410 - KIT, CYL | 1525055 - SEAL KIT (RE |
| 707-98-77030 - KIT, CYL | 1525069 - SEAL KIT |
| 707-98-77400 - KIT, CYL | 1525074 - GASKET KIT |
| 707-98-78400 - KIT, CYL | 1525079 - SEAL KIT |
| 707-98-81010 - KIT, CYL | 1525087 - SEAL KIT |
| 707-98-82010 - KIT, CYL | 1525108 - GASKET KIT |
| 707-98-82400 - KIT, CYL | 1525144 - SEAL KIT LIF |
| 707-98-84010 - KIT, CYL | 1525146 - SEAL KIT 72 |
| 707-98-84011 - KIT, CYL | 1525151 - SEAL KIT CY |
| 707-98-84400 - KIT, CYL | 1525180 - GASKET KIT F |
| 707-98-84410 - KIT, CYL | 1525181 - GASKET KIT |
| 707-99-11010 - KIT, CYL | 1525185 - GASKET KIT |
| 707-99-12420 - KIT, CYL | 154-06-00270 - KIT |
| 707-99-14200 - KIT, CYL | 154-13-05031 - SERVICE KIT |
| 707-99-14600 - KIT, CYL | 154-15-05164 - SERVICE KIT |
| 707-99-14610 - KIT, CYL | 154-32-05050 - SERVICE KIT |
| 707-99-15600 - KIT, CYL | 154-45-05070 - SERVICE KIT |
| 707-99-15710 - KIT, CYL | 15871 - KIT, SEAL RE |
| 707-99-23010 - KIT, CYL | 16077 - KIT, SEAL RE |
| 707-99-24110 - KIT, CYL | 163290 - DECALKIT |
| 707-99-24120 - KIT, CYL | 16674KF - KIT HOSE SAW |
| 707-99-24201 - KIT | 16920 - KIT SEAL RE |
| 707-99-24500 - KIT, CYL | 17A-13-05121 - SERVICE KIT |
| 707-99-24510 - KIT, CYL | 17A-13-05210 - SERVICE KIT |
| 707-99-24920 - KIT | 17A-13-05311 - SERVICE KIT |
| 707-99-26410 - KIT, CYL | 17A-13-05312 - SERVICE KIT |
| 707-99-26620 - KIT, CYL | 17A-13-05321 - SERVICE KIT |
| 707-99-26640 - KIT, CYL | 17A-13-05330 - SERVICE KIT |
| 707-99-27600 - KIT, CYL | 17A-13-05331 - SERVICE KIT |
| 707-99-32100 - KIT, CYL | 17A-15-05010 - SHIM KIT |
| 707-99-32110 - KIT, CYL | 17A-15-05211 - SERVICE KIT |
| 707-99-32280 - KIT, SER | 17A-15-05212 - SERVICE KIT |
| 707-99-34100 - KIT, CYL | 17A-15-05221 - SERVICE KIT |
| 707-99-34120 - KIT, CYL | 17A-15-05222 - SERVICE KIT |
| 707-99-34500 - KIT, CYL | 17A-15-05231 - SERVICE KIT |
| 707-99-34510 - KIT, CYL | 17A-22-05210 - SERVICE KIT |
| 707-99-34550 - KIT, CYL | 17A-22-05221 - SERVICE KIT |
| 707-99-34590 - KIT, SER | 17A-22-05230 - SERVICE KIT |
| 707-99-35230 - KIT, CYL | 17A-22-05240 - SERVICE KIT |
| 707-99-35580 - KIT, CYL | 17A-22-05250 - SERVICE KIT |
| 707-99-36210 - KIT, CYL | 17A3200110KIT - UC KIT D155A |
| 707-99-36220 - KIT, CYL | 17M-13-05050 - SERVICE KIT |
| 707-99-36260 - KIT, CYL | 17M-13-05070 - SERVICE KIT |
| 707-99-36270 - KIT, CYL | 17M-15-05140 - SERVICE KIT |
| 707-99-36420 - KIT, CYL | 17M-15-05153 - SERVICE KIT |
| 707-99-36620 - KIT, CYL | 17M-15-05182 - SERVICE KIT |
| 707-99-36630 - KIT, CYL | 17M3207400KIT - UC KIT,D275A |
| 707-99-37500 - KIT, CYL | 174719 - KIT,ADJ FORE |
| 707-99-37510 - KIT, CYL | 175-13-05300 - SERVICE KIT |
| 707-99-37600 - KIT, CYL | 175-33-05010 - SERVICE KIT |
| 707-99-37610 - KIT, CYL | 17817 - KIT, CARTRID |
| 707-99-38600 - KIT, CYL | 18023873 - SEAL KIT |
| 707-99-40030 - KIT, CYL | 183621 - CONSOLE KIT, |
| 707-99-41100 - KIT, CYL | 183635 - CONSOLE KIT, |
| 707-99-41130 - KIT, CYL | 18404 - KIT, SPRING |
| 707-99-41140 - KIT, CYL | 19M-13-05010 - SERVICE KIT |
| 707-99-42500 - KIT, CYL | 19M-13-05030 - SERVICE KIT |
| 707-99-43010 - KIT, CYL | 19M-15-05020 - SERVICE KIT |
| 707-99-43020 - KIT, CYL | 19M-15-05040 - SERVICE KIT |
| 707-99-43100 - KIT, CYL | 19428 - KIT SEAL RE |
| 707-99-43110 - KIT, CYL | 195-13-05230 - SERVICE KIT |
| 707-99-43500 - KIT, CYL | 195-15-05021 - SERVICE KIT |
| 707-99-43520 - KIT, CYL | 195-15-05142 - KIT |
| 707-99-43570 - KIT, CYL | 195-15-05151 - KIT |
| 707-99-44180 - SEAL KIT | 195-15-05670 - SERVICE KIT |
| 707-99-44200 - KIT, CYL | 195-15-05671 - SERVICE KIT |
| 707-99-44220 - KIT, CYL | 195-15-05930 - SERVICE KIT |
| 707-99-44300 - KIT, CYL | 195-30-04000 - KIT,ROLLER F |
| 707-99-44310 - KIT, CYL | 195-30-04100 - KIT, TRACK F |
| 707-99-44500 - KIT, CYL | 195-30-04310 - KIT |
| 707-99-46200 - KIT, CYL | 195-32-08010 - LINK KIT,MAS |
| 707-99-46210 - KIT, CYL | 195-32-08020 - LINK KIT,MAS |
| 707-99-46270 - KIT, CYL | 195-32-08310 - LINK KIT,MAS |
| 707-99-46290 - KIT,SEAL | 195-63-05091 - SERVICE KIT |
| 707-99-46600 - KIT, CYL | 195-98-05010 - TOOL KIT |
| 707-99-46620 - KIT, CYL | 1953200592KIT - UC KIT D375A |
| 707-99-47110 - KIT, CYL | 19552 - KIT, WET - C |
| 707-99-47600 - KIT, CYL | 195559H5 - GASKET KIT |
| 707-99-47610 - KIT, CYL | 196-15-05110 - SERVICE KIT |
| 707-99-47660 - KIT, CYL | 19748 - KIT SEAL RE |
| 707-99-47670 - KIT, CYL | 19749 - KIT SEAL RE |
| 707-99-47740 - KIT,SEAL | 198-15-05012 - SERVICE KIT |
| 707-99-48610 - KIT, CYL | 198-15-05041 - KIT, VALVE |
| 707-99-52100 - KIT, CYL | 198-15-05230 - SERVICE KIT |
| 707-99-52600 - KIT, CYL | 198-30-03001 - KIT |
| 707-99-53100 - KIT, CYL | 198-30-04000 - KIT,ROLLER F |
| 707-99-53500 - KIT, CYL | 198-32-08610 - M LINK KIT P |
| 707-99-54100 - KIT, CYL | 198-32-08620 - M LINK KIT P |
| 707-99-55500 - KIT, CYL | 19958KF - SEAL KIT |
| 707-99-56500 - KIT, CYL | 19974KF - HOSE KIT - C |
| 707-99-56510 - SEAL KIT | 20E-30-K1550 - REPAIR KIT |
| 707-99-56600 - KIT, CYL | 20G-00-K1502 - DECAL KIT |
| 707-99-57200 - KIT, CYL | 20G-00-K1504 - DECAL KIT |
| 707-99-57250 - KIT, CYL | 20G-22-K2160 - REPAIR KIT |
| 707-99-58110 - KIT, CYL | 20G-26-31370 - KIT LEVER |
| 707-99-58200 - KIT, CYL | 20G-30-K0020 - SEAL KIT |
| 707-99-58210 - KIT, CYL | 20G-60-H0P01 - SEAL KIT |
| 707-99-58260 - KIT, CYL | 20G-60-K3680 - SERVICE KIT |
| 707-99-58300 - KIT, CYL | 20G-60-K4390 - SEAL KIT |
| 707-99-58320 - KIT | 20G-60-30010 - SEAL KIT |
| 707-99-59650 - SEAL KIT | 20G-68-K5170 - REPAIR KIT |
| 707-99-62010 - KIT, CYL | 20G-68-18240 - REPAIR KIT |
| 707-99-62020 - KIT, CYL | 20K-54-32570 - KIT |
| 707-99-62030 - KIT, CYL | 20K-60-31640 - SEAL KIT |
| 707-99-62130 - SEAL KIT | 20K-61-31210 - SEAL KIT |
| 707-99-64010 - KIT, CYL | 20L-42-13800 - REPAIR KIT |
| 707-99-64030 - KIT, CYL | 20N-60-31700 - CYLINDER KIT |
| 707-99-64040 - KIT, CYL | 20P-60-73300 - SEAL KIT |
| 707-99-64400 - KIT, CYL | 20P-60-73800 - SERVICE KIT |
| 707-99-64410 - KIT, CYL | 20P-60-73900 - SEAL KIT |
| 707-99-64550 - SEAL KIT | 20P-60-81150 - SEAL KIT |
| 707-99-65400 - KIT, CYL | 20P-60-81160 - SEAL KIT |
| 707-99-65840 - SEAL KIT | 20W-60-12100 - SEAL KIT |
| 707-99-66010 - KIT, CYL | 20Y-01-00010 - KIT |
| 707-99-66210 - KIT, CYL | 20Y-01-00020 - KIT |
| 707-99-66400 - KIT, CYL | 20Y-03-A1160 - FAN KIT |
| 707-99-67010 - KIT, CYL | 20Y-06-00010 - KOMTRAX KIT |
| 707-99-67110 - KIT, CYL | 20Y-62-00030 - KIT |
| 707-99-67120 - KIT, CYL | 20Y2777110KIT - UC KIT PC200 |
| 707-99-67430 - SEAL KIT | 200DTK - ANALYZER KIT |
| 707-99-67890 - KIT, SER | 200150633 - KIT, GASKET |
| 707-99-68510 - KIT, CYL | 200150643 - KIT,GASKET |
| 707-99-68600 - KIT, CYL | 200150645 - CABLE KIT |
| 707-99-68660 - SEAL KIT | 200150653 - KIT, GASKET |
| 707-99-68770 - KIT, SER | 200150667 - KIT, GASKET |
| 707-99-69500 - KIT, CYL | 20275 - KIT, SEAL RE |
| 707-99-69600 - KIT, CYL | 20288 - KIT, SEAL RE |
| 707-99-69620 - KIT, CYL | 20328 - KIT, SEAL RE |
| 707-99-69720 - KIT, SER | 207-01-00020 - KIT |
| 707-99-71100 - KIT, CYL | 207-03-A1680 - FAN KIT, FLE |
| 707-99-71110 - KIT, CYL | 207-62-KH690 - SAFETY KIT |
| 707-99-71130 - SEAL KIT | 207-62-KH760 - BLOCK KIT |
| 707-99-71410 - KIT, CYL | 207-62-KH780 - COUPLING KIT |
| 707-99-71420 - KIT, CYL | 207-62-KH790 - SEAL KIT |
| 707-99-71430 - KIT, CYL | 207-98-61130 - TOOL KIT |
| 707-99-71440 - KIT, CYL | 2073207120KIT - UC KIT PC350 |
| 707-99-73010 - KIT, CYL | 208-00-K1280 - DECAL KIT |
| 707-99-73020 - KIT, CYL | 209-98-77310 - TOOL KIT |
| 707-99-73800 - KIT, CYL | 21K-26-B7430 - BEARING KIT |
| 707-99-74010 - KIT, CYL | 21K-26-B7440 - BRAKE KIT |
| 707-99-74020 - SEAL KIT | 21K-26-B7450 - SEAL KIT |
| 707-99-74100 - KIT, CYL | 21P-00-K1553 - DECAL KIT |
| 707-99-74110 - KIT, CYL | 21P-00-K1554 - DECAL KIT |
| 707-99-74120 - KIT, CYL | 21P-60-K4390 - SEAL KIT |
| 707-99-74130 - SEAL KIT | 21W-09-R5990 - GASKET KIT |
| 707-99-74400 - KIT, CYL | 21027 - KIT, UP TIME |
| 707-99-74410 - KIT, CYL | 21166 - KIT, SWING M |
| 707-99-74420 - KIT, CYL | 21328 - KIT HOSE - |
| 707-99-74430 - KIT, CYL | 22B-57-31911 - KIT |
| 707-99-74440 - SEAL KIT | 22B-98-01010 - TOOL KIT |
| 707-99-74450 - SEAL KIT | 22B-98-01020 - TOOL KIT |
| 707-99-75400 - KIT, CYL | 22T-22-13902 - PAD KIT |
| 707-99-75410 - KIT, CYL | 22041 - KIT SEAL RE |
| 707-99-75420 - KIT, CYL | 22059 - KIT ARM PAD |
| 707-99-75430 - KIT, CYL | 22401 - KIT, CONNECT |
| 707-99-75450 - KIT, CYL | 22476 - KIT, SEAL - |
| 707-99-76160 - SEAL KIT | 22751KF - KIT, SEAL RE |
| 707-99-77130 - SEAL KIT | 22988KF - SEAL KIT |
| 707-99-77160 - SEAL KIT | 23A-15-05011 - SERVICE KIT |
| 707-99-77220 - KIT, CYL | 23A-15-05054 - SERVICE KIT |
| 707-99-77240 - KIT, CYL | 23A-15-05056 - SERVICE KIT |
| 707-99-77300 - SEAL KIT | 23A-22-05010 - SERVICE KIT |
| 707-99-77380 - KIT, CYL | 23A-22-05013 - SERVICE KIT |
| 707-99-77600 - KIT, CYL | 23A-40-05140 - SERVICE KIT |
| 707-99-77660 - SEAL KIT | 23A-40-05160 - SERVICE KIT |
| 707-99-78620 - KIT, CYL | 23A-60-05020 - SERVICE KIT |
| 707-99-78630 - KIT, CYL | 23A-60-05410 - SERVICE KIT |
| 707-99-78640 - KIT, CYL | 23A-60-05510 - SERVICE KIT |
| 707-99-78680 - KIT, CYL | 23A-60-05810 - SERVICE KIT |
| 707-99-81010 - SEAL KIT | 23B-06-46700 - KIT |
| 707-99-82010 - SEAL KIT | 23B-13-05000 - SERVICE KIT |
| 707-99-84010 - KIT | 23B-13-05010 - SERVICE KIT |
| 707-99-84030 - SEAL KIT | 23B-13-05020 - SERVICE KIT |
| 707-99-84040 - SEAL KIT | 23B-15-05113 - SERVICE KIT |
| 707-99-84400 - KIT, CYL | 23B-22-05012 - SERVICE KIT |
| 707-99-85310 - SEAL KIT | 23B-22-05036 - SERVICE KIT |
| 707-99-85900 - KIT, CYL | 23B-23-05010 - SERVICE KIT |
| 707-99-86600 - KIT, CYL | 23B-23-05022 - SERVICE KIT |
| 707-99-87700 - SEAL KIT | 23B-25-05010 - SERVICE KIT |
| 707-99-89200 - KIT, CYL | 23B-25-05012 - SERVICE KIT |
| 707-99-96100 - KIT, CYL | 23B-27-31440 - KIT-BALL STU |
| 707-99-96201 - SEAL KIT | 23B-27-31690 - KIT-BALL STU |
| 707-99-99022 - KIT | 23B-43-05020 - SERVICE KIT |
| 708-17-05020 - SHIM KIT | 23B-53-31511 - PLATE KIT |
| 708-21-05030 - SHIM KIT | 23B-61-05120 - SEAL KIT |
| 708-23-05090 - SHIM KIT | 23B-61-05130 - SEAL KIT |
| 708-23-05130 - SHIM KIT | 23B-62-05030 - SERVICE KIT |
| 708-25-05021 - SHIM KIT | 23D-27-11760 - KIT, SERVICE |
| 708-25-05030 - SHIM KIT | 23D-27-11770 - KIT |
| 708-25-05040 - KIT | 23S-22-19770 - PAD KIT |
| 708-25-05050 - SHIM KIT | 230 - KIT CHK VAL |
| 708-25-05130 - KIT | 232-15-05040 - SHIM KIT |
| 708-25-05140 - KIT | 232-15-05120 - SERVICE KIT |
| 708-27-00230 - KIT | 232-40-05110 - CYLINDER KIT |
| 708-27-05010 - SHIM KIT | 23202KF - KIT, SEAL RE |
| 708-27-05060 - KIT | 233-12-05010 - KIT |
| 708-2H-05010 - SHIM KIT | 233-19-05010 - KIT |
| 708-2H-05110 - SHIM KIT | 23306 - KIT, SEAL RE |
| 708-2H-05120 - SHIM KIT | 234-13-05000 - SERVICE KIT |
| 708-2K-05020 - SHIM KIT | 234-13-05010 - SERVICE KIT |
| 708-2K-05040 - SHIM KIT | 234-15-05012 - KIT |
| 708-2L-05010 - SHIM KIT | 234-15-05041 - SERVICE KIT |
| 708-3T-05110 - SHIM KIT | 234-15-07012 - SERVICE KIT |
| 708-7S-05110 - SHIM KIT | 234-15-07021 - SERVICE KIT |
| 708-8H-05020 - SHIM KIT | 234-27-07010 - SERVICE KIT |
| 711-53-05010 - KIT | 234-27-07011 - SERVICE KIT |
| 711-56-05011 - KIT,SERV | 234-32-05010 - SERVICE KIT |
| 711-60-05012 - KIT | 234-40-05110 - KIT |
| 711-66-05111 - KIT | 234-60-06480 - KIT SERVICE |
| 711-67-05012 - KIT | 234-72-05120 - SERVICE KIT |
| 712-86-05100 - SHIM KIT | 234-72-05130 - SERVICE KIT |
| 712-86-05200 - SHIM KIT | 23431 - KIT, PILOT S |
| 714-23-05100 - KIT-TRAN | 237-40-00010 - SEAL KIT |
| 714-23-05110 - KIT | 237-62-05110 - SERVICE KIT |
| 714-23-05120 - KIT | 238-15-05121 - SERVICE KIT |
| 71775C1 - KIT | 238-15-05221 - SERVICE KIT |
| 719810C91 - KIT | 238-19-05011 - SERVICE KIT |
| 720-98-05230 - SHIM KIT | 238-23-05011 - SERVICE KIT |
| 720-98-05240 - SHIM KIT | 24568KF - SEAL KIT |
| 720-98-05510 - SHIM KIT | 24570KF - SEAL KIT |
| 720-98-05530 - SHIM KIT | 262-61-05020 - SEAL KIT |
| 720-98-05540 - SHIM KIT | 26577 - CONTROL KIT |
| 720-98-05550 - SHIM KIT | 26826 - KIT, BARREL |
| 720-98-05590 - SHIM KIT | 26961 - KIT, SEAL RE |
| 720-98-05690 - SHIM KIT | 27038940 - SEAL KIT |
| 723-26-05010 - KIT - SE | 27039040 - SEAL KIT |
| 723-26-05020 - SEAL KIT | 27236 - KIT COMPENS |
| 731628C93 - KIT, CYL | 27237 - KIT, COMPENS |
| 733635C91 - KIT | 27321KF - SERVICE KIT |
| 733636C91 - KIT | 27405KF - KIT, CONTROL |
| 733639C91 - KIT | 274105 - GASKET KIT R |
| 733644C91 - KIT | 27559 - KIT, STICK B |
| 740915C92 - SEAL KIT | 281-34-05160 - KIT |
| 740917C92 - SEAL KIT | 28348 - KIT, FAN BLA |
| 741455C92 - KIT | 28382KF - KIT, FUSE - |
| 741458C92 - KIT | 28443KF - ROD,TIE KIT |
| 74152 - KIT-CYL | 28462KF - KIT, HOSE -R |
| 742959C1 - KIT SEA | 28698KF - SEAL KIT |
| 753727 - SEAL KIT | 28699KF - KIT- FUSE/RE |
| 753976 - SEAL KIT | 287-15-05012 - KIT |
| 75410 - KIT-MOTO | 287-15-05051 - SERVICE KIT |
| 754520 - SEAL KIT | 287-33-05010 - SERVICE KIT |
| 75452000 - SEAL KIT | 29317 - SEAL KIT A-S |
| 754550 - SEAL KIT | 29340 - SEAL KIT A-S |
| 75455000 - SEAL KIT | 29347 - SEAL KIT P60 |
| 754586 - SEAL KIT | 2938703450 - COUPLER KIT |
| 75471900 - SEAL KIT | 29401 - SEAL KIT / 2 |
| 75611773 - SEAL KIT | 297-EP-AK030 - REBUILD KIT |
| 75623473 - SEAL KIT | 297-EP-AK040 - KIT,CAMERA |
| 75713073 - SEAL KIT | 297-EP-AK050 - KIT,3 CAMERA |
| 75737573 - SEAL KIT | 304983 - KIT,CF TUBE |
| 75739873 - SEAL KIT | 30660011 - SEAL KIT - F |
| 75789573 - SEAL KIT | 32444040 - SEAL KITP60 |
| 76008 - KIT - SP | 32446340 - SEAL KITP60 |
| 76185873 - SEAL KIT | 3313273 - STARTKIT |
| 76185973 - SEAL KIT | 344134C91 - KIT |
| 76330173 - SEAL KIT | 35860340 - SEAL KIT___P |
| 76348473 - SEAL KIT | 37A-06-13900 - SWITCH KIT |
| 76348573 - SEAL KIT | 37A-99-11081 - KIT-SLIDE GL |
| 76349873 - SEAL KIT | 37A-99-11083 - KIT GLASS |
| 76379473 - SEAL KIT | 37A-99-11092 - HEATER KIT |
| 76394473 - SEAL KIT | 37A-99-11195 - DOOR KIT-FRO |
| 76394573 - SEAL KIT | 37A-99-11196 - DOOR KIT-FRO |
| 76512273 - KIT, NOZ | 37A-99-11197 - DOOR KIT-FRO |
| 76598173 - SEAL KIT | 37A-99-13100 - KIT CONTROL |
| 76637773 - SEAL KIT | 37C-99-11056 - DOOR KIT-FRO |
| 76639073 - SEAL KIT | 385-10050436 - SEAL KIT |
| 76647573 - SEAL KIT | 385-10063652 - REPAIR KIT |
| 76671273 - SEAL KIT | 385-10261982 - SEAL KIT |
| 76681573 - SEAL KIT | 385-10283871 - REPAIR KIT |
| 76682873 - SEAL KIT | 385-10370091 - SEAL KIT |
| 76716073 - SEAL KIT | 385084C91 - KIT |
| 76716473 - SEAL KIT | 3934573 - FUEL KIT |
| 76717773 - SEAL KIT | 4A1-03-10390 - KIT, FAN BLA |
| 76731173 - SEAL KIT | 4A1-03-10480 - KIT, AIR INT |
| 76731273 - SEAL KIT | 4A1-03-10770 - KIT MOUNTING |
| 76749873 - SEAL KIT | 4A1-06-11830 - KEY KIT,IGNI |
| 76766273 - SEAL KIT | 4A1-6C-10440 - SEAL KIT |
| 76768073 - SEAL KIT | 4A1-6C-10580 - SEAL KIT |
| 76773873 - SEAL KIT | 4A1-6C-10710 - KIT,CYL.ARM |
| 76795273 - SEAL KIT | 4A1-6C-10720 - KIT,CYL BOOM |
| 76796273 - SEAL KIT | 4A1-6C-10730 - KIT,CYL.TOOL |
| 76796673 - SEAL KIT | 4A1-6C-10740 - KIT,CYL.LVL |
| 76799373 - SEAL KIT | 4A1-6C-10750 - KIT,CYL LVL |
| 76799673 - SEAL KIT | 4A1-6C-10810 - SEAL KIT |
| 76800173 - SEAL KIT | 4A1-6C-10830 - SEAL KIT |
| 76811673 - SEAL KIT | 4A1-60-10230 - KIT TURBO SP |
| 76812073 - SEAL KIT | 4A1-60-10260 - ROD KIT |
| 76812373 - MTG.KIT | 4A1-60-10280 - KIT,COMPENSA |
| 76816373 - SEAL KIT | 4A1-60-10290 - KIT,PORT REL |
| 76826173 - SEAL KIT | 4A1-62-10030 - SEAL KIT |
| 76826273 - SEAL KIT | 4A1-62-10040 - SEAL KIT |
| 76846173 - SEAL KIT | 4A1-62-10050 - SEAL KIT |
| 76854073 - SEAL KIT | 4A1-62-10160 - SEAL KIT |
| 76854173 - SEAL KIT | 4C2730070 - KIT,CHANGE O |
| 76855773 - KIT,SEAL | 409088C91 - KIT |
| 76855873 - KIT,SEAL | 41D-V00-2140 - PLATE KIT |
| 76864373 - KIT SEAL | 415-15-05111 - SERVICE KIT |
| 76867673 - KIT SEAL | 417-U77-A620 - COUPLER KIT |
| 76869373 - SEAL KIT | 417-57-51141 - SEAT KIT |
| 76872273 - SEAL KIT | 417-93-21361 - PLATE KIT |
| 76877973 - SEAL KIT | 417-93-21413 - PLATE KIT |
| 76878073 - SEAL KIT | 417-93-21430 - PLATE KIT |
| 76878373 - SEAL KIT | 417-93-21520 - PLATE KIT |
| 76879373 - SEAL KIT | 418-S62-3110 - A/C KIT |
| 76879773 - SEAL KIT | 418-T80-A010 - HYD KIT |
| 76879873 - SEAL KIT | 418-U77-AA10 - DECAL KIT |
| 76880073 - SEAL KIT | 418-07-21102 - KIT, A/C |
| 76880173 - SEAL KIT | 418-15-05101 - SERVICE KIT |
| 76880473 - SEAL KIT | 418-15-05260 - SERVICE KIT |
| 76881273 - SEAL KIT | 418-879-A770 - COUPLER KIT |
| 76881873 - SEAL KIT | 418-879-A771 - COUPLER KIT |
| 76882073 - SEAL KIT | 418-93-21210 - PLATE KIT |
| 76882873 - SEAL KIT | 418-93-21241 - PLATE KIT |
| 76886573 - SEAL KIT | 418-942-3110 - HEATER KIT |
| 76888273 - KIT SEAL | 419-15-H0R01 - PACKING KIT |
| 76892873 - SEAL KIT | 419-56-H0P74 - KIT |
| 76902673 - KIT,SEAL | 419-57-51121 - KIT |
| 76951373 - SEAL KIT | 419-62-A1190 - DISPLACEKIT |
| 76951473 - SEAL KIT | 419-62-A1440 - GR KIT G20 S |
| 76979473 - SEAL KIT | 419-62-A1460 - GEAR KITG20 |
| 76991773 - SEAL KIT | 419-62-A1470 - STUD KITG30 |
| 76991873 - SEAL KIT | 419-93-21350 - PLATE KIT |
| 76994273 - SEAL KIT | 419-950-2010 - KIT |
| 77001673 - REP KIT | 419-963-AA70 - HOSE KIT A/C |
| 77015973 - SEAL KIT | 42A-64-05310 - SERVICE KIT |
| 77031473 - SEAL KIT | 42C-S9-05010 - SERVICE KIT |
| 77046073 - KIT SEAL | 42C-S9-05020 - SERVICE KIT |
| 77047973 - SEAL KIT | 42C-S9-05030 - SERVICE KIT |
| 77058773 - SEAL KIT | 42C-S9-05040 - SERVICE KIT |
| 77804 - KIT-CYL | 42C-S9-05051 - SERVICE KIT |
| 78044573 - KIT SEAL | 42C-S9-05060 - SERVICE KIT |
| 78044673 - KIT SEAL | 42C-S9-05070 - SERVICE KIT |
| 78044773 - KIT SEAL | 42C-S9-05080 - SERVICE KIT |
| 78044873 - KIT SEAL | 42C-S9-05090 - SERVICE KIT |
| 78044973 - KIT SEAL | 42C-S9-05110 - SERVICE KIT |
| 78045073 - KIT SEAL | 42C-01-05010 - SERVICE KIT |
| 78045173 - KIT SEAL | 42C-01-05020 - SERVICE KIT |
| 78045473 - KIT SEAL | 42C-01-05030 - SERVICE KIT |
| 78045573 - KIT SEAL | 42C-01-05040 - SERVICE KIT |
| 78059673 - KIT MOUN | 42C-01-05050 - SERVICE KIT |
| 78089973 - SEAL KIT | 42C-01-05060 - SERVICE KIT |
| 7826-31-2030 - KIT, UNI | 42C-01-05080 - SERVICE KIT |
| 7826-31-2412 - KIT | 42C-02-05010 - SERVICE KIT |
| 7826-31-2416 - KIT | 42C-03-05010 - SERVICE KIT |
| 7826-31-2417 - KIT | 42C-03-05020 - SERVICE KIT |
| 7826-31-2418 - KIT | 42C-03-05030 - SERVICE KIT |
| 790-129-9130 - KIT | 42C-03-05040 - SERVICE KIT |
| 790-129-9140 - KIT | 42C-03-05050 - SERVICE KIT |
| 79211373 - SEAL KIT | 42C-04-05011 - SERVICE KIT |
| 79211673 - KIT SEAL | 42C-04-05020 - SERVICE KIT |
| 79214073 - KIT SEAL | 42C-04-05030 - SERVICE KIT |
| 79214973 - SEAL KIT | 42C-04-05040 - SERVICE KIT |
| 79227173 - KIT,BRAK | 42C-04-05050 - SERVICE KIT |
| 79227673 - KIT, SEA | 42C-04-05060 - SERVICE KIT |
| 79228873 - REP.KIT | 42C-06-05010 - SERVICE KIT |
| 79239873 - KIT, SEA | 42C-06-05020 - SERVICE KIT |
| 79239973 - KIT, SEA | 42C-06-05030 - SERVICE KIT |
| 79242173 - KIT, SEA | 42C-06-05041 - SERVICE KIT |
| 79242273 - KIT, SEA | 42C-06-05050 - SERVICE KIT |
| 79242373 - KIT, SEA | 42C-06-05060 - SERVICE KIT |
| 79242473 - KIT, SEA | 42C-06-05070 - SERVICE KIT |
| 79243073 - KIT, SEA | 42C-06-05080 - SERVICE KIT |
| 79243173 - KIT, SEA | 42C-06-05090 - SERVICE KIT |
| 79278773 - KIT, SEA | 42C-06-05120 - SERVICE KIT |
| 79278873 - KIT, SEA | 42C-06-05130 - SERVICE KIT |
| 79279073 - KIT, SEA | 42C-06-05140 - SERVICE KIT |
| 79279173 - KIT, SEA | 42C-07-05010 - SERVICE KIT |
| 79279273 - KIT, SEA | 42C-07-05020 - SERVICE KIT |
| 79279373 - KIT, SEA | 42C-07-05030 - SERVICE KIT |
| 79279473 - SEAL KIT | 42C-07-05040 - SERVICE KIT |
| 79279573 - KIT, SEA | 42C-07-05050 - SERVICE KIT |
| 79279673 - KIT, SEA | 42C-12-05010 - SERVICE KIT |
| 79296573 - KIT, REP | 42C-13-05081 - SERVICE KIT |
| 793-520-1805 - KIT | 42C-13-05092 - SERVICE KIT |
| 79307273 - SEAL KIT | 42C-13-05280 - SERVICE KIT |
| 79310973 - Seal Kit | 42C-13-05290 - SERVICE KIT |
| 79311273 - KIT, PED | 42C-13-05291 - SERVICE KIT |
| 79313973 - SEAL KIT | 42C-15-05073 - SERVICE KIT |
| 79319373 - SEAL KIT | 42C-15-05083 - SERVICE KIT |
| 79326773 - SEAL KIT | 42C-15-05270 - SERVICE KIT |
| 79330873 - SEAL KIT | 42C-15-05271 - SERVICE KIT |
| 79347473 - SEAL KIT | 42C-15-05280 - SERVICE KIT |
| 79348073 - KIT, SEA | 42C-15-05281 - SERVICE KIT |
| 79348173 - SEAL KIT | 42C-15-05290 - SERVICE KIT |
| 79348273 - SEAL KIT | 42C-16-05010 - SERVICE KIT |
| 79353373 - KIT SEAL | 42C-16-05020 - SERVICE KIT |
| 79361173 - MTG.KIT | 42C-16-05030 - SERVICE KIT |
| 79362173 - SEAL KIT | 42C-16-05040 - SERVICE KIT |
| 79362273 - SEAL KIT | 42C-20-05011 - SERVICE KIT |
| 79373173 - KIT, REP | 42C-20-05020 - SERVICE KIT |
| 79381473 - SEAL KIT | 42C-20-05030 - SERVICE KIT |
| 79438273 - SEAL KIT | 42C-20-05031 - SERVICE KIT |
| 79453873 - KIT, SEA | 42C-20-05041 - SERVICE KIT |
| 79453973 - KIT, SEA | 42C-20-05050 - SERVICE KIT |
| 79454173 - SEAL KIT | 42C-20-05060 - SERVICE KIT |
| 79454273 - KIT, SEA | 42C-20-05070 - SERVICE KIT |
| 79456473 - SEAL KIT | 42C-20-05080 - SERVICE KIT |
| 79462873 - KIT,MODI | 42C-20-05090 - SERVICE KIT |
| 79462973 - KIT,MODI | 42C-20-05110 - SERVICE KIT |
| 79479673 - SEAL KIT | 42C-22-05011 - SERVICE KIT |
| 79479773 - SEAL KIT | 42C-22-05021 - SERVICE KIT |
| 79480073 - SEAL KIT | 42C-22-05031 - SERVICE KIT |
| 79480173 - SEAL KIT | 42C-23-05011 - SERVICE KIT |
| 79480373 - SEAL KIT | 42C-23-05021 - SERVICE KIT |
| 79480473 - SEAL KIT | 42C-40-05010 - SERVICE KIT |
| 79480673 - SEAL KIT | 42C-40-05020 - SERVICE KIT |
| 79480773 - SEAL KIT | 42C-40-05030 - SERVICE KIT |
| 79481773 - SEAL KIT | 42C-40-05060 - SERVICE KIT |
| 79481873 - SEAL KIT | 42C-40-05070 - SERVICE KIT |
| 79482173 - SEAL KIT | 42C-43-05010 - SERVICE KIT |
| 79482273 - SEAL KIT | 42C-43-05020 - SERVICE KIT |
| 79482573 - SEAL KIT | 42C-43-05030 - SERVICE KIT |
| 79482673 - SEAL KIT | 42C-43-05060 - SERVICE KIT |
| 79486773 - KIT,MODI | 42C-43-05070 - SERVICE KIT |
| 79486973 - KIT,MODI | 42C-43-05080 - SERVICE KIT |
| 79487173 - KIT,MODI | 42C-43-05090 - SERVICE KIT |
| 79496773 - SEAL KIT | 42C-43-05100 - SERVICE KIT |
| 79496873 - SEAL KIT | 42C-43-05110 - SERVICE KIT |
| 79497873 - SEAL KIT | 42C-43-05120 - SERVICE KIT |
| 79539873 - SEAL KIT | 42C-43-05130 - SERVICE KIT |
| 79542773 - SEAL KIT | 42C-43-05140 - SERVICE KIT |
| 79542873 - SEAL KIT | 42C-43-05150 - SERVICE KIT |
| 79545073 - SEAL KIT | 42C-43-05160 - SERVICE KIT |
| 79549373 - KIT,PUMP | 42C-43-05170 - SERVICE KIT |
| 79571173 - SEAL KIT | 42C-43-05180 - SERVICE KIT |
| 79586873 - SEAL KIT | 42C-43-05190 - SERVICE KIT |
| 79597073 - SEAL KIT | 42C-43-05201 - SERVICE KIT |
| 79646673 - SEAL KIT | 42C-43-05220 - SERVICE KIT |
| 79651173 - SEAL KIT | 42C-46-05010 - SERVICE KIT |
| 79659573 - KIT | 42C-46-05020 - SERVICE KIT |
| 79662773 - SEAL KIT | 42C-46-05030 - SERVICE KIT |
| 79739873 - TUBE KIT | 42C-46-05040 - SERVICE KIT |
| 79740673 - KIT,MODI | 42C-46-05050 - SERVICE KIT |
| 79767873 - KIT,MODI | 42C-46-05060 - SERVICE KIT |
| 799-201-1102 - TOOL KIT | 42C-54-05010 - SERVICE KIT |
| 799-201-1902 - TOOL KIT | 42C-54-05020 - SERVICE KIT |
| 799-201-1903 - TOOL KIT | 42C-54-05030 - SERVICE KIT |
| 799-201-2202 - KIT | 42C-54-05040 - SERVICE KIT |
| 799-401-2301 - TOOL KIT | 42C-60-05010 - SERVICE KIT |
| 799-601-7500A - KIT,HARN | 42C-60-05020 - SERVICE KIT |
| 799-601-9000A - KIT,HARN | 42C-62-05020 - SERVICE KIT |
| 799-607-4001 - KIT-DYNA | 42C-62-05030 - SERVICE KIT |
| 799-609-2300 - KIT | 42C-62-05040 - SERVICE KIT |
| 799-A50-1000 - KIT,ULTR | 42C-62-05050 - SERVICE KIT |
| 80481 - KIT-U-J | 42C-62-05060 - SERVICE KIT |
| 80558673 - KIT SEAL | 42C-62-05070 - SERVICE KIT |
| 80614873 - KIT SEAL | 42C-62-05080 - SERVICE KIT |
| 81208 - KIT, TRA | 42C-62-05090 - SERVICE KIT |
| 81252 - SEAL KIT | 42C-62-05100 - SERVICE KIT |
| 81256 - SEAL KIT | 42C-62-05110 - SERVICE KIT |
| 81532 - KIT-REP | 42C-62-05120 - SERVICE KIT |
| 81567 - SEAL-KIT | 42C-62-05130 - SERVICE KIT |
| 816101110 - KIT-DRIV | 42C-62-05140 - SERVICE KIT |
| 816200009 - KIT, MAR | 42C-62-05150 - SERVICE KIT |
| 816206004 - KIT PLAT | 42C-62-05160 - SERVICE KIT |
| 816206006 - KIT-BASI | 42C-62-05170 - SERVICE KIT |
| 816206014 - KIT-BASI | 42C-62-05180 - SERVICE KIT |
| 816214874 - KIT, DEC | 42C-62-05190 - SERVICE KIT |
| 816214923 - KIT, DEC | 42C-62-05200 - SERVICE KIT |
| 816215010 - KIT,BASI | 42C-62-05210 - SERVICE KIT |
| 81727 - KIT, FAN | 42C-62-05220 - SERVICE KIT |
| 81794 - KIT, LEV | 42C-62-05230 - SERVICE KIT |
| 81799 - KIT, LEV | 42C-62-05240 - SERVICE KIT |
| 81810H45 - KIT-REP | 42C-62-05250 - SERVICE KIT |
| 820690009 - KIT,PAD | 42C-62-05260 - SERVICE KIT |
| 82470KF - KIT 475E | 42C-62-05270 - SERVICE KIT |
| 8255-60-4960 - SEAL KIT | 42C-70-05010 - SERVICE KIT |
| 82604H45 - KIT-REP | 42C-70-05020 - SERVICE KIT |
| 827020113 - KIT, GAS | 42C-70-05040 - SERVICE KIT |
| 8295-70-0510 - KIT | 42C-70-05050 - SERVICE KIT |
| 8295-70-0520 - KIT | 42C-70-05060 - SERVICE KIT |
| 8295-70-0530 - KIT | 42C-70-05070 - SERVICE KIT |
| 8295-70-0540 - KIT | 42C-70-05080 - SERVICE KIT |
| 83555 - KIT, OIL | 42C-70-05090 - SERVICE KIT |
| 836136887 - PIPE KIT | 42C-70-05100 - SERVICE KIT |
| 836640373 - KIT TURB | 42C-70-05110 - SERVICE KIT |
| 836640968 - ROD KIT | 42C-70-05120 - SERVICE KIT |
| 836647946 - GEAR KIT | 42C-70-05130 - SERVICE KIT |
| 836662388 - TOOL KIT | 42C-70-05140 - SERVICE KIT |
| 836766301 - KIT, GAS | 42C-70-05150 - SERVICE KIT |
| 836855563 - GEAR KIT | 42C-70-05160 - SERVICE KIT |
| 836855567 - GEAR KIT | 42C-70-05170 - SERVICE KIT |
| 836866426 - PIPE KIT | 42C-70-05180 - SERVICE KIT |
| 836866576 - KIT, ALA | 42C-70-05190 - SERVICE KIT |
| 836866604 - PIPE KIT | 42C-87-05010 - SERVICE KIT |
| 836873034 - PIPE KIT | 42C-87-05020 - SERVICE KIT |
| 84099 - KIT, BAL | 42C-87-05030 - SERVICE KIT |
| 843200617 - KIT, SWA | 42C-87-05040 - SERVICE KIT |
| 843200618 - KIT, SHA | 42N-07-11101 - A/C KIT P60 |
| 843200619 - KIT, SNA | 42N-07-11540 - KIT P60 |
| 843200659 - KIT, GAS | 42T-01-H0P04 - PACKING KIT |
| 843200687 - KIT, BEA | 42T-06-H0P12 - CABLE KIT |
| 843200689 - KIT, GAS | 42T-17-H0P21 - GEAR KIT |
| 844160108 - KIT, GAS | 42T-56-H0R57 - CABLE KIT |
| 844160109 - KIT, GAS | 42T-62-23450 - KIT, VALVE |
| 844160110 - KIT, GAS | 42T-63-H0P44 - GASKET KIT |
| 844160130 - KIT, GAS | 42T-64-H0R70 - PACKING KIT |
| 844160133 - KIT, GAS | 42T-70-H0P11 - GASKET KIT |
| 844160134 - KIT, GAS | 42U-17-H0S93 - SEAL KIT |
| 844160137 - KIT, GAS | 42U-70-H0R57 - SEAL KIT |
| 844160139 - KIT, GAS | 42W-23-H0P08 - DRIVE KIT |
| 844200241 - KIT, GAS | 42W-56-H0P04 - REPAIR KIT |
| 844200245 - KIT, GAS | 42Y-63-H0P78 - GASKET KIT |
| 844200254 - KIT, GAS | 421-N24-H700 - PACKING KIT |
| 844200255 - KIT, GAS | 421-V06-2111 - PLATE KIT |
| 844200258 - KIT | 421-15-05050 - SHIM KIT |
| 844200312 - KIT | 421-15-05117 - SERVICE KIT |
| 844200419 - KIT, GAS | 421-15-05215 - KIT |
| 844200459 - KIT SOLE | 421-43-H0S01 - REPAIR KIT |
| 844200465 - KIT TIE | 421-57-31910 - PIPE KIT |
| 844200479 - KIT, REG | 421-62-A1360 - COUPLINGKIT |
| 844200482 - KIT, TIE | 421-62-H0P08 - PACKING KIT |
| 844200485 - KIT, TIE | 421-62-H0P11 - PACKING KIT |
| 844200503 - KIT, | 421-62-H0P51 - REPAIR KIT |
| 844200612 - KIT, TIE | 421-62-H0P52 - REPAIR KIT |
| 844200614 - KIT COMP | 421-64-H0P21 - GASKET KIT |
| 844200615 - KIT, OPE | 421-64-25400 - KIT, SPOOL |
| 844200626 - KIT, LEV | 421-879-A100 - COUPLER KIT |
| 844200632 - SEAL KIT | 421-879-A400 - COUPLER KIT |
| 844200655 - KIT, VAL | 421-942-3110 - HEATER KIT |
| 844200701 - SEAL KIT | 421-942-3120 - HEATER KIT |
| 845241025 - SEAL KIT | 423-N24-HP02 - GASKET KIT |
| 845241026 - SEAL KIT | 423-S99-HP01 - SEAL KIT |
| 845250515 - KIT, GAS | 423-S99-HP02 - SEAL KIT |
| 845250530 - KIT, GAS | 423-00-H0P09 - GASKET KIT |
| 845250531 - KIT, GAS | 423-33-05130 - PAD KIT |
| 845250551 - SEAL KIT | 423-62-A1530 - GR KIT G30 F |
| 845250553 - SEAL KIT | 423-62-A1560 - STUD KIT |
| 850447C92 - KIT | 423-62-H0P07 - REPAIR KIT |
| 855660100 - KIT, GAS | 423-63-H2P08 - PACKING KIT |
| 855660106 - KIT, GAS | 423-879-A401 - KIT |
| 855660108 - KIT, GAS | 424-15-05021 - SHIM KIT |
| 855660111 - KIT, GAS | 424-15-05111 - KIT |
| 855660112 - KIT, GAS | 424-15-05112 - KIT |
| 855660113 - KIT, GAS | 424-15-05114 - KIT |
| 863-14-0033 - SEAL KIT | 424-22-05010 - SERVICE KIT |
| 863040054 - KIT, REP | 424-62-H0P02 - REPAIR KIT |
| 878000015 - KIT GASK | 424-63-H0P05 - PACKING KIT |
| 878000323 - KIT, GAS | 424-63-H0P11 - PACKING KIT |
| 878000324 - KIT, GAS | 424-99-H0P10 - PACKING KIT |
| 878000325 - KIT, GAS | 425-07-21102 - A/C KIT |
| 878000326 - KIT, GAS | 425-07-21132 - A/C,KIT SUB |
| 878000328 - KIT, GAS | 425-13-05101 - SERVICE KIT |
| 878000361 - KIT, GAS | 425-13-05201 - SERVICE KIT |
| 878000362 - KIT, GAS | 425-13-05300 - SERVICE KIT |
| 878000363 - KIT, GAS | 425-15-05101 - SERVICE KIT |
| 878000364 - KIT, GAS | 425-15-05411 - SERVICE KIT |
| 878000368 - KIT, GAS | 425-15-05603 - SERVICE KIT |
| 878000388 - KIT, GAS | 425-15-05700 - SERVICE KIT |
| 878000413 - KIT - GA | 425-15-05750 - SERVICE KIT |
| 878000416 - KIT, GAS | 425-93-21310 - PLATE KIT |
| 878000418 - KIT, GAS | 425-93-21530 - PLATE KIT |
| 878000425 - KIT, GAS | 426-V00-2120 - PLATE KIT |
| 878000451 - KIT - GA | 426-V00-2140 - PLATE KIT |
| 878000463 - KIT - GA | 426-06-52980 - SWITCH KIT |
| 878000489 - KIT,CYL. | 426-13-05001 - SERVICE KIT |
| 878000491 - KIT,GASK | 426-13-06000 - SERVICE KIT |
| 878000497 - KIT, GAS | 426-15-05111 - SERVICE KIT |
| 878000498 - KIT, GAS | 426-15-06000 - SERVICE KIT |
| 878000499 - KIT, GAS | 426-15-06500 - SERVICE KIT |
| 878000501 - KIT, GAS | 426-22-31830 - BEARING KIT |
| 878000502 - KIT, GAS | 426-22-31870 - BEARING KIT |
| 878000520 - KIT, GAS | 426-64-31110 - SERVICE KIT |
| 878000521 - KIT, GAS | 426-93-21121 - PLATE KIT |
| 878000522 - KIT, GAS | 426-93-21221 - PLATE KIT |
| 878000523 - KIT, GAS | 426-93-21710 - KIT, PLATE |
| 878000524 - KIT GASK | 427-13-05011 - SERVICE KIT |
| 878000537 - KIT - GA | 427-13-05013 - SERVICE KIT |
| 878000586 - KIT, CHA | 427-13-05014 - SERVICE KIT |
| 878000587 - KIT, CHA | 427-15-05010 - SERVICE KIT |
| 878000588 - KIT, CHA | 427-15-05020 - SERVICE KIT |
| 878000589 - KIT, CHA | 427-15-05022 - SERVICE KIT |
| 878000594 - KIT, CHA | 427-15-05031 - SERVICE KIT |
| 878000635 - KIT HYDR | 427-15-05032 - SERVICE KIT |
| 878000638 - KIT HYDR | 427-15-05033 - SERVICE KIT |
| 878000639 - KIT-EURO | 427-60-25311 - SEAL KIT |
| 878000645 - KIT HYDR | 427-93-21221 - PLATE KIT |
| 878000648 - KIT HYDR | 427-93-21520 - PLATE KIT |
| 878000651 - KIT HYDR | 428-13-05210 - SERVICE KIT |
| 878000652 - KIT,HIGH | 428-15-05010 - KIT |
| 878000655 - KIT, GAS | 428-15-05012 - SERVICE KIT |
| 878000657 - KIT, GAS | 428-15-05020 - KIT |
| 878000658 - KIT, GAS | 428-15-05030 - SERVICE KIT |
| 878000659 - KIT, GAS | 428-15-05032 - SERVICE KIT |
| 878000665 - KIT GASK | 428-15-05200 - SERVICE KIT |
| 878010284 - KIT - GA | 428-22-05010 - SERVICE KIT |
| 878040169 - KIT | 428-93-21521 - PLATE KIT |
| 878040208 - KIT LSS | 428-93-21541 - PLATE KIT |
| 878040210 - KIT,HIGH | 4602692 - RETROFIT KIT |
| 878040238 - KIT HOSE | 5003674 - GASKET KIT C |
| 878040245 - KIT VALV | 5007561 - GASKET KIT |
| 878040267 - KIT 4WD | 5008261 - SEAL KIT-750 |
| 878040274 - KIT 4WD | 5008352 - CONTACT KIT, |
| 878050105 - KIT-GEAR | 5008835 - GASKET KIT G |
| 878050127 - KIT HYDL | 5009062 - ARM REST KIT |
| 878060015 - PINS KIT | 5009361 - SEAL KIT SLI |
| 880100056 - KIT, GAS | 5009576 - GASKET KIT |
| 883170C91 - KIT | 50202073 - SEAL KIT |
| 885270707 - KIT, POW | 5031855 - KIT PULL RO |
| 885270750 - KIT | 5033123 - REPAIR KIT |
| 886255C1 - KIT | 5033989 - TIE BOLT KIT |
| 888011059 - KIT,A/C | 5034309 - SEAL KIT FEE |
| 888011117 - A/C KIT | 5035564 - TOOL KIT |
| 888011122 - CAB KIT | 5037659 - SHIM KIT |
| 889035C92 - KIT | 5037869 - SHIM KIT |
| 890671C91 - KIT | 5038683 - GASKET KIT |
| 89458340 - KIT SENS | 5042201 - GASKIT KIT |
| 89761K - KIT,CLAM | 5043850 - KIT FRAME 9 |
| 89762K - KIT,CLAM | 5045780 - REPAIR KIT |
| 89763K - KIT,CLAM | 5047777 - RETROFIT KIT |
| 89764K - KIT,CLAM | 5048035 - REPAIR KIT |
| 89766K - KIT,CLAM | 5048464 - GASKET KIT |
| 89767K - KIT,CLAM | 5048636 - SHIM KIT |
| 89770K - KIT,CLAM | 5048744 - GASKIT KIT |
| 89771K - KIT,CLAM | 5051286 - GASKET KIT |
| 899846R91 - KIT | 5051537 - PIN KIT - CR |
| 90628640 - SEAL KIT | 5052844 - KIT PRE-CLE |
| 90628740 - SEAL KIT | 5054326 - GASKET KIT |
| 90628940 - SEAL KIT | 5054918 - GASKET KIT |
| 90630640 - SEAL KIT | 5055054 - MOUNTING KIT |
| 90631140 - SEAL KIT | 5055102 - SHIM KIT |
| 90631540 - SEAL KIT | 5055327 - TOOL KIT 84 |
| 90678540 - SEAL KIT | 5055618 - FILTER KIT |
| 90857K - KIT, CLA | 5055621 - FILTER KIT |
| 90891K - KIT,TUBE | 5060714 - GASKET KIT |
| 90892K - KIT,TUBE | 5060719 - GASKET KIT |
| 90893K - KIT,TUBE | 5061176 - KIT, 840.2 / |
| 90899K - KIT, CLA | 5061178 - KIT, 890.1 / |
| 90900K - KIT, CLA | 5061656 - FILTER KIT |
| 919308 - KIT,SEAL | 5061682 - FILTER KIT |
| 92492340 - SEAL KIT | 5061683 - FILTER KIT |
| 92492940 - SEAL KIT | 5061684 - FILTER KIT |
| 92493140 - SEAL KIT | 5061686 - FILTER KIT |
| 92493240 - SEAL KIT | 5061687 - FILTER KIT |
| 92493340 - SEAL KIT | 5062896 - KIT 360 & |
| 92493440 - SEAL KIT | 5063277 - GASKET KIT |
| 92493640 - SEAL KIT | 5063294 - GASKET KIT |
| 92493740 - SEAL KIT | 5063611 - RETROFIT KIT |
| 92521740 - TOOL KIT | 5065908 - GASKET KIT |
| 927358C91 - KIT | 5066077 - KIT, TIE ROD |
| 927376C1 - KIT | 5081215 - GASKET KIT |
| 92765 - KIT-MST | 5082344 - SHIM KIT |
| 930481C91 - KIT | 5082355 - SHIM KIT |
| 931173C93 - KIT | 5082826 - GEAR KIT |
| 93149340 - KIT, REP | 5083113 - RETROFIT KIT |
| 932308C91 - KIT | 5092594 - RETROFIT KIT |
| 936444C1 - KIT,SEAL | 5092866 - RETROFIT KIT |
| 937861C1 - KIT | 513-32-29440 - SEAL KIT |
| 94491540 - MOD KIT | 51598798 - SEAL KITP60 |
| 98098773 - SEAL KIT | 51685273 - SEAL KIT SLO |
| 98099473 - SEAL KIT | 51685298 - SEAL KIT |
| 98388 - KIT-PUM | 51711173 - SEAL KIT SLO |
| 98827100 - SEAL KIT | 5193949 - RETROFIT KIT |
| 988775 - SEAL KIT | 5195140 - RETROFIT KIT |
| 992606 - SEAL KIT | 5195652 - GASKET KIT |
| 992612 - SEAL KIT | 5196822 - RETROFIT KIT |
| 99261200 - SEAL KIT | 5198145 - REPAIR KIT |
| 99408500 - SEAL KIT | 5198146 - GASKET KIT |
| 994283 - SEAL KIT | 5198147 - GASKET KIT |
| 99437600 - SEAL KIT | 5198267 - GASKET KIT |
| 99448400 - SEAL KIT | 5198287 - GASKET KIT |
| 994836 - SEAL KIT | 5198557 - GASKET KIT |
| 99483600 - SEAL KIT | 5198602 - GASKET KIT |
| 99484100 - SEAL KIT | 5198634 - SEAL KIT |
| 99494700 - SEAL KIT | 5198742 - GASKET KIT |
| 994963 - SEAL KIT | 5198770 - GASKET KIT |
| 99496300 - SEAL KIT | 5198813 - GASKET KIT |
| 99753800 - SEAL KIT | 5198822 - REPAIR KIT |
| 99753900 - SEAL KIT | 5199035 - GASKET KIT |
| 997553 - SEAL KIT | 5199039 - GASKET KIT |
| 99755300 - SEAL KIT | 5199041 - GASKET KIT |
| 99755600 - SEAL KIT | 5199147 - GEAR KIT |
| 997576 - SEAL KIT | 5199173 - SEAL KIT |
| 997577 - SEAL KIT | 5199192 - REPAIR KIT |
| 99827100 - SEAL KIT | 5199193 - GASKET KIT |
| 99906200 - SEAL KIT | 5199194 - GASKET KIT |
| 999063R1 - KIT | 5199277 - SEAL KIT |
| 999064 - SEAL KIT | 5199375 - RETROFIT KIT |
| 99906400 - SEAL KIT | 5200144 - GASKET KIT |
| 999064R1 - KIT | 5200145 - GASKET KIT |
| 99927300 - SEAL KIT | 5200175 - GASKET KIT |
| AA0292100 - KIT,AF | 5200841 - ELECTRIC KIT |
| AA2901 - KIT | 5200959 - ELECTRIC KIT |
| AA2907M - A/F KIT | 5201092 - RETROFIT KIT |
| AA2912 - A/F KIT | 5201350 - GASKET KIT |
| AA2920 - A/F KIT | 5203504 - SEAL KIT |
| AF2618500 - KIT,CPG | 5203505 - SEAL KIT |
| AH1196 - KIT | 5203506 - SEAL KIT |
| AK0020 - KIT CON | 5204032 - SEAL KIT |
| AK0050 - KIT | 5205386 - SEAL KIT |
| AK0071 - KIT | 5205389 - GASKET KIT |
| AK0076 - KIT | 5206356 - ASSY KIT |
| AK0086 - SEAL KIT | 5206510 - SPACER KIT |
| AK0089 - KIT | 5206561 - GASKET KIT |
| AK0097 - KIT | 5207241 - SEAL KIT |
| AK0123 - KIT, ST | 5207566 - FILTER KIT |
| AK0124 - KIT,STRG | 5208705 - FILTER KIT |
| AK0184 - ADJ.KIT | 5208706 - FILTER KIT |
| AK0212 - PIN KIT | 5208707 - FILTER KIT |
| AK0213 - PIN KIT | 5210462 - RETROFIT KIT |
| AK0214 - PIN KIT | 5211677 - RETROFIT KIT |
| AK0216 - PIN KIT | 5211679 - RETROFIT KIT |
| AK0274 - PIN KIT | 5211872 - REPAIR KIT |
| AK0293 - LNG KIT | 5211874 - GASKET KIT |
| AK0312 - PIN KIT | 5211875 - GASKET KIT |
| AK0530 - KIT | 5211979 - RETROFIT KIT |
| AK0531 - KIT | 5212499 - RETROFIT KIT |
| AK0532 - SEAL KIT | 5212693 - RETROFIT KIT |
| AK0541 - KIT | 5212914 - PULL ROD KIT |
| AK0593 - ST KIT | 5212915 - PULL ROD KIT |
| AK0601 - KIT | 5212916 - PULL ROD KIT |
| AK0702 - SEAL KIT | 5213943 - GASKET KIT |
| AK0703 - SEAL KIT | 5213949 - RETROFIT KIT |
| AK0711 - SEALKIT | 5213950 - RETROFIT KIT |
| AK0719 - KIT | 5214240 - SEAL KIT |
| AK0721 - KIT | 5214241 - REPAIR KIT |
| AK0927 - REBLDKIT | 5214571 - RETROFIT KIT |
| AK0928 - REBLDKIT | 5216536 - GASKET KIT |
| AK0938 - CMKIT 55 | 5216541 - GASKET KIT |
| AK0939 - CMKIT 55 | 5216677 - GASKET KIT |
| AK0941 - CMKIT 53 | 5221153 - COMPUTER KIT |
| AK0960 - PIN KIT | 5221999 - SEAL KIT |
| AK0970 - PIN KIT | 5223783 - RETROFIT KIT |
| AK0971 - PINKIT | 5224190 - SEAL KIT |
| AK1891 - HOSE KIT | 5224782 - REPAIR KIT |
| AK2100 - TOOL KIT | 5225826 - GASKET KIT |
| AK3392 - KIT < | 5226867 - FILTER KIT |
| AK3420 - PIN KIT | 5226868 - FILTER KIT |
| AK3428 - DISC KIT | 5227101 - ASSY KIT |
| AK3429 - DISC KIT | 5227276 - REPAIR KIT |
| AK3430 - DISC KIT | 5227596 - GASKET KIT |
| AK3485 - HORN KIT | 5227597 - GASKET KIT |
| AK3553 - KIT CON, | 5227600 - GASKET KIT |
| AK3569 - CORE KIT | 5227777 - GASKET KIT |
| AK3571 - CORE KIT | 5229057 - GEAR KIT |
| AK3663 - PIN KIT, | 5229327 - SHIM KIT |
| AK3664 - PIN KIT, | 5229554 - SEAL KIT |
| AK3665 - PIN KIT, | 5229669 - PULL ROD KIT |
| AK3666 - PIN KIT, | 5229723 - GASKET KIT |
| AK3667 - PIN KIT, | 5231857 - ELECTRIC KIT |
| AK3668 - PIN KIT, | 5231891 - GASKET KIT |
| AK3701 - KIT,SEAL | 5232166 - RETROFIT KIT |
| AK3736 - PIN KIT, | 5233235 - RETROFIT KIT |
| AK3783 - KIT,730E | 5233960 - GASKET KIT |
| AK3851 - KIT,REAR | 5234935 - GASKET KIT |
| AK3852 - PIN KIT | 5235510 - GASKET KIT |
| AK3856 - KIT,REAR | 5235961 - SHIM KIT |
| AK3876 - PIN KIT, | 5235974 - SHIM KIT |
| AK3882 - PIN KIT | 5236276 - REPAIR KIT |
| AK3914 - KIT,WHEE | 5236400 - SEAL KIT |
| AK3944 - KIT NOSE | 5240219 - GASKET KIT |
| AK4126 - KIT, SPI | 5241621 - GASKET KIT |
| AK4174 - KIT,SHOC | 5241640 - PULL ROD KIT |
| AK4180 - KIT,BRAK | 5242493 - PULL ROD KIT |
| AK4181 - KIT,ENG | 5244974 - GASKET KIT |
| AK4188 - KIT, BRA | 5245626 - GASKET KIT |
| AK4190 - KIT, 330 | 5247515 - ASSY KIT |
| AK4206 - KIT, REB | 5247601 - GASKET KIT |
| AK4247 - KIT,MNT | 5247602 - GASKET KIT |
| AK4248 - KIT,MANT | 5247603 - GASKET KIT |
| AK4249 - KIT,MANT | 5247637 - GASKET KIT |
| AK4250 - KIT,MANT | 5247942 - GASKET KIT |
| AK4251 - KIT,MANT | 5247995 - GASKET KIT |
| AK4255 - KIT,FRT | 5251592 - GASKET KIT |
| AK4257 - KIT,HST | 5251595 - GASKET KIT |
| AK4259 - KIT,STRG | 5251724 - GASKET KIT |
| AK4263 - KIT,DISK | 5251876 - GASKET KIT |
| AK4301 - KIT,SUSP | 5252692 - GASKET KIT |
| AK4307 - KIT, STR | 5252824 - GASKET KIT |
| AK4308 - RBLD KIT | 5253625 - SEAL KIT |
| AK4320 - KIT SPIN | 5254351 - GASKET KIT |
| AK4322 - PIN KIT | 5255840 - RETROFIT KIT |
| AK4334 - KIT SUBF | 5256106 - GASKET KIT |
| AK4370 - SEAL KIT | 5256288 - GAKSET KIT |
| AK4395 - KIT,AIR | 5256338 - GASKET KIT |
| AK4407 - KIT, BRK | 5256343 - GASKET KIT |
| AK4414 - KIT, CON | 5256534 - GASKET KIT |
| AK4415 - KIT, HEA | 5256536 - GASKET KIT |
| AK4416 - KIT, WIP | 5257070 - GASKET KIT |
| AK4417 - KIT, CAB | 5259556 - GASKET KIT |
| AK4425 - KIT, STR | 5260507 - ASSY KIT |
| AK4437 - KIT,830 | 5263880 - RETROFIT KIT |
| AK4439 - SEAL KIT | 5266173 - GASKET KIT |
| AK4441 - SEAL KIT | 5268372 - FILTER KIT |
| AK4442 - SEAL KIT | 5268373 - FILTER KIT |
| AK4444 - RBLD KIT | 5272050 - GASKET KIT |
| AK4445 - UPGD KIT | 5272574 - GASKET KIT |
| AK4446 - SEAL KIT | 5272575 - GASKET KIT |
| AK4459 - PIN KIT | 5272843 - GASKET KIT |
| AK4471 - PIN KIT | 5274495 - GASKET KIT |
| AK4476 - KIT, CON | 5277791 - RETROFIT KIT |
| AK4485 - KIT CONT | 5278352 - GASKET KIT |
| AK4489 - KIT, W/M | 5279652 - RETROFIT KIT |
| AK4520 - KIT, TRA | 5280385 - RETROFIT KIT |
| AK4537 - KIT, PRK | 5283110 - RETROFIT KIT |
| AK4559 - KIT,PREL | 5286010 - GASKET KIT |
| AK4572 - KIT,W/M | 56B-15-05000 - KIT,SERVICE |
| AK4587 - SEAT KIT | 56B-15-05061 - SERVICE KIT |
| AK4629 - KIT MIRR | 56B-15-05071 - SERVICE KIT |
| AK4728 - KIT,730E | 56B-15-05072 - SERVICE KIT |
| AK4738 - KIT CONT | 56B-15-05073 - SERVICE KIT |
| AK4759 - KIT, OVE | 56B-15-05080 - SERVICE KIT |
| AK4760 - KIT PM, | 56B-15-05090 - SERVICE KIT |
| AK4761 - KIT, PM | 56B-40-13711 - KIT |
| AK4762 - KIT, PM | 56D-13-05400 - SERVICE KIT |
| AK4768 - KIT, EXH | 56D-13-05410 - SERVICE KIT |
| AK4776 - KIT REWR | 561-HK-AK010 - HOSE KIT |
| AK4778 - KIT SHUT | 561-13-05025 - SERVICE KIT |
| AK4832 - KIT, RES | 561-13-05026 - SERVICE KIT |
| AK4836 - KIT WHL | 561-13-05031 - SERVICE KIT |
| AK4845 - KIT, SHU | 561-13-05032 - SERVICE KIT |
| AK4848 - KIT, INL | 561-13-05070 - SERVICE KIT |
| AK4855 - KIT FAN | 561-13-05080 - SERVICE KIT |
| AK4857 - KIT,AIR | 561-15-05212 - GASKET KIT |
| AK4870 - KIT STG | 561-15-05222 - KIT |
| AK4873 - KIT,CAB | 561-15-05250 - KIT |
| AK4880 - KIT, PAR | 561-15-05260 - KIT |
| AK4883 - KIT, HOI | 561-15-05270 - KIT |
| AK4884 - SEAL KIT | 561-15-05520 - SERVICE KIT |
| AK4890 - KIT CAME | 561-15-05531 - SERVICE KIT |
| AK4891 - SEAL KIT | 561-15-05560 - SERVICE KIT |
| AK4892 - KIT | 561-15-05570 - SERVICE KIT |
| AK4895 - KIT MNTG | 561-15-05580 - SERVICE KIT |
| AK4901 - KIT, AUX | 561-33-05031 - SERVICE KIT |
| AK4903 - KIT,MIRR | 561-35-05930 - SERVICE KIT |
| AK4924 - KIT, PAR | 561-35-09910 - KIT,SERVICE |
| AK4925 - KIT, SER | 561-35-09940 - SERVICE KIT |
| AK4926 - KIT, AC | 561-40-05201 - SEAL KIT |
| AK4928 - KIT, SUS | 561-87-05910 - SERVICE KIT |
| AK4929 - KIT, REA | 561-87-05920 - SERVICE KIT |
| AK4930 - KIT, HOI | 562-13-05071 - SERVICE KIT |
| AK4936 - KIT PARK | 562-15-05161 - SERVICE KIT |
| AK4937 - KIT, PAR | 565-32-05052 - SERVICE KIT |
| AK4938 - KIT, SEA | 565-44-05011 - SERVICE KIT |
| AK4940 - KIT, CON | 566-13-05320 - SERVICE KIT |
| AK4941 - SEAL KIT | 566-15-05021 - KIT |
| AK4942 - SEAL KIT | 566-15-05041 - SERVICE KIT |
| AK4946 - KIT, SEA | 566-15-05051 - SERVICE KIT |
| AK4947 - KIT MAIN | 566-15-05140 - SERVICE KIT |
| AK4952 - KIT,PIN | 566-15-05411 - SERVICE KIT |
| AK4955 - KIT, HOI | 566-15-05420 - SERVICE KIT |
| AK4973 - KIT, HYD | 566-15-05430 - SERVICE KIT |
| AK4980 - KIT, HOS | 566-15-05512 - SERVICE KIT |
| AK4981 - KIT 24V | 566-22-05013 - SERVICE KIT |
| AK4983 - KIT, ALT | 566-22-05014 - SERVICE KIT |
| AK4989 - KIT, HAR | 566-30-05013 - SERVICE KIT |
| AK4998 - KIT, PLM | 566-60-06013 - KIT |
| AK5003 - KIT, O-R | 566-61-05021 - KIT |
| AK5027 - KIT, PAR | 566-88-05010 - SERVICE KIT |
| AK5030 - KIT, PLM | 567-13-05211 - SERVICE KIT |
| AK5031 - KIT,CONV | 567-15-05041 - KIT |
| AK5032 - KIT, CON | 567-15-05210 - SERVICE KIT |
| AK5043 - KIT, UPG | 567-15-05211 - SERVICE KIT |
| AK5044 - KIT, UPG | 567-15-05220 - SERVICE KIT |
| AK5056 - KIT HOIS | 567-15-05230 - SERVICE KIT |
| AK5059 - KIT, PLM | 567-32-05020 - SERVICE KIT |
| AK5063 - KIT, SPR | 567-33-05020 - SERVICE KIT |
| AK5066 - KIT,SCOR | 567-35-05110 - SERVICE KIT |
| AK5070 - KIT,FRT | 567-40-43591 - SEAL KIT |
| AK5083 - KIT, HOS | 569-13-00920 - SERVICE KIT |
| AK5085 - KIT,OVER | 569-13-05050 - SERVICE KIT |
| AK5092 - KIT, SCO | 569-13-05120 - SERVICE KIT |
| AK5093 - KIT, SCO | 569-15-05022 - GASKET KIT |
| AK5094 - KIT, BRU | 569-15-05051 - SERVICE KIT |
| AK5115 - KIT,HST | 569-15-05141 - SERVICE KIT |
| AK5117 - KIT, TRA | 569-15-05170 - SERVICE KIT |
| AK5118 - KIT, GRD | 569-15-05180 - SERVICE KIT |
| AK5131 - KIT,FRNT | 569-15-05220 - SERVICE KIT |
| AK5138 - KIT, SCO | 569-15-05514 - SERVICE KIT |
| AK5139 - KIT, SNG | 569-27-05910 - SERVICE KIT |
| AK5149 - KIT, HAR | 569-33-05021 - SERVICE KIT |
| AK5159 - KIT | 58B-BK-AK050 - KIT,FRONT BR |
| AK5162 - KIT, LED | 58B-BK-AK070 - KIT,REAR BRA |
| AK5163 - KIT, LED | 58B-BK-AK080 - KIT,PARK BRA |
| AK5164 - KIT, LAD | 58B-EP-AK020 - LIGHT KIT,96 |
| AK5165 - KIT, PLM | 58B-EP-AK030 - LIGHT KIT,96 |
| AK5167 - KIT, STR | 58B-EP-AK070 - KIT,60 GAL R |
| AK5176 - KIT, SUS | 58B-EP-AK080 - KIT,FUEL TNK |
| AK5192-001 - KIT,CONT | 58B-EP-AK090 - KIT,HYD TANK |
| AK5193 - KIT, DEC | 58B-EP-AK100 - KIT,UPRIGHT |
| AK5203 - KIT,FULL | 58B-FS-AK020 - KIT,FRONT SU |
| AK5210 - KIT, STR | 58B-HC-AK020 - KIT,HOIST CY |
| AK5211 - KIT, STR | 58B-MA-AK030 - KIT,ALTERNAT |
| AK5212 - KIT,NOSE | 58B-MH-AK120 - KIT,REAR BRK |
| AK5213 - KIT,PIVO | 58B-MH-AK140 - KIT,WHEEL MT |
| AK5214 - KIT, PIN | 58B-MH-AK150 - KIT,FRNT SUS |
| AK5219 - KIT, HYD | 58B-MP-AK140 - KIT,REAR SUS |
| AK5222 - KIT,PM S | 58B-MP-AK150 - KIT,PAN ROD |
| AK5223 - KIT,PM S | 58B-MP-AK160 - KIT,NOSE CON |
| AK5238 - KIT, SEA | 58B-MP-AK170 - KIT,TIE ROD |
| AK5239 - KIT, SEA | 58B-MP-AK180 - KIT,REAR SUS |
| AK5240 - KIT, SEA | 58B-PM-AK050 - KIT,980E PWR |
| AK5245 - KIT, W/M | 58B-RS-AK010 - KIT,REAR SUS |
| AK5247 - KIT,STEE | 58B-SA-AK010 - KIT,STEERING |
| AK5258 - KIT,NOSE | 58B-SC-AK030 - KIT,STEERING |
| AK5260 - KIT, FRN | 58B-SM-AK030 - KIT,SPINDL M |
| AK5265 - KIT, CON | 58B-00-00060 - SERVICE KIT |
| AK5273 - KIT, ENG | 58B-00-00070 - SERVICE KIT |
| AK5276 - KIT,REAR | 58B-00-00190 - SENSOR KIT |
| AK5278 - KIT, SOF | 58B-00-00520 - KIT, CARRIER |
| AK5284 - KIT,CONV | 58B-00-00530 - KIT, CARRIER |
| AK5288 - KIT,SEAL | 58B-00-00540 - KIT, SEAL CA |
| AK5291 - KIT, ELE | 58B-00-00550 - KIT, SEAL CA |
| AK5297 - KIT,HYD | 58B-00-00570 - KIT, FUEL LH |
| AK5309 - KIT, ELE | 58B-00-00610 - KIT, BKT ACC |
| AK5311 - KIT, FAN | 58B-00-00850 - SERVICE KIT |
| AK5313 - KIT, TIR | 58B-00-00900 - SERVICE KIT |
| AK5317 - KIT,TIRE | 58B-00-01050 - KIT,GUARD BU |
| AK5323 - KIT,STRG | 58B-00-01300 - KIT,PRES SWI |
| AK5325 - KIT, GRI | 58B-00-09000 - KIT,PWR SPLY |
| AK5326 - KIT,HOIS | 58B-00-10520 - OIL TANK KIT |
| AK5327 - KIT, BRA | 58B-00-20040 - KIT,PLTFORM, |
| AK5328 - KIT,POWE | 58B-00-20100 - SEAL KIT, RO |
| AK5329 - KIT, BOD | 58B-06-00360 - RESISTOR KIT |
| AK5330 - KIT,W/M | 58B-06-00370 - RESISTOR KIT |
| AK5331 - KIT,W/M | 58B-06-00380 - RESISTOR KIT |
| AK5335 - KIT,W/M | 58B-06-00470 - RESISTOR KIT |
| AK5336 - KIT, WIR | 58B-06-00490 - RESISTOR KIT |
| AK5339 - KIT, BRA | 58B-06-00510 - RESISTOR KIT |
| AK5340 - KIT,POWE | 58B-06-00540 - RESISTOR KIT |
| AK5341 - KIT, RES | 58B-06-00550 - RESISTOR KIT |
| AK5342 - KIT,MAIN | 58B-06-00560 - RESISTOR KIT |
| AK5345 - KIT, PIN | 58B-06-00570 - RESISTOR KIT |
| AK5348 - KIT. PLM | 58B-06-00580 - RESISTOR KIT |
| AK5349 - KITPLM3 | 58B-06-00590 - RESISTOR KIT |
| AK5350 - KIT, EXH | 58B-06-00600 - RESISTOR KIT |
| AK5351 - KIT, A/C | 58B-06-00610 - RESISTOR KIT |
| AK5356 - KIT,POWE | 58B-06-00800 - METER KIT |
| AK5362 - KIT FUEL | 58B-06-00840 - RESISTOR KIT |
| AK5365 - KIT,POWE | 58B-06-00850 - RESISTOR KIT |
| AK5366 - KIT, TES | 58B-06-00870 - RESISTOR KIT |
| AK5367 - KIT,REBU | 58B-06-00980 - RESISTOR KIT |
| AK5369 - KIT,REBU | 58B-33-00020 - BRAKE, KIT P |
| AK5370 - KIT,REBU | 58B-33-00040 - BRAKE, KIT P |
| AK5376 - KIT,SPND | 58B-98-00930 - 3 POLES KIT |
| AK5380 - KIT,AMME | 58B-98-01320 - SEAL KIT |
| AK5381 - KIT,W/M | 58C-EP-AK010 - KIT,DUAL SCO |
| AK5392 - KIT,WIRI | 58C-EP-AK020 - KIT,FUEL TNK |
| AK5395 - KIT,CAM/ | 58C-HK-AK010 - KIT,STEERNG |
| AK5396 - KIT,CAM/ | 58C-HK-AK030 - KIT,BRAKE HO |
| AK5401 - KIT,VHMS | 58C-PM-AK010 - KIT,POWER MO |
| AK5408 - KIT,POWE | 58C-00-00030 - REPAIR KIT, |
| AK5410 - KIT,CONN | 58C-00-00140 - COUPLER KIT |
| AK5412 - KIT, CON | 58C-00-00500 - FLAP KIT, MU |
| AK5416 - KIT,SPDL | 58C-06-01000 - DIODE KIT |
| AK5417 - KIT,W/M | 58C-98-00520 - KIT,CONTROL |
| AK5420 - KIT,LED | 58D-MA-AK010 - ALT O/H KIT |
| AK5421 - KIT,HEAT | 58D-MH-AK020 - LUG NUT KIT |
| AK5434 - KIT,RESE | 58D-MP-AK010 - KIT,STEERING |
| AK5435 - KIT,POWE | 58D-MP-AK150 - KIT, STRG PI |
| AK5439 - KIT,HOSE | 58D-00-00090 - KIT, FRT SUS |
| AK5445 - KIT,B0DY | 58D-00-00340 - KIT,BLOWER F |
| AK5448 - KIT,NOSE | 58D-00-80100 - KIT,EGRESS G |
| AK5452 - KIT,AIR | 58D-98-02280 - SEAL KIT,PUM |
| AK5454 - KIT,DDEC | 58E-EP-AK080 - CHOP KIT LIT |
| AK5457 - KIT,AC | 58E-EP-AK110 - CHOP KIT LIT |
| AK5458 - KIT,AUX | 58E-EP-AK120 - CAMERA KIT |
| AK5459 - KIT,ACC | 58E-HK-AK010 - HOSE KIT |
| AK5461 - KIT,R SU | 58E-HK-AK050 - KIT,SALOBO H |
| AK5463 - KIT,BODY | 58E-MH-AK020 - LUG NUT KIT |
| AK5466 - KIT,DIAG | 58E-WM-AK050 - BEARING KIT |
| AK5474 - KIT,POWE | 58E-WM-AK060 - BEARING KIT |
| AK5476 - KIT,STEE | 58E-WM-AK080 - BEARING KIT |
| AK5477 - KIT,WHL | 58E-WM-AK110 - KIT,WM OH KI |
| AK5478 - KIT,STUB | 58E-00-00000 - KIT,AXLE DUC |
| AK5497 - KIT,FRT | 58E-00-00330 - KIT, ISOL. |
| AK5503 - KIT,JUNC | 58E-00-00360 - KIT, ISOL. P |
| AK5506 - KIT,BODY | 58E-00-00400 - FRAME KIT, T |
| AK5508 - KIT,SPDL | 58E-00-00440 - KIT, NOISE A |
| AK5509 - KIT,INST | 58E-00-00620 - KIT, NOISE A |
| AK5511 - KIT,BEAR | 58E-00-00710 - PLATFORM KIT |
| AK5512 - KIT,AUTO | 58E-00-00790 - BRACKET KIT |
| AK5513 - KIT,R SU | 58E-00-00830 - KIT, PLATE S |
| AK5514 - SEAL KIT | 58E-00-00840 - KIT, PLATE A |
| AK5516 - KIT,OVRH | 58E-00-00891 - KIT,PLM4 CON |
| AK5519 - KIT,HD15 | 58E-00-00990 - KIT,FRNT SUS |
| AK5520 - KIT,HD78 | 58E-00-01141 - COM KIT |
| AK5523 - KIT,DIFF | 58E-00-01151 - 17FH43 KIT |
| AK5524 - KIT,PLAN | 58E-00-01450 - COVER, KIT |
| AK5525 - KIT,ARMA | 58E-00-01460 - FLINGER KIT_ |
| AK5526 - KIT,HEAT | 58E-00-01990 - FLNGER KIT,N |
| AK5527 - KIT,PARK | 58E-00-02030 - KIT,LADDER,A |
| AK5528 - KIT,FRON | 58E-00-02040 - KIT,FUEL LIN |
| AK5529 - KIT,REAR | 58E-00-02050 - KIT,FUEL LIN |
| AK5530 - KIT,REAR | 58E-00-02200 - KIT,GATE EGR |
| AK5531 - KIT,FRON | 58E-00-10230 - BRACKET KIT |
| AK5532 - KIT,REAR | 58E-00-10510 - OIL TANK KIT |
| AK5533 - KIT,PARK | 58E-00-10530 - EXHAUST KIT |
| AK5535 - KIT,REAR | 58E-00-10610 - PUMP KIT |
| AK5536 - KIT,FRON | 58E-00-10660 - SEAL KIT,HOI |
| AK5537 - KIT,R AX | 58E-00-11800 - FAN KIT |
| AK5538 - KIT,REAR | 58E-00-20210 - KIT,TIRE UPG |
| AK5539 - KIT,HYD | 58E-00-83100 - ANTENNA KIT_ |
| AK5540 - KIT,A-AR | 58E-06-00010 - RESISTOR KIT |
| AK5541 - KIT,HOIS | 58E-43-00520 - FRAME KIT |
| AK5542 - KIT,STEE | 58E-80-12140 - PLATFORM,KIT |
| AK5543 - KIT,DOG | 58E-98-00000 - SEAL KIT, PU |
| AK5544 - KIT, R S | 58E-98-00070 - BRACKET KIT |
| AK5545 - KIT,HOIS | 58E-98-00120 - KIT, VALVE |
| AK5546 - KIT,BODY | 58E-98-00130 - SEAL KIT |
| AK5547 - KIT,REAR | 58E-98-00140 - SEAL KIT |
| AK5548 - KIT,FRT | 58E-98-10110 - KIT, HIGHBAC |
| AK5549 - KIT,A AR | 58F-BK-AK120 - KIT,PARKNG B |
| AK5550 - KIT,CTR. | 58F-EP-AK090 - KIT,HOT STRT |
| AK5551 - KIT,STR | 58F-EP-AK130 - KIT,HOTSTRT |
| AK5554 - KIT,HOIS | 58F-EP-AK170 - KIT,AUX INV |
| AK5555 - KIT,BODY | 58F-EP-AK190 - LADDER KIT |
| AK5556 - KIT,REAR | 58F-EP-AK220 - KIT,LH PLATF |
| AK5557 - KIT,HOIS | 58F-FM-AK160 - KIT,930E-3 F |
| AK5558 - KIT,FUEL | 58F-FM-AK170 - KIT,930E-4 F |
| AK5560 - KIT,HYD | 58F-FS-AK030 - KIT,FRNT SUS |
| AK5561 - KIT,HD15 | 58F-HC-AK040 - KIT,HOIST CY |
| AK5562 - KIT,HD78 | 58F-HK-AK010 - HOSE KIT |
| AK5563 - KIT,KIM | 58F-HK-AK100 - KIT,HOSE BMA |
| AK5565 - KIT,MINO | 58F-LV-AK030 - KIT,LOW VOLT |
| AK5566 - KIT,PLAN | 58F-MH-AK020 - LUG NUT KIT |
| AK5567 - KIT,DIFF | 58F-MH-AK060 - KIT,HVY DUTY |
| AK5568 - KIT,PLAN | 58F-MP-AK010 - PIN KIT STRG |
| AK5569 - KIT,DIFF | 58F-MP-AK020 - KIT,STEERING |
| AK5570 - KIT,PLAN | 58F-PR-AK010 - KIT,POWER MO |
| AK5572 - KIT,WIRI | 58F-RS-AK040 - KIT,REAR SUS |
| AK5574 - KIT,STEE | 58F-SA-AK060 - KIT,PISTON S |
| AK5576 - KIT,HST | 58F-UT-AK930 - CHASSIS KIT( |
| AK5582 - KIT,SPND | 58F-WM-AK080 - WM O/H KIT |
| AK5583 - KIT,WHL | 58F-WM-AK090 - WM ELEC KIT |
| AK5585 - KIT,EXHA | 58F-00-00080 - KIT,BRAKE W/ |
| AK5586 - KIT,KIM | 58F-00-00410 - EXHAUST KIT |
| AK5593 - KIT,COMB | 58F-00-00720 - KIT, PLATE A |
| AK5594 - KIT,630E | 58F-00-00830 - SEALANT KIT_ |
| AK5595 - KIT,HOIS | 58F-00-00860 - SEALANT KIT_ |
| AK5598 - KIT,R SU | 58F-00-00930 - KIT,FRS WIRI |
| AK5600 - KIT,UP F | 58F-00-00960 - SENSOR KIT |
| AK5601 - KIT,SPIN | 58F-00-00970 - PLATFORM KIT |
| AK5602 - KIT,SPND | 58F-00-01040 - BRACKET KIT |
| AK5609 - KIT,REMO | 58F-00-01100 - SEAL KIT,CAB |
| AK5613 - KIT,STEE | 58F-00-01160 - ROTOR KIT |
| AK5614 - KIT 930E | 58F-00-01170 - STATOR KIT |
| AK5615 - KIT,930E | 58F-00-01480 - BOLT KIT,10 |
| AK5618 - KIT,STEE | 58F-00-10021 - KIT,MANIFOLD |
| AK5620 - KIT,STEE | 58F-00-10040 - KIT,HORN ELE |
| AK5627 - KIT,BODY | 58F-00-10090 - KIT,OIL TANK |
| AK5628 - KIT,FRT | 58F-00-10180 - ACCUM KIT,PI |
| AK5629 - KIT,FRT | 58F-00-10540 - FUEL KIT,120 |
| AK5630 - KIT,HOIS | 58F-00-10710 - OIL TANK KIT |
| AK5631 - KIT,PIN | 58F-00-10900 - KIT,ANTENNA |
| AK5632 - KIT,HOIS | 58F-00-40060 - RUBBER KIT, |
| AK5633 - KIT,FRT | 58F-00-40091 - SENSOR KIT |
| AK5639 - KIT,SEAT | 58F-00-40100 - HANDRAIL KIT |
| AK5643 - KIT,500 | 58F-00-40130 - HANDRAIL KIT |
| AK5644 - KIT,1000 | 58F-00-40200 - FRAME KIT |
| AK5645 - KIT,500H | 58F-00-40220 - WIRE KIT |
| AK5647 - KIT,3PT | 58F-00-40270 - REPAIR KIT__ |
| AK5648 - KIT,4PT | 58F-00-40290 - HOSE KIT____ |
| AK5649 - KIT,4PT | 58F-00-40310 - OIL TANK KIT |
| AK5650 - KIT,250/ | 58F-00-40370 - KIT,HYD LINE |
| AK5651 - KIT,1/20 | 58F-00-40380 - KIT,FUSE BOX |
| AK5654 - KIT,STRG | 58F-00-40480 - KIT,FUSE BOX |
| AK5655 - KIT,250H | 58F-00-40870 - KIT,GREASE P |
| AK5656 - KIT,500H | 58F-00-40930 - FILTER KIT,D |
| AK5657 - KIT,1/20 | 58F-00-40980 - MONITOR KIT, |
| AK5658 - KIT,250H | 58F-00-50000 - KIT,BRACKET |
| AK5659 - KIT,500H | 58F-00-93100 - ANTENNA KIT_ |
| AK5660 - KIT,1/20 | 58F-06-01850 - ADAPTER KIT |
| AK5661 - KIT,HOSE | 58F-90-00120 - SEAL KIT |
| AK5680 - KIT,STRG | 581-22-05013 - KIT |
| AK5681 - KIT,787 | 581-35-05021 - KIT |
| AK5682 - KIT,788 | 581-35-05110 - SERVICE KIT |
| AK5683 - KIT,REAR | 581-35-05520 - KIT |
| AK5684 - KIT,FRT | 581-35-09910 - SERVICE KIT |
| AK5685 - KIT,PARK | 581-43-05080 - KIT |
| AK5686 - KIT, REA | 592257C91 - KIT |
| AK5687 - KIT,STR | 600-331-2900 - KIT,FILTER C |
| AK5688 - KIT,500H | 6128-K1-0901 - GASKET KIT |
| AK5689 - KIT,1000 | 6128-09-1013 - GASKET KIT |
| AK5690 - KIT,2000 | 6128-09-1015 - GASKET KIT |
| AK5692 - KIT,FRT | 6138-K1-0303 - GASKET KIT |
| AK5693 - KIT,RR S | 6142-K2-9901 - GASKET KIT |
| AK5697 - KIT,HST | 6162-K2-1204 - GASKET KIT |
| AK5698 - KIT,VALV | 6162-K2-2303 - GASKET KIT |
| AK5699 - KIT,PRES | 6162-K8-1301 - GASKET KIT |
| AK5700 - KIT,WIRI | 6162-K8-5100 - GASKET KIT |
| AK5702 - KIT,HOSE | 6164-K1-0006 - GASKET KIT |
| AK5707 - KIT,ELEC | 6164-K1-1006 - GASKET KIT |
| AK5708 - KIT,REPO | 6165-K1-0503 - GASKET KIT |
| AK5717 - KIT,POWE | 6165-K7-0900 - GASKET KIT |
| AK5729 - KIT,500H | 6207-K2-3301 - GASKET KIT |
| AK5730 - KIT,1000 | 6215-K2-0002 - GASKET KIT |
| AK5731 - KIT,2000 | 6215-01-1500 - KIT |
| AK5732 - KIT,500H | 6216-34-2180 - KIT,ENG PIST |
| AK5733 - KIT,1000 | 6216-34-2990 - RING KIT, PI |
| AK5734 - KIT,2000 | 6216-64-9920 - KIT,WATER PU |
| AK5735 - KIT,500H | 6216-84-1200 - XKIT TURBOCH |
| AK5736 - KIT,1000 | 6216-84-8140 - KIT, TURBOCH |
| AK5737 - KIT,2000 | 6216-84-8150 - XKIT,TURBOCH |
| AK5738 - KIT,500H | 6221-41-0400 - KIT |
| AK5739 - KIT,1000 | 6252-01-1010 - MUFFLER KIT |
| AK5740 - KIT,2000 | 6252-01-1020 - MUFFLER KIT |
| AK5741 - KIT,500H | 6262-01-1010 - MUFFLER KIT |
| AK5742 - KIT,1000 | 6262-01-1020 - MUFFLER KIT |
| AK5743 - KIT,2000 | 6262-01-1030 - MUFFLER KIT |
| AK5744 - KIT,500H | 63442140 - MOUNTINGKIT |
| AK5745 - KIT,1000 | 6502-12-1300 - REPAIR KIT |
| AK5746 - KIT,2000 | 6560-01-1180 - SEAL KIT |
| AK5750 - KIT,R SU | 6600-08-6182 - GASKET KIT |
| AK5752 - KIT,EXHA | 6610-K1-3104 - GASKET KIT |
| AK5758 - KIT,PWR | 6610-K5-6004 - GASKET KIT |
| AK5760 - KIT,960E | 6667-K1-9901 - GASKET KIT |
| AK5761 - KIT,960E | 6686-K1-2103 - GASKET KIT |
| AK5766 - KIT,FILT | 6686-K1-2202 - GASKET KIT |
| AK5767 - KIT,FILT | 6686-K2-9901 - GASKET KIT |
| AK5770 - KIT,CAB | 6711-K4-0100 - GASKET KIT |
| AK5771 - KIT,HARN | 6731-11-3201 - KIT, INJECTO |
| AK5778 - KIT,STEE | 6731-31-2140 - PISTON KIT |
| AK5783 - KIT,HOIS | 6731-31-2170 - KIT,PISTON |
| AK5796 - KIT,WIRE | 6731-41-2180 - KIT TAPPET R |
| AK5798 - KIT,FUEL | 6731-81-8180 - XKIT, TURBO |
| AK5800 - KIT,COOL | 6732-11-3310 - KIT, INJECTO |
| AK5801 - KIT,HOIS | 6732-21-8111 - KIT,CYLINDER |
| AK5804 - KIT,BRAK | 6732-81-8062 - XKIT TURBOCH |
| AK5821 - KIT,HOTS | 6732-82-8810 - ACTUATOR KIT |
| AK5881 - KIT WHEE | 6734-K1-1100 - GASKET KIT |
| AK5889 - KIT,FUEL | 6735-K1-1200 - GASKET KIT |
| AK5907 - KIT,POWE | 6735-01-8000 - KIT,TUR REPA |
| AK5910 - KIT, FUE | 6735-13-3090 - KIT - NOZZLE |
| AK5913 - KIT,BODY | 6735-38-2010 - KIT,PISTON |
| AK5915 - KIT, FUE | 6735-38-2060 - KIT, PISTON |
| AK5916 - KIT, HOI | 6736-K1-1210 - GASKET KIT |
| AK5917 - KIT, BOD | 6736-K2-1200 - GASKET KIT |
| AK5935 - KIT, CON | 6736-31-2110 - KIT PISTON |
| AK5936 - KIT, CON | 6742-01-5547 - KIT,INJECTOR |
| AK5937 - KIT, CON | 6743-01-1220 - BLOCK KIT,CY |
| AK5939 - KIT,POWE | 6743-31-2102 - PISTON KIT |
| AK5942 - KIT,POWE | 6743-61-1532 - XKIT,WATER P |
| AK7087 - SHAFTKIT | 6745-32-2110 - PISTON KIT |
| AK7135 - MAINTKIT | 6745-32-2120 - PISTON KIT |
| AK7153 - UPG KIT | 6745-81-8041 - XTURBO KIT |
| AK7154 - SEAL KIT | 6746-01-1010 - MUFFLER KIT |
| AK7155 - SEAL KIT | 6746-01-1020 - MUFFLER KIT |
| AK7156 - SEAL KIT | 6746-31-2100 - PISTON KIT |
| AK7157 - UPG KIT | 6746-81-8020 - XTURBO KIT |
| AK7158 - UPG KIT | 6752-61-7200 - COOLER KIT |
| AK7236 - MAIN KIT | 6752-81-8600 - XTURBO KIT |
| AK7269 - PIN KIT | 6754-31-2121 - KIT,ENG PIST |
| AK7281 - REBLDKIT | 6754-32-2111 - PISTON KIT |
| AK7349 - SEAL KIT | 6754-82-8240 - KIT, TURBOCH |
| AK7499 - TUBE KIT | 6755-01-1010 - MUFFLER KIT |
| AK7560 - HDW KIT | 6755-01-1030 - MUFFLER KIT |
| AK7675 - ORINGKIT | 6755-01-1040 - MUFFLER KIT |
| AK7676 - ORINGKIT | 6755-01-1050 - MUFFLER KIT |
| AK7677 - ORINGKIT | 6755-01-1060 - MUFFLER KIT |
| AK8289 - SWTCHKIT | 6755-31-2101 - PISTON KIT |
| AK8290 - SWTCHKIT | 6755-39-2091 - PISTON KIT |
| AK8400 - LNG KIT | 6755-61-7200 - XCOOLER KIT |
| AK8403 - LNG KIT | 679328C91 - KIT CYL |
| AK8410 - LNG KIT | 6810-21-8230 - KIT |
| AK8411 - LNG KIT | 69174300 - SEAL KIT |
| AK8412 - LNG KIT | 69174400 - SEAL KIT |
| AK8415 - LNG KIT | 691779 - SEAL KIT |
| AK8418 - LNG KIT | 692062 - REPAIR KIT |
| AK8419 - LNG KIT | 69213300 - SEAL KIT |
| AK8421 - LNG KIT | 69213500 - SEAL KIT |
| AK8424 - LNG KIT | 692344 - SEAL KIT |
| AK8426 - LNG KIT | 69241400 - SEAL KIT |
| AK8431 - CONV KIT | 69262300 - SEAL KIT |
| AS156927 - KIT HAND | 69291000 - SEAL KIT |
| AS157332 - KIT | 69291300 - REPAIR KIT |
| AS157597 - KIT, ADJ | 69448400 - SEAL KIT |
| AS159563 - KIT PROT | 694566 - SEAL KIT |
| AS159674 - KIT DRIV | 69472300 - SEAL KIT |
| AS160055 - KIT, RIS | 69485000 - SEAL KIT |
| AS162035 - KIT DRIV | 69613873 - SEAL KIT |
| AS164000 - KIT, BEA | 69642973 - SEAL KIT |
| AS164222 - FOAM KIT | 69643173 - SEAL KIT |
| AS167488 - KIT,COVE | 69662573 - Sealing kit |
| AS169317 - REST KIT | 69849473 - SEAL KIT |
| AS172259 - KIT, SEA | 701-31-05010 - KIT |
| AS176808 - KIT | 701-33-05020 - KIT |
| AS177478 - KIT, LIN | 701-51-05010 - SERVICE KIT |
| AS181804 - ASSY KIT | 701-51-05030 - SERVICE KIT |
| AS182831 - KIT,VALV | 706-7H-05911 - SPACER KIT |
| AS182907 - KIT | 706-7H-11570 - RETAINER KIT |
| AS187944 - KIT | 706-73-05010 - SPACER KIT |
| AS187945 - KIT | 706-77-05030 - RING KIT |
| AS187946 - KIT, SUS | 706-77-05070 - SPACER KIT |
| AS187947 - KIT | 706-8F-41350 - SPACER KIT |
| AS187948 - KIT | 706-8F-41490 - SPACER KIT |
| AS188057 - KIT,SUSP | 706-8H-41810 - SPACER KIT |
| AS195369 - KIT | 706-8J-42470 - SPACER KIT |
| AS195377 - KIT | 706-8J-42720 - SPACER KIT |
| AS198243 - KIT | 707-98-02070 - SERVICE KIT |
| BB176940 - KIT, CON | 707-98-02410 - SERVICE KIT |
| BB187484 - TUBE KIT | 707-98-02420 - SERVICE KIT |
| BF0033 - KIT,SFT | 707-98-03180 - SERVICE KIT |
| BF0090 - KIT,SIDE | 707-98-03290 - KIT |
| BF0091 - KIT, COM | 707-98-03440 - KIT |
| BF0244 - SEAL KIT | 707-98-04400 - KIT, CYL SEA |
| BF0288 - SEAL KIT | 707-98-04590 - SEAL KIT |
| BF0439 - KIT, SPR | 707-98-05430 - KIT |
| BF0440 - KIT, BUS | 707-98-05470 - SERVICE KIT |
| BF0441 - KIT, BUS | 707-98-10880 - SERVICE KIT |
| BF0442 - KIT, TOO | 707-98-11300 - SERVICE KIT |
| BF0476 - KIT, SHO | 707-98-11380 - KIT, CYL SEA |
| BF0477 - KIT, AXL | 707-98-11700 - SERVICE KIT |
| BF0508 - KIT, SUS | 707-98-11740 - SERVICE KIT |
| BF0513 - KIT, SEA | 707-98-12260 - KIT, CYL SEA |
| BF0514 - KIT, TET | 707-98-12320 - KIT |
| BF0518 - KIT, HDW | 707-98-12450 - KIT, CYL SEA |
| BF0538 - KIT, ALT | 707-98-12740 - SERVICE KIT |
| BF0689 - KIT,STFR | 707-98-12750 - SERVICE KIT |
| BF0694 - KIT,SHOC | 707-98-13610 - SERVICE KIT |
| BF0695 - KIT, BUM | 707-98-13700 - SERVICE KIT |
| BF0955 - SEAL KIT | 707-98-13850 - SERVICE KIT |
| BF1342 - KIT,SENS | 707-98-14300 - SERVICE KIT |
| BF1622 - SEAL KIT | 707-98-14350 - SERVICE KIT |
| BF1671 - KIT,SEAL | 707-98-14410 - KIT, CYL SEA |
| BF1836 - SEAL KIT | 707-98-14590 - SERVICE KIT |
| BF1861 - SEAL KIT | 707-98-14740 - SERVICE KIT |
| BF2069 - KIT,GAP | 707-98-14890 - SERVICE KIT |
| BF2070 - KIT,UPR/ | 707-98-14980 - SERVICE KIT |
| BF2071 - KIT,TILT | 707-98-22290 - SERVICE KIT |
| BF2072 - KIT,TILT | 707-98-22430 - KIT, CYL SEA |
| BF2073 - KIT,ROD | 707-98-22510 - SERVICE KIT |
| BF2074 - KIT,HORN | 707-98-22840 - SERVICE KIT |
| BF2098 - MOD KIT | 707-98-22870 - SERVICE KIT |
| BF2215 - KIT,CORE | 707-98-23180 - SERVICE KIT |
| BF2613 - KIT,BEAR | 707-98-23270 - SERVICE KIT |
| BF2757 - KNOB KIT | 707-98-23960 - SEAL KIT |
| BF2771 - HDW KIT, | 707-98-23970 - SERVICE KIT |
| BF2803 - SEAL KIT | 707-98-24200 - SERVICE KIT |
| BF2820 - KIT, CAR | 707-98-24400 - SERVICE KIT |
| BF2852 - SEAL KIT | 707-98-24510 - KIT, CYL SEA |
| BF2853 - SEAL KIT | 707-98-24550 - KIT, CYL SEA |
| BF2854 - SEAL KIT | 707-98-24600 - KIT, CYL SEA |
| BF2855 - SEAL KIT | 707-98-24730 - SERVICE KIT |
| BF2856 - SEAL KIT | 707-98-24800 - SERVICE KIT |
| BF2857 - SEAL KIT | 707-98-25230 - SERVICE KIT |
| BF2858 - SEAL KIT | 707-98-25350 - SERVICE KIT |
| BF3038 - KIT REPA | 707-98-25400 - SERVICE KIT |
| BF3047 - KIT,SERV | 707-98-25780 - SERVICE KIT |
| BF3048 - KIT,SERV | 707-98-26060 - SERVICE KIT |
| BF3057 - KIT,MIN | 707-98-26070 - SERVICE KIT |
| BF3073 - KIT,RATC | 707-98-26310 - SERVICE KIT |
| BF3111 - KIT, REP | 707-98-26721 - SERVICE KIT |
| BF3112 - KIT, REP | 707-98-26750 - SERVICE KIT |
| BF3287 - SEAL KIT | 707-98-26960 - SERVICE KIT |
| BF3295 - KIT, PAR | 707-98-27650 - SERVICE KIT |
| BF3305 - CORE KIT | 707-98-27660 - SERVICE KIT |
| BF3417 - KIT,HORN | 707-98-29430 - SERVICE KIT |
| BF3463 - SEAL KIT | 707-98-29600 - SERVICE KIT |
| BF3703 - KIT,CART | 707-98-29620 - SERVICE KIT |
| BF3727 - KIT,CONT | 707-98-29670 - SERVICE KIT |
| BF3860 - SEAL KIT | 707-98-29700 - SERVICE KIT |
| BF3865 - KIT,WIRE | 707-98-29720 - SERVICE KIT |
| BF3870 - KIT,CART | 707-98-30550 - SERVICE KIT |
| BF4040 - KIT,TURN | 707-98-30700 - SERVICE KIT |
| BF4049 - KIT,TURN | 707-98-30720 - SEAL KIT |
| BF4065 - KIT,SFT | 707-98-32210 - SERVICE KIT |
| BF4067 - KIT,BLEE | 707-98-32540 - SERVICE KIT |
| BF4085 - KIT, SER | 707-98-34050 - SERVICE KIT |
| BF4205 - COIL KIT | 707-98-34500 - KIT, CYL SEA |
| BF4313 - KIT, SEA | 707-98-35340 - SEAL KIT |
| BF4314 - KIT, SEA | 707-98-36710 - SERVICE KIT |
| BF4335 - SEAL KIT | 707-98-36720 - SERVICE KIT |
| BF4339 - KIT, SPR | 707-98-36740 - SEAL KIT |
| BF4512 - KIT, EXH | 707-98-37300 - SERVICE KIT |
| BF4601 - KIT, SPI | 707-98-39611 - SEAL KIT |
| BF4625 - SEAL KIT | 707-98-39700 - SERVICE KIT |
| BF4645 - KIT, SPR | 707-98-40010 - KIT, CYL SEA |
| BF4669 - KIT, VIT | 707-98-40050 - SERVICE KIT |
| BF4810 - KIT , AR | 707-98-41380 - SEAL KIT |
| BF4842 - KIT, SEA | 707-98-42550 - SERVICE KIT |
| BF4843 - KIT,DAMP | 707-98-42720 - SEAL KIT |
| BF4844 - KIT, SUS | 707-98-46120 - SERVICE KIT |
| BF4845 - KIT, FOR | 707-98-47510 - KIT, CYL SEA |
| BF4847 - KIT, AIR | 707-98-48700 - SERVICE KIT |
| BF4848 - KIT, VAL | 707-98-51140 - SERVICE KIT |
| BF4849 - KIT, HAR | 707-98-52115 - SERVICE KIT |
| BF5096 - KIT, | 707-98-54110 - SERVICE KIT |
| BF5167 - KIT < | 707-98-58230 - KIT, CYL SEA |
| BF5169 - KIT < | 707-98-64120 - SERVICE KIT |
| BF5171 - KIT < | 707-98-75400 - KIT, CYL SEA |
| BF5173 - KIT, KNO | 707-98-77020 - KIT, CYL SEA |
| BF5177 - KIT, LEN | 707-98-77210 - SERVICE KIT |
| BF5270 - KIT, GRN | 707-98-84442 - SEAL KIT |
| BF5315 - KIT, GRI | 707-98-85310 - SERVICE KIT |
| BF5507 - KIT SEAL | 707-98-85320 - SEAL KIT |
| BF5508 - KIT, SEA | 707-98-95400 - KIT, CYL SEA |
| BF5509 - KIT, SEA | 707-98-95421 - SEAL KIT |
| BF5512 - SEAL KIT | 707-98-95430 - SERVICE KIT |
| BF5513 - KIT,SOFT | 707-99-H0P24 - PACKING KIT |
| BF5544 - KIT, HUB | 707-99-05620 - SEAL KIT |
| BF5611 - KIT, OHV | 707-99-11050 - KIT, CYL SEA |
| BK0007 - KIT, FIL | 707-99-14060 - SEAL KIT |
| BK0076 - KIT 250H | 707-99-14290 - SERVICE KIT |
| BK0077 - KIT 500H | 707-99-14430 - KIT |
| BK0078 - KIT 1000 | 707-99-14480 - SEAL KIT STR |
| BK0081 - KIT, CAB | 707-99-14980 - SEAL KIT |
| BK0082 - KIT, PM | 707-99-14990 - SEAL KIT (K0 |
| BK0083 - KIT, PM | 707-99-15100 - SERVICE KIT |
| BK0085 - KIT, PM | 707-99-15750 - GASKET KIT |
| BK0088 - KIT,HEAD | 707-99-15760 - SEAL KIT |
| BK0091 - KIT,REMA | 707-99-22100 - KIT, CYL SEA |
| BK0092 - KIT,PC18 | 707-99-22300 - SEAL KIT (K0 |
| BK0093 - KIT,D475 | 707-99-24320 - SEAL KIT |
| BK0095 - KIT,WIGG | 707-99-24720 - SEAL KIT (K0 |
| BK0102 - KIT,D155 | 707-99-24940 - SERVICE KIT |
| BK0103 - KIT,R/M | 707-99-25270 - SEAL KIT |
| BK0106 - KIT,500H | 707-99-25280 - SEAL KIT |
| BK0107 - KIT,1000 | 707-99-25410 - SEAL KIT |
| BK0109 - KIT,500H | 707-99-25430 - SEAL KIT |
| BK0110 - KIT,1000 | 707-99-25520 - KIT, CYL SEA |
| BK0111 - KIT 2000 | 707-99-25560 - SERVICE KIT |
| BK0112 - KIT 500H | 707-99-25660 - SEAL KIT |
| BK0115 - KIT 500H | 707-99-25760 - SEAL KIT |
| BK0133 - KIT,FUEL | 707-99-25790 - SEAL KIT |
| BK0139 - KIT,PTO | 707-99-25840 - SERVICE KIT |
| BK0156 - KIT,500 | 707-99-26200 - SEAL KIT |
| BK1040 - KIT,HOSE | 707-99-26210 - SEAL KIT |
| BK1041 - KIT, HOS | 707-99-26220 - SEAL KIT |
| BK1042 - KIT, HOS | 707-99-26670 - SERVICE KIT |
| BK1043 - KIT, PIN | 707-99-26730 - SEAL KIT |
| BK1045 - KIT,TURB | 707-99-26980 - SERVICE KIT |
| BK1047 - KIT, TUR | 707-99-27110 - SERVICE KIT |
| BK1050 - KIT, TUR | 707-99-27120 - SERVICE KIT |
| BK1071 - KIT 500 | 707-99-27310 - SEAL KIT |
| BK1072 - KIT,1/20 | 707-99-27320 - SEAL KIT |
| BK1074 - KIT,RADI | 707-99-27330 - SEAL KIT |
| BK1076 - KIT,OIL | 707-99-27530 - SERVICE KIT |
| BK1078 - KIT,AFTE | 707-99-27630 - SERVICE KIT |
| BK1082 - KIT,PTO | 707-99-32310 - SERVICE KIT |
| BK1086 - KIT,ORIN | 707-99-34250 - SEAL KIT |
| BK1090 - KIT, PPC | 707-99-34260 - SEAL KIT (K0 |
| BK1095 - KIT, D85 | 707-99-34270 - SEAL KIT |
| BK1096 - KIT,500 | 707-99-34320 - SEAL KIT HYD |
| BK1097 - KIT,1000 | 707-99-34440 - SERVICE KIT |
| BK1098 - KIT,2000 | 707-99-35180 - SEAL KIT |
| BK1099 - KIT,COOL | 707-99-35620 - SEAL KIT |
| BK1100 - KIT,FUEL | 707-99-36180 - SEAL KIT |
| BK1101 - KIT,500 | 707-99-36181 - SERVICE KIT |
| BK1102 - KIT,1000 | 707-99-36680 - SERVICE KIT |
| BK1103 - KIT,2000 | 707-99-36690 - SEAL KIT |
| BK1104 - KIT,COOL | 707-99-36720 - SEAL KIT |
| BK1105 - KIT,FUEL | 707-99-36740 - SEAL KIT HYD |
| BK1106 - KIT,500 | 707-99-37090 - SEAL KIT |
| BK1107 - KIT,1000 | 707-99-37370 - SERVICE KIT |
| BK1108 - KIT,2000 | 707-99-37591 - SERVICE KIT |
| BK1109 - KIT,COOL | 707-99-37670 - SERVICE KIT |
| BK1110 - KIT, FUE | 707-99-37740 - SEAL KIT |
| BK1113 - KIT, 500 | 707-99-37750 - SEAL KIT HYD |
| BK1116 - KIT, FUE | 707-99-37770 - SEAL KIT |
| BK1117 - KIT,COOL | 707-99-38750 - SERVICE KIT |
| BK1118 - KIT,500 | 707-99-38751 - SEAL KIT |
| BK1119 - KIT,1000 | 707-99-38810 - SERVICE KIT |
| BK1120 - KIT,2000 | 707-99-38820 - SERVICE KIT |
| BK1121 - KIT, FUE | 707-99-39420 - KIT |
| BK1122 - KIT,COOL | 707-99-39620 - SEAL KIT |
| BK1123 - KIT, 500 | 707-99-39650 - SEAL KIT |
| BK1124 - KIT,1000 | 707-99-39770 - SEAL KIT |
| BK1125 - KIT,2000 | 707-99-39790 - SEAL KIT |
| BK1126 - KIT, FUE | 707-99-40130 - GASKET KIT |
| BK1127 - KIT,COOL | 707-99-42170 - SEAL KIT |
| BK1147 - KIT,CENT | 707-99-42220 - SEAL KIT |
| BK301Z-SK - KIT | 707-99-42300 - SEAL KIT |
| BS157143 - KIT | 707-99-42310 - SEAL KIT |
| BS157192 - KIT SUPP | 707-99-42330 - SEAL KIT HYD |
| BS160055 - KIT | 707-99-42520 - SERVICE KIT |
| BS170250 - KIT,UPPE | 707-99-43040 - SVC KIT BOOM |
| BS178213 - ADJ KIT | 707-99-43290 - SERVICE KIT |
| BS183685 - ASSY KIT | 707-99-43310 - SERVICE KIT |
| BS183707 - ASSY KIT | 707-99-43320 - SERVICE KIT |
| BS194283 - KIT UPPE | 707-99-43390 - SEAL KIT |
| BW159481 - KIT | 707-99-43420 - SERVICE KIT |
| C259370 - STARTKIT | 707-99-43530 - KIT, CYL SEA |
| C259371 - STARTKIT | 707-99-43730 - SERVICE KIT |
| C259372 - STARTKIT | 707-99-43740 - SEAL KIT |
| C259373 - STARTKIT | 707-99-44350 - SERVICE KIT |
| C259375 - STARTKIT | 707-99-44520 - SERVICE KIT |
| C259384 - STARTKIT | 707-99-44730 - SEAL KIT |
| C259386 - STARTKIT | 707-99-45040 - SERVICE KIT |
| C259387 - STARTKIT | 707-99-45070 - SERVICE KIT |
| C3303779 - STARTKIT | 707-99-45250 - SERVICE KIT |
| C3303780 - STARTKIT | 707-99-45350 - GASKET KIT P |
| C3303781 - STARTKIT | 707-99-45376 - SERVICE KIT |
| C3310588 - STARTKIT | 707-99-45530 - SERVICE KIT |
| C3313273 - STARTKIT | 707-99-46470 - SERVICE KIT |
| C3316413 - STARTKIT | 707-99-46610 - SERVICE KIT |
| C3318566S - RETROKIT | 707-99-47050 - SERVICE KIT |
| C3825409 - ETHERKIT | 707-99-47080 - SEAL KIT |
| C3825410 - ETHERKIT | 707-99-47460 - SEAL KIT |
| C3825416 - STARTKIT | 707-99-47510 - SERVICE KIT |
| C3826037 - STARTKIT | 707-99-47880 - SERVICE KIT |
| C3826255 - HEATRKIT | 707-99-48630 - SEAL KIT |
| C3826333S - RETROKIT | 707-99-48710 - SEAL KIT HYD |
| C3826335S - RETROKIT | 707-99-48740 - SEAL KIT |
| C3826336S - RETROKIT | 707-99-50500 - SERVICE KIT |
| C3830394 - STARTKIT | 707-99-50520 - SEAL KIT |
| C3830395 - STARTKIT | 707-99-50580 - SEAL KIT HYD |
| C3830396 - STARTKIT | 707-99-50700 - SERVICE KIT |
| C3830397 - STARTKIT | 707-99-50710 - SERVICE KIT |
| C3837317S - KIT, | 707-99-50720 - SERVICE KIT |
| C3888726S - KIT WASH | 707-99-50780 - SERVICE KIT |
| C3918240S - AIR KIT | 707-99-54170 - SEAL KIT |
| C3959449S - LID KIT | 707-99-56200 - SERVICE KIT |
| CA0048646 - PAD KIT | 707-99-56300 - KIT, CYL SEA |
| CA0049080 - SEAL KIT | 707-99-56310 - KIT, CYL SEA |
| CA0049122 - SEAL KIT | 707-99-56730 - SEAL KIT |
| CA0049465 - CAM KIT | 707-99-56750 - SEAL KIT |
| CA0066606 - KIT,WHEE | 707-99-57330 - SERVICE KIT |
| CA0066993 - HUB KIT | 707-99-57360 - SEAL KIT |
| CA0068003 - KIT-REDU | 707-99-58081 - SERVICE KIT |
| CA0068051 - HUB KIT | 707-99-59070 - SEAL KIT |
| CA0133443 - KIT,POTE | 707-99-59080 - SEAL KIT |
| CA0138548 - KIT,SYNC | 707-99-59100 - SERIVCE KIT |
| CA0138551 - KIT,HYD/ | 707-99-59140 - SEAL KIT |
| CA0139441 - KIT,REAR | 707-99-59141 - SEAL KIT |
| CA0715358 - TOOL KIT | 707-99-59150 - SEAL KIT |
| CAA2901 - KIT | 707-99-59190 - SEAL KIT HYD |
| CAA2907M - A/F KIT | 707-99-59270 - SERVICE KIT |
| CAA2912 - A/F KIT | 707-99-59360 - SERVICE KIT |
| CAA2920 - A/F KIT | 707-99-59370 - SERVICE KIT |
| CAH1196 - KIT | 707-99-59430 - SEAL KIT HYD |
| CC2543 - OILKIT | 707-99-59550 - SEAL KIT |
| CC2544 - OIL KIT | 707-99-59630 - SERVICE KIT |
| CC2602 - KIT | 707-99-59680 - SEAL KIT |
| CC2602A - TEST KIT | 707-99-59690 - SVC KIT BOOM |
| CC2602M - TEST KIT | 707-99-64090 - SERVICE KIT |
| CC2700 - COOL KIT | 707-99-64225 - SERVICE KIT |
| CCC2543 - OILKIT | 707-99-64330 - SEAL KIT |
| CCC2544 - OIL KIT | 707-99-64350 - SEAL KIT |
| CCC2602 - KIT | 707-99-66180 - SEAL KIT |
| CCC2602A - TEST KIT | 707-99-66190 - SEAL KIT |
| CCC2602M - TEST KIT | 707-99-66430 - SEAL KIT |
| CCC2700 - COOL KIT | 707-99-66645 - SERVICE KIT |
| CFK48001 - FUEL KIT | 707-99-66655 - SERVICE KIT |
| CK0246656 - PAD, KIT | 707-99-66750 - SEAL KIT |
| CK0247663 - KIT, SPR | 707-99-66760 - SEAL KIT |
| CK40-25 - TOOL KIT | 707-99-66770 - SEAL KIT |
| CMK11137 - KIT | 707-99-67015 - KIT, CYL SEA |
| CMK11217 - KIT | 707-99-67125 - KIT, CYL SEA |
| CMK11225 - KITS | 707-99-67530 - SERVICE KIT |
| CMK11267 - KITS | 707-99-67760 - SEAL KIT |
| CMK11277 - KITS | 707-99-67770 - SEAL KIT |
| CMK11286 - KITS | 707-99-67871 - SERVICE KIT |
| CMK11330 - KITS | 707-99-68460 - SERVICE KIT |
| CMK11333 - KITS | 707-99-68470 - SERVICE KIT |
| CMK11337 - KITS | 707-99-68480 - SERVICE KIT |
| CMK11429 - KIT, MAI | 707-99-68481 - SEAL KIT |
| CMK11678 - MAIN KIT | 707-99-68515 - KIT, CYL SEA |
| CMK12348 - MAIN KIT | 707-99-69550 - SERVICE KIT |
| CMK12698 - MAIN KIT | 707-99-69560 - SERVICE KIT |
| CMK13037 - KIT CAT | 707-99-69585 - SERVICE KIT |
| CMK13038 - KIT CUMM | 707-99-69590 - SEAL KIT |
| CMK13039 - KIT,CUMM | 707-99-69660 - SERVICE KIT |
| CMK13040 - KIT,CUMM | 707-99-69670 - SERVICE KIT |
| CMK13048 - MAIN KIT | 707-99-69770 - SERVICE KIT |
| CMK1323 - MAIN KIT | 707-99-71120 - KIT, CYL SEA |
| CMK1397 - KIT | 707-99-72060 - SEAL KIT |
| CMK1465 - KIT MAIN | 707-99-72070 - SEAL KIT |
| CMK1538 - KIT, MAI | 707-99-72080 - SEAL KIT |
| DK487099-7020 - RING KIT | 707-99-72090 - SEAL KIT |
| EH6398 - KIT,A/C | 707-99-72290 - SERVICE KIT |
| EH8914 - KIT, | 707-99-73040 - KIT, CYL SEA |
| EH8915 - KIT, | 707-99-73050 - KIT, CYL SEA |
| EH8916 - KIT, | 707-99-74015 - KIT |
| EH8917 - KIT, | 707-99-74190 - SEAL KIT |
| EH8918 - KIT, | 707-99-74460 - SERVICE KIT |
| EK2970 - KIT,CLUT | 707-99-75405 - KIT, CYL SEA |
| EL2442 - KIT, FRA | 707-99-75415 - KIT, CYL SEA |
| EL9322 - KIT,ELEC | 707-99-75910 - SERVICE KIT |
| EM2831 - KIT,BRAK | 707-99-76010 - SEAL KIT |
| EM5226 - KIT,BRK | 707-99-76020 - SEAL KIT |
| EM8060 - KIT,BRK | 707-99-76030 - SEAL KIT |
| FH2100100 - KIT,FH | 707-99-76060 - SEAL KIT,CYL |
| FK48001 - FUEL KIT | 707-99-76131 - SERVICE KIT |
| FUGCS14325 - SEAL KIT | 707-99-76140 - SERVICE KIT |
| FUGCS28002 - SEAL KIT | 707-99-76340 - SERVICE KIT |
| FUGHC40018034 - KIT - GE | 707-99-76360 - SERVICE KIT |
| FUGHC40028034 - KIT - GE | 707-99-76380 - SERVICE KIT |
| FUGHS-1-8878 - SEAL KIT | 707-99-76390 - SERVICE KIT |
| FUGHS12272 - SEAL KIT | 707-99-77050 - SERVICE KIT |
| FUGHS50018325 - KIT | 707-99-77070 - SERVICE KIT |
| FUGHS50018803 - SEAL KIT | 707-99-77200 - SERVICE KIT |
| FUMHS-1-4243 - SEAL KIT | 707-99-77250 - KIT, CYL SEA |
| FUMHS-2B14954 - KIT | 707-99-77330 - KIT, CYL SEA |
| FUMVS102000 - SEAL KIT | 707-99-77390 - SERVICE KIT |
| FUMVS20200P - SEAL KIT | 707-99-78410 - SERVICE KIT |
| FUMYD3010000 - BODY KIT | 707-99-78440 - SEAL KIT |
| FUMYS10100P0 - SEAL KIT | 707-99-78690 - SERVICE KIT |
| FUMYS2010000 - SEAL KIT | 707-99-79420 - SERVICE KIT |
| FUMYS3010000 - SEAL KIT | 707-99-79430 - SERVICE KIT |
| FUPKS100200 - SEAL KIT | 707-99-81020 - SERVICE KIT |
| G40150B0N60 - KIT,LINK | 707-99-84500 - SERVICE KIT |
| G40310B0N50 - KIT,MAST | 707-99-85100 - SEAL KIT |
| G40310B0N60 - LINK KIT | 707-99-85360 - SERVICE KIT |
| GE0321 - KIT,STAT | 707-99-85370 - SERVICE KIT |
| GE0620 - KIT,STEP | 707-99-85380 - SEAL KIT |
| GE0646 - KIT, CON | 707-99-96020 - SEAL KIT |
| GE0654 - KIT,FOR | 707-99-96230 - SEAL KIT |
| GE0695 - KIT INTE | 708-1W-05821 - SPACER KIT |
| GE0703 - KIT, TEM | 708-1W-05850 - SPACER KIT |
| GE0705 - KIT, BRU | 708-2G-05020 - SHIM KIT |
| GE1264 - KIT CAPA | 708-2H-05130 - SHIM KIT |
| GJ1088777 - BOLT KIT | 708-2J-05120 - SHIM KIT |
| GJ140973 - KIT | 708-2J-05130 - SPACER KIT |
| GJ2046569 - MOD. KIT | 708-2J-05220 - KIT |
| HK0420 - HOSE KIT | 708-21-05040 - SHIM KIT |
| HKX00018 - HYD KIT | 708-21-05100 - SHIM KIT |
| K3163381 - KIT-GEAR | 708-23-05020 - SHIM KIT |
| KA1318 - HYD KIT | 708-23-05041 - SPACER KIT |
| KB2013A-60012 - SEAL KIT | 708-27-00330 - SPACER KIT |
| KB21003-30023 - SEAL KIT | 708-7T-05030 - SPACER KIT |
| KBB044A-51158 - SEAL KIT | 708-8F-05020 - SHIM KIT |
| KBB044A-51159 - SEAL KIT | 711-20-05120 - SERVICE KIT |
| KBB520A-00001 - SEAL KIT | 711-20-05130 - SERVICE KIT |
| KBB530A-10001 - SEAL KIT | 711-28-05012 - GASKET KIT |
| KC1084 - KIT PC22 | 711-50-05012 - SERVICE KIT |
| KC1085 - KIT PC20 | 711-53-05020 - SERVICE KIT |
| KC1102-2 - HYD KIT | 711-86-05000 - SERVICE KIT |
| KD7-09210-1210 - SEAL KIT | 712-53-05000 - SERVICE KIT |
| LA0319 - SLIDEKIT | 712-86-05010 - SERVICE KIT |
| LA0341 - HDW KIT | 712-86-05020 - SERVICE KIT |
| LA0343 - BOLT KIT | 712-86-05110 - SHIM KIT |
| LA0622 - KIT,HYD | 712-86-05120 - SHIM KIT |
| LI270663 - SEAL KIT | 714-07-05021 - SERVICE KIT |
| LK1027 - FLTR KIT | 714-07-05091 - SERVICE KIT |
| LK1066 - KIT SEAL | 714-07-05111 - SERVICE KIT |
| LK1067 - KIT SEAL | 714-07-05121 - SERVICE KIT |
| LK3022 - KIT 3RD | 714-07-05130 - SERVICE KIT |
| LK3023 - KIT,ACCU | 714-07-05131 - SERVICE KIT |
| LK4033 - KIT 500 | 714-07-05132 - SERVICE KIT |
| LK4034 - KIT, P.M | 714-07-05140 - SERVICE KIT |
| LK4035 - KIT P.M. | 714-07-05150 - SERVICE KIT |
| LK4039 - KIT,WA60 | 714-07-05151 - SERVICE KIT |
| LK4040 - KIT,WA60 | 714-07-05152 - SERVICE KIT |
| LK4052 - KIT,BATT | 714-07-05160 - SERVICE KIT |
| LK4054 - PRO KIT | 714-12-05030 - SERVICE KIT |
| LK4058 - KIT,CENT | 714-12-05050 - SERVICE KIT |
| LK4060 - KIT,500 | 714-12-05063 - SERVICE KIT |
| LK4061 - KIT,1000 | 714-12-05110 - SERVICE KIT |
| LK4062 - KIT,2000 | 714-12-05310 - SERVICE KIT |
| LK4065 - KIT,HING | 714-12-05311 - SERVICE KIT |
| LK4066 - KIT,STEE | 714-12-05312 - SERVICE KIT |
| LK4068 - KIT,500 | 714-12-05320 - SERVICE KIT |
| LK4069 - KIT,1000 | 714-13-05050 - SERVICE KIT |
| LK4070 - KIT,2000 | 714-15-05053 - SERVICE KIT |
| LK4071 - KIT,500H | 714-15-05100 - SERVICE KIT |
| LK4072 - KIT,1000 | 714-17-05020 - KIT |
| LK4073 - KIT, 200 | 714-17-05023 - SERVICE KIT |
| LK4074 - KIT, CEN | 714-17-05041 - SERVICE KIT |
| LK4075 - KIT,STEE | 714-17-05051 - SERVICE KIT |
| LK4077 - KIT,FUEL | 714-23-05201 - SERVICE KIT |
| LK4078 - KIT,FUEL | 714-23-05212 - SERVICE KIT |
| LK4079 - KIT,THER | 721-07-H1120 - PACKING KIT |
| LK4080 - KIT, TUR | 721-07-H1130 - PACKING KIT |
| LK4081 - KIT,FUEL | 721-98-00020 - SEAL KIT |
| LK4082 - KIT,STEE | 721-98-00030 - SEAL KIT |
| LK4083 - KIT,BRAK | 721-98-00130 - SEAL KIT |
| LK4084 - KIT, 250 | 721-98-00140 - SEAL KIT |
| LK4085 - KIT, 500 | 721-98-00150 - SEAL KIT |
| LK4086 - KIT,2000 | 721-98-00160 - SEAL KIT |
| LK4087 - KIT,COOL | 721-98-00170 - SEAL KIT |
| LK4088 - KIT,TURB | 721-98-00180 - SEAL KIT |
| LK4089 - KIT, FUE | 721-98-00190 - SEAL KIT |
| LK4090 - KIT,FUEL | 721-98-00210 - SEAL KIT |
| LK4097 - KIT,SWIT | 721-98-00230 - SERVICE KIT |
| LK4104 - KIT,HING | 721-98-00240 - SERVICE KIT |
| LK4132 - KIT,500 | 721-98-00250 - SEAL KIT |
| LK4133 - KIT,1000 | 721-98-00260 - SEAL KIT |
| LK4134 - KIT,2000 | 721-98-00270 - SEAL KIT |
| LK4143 - KIT, 500 | 721-98-00280 - SEAL KIT |
| LK4144 - KIT, 100 | 721-98-00350 - SEAL KIT |
| LK4145 - KIT, 200 | 721-98-00370 - SEAL KIT |
| LK4163 - KIT, DEC | 721-98-00390 - SEAL KIT |
| LK4164 - KIT, DEC | 721-98-00420 - SEAL KIT |
| LK4165 - KIT,TOP | 721-98-00440 - SEAL KIT |
| LK4166 - KIT,FULL | 721-98-00480 - SEAL KIT |
| LK4167 - KIT,H DU | 721-98-00490 - SEAL KIT |
| LK4168 - KIT,UPPE | 721-98-00510 - SEAL KIT |
| LK4169 - KIT,FLOO | 721-98-00520 - SEAL KIT |
| LK4170 - KIT,RAIN | 721-98-00610 - SEAL KIT |
| LK4171 - KIT SUN | 721-98-00630 - SEAL KIT |
| LK4172 - KIT,TRAV | 721-98-00660 - SEAL KIT |
| LK4174 - KIT,BOOT | 721-98-00670 - SERVICE KIT |
| LK4175 - KIT,MAN | 721-98-00680 - SERVICE KIT |
| LK4176 - KIT,FUEL | 721-98-00690 - SEAL KIT |
| LK4177 - KIT FUEL | 721-98-00700 - SERVICE KIT |
| LK4178 - KIT,EXHA | 721-98-00710 - SEAL KIT |
| LK4179 - KIT, MOU | 721-98-00740 - SEAL KIT |
| LK4180 - KIT EXHA | 721-98-00860 - SEAL KIT |
| LK4181 - KIT HEAD | 721-98-00890 - SEAL KIT |
| LK4184 - KIT,SWIN | 721-98-00910 - SEAL KIT |
| LK4198 - KIT,RAIN | 721-98-01030 - SEAL KIT |
| LK4199 - KIT, SUN | 721-98-01060 - SEAL KIT |
| LK4203 - KIT,MOUN | 721-98-01090 - SERVICE KIT |
| LK4221 - KIT,MOUN | 721-98-01160 - SEAL KIT |
| LK4223 - KIT,EXHA | 721-98-01180 - SEAL KIT |
| LK4224 - KIT,FUEL | 721-98-01190 - SEAL KIT |
| LK4225 - KIT,COOL | 721-98-01200 - SERVICE KIT |
| LK4226 - KIT,500 | 721-98-01220 - SERVICE KIT |
| LK4228 - KIT,DECA | 721-98-01230 - SEAL KIT |
| LK4231 - KIT,CAB | 721-98-01250 - SERVICE KIT |
| LK4237 - KIT, MOU | 721-98-01260 - SERVICE KIT |
| LK4239 - KIT,500 | 721-98-01290 - SERVICE KIT |
| LK4242 - KIT, CAB | 721-98-01460 - SERVICE KIT |
| LK4243 - KIT,DECA | 721-98-01520 - SERVICE KIT |
| LK4245 - KIT,EXHA | 721-98-01540 - SERVICE KIT |
| LK4246 - KIT, FUE | 721-98-01580 - SEAL KIT |
| LK4248 - KIT,HEAD | 721-98-01720 - SEAL KIT |
| LK4251 - KIT, MOU | 721-98-01740 - SERVICE KIT |
| LK4254 - KIT,500 | 721-98-01750 - SEAL KIT |
| LK4255 - KIT,1000 | 721-98-01920 - SEAL KIT |
| LK4257 - KIT, CAB | 721-98-01930 - SERVICE KIT |
| LK4258 - KIT, DEC | 721-98-01960 - SERVICE KIT |
| LK4275 - KIT,1000 | 721-98-01970 - SERVICE KIT |
| LK4276 - KIT, 500 | 721-98-01980 - SERVICE KIT |
| LK4279 - KIT,CAB | 721-98-01990 - SERVICE KIT |
| LK4281 - KIT, MOU | 721-98-02230 - SERVICE KIT |
| LK4282 - KIT, HEA | 721-98-02240 - SERVICE KIT |
| LK4283 - KIT,HEAD | 721-98-02510 - SERVICE KIT |
| LK4288 - KIT, 500 | 721-98-02520 - SERVICE KIT |
| LK4289 - KIT, 100 | 721-98-02540 - SERVICE KIT |
| LK4290 - KIT, 200 | 721-98-02660 - SERVICE KIT |
| LK4291 - KIT, HIN | 723-41-08101 - VALVE KIT |
| LK4292 - KIT,STEE | 723-41-08201 - VALVE KIT |
| LK4296 - KIT, FUE | 75397600 - SEAL KIT |
| LK4300 - KIT,TIRE | 75411 - KIT-MOTO |
| LK4301 - KIT,500 | 754472 - REPAIR KIT |
| LK4302 - KIT, 100 | 75449000 - REPAIR KIT |
| LK4303 - KIT, 200 | 75453600 - REPAIR KIT |
| LK4305 - KIT, HIN | 75458600 - SEAL KIT |
| LK4308 - KIT,COOL | 75610673 - SEAL KIT |
| LK4309 - KIT, FUE | 75657973 - REPAIR KIT |
| LK4310 - KIT, 500 | 75715173 - SEAL KIT |
| LK4311 - KIT, 100 | 75759973 - SEAL KIT |
| LK4312 - KIT, 200 | 76102173 - SEAL KIT |
| LK4313 - KIT,STEE | 76146773 - SEAL KIT |
| LK4314 - KIT, HIN | 76154073 - SEAL KIT |
| LK4316 - KIT,COOL | 76175673 - SEALING KIT |
| LK4317 - KIT, FUE | 76175773 - SEALING KIT |
| LK4318 - KIT, 500 | 76182873 - MOUNTING KIT |
| LK4319 - KIT, 100 | 76254373 - SEAL KIT |
| LK4320 - KIT, 200 | 76254573 - SEAL KIT |
| LK4321 - KIT,STEE | 76352873 - REPAIR KIT |
| LK4322 - KIT,HING | 76452573 - REPAIR KIT |
| LK4323 - KIT,WRK | 76478373 - MOUNTING KIT |
| LK4324 - KIT,COOL | 76637373 - SEAL KITP60 |
| LK4325 - KIT,FUEL | 76637473 - SEAL KITP60 |
| LK4333 - KIT,CYL | 76637873 - SEAL KITP60 |
| LK4334 - KIT,500 | 76672373 - SEAL KIT |
| LK4335 - KIT,1000 | 76679373 - SEAL KIT |
| LK4336 - KIT,2000 | 76683273 - MOUNTINGKIT |
| LK4337 - KIT,FUEL | 76700173 - SEAL KIT |
| LK4339 - KIT, HIN | 76736473 - SEAL KIT |
| LK4340 - KIT,STEE | 76739673 - SEAL KIT |
| LK4343 - KIT,COOL | 76741673 - SEAL KIT |
| LK4344 - KIT,FUEL | 76748273 - SEAL KIT |
| LK4345 - KIT, FUE | 76760473 - SEAL KIT |
| LK4347 - KIT, FUE | 76779573 - SEAL KIT |
| LK4348 - KIT,500 | 76794973 - MOUNTING KIT |
| LK4349 - KIT,1000 | 76812473 - SEAL KIT |
| LK4350 - KIT,2000 | 76814973 - MOUNTING KIT |
| LK4351 - KIT,COOL | 76822773 - SEAL KIT |
| LK4354 - KIT,HING | 76860173 - KIT SEAL |
| LK4355 - KIT,STEE | 76860573 - KIT SEAL |
| LK4358 - KIT, 500 | 76872073 - SEAL KIT |
| LK4359 - KIT,1000 | 76872373 - SEAL KIT |
| LK4360 - KIT,COOL | 76872473 - SEAL KIT |
| LK4361 - KIT,ARM | 76879273 - SEAL KIT |
| LK4363 - KIT, 500 | 76879573 - SEAL KIT |
| LK4364 - KIT,1/20 | 76880373 - SEAL KIT |
| LK4365 - KIT,500 | 76881973 - SEAL KIT |
| LK4366 - KIT,1000 | 76882673 - SEAL KIT |
| LK4368 - KIT,1000 | 76883573 - SEAL KIT |
| MC7622999500 - SEAL KIT | 76888373 - SEAL KIT |
| MFK0000463 - BOLT KIT | 76888473 - SEAL KIT |
| MFP0000181 - SEAL KIT | 76898673 - SEAL KIT |
| MFP0000182 - SEAL KIT | 76920873 - KIT SEAL |
| MFQ0000181 - SEAL KIT | 76951673 - SEAL KIT |
| MK101 - MAINTKIT | 76982473 - REPAIR KIT |
| MK11047 - KIT | 76993173 - SEAL KIT |
| MK11070 - KIT | 77018473 - SEAL KIT |
| MK11137 - KIT | 77031873 - SEAL KIT |
| MK11177 - KIT | 77032073 - SEAL KIT |
| MK11189 - KIT | 77034473 - SEAL KIT |
| MK11214 - KIT | 77034573 - SEAL KIT |
| MK11216 - KIT | 77034673 - SEAL KIT |
| MK11217 - KIT | 77037973 - SEAL KIT |
| MK11218 - KIT | 77055273 - SEAL KIT |
| MK11225 - KITS | 77055573 - SEAL KIT |
| MK11231 - KITS | 78060973 - SEAL KIT |
| MK11264 - KITS | 7809-62-0540 - KIT |
| MK11267 - KITS | 7823-62-9012 - PLATE KIT |
| MK11274 - KITS | 7826-31-2031 - KIT |
| MK11275 - KITS | 7826-31-2034 - KIT |
| MK11276 - KITS | 7826-31-2450 - KIT |
| MK11277 - KITS | 7826-31-2451 - KIT |
| MK11279 - KITS | 7826-31-2452 - KIT |
| MK11280 - KITS | 7826-31-2453 - KIT |
| MK11286 - KITS | 78942 - KIT-UNIV |
| MK11290 - KITS | 790-105-2600 - KIT |
| MK11292 - KITS | 790-402-1001 - SLING KIT |
| MK11293 - KITS | 79003573 - ROD KIT/SLOT |
| MK11295 - KITS | 79003873 - SEAL KIT |
| MK11296 - KITS | 79206273 - SEAL KIT |
| MK11297 - KITS | 79206373 - SEAL KIT |
| MK11298 - KITS | 79213073 - KIT, SEAL |
| MK11299 - KITS | 79214773 - Sealing kit |
| MK11300 - KITS | 79227373 - SEAL KIT SLE |
| MK11301 - KITS | 79228973 - REPAIR KIT |
| MK11309 - KITS | 79240073 - SEAL KIT |
| MK11325 - KITS | 79278673 - KIT, SEAL |
| MK11326 - KITS | 79296673 - KIT, REPAIR |
| MK11327 - KITS | 79296773 - KIT, REPAIR |
| MK11328 - KITS | 79309373 - REPAIR KIT |
| MK11329 - KITS | 79309473 - REPAIR KIT |
| MK11330 - KITS | 79311673 - REPAIR KIT |
| MK11332 - KITS | 79311873 - REPAIR KIT |
| MK11333 - KITS | 79312073 - REPAIR KIT |
| MK11337 - KITS | 79312273 - REPAIR KIT |
| MK11429 - KIT, MAI | 79312373 - REPAIR KIT |
| MK11475 - MAIN KIT | 79312473 - REPAIR KIT |
| MK11678 - MAIN KIT | 79312673 - REPAIR KIT |
| MK11784B - KIT | 79312873 - REPAIR KIT |
| MK11785 - KIT | 79313073 - REPAIR KIT |
| MK11785B - KIT MAIN | 79313273 - REPAIR KIT |
| MK11786B - KIT | 79313373 - REPAIR KIT |
| MK11794 - KIT | 79313473 - REPAIR KIT |
| MK12348 - MAIN KIT | 79316173 - SEAL KIT |
| MK12698 - MAIN KIT | 79316273 - SEAL KIT |
| MK13037 - KIT CAT | 79319173 - REPAIR KIT |
| MK13038 - KIT CUMM | 79363673 - SEAL KIT |
| MK13039 - KIT,CUMM | 79400073 - SEAL KIT |
| MK13040 - KIT,CUMM | 79405773 - SEAL KIT |
| MK13048 - MAIN KIT | 79405873 - SEAL KIT |
| MK1306600 - KIT,MAIN | 79406273 - SEAL KIT |
| MK13072 - KIT MAIN | 79422873 - KIT,MODIFICA |
| MK13073 - KIT MAIN | 79423373 - KIT,MODIFICA |
| MK13075 - KIT MAIN | 79423473 - KIT,MODIFICA |
| MK13076 - KIT MAIN | 79423673 - KIT,MODIFICA |
| MK13077 - KIT MAIN | 79477373 - MOUNTING KIT |
| MK13078 - KIT MAIN | 79478873 - SEAL KIT |
| MK1311800 - KIT,MAIN | 79478973 - SEAL KIT |
| MK1323 - MAIN KIT | 79479273 - SEAL KIT |
| 878050071 - KIT INST A/C | 79479373 - SEAL KIT |
| 878104074 - WIRING KIT | 79481173 - SEAL KIT |
| 878104075 - WIRING KIT | 79481273 - SEAL KIT |
| 878104076 - WIRING KIT | 79484773 - SEAL KIT |
| 880100052 - GASKET KIT | 79485373 - KIT,MODIFICA |
| 880100059 - KIT, GASKET | 79487073 - KIT,MODIFICA |
| 882309C91 - KIT | 79487273 - KIT,MODIFICA |
| 88320230NX - SEAL KIT | 79493873 - REPAIR KIT |
| 888011083 - A/C KIT | 79495673 - SEAL KIT |
| 888011113 - A/C KIT (E N | 79497073 - SEAL KIT |
| 888011116 - A/C KIT | 79497173 - SEAL KIT |
| 90631240 - SEAL KIT | 79497473 - SEAL KIT |
| 913774R91 - KIT | 79497573 - SEAL KIT |
| 92494140 - SEAL KIT | 79497773 - SEAL KIT |
| 92494240 - SEAL KIT | 79498073 - SEAL KIT |
| 92494340 - SEAL KIT | 795-790-4900 - ADAPTER KIT |
| 92494440 - SEAL KIT | 795-790-5200 - ADAPTER KIT |
| 92494640 - SEAL KIT | 79568073 - REPAIR KIT C |
| 93286040 - SEAL KIT | 79568173 - SEAL KIT |
| 94004740 - KIT, BUZZER | 79570973 - SEAL KIT |
| 94406640 - MOD KIT PC40 | 79600973 - SEAL KIT |
| 95387540 - SEAL KIT | 79628273 - SEAL KIT |
| 95525640 - MOD. KIT | 79630973 - REPAIR KIT |
| 95978940 - MODIFIC. KIT | 79635073 - SEAL KIT |
| 96371540 - KIT KOMTRAX_ | 79644773 - SEAL KIT |
| 97383373 - REPAIR KIT | 79645573 - SEAL KIT |
| 97705540 - SEAL KIT | 79655973 - SEAL KIT |
| 97708973 - SEAL KIT | 79661473 - TUBE-KIT |
| 97845540 - MODIFIC. KIT | 79661873 - TUBE-KIT |
| 97845640 - MODIFIC. KIT | 79661973 - TUBE-KIT |
| 97920340 - MOD. KIT DOO | 79672773 - TUBE-KIT |
| 97941640 - MOD KITP60 | 79673273 - TUBE-KIT |
| 97995940 - MOUNTING KIT | 79673373 - TUBE-KIT |
| 97996340 - MOD. KIT____ | 79673473 - TUBE-KIT |
| 98710840 - SEAL KIT | 79673773 - MOUNTING KIT |
| 98760840 - MODIFIC. KIT | 79677973 - SEAL KIT |
| 99428300 - SEAL KIT | 79705273 - SEAL KIT |
| 994376 - SEAL KIT | 79705373 - SEAL KIT |
| 994841 - SEAL KIT | 79705473 - SEAL KIT |
| 99757600 - SEAL KIT | 79716473 - SEAL KIT |
| 99757700 - SEAL KIT | 79716573 - SEAL KIT |
| 844200262 - KIT | 79732373 - SEAL KIT |
| 844200313 - LEVER KIT | 79732473 - SEAL KIT |
| 844200456 - TIE RODSKIT | 79732573 - SEAL KIT |
| 844200460 - TIE RODS KIT | 79732673 - SEAL KIT |
| 844200475 - KIT, TIE ROD | 79737673 - SEAL KIT PLA |
| 844200480 - KIT HOUSING | 79739073 - ELECTRIC KIT |
| 844200486 - PISTON KIT | 79739173 - UNION KIT |
| 844200608 - GASKET KIT | 79741073 - SEAL KIT |
| 844200628 - KIT, PISTON | 79743073 - SEAL KIT |
| 844200659 - KIT,RETAINER | 79743173 - SEAL KIT |
| 845010267 - KIT, GASKET | 79754173 - REPAIR KIT |
| 845010312 - GASKET KIT | 79754573 - TUBE-KIT |
| 845010408 - GASKET KIT | 79754673 - TUBE-KIT |
| 845081002 - GASKETS KIT | 79760873 - SEAL KIT |
| 845081004 - KIT, GASKET | 79764873 - SEAL KIT |
| 845081014 - KIT, GASKET | 79769573 - SEAL KIT |
| 845250050 - GASKET KIT | 79769673 - SEAL KIT |
| 845250505 - GASKET KIT | 79772273 - SEAL KIT |
| 845250516 - KIT, GASKET | 79777673 - SEAL KIT |
| 845250539 - GASKET KIT | 79780173 - SEAL KIT |
| 845250545 - GASKET KIT | 79781173 - SEAL KIT |
| 855660051 - KIT GASKET | 79781273 - SEAL KIT |
| 855660052 - KIT, GASKET | 79782273 - MOUNTING KIT |
| 855660085 - KIT GASKET | 79782373 - MOUNTING KIT |
| 855660092 - KIT,GASKET | 79782473 - MOUNTING KIT |
| 855660094 - GASKIT KIT | 79782573 - MOUNTING KIT |
| 855660102 - KIT GASKET | 79792873 - MOUNTING KIT |
| 855660105 - KIT,GASKET | 79793073 - MOUNTING KIT |
| 855661250 - GASKET KIT | 79793173 - MOUNTING KIT |
| 85784KF - KIT, SWING R | 79793973 - SEAL KIT |
| 878000016 - KIT GASKET | 79794173 - SEAL KIT |
| 878000017 - KIT GASKET | 79794473 - SEAL KIT |
| 878000020 - KIT GASKET | 79794573 - SEAL KIT |
| 878000204 - GASKET - KIT | 79794673 - SEAL KIT |
| 878000205 - KIT - GASKET | 79794773 - SEAL KIT |
| 878000209 - GASKETS KIT | 79794873 - SEAL KIT |
| 878000341 - KIT,GASKET | 79794973 - SEAL KIT |
| 878000366 - KIT, GASKET | 79795073 - SEAL KIT |
| 878000367 - KIT, GASKET | 79796073 - SEAL KIT |
| 878000415 - KIT, GASKET | 79796173 - SEAL KIT |
| 878000417 - KIT, GASKET | 79806673 - SEALKIT |
| 878000424 - KIT, GASKET | 79819173 - SEAL KIT |
| 878000456 - KIT,GASKET | 79820573 - CARDAN KIT |
| 878000538 - KIT - GASKET | 79822673 - SEAL KIT |
| 878000539 - KIT, GASKET | 79822773 - SEAL KIT |
| 878000540 - KIT, GASKET | 79822873 - SEAL KIT |
| 878000617 - GASKET KIT | 79822973 - SEAL KIT |
| 878040235 - KIT | 79823073 - SEAL KIT |
| 878040236 - KIT CASE CON | 79823173 - SEAL KIT |
| 878040237 - KIT TOOL BOX | 79823273 - SEAL KIT |
| 878040240 - HOT AREA KIT | 79823373 - SEAL KIT |
| 878040268 - KIT 4WD SELE | 79825173 - SEAL KIT |
| 878040277 - KIT-A/C FIEL | 79827273 - SEAL KIT |
| 878040278 - KIT-A/C FIEL | 79828073 - SEAL KIT |
| 878040343 - GUARD KIT,BU | 79848873 - SEAL KIT |
| 878040344 - LIGHT KIT-CA | 79848973 - SEAL KIT |
| 878040517 - CAB KIT-WITH | 79862773 - SEAL KIT |
| 79988873 - SEAL KIT | 79862873 - SEAL KIT |
| 79988973 - SEAL KIT | 79863173 - SEAL KIT |
| 79989073 - SEAL KIT | 79863273 - SEAL KIT |
| 79989273 - SEAL KIT | 79863373 - SEAL KIT |
| 79989373 - SEAL KIT | 79863473 - SEAL KIT |
| 79989473 - SEAL KIT | 79863573 - SEAL KIT |
| 8100968H91 - FIELDKITFC#T | 79863673 - SEAL KIT |
| 81487KF - KIT, HOSE - | 79863773 - SEAL KIT |
| 816101143 - KIT, DRIVING | 79863873 - SEAL KIT |
| 816202006 - DECAL KIT | 79863973 - SEAL KIT |
| 816206009 - STICKER-KIT | 79864073 - SEAL KIT |
| 816213369 - KIT, RETAINE | 79864273 - SEAL KIT |
| 816214558 - PANEL KIT | 79864573 - PUMP KIT P |
| 816214568 - DECAL KIT - | 79868273 - SEAL KIT |
| 82235 - KITVVAL | 79868373 - SEAL KIT |
| 827010279 - KIT, GASKET | 79870173 - ROD KIT/SLOT |
| 835331372 - REPAIR KIT | 79873973 - SEAL KIT |
| 836662094 - KIT | 79874173 - SEAL KIT |
| 836740333 - GASKET KIT-E | 79875073 - SEAL KIT |
| 836840986 - REPAIR KIT | 79875173 - SEAL KIT |
| 836862443 - KIT, GASKET | 79882573 - SEAL KIT |
| 836866605 - PIPE KIT | 79883273 - SEAL KIT |
| 842310120 - GASKET KIT | 79883373 - SEAL KIT |
| 842360017 - KIT, GASKET | 79883473 - SEAL KIT |
| 842360020 - KIT, MOTOR | 79889873 - SEAL KIT |
| 842360051 - KIT, VALVE | 799-201-1904 - KIT |
| 843200493 - KIT GASKET | 799-201-1905 - KIT |
| 843200604 - BEARING KIT | 799-551-1000 - TOOL KIT |
| 843200605 - GASKET KIT | 799-601-4100 - ADAPTER KIT |
| 843200610 - KIT, CYL HEA | 799-601-7400 - ADAPTER KIT |
| 843200612 - PLUNGER KIT | 799-601-9600 - REPAIR KIT |
| 843200613 - KIT, ORIFICE | 799-609-2100 - KIT |
| 843200615 - KIT, PLUG | 799-609-2200 - KIT |
| 843200616 - KIT CYLINDER | 799-609-2400 - KIT |
| 843200620 - KIT, BEARING | 799-609-2500 - KIT |
| 843200621 - KIT, GASKET | 799-609-2600 - KIT |
| 843200645 - KIT, CYL. BL | 799-703-1200 - TOOL KIT |
| 843200647 - KIT, BEARING | 799-704-1820 - KIT, CENTERI |
| 843200657 - KIT, RELIEF | 79934473 - SEAL KIT |
| 843200668 - KIT, RELIEF | 79935373 - SEAL KIT |
| 843200686 - KIT, CYL. BL | 79941373 - SEAL KIT |
| 843200688 - KIT, BRAKE | 79943073 - KIT ADD. A/C |
| 843200691 - KIT, GASKET | 79948873 - SEAL KIT |
| 843400002 - GEAR KIT | 79949973 - SEAL KIT |
| 844020115 - KIT, SPRING | 79961473 - SEAL KIT |
| 844160132 - KIT, GASKET | 79973073 - KIT ADD A/C |
| 844160135 - KIT, GASKET | 79975673 - SEAL KIT |
| 844160138 - KIT, GASKET | 79988273 - SEAL KIT |
| 844160170 - KIT,SPOOL GA | 79988773 - SEAL KIT |
| 844160183 - KIT,GSK.PLUG | |