Komatsu Swing Motors
Rotation of the working equipment of equipment to the place of unloading the bucket and a reverse rotation to the place of dripping are carried out by turning the turntable or the whole platform (for full-cycle Komatsu excavators). The rotation takes approximately 60-70% of the working cycle time and significantly affects its overall duration.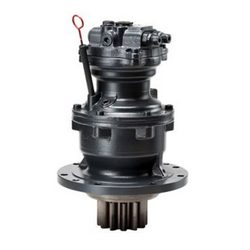 The hydrostatic Komatsu Swing Motor just performs the function of turning in the horizontal plane of the working equipment relative to the running gear of the Komatsu equipment.
The Swing Komatsu Motor consists of a sturdy steel casing, in which several pairs of Novikov gearing gears are compactly arranged, allowing the transfer of loads significantly exceeding the permissible values ​​for involuntary engagement. On the low-speed shaft, on the splines, the output gear is attached, which is included in the open gearing with a gear ring of the turntable of the Komatsu Heavy Equipment.
A large cogwheel is mounted on the fixed part of the Komatsu platform. The Komatsu rotation reducer is installed in such a way that the teeth of the output shaft of the Komatsu rotary reducer engage the cogwheel of the Komatsu equipment. When the Komatsu swing motor shaft rotates, the equipment is rotated relative to the frame.
If you are interested in the original Komatsu Swing Motor or the aftermarket (replacement) or rebuilt Komatsu Swing Motor, you can order this unit online.
| | | | | | |
| --- | --- | --- | --- | --- | --- |
| Mini Komatsu Excavators | | | | | |
| Model | Serial No. | Slew Drive Assembly | Slew Motor | Swing Gear Box | |
| PC05-7 | F20001 ~ | 843000128 | 842090009 | | |
| PC05-7 | F20001 ~ | 843000146 | 842090009 | | |
| PC05-7 | F20001 ~ | 843000146 | 842090010 | | |
| PC07-2 | F10001 ~ | 843000128 | 842090009 | | |
| PC07-2 | F10001 ~ | 843000146 | 842090009 | | |
| PC07-2 | F10001 ~ | 843000146 | 842090010 | | |
| PC10-7 | F25001 ~ | 843000153 | 842090010 | | |
| PC12R-8 | F30001 ~ | 842140002 | | | |
| PC14R-2 | F00003 ~ | 20W-60-91301 | | | |
| PC14R-3 HS | F50003 ~ | 20W-60-91301 | | | |
| PC14R-3 | F40003 ~ | 20W-60-91301 | | | |
| PC15R-8 | F20001 ~ | 842140002 | | | |
| PC16R-2 | F00003 ~ | 21W-60-91301 | | | |
| PC16R-3 HS | F70003 ~ | 21W-60-91301 | | | |
| PC16R-3 | F60003 ~ | 21W-60-91301 | | | |
| PC18MR-3 | F30001 ~ | 22J-60-35900 | | | |
| PC20-7 | F20001 -F20051 | 843000141 | 842010083 | 843200495 | |
| PC20-7 | F20052 - F20508 | 843000154 | 842010087 | 843200495 | |
| PC20-7 | F20509 ~ | 843000176 | 842010103 | 843200495 | |
| PC20MR-2 | F00003 ~ | 22K-60-21202 | FUPM1B24BFS284 | FUGCG0518436 | |
| PC20R-8 | F30001 ~ | 842140003 | | | |
| PC22MR-3 | F30001 ~ | 22K-60-21202 | FUPM1B24BFS284 | FUGCG0518436 | |
| PC26MR-3 | F00003 ~ | 22K-60-21202 | FUPM1B24BFS284 | FUGCG0518436 | |
| PC27MR-2 | F00103 ~ | 22L-26-27001 | 708-7R-00380 | | |
| PC27R-8 | F30001 ~ | 843000185 | 843200638 | | |
| PC30-7 | F18001 - F18471 | 843000162 | 842010085 | | |
| PC30-7 | F18472 | 843000177 | 843010104 | | |
| PC30MR-2 | F00103 ~ | 22L-26-21001 | 708-7R-00360 | | |
| PC30MR-3 Japan | 30001 ~ | 22L-26-21002 | 708-7R-00360 | | |
| PC35MR-2 | F00103 ~ | 22L-26-21001 | 708-7R-00360 | | |
| PC35MR-3 Japan | 15001 ~ | 22L-26-21002 | 708-7R-00360 | | |
| PC35R-8 | F20001 ~ | 843000186 | 843200654 | | |
| PC45-1 | F1001 - F1638 | 843000158 | 842010085 | | |
| PC45-1 | F1639 ~ | 843000178 | 842010104 | | |
| PC45MR-3 | F30003 ~ | 22M-26-31000 | 708-7R-00420 | | |
| PC45R-8 | F20001 ~ | 843000188 | 843200665 | | |
| PC50MR-2 | F00103 | 22M-26-21003 | 708-7R-00420 | | |
| PC55MR-3 | F30003 ~ | 22M-26-31000 | 708-7R-00420 | | |
| PC75-1 | 5000001 ~ | 201-26-00080 | 708-7T-00381 | | |
| PC75R-2 | 22E5200001 ~ | 201-26-00080 | 708-7T-00381 | | |
| PC75R-2 / -2HD | 22E5210001 ~ | | 708-7S-00210 | 22E-60-16100 | |
| PC75R-2 USA | 22E5200001 ~ | 201-26-00080 | 708-7T-00381 | | |
| PC75R-2 USA | 22E5210001 ~ | | 708-7S-00210 | 22E-60-16100 | |
| PC80MR-3 | F00003 - F00228/233-234/236-238/243-244 | | 708-7S-00260 | 21W-26-R8000 | |
| PC80MR-3 | F00229 - F00232/235/239-242/245 ~ | 21W-26-51011 | 708-7S-00280 | | |
| PC88MR-6 | F30003 ~ | | 708-7S-00260 | 21W-26-R8000 | |
| PC88MR-8 | F80003 ~ | 22P-26-11000 | 708-7S-00270 | | |
| PC95-1 | 5005145 ~ | 21D-60-16000 | 21D-60-16200 | | |
| PC95-1 USA | 5006335 ~ | 21D-60-16000 | 21D-60-16200 | | |
| PC95R-2 | 21D5200001 - 21D5200215 | 21D-60-16010 | 226-60-16530 | | |
| PC95R-2 | 21D5200216 - 21D5200329 | 21D-60-16020 | 21D-60-16030 | | |
| PC95R-2 | 21D5200330 - 21D5209999 | 21D-60-16021 | 21D-60-16030 | | |
| PC95R-2 | 21D5210001 ~ | | 708-7S-00220 | 21D-60-16500 | |
| PC95R-2 USA | 21D5200001 - 21D5200215 | 21D-60-16010 | 226-60-16530 | | |
| PC95R-2 USA | 21D5200216 - 21D5200329 | 21D-60-16020 | 21D-60-16030 | | |
| PC95R-2 USA | 21D5200330 - 21D5209999 | 21D-60-16021 | 21D-60-16030 | | |
| PC95R-2 USA | 21D5210001 ~ | | 708-7S-00220 | 21D-60-16500 | |
| PC110R-1 | 2265000001 - 2665009999 | 226-60-16100 | 226-60-16530 | | |
| PC110R-1 | 2665010001 ~ | | 708-7S-00230 | 226-60-16600 | |
| | | | | | |
| Midi Komatsu Excavators | | | | | |
| Model | Serial No. | Slew Drive Assembly | Slew Motor | Swing Gear Box | |
| PC120-5K | K20001 ~ | | 706-73-01071 | 203-26-00112 | |
| PC130-5K | K20655 ~ | | 706-73-01071 | 203-26-00112 | |
| PC130-6K | K30001 ~ | | 706-73-01180 | 203-26-00121 | |
| PC130-7K | 70001 ~ | | 706-73-01181 | 203-26-00123 | |
| PC130-8 | 80001 ~ | 203-26-81000 | 706-7C-01020 | | |
| PC130-8 | C30001 ~ | 203-26-81000 | 706-7C-01020 | | |
| PC138US-8 Offset Boom | 21560 ~ | 22B-26-29000 | 706-7C-01030 | | |
| PC138US-8 | 20001 ~ | | 706-7C-01010 | 22B-26-21101 | |
| PC150HD-5K | K20001 ~ | | 706-73-01071 | 203-26-00112 | |
| PC150NHD-5K | K20001 ~ | | 706-73-01071 | 203-26-00112 | |
| PC150-6K | K30001 - K31999 | | 21P-60-K1181 | 21P-26-K1112 | |
| PC150-6K | K32001 - K32081 | | 21P-60-K1182 | 21P-26-K1113 | |
| PC150-6K | K32082 - K34057 | | 21P-60-K1183 | 21P-26-K1113 | |
| PC150-6K | K34058 ~ | | 21P-60-K5190 | 21P-26-K1113 | |
| PC150LC-6K | K30001 - K31999 | | 21P-60-K1181 | 21P-26-K1112 | |
| PC150LC-6K | K32001 - K32081 | | 21P-60-K1182 | 21P-26-K1113 | |
| PC150LC-6K | K32082 - K34057 | | 21P-60-K1183 | 21P-26-K1113 | |
| PC150LC-6K | K34058 ~ | | 21P-60-K5190 | 21P-26-K1113 | |
| PC150LGP-6K | K35001 ~ | | 706-73-01181 | 203-26-00121 | |
| PC160-6K | K30001 - K31999 | | 21P-60-K1181 | 21P-26-K1112 | |
| PC160-6K | K32001 ~ | | | 20G-26-K1111 | |
| PC160LC-7-E0 | K45001 ~ | 21K-26-71100 | KBB0440-85015 | KBB0840-35001 | |
| PC160LC-7 | K40001 ~ | 21K-26-71100 | KBB0440-85015 | KBB0840-35001 | |
| PC160LC-7-KA | K40001 ~ | 21K-26-71100 | KBB0440-85015 | KBB0840-35001 | |
| PC160LC-8 | K50001 ~ | 21K-26-71100 | KBB0440-85015 | KBB0840-35001 | |
| PC180LC-5K | K20001 ~ | | 706-75-01070 | 21K-26-00030 | |
| PC180LC-6K | K30001 - K31999 | | 21P-60-K1181 | 21P-26-K1112 | |
| PC180LC-6K | K32001 - K32034 | | 21P-60-K1182 | 20G-26-K1111 | |
| PC180LC-6K | K32035 ~ | | 21P-60-K1183 | 20G-26-K1111 | |
| PC180LC-7-E0 | K45001 ~ | 21K-26-71100 | KBB0440-85015 | KBB0840-35001 | |
| PC180LC-7 | K40001 ~ | 21K-26-71100 | KBB0440-85015 | KBB0840-35001 | |
| PC180LLC-5K | K20001 ~ | | 706-75-01070 | 21K-26-00030 | |
| PC180NLC-5K | K20001 ~ | | 706-75-01070 | 21K-26-00030 | |
| PC180NLC-6K | K30001 - K31999 | | 21P-60-K1181 | 21P-26-K1112 | |
| PC180NLC-6K | K32001 - K32034 | | 21P-60-K1182 | 20G-26-K1111 | |
| PC180NLC-6K | K32035 ~ | | 21P-60-K1183 | 20G-26-K1111 | |
| PC180NLC-7-E0 | K45001 ~ | 21K-26-71100 | KBB0440-85015 | KBB0840-35001 | |
| PC180NLC-7K | K40001 ~ | 21K-26-71100 | KBB0440-85015 | KBB0840-35001 | |
| PC190LC-8 | K50001 ~ | 21K-26-71100 | KBB0440-85015 | KBB0840-35001 | |
| PC190NLC-8 | K50001 ~ | 21K-26-71100 | KBB0440-85015 | KBB0840-35001 | |
| PC200EL-6K | K30001 - K32063 | | 21P-60-K1181 | 21P-26-K1112 | |
| PC200EL-6K | K32064 ~ | | 21P-60-K1183 | 21P-26-K1112 | |
| PC200EN-6K | K30001 - K32021 | | 21P-60-K1181 | 21P-26-K1112 | |
| PC200EN-6K | K32022 - K32063 | | 21P-60-K1182 | 21P-26-K1112 | |
| PC200EN-6K | K32064 - K32135 | | 21P-60-K1183 | 21P-26-K1112 | |
| PC200EN-6K | K32136 ~ | | 21P-60-K1183 | 20G-26-K1111 | |
| PC210-5K | K20001 ~ | | 706-75-01081 | 20Y-26-00010 | |
| PC210LC-5K | K20001 ~ | | 706-75-01081 | 20Y-26-00010 | |
| PC210-6K | K30001 - K32448 | | 706-75-01101 | 20Y-26-K1100 | |
| PC210-6K | K32449 ~ | | 706-75-01170 | | |
| PC210-7K | K40001 ~ | | 706-7G-01040 | 20Y-26-00220 | |
| PC210NLC-7 | K40001 ~ | | 706-7G-01040 | 20Y-26-00220 | |
| PC210-8K | K50001 - K50010 | | 706-7G-01130 | No Assembly No | |
| PC210-8K | K50011 - K51120 | | 706-7G-01041 | No Assembly No | |
| PC210-8K | K51121 ~ | | 706-7G-01170 | No Assembly No | |
| PC210LC-8K | K50001 - K50010 | | 706-7G-01130 | No Assembly No | |
| PC210LC-8K | K50011 - K51120 | | 706-7G-01041 | No Assembly No | |
| PC210LC-8K | K51121 ~ | | 706-7G-01170 | No Assembly No | |
| PC210NLC-8 | K50001 - K50010 | | 706-7G-01130 | No Assembly No | |
| PC210NLC-8 | K50011 - K51120 | | 706-7G-01041 | No Assembly No | |
| PC210NLC-8 | K51121 ~ | | 706-7G-01170 | No Assembly No | |
| | | | | | |
| Model | Serial No. | Slew Drive Assembly | Slew Motor | Swing Gear Box | |
| PC228US-3E0 | K40001 ~ | | 706-7G-01011 | 22U-26-00110 | |
| PC228USLC-3E0 | K40001 ~ | | | | |
| PC228USLC-8 | K50001 ~ | | 706-7G-01180 | 22U-26-00110 | |
| PC230NHD-7K | K40001 ~ | | 706-7G-01040 | 20Y-26-00220 | |
| PC230NHD-8K | K50001 | | 706-7G-01130 | No Assembly No | |
| PC230NHD-8K | K50002 - K50115 | | 706-7G-01041 | No Assembly No | |
| PC230NHD-8K | K50116 ~ | | 706-7G-01170 | No Assembly No | |
| PC240-3K | K10001 K10287 | | 706-75-11302 | 205-26-00042 | |
| PC240-3K | K10288 ~ | | 706-75-11303 | 205-26-00042 | |
| PC240LC-3K | K10001 K10287 | | 706-75-11302 | 205-26-00042 | |
| PC240LC-3K | K10288 ~ | | 706-75-11303 | 205-26-00042 | |
| PC240-5K | K20001 ~ | | 706-75-01081 | 20Y-26-00010 | |
| PC240LC-5K | K20001 ~ | | 706-75-01081 | 20Y-26-00010 | |
| PC240NLC-5K | K20001 ~ | | 706-75-01081 | 20Y-26-00010 | |
| PC240-6K | K30001 - K32307 | | 706-75-01101 | 20Y-26-K1100 | |
| PC240-6K | K32308 ~ | | 706-75-01170 | 20Y-26-00151 | |
| PC240LC-6K | K30001 - K32307 | | 706-75-01101 | 20Y-26-K1100 | |
| PC240LC-6K | K32308 ~ | | 706-75-01170 | 20Y-26-00151 | |
| PC240LC-7K | K40001 ~ | | 706-7G-01040 | 206-26-00400 | |
| PC240-8K | K10001 ~ | | 706-7G-01130 | No Assembly No | |
| PC240LC-8K | K50001 - K58283 | | 706-7G-01130 | No Assembly No | |
| PC240LC-8K | K58284 ~ | | 706-7G-01170 | No Assembly No | |
| PC240NLC-6K | K30001 - K32307 | | 706-75-01101 | 20Y-26-K1100 | |
| PC240NLC-6K | K32308 ~ | | 706-75-01170 | 20Y-26-00151 | |
| PC240NLC-7K | K4001 - K40284 | | 706-7G-01040 | No Assembly No | |
| PC240NLC-7K | K40285 ~ | | 706-7G-01040 | No Assembly No | |
| PC240NLC-8K | K50001 - K58283 | | 706-7G-01130 | No Assembly No | |
| PC240NLC-8K | K58284 ~ | | 706-7G-01170 | No Assembly No | |
| PC290LC-6K | K30001 ~ | | 706-75-01230 | | |
| PC290NLC-6K | K30001 ~ | | 706-75-01230 | No Assembly No | |
| PC290LC-7K | K40001 ~ | | 706-7G-01040 | 206-26-00500 | |
| PC290NLC-7K | K40001 ~ | | | | |
| PC290-8K | K20001 ~ | | 706-7G-01130 | No Assembly No | |
| PC290LC-8 | K50001 | | 706-7G-01130 | No Assembly No | |
| PC290LC-8 | K50002 - K50108 | | 706-7G-01041 | No Assembly No | |
| PC290LC-8 | K500109 ~ | | 706-7G-01170 | No Assembly No | |
| PC290NLC-8K | K50001 | | 706-7G-01130 | No Assembly No | |
| PC290NLC-8K | K50002 - K50108 | | 706-7G-01041 | No Assembly No | |
| PC290NLC-8K | K500109 ~ | | 706-7G-01170 | No Assembly No | |
| | | | | | |
| Large Komatsu Excavators | | | | | |
| Model | Serial No. | Slew Drive Assembly | Slew Motor | Swing Gear Box | |
| PC300-5K | K20001 ~ | | 706-77-01150 | 207-26-00100 | |
| PC300HD-5K | K20001 ~ | 207-60-X1120 | 706-77-01150 | 207-26-00100 | |
| PC300LC-5K | K20001 ~ | | 706-77-01150 | 207-26-00100 | |
| PC300NLC-5K | K20001 ~ | | 706-77-01150 | 207-26-00100 | |
| PC340-6K | K30001 - K30108 | | 706-77-01170 | 207-26-00150 | |
| PC340-6K | K30109 - K31999 | | 706-77-01170 | 207-26-00151 | |
| PC340-6K | K32000 ~ | | 706-77-01170 | 207-26-00160 | |
| PC340LC-6K | K30001 - K30108 | | 706-77-01170 | 207-26-00150 | |
| PC340LC-6K | K30109 - K31999 | | 706-77-01170 | 207-26-00151 | |
| PC340LC-6K | K32000 ~ | | 706-77-01170 | 207-26-00160 | |
| PC340LC-6K-J | K10001 ~ | | 706-77-01271 | 207-26-00160 | |
| PC340NLC-6 | K10001 ~ | | 706-77-01271 | 207-26-00160 | |
| PC340NLC-6K | K30001 - K30108 | | 706-77-01170 | 207-26-00150 | |
| PC340NLC-6K | K30109 - K31999 | | 706-77-01170 | 207-26-00151 | |
| PC340NLC-6K | K32001 ~ | | 706-77-01170 | 207-26-00160 | |
| PC340LC-7K | K40001 - K40722 | | 706-7K-01011 | 207-26-00200 | |
| PC340LC-7K | K40723 ~ | | 706-7K-01040 | 207-26-00200 | |
| PC340LC-7K-E0 | K45001 ~ | | 706-7K-01040 | No Assembly No | |
| PC340NLC-7K | K40001 - K40722 | | 706-7K-01011 | 207-26-00200 | |
| PC340NLC-7K | K40723 ~ | | 706-7K-01040 | 207-26-00200 | |
| PC340NLC-7K-E0 | K45001 ~ | | 706-7K-01040 | No Assembly No | |
| PC350LC-8 | K50001 ~ | | 706-7K-01040 | No Assembly No | |
| PC350NLC-8 | K50001 ~ | | 706-7K-01040 | No Assembly No | |
| PC380LC-6K | K30001 - K31999 | | 706-77-01170 | 207-26-00150 | |
| PC380LC-6K | K32001 ~ | | 706-77-01170 | | |
| PC380LC-6K-J | K10001 ~ | | 706-77-K01271 | 207-26-00160 | |
| PC380LC-7K | K40001 ~ | | 706-7K-01011 | 207-26-00200 | |
| PC400HD-5K | K20001 ~ | | 706-77-01162 | 208-26-00100 | |
| PC450-6K | K30001 - K31999 | | 706-77-01180 | 208-26-00150 | |
| PC450-6K | K32001 ~ | | 706-77-01370 | 208-26-00170 | |
| PC450LC-6K-J | K10001 - K11999 | | 706-77-01180 | No Assembly No | |
| PC450LC-6K-J | K12001 - K12214 | | 706-77-01301 | No Assembly No | |
| PC450LC-6K-J | K12215 ~ | | 706-77-01370 | No Assembly No | |
| PC450LC-6K-KE | K32160 ~ | | 706-77-01300 | 208-26-00153 | |
| PC450-7K | K40001 ~ | | 706-7K-01040 | 208-26-00210 | |
| PC450-7K-E0 | K45001 ~ | | 706-7K-01040 | No Assembly No | |
| PC450-8K | K50001 ~ | | 706-7K-01040 | No Assembly No | |
| PC450LCHD-8K | K50001 ~ | | 706-7K-01040 | No Assembly No | |
| PC600-6K | K30001 ~ | 2 x | 706-75-01251 | 21M-26-00011 | |
| PC600LC-6K | K30001 ~ | 2 x | 706-75-01251 | 21M-26-00011 | |
| PC600-6K-J | K10025 - K10131 | 2 x | 706-75-01251 | 21M-26-00010 | |
| PC600-6K-J | K10132 ~ | 2 x | 706-75-01251 | 21M-26-00011 | |
| PC600LC-6K-J | K10025 - K10131 | 2 x | 706-75-01251 | 21M-26-00010 | |
| PC600LC-6K-J | K10132 ~ | 2 x | 706-75-01251 | 21M-26-00011 | |
| PC600-6A-KJ | K10025 - K10131 | 2 x | 706-75-01251 | 21M-26-00010 | |
| PC600-6A-KJ | K10132 ~ | 2 x | 706-75-01251 | 21M-26-00011 | |
| PC600LC-6A-KJ | K10025 - K10131 | 2 x | 706-75-01251 | 21M-26-00010 | |
| PC600LC-6A-KJ | K10132 ~ | 2 x | 706-75-01251 | 21M-26-00011 | |
| PC600-7K | K40001 ~ | 2 x | 706-75-01251 | No Assembly No | |
| PC600LC-7K | K40001 ~ | 2 x | 706-75-01251 | No Assembly No | |
| PC600-8K | K50001 ~ | 2 x | 706-75-01460 | 21M-26-00030 | |
| PC600LC-8K | K50001 ~ | 2 x | 706-75-01460 | 21M-26-00030 | |
| PC750LC-6K-01 | K30001 - K31999 | | 706-77-01260 | No Assembly No | |
| PC750LC-6K-01 | K32000 ~ | | 706-7G-01030 | No Assembly No | |
| PC750SE-6K | K30001 - K31999 | | 706-77-01250 | No Assembly No | |
| PC750SE-6K-01 | K30001 - K31999 | | 706-77-01250 | No Assembly No | |
| PC750SE-6K-01 | K32000 ~ | | 706-7G-01030 | No Assembly No | |
| PC750SE-6K-01-J | K10001 - K10119 | | 706-77-01250 | 209-26-00030 | |
| PC750SE-6K-01-J | K10120 - K10224 | | 706-77-01250 | 209-26-00031 | |
| PC750SE-6K-01-J | K10225 - K10999 | | 706-77-01251 | 209-26-00031 | |
| PC750SE-6K-01-LS | K32001 ~ | | 706-7G-01030 | No Assembly No | |
| PC750LC-7K | K40001 ~ | | 706-7G-01030 | 209-26-00040 | |
| PC750SE-7K | K40001 ~ | | 706-7G-01030 | 209-26-00040 | |
| PC800-8K | K50001 ~ | | 706-7G-01030 | 209-26-00040 | |
| PC800LC-8K | K50001 ~ | | 706-7G-01030 | 209-26-00040 | |
| | | | | | |
| Model | Serial No. | Slew Drive Assembly | Slew Motor | Swing Gear Box | |
| PW75-1 | 0000001 ~ | 201-26-00080 | 708-7T-00381 | | |
| PW75R-2 | 22E0200001 - 22E0209999 | 201-26-00080 | 708-7T-00381 | | |
| PW75R-2 | 22E0210001 ~ | | 708-7S-00210 | 22E-60-16100 | |
| PW95-1 | 005747 ~ | 21D-60-16000 | 21D-60-16200 | | |
| PW95R-2 | 21D0200001 - 21D0200191 | 21D-60-16010 | 226-60-16530 | | |
| PW95R-2 | 21D0200192 - 21D0200279 | 21D-60-16020 | 21D-60-16030 | | |
| PW95R-2 | 21D0200280 - 21D0209999 | 21D-60-16030 | 226-60-16101 | | |
| PW95R-2 | 21D0210001 ~ | | 708-7S-00220 | 21D-60-16500 | |
| PW98MR-6 | F00003 - F00608 | | 708-7S-00260 | 21W-26-R8000 | |
| PW98MR-6 | F00609 ~ | 21W-26-51011 | 708-7S-00280 | | |
| PW110R-1 | 2260000001 - 2260000281 | 226-60-16100 | 226-60-16530 | | |
| PW110R-1 | 2660000282 - 2660009999 | 226-60-16101 | 226-60-16530 | | |
| PW110R-1 | 2660010001 ~ | | 708-7S-00230 | 226-60-16600 | |
| PW130-6K | K30001 - K30197 | | 706-73-01121 | 203-26-00120 | |
| PW130-6K | K30198 ~ | | 706-73-01121 | 203-26-00121 | |
| PW130ES-6K | K30545 ~ | | 706-73-01162 | 203-26-00121 | |
| PW130-7K | 40001 ~ | | 706-73-01162 | 203-26-00121 | |
| PW140-7H | H55051 ~ | | 706-73-01181 | 203-26-00140 | |
| PW140-8 | H50051 ~ | | 706-73-01181 | 203-26-00140 | |
| PW150ES-6K | K30001 - K30134 | | 32P-60-K1181 | 20G-26-K1110 | |
| PW150ES-6K | K10135 ~ | | 32P-60-K1183 | 20G-26-K1110 | |
| PW160-7H | H55051 ~ | 20G-26-31100 | 20G-26-31670 | | |
| PW160-7K | K40001 ~ | 20G-26-31100 | 20G-26-31670 | | |
| PW170-5K | K20001 ~ | | 706-75-01070 | 21K-26-00030 | |
| PW170ES-6K | K30001 - K30416 | | 21P-60-K1181 | 20G-26-K1110 | |
| PW170ES-6K | K30417 - K31999 | | 21P-60-K1182 | 20G-26-K1110 | |
| PW170ES-6K | K32001 - K32008 | | 21P-60-K1183 | 20G-26-K1110 | |
| PW170ES-6K | K32009 ~ | | 21P-60-K1183 | 20G-26-K1111 | |
| PW170ES-6K KA | K30001 - K30416 | | 21P-60-K1181 | 20G-26-K1110 | |
| PW170ES-6K KA | K30417 - K31999 | | 21P-60-K1182 | 20G-26-K1110 | |
| PW170ES-6K KA | K32001 - K32008 | | 21P-60-K1183 | 20G-26-K1110 | |
| PW170ES-6K KA | K32009 ~ | | 21P-60-K1183 | 20G-26-K1111 | |
| PW180-7H | H55051 ~ | 20J-26-32100 | 20J-26-32390 | | |
| PW200-7K | K40001 - K40101 | | 706-7G-01040 | 20Y-26-00220 | |
| PW200-7 | H50051 ~ | | 706-7G-01040 | 20K-26-31152 | |
| PW200-7-E0 | H55051 ~ | | 706-7G-01040 | 20K-26-31152 | |
| PW200-7K | K40102 ~ | | 706-7G-01040 | 20Y-26-00220 | |
| PW220-7 | H50051 ~ | | 706-7G-01040 | 20K-26-31152 | |
| PW220-7-E0 | H65051 ~ | | 706-7G-01040 | 20K-26-31152 | |
| PW220-7K | K40001 ~ | | 706-7G-01040 | 20Y-26-00220 | |
| PW220-7K-KA | K40001 ~ | | 706-7G-01040 | 20Y-26-00220 | |
| PW220MH-7K | K40049 ~ | | | | |
| | | | | | |
| | | | | | |
| Mini Excavators | | | | | |
| Model | | Serial No. | Slew Drive Assembly | Slew Motor | Swing Gear Box |
| PC02-2 | For USA | 15001 ~ | 20A-60-13100 | | |
| PC05-5 | | 25 013 100 | | 20M-60-17000 | |
| PC05-5 | | 3100 ~ | | 20M-60-26000 | |
| PC05-6 | | 5001 ~ | 20M-60-63000 | | |
| PC05-7 | | 800 110 616 | 20M-60-63001 | | |
| PC05-7 | | 10617 ~ | 20M-60-73001 | | |
| PC09-1 | KUC Spec | 10001 ~ | 20A-60-13100 | | |
| PC09-1 | KUD Spec | 10001 ~ | 20A-60-13100 | | |
| PC10-6 | | 20001 ~ | 20N-60-43500 | | |
| PC10-7 | | 2 500 126 084 | 20N-60-46500 | | |
| PC10-7 | | 2 608 527 776 | 20N-60-46501 | | |
| PC10-7 | | 27777 ~ | 20N-60-71505 | | |
| PC12R-8 | | 10001 ~ | 20M-60-83001 | | |
| PC12UU-2 | | 30 014 999 | 20C-60-26100 | | |
| PC12UU-2 | | 50 005 552 | 20C-60-26501 | | |
| PC12UU-2 | | 5553 ~ | 20C-60-26800 | | |
| PC15-1 | | 1001 ~ | 20P-60-17100 | | |
| PC15MRX-1 | | 10001 ~ | 22J-60-18100 | | |
| PC15R-8 | | 10001 ~ | 20M-60-83001 | | |
| PC18MR-2 | | 15001 ~ | 22J-60-25900 | STAZ8167B | |
| PC18MR-3 | | 20001 ~ | 22J-60-37300 | STAZ8167B | |
| PC20-5 | | 180001 ~ | | 706-73-10700 | |
| PC20-6 | | 2 400 126 890 | | 708-7T-00021 | 20S-26-00010 |
| PC20-6 | | 26891 ~ | | 708-7T-00022 | 20S-26-00010 |
| PC20-7 | | 35001 ~ | 20N-26-71000 | 708-7S-00032 | 20N-26-71500 |
| PC20MR-2 | | 15001 ~ | 22K-60-21201 | | |
| PC20MRX-1 | KUE Spec | 10001 ~ | 20C-60-32101 | | |
| PC20R-8 | | 10001 ~ | 20N-60-83001 | | |
| PC25-1 | | 1001 ~ | 20R-26-00030 | 708-7S-00012 | |
| PC25R-8 | | 1 000 110 097 | 20P-26-8101 | 708-7R-00511 | |
| PC25R-8 | | 10098 ~ | 20P-26-8101 | 708-7R-00512 | |
| PC27MR-2 | | 1 500 117 913 | 22L-26-27000 | 708-7R-00380 | |
| PC27MR-2 | | 17914 ~ | 22L-26-27001 | 708-7R-00380 | |
| PC27MR-3 | | 2 000 220 508 | 22L-26-27001 | 708-7R-00380 | |
| PC27MRX-1 | | 100 110 482 | 21U-26-31001 | 708-7R-00081 | |
| PC27MRX-1 | | 10483 ~ | 21U-26-31002 | 207-7R-00260 | |
| PC27R-8 | | 10001 ~ | 20P-26-81001 | 708-7R-00511 | |
| PC28UU-1 | | 10 013 652 | 21U-60-16100 | | |
| PC28UU-1 | | 3653 ~ | 21U-60-17100 | 21U-60-17120 | |
| PC28UU-2 | | 700 113 184 | 21U-26-21000 | 708-7S-00012 | |
| PC28UU-2 | | 13185 ~ | 21U-26-22000 | 708-7R-00511 | |
| PC28UU-3 | | 30001 ~ | 21U-26-31001 | 708-7R-00081 | |
| PC30-3 | | 2601 ~ | | 706-73-08700 | |
| PC30-5 | | 6001 ~ | | 706-73-10800 | |
| PC30-6 | | 1 000 111 654 | | 708-7T-00031 | 20S-26-00010 |
| PC30-6 | | 11655 ~ | | 708-7T-00032 | 20S-26-00010 |
| PC30-7 | | 18001 ~ | | 708-7S-00022 | 20S-26-00020 |
| PC30MRX-1 | KUE Spec | 1 000 112 353 | 21U-26-31001 | 708-7R-00081 | |
| PC30MRX-1 | KUE Spec | 12354 ~ | 21U-26-31002 | 708-7R-00260 | |
| PC30UU-3 | | 1 000 112 122 | 21U-26-31001 | 708-7R-00081 | |
| PC30UU-3 | | 12123 ~ | 21U-26-31002 | 708-7R-00260 | |
| PC35MR-2 | | 50 019 999 | 22L-26-21001 | 708-7R-00360 | |
| PC35MR-2 | | 10000 ~ | 22L-26-21002 | 708-7R-00360 | |
| PC35MR-3 | For North America | 1 500 116 954 | 22L-26-21002 | 708-7R-00360 | |
| PC35MRX-1A | | 10 011 890 | 22F-26-00011 | 708-7R-00141 | |
| PC35MRX-1A | | 1891 ~ | 22F-26-00012 | 708-7R-00240 | |
| PC35R-8 | | 3 500 136 767 | 20S-26-00200 | 708-7R-00022 | |
| PC35R-8 | | 3 676 837 319 | 20S-26-00201 | 708-7R-00023 | |
| PC35R-8 | | 37320 ~ | 20S-26-00202 | 708-7R-00024 | |
| PC38UU-1 | | 1001 ~ | | 708-7T-00041 | 20T-26-00100 |
| PC38UU-2 | | 30 013 110 | | 708-7S-00022 | 21X-26-00010 |
| PC38UU-2 | | 31 115 385 | | 708-7S-00040 | 21X-26-00010 |
| PC38UU-2 | | 3586 -5883 | 21X-26-00020 | 708-7R-00520 | |
| PC38UU-2 | | 58 846 165 | 21X-26-00021 | 708-7R-00521 | |
| PC38UU-2 | | 6166 ~ | 21X-26-00022 | 708-7R-00521 | |
| PC40-3 | | 6001 ~ | | 706-73-10100 | |
| PC40-5 | | 8501 ~ | | 20T-60-00410 | |
| PC40-6 | | 1 000 110 833 | 20T-26-00100 | 708-7T-00040 | |
| PC40-6 | | 10834 ~ | 20T-26-00100 | 708-7T-00041 | |
| PC40-7 | | 18001 ~ | 20T-26-00110 | 708-7T-00122 | |
| PC40-7 | For USA | 24995 ~ | 20T-26-00120 | 708-7T-00160 | |
| PC40MR-1 | | 10 012 706 | 22M-26-00030 | 708-7R-00131 | |
| PC40MR-1 | | 27 075 500 | 22M-26-00031 | 708-7R-00250 | |
| PC40MR-1 | | 5501 ~ | 22M-26-00033 | 708-7R-00250 | |
| PC40MR-2 | | 8001 ~ | 22M-26-21001 | 708-7R-00370 | |
| PC40MRX-1 | For North America | 10 012 706 | 22M-26-00030 | 708-7R-00131 | |
| PC40MRX-1 | For North America | 27 075 500 | 22M-26-00031 | 708-7R-00250 | |
| PC40MRX-1 | For North America | 5501 ~ | 22M-26-00033 | 708-7R-00250 | |
| PC40R-8 | | 3 000 131 288 | 20T-26-00200 | 708-7R-00040 | |
| PC40R-8 | | 3 128 931 577 | 20T-26-00201 | 708-7R-00041 | |
| PC40R-8 | | 31578 ~ | 20T-26-00202 | 708-7R-00042 | |
| PC40R-8 | Crosslink | 3 000 131 288 | 20T-26-00210 | 708-7R-00012 | |
| PC40R-8 | | 3 128 931 577 | 20T-26-00211 | 708-7R-00013 | |
| PC40R-8 | | 31578 ~ | 20T-26-00212 | 708-7R-00014 | |
| PC45-1 | | 1001 ~ | 20T-26-00110 | 708-7T-00122 | |
| PC45MR-3 | | 5001 ~ | 22M-26-31000 | 708-7R-00420 | |
| PC45MRX-1 | For North America | 10 011 596 | 22M-26-00030 | 708-7R-00131 | |
| PC45MRX-1 | For North America | 15 973 000 | 22M-26-00031 | 708-7R-00250 | |
| PC45MRX-1 | For North America | 3001 ~ | 22M-26-00033 | 708-7R-00250 | |
| PC45R-8 | | 50 015 530 | 20T-26-00210 | 708-7R-00012 | |
| PC45R-8 | | 55 315 733 | 20T-26-00211 | 708-7R-00013 | |
| PC45R-8 | | 5734 ~ | 20T-26-00212 | 708-7R-00014 | |
| PC50MR-2 | For North America | 50 016 795 | 22M-26-21001 | 708-7R-00370 | |
| PC50MR-2 | For North America | 6796 ~ | 22M-26-21002 | 708-7R-00370 | |
| PC50UU-1 | | 10 011 878 | | 20T-60-00410 | 20T-26-00080 |
| PC50UU-1 | | 18 793 400 | | 20T-60-00410 | 20U-26-00010 |
| PC50UU-1 | | 3401 ~ | | 20T-60-00410 | 20T-26-00100 |
| PC50UU-2 | For EU | 12800 | 20U-26-00040 | 708-7R-00050 | |
| PC50UU-2 | For EU | 1 280 112 803 | 20U-26-00041 | 708-7R-00052 | |
| PC50UU-2 | For EU | 12804 ~ | 20U-26-00042 | 708-7R-00053 | |
| PC50UU-2 | For EU | 1 083 512 799 | 20U-26-00030 | 708-7T-00160 | |
| PC50UU-2 | | 800 112 771 | | 708-7T-00150 | |
| PC50UU-2 | | 1 277 214 992 | | 708-7T-00180 | |
| PC50UU-2 | | 1 499 315 226 | 20U-26-00040 | 708-7R-00050 | |
| PC50UU-2 | | 1 522 716 008 | 20U-26-00041 | 708-7R-00051 | |
| PC50UU-2 | | 1 600 916 403 | 20U-26-00041 | 708-7R-00052 | |
| PC50UU-2 | | 1 640 417 289 | 20U-26-00042 | 708-7R-00053 | |
| PC50UU-2 | | 17290 ~ | 20U-26-00043 | 708-7R-00190 | |
| PC50UU-2 | TBG / For EU Spec | 975 611 838 | 20U-26-00030 | 708-7T-00160 | |
| PC55MR-3 | For North America | 1 500 115 021 | 22M-26-32100 | 708-7R-00420 | |
| PC55MR-3 | For North America | 15022 ~ | 22M-26-32100 | 708-7R-00421 | |
| PC58UU-3 | | 20001 ~ | 20U-26-00121 | 708-7R-00340 | |
| PC60-5 | | 20501 ~ | | 706-73-10901* | 201-26-00030 |
| PC60-5 | | 20501 ~ | | 706-73-10500+ | 201-26-00030 |
| PC60-6 | | 28001 ~ | | 706-73-01080 | 201-26-00031 |
| PC60-7 | | 4 500 152 373 | 201-26-00040 | 708-7T-00240 | |
| PC60-7 | | 5 237 459 570 | 201-26-00060 | 708-7T-00360 | |
| PC60-7 | | 59571 ~ | 201-26-00130 | 708-7T-00470 | |
| PC60-7 | | 45001 ~ | 201-26-00090 | 708-7T-00480 | |
| PC60L-5 | | 75001 ~ | | 706-73-10901 | 201-26-00030 |
| PC60L-5 | | 75001 ~ | | 706-73-10500 | 201-26-00030 |
| PC60U-3 | | 3801 ~ | | 706-73-10400 | |
| PC60U-5 | | 45 014 691 | | 706-73-10901 | 20X-26-00010 |
| PC60U-5 | | 4692 ~ | | 706-73-10901 | 20X-26-00011 |
| PC70FR-1 | | 10001 ~ | YM172187-73310 | YM172187-73410 | YM172187-73370 |
| PC75UU-1 | | 1001 ~ | | 706-73-01060 | 21W-26-00010 |
| PC75UU-2 | | 50 017 927 | | 708-7T-00230 | 21W-26-00020 |
| PC75UU-2 | | 792 710 370 | | 708-7T-00250 | 21W-26-00021 |
| PC75UU-2 | | 10371 ~ | | 708-7T-00251 | 21W-26-00021 |
| PC75UU-3 | | 1 500 117 263 | 21W-26-00051 | 708-7T-00351 | |
| PC75UU-3 | | 17264 ~ | 21W-26-00052 | 708-7T-00352 | |
| PC75UU-3 | | 15001 ~ | 21W-26-00070 | 708-7T-00410 | |
| PC78MR-6 | For North America | 10 011 005 | 21W-26-00100 | 708-7S-00242 | |
| PC78MR-6 | For North America | 10 053 252 | 21W-26-00200 | 708-7S-00242 | |
| PC78MR-6 | For North America | 3253 ~ | 21W-26-00202 | 708-7S-00242 | |
| PC78US-5 | For North America | 1001 ~ | 21W-26-00052 | 708-7T-00390 | |
| PC78US-5 | For North America | 1001 ~ | 21W-26-00070 | 708-7T-00410 | |
| PC78US-6 | For North America/Norway/For Overseas | 40 014 212 | 21W-26-00100 | 708-7S-00241 | |
| PC78US-6 | For North America/Norway/For Overseas | 42 136 500 | 21W-26-00100 | 708-7S-00242 | |
| PC78US-6 | For North America/Norway/For Overseas | 65 016 984 | 21W-26-00120 | 708-7S-00242 | |
| PC78US-6 | For North America/Norway/For Overseas | 698 511 048 | 21W-26-00130 | 708-7S-00242 | |
| PC78US-6 | For North America/Norway/For Overseas | 11049 ~ | 21W-26-00132 | 708-7S-00242 | |
| PC78US-8 | For North America | 1 500 115 833 | 21W-26-51011 | 708-7S-00280 | |
| PC78US-8 | For North America | 15834 ~ | 21W-26-51020 | 708-7S-00290 | |
| PC80-3 | | 2001 ~ | | 706-73-01041 | 20X-26-00010 |
| PC80-3 | | 2001 ~ | | 706-73-01050 | |
| PC88MR-8 | | 5001 ~ | 22P-26-11000 | 708-7S-00270 | |
| PC88MR-8 | | A90001 ~ | 22P-26-11000 | 708-7S-00270 | |
| PC90-1 | | 1001 ~ | | 706-73-01090 | 20X-26-00011 |
| | | | | | |
| PC95-1 | | 5000007 ~ | | 21D-60-16200 | 21D-60-16000 |
| Go to Top | | | | | |
| Midi Excavators | | | | | |
| Model | | Serial No. | Slew Drive Assembly | Slew Motor | Swing Gear Box |
| PC100-3 | | 1 800 121 549 | | 706-73-10200 | 203-26-00100 |
| PC100-3 | | 1 800 121 549 | | 706-73-10500 | 203-26-00100 |
| PC100-3 | | 21550 ~ | | 706-73-10200 | 203-26-00101 |
| PC100-3 | | 21550 ~ | | 706-73-10500 | 203-26-00101 |
| PC100-6 | | 4 000 140 657 | | 706-73-00121 | 203-26-00120 |
| PC100-6 | | 4 065 842 156 | | 706-73-00121 | 203-26-00121 |
| PC100-6 | | 4 215 744 999 | | 706-73-01161 | 203-26-00121 |
| PC100-6 | | 4 500 045 612 | | 706-73-01180 | 203-26-00121 |
| PC100-6 | | 4 561 347 093 | | 706-73-01181 | 203-26-00121 |
| PC100-6 | | 4 709 447 096 | | 706-73-01181 | 203-26-00123 |
| PC100-6 | | 47097 ~ | | 706-73-01181 | 203-26-00150 |
| PC120-2 | | 14001 ~ | | 706-75-07700 | |
| PC120-3 | For USA | 1 800 122 749 | | 706-73-10200 | 203-26-00100 |
| PC120-3 | For USA | 1 800 122 749 | | 706-73-10500 | 203-26-00100 |
| PC120-3 | For USA | 22750 ~ | | 706-73-10200 | 203-26-00101 |
| PC120-3 | For USA | 22750 ~ | | 706-73-10500 | 203-26-00101 |
| PC120-5 | | 30001 ~ | | 706-73-01071 | 203-26-0112 |
| PC120-5Z | Excel Spec | 36601 ~ | | 706-73-01071 | 203-26-0112 |
| PC120-6 | | 4 500 147 960 | | 706-73-01121 | 203-26-00120 |
| PC120-6 | | 4 796 152 400 | | 706-73-01121 | 203-26-00121 |
| PC120-6 | | 5 240 156 999 | | 706-73-01161 | 203-26-00121 |
| PC120-6 | | 5 700 058 923 | | 706-73-01180 | 203-26-00121 |
| PC120-6 | | 5 892 466 242 | | 706-73-01181 | 203-26-00121 |
| PC120-6 | | 6 624 366 269 | | 706-73-01181 | 203-26-00123 |
| PC120-6 | | 66270 ~ | | 706-73-01181 | 203-26-00150 |
| PC120-6Z | | 4 500 147 960 | | 706-73-01121 | 203-26-00120 |
| PC120-6Z | | 4 796 152 400 | | 706-73-01121 | 203-26-00121 |
| PC120-6Z | | 5 240 156 999 | | 706-73-01161 | 203-26-00121 |
| PC120-6Z | | 5 700 058 923 | | 706-73-01180 | 203-26-00121 |
| PC120-6Z | | 5 892 466 242 | | 706-73-01181 | 203-26-00121 |
| PC120-6Z | | 6 624 366 269 | | 706-73-01181 | 203-26-00123 |
| PC120-6Z | | 66270 ~ | | 706-73-01181 | 203-26-00150 |
| PC120LC-6 | | 4 500 147 960 | | 706-73-01121 | 203-26-00120 |
| PC120LC-6 | | 4 796 152 400 | | 706-73-01121 | 203-26-00121 |
| PC120LC-6 | | 5 240 156 999 | | 706-73-01161 | 203-26-00121 |
| PC120LC-6 | | 5 700 058 923 | | 706-73-01180 | 203-26-00121 |
| PC120LC-6 | | 5 892 466 242 | | 706-73-01181 | 203-26-00121 |
| PC120LC-6 | | 6 624 366 269 | | 706-73-01181 | 203-26-00123 |
| PC120LC-6 | | 66270 ~ | | 706-73-01181 | 203-26-00150 |
| PC128US-1 | | 1001 ~ | | 706-73-01181 | 203-26-00121 |
| PC128US-2 | For North America | 50 019 500 | 22B-26-01000 | 706-73-01241 | |
| PC128UU-1 | | 10 012 346 | | 706-73-01130 | 203-26-00121 |
| PC128UU-1 | | 2347 ~ | | 706-73-01200 | 203-26-00121 |
| PC128UU-2 | For North America | 5001 ~ | | 706-73-01260 | 21Y-26-01000 |
| PC130-6 | | 4 500 148 213 | | 706-73 01121 | 203-26-00120 |
| PC130-6 | | 4 821 450 343 | | 706-73 01121 | 203-26-00121 |
| PC130-6 | | 5 034 450 543 | | 706-73-01161 | 203-26-00121 |
| PC130-6 | | 5 054 450 999 | | 706-73-01161 | 203-26-00121 |
| PC130-6 | | 5 100 051 093 | | 206-73-01180 | 203-26-00121 |
| PC130-6 | | 5 109 453 561 | | 206-73-01181 | 203-26-00121 |
| PC130-6 | | 5 756 253 565 | | 206-73-01181 | 203-26-00123 |
| PC130-6 | | 53566 ~ | | 206-73-01181 | 203-26-00150 |
| PC130-6K | | K30001 ~ | | 706-73-01180 | 203-26-00121 |
| PC130-7K | | 70001 ~ | | 706-73-01181 | 203-26-00123 |
| PC130-8 | | 80001 ~ | 203-26-81000 | 706-7C-01020 | |
| PC130-8 | | C30001 ~ | 203-26-81000 | 706-7C-01020 | |
| PC138US-2 | | 45 014 884 | 22B-26-01120 | 706-73-01241 | |
| PC138US-2 | For For Overseas | 4885 ~ | 22B-26-01130 | 706-73-01241 | |
| PC138USLC-2 | | 1001 ~ | 22B-26-01000 | 706-73-01241 | |
| PC138USLC-2 | | 15 011 632 | 22B-26-01120 | 706-73-01241 | |
| PC138USLC-2 | With SAA4D95LE-3 TIER 2 Engine | 1633 ~ | 22B-26-01120 | 706-73-01241 | |
| PC138US-8 | | 2 000 123 429 | 22B-26-21101 | 706-7C-01010 | |
| PC138US-8 | | 2 343 024 509 | 22B-26-31101 | 706-7C-01032 | |
| PC138USLC-8 | For North America | 2 000 123 429 | 22B-26-21101 | 706-7C-01010 | |
| PC138USLC-8 | For North America | 2 343 024 509 | 22B-26-31101 | 706-7C-01032 | |
| PC138USLC-8 | For North America | 24510 ~ | 21Y-26-31101 | 706-7C-01032 | |
| PC150-1 | | 1001 ~ | | 706-75-06500 | |
| PC150-3 | | 30 013 217 | | 706-75-11501 | 21K-26-00020 |
| PC150-3 | | 32 183 839 | | 706-75-11501 | 21K-26-00021 |
| PC150-3 | | 38 404 571 | | 706-75-11502 | 21K-26-00021 |
| PC150-3 | | 4572 ~ | | 706-75-11502 | 21K-26-00022 |
| PC150-5 | | 6001 ~ | | 706-75-01070 | 21K-26-00030 |
| PC150LC-5 | | 3001 ~ | | 706-75-06500 | |
| PC150LC-3 | | 30 013 265 | | 706-75-11501 | 21K-26-00020 |
| PC150LC-3 | | 32 663 877 | | 706-75-11501 | 21K-26-00021 |
| PC150LC-3 | | 38 784 510 | | 706-75-11502 | 21K-26-00021 |
| PC150LC-3 | | 4511 ~ | | 706-75-11502 | 21K-26-00022 |
| PC150LC-3 | | 30 013 265 | | 706-75-14000 | 21K-26-00020 |
| PC150LC-3 | | 32 664 510 | | 706-75-14000 | 21K-26-00021 |
| PC150LC-3 | | 4511 ~ | | 706-75-14000 | 21K-26-00022 |
| PC158US-2 | For Overseas | 10001 ~ | 21K-26-00040 | 706-73-01290 | |
| PC158USLC-2 | For Overseas | 10001 ~ | 21K-26-00040 | 706-73-01290 | |
| PC160LC-7 | For North America | 1 000 110 210 | 21K-26-71100 | KBB0440-85015 | KBB0840-35001 |
| PC160LC-7 | For North America | 10211 ~ | 21K-26-71100 | KBB0440-85018 | KBB0840-35001 |
| PC160LC-7-E0 | K A Spec | 45001 ~ | 21K-26-71100 | KBB0440-85015 | KBB0840-35001 |
| PC160LC-7-E0 | Tier 3 | 20001 ~ | 21K-26-71100 | KBB0440-85018 | KBB0840-35001 |
| PC160LC-7 | | B20001 ~ | 21K-26-B7100 | 21K-26-B7300 | |
| PC160LC-8 | | 25001 ~ | 21K-26-71100 | KBB0440-85018 | KBB0840-35001 |
| PC160LC-8 | | C20001 ~ | 21K-26-71100 | KBB0440-85018 | KBB0840-35001 |
| PC200-2 | | 1 500 115 365 | | 706-75-04700 | |
| PC200-2 | | 1 536 616 523 | | 706-75-04700 | |
| PC200-2 | | 16524 ~ | | 706-75-11001 | |
| PC200LC-2 | | 1 500 115 365 | | 706-75-04700 | |
| PC200LC-2 | | 1 536 616 523 | | 706-75-04700 | |
| PC200LC-2 | | 16524 ~ | | 706-75-11001 | |
| PC200-3 | | 2 000 121 343 | | 706-75-11300 | 205-26-00021 |
| PC200-3 | | 2 134 422 239 | | 706-75-11300 | 205-26-00023 |
| PC200-3 | | 2 224 023 552 | | 706-75-11300 | 205-26-00040 |
| PC200-3 | | 2 355 324 675 | | 706-75-11301 | 205-26-00040 |
| PC200-3 | | 2 467 626 049 | | 706-75-11301 | 205-26-00041 |
| PC200-3 | | 2 605 032 024 | | 706-75-11302 | 205-26-00041 |
| PC200-3 | | 3 202 533 983 | | 706-75-11302 | 205-26-00042 |
| PC200-3 | | 33984 | | 706-75-11304 | 205-26-00042 |
| PC200-3 | | 2 000 121 343 | | 706-75-11900 | 205-26-00021 |
| PC200-3 | | 2 134 422 239 | | 706-75-11900 | 205-26-00023 |
| PC200-3 | | 2 224 023 552 | | 706-75-11900 | 205-26-00040 |
| PC200-3 | | 2 355 324 675 | | 706-75-11901 | 205-26-00040 |
| PC200-3 | | 2 467 626 049 | | 706-75-11901 | 205-26-00041 |
| PC200-3 | | 2 605 032 024 | | 706-75-11902 | 205-26-00041 |
| PC200-3 | | 3 202 533 983 | | 706-75-11902 | 205-26-00042 |
| PC200-3 | | 33984 | | 706-75-11903 | 205-26-00042 |
| PC200LC-3 | | 2 000 121 343 | | 706-75-11300 | 205-26-00021 |
| PC200LC-3 | | 2 134 422 239 | | 706-75-11300 | 205-26-00023 |
| PC200LC-3 | | 2 224 023 552 | | 706-75-11300 | 205-26-00040 |
| PC200LC-3 | | 2 355 324 675 | | 706-75-11301 | 205-26-00040 |
| PC200LC-3 | | 2 467 626 049 | | 706-75-11301 | 205-26-00041 |
| PC200LC-3 | | 2 605 032 024 | | 706-75-11302 | 205-26-00041 |
| PC200LC-3 | | 3 202 533 983 | | 706-75-11302 | 205-26-00042 |
| PC200LC-3 | | 33984 | | 706-75-11304 | 205-26-00042 |
| PC200LC-3 | | 2 000 121 343 | | 706-75-11900 | 205-26-00021 |
| PC200LC-3 | | 2 134 422 239 | | 706-75-11900 | 205-26-00023 |
| PC200LC-3 | | 2 224 023 552 | | 706-75-11900 | 205-26-00040 |
| PC200LC-3 | | 2 355 324 675 | | 706-75-11901 | 205-26-00040 |
| PC200LC-3 | | 2 467 626 049 | | 706-75-11901 | 205-26-00041 |
| PC200LC-3 | | 2 605 032 024 | | 706-75-11902 | 205-26-00041 |
| PC200LC-3 | | 3 202 533 983 | | 706-75-11902 | 205-26-00042 |
| PC200LC-3 | | 33984 | | 706-75-11903 | 205-26-00042 |
| PC200-5 | | 4 500 158 018 | | 706-75-01081 | 20Y-26-00010 |
| PC200-5 | | 58019 ~ | | 706-75-01081 | 20Y-26-00011 |
| PC200-5 | | A70001 ~ | | 706-75-01081 | 20Y-26-00010 |
| PC200LC-5 | | A70001 ~ | | 706-75-01081 | 20Y-26-00010 |
| PC200LC-5C Custom | | 4 500 158 018 | | 706-75-01100 | 20Y-26-00010 |
| PC200LC-5C Custom | | 5 801 969 658 | | 706-75-01100 | 20Y-26-00011 |
| PC200LC-5C Custom | | 69659 ~ | | 706-75-01101 | 20Y-26-00011 |
| PC200-6 | For Overseas | 8 000 180 320 | | 706-75-01100 | 20Y-26-00100 |
| PC200-6 | For Overseas | 8 032 196 513 | | 706-75-01101 | 20Y-26-00100 |
| PC200-6 | For Overseas | 96 514 102 082 | | 706-75-01170 | 20Y-26-00150 |
| PC200-6 | For Overseas | 102083 ~ | | 706-75-01170 | 20Y-26-00151 |
| PC200LC-6 | For Overseas | 8 000 180 320 | | 706-75-01100 | 20Y-26-00100 |
| PC200LC-6 | For Overseas | 8 032 196 513 | | 706-75-01101 | 20Y-26-00100 |
| PC200LC-6 | For Overseas | 96 514 102 082 | | 706-75-01170 | 20Y-26-00150 |
| PC200LC-6 | For Overseas | 102083 ~ | | 706-75-01170 | 20Y-26-00151 |
| PC200-6B | | B10001 B20000 | | 706-75-01170 | 20Y-26-00151 |
| PC200-6L | | A80001 A82000 | | 706-75-01101 | 20Y-26-K1100 |
| PC200-6LC | | A82001 A83000 | | 706-75-01101 | 20Y-26-K1100 |
| PC200LC-6B | | B10001 B20000 | | 706-75-01170 | 20Y-26-00151 |
| PC200LC-6L | | A80001 A82000 | | 706-75-01101 | 20Y-26-K1100 |
| PC200LC-6LC | | A82001 A83000 | | 706-75-01101 | 20Y-26-K1100 |
| PC200LC-6LE | | A83001 A84358 | | 706-75-01101 | |
| PC200LC-6LE | | A84359 ~ | | 706-75-01150 | |
| PC200-6S | | C10001 ~ | | 706-75-01150 | 20Y-26-00151 |
| PC200LC-6S | | C10001 ~ | | 706-75-01150 | 20Y-26-00151 |
| PC200CA-6 USA | | C10001 C10567 | | 706-75-01150 | 20Y-296-00150 |
| PC200CA-6 USA | | C10568 ~ | | 706-75-01150 | 20Y-296-00151 |
| PC200LL-6 | | A85001 ~ | | 706-75-01150 | |
| PC200Z-6LE | | A83001 ~ | | 706-75-01101 | 20Y-26-K1100 |
| PC200-7 | For Overseas | 200 001 203 890 | | 706-7G-01040 | 20Y-26-00210 |
| PC200-7 | For Overseas | 203 891 258 353 | | 706-7G-01040 | 20Y-26-00211 |
| PC200-7 | For Overseas | 258354 ~ | | 706-7G-01041 | 20Y-26-00211 |
| PC200-7 | For USA | 200 001 203 890 | | 706-7G-01040 | 206-26-00330 |
| PC200-7 | For USA | 203 891 258 353 | | 706-7G-01040 | 206-26-00331 |
| PC200-7 | For USA | 258354 ~ | | 706-7G-01041 | 206-26-00331 |
| PC200-7 | Cold Area Spec | 255 706 258 353 | | 706-7G-01040 | 20Y-26-00240 |
| PC200-7 | Cold Area Spec | 258354 ~ | | 706-7G-01041 | 20Y-26-00240 |
| PC200LC-7 | For Overseas | 200 001 203 890 | | 706-7G-01040 | 20Y-26-00210 |
| PC200LC-7 | For Overseas | 203 891 258 353 | | 706-7G-01040 | 20Y-26-00211 |
| PC200LC-7 | For Overseas | 258354 ~ | | 706-7G-01041 | 20Y-26-00211 |
| PC200LC-7 | For USA | 200 001 203 890 | | 706-7G-01040 | 206-26-00330 |
| PC200LC-7 | For USA | 203 891 258 353 | | 706-7G-01040 | 206-26-00331 |
| PC200LC-7 | For USA | 258354 ~ | | 706-7G-01041 | 206-26-00331 |
| PC200LC-7 | Cold Area Spec | 255 706 258 353 | | 706-7G-01040 | 20Y-26-00240 |
| PC200LC-7 | Cold Area Spec | 258354 ~ | | 706-7G-01041 | 20Y-26-00240 |
| PC200-7 | | C70001 ~ | | 706-7G-01050 | 20Y-26-00210 |
| PC200LC-7 | | C70001 ~ | | 706-7G-01050 | 20Y-26-00210 |
| PC200LC-7B | | C50001 ~ | | 706-7G-01040 | |
| PC200-7L | | A86001 ~ | | 706-7G-03040 | |
| PC200LL-7L | | A86001 ~ | | 706-7G-03040 | |
| PC200-8 | ecot 3 | 300 001 300 023 | | 706-7G-01130 | 20Y-26-00230 |
| PC200-8 | ecot 3 | 300 024 306 072 | | 706-7G-01041 | 20Y-26-00230 |
| PC200-8 | ecot 3 | 306073 ~ | | 706-7G-01170 | 20Y-26-00230 |
| PC200-8 | Asia ecot 3 | 300001 ~ | | 706-7G-01140 | 20Y-26-00230 |
| PC200-8 | | C60001 ~ | | 706-7G-01170 | 20Y-26-00230 |
| PC200-8 | | B30001 ~ | | 706-7G-01170 | 20Y-26-00230 |
| PC200LC-8 | ecot 3 | 300 001 300 023 | | 706-7G-01130 | 20Y-26-00230 |
| PC200LC-8 | ecot 3 | 300 024 306 072 | | 706-7G-01041 | 20Y-26-00230 |
| PC200LC-8 | ecot 3 | 306073 ~ | | 706-7G-01170 | 20Y-26-00230 |
| PC200LC-8 | | 310 001 315 645 | | 706-7G-01170 | 20Y-26-00230 |
| PC200LC-8 | | A88001 A88235 | | 706-7G-01041 | |
| PC200LC-8 | | A88236 ~ | | 706-7G-01170 | |
| PC200LC-8 | | B30001 ~ | | 706-7G-01170 | 20Y-26-00230 |
| PC200LC-8E0 | | 1001 ~ | | 7875-13-1002 | |
| PC200LL-8 | | A87001 ~ | | 706-7G-01170 | |
| PC210LC-6 | | 3 000 130 134 | | 706-75-01100 | 20Y-26-00100 |
| PC210LC-6 | | 3 013 530 979 | | 706-75-01101 | 20Y-26-00100 |
| PC210LC-6 | | 3 098 031 417 | | 706-75-01170 | 20Y-26-00150 |
| PC210LC-6 | | 31418 ~ | | 706-75-01170 | 20Y-26-00151 |
| PC210LC-6K | | K30001 K32448 | | 706-75-01101 | 20Y-26-K1100 |
| PC210LC-6K | | K32449 ~ | | 706-75-01170 | |
| PC210LC-6L | | A80001 ~ | | 706-75-01101 | 20Y-26-K1100 |
| PC210LC-6LC | | A82001 ~ | | 706-75-01101 | 20Y-26-K1100 |
| PC210LC-6LE | | A83001 ~ | | 706-75-01101 | 20Y-26-K1100 |
| PC210LC-7 | | K40001 ~ | | 706-7G-01040 | 20Y-26-00220 |
| PC220-2 | | 1 100 111 050 | | 706-75-02500 | |
| PC220-2 | | 1 105 111 340 | | 706-75-02500 | |
| PC220-2 | | 1 634 111 749 | | 706-75-11100 | |
| PC220-2 | | 11750 ~ | | 706-75-11101 | |
| PC220-3 | | 2 000 120 370 | | 706-75-11300 | 205-26-00021 |
| PC220-3 | | 2 037 120 536 | | 706-75-11300 | 205-26-00022 |
| PC220-3 | | 2 053 720 634 | | 706-75-11300 | 205-26-00040 |
| PC220-3 | | 2 063 521 569 | | 706-75-11301 | 205-26-00040 |
| PC220-3 | | 2 157 021 190 | | 706-75-11302 | 205-26-00040 |
| PC220-3 | | 2 119 123 010 | | 706-75-11302 | 205-26-00041 |
| PC220-3 | | 2 301 123 273 | | 706-75-11302 | 205-26-00042 |
| PC220-3 | | 23274 ~ | | 706-75-11304 | 205-26-00042 |
| PC220-3 | | 2 000 120 370 | | 706-75-11900 | 205-26-00021 |
| PC220-3 | | 2 037 120 536 | | 706-75-11900 | 205-26-00022 |
| PC220-3 | | 2 053 720 634 | | 706-75-11900 | 205-26-00040 |
| PC220-3 | | 2 063 521 569 | | 706-75-11901 | 205-26-00040 |
| PC220-3 | | 2 157 021 190 | | 706-75-11902 | 205-26-00040 |
| PC220-3 | | 2 119 123 010 | | 706-75-11902 | 205-26-00041 |
| PC220-3 | | 2 301 123 273 | | 706-75-11902 | 205-26-00042 |
| PC220-3 | | 23274 ~ | | 706-75-11903 | 205-26-00042 |
| PC220-5 | | 3 500 136 613 | | 706-75-01081 | 20Y-26-00010 |
| PC220-5 | | 36614 ~ | | 706-75-01081 | 20Y-26-00011 |
| PC220-6 | | 5 000 150 038 | | 706-75-01100 | 20Y-26-00100 |
| PC220-6 | | 5 003 952 851 | | 706-75-01101 | 20Y-26-00100 |
| PC220-6 | | 5 285 253 540 | | 706-75-01170 | 20Y-26-00150 |
| PC220-6 | | 53541 ~ | | 706-75-01170 | 20Y-26-00151 |
| PC220LC-2 | | 1 100 111 050 | | 706-75-02500 | |
| PC220LC-2 | | 1 105 111 340 | | 706-75-02500 | |
| PC220LC-2 | | 1 634 111 749 | | 706-75-11100 | |
| PC220LC-2 | | 11750 ~ | | 706-75-11101 | |
| PC220LC-3 | | 2 000 120 370 | | 706-75-11300 | 205-26-00021 |
| PC220LC-3 | | 2 037 120 536 | | 706-75-11300 | 205-26-00022 |
| PC220LC-3 | | 2 053 720 634 | | 706-75-11300 | 205-26-00040 |
| PC220LC-3 | | 2 063 521 569 | | 706-75-11301 | 205-26-00040 |
| PC220LC-3 | | 2 157 021 190 | | 706-75-11302 | 205-26-00040 |
| PC220LC-3 | | 2 119 123 010 | | 706-75-11302 | 205-26-00041 |
| PC220LC-3 | | 2 301 123 273 | | 706-75-11302 | 205-26-00042 |
| PC220LC-3 | | 23274 ~ | | 706-75-11304 | 205-26-00042 |
| PC220LC-3 | | 2 000 120 370 | | 706-75-11900 | 205-26-00021 |
| PC220LC-3 | | 2 037 120 536 | | 706-75-11900 | 205-26-00022 |
| PC220LC-3 | | 2 053 720 634 | | 706-75-11900 | 205-26-00040 |
| PC220LC-3 | | 2 063 521 569 | | 706-75-11901 | 205-26-00040 |
| PC220LC-3 | | 2 157 021 190 | | 706-75-11902 | 205-26-00040 |
| PC220LC-3 | | 2 119 123 010 | | 706-75-11902 | 205-26-00041 |
| PC220LC-3 | | 2 301 123 273 | | 706-75-11902 | 205-26-00042 |
| PC220LC-3 | | 23274 ~ | | 706-75-11903 | 205-26-00042 |
| PC220LC-5 | | 3 500 136 613 | | 706-75-01081 | 20Y-26-00010 |
| PC220LC-5 | | 36614 ~ | | 706-75-01081 | 20Y-26-00011 |
| PC220LC-5 | | A70001 ~ | | 706-75-01081 | 20Y-26-00010 |
| PC220LC-6 | | 5 000 150 038 | | 706-75-01100 | 20Y-26-00100 |
| PC220LC-6 | | 5 003 952 851 | | 706-75-01101 | 20Y-26-00100 |
| PC220LC-6 | | 5 285 253 540 | | 706-75-01170 | 20Y-26-00150 |
| PC220LC-6 | | 53541 ~ | | 706-75-01170 | 20Y-26-00151 |
| PC220LC-6L | | A80001 A82000 | | 706-75-01101 | 20Y-26-K1100 |
| PC220LC-6LC | | A82001 A83000 | | 706-75-01101 | 20Y-26-00100 |
| PC220LC-6LE | | A83001 A85132 | | 706-75-01101 | |
| PC220LC-6LE | | A85133 ~ | | 706-75-01170 | |
| | |
| --- | --- |
| CR17238 - MOTOR SWING | 71137273 - MOTOR, SWING |
| CR706-7K-01130 - MOTOR SWING | 21D-60-16030 - SWING MO |
| R17238 - MOTOR SWING | 21P-60-K1183NK - SWING MO |
| R706-7K-01130 - MOTOR SWING | 22J-60-37300 - SWING MO |
| 19201KF - MOTOR SWING | 706-7C-01010 - SWING MO |
| CR22P-26-11000 - SWING MOTOR | 706-7C-01032 - SWING MO |
| CR706-7G-01031 - SWING MOTOR | 706-7K-01080 - SWING MO |
| CR706-7G-01190 - SWING MOTOR | 706-7K-01110 - SWING MO |
| CR706-7G-01220 - SWING MOTOR | 708-7R-00360 - SWING MO |
| CR706-7H-01060 - SWING MOTOR | 708-7S-00242 - SWING MO |
| CR706-7K-01110 - SWING MOTOR | 708-7S-00270 - SWING MO |
| CR706-7K-01111 - SWING MOTOR | 842140002 - SWING MO |
| CR706-7K-01140 - SWING MOTOR | 92703240 - SWING MO |
| CR706-7K-01150 - SWING MOTOR | MHS332-H058000 - SWING MO |
| CR706-75-01460 - SWING MOTOR | 4A1-26-10010 - SWING DRIVE |
| CR706-75-01461 - SWING MOTOR | 4A1-26-10020 - SWING DRIVE |
| CR708-7S-00241 - SWING MOTOR | 203-26-00150 - SWING MA |
| CR708-7S-00242 - SWING MOTOR | 206-26-00101 - SWING MA |
| C71144673 - SWING MOTOR | 206-26-00332 - SWING MA |
| R22P-26-11000 - SWING MOTOR | 206-26-00401 - SWING MA |
| R706-7G-01031 - SWING MOTOR | 206-26-00501 - SWING MA |
| R706-7G-01190 - SWING MOTOR | 206-26-00510 - SWING MA |
| R706-7G-01220 - SWING MOTOR | 207-26-00201 - SWING MA |
| R706-7H-01060 - SWING MOTOR | 207-26-00220 - SWING MA |
| R706-7K-01110 - SWING MOTOR | 208-26-00211 - SWING MA |
| R706-7K-01111 - SWING MOTOR | 20Y-26-00221 - SWING MA |
| R706-7K-01140 - SWING MOTOR | 20Y-26-00230 - SWING MA |
| R706-7K-01150 - SWING MOTOR | 20Y-26-00240 - SWING MA |
| R706-75-01460 - SWING MOTOR | 21K-26-71100NK - SWING MA |
| R706-75-01461 - SWING MOTOR | 21M-26-00030 - SWING MA |
| R708-7S-00242 - SWING MOTOR | 21N-26-00070 - SWING MA |
| 20N-60-71505 - SWING MOTOR | 21N-26-00110 - SWING MA |
| 20N-60-83001 - SWING MOTOR | 21P-26-K1113NK - SWING MA |
| 205-966-5904 - SWING MOTOR | 21T-26-00100 - SWING MA |
| 706-7H-01060 - XSWING MOTOR | 21W-26-00120 - SWING MA |
| 706-7K-01081 - SWING MOTOR | 21W-26-00130 - SWING MA |
| 706-7K-01150 - XSWING MOTOR | 21W-26-00132 - SWING MA |
| 706-75-01081 - XSWING MOTOR | 21W-26-00202 - SWING MA |
| 706-75-01490 - SWING MOTOR | 22B-26-01000 - SWING MA |
| 706-77-01251 - XSWING MOTOR | 22B-26-21101 - SWING MA |
| 71144673 - SWING MOTOR | 22L-26-21001 - SWING MA |
| 843000185 - SWING MOTOR | 22L-26-21002 - SWING MA |
| 843200665 - SWING MOTOR | 22L-26-27001 - SWING MA |
| CR17312 - MOTOR, SWING | 22M-26-00033 - SWING MA |
| C71137273 - MOTOR, SWING | 22M-26-21003 - SWING MA |
| R17312 - MOTOR, SWING | 22M-26-31000 - SWING MA |
| 17238KF - MOTOR, SWING | 22U-26-00101 - SWING MA |
| 17312KF - MOTOR, SWING | 22U-26-00110 - SWING MA |
| 20A-60-13100 - MOTOR, SWING | MH724-0605-000 - SWING MA |
| 708-7R-00260 - MOTOR, SWING | X211148332 - SWING MA |