Volvo Starter Motors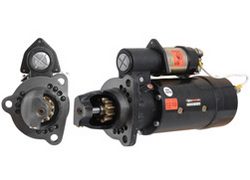 As the name suggests, a Volvo starter for heavy equipment is used to start an internal combustion engine. To do this, it provides a primary rotation of the crankshaft with the required frequency. The starter is an integral part of the electrical system of any modern Volvo equipment. Structurally it is a four-pole DC motor, powered by a Volvo battery.
The Volvo engine generates the energy necessary for the movement of the Volvo equipment, due to the speed of the Volvo crankshaft. All electrical equipment works from the same energy. In a stationary state, the engine is not capable of delivering either torque or electric energy. In this regard, it is necessary to "untwist" it with a special electric motor - a Volvo starter motor, and an external power source - a Volvo battery.
On motors with diesel power system, as well as on high-power engines, a Volvo starter motor with a gearbox is installed. The planetary gearbox, consisting of several gears, is mounted in the starter housing. It several times strengthens the passing voltage, thereby increasing the torque.
Order the original or replacement (aftermarket) Volvo starter motor you need online.
| | |
| --- | --- |
| RM13503735 Starter Motor | SA4078515 Starter Motor |
| VOE9043830819 Starter Motor | VOE9011707118 Starter Motor |
| RM13503693 Starter Motor | VOE9000872364 Starter Motor |
| VOE9011713502 Starter Motor | VOE11030394 Starter Motor |
| RM54501655 Starter Motor | RM13503941 Starter Motor |
| VOE17239117 Starter Motor | VOE9013503941 Starter Motor |
| VOE11713502 Starter Motor | VOE9017224589 Starter Motor |
| VOE9011713770 Starter Motor | VOE9011162465 Starter Motor |
| VOE9002904386 Starter Motor | VOE11162465 Starter Motor |
| VOE9017408462 Starter Motor | RM19312537 Starter Motor |
| ZM2904386 Starter Motor | VOE8002901237 Starter Motor |
| RM13503594 Starter Motor | VOE8020459062 Starter Motor |
| VOE11713770 Starter Motor | VOE8011702397 Starter Motor |
| RM43830751 Starter Motor | VOE8000881683 Starter Motor |
| VOE9043830751 Starter Motor | VOE17248143 Starter Motor |
| RM13378401 Starter Motor | VOE8013851456 Starter Motor |
| VOE9185086600 Starter Motor | VOE8017224589 Starter Motor |
| VOE14516770 Starter Motor | VOE8011716113 Starter Motor |
| VOE9002901237 Starter Motor | VOE8004777147 Starter Motor |
| PJ7412897 Starter Motor | VOE8017408462 Starter Motor |
| VOE17224279 Starter Motor | VOE8021577673 Starter Motor |
| VOE9017224279 Starter Motor | VOE9017265791 Starter Motor |
| VOE11711475 Starter Motor | VOE8003964839 Starter Motor |
| VOE9011711475 Starter Motor | VOE8007411049 Starter Motor |
| PJ7417702 Starter Motor | VOE8004772059 Starter Motor |
| VOE11714461 Starter Motor | VOE8013851472 Starter Motor |
| VOE9011714461 Starter Motor | VOE8017219790 Starter Motor |
| VOE9007417702 Starter Motor | VOE9019295856 Starter Motor |
| VOE9016677792 Starter Motor | VOE17224589 Starter Motor |
| VOE9017248726 Starter Motor | VOE8004078515 Starter Motor |
| VOE9014522114 Starter Motor | VOE8004881031 Starter Motor |
| VOE14522114 Starter Motor | VOE8020459041 Starter Motor |
| VOE17408462 Starter Motor | VOE8185086600 Starter Motor |
| RM59816520 Starter Motor | VOE8011127679 Starter Motor |
| VOE9020405828 Starter Motor | VOE8020412737 Starter Motor |
| VOE20412737 Starter Motor | VOE8043830702 Starter Motor |
| VOE9020412737 Starter Motor | VOE8043830793 Starter Motor |
| VOE9013851548 Starter Motor | VOE8022175635 Starter Motor |
| VOE20405828 Starter Motor | VOE9017239117 Starter Motor |
| RM43830728 Starter Motor | VOE8011162465 Starter Motor-Core |
| VOE9043830728 Starter Motor | VOE8000847307 Starter Motor |
| VOE8000065907 Starter Motor | VOE8002290650 Starter Motor |
| VOE9011707112 Starter Motor | VOE8000847308 Starter Motor |
| CH84629 Starter Motor 6Ct | VOE8022175633 Starter Motor |
| VOE21577673 Starter Motor | VOE8043830728 Starter Motor |
| VOE9021577673 Starter Motor | VOE8002904386 Starter Motor |
| VOE21306350 Starter Motor | VOE8004880691 Starter Motor |
| VOE8003918377 Starter Motor | VOE8013503693 Starter Motor |
| SA3918377 Starter Motor | VOE8011129122 Starter Motor |
| RM13851456 Starter Motor | VOE8013851548 Starter Motor |
| VOE9020900793 Starter Motor | VOE8043830751 Starter Motor |
| VOE21314102 Starter Motor | VOE9013503693 Starter Motor |
| VOE11127809 Starter Motor | VOE8021798914 Starter Motor |
| VOE9011127809 Starter Motor | VOE9043830793 Starter Motor |
| VOE9013851472 Starter Motor | VOE8017239117 Starter Motor |
| RM13851472 Starter Motor | VOE8016677792 Starter Motor |
| VOE11716113 Starter Motor | VOE8007417702 Starter Motor |
| VOE9021798914 Starter Motor | VOE8011713770 Starter Motor |
| VOE9011716113 Starter Motor | VOE8017248726 Starter Motor |
| VOE21311522 Starter Motor | VOE8014522114 Starter Motor |
| VOE8011715928 Starter Motor | VOE8020900793 Starter Motor |
| VOE9021799215 Starter Motor | VOE8011707118 Starter Motor |
| VOE9002290650 Starter Motor | VOE17224716 Starter Motor |
| VOE16213390 Starter Motor | VOE8000847330 Starter Motor |
| VOE17386351 Starter Motor | VOE8011127809 Starter Motor |
| VOE9011711975 Starter Motor | VOE8011711975 Starter Motor |
| VOE11711975 Starter Motor | VOE8007418059 Starter Motor |
| VOE21798914 Starter Motor | VOE8043830819 Starter Motor |
| SA3957597 Starter Motor | VOE8043830777 Starter Motor |
| VOE9011713970 Starter Motor | VOE8011714461 Starter Motor |
| RM59965038 Starter Motor | VOE8013503941 Starter Motor |
| RM13851605 Starter Motor | VOE8019295856 Starter Motor |
| VOE9013851605 Starter Motor | VOE8013503735 Starter Motor |
| VOE17233221 Starter Motor | VOE8021799215 Starter Motor |
| VOE9017233221 Starter Motor | VOE17286507 Starter Motor |
| VOE9011127679 Starter Motor | VOE8017414198 Starter Motor |
| VOE11127679 Starter Motor | VOE8000872364 Starter Motor |
| VOE11423474 Starter Motor | VOE8007412897 Starter Motor |
| VOE9011423474 Starter Motor | VOE8011032267 Starter Motor |
| VOE9022175633 Starter Motor | VOE8011129121 Starter Motor |
| VOE9004880691 Starter Motor | VOE8011707112 Starter Motor |
| VOE9011702594 Starter Motor | VOE8020405828 Starter Motor |
| VOE11702594 Starter Motor | VOE8000084629 Starter Motor |
| VOE9011032267 Starter Motor | VOE8013851605 Starter Motor |
| VOE11032267 Starter Motor | VOE9013851456 Starter Motor |
| RM58866856 Starter Motor | VOE8019312537 Starter Motor |
| VOE9020450305 Starter Motor | VOE8017265791 Starter Motor |
| VOE20450305 Starter Motor | VOE8017233221 Starter Motor |
| VOE9011129122 Starter Motor | VOE9017414198 Starter Motor |
| VOE21799215 Starter Motor | VOE17419099 Starter Motor |
| VOE15424353 Starter Motor | VOE8011031126 Starter Motor |
| VOE11702397 Starter Motor | VOE8020450305 Starter Motor |
| VOE9011702397 Starter Motor | VOE8011707113 Starter Motor |
| VOE4881097 Starter Motor | VOE8011713970 Starter Motor |
| VOE9004881097 Starter Motor | VOE8011129448 Starter Motor |
| VOE9004881031 Starter Motor | VOE8011711475 Starter Motor |
| VOE9011129448 Starter Motor | VOE8013503594 Starter Motor |
| VOE9020459041 Starter Motor | VOE17414038 Starter Motor |
| VOE11129121 Starter Motor | VOE8004881097 Starter Motor |
| VOE9011129121 Starter Motor | VOE8011030394 Starter Motor |
| VOE11129448 Starter Motor | VOE8011702594 Starter Motor |
| VOE20459041 Starter Motor | VOE8011713502 Starter Motor |
| VOE11031126 Starter Motor | VOE8011423474 Starter Motor |
| VOE4772059 Starter Motor | VOE8017224279 Starter Motor |
| VOE9011031126 Starter Motor | VOE9022175635 Starter Motor |
| VOE9004772059 Starter Motor | RM43830793 Starter Motor |
| VOE881683 Starter Motor | RM43830777 Starter Motor |
| VOE9000881683 Starter Motor | RM13851548 Starter Motor |
| VOE9000847330 Starter Motor | PJ7417705 Pinion \(Starter Motor\) |
| VOE9020459062 Starter Motor | VOE9013503735 Starter Motor |
| VOE20459062 Starter Motor | PJ185086600 Starter Motor |
| VOE9004777147 Starter Motor | RM54567516 Starter Motor |
| VOE4777147 Starter Motor | VOE9007412897 Starter Motor |
| VOE9000847307 Starter Motor | VOE11716114 Starter Motor |
| VOE3964839 Starter Motor | PJ7411049 Starter Motor |
| VOE11129122 Starter Motor | RM13428818 Starter Motor |
| VOE847308 Starter Motor | RM54637129 Starter Motor |
| VOE9000847308 Starter Motor | VOE9007418059 Starter Motor |
| VOE9003964839 Starter Motor | PJ7418059 Starter Motor |
| VOE9043830777 Starter Motor | RM43830702 Starter Motor |
| VOE9011707113 Starter Motor | VOE9043830702 Starter Motor |
| VOE8000065909 Starter Motor | PJ7416581 Starter Motor |
| VOE9011030394 Starter Motor | VOE9007411049 Starter Motor |
| VOE17219790 Starter Motor | RM43830819 Starter Motor |
| VOE9017219790 Starter Motor | SA7383-10000 Starter Motor A |
| VOE9004078515 Starter Motor | VOE9013503594 Starter Motor |