Volvo Final Drives
The Volvo Final Drive is a design made up of gears and other operating elements that are driven by a gear train.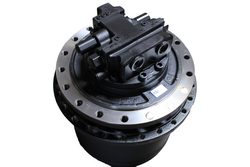 The simplest Volvo Final Drive consists of a carrier. It is designed to fix the satellites relative to each other so that they move together.
For proper operation of the Volvo Final Drive, it is necessary that one of the constituent parts of it is rigidly fixed to the casing. In the Volvo Final Drive, which is equipped with a carrier, the static part is exactly it. In addition, the crown or solar gear may be rigidly fixed. In the event that none of the parts of this unit is fixed, it is possible to separate one movement into several, or merge the two into one.
Due to this design, the drive and driven shafts of the Volvo moving in one direction.
Serves the Volvo Final Drive to ensure a lower gear and at the same time increase the torque. To ensure the operation of this mechanism, the rotating shaft of the Volvo joins its driven element.
Lubrication of all components of this device is done by spraying the oil, but in some special devices this is done by a Volvo oil pump forcibly.
Types of Volvo Final Drives:
Depending on the number of gears that they have Volvo Final Drives are divided into:
- single-stage;
- multistage.
Single-stage motors - simpler and at the same time more compact, smaller in size compared to multistage gears, provide more opportunities for transferring torque, achieving different gear ratios. Volvo multi-stage Drives are rather cumbersome mechanisms, and the range of gear ratios that they can be provided is significantly smaller.
If you are interested in the original Volvo Final Drive or the aftermarket (replacement) or rebuilt Volvo Final Drive, you can order this unit online.
| | |
| --- | --- |
| CH43688 Pin-Mounting-Final Drive | VOE8015187584 Final Drive |
| CH19827 Cover Plate-Final Drive A | VOE9003152151 Final Drive |
| ZM2904681 Final Drive | VOE9003192086 Final Drive |
| VOE1523008 Final Drive | VOE801524551 Final Drive |
| CHC-305 Final Drive Stand | VOE9001672165 Final Drive |
| VOE9003192089 Final Drive | VOE8003152148 Final Drive |
| VOE3192089 Final Drive | VOE8015020640 Final Drive |
| VOE15020636 Final Drive | VOE8015020641 Final Drive |
| VOE15020642 Final Drive | VOE9011102620 Final Drive |
| VOE12733852 Final Drive | VOE8015080546 Final Drive |
| VOE15020640 Final Drive | VOE9011103384 Final Drive |
| VOE15020639 Final Drive | VOE8011709964 Final Drive |
| VOE901524551 Final Drive | VOE9015020640 Final Drive |
| VOE901524635 Final Drive | VOE9003192087 Final Drive |
| VOE1523616 Final Drive | VOE8011103384 Final Drive |
| VOE1523508 Final Drive | VOE8011035824 Final Drive |
| RM54552260 Final Drive | VOE11102004 Final Drive |
| VOE3152149 Final Drive | VOE8003192086 Final Drive |
| VOE3192087 Final Drive | VOE8004870487 Final Drive |
| VOE3152151 Final Drive | VOE8015020642 Final Drive |
| VOE9015020638 Final Drive | VOE9003152149 Final Drive |
| VOE15020638 Final Drive | VOE8003152151 Final Drive |
| VOE3192086 Final Drive | VOE8011035728 Final Drive |
| VOE3152148 Final Drive | VOE8011102201 Final Drive |
| VOE11102201 Final Drive | VOE801524635 Final Drive |
| VOE11102203 Final Drive | VOE8011102002 Final Drive |
| VOE11102245 Final Drive | VOE8011102011 Final Drive |
| VOE9015080546 Final Drive | VOE8015020639 Final Drive |
| VOE9015020641 Final Drive | VOE9003152148 Final Drive |
| VOE15020641 Final Drive | VOE8015020638 Final Drive |
| VOE11102620 Final Drive | VOE8011102007 Final Drive |
| VOE9011103033 Final Drive | VOE8003192087 Final Drive |
| VOE11035838 Final Drive | VOE9015020642 Final Drive |
| VOE11709964 Final Drive | VOE8011035838 Final Drive |
| VOE9011709964 Final Drive | VOE8011102245 Final Drive |
| CH74093P Final Drive | VOE8001523508 Final Drive |
| VOE12730019 Final Drive-Sr30-G710B | VOE8011102203 Final Drive |
| VOE16004500 Final Drive | VOE8011035837 Final Drive |
| VOE12733853 Final Drive | VOE8011102686 Final Drive |
| VOE15187584 Final Drive | VOE9011102686 Final Drive |
| VOE9015187584 Final Drive | VOE9015020636 Final Drive |
| VOE12733854 Final Drive | VOE8011103033 Final Drive |
| VOE15187582 Final Drive | VOE8011102620 Final Drive |
| VOE9015187582 Final Drive | VOE11102003 Final Drive |
| VOE12733855 Final Drive | VOE8011102001 Final Drive |
| VOE15406486 Final Drive | VOE8001671924 Final Drive |
| VOE16021198 Final Drive | VOE8003152149 Final Drive |
| VOE9016021198 Final Drive | VOE8003192089 Final Drive |
| VOE16022041 Final Drive | VOE8011035729 Final Drive |
| VOE16002006 Final Drive | VOE8011102619 Final Drive |
| VOE15412579 Final Drive | VOE8001672165 Final Drive |
| VOE16021197 Final Drive | VOE9011102619 Final Drive |
| VOE9015412579 Final Drive | VOE8001672166 Final Drive |
| VOE12723632 Final Drive-Bull Gear-G78 | VOE8011102004 Final Drive |
| CH74094 Final Drive | VOE9015020639 Final Drive |
| CH80879 Final Drive | VOE8015020636 Final Drive |
| VOE8016021198 Final Drive | VOE8011102003 Final Drive |
| VOE8015187582 Final Drive | VOE8011102707 Final Drive |
| VOE12726553 Final Drive-Sr30 720 | VOE8001069484 Final Drive |
| VOE12726552 Final Drive-Sr30 710 | VOE8001523616 Final Drive |
| VOE8015412579 Final Drive | VOE12741513 Spacer-Final Drive-G780B |
| RM59123877 Drive Unit | SA7117-00500 Drive Unit |
| RM56247661 Drive Unit | SA7117-38010 Drive Unit |
| SA2037-00100 Drive Unit | VOE9011707214 Drive Unit |
| SA8320-16950 Drive Unit | SA7117-45010 Drive Unit |
| SA3939961 Drive Unit Pump | VOE9011707198 Drive Unit |
| SA3924882 Drive Unit Assy | VOE9011707197 Drive Unit |
| RM58855859 Drive Unit | VOE9011707209 Drive Unit |
| RM58832676 Drive Unit | VOE9014551150 Drive Unit |
| RM21080015 Drive Unit | VOE9014566400 Drive Unit |
| VOE9004890106 Drive Unit | VOE14566400 Drive Unit |
| PJ4890106 Drive Unit | VOE14599920 Drive Unit |
| RM80627060 Drive Unit Lh | VOE9014599920 Drive Unit |
| RM80627078 Drive Unit Rh | VOE14664170 Drive Unit |
| VOE9011802522 Drive Unit | VOE14667672 Drive Unit |
| RM14799662 Drive Unit | VOE14569761 Drive Unit |
| RM14799654 Drive Unit | VOE14592030 Drive Unit |
| VOE9004890103 Drive Unit | VOE8014713845 Drive Unit |
| VOE17445882 Drive Unit | VOE9014713845 Drive Unit |
| VOE9014633636 Drive Unit | VOE14667674 Drive Unit |
| VOE12733572 Drive Unit | VOE14713845 Drive Unit |
| VOE14516626 Drive Unit | VOE9014667672 Drive Unit |
| VOE14707178 Drive Unit | VOE14704090 Drive Unit |
| VOE14633326 Drive Unit | VOE9014704090 Drive Unit |
| VOE9014687062 Drive Unit | VOE14694046 Drive Unit |
| VOE9014707179 Drive Unit | VOE14667673 Drive Unit |
| VOE14707179 Drive Unit | VOE9014667673 Drive Unit |
| VOE9014707178 Drive Unit | VOE14603461 Drive Unit |
| VOE14516538 Drive Unit | VOE14632579 Drive Unit |
| VOE14633328 Drive Unit | VOE14621715 Drive Unit |
| RM20325163 Drive Unit | VOE14666131 Drive Unit |
| VOE14507899 Drive Unit | VOE14696105 Drive Unit |
| VOE14541065 Drive Unit | VOE8014528930 Drive Unit |
| VOE14521441 Drive Unit | VOE8014528734 Drive Unit |
| RM80898786 Drive Unit | VOE8014683168 Drive Unit |
| VOE14541066 Drive Unit | VOE9014696105 Drive Unit |
| VOE14560145 Drive Unit | VOE8014528257 Drive Unit |
| VOE8014614941 Drive Unit | VOE9011806479 Drive Unit |
| VOE14673445 Drive Unit | VOE8014599920 Drive Unit |
| VOE14614941 Drive Unit | VOE8014566400 Drive Unit |
| VOE14664485 Drive Unit | VOE8014667672 Drive Unit |
| VOE9014664485 Drive Unit | VOE8014669509 Drive Unit |
| VOE14664368 Drive Unit | VOE9014673445 Drive Unit |
| VOE14524182 Drive Unit | VOE8014673445 Drive Unit |
| VOE9014524182 Drive Unit | VOE8014528729 Drive Unit |
| VOE14683168 Drive Unit | VOE17445874 Drive Unit |
| VOE9014683168 Drive Unit | VOE8014636831 Drive Unit |
| VOE14611983 Drive Unit | VOE8014528731 Drive Unit |
| VOE14611982 Drive Unit | VOE8014667673 Drive Unit |
| VOE14538585 Drive Unit | VOE8014704090 Drive Unit |
| VOE9014528730 Drive Unit | VOE8011802522 Drive Unit |
| VOE14528731 Drive Unit | VOE8014664485 Drive Unit |
| VOE9014528731 Drive Unit | VOE9014636831 Drive Unit |
| VOE14528730 Drive Unit | VOE8014687062 Drive Unit |
| VOE9014528729 Drive Unit | VOE8011806479 Drive Unit |
| VOE9014538585 Drive Unit | VOE8004890106 Drive Unit |
| VOE9014538586 Drive Unit | VOE8014592030 Drive Unit |
| VOE14528732 Drive Unit | VOE8014707178 Drive Unit |
| VOE14528729 Drive Unit | VOE8014551154 Drive Unit |
| VOE14538586 Drive Unit | VOE8054463740 Drive Unit |
| VOE9014528732 Drive Unit | VOE8014636830 Drive Unit |
| VOE9011707204 Drive Unit | VOE9014694044 Drive Unit |
| VOE14616210 Drive Unit | VOE8014694044 Drive Unit |
| VOE14528930 Drive Unit | VOE8014696105 Drive Unit |
| VOE9014528930 Drive Unit | VOE8014566996 Drive Unit |
| VOE14566996 Drive Unit | VOE8014621717 Drive Unit |
| VOE9014566996 Drive Unit | VOE17445892 Drive Unit |
| VOE9014528734 Drive Unit | VOE8014513049 Drive Unit |
| VOE14556701 Drive Unit | VOE9014513049 Drive Unit |
| VOE14528734 Drive Unit | VOE8014616208 Drive Unit |
| VOE14669509 Drive Unit | VOE8014528730 Drive Unit |
| VOE14669510 Drive Unit | VOE8014538585 Drive Unit |
| VOE9014669509 Drive Unit | VOE8014669510 Drive Unit |
| VOE9014669510 Drive Unit | VOE9054463740 Drive Unit |
| VOE9011707211 Drive Unit | VOE8011707214 Drive Unit |
| VOE14694035 Drive Unit | VOE8014528732 Drive Unit |
| VOE14694036 Drive Unit | VOE8014538586 Drive Unit |
| VOE9014616208 Drive Unit | VOE8014634645 Drive Unit |
| VOE14694033 Drive Unit | VOE8014524182 Drive Unit |
| VOE14616208 Drive Unit | VOE8014551150 Drive Unit |
| VOE14616211 Drive Unit | VOE8014707179 Drive Unit |
| VOE14616212 Drive Unit | RM56264658 Drive Unit |
| VOE14636831 Drive Unit | RM20325221 Drive Unit |
| VOE14636830 Drive Unit | RM20329652 Drive Unit |
| VOE14621717 Drive Unit | VOE8011707198 Drive Unit |
| VOE14634645 Drive Unit | VOE8011707211 Drive Unit |
| VOE9014634645 Drive Unit | VOE8011707208 Drive Unit |
| VOE14694044 Drive Unit | VOE8011707197 Drive Unit |
| VOE9014636830 Drive Unit | VOE8004890103 Drive Unit |
| VOE14551150 Drive Unit | VOE8011707209 Drive Unit |
| VOE14550250 Drive Unit | VOE8011707204 Drive Unit |
| VOE14551154 Drive Unit | RM56257660 Hydraulic Drive Units 0 5 |
| VOE9014528257 Drive Unit | RM20329090 Drive Unit |
| VOE14653034 Drive Unit | DRIVE UNIT RM80622301 |
| VOE9011707208 Drive Unit | DRIVE UNIT SA1143-01060 |
| VOE9014551154 Drive Unit | DRIVE UNIT RM80794886 |