Volvo Travel Motors
The Volvo Travel Motor is a design made up of gears and other operating elements that are driven by a gear train.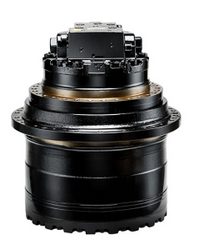 The simplest Volvo Travel Motor consists of a carrier. It is designed to fix the satellites relative to each other so that they move together.
For proper operation of the Volvo Travel Motor, it is necessary that one of the constituent parts of it is rigidly fixed to the casing. In the Volvo Travel Motor, which is equipped with a carrier, the static part is exactly it. In addition, the crown or solar gear may be rigidly fixed. In the event that none of the parts of this unit is fixed, it is possible to separate one movement into several, or merge the two into one.
Due to this design, the drive and driven shafts of the Volvo moving in one direction.
Serves the Volvo Travel Motor to ensure a lower gear and at the same time increase the torque. To ensure the operation of this mechanism, the rotating shaft of the Volvo joins its driven element.
Lubrication of all components of this device is done by spraying the oil, but in some special devices this is done by a Volvo oil pump forcibly.
Types of Volvo Travel Motors:
Depending on the number of gears that they have Volvo Travel Motors are divided into:
- single-stage;
- multistage.
Single-stage motors - simpler and at the same time more compact, smaller in size compared to multistage gears, provide more opportunities for transferring torque, achieving different gear ratios. Volvo multi-stage Drives are rather cumbersome mechanisms, and the range of gear ratios that they can be provided is significantly smaller.
If you are interested in the original Volvo Travel Motor or the aftermarket (replacement) or rebuilt Volvo Travel Motor, you can order this unit online.
| | |
| --- | --- |
| SA8230-15610 Travel Motor As | VOE14560146 Travel Motor |
| VOE14516668 Travel Motor | SA1143-00860 Travel Motor As |
| VOE9011801826 Travel Motor | VOE9014557191 Travel Motor |
| PJ4890004 Travel Motor | VOE14557191 Travel Motor |
| SA8230-17020 Travel Motor As | VOE14672050 Travel Motor |
| VOE9011806481 Travel Motor | VOE9014672050 Travel Motor |
| VOE9014500160 Travel Motor | VOE9014666233 Travel Motor |
| VOE9014533649 Travel Motor | VOE14666233 Travel Motor |
| VOE9011802600 Travel Motor | VOE14522564 Travel Motor |
| VOE14627234 Travel Motor | VOE14628669 Travel Motor |
| VOE14685551 Travel Motor | VOE14673444 Travel Motor |
| VOE14661875 Travel Motor | VOE9014673444 Travel Motor |
| VOE14520757 Travel Motor | SA7240-10601 Travel Motor |
| VOE14633161 Travel Motor | VOE14672197 Travel Motor |
| VOE14604900 Travel Motor | VOE14604840 Travel Motor |
| VOE14385588 Travel Motor | VOE9014704091 Travel Motor |
| VOE9014385588 Travel Motor | VOE14704091 Travel Motor |
| VOE14603854 Travel Motor | VOE14528281 Travel Motor |
| VOE9014603854 Travel Motor | VOE9014528281 Travel Motor |
| VOE14566752 Travel Motor | VOE14528280 Travel Motor |
| VOE9014603858 Travel Motor | VOE9014551802 Travel Motor |
| VOE14619028 Travel Motor | VOE14551802 Travel Motor |
| VOE14643844 Travel Motor | VOE14568907 Travel Motor |
| VOE14566750 Travel Motor | VOE9014606699 Travel Motor |
| VOE8014566752 Travel Motor | VOE14592002 Travel Motor |
| VOE14528978 Travel Motor | VOE14606699 Travel Motor |
| VOE9011707210 Travel Motor | VOE9014592002 Travel Motor |
| VOE14573925 Travel Motor | VOE14568908 Travel Motor |
| VOE9014382433 Travel Motor | VOE9014549304 Travel Motor |
| SA1143-01090 Travel Motor | VOE14549304 Travel Motor |
| VOE14382433 Travel Motor | VOE9014593321 Travel Motor |
| VOE14385587 Travel Motor | VOE9014528280 Travel Motor |
| VOE9014385587 Travel Motor | VOE14593321 Travel Motor |
| VOE9014377045 Travel Motor | SA1943-00010 Travel Motor |
| VOE14377045 Travel Motor | SA1043-00840 Travel Motor As |
| VOE14663375 Travel Motor | SA8230-03460 Travel Motor |
| VOE14569181 Travel Motor | VOE14385586 Travel Motor |
| VOE9014385586 Travel Motor | SA8230-06630 Travel Motor As |
| VOE9011707212 Travel Motor | SA1043-01450 Travel Motor |
| VOE14569653 Travel Motor | VOE9014533314 Travel Motor |
| VOE14569180 Travel Motor | VOE8011707212 Travel Motor |
| VOE9014382432 Travel Motor | VOE8014382432 Travel Motor |
| VOE14382432 Travel Motor | VOE8014500160 Travel Motor |
| VOE14685547 Travel Motor | VOE8014593321 Travel Motor |
| VOE9014685547 Travel Motor | VOE8014626809 Travel Motor |
| VOE14696106 Travel Motor | VOE8014673444 Travel Motor |
| VOE14661872 Travel Motor | VOE8014648171 Travel Motor |
| VOE9014603856 Travel Motor | VOE8014672050 Travel Motor |
| VOE9014696106 Travel Motor | VOE8011707210 Travel Motor |
| VOE14661873 Travel Motor | VOE8014553799 Travel Motor |
| VOE9014685548 Travel Motor | VOE9014560145 Travel Motor |
| VOE14603856 Travel Motor | VOE8014603856 Travel Motor |
| VOE14666132 Travel Motor | VOE8014648172 Travel Motor |
| VOE9014661872 Travel Motor | VOE8014533649 Travel Motor |
| VOE14662921 Travel Motor | VOE8014516538 Travel Motor |
| SA7240-10402 Travel Motor | VOE8014616427 Travel Motor |
| VOE14385189 Travel Motor | VOE8014666233 Travel Motor |
| VOE14619026 Travel Motor | VOE8014613847 Travel Motor |
| VOE14636931 Travel Motor | VOE9014595537 Travel Motor |
| VOE14619029 Travel Motor | VOE8014557191 Travel Motor |
| VOE14636930 Travel Motor | VOE8014685548 Travel Motor |
| VOE8014566751 Travel Motor | VOE8014603857 Travel Motor |
| VOE9014385420 Travel Motor | VOE8014606699 Travel Motor |
| VOE14603857 Travel Motor | VOE8014614942 Travel Motor |
| VOE14616427 Travel Motor | VOE8014533314 Travel Motor |
| VOE14603858 Travel Motor | VOE8014382433 Travel Motor |
| VOE9014616427 Travel Motor | VOE8014549304 Travel Motor |
| VOE9014603857 Travel Motor | VOE8014661872 Travel Motor |
| VOE14508165 Travel Motor | VOE8014603854 Travel Motor |
| SA8230-20770 Travel Motor Ki | VOE8014696106 Travel Motor |
| SA8230-20760 Travel Motor Ki | VOE8011806481 Travel Motor |
| VOE14657488 Travel Motor | VOE8014385588 Travel Motor |
| VOE14657489 Travel Motor | VOE8014385586 Travel Motor |
| VOE14385420 Travel Motor | VOE8014533639 Travel Motor |
| VOE9014516626 Travel Motor | VOE9014560146 Travel Motor |
| VOE9014516538 Travel Motor | VOE8011707203 Travel Motor |
| VOE9011707203 Travel Motor | VOE8014385420 Travel Motor |
| SA1143-00380 Travel Motor | VOE8014551802 Travel Motor |
| VOE14533639 Travel Motor | VOE8014664486 Travel Motor |
| VOE9014533639 Travel Motor | VOE8014674349 Travel Motor |
| VOE14538547 Travel Motor | VOE8011801826 Travel Motor |
| VOE14613847 Travel Motor | VOE8014516626 Travel Motor |
| VOE9014613847 Travel Motor | VOE8014528281 Travel Motor |
| VOE14533651 Travel Motor | VOE8014528280 Travel Motor |
| VOE14553799 Travel Motor | VOE8014603858 Travel Motor |
| VOE9014553799 Travel Motor | VOE8014685547 Travel Motor |
| VOE14577126 Travel Motor | VOE8014377045 Travel Motor |
| VOE14595537 Travel Motor | VOE8011802600 Travel Motor |
| VOE14614942 Travel Motor | VOE8014385587 Travel Motor |
| VOE9014614942 Travel Motor | VOE8014560145 Travel Motor |
| VOE14613849 Travel Motor | VOE8014595537 Travel Motor |
| VOE9014613849 Travel Motor | VOE8014560146 Travel Motor |
| VOE9014626809 Travel Motor | VOE8014385189 Travel Motor |
| VOE14626809 Travel Motor | VOE9014385189 Travel Motor |
| VOE9014648171 Travel Motor | VOE8014592002 Travel Motor |
| VOE14648172 Travel Motor | VOE8014569653 Travel Motor |
| VOE9014648172 Travel Motor | VOE8014613849 Travel Motor |
| VOE14648171 Travel Motor | VOE8014704091 Travel Motor |
| VOE9014664486 Travel Motor | VOE8014566750 Travel Motor |
| VOE14664486 Travel Motor | TRAVEL MOTOR VOE14603855 |
| VOE14674349 Travel Motor | TRAVEL MOTOR VOE14636929 |
| VOE9014674349 Travel Motor | TRAVEL MOTOR VOE14622111 |
| VOE14533648 Travel Motor | |