How to use the original parts catalog - Caterpillar (CAT) SIS

In order to place an order in our online Caterpillar Parts Store, you will need the CAT parts codes you need. You can get Caterpillar parts codes from multiple sources.
First, the paper version of the Caterpillar parts catalog, which you or your customer received when purchasing CAT equipment. Yes, Yes. According to the policy of Caterpillar, the dealer in any country is obliged to issue a paper version of the catalog. And not just according to your model of equipment, but according to the specific configuration of the machine, tied to the serial number of the machine.
Serial number of Caterpillar equipment - extremely important data!!! Search or selection of Caterpillar parts without a serial number is not possible!!! Checking the compatibility of the Caterpillar part code with a model without a serial number is not possible!!!
Secondly - Caterpillar SIS or CAT Service Information System. It is about this system that we will talk in this section of our site, and we will also try to help you find Caterpillar spare parts in the catalog. Go...
What is CAT Service Information System (SIS).
SIS is an electronic service tool that dealers, customers, and employees rely on to find parts and service information. SIS covers information for all products since 1977. Information in SIS is equivalent to more than 25,000 books. With over 2 million graphics and over 1.5 million part numbers. SIS contains over 44,000 parts catalogs and service documents.
SIS is available local (LAN) with network SIS, Online (SIS Web) or on DVD. Data in SIS Web (Internet version) is updated every night, providing users with the latest data.
Improved and Simplified SIS Main Menu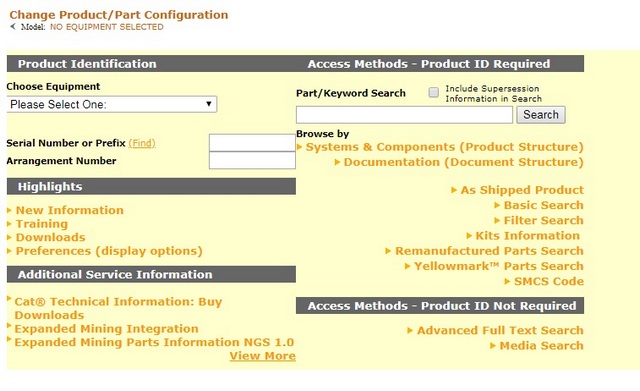 Search from SIS main menu
| | |
| --- | --- |
| Product ID required for these searches | Product ID NOT required for these searches |
| Parts Search by keyword or part number | Advanced Full Text Search |
| Systems and Components (Product Structure) | Media Search |
| Documentation (Document Structure) ** | NPR ** |
| SMCS Code | Parts List |
| Basic Search | Kits Information |
| As Shipped Product | Engine Performance Specifications |
| Filter Search | Service Software Files |
| Remanufactured, Aftermarket Caterpillar Parts Search | Other Repair Process Information |
How to start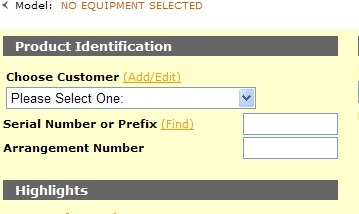 Use of systems and components (product identification)

Searches are divided into those requiring a Product Identification (product ID – prefix and serial number, sometimes referred to as serial number prefix – SNP) and those not requiring a Product ID.
Product ID-required searches produce results that are more specific to a product.
Prefix only-search results apply to the entire model with that prefix.
No-Product ID searches permitted
Model prefixes can be found using the Select Equipment Model search
Some documents require users be given permission to access them. Those are marked with an **.

Use (Find)
If you know the model number, enter it in the field to be filled.
If you do not know the model number, select an item from the Product Family displayed in the left column.