Parts for Komatsu Graders
You can easily find the auto parts for Motor Graders
Komatsu
on our website. We offer all the necessary parts for the best possible operation of your Motor Graders Komatsu. You can always enjoy the best original and aftermarket parts for Komatsu equipment we have, as our distributors located around the world. Contact our team today and get a free quotation for the spare parts required for graders on the jobsite.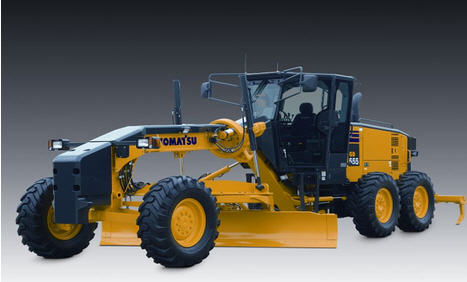 High-quality spare parts for Komatsu Motor Graders are essential for the normal operation of power equipment. Graders are one of the most important pieces of equipment on the job site, so they need replacement parts in the prescribed manner. From time to time you may need to replace parts of the hydraulic system, engine, transmission and control systems. Graders
Komatsu
manufactured using the latest technology and have the most comfortable and effective management system. If you decide to spend maintenance, repair and improvement of your grader, put your trust in our company the company, and we will deliver the best parts.
We offer the lowest prices and fast delivery. Thanks to the timely delivery of spare parts, you can stick to the plan of the construction site or site landscaping. The company Komatsu is renowned for its varied and reliable power equipment systems that can meet all your requirements; Nevertheless, even the most reliable equipment requires maintenance. Please contact, order parts of Komatsu Motor Graders, and you can resume work as soon as possible. Call today and get a free price quote.
KOMATSU PARTS LIST
| | | | |
| --- | --- | --- | --- |
| KD1-21352-0090 - COVER | KD1-21951-1920 - PACKING | KD1-33100-1180 - ROTOR ASS'Y | KD1-33926-0252 - RETAINER |
| KD1-21352-0500 - METAL | KD1-21951-1930 - PACKING | KD1-33100-1270 - ROTOR ASS'Y | KD1-33926-0460 - RETAINER |
| KD1-21500-0480 - CLUTCH ASS'Y | KD1-23100-0110 - ARMATURE | KD1-33130-0120 - RING | KD1-33926-0500 - RETAINER |
| KD1-21500-0731 - CLUTCH ASS'Y | KD1-23100-0120 - ARMATURE | KD1-33130-0130 - RING | KD1-33926-0730 - RETAINER |
| KD1-21500-0780 - CLUTCH ASS'Y | KD1-23100-0160 - ARMATURE ASS'Y | KD1-33130-0140 - RING | KD1-33926-0740 - RETAINER |
| KD1-21500-0880 - CLUTCH ASS'Y | KD1-23111-0160 - SHAFT | KD1-33130-0172 - RING | KD1-33926-0750 - RETAINER |
| KD1-21500-1200 - CLUTCH ASS'Y | KD1-23111-0320 - SHAFT | KD1-33130-0180 - RING | KD1-33926-0770 - RETAINER |
| KD1-21500-1230 - CLUTCH ASS'Y | KD1-23111-0350 - SHAFT ASS'Y | KD1-33200-0280 - STATOR ASS'Y | KD1-33926-0820 - RETAINER |
| KD1-21500-1450 - CLUTCH ASS'Y | KD1-23111-0370 - SHAFT | KD1-33200-0300 - STATOR ASS'Y | KD1-33926-0910 - RETAINER |
| KD1-21500-1530 - CLUTCH ASS'Y | KD1-23120-0090 - SHAFT ASS'Y | KD1-33200-0540 - STATOR ASS'Y | KD1-33926-0920 - RETAINER |
| KD1-21500-1580 - CLUTCH ASS'Y | KD1-23181-0020 - STOPPER | KD1-33200-0670 - STATOR ASS'Y | KD1-33926-0930 - RETAINER |
| KD1-21500-1600 - CLUTCH ASS'Y | KD1-23181-0030 - STOPPER | KD1-33200-0710 - STATOR ASS'Y | KD1-33927-0390 - HOLDER |
| KD1-21500-1610 - CLUTCH ASS'Y | KD1-23181-0050 - STOPPER | KD1-33200-0732 - STATOR ASS'Y | KD1-33928-0220 - STOPPER |
| KD1-21500-1730 - CLUTCH ASS'Y | KD1-23230-0220 - FIELD COIL | KD1-33200-0760 - STATOR ASS'Y | KD1-33928-0230 - STOPPER |
| KD1-21500-1750 - CLUTCH ASS'Y | KD1-23310-0330 - BRACKET ASS'Y | KD1-33200-0900 - STATOR ASSY | KD1-33931-0021 - CLIP |
| KD1-21500-1751 - CLUTCH | KD1-23310-0360 - BRACKET | KD1-33200-0950 - STATOR ASS'Y | KD1-33931-0070 - CLIP |
| KD1-21500-1850 - CLUTCH ASS'Y | KD1-23310-0380 - BRACKET | KD1-33200-0970 - STATOR ASS'Y | KD1-33931-0100 - CLIP |
| KD1-21500-1900 - CLUTCH ASS'Y | KD1-23310-0400 - BRACKET | KD1-33200-0990 - STATOR ASS'Y | KD1-33941-0120 - WASHER |
| KD1-21505-0020 - SPRING | KD1-23310-0420 - BRACKET ASS'Y | KD1-33200-1000 - STATOR | KD1-33941-0160 - WASHER |
| KD1-21522-0030 - DRIVE PLATE | KD1-23310-0510 - BRACKET | KD1-33200-1100 - STATOR ASS'Y | KD1-33943-0300 - BUSHIHG |
| KD1-21522-0080 - PLATE | KD1-23310-0520 - BRACKET | KD1-33200-1160 - STATOR ASSY | KD1-33943-0701 - BUSHING |
| KD1-21523-0030 - DRIVE PLATE | KD1-23310-0540 - BRACKET | KD1-33200-1220 - STATOR ASS'Y | KD1-33943-0731 - BUSHING |
| KD1-21523-0040 - DRIVE PLATE | KD1-23310-0550 - BRACKET | KD1-33200-1230 - STATOR ASS'Y | KD1-33943-0760 - BUSHING |
| KD1-21523-0110 - PLATE | KD1-23310-0570 - BRACKET | KD1-33300-0450 - BRACKET ASS'Y | KD1-33943-0770 - BUSHING |
| KD1-21524-0030 - DRIVE | KD1-23320-0100 - SHIFT LEVER | KD1-33300-0470 - BRACKET | KD1-33943-0800 - BUSHING |
| KD1-21600-1420 - BRACKET | KD1-23320-0170 - PIN | KD1-33310-0521 - BRACKET | KD1-33943-0870 - BUSHING |
| KD1-21600-1460 - BRACKET ASS'Y | KD1-23320-0180 - LEVER ASS'Y | KD1-33310-0660 - BRACKET | KD1-33943-0890 - BUSHING |
| KD1-21600-1470 - BRACKET ASS'Y | KD1-23320-0190 - LEVER | KD1-33310-0682 - BRACKET | KD1-33943-0980 - BUSHING |
| KD1-21600-1520 - BRACKET ASS'Y | KD1-23351-0060 - METAL | KD1-33310-0684 - BRACKET | KD1-33944-0030 - TUBE |
| KD1-21710-1120 - BRACKET ASS'Y | KD1-23351-0140 - METAL | KD1-33310-0950 - BRACKET | KD1-33944-0240 - TUBE |
| KD1-21720-0190 - HOLDER | KD1-23500-0010 - CLUTCH ASS'Y | KD1-33310-0972 - BRACKET | KD1-33944-0490 - TUBE |
| KD1-21720-0200 - HOLDER | KD1-23500-0150 - CLUTCH ASS'Y | KD1-33310-1060 - BRACKET | KD1-33944-0540 - TUBE |
| KD1-21740-0010 - BRUSH | KD1-23500-0160 - CLUTCH ASS'Y | KD1-33411-0230 - PULLEY | KD1-33946-0051 - SHEET |
| KD1-21740-0040 - BRUSH | KD1-23500-0170 - CLUTCH ASS'Y | KD1-33411-0450 - PULLEY | KD1-33951-0120 - PACKING |
| KD1-21740-0050 - BRUSH | KD1-23500-0190 - CLUTCH ASS'Y | KD1-33411-0580 - PULLEY | KD1-33951-0121 - PACKING |
| KD1-21740-0070 - BRUSH | KD1-23500-0250 - CLUTCH ASS'Y | KD1-33411-2470 - PULLEY | KD1-33951-0130 - PACKING |
| KD1-21740-0090 - BRUSH | KD1-23500-0260 - CLUTCH ASS'Y | KD1-33421-0450 - FAN | KD1-33951-0270 - PACKING |
| KD1-21740-0143 - BRUSH | KD1-23500-0280 - CLUTCH | KD1-33421-0510 - FAN | KD1-33951-0280 - PACKING |
| KD1-21740-0300 - BRUSH | KD1-23600-0080 - BRACKET ASS'Y | KD1-33421-0560 - FAN | KD1-33951-0290 - PACKING |
| KD1-21740-0340 - BRUSH | KD1-23600-0100 - BRACKET | KD1-33421-0590 - FAN | KD1-33951-0340 - PACKING |
| KD1-21740-0370 - BRUSH | KD1-23600-0160 - BRACKET | KD1-33421-0600 - FAN | KD1-33951-0370 - PACKING |
| KD1-21740-0400 - BRUSH | KD1-23611-0080 - BRACKET | KD1-33720-0540 - BRUSH HOLDER | KD1-33951-0380 - GASKET |
| KD1-21740-0410 - BRUSH ASS'Y | KD1-23611-0250 - BRACKET | KD1-33720-0571 - BRUSH HOLDER | KD1-33951-0420 - PACKING |
| KD1-21740-0440 - BRUSH | KD1-23611-0370 - BRACKET | KD1-33720-0630 - BRUSH HOLDER | KD1-33951-0440 - PACKING |
| KD1-21740-0502 - BRUSH | KD1-23611-0420 - BRACKET | KD1-33720-0661 - BRUSH HOLDER | KD1-33951-0450 - PACKING |
| KD1-21740-0503 - BRUSH | KD1-23611-0430 - BRACKET | KD1-33720-0691 - BRUSH HOLDER | KD1-33951-0560 - PACKING |
| KD1-21740-0680 - BRUSH | KD1-23611-0460 - BRACKET | KD1-33720-0792 - BRUSH HOLDER | KD1-33951-0600 - PACKING |
| KD1-21740-0690 - BRUSH | KD1-23711-0180 - BRACKET | KD1-33720-0811 - HOLDER ASS'Y | KD1-33951-0610 - PACKING |
| KD1-21750-1451 - BRUSH HOLDER | KD1-23740-0050 - BRUSH | KD1-33720-0812 - BRUSH HOLDER ASS'Y | KD1-33951-0680 - PACKING |
| KD1-21761-0080 - COVER | KD1-23740-0120 - BRUSH | KD1-33720-0820 - BRUSH HOLDER | KD1-33953-0150 - BUSHING |
| KD1-21761-0190 - COVER | KD1-23740-0140 - BRUSH | KD1-33721-0120 - BRUSH HOLDER | KD1-35100-0070 - ROTOR ASS'Y |
| KD1-21761-1180 - COVER | KD1-23740-0150 - BRUSH | KD1-33730-0201 - RECTIFIER | KD1-35411-0030 - PULLEY |
| KD1-21784-0660 - BAR | KD1-23740-0170 - BRUSH | KD1-33730-0340 - RECTIFIER ASS'Y | KD1-35411-0040 - PULLEY |
| KD1-21784-1220 - BAR | KD1-23740-0180 - BRUSH | KD1-33730-0360 - RECTIFIER | KD1-35411-0060 - PULLEY |
| KD1-21784-1260 - BAR | KD1-23785-0060 - WIRE ASS'Y | KD1-33730-0380 - RECTIFIER ASS'Y | KD1-35411-0100 - PULLEY |
| KD1-21784-1290 - BAR | KD1-23785-0100 - WIRE | KD1-33730-1150 - RECTIFIER ASS'Y | KD1-35411-0160 - PULLEY |
| KD1-21901-1710 - BOLT | KD1-23901-0080 - BOLT | KD1-33730-1160 - RECTIFIER ASS'Y | KD1-35421-0030 - FAN |
| KD1-21913-0020 - SPRING | KD1-23903-0010 - DISH SCREW | KD1-33730-1440 - RECTIFIER | KD1-35761-0060 - COVER |
| KD1-21913-0040 - SPRING | KD1-23905-0042 - RIVET | KD1-33730-1490 - RECTIFIER | KD1-35780-0030 - TERMINAL |
| KD1-21913-0060 - SPRING | KD1-23905-0080 - RIVET | KD1-33730-1820 - RECTIFIER | KD1-35784-0040 - BAR |
| KD1-21913-0120 - BRUSH SPRING | KD1-23913-0010 - SPRING | KD1-33730-1990 - RECTIFIER | KD1-35951-0030 - PACKING |
| KD1-21913-0160 - SPRING | KD1-23913-0040 - BRUSH SPRING | KD1-33730-2180 - RECTIFIER ASS'Y | KD1-37921-0190 - WASHER |
| KD1-21913-0180 - BRUSH SPRING | KD1-23913-0041 - SPRING | KD1-33731-0500 - DIODE | KD1-38943-0050 - BUSHING |
| KD1-21913-0220 - BRUSH SPRING | KD1-23913-0080 - SPRING | KD1-33740-0130 - BRUSH ASS'Y | KD1-44000-0590 - REGULATOR |
| KD1-21913-0240 - SPRING | KD1-23914-0010 - SPRING | KD1-33740-0150 - BRUSH ASS'Y | KD1-44000-0660 - REGULATOR |
| KD1-21913-0241 - SPRING | KD1-23914-0020 - CLIP | KD1-33740-0180 - BRUSH | KD1-44000-0730 - REGULATOR ASS'Y |
| KD1-21913-0360 - SPRING | KD1-23914-0030 - CLIP ASS'Y | KD1-33740-0190 - BRUSH | KD1-44000-0731 - REGULATOR |
| KD1-21913-0370 - SPRING | KD1-23921-0030 - WAHSER | KD1-33740-0340 - BRUSH | KD1-44000-0880 - REGULATOR |
| KD1-21913-0371 - BRUSH SPRING | KD1-23921-0110 - WASHER | KD1-33740-0380 - BRUSH | KD1-44000-0890 - REGULATOR |
| KD1-21914-0170 - CLIP | KD1-23921-0130 - WASHER | KD1-33740-0390 - BRUSH | KD1-44000-0900 - REGULATOR |
| KD1-21921-0030 - WASHER | KD1-23921-0140 - WASHER | KD1-33740-0430 - BRUSH | KD1-47150-0361 - CONTACTOR |
| KD1-21921-0060 - WASHER | KD1-23921-0150 - WASHER | KD1-33740-0440 - BRUSH | KD1-47151-0440 - CONTACTOR |
| KD1-21921-0070 - WASHER | KD1-23921-0170 - WASHER | KD1-33740-0450 - BRUSH HOLDER | KD1-47151-0530 - CONTACTOR |
| KD1-21921-0090 - WASHER | KD1-23921-0210 - WAHSER | KD1-33761-0280 - COVER | KD1-47151-0550 - CONTACTOR |
| KD1-21921-0100 - WASHER | KD1-23922-0160 - PLATE | KD1-33761-0870 - COVER | KD1-47761-0190 - SWITCH |
| KD1-21921-0280 - WASHER | KD1-23941-0030 - WASHER | KD1-33761-0901 - COVER | KD1-47914-0090 - RING |
| KD1-21921-0440 - PLATE | KD1-23941-0040 - WASHER | KD1-33761-1170 - COVER | KD1-47914-0110 - CLIP |
| KD1-21921-0550 - WASHER | KD1-23941-0060 - WASHER | KD1-33780-0200 - TERMINAL ASS'Y | KD1-47921-0710 - WASHER |
| KD1-21921-0660 - WASHER | KD1-23943-0060 - BUSHING | KD1-33780-0220 - TERMINAL | KD1-47921-0790 - WASHER |
| KD1-21921-0700 - WASHER | KD1-23946-0070 - SHEET | KD1-33780-0600 - TERMINAL ASS'Y | KD1-47921-1000 - WASHER |
| KD1-21921-0800 - WASHER | KD1-23946-0080 - SHEET | KD1-33784-0100 - BAR | KD1-47921-1020 - WASHER |
| KD1-21921-0850 - WASHER | KD1-23946-0100 - SHEET | KD1-33785-1390 - LEAD WIRE | KD1-47927-0920 - BRACKET |
| KD1-21921-0980 - WASHER | KD1-23946-0110 - SHEET | KD1-33785-2690 - LEAD | KD1-47927-0940 - HOLDER |
| KD1-21921-1310 - WASHER | KD1-23951-0020 - GASKET | KD1-33786-0420 - TERMINAL | KD1-47927-1030 - HOLDER |
| KD1-21921-1440 - WASHER | KD1-23951-0050 - PACKING | KD1-33801-0160 - BAND | KD1-47927-1060 - HOLDER |
| KD1-21921-1530 - WASHER | KD1-23951-0180 - SEAL | KD1-33922-0070 - PLATE | KD1-47941-0180 - WASHER |
| KD1-21927-0160 - HOLDER | KD1-23951-0250 - PACKING | KD1-33923-0150 - COLLAR | KD1-47941-0490 - WASHER |
| KD1-21941-0230 - WASHER | KD1-23952-0010 - CAP | KD1-33923-0160 - COLLAR | KD1-47941-0550 - WASHER |
| KD1-21941-0580 - INSULATION WASHER | KD1-23953-0070 - BUSHING | KD1-33923-0170 - COLLAR | KD1-47943-0690 - BUSHING |
| KD1-21941-0590 - WASHER | KD1-25922-2800 - PLATE | KD1-33923-0390 - COLLAR | KD1-47943-0780 - BUSHING |
| KD1-21941-0600 - INSULATION WASHER | KD1-25941-0820 - WASHER | KD1-33923-0530 - COLLAR | KD1-47944-0280 - TUBE |
| KD1-21941-0610 - WASHER | KD1-25944-0300 - TUBE | KD1-33923-0570 - COLLAR | KD1-47952-0140 - CAP |
| KD1-21941-0620 - WASHER | KD1-31230-0300 - FIELD COIL ASS'Y | KD1-33923-0640 - COLLAR | KD1-47952-0350 - CAP |
| KD1-21941-0630 - WASHER | KD1-31740-0091 - BRUSH | KD1-33923-0780 - COLLAR | KD1-47952-0353 - CAP |
| KD1-21944-0220 - INSULATE TUBE | KD1-31740-0131 - BRUSH | KD1-33923-0810 - COLLAR | KD1-47952-0370 - CAP |
| KD1-21944-0620 - TUBE | KD1-31903-0100 - DISH SCREW | KD1-33923-0920 - COLLAR | KD1-74222-0080 - VANE |
| KD1-21944-1050 - INSULATE TUBE | KD1-31913-0120 - SPRING | KD1-33923-0930 - COLLAR | KD1-74921-0030 - WASHER |
| KD1-21944-1060 - INSULATE TUBE | KD1-31921-0020 - WASHER | KD1-33923-0940 - COLLAR | KD7-09210-0010 - SEAL ASS'Y |
| KD1-21944-1080 - TUBE | KD1-33100-0482 - ROTOR ASS'Y | KD1-33926-0100 - RETAINER | KD7-09210-0020 - SEAL ASS'Y |
| KD1-21951-1910 - PACKING | KD1-33100-0682 - ROTOR ASSY | KD1-33926-0230 - RETAINER | KD7-09210-0030 - SEAL ASS'Y |