Komatsu D375A-8 Crawler Dozer parts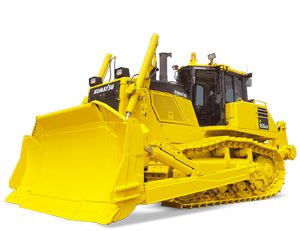 Komatsu D375A-8 Crawler Dozer - it is a big machine. It is a Crawler Dozer and works in difficult operating conditions. That's why this machine sometimes needs maintenance.
Our online parts store give you an access to more than 500 000 Komatsu parts that we have in our inventory.
Here is some more information about Komatsu D375A-8 Dozer:
ENGINE POWER
Forward:
474 kW / 636 HP @ 1.800 rpm
Reverse:
578 kW / 775 HP @ 1.800 rpm

OPERATING WEIGHT
72.900 kg

BLADE CAPACITY
Semi-U blade: 18,5 m³
U blade: 22,0 m³

ENGINE
Model -> Komatsu SAA6D170E-7
Type -> 4-cycle, water-cooled,
direct injection, turbocharged,
air-to-air charge air cooler,
cooled EGR
Engine power
at rated engine speed -> 1.800 rpm
SAE J1995 Forward: 474 kW/636 HP
Reverse: 578 kW/775 HP
ISO 9249 / SAE J1349*
(net engine power)
Forward: 455 kW/609 HP
Reverse: 558 kW/748 HP
No. of cylinders -> 6
Bore × stroke 170 × 170 mm
Displacement -> 23,15 l
Governor -> Mid-range, electronic
Fan drive type -> Hydraulic
Lubrication system
Method -> Gear pump, force lubrication
Filter -> Full flow
Engine emissions -> Exempt from EU exhaust
emission regulations
If you send us your request, we will make you an offer for original and Aftermarket Komatsu parts for your Komatsu D375A-8 Dozer.
Below is a small list of Komatsu parts for this equipment. However, if you are interested in something - please use the site search.
| | | |
| --- | --- | --- |
| 929043A - PIPE | 566-50-11170 - WEAR RING | 22U-25-00510 - SWING CIRCLE |
| 714-07-55820 - WIRING HARNE | 6245-11-7341 - BRACKET | 714-12-18420 - HOSE |
| 816214034 - GROUP | 209-30-15250 - O-RING | 428-62-23410 - FILTER |
| 56B-54-37351 - STEP | 17M-49-21170 - HOSE | 5081994 - O-RING SET |
| 195-61-54461 - HOSE | 20T-98-87110 - MARK | 21M-54-21861 - SHEET |
| 707-76-95050 - BUSHING | 6738-11-5380 - BRACKET | 195-50-11311 - PIN |
| 418-S62-5160 - HOSE | 392377004 - HOSE | 3915423S - SERVICE PT |
| 42W-62-25050 - VALVE | 56B-46-13622 - BRACKET | 17A-09-11130 - BEARING |
| 707-36-11461 - PISTON | 6217-11-5511 - MUFFLER | 425-46-26170 - TUBE |
| 425-06-44150 - HINGE | 20E-00-K1140 - PLATE | 5199929 - PROFILE |
| 6631-51-4520 - PLUG | 20Y-27-22120 - GEAR | 415-62-11271 - TEE |
| 6127-61-8411 - DRAIN COCK | 273-06-12610 - LAMP | 20Y-54-17520 - DOOR |
| 42C-62-13911 - BLOCK | 58F-06-20530 - SUPPORT | 17M-911-3220 - PIPE |
| 3930973S - SERVICE PT | 209-62-68170 - TUBE | 561-54-62582 - LOCK ASS'Y |
| 27261R1 - BOLT | 5030619 - BRAKE | 41E-62-13352 - TUBE |
| 22B-954-1630 - PLATE | 50937398 - FITTING | 76901273 - PIPE |
| 561-15-72381 - COVER | 20T-62-81540 - HOSE | 425-54-12871 - COVER |
| 21M-947-0010 - ARM ASS'Y | 28560KF - MANIFOLD- FI | 561-86-87330 - BRACKET |
| 21S-04-22170 - TUBE | 209-25-00102 - SWING CIRCLE | 17A-43-46711 - COVER |
| 5057537 - COUPLING | 566-43-85212 - TUBE | 417-T90-4473 - TUBE |
| 17M-06-42340 - WIRING HARNE | 208-32-41261 - SEAL | 22M-62-15570 - GASKET |
| 973134 - BEARING | 42W-09-H4970 - HOSE | 90770340 - CABLE |
| 41E-54-31230 - PLATE | 42C-Z89-4980 - COVER | 5218916 - HOSE |
| 17A-03-12331 - SEAL | 582-27-11291 - NUT | 31912599 - SCREW |
| 421-35-13680 - BRACKET | 76949373 - EXTENSION, B | 23A-06-41470 - ADAPTER |
| 569-13-14460 - BEARING | 79584573 - BOLT P60 | 421-43-23210 - VALVE |
| 17A-54-42322 - PLATE | 56B-16-11161 - BRACKET | 971056 - O-RING |
| 20T-30-00071 - TRACK ROLLER | 22F-977-3180 - SHEET | 42U-23-H0P73 - LEVER |
| 17M-22-44180 - GEAR | 5211890 - PROFILE | 423-06-54241 - LAMP ASS'Y |
| 4349519-30AM - EX1800 TOP R | 5269688 - PROTECTION | 79353273 - CAPACITOR |
| 19M-27-11470 - PLATE | 720-68-13321 - PISTON ASS'Y | 423-62-41330 - RUBBER |
| 427-S95-3433 - BELLCRANK AS | 21W-98-48120 - MARK | 21T-70-75680 - TUBE |
| 20Y-06-42430 - RADIO P | 5198218 - SHAFT CARDAN | 22J-62-16421 - HOSE |
| 42W-22-H0P79 - SEAL | 42N-56-11140 - SHEET | 707-01-0H650 - CYLINDER |
| 567-40-43550 - PIN | 21W-04-38161 - SENSOR | 708-2L-06682 - VALVE ASS'Y |
| 21N-68-37590 - HOSE | 347090R1 - SHIM | 423-54-61221 - DOOR |
| 22L-60-30310 - VALVE ASS'Y | 203-60-31150 - STRAINER | 6743-71-1850 - BRACKET |
| 21M-54-11641 - COVER | 706-8H-41810 - SPACER KIT | 21T-70-71440 - TUBE |
| 42T-62-28010 - BRACKET | 72635 - GASKET | 42U-56-11710 - DOOR LOCK |
| 42C-03-12241 - BRACKET | 600-645-8400 - FAN | 5030180 - ELECTRIC HAR |
| 5063488 - COUPLING | 22B-06-11360 - BRACKET | 79774873 - WINDOW |
| 6527-91-4010 - BOLT | 17183 - SHOE TRACK | 23A-43-18240 - LEVER |
| 209-54-46140 - COVER | 198-13-37110 - HOUSING | 6150-71-8231 - CLIP |
| 421-06-32174 - HARNESS,WIRI | 22U-43-21480 - PLATE | 419-62-53961 - HOSE |
| 195-04-11420 - NIPPLE | 708-2L-25382 - PLUG | 707-67-30050 - NUT |
| 6215-61-3600 - FAN HUB ASS' | 205-26-91140 - SPACER | 97368273 - BACK UP RING |
| 92927040 - STICK CYLIND | 20Y-54-12810 - MIRROR | 845241011 - SPOOL |
| 569-04-81180 - BRACKET | 569-54-88710 - STEP | 6746-81-9290 - BRACE |
| 6211-32-1410 - PULLEY | 56D-15-12110 - SHAFT | 707-59-12170 - XROD |
| 50563740 - HOSE | 5047779 - WINDSHIELD - | 418-46-11160 - SPACER |
| 89724P - TUBING,FLEX | 7831-48-4106 - CONTROLLER | 6162-73-5161 - TUBE |
| 714-12-35502 - VALVE ASS'Y | 5063277 - GASKET KIT | 418-62-31320 - NUT |
| 22B-60-11331 - MOTOR ASS'Y | 425-54-15361 - WEATHER STRI | 836136888 - PIPE |
| 17A-54-53450 - SEAL | 425-03-23432 - GUARD,FAN RH | 5062935 - SCREEN |
| 6164-11-6890 - JOINT | 419-T90-3680 - VALVE ASS'Y | 569-20-79200 - PROPELLER SH |
| 37A-62-14350 - HOSE | 56B-54-12441 - GUARD P60 | 515-35-05010 - SERVICE KIT |
| 76901573 - ADAPTER | 208-00-K1280 - DECAL KIT | 426-43-37860 - BRACKET |
| 17M-30-26640 - RING | 2A5-979-1560 - BRACKET | 723-56-41840 - PLUG |
| 175-63-52432 - NUT | 6262-11-4340 - CONNECTOR | 417-20-14650 - YOKE |
| 17M-06-43490 - WIRING HARNE | 2A6-60-11111 - TANK | 6162-65-3430 - BRACKET |
| 79656173 - BEARING SET | 6742-01-3351 - CLAMP,T-BOLT | 92792840 - COLLAR BUSHI |
| 21X-70-11420 - COLLAR | 21N-03-32100 - RADIATOR ASS | 20Y-70-11470 - SPACER |
| 561-54-15920 - COVER | 50578098 - HEX SCRE | 42Y-62-H1150 - SWITCH |
| 5216221 - COUPLING | 844020355 - VALVE | 816214122 - PANEL |
| 8A13-10-2100 - ANTENNA P60 | 7720-30-2670 - SCREW | 569-22-70205 - BRAKE ASS'Y |
| 425-22-11130 - CAGE | 6152-72-6610 - BRACKET | 426-22-43120 - TUBE |
| 593762R1 - SCREW | 21M-00-51150 - PLATE | 195-60-52361 - BRACKET |
| 703-07-98390 - SEAL | 711-67-05210 - SERVICE KIT | 23S-05-55830 - LAMP ASS'Y |
| 21T-01-67291 - TUBE | 76459673 - SWITCH | 5211631 - HYD HOSE |
| 425-03-41200 - RADIATOR ASS | 23C-952-3551 - TRIM | 22J-973-2650 - TUBE |
| 22L-03-21180 - HOSE | 20055 - SPOOL, COMPE | 22P-54-12371 - SHEET |
| 428-07-A1240 - HOSE ASSEMBL | 195-03-00304 - TUBE ASS'Y | 42N-07-11142 - CONDENSER |
| 426-43-39920 - COVER | 569-06-86210 - SHEET | 56C-27-12904 - FINAL DRIVE |
| 22U-62-43601 - HOSE ASS'Y | 5072394 - HARNESS | 20Y-30-13170 - O-RING |
| 207-62-76720 - BRACKET | 369282R2 - GASKET | 8248-70-5530 - PUSHER |
| 561-43-62332 - BRACKET | 425-54-14130 - BRACKET | 425-S95-7100 - BOOM |
| 5044231 - WELD SAFETY | 428-30-22110 - BASE | 6110-71-5440 - GASKET |
| 19771KF - LATCH, CAM - | 20Y-01-12280 - BOLT | 20Y-06-C1210 - PLATE |
| 208-62-61872 - HOSE | 209-70-75281 - TUBE | 566-35-42980 - TEE |
| 20E-14-K1240 - BOLT | 21T-43-67131 - COVER | 5265566 - INDICATOR RO |
| 566-89-6F371 - TUBE | 207-62-42750 - HOSE | 195-03-63240 - BRAKE RADIAT |
| 569-44-65640 - SPRING | 76997773 - PUMP | 79495873 - COVER |
| 206-54-51240 - COVER | 711-73-21740 - HOLDER | 6262-11-5110 - EXHAUST MANI |
| 23B-60-05010 - GEAR ASSEMBL | 6732-21-1950 - ORING,SEAL | 92217640 - PIN W/ PLATE |
| 42C-01-14570 - PLATE | 424-03-41131 - FRAME | 51887498 - HOSE |
| 863-04-1699 - SWITCH,2-1 | 20Y-70-11320 - SPACER | 22J-62-26161 - TEE |
| 22B-70-00362 - BOOM ASS'Y | 705-38-29000 - PUMP SUB ASS | 424-06-23120 - SUPPORT |
| 175-32-02533 - SHOE ASMY P6 | 94047040 - HOSE | 910171100 - TOOL |
| 22T-43-13130 - KNOB | 56B-03-31470 - HOSE | 195-32-04412 - SHOE ASS'Y |
| 198-72-62560 - BLOCK | 21W-09-R3790 - SCREW | 22P-53-17560 - CLIP |
| 42A-03-51352 - BRACKET | 6745-81-7130 - TUBE | 6205-51-8240 - NIPPLE |
| 22B-70-11200 - HOOK ASS'Y | 398068R3 - GASKET | 561-34-72210 - SPRING |
| 714-07-12661 - PISTON | 428-06-12610 - WIRE | 195-03-58220 - TUBE |
| 6732-81-3421 - BELT - V RIB | 705-18-02820 - BRACKET ASS' | 820510588 - GASKET |
| 56B-61-26470 - TUBE | 21T-38-31440 - HOSE | 21T-979-4191 - DUCT |
| 5040215 - MECHANICS | 226-62-12150 - SUPPORT | 5214690 - MOUNTING |
| 561-54-61670 - PLATE | 37A-54-11210 - PIPE | 790-301-1760 - JOINT |
| 42C-15-05051 - SERVICE KIT | 426-62-23721 - TUBE | 56B-06-11210 - CAP |
| 42C-U44-2181 - TUBE | 425-62-35151 - BRACKET | 21W-62-32840 - HOSE |
| 2A5-03-13960 - SHEET | 21W-54-34750 - WINDOW | 79317273 - PIPE ASSY |
| 226-60-18630 - SOLENOID VAL | 562-15-22131 - SHAFT | 6211-11-5450 - CONNECTOR |
| 178-30-12140 - PLATE | 561-43-84122 - BRACKET | 795-471-1330 - ADAPTER |
| 195-13-11252 - PILOT | 232-44-54810 - BOLT | 26579R1 - BOLT |
| 17A-15-00012 - TRANSMISSION | 5200330 - SENSOR | 198-911-3160 - WASHER |
| 21N-62-33650 - TUBE | 20Y-03-27160 - COVER | 709-74-92680 - SPRING |
| 37A-98-12330 - PLATE | 5031087 - TERMINAL | 20Y-62-42230 - HOSE |
| 20Y-06-A4581 - BACKUP ALARM | 17691 - WELDMENT, BO | 32460640 - NIPPLE |
| 17A-06-25361 - COVER | 42C-70-11670 - RING | 708-2J-15120 - PIN |
| 41E-56-21270 - PLATE | 6162-63-6680 - TUBE | 423-54-48121 - SHEET |
| 79326873 - FUSE | 209-46-71350 - SHEET | 56D-06-21441 - WIRING HARNE |
| 23B-06-42580 - SWITCH | 706-77-01320 - XMOTOR ASS'Y | 42C-54-13421 - COVER |
| 76989973 - TUBE | 234-15-23280 - HOLDER | 207-62-41471 - BRACKET |
| 708-2K-04260 - CRADLE | 201-62-27380 - NIPPLE | 175-63-14161 - COLLAR |
| 22U-62-86660 - HOSE | 22U-54-24331 - SEAL | 955323 - SCREW |
| 5220195 - CABLE | 21N-03-31891 - SHEET | 421-00-H1450 - TEEPIECE |
| 421-43-27470 - O-RING | 6754-81-2860 - SEAL_____P60 | 6207-11-5190 - MANIFOLD |
| 17A-27-00142 - FINAL DRIVE | 4A1-00-10230 - PLATE | 5079461 - BRACKET |
| 312307605 - CLAMP | 42N-04-11770 - DRAIN VALVE | 566-14-51171 - SHIM |
| 51232398 - HOSE | 425-54-A1260 - BAR | 28474 - HARNESS, ENG |
| 17A-03-52510 - RADIATOR COR | 417-62-23790 - HOSE | 5229536 - VALVE |
| 27002R1 - SCREWS | 207-27-52210 - COVER | 6162-13-3640 - PIPE |
| 238-70-12140 - WASHER | 17M-03-51141 - TANK | 18581 - CONNECTOR, R |
| 707-01-0F810 - CYLINDER ASS | 2A5-54-11831 - FRAME | 625990C1 - RING |
| 6131-12-8620 - HOSE | 581-03-22541 - HOSE | 42Y-15-H0T98 - ROLLER BEARI |
| 20Y-98-31111 - PLATE | 21Y-70-21190 - PIN | 20C-30-31210 - IDLER |
| 17A-01-A0460 - HOSE CLAMP | 42N-6C-11550 - BUSHING | 5079983 - BUSHING |
| 203-917-5390 - PIN | 198-30-66250 - PLATE | 724-00-51240 - SPRING |
| 709-12-13270 - SPRING | 421-02-61311 - TANK | 195-15-15860 - VALVE |
| 21T-30-71232 - GUARD | 5047962 - PLATE | 419-02-11310 - HOSE |
| 21S-62-31511 - UNION | 423-879-A460 - WASHER | 6127-36-3042 - METAL ASS'Y |
| 6251-11-5910 - MUFFLER | 20Y-53-00021 - DOOR ASS'Y | 424-46-36160 - TUBE |
| 42U-06-12730 - HARNESS | 42C-46-15561 - PLATE | 207-970-6240 - TUBE |
| 17789 - XVALVE STROK | 22L-62-23311 - CUSHION | 30020R1 - BOLT |
| 4647966 - PIPE | 2A6-54-11630 - FRAME | 6166-55-5960 - TUBE |
| 426-T88-1120 - PIN | 707-98-27500 - KIT, CYL SEA | 5076768 - SOLENOID |
| 425-02-41160 - BRACKET | 22M-54-26830 - SHEET | 6217-71-6350 - TUBE |
| 20G-22-31880 - WASHER | 387088R1 - RING | 23B-03-72120 - HOSE |
| 206-03-21151 - HOSE | 427-03-22760 - SUPPORT | 417-927-AF90 - WIPER ADAPT |
| 419-15-16570 - VALVE | 93635840 - PIN | 2A7-00-11140 - PLATE |
| 22P-54-11461 - COVER | 702-21-37560 - SPRING | 32449940 - NIPPLE |
| 42N-43-11812 - GEAR LEVER | 208-970-7140 - TUBE | 362-70-12220 - PIN |
| 42T-03-23E10 - PROTECTIVE S | 207-06-41920 - WIRING HARNE | 27603 - VALVE, END I |
| 17M-30-54211 - SPRING | 569-61-51140 - TUBE | 42C-16-11460 - PLATE |
| 5062697 - MOUNTING | 707-00-0X500 - CYLINDER P60 | 569-84-81390 - HOSE |
| 421-62-51220 - HOSE | 5046486 - HYDRAULIC HO | 50985798 - GEWINDEBOLZE |
| 428-54-24711 - FENDER LH | 6251-21-5440 - GUIDE | 209-62-74220 - HOSE |
| 21T-43-67113 - BOX | 6150-51-9480 - CLAMP | 22B-62-43470 - HOSE |
| 8234-75-1770 - BRACKET | 8295-70-1703 - CRUSHER P60 | 569-15-32540 - SHAFT |
| 22B-62-17290 - HOSE | 423-40-21110 - COLUMN ASS'Y | 195-30-52110 - COVER |
| 42C-70-11750 - SEAL P60 | 23B-43-35212 - COVER | 674728C91 - PACKAGE |
| 3038550R1 - WASHER | 198-54-81331 - BRACKET | 6676-21-6530 - SPACER |
| 25651440 - PLATE | 567-27-71940 - BEARING | 21M-54-11831 - FRAME |
| 427-62-25811 - TUBE | 20Y-54-65720 - MAT, FLOOR | 22U-54-00210 - CAB ASS'Y |
| 70214N - AIR ELEMENT | 4503104 - BUSHING UPP | 721-58-70230 - ROD |
| 89102A - ELBOW | 418-62-31991 - HOSE | 22L-62-18700 - HOSE ASS'Y |
| 22U-43-21172 - LEVER ASS'Y | 5063699 - DECAL KIT | 233-45-11151 - GUIDE |
| 421-43-38730 - CYLINDER ASS | 6152-52-5750 - TUBE | 6553-51-2110 - BUSHING |
| 23B-06-42570 - SWITCH | 20Y-62-21280 - HOSE | 79500173 - VALVE |
| 7830-83-6003 - CONTROLLER | 49070540 - ORFICE | 206-43-58151 - SPRING ASS'Y |
| 427-Z89-3731 - HOSE | 23B-15-11320 - SLEEVE | 707-99-66600 - SERVICE KIT |
| 5061775 - O-RING | 708-2G-04132 - CAP ASS'Y | 17M-54-54141 - BRACKET |
| 561-84-89110 - VALVE | 949507 - TERMINAL CON | 207-54-72180 - SHEET |
| 17A-Z11-1360 - SEAL | 79481973 - BARREL | 561-54-62203 - DOOR ASS'Y |
| 6732-61-3860 - RETAINE R SH | 707-35-52940 - RING | 708-23-12670 - COLLAR |
| 208-30-41470 - GUARD | 21T-68-32110 - TUBE | 6166-51-2891 - COVER |
| 707-88-25110 - BRACKET | 419-921-2110 - CANOPY ASS'Y | 6206-11-5280 - MUFFLER |
| 417-18-32220 - HOSE | 6215-41-5420 - BUSHING | 22L-46-21152 - BRACKET |
| 569-74-86B70 - PLATE | 58E-08-00000 - DISPLAY,RSC | 42C-62-17360 - TUBE |
| 419-14-31183 - BRACKET | 6731-62-1120 - PUMP- WATER | 425-963-A341 - HOSE,A/CEVP- |
| 6261-41-4810 - SEAL | 19M-49-32430 - ELBOW | 567-40-42310 - SCREW |
| 21D-06-11280 - CAP | 705-17-49510 - DRIVEN GEAR | 561-88-68790 - RING |
| 421-71-H2E70 - HOLDER, TOOT | 708-25-15240 - PLUG | 5044076 - FILTER ELEME |
| 208-70-27231 - PLATE | 419-43-27103 - ACCUMULATOR | 56D-43-11110 - FLANGE |
| 5210952 - PROTECTON LE | 6735-11-4130 - PLUG,THREADE | 22B-62-35510 - HOSE |
| 22F-98-17220 - PLATE | 428-15-13360 - BEARING | 90796940 - CABLE 11 M |
| 423-56-H0P12 - VALVE | 235-45-13520 - RING | 23B-01-71160 - HOSE |
| 418-54-A3310 - COLLAR | 23A-953-1170 - GLASS | 6210-22-4711 - HOUSING |
| 955317 - SCREW HHC | 3897719 - HTR COILRPLM | 51638398 - HOSE |
| 795-799-5520 - ADAPTER | 610385C1 - RING | 419-62-34291 - BLOCK |
| 6217-11-5680 - TUBE | 6212-61-1410 - GEAR | 23B-54-33971 - STEP |
| 362-911-2340 - KNOB | 416-03-42120 - HOSE | 235-15-22740 - PISTON |
| 95871840 - RIDGE | 385-10295771 - SWIVEL JOINT | 561-88-61710 - BRACKET |
| 195-54-68710 - COVER | 51496798 - SCREW | 8296-70-7680 - SEAL |
| 20S-63-57170 - TUBE | 423-46-36121 - TUBE | 421-925-A440 - COVER LIGH |
| 421-54-64661 - FLOOR | 694420 - SPRING | 235-60-18410 - SPACER |
| 423-54-54972 - STEP | 6733-81-8350 - BEARING | 22B-54-16633 - RAIL |
| 23B-43-31620 - BRACKET | 6222-83-8920 - COVER | 51575298 - HOSE |
| 22M-973-2770 - BLOCK | 705-56-36080 - XPUMP ASSM | 56D-43-17413 - TANK |
| 561-02-62400 - CAP ASS'Y | 23B-02-52210 - HOSE | 765026N - AIR CLEANER |
| 42T-56-H0R49 - BLOWER | 708-1H-04460 - CRADLE | 56D-61-32590 - TUBE |
| 35619740 - VALVE | 21N-06-33154 - WIRING HARNE | 5054857 - CYLINDER |
| 36058299 - BEARING | 425-62-A1610 - O RING | 2A5-03-25641 - RADIATOR ASS |
| 6219-K6-1200 - GASKET KIT | 855661409 - GASKET | 566-43-85350 - TUBE |
| 17M-22-42130 - FLANGE | 707-98-43510 - SERVICE KIT | 58D-06-00640 - POLE A., ROT |
| 79743173 - SEAL KIT | 17M-06-41720 - HARNESS, WIR | 209-63-66290 - SCREW |
| 23B-22-32511 - TUBE | 8240-70-4162 - GUARD | 20M-70-11230 - PIN |
| 423-U45-6391 - OIL COOLER | 58E-CB-AK010 - CAB ASS'Y | 426-S94-3190 - BRACKET |
| 42N-62-15380 - RUBBER | 37A-43-12120 - SUPPORT | 5080580 - PADDING |
| 21T-54-67392 - COVER | 209-03-75110 - BLOCK | 5090277 - GEAR |
| 723-46-00910 - COVER ASS'Y | 6738-C0-CA31 - ENGINE ASS'Y | 208-70-71561 - SPACER |
| 6754-61-6211 - THERMOSTAT A | 963681 - PISTON P60 | 286-13-14381 - BEARING |
| 58B-98-01280 - RING,BACKUP | 22P-00-11420 - PLATE | 566-35-6A840 - WIRING HARNE |
| 325955R1 - SHIM | 6221-51-8391 - HOSE | 195-03-63621 - TUBE |
| 6212-51-5621 - CONNECTOR | 708-27-00330 - SPACER KIT | 22W-06-15860M - SWITCH |
| 235-45-13261 - CAM | 22T-50-21140 - BOLT | 709-90-91300 - ORIFICE |
| 22M-54-21213 - COVER | 6128-51-6831 - GASKET | 561-93-82610 - PLATE |
| 22M-54-21231 - SEAL | 91537A - ABSORBER | 195-03-11897 - PULLEY |
| 58E-80-12140 - PLATFORM,KIT | 56D-54-22111 - FENDER | 17M-61-52781 - TUBE |
| 418-22-37620 - GEAR | 56A-46-13480 - O-RING P60 | 58F-00-10050 - FUEL K,FILTE |
| 37B-970-1210 - PIPE | 5064164 - PROTECTION | 706-86-01592 - MOTOR ASS'Y |
| 208-979-7560 - GRILLE | 5065384 - COUPLING | 41810022 - STRIKER DOO |
| 5066096 - PRESS. RED. | 21W-30-22610SG - CYLINDER | 258-60-55200 - BASE |
| 5048636 - SHIM KIT | 195-57-43620 - PIN | 423-06-41330 - WIRING HARNE |
| 17M-61-25140 - HOSE | 56D-02-57390 - HOSE | 5199200 - SEAL |
| 6130-52-4280 - PACKING | 23B-60-72550 - HOSE | 17A-54-47680 - SEAL |
| 22P-54-11181 - LOCK ASS'Y | 705-41-02930 - GEAR PUMP AS | 203-00-A1180 - DECAL-TRVL L |
| 5200023 - HYD HOSE | 91789540 - CYLINDER | 22K-70-11203 - ARM ASS'Y |
| 6742-01-2280 - TUBE | 425-Z90-4260 - SHEET | 20Y-979-3640 - HOSE |
| 42T-09-H0570 - UNION | 20Y-04-K1450 - PUMP ASSM | 5068038 - SHAFT |
| 5030885 - HOSE ASSY 1. | 427-S33-1930 - PLATE | 423-S33-4410 - GROMMET |
| 20Y-06-24840 - BATTERY WET | 843200786 - PINION | 6731-21-5310 - DIPSTICK |
| 23B-952-7360 - ROD | 69601173 - SEAL KIT | 69638073 - TUBE |
| 77244773 - PIPE | 42W-17-H0P82 - CONTROL | 426-62-35810 - CLAMP P60 |
| 17A-862-5541 - SHEET | 209-54-42980 - SHEET | 336593R1 - RING |
| 21Y-54-11260 - BRACKET | 51777398 - HOSE ASSY | 421-35-15300 - AIR DRIER AS |
| 17A-01-11510 - DUCT | 42N-62-17730 - HOSE | 426-33-42452 - SHAFT |
| 18400R1 - PIN | 319471R1 - BUSHING | 42N-30-11720 - RIM, FRONT |
| 23E-43-18640 - LEVER | 5054980 - GUIDE | 421-879-A540 - TUBE RH |
| 209-70-57170 - SEAT | 56B-02-31960 - PLATE | 827020126 - PIN |
| 23B-40-33130 - HOSE | 64156940 - HOSE | 423-62-43431 - TUBE |
| 22X-54-19260 - LOCK | 5284932 - SEAL | 20Y-60-A1310 - VALVE,SOLENO |
| 562-15-22620 - RING GEAR | 5P8245-AM - WASHER | 312208059 - COMMUTATOR |
| 17A-61-42790 - HOSE | 56C-61-12131 - TUBE | 561-61-83633 - TUBE |
| 30181R1 - WASHER | 395-56-12670 - NUT | 6142-22-3812 - GASKET NON-A |
| 235-A06-5360 - WIRING HARNE | 427-Z89-3360 - COVER | 6221-51-8150 - TUBE |
| 423-54-41370 - BRACKET | 21D-09-54900 - SENSOR | 664817C91 - LIGHT |
| 418-62-23580 - TUBE | 5067756 - HYDRAULIC MO | 6732-81-8430 - BRACKET |
| 418-43-27270 - TUBE | 6746-81-6130 - BRACKET | 27491 - CARTRIDGE A |
| 208-54-71311 - FRAME | 22P-62-21761 - HOSE | 843200581 - O-RING |
| 22U-979-4131 - HOSE | 36712399 - O-RING | 423-60-45333 - BRACKET |
| 42C-54-11817 - GUARD | 421-04-31460 - NUT | 202-70-61210 - PIN |
| 5235801 - HYDRAULIC CY | 6162-23-3713 - SUPPORT | 419-07-51150 - JOINT |
| 421-06-62391 - WIRING HARNE | 5225589 - PROTECTION | 41E-W90-1150 - TUBE |
| 703-15-00121 - SWIVEL JOINT | 6210-21-1950 - FLANGE | 364145R1 - RING |
| 421-62-A1130 - REAR COVER K | 20T-06-77120 - TIMER | 208-03-81110 - HOSE |
| 22M-54-21470 - SHEET | 42N-54-17930 - PIN HINGE | 6746-61-7220 - HOSE |
| 8248-75-1422 - PLATE | 569-97-82470 - HARNESS, WIR | 20Y-54-52632 - BRACKET |
| 238-15-19220 - SEAL RING | 195-54-89221 - HANDRAIL | 20Y-53-11712 - ROOF |
| 20G-54-13420 - ASHTRAY | 427-01-21420 - TUBE | 427-54-26910 - CASE |
| 3946468S - SERVICE PT | 417-62-41351 - HOSE | 235-22-31411 - TUBE |