Komatsu D85EXi/PXi-18 Crawler Dozer parts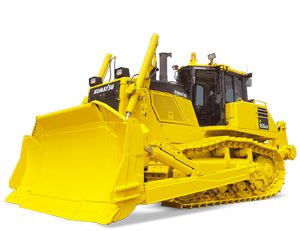 Komatsu D85EXi/PXi-18 Crawler Dozer - it is a big machine. It is a Crawler Dozer and works in difficult operating conditions. That's why this machine sometimes needs maintenance.
Our online parts store give you an access to more than 500 000 Komatsu parts that we have in our inventory.
Here is some more information about Komatsu D85EXi/PXi-18 Dozer:
ENGINE
Model -> Komatsu SAA6D125E-7
Type -> Common rail direct injection,
water-cooled, emissionised,
turbocharged, after-cooled diesel
Engine power
at rated engine speed -> 1.900 rpm
ISO 14396 -> 199 kW/267 HP
ISO 9249 (net engine power) -> 197 kW/264 HP
No. of cylinders -> 6
Bore × stroke -> 125 × 150 mm
Displacement -> 11,04 l
Fan drive type Hydraulic, reversible
Lubrication system
Method -> Gear pump, force lubrication
Filter -> Full flow
If you send us your request, we will make you an offer for original and Aftermarket Komatsu parts for your Komatsu D85EXi/PXi-18 Dozer.
Below is a small list of Komatsu parts for this equipment. However, if you are interested in something - please use the site search.
| | | |
| --- | --- | --- |
| 63106440 - PLATE,REDUCI | 930611C1 - CUP | 418-43-18230 - YOKE |
| 4505067R1 - ELBOW | 21W-979-4380 - GROMMET | 364108R1 - RING |
| 723-46-16890 - PLUG | 42N-54-15820 - BOLT | 628112C1 - GASKET |
| 566-54-6C290 - BRACKET | 5070339 - HYDRAULIC HO | 74044H45 - SHOE |
| 721-13-14030 - CYLINDER | 19M-979-7570 - PANEL | 195-43-58141 - SHEET |
| 58F-80-00080 - RETAINER,MUD | 426-15-00161 - SHAFT ASSM | 5235964 - PLATE |
| 79877473 - MODIFICATION | 64045140 - HOSE | 22J-62-26730 - HOSE |
| 421-S99-2710 - TUBE | 707-61-20230 - ROD | 2A5-53-11K21 - HINGE |
| 20N-62-72116 - TUBE | 42W-23-H0P65 - BREATHER | 42N-06-11331 - GEAR SELECTO |
| 22L-43-11241 - SHAFT | 419-44-12111 - VALVE | 23B-54-71490 - SEAL |
| 42T-06-23130 - BRACKET | 42T-22-H0P08 - DRUM, BRAKE | 417-64-35120 - SCREW |
| 5200145 - GASKET KIT | 209-03-71350 - SHEET | 561-54-62006 - CAB |
| 561-15-55541 - PLUG | 5065459 - HYDRAULIC HO | 79673373 - TUBE-KIT |
| 6731-32-3310 - SCREW | 6134-21-5960 - GASKET | 421-54-21410 - HINGE |
| 37D-09-5F354 - PLUG | 56B-93-12170 - PLATE | 6134-61-2102 - OIL COOLER A |
| 6151-11-5421 - ELBOW | 708-2G-13810 - PISTON ASS'Y | 6162-53-1290 - BOLT |
| 208-54-71840 - COVER | 198-27-00680 - FINAL DRIVE | 21T-98-31290 - PIN |
| 205-43-63410 - CABLE | 427-S05-4140 - BRACKET | 195-04-42790 - GAUGE |
| 700-22-11610 - RING | 208-54-73821 - SHEET | 566-35-16330 - CLAMP |
| 421-00-H0030 - STUD | 208-62-21750NK - BRACKET | 707-91-02580 - PISTON ASS'Y |
| 6742-01-2491 - GASKET-CONNE | 6747-81-9110 - SPACER | 5273804 - PROTECTION |
| 56B-54-21940 - HOLDER | 3F0527612 - PIN | 5045773 - WELD PLATFO |
| 426-06-61530 - WIRING HARNE | 7826-25-4003 - CONTROLLER | 17A-54-27780 - SEAL |
| 707-01-02922 - CYLINDER ASS | 79850 - SEAL,OIL | 836659521 - VALVE SEAT |
| 425-Z90-3910 - SHEET | 8242-75-2460 - RUBBER | 416-17-32570 - WASHER |
| 428-15-13232 - GEAR | 56D-02-11144 - TUBE | 5245196 - COUPLING |
| 42N-06-13132 - SWITCH | 6136-55-7112 - OIL PUMP | 198-06-63530 - WIRING HARNE |
| 42U-09-H4900 - HOSE, 2930MM | 561-95-83141 - BRACKET | 37A-46-11320 - HOOK |
| 234-54-61430 - STEP | 421-09-12321 - HOLDER | 209-30-00301 - CARRIER ROLL |
| 17A-03-41473 - BAFFLE | 17A-04-41181 - GRIP | 37A-54-15991 - HANDLE - BLA |
| 6150-81-3750 - HOSE | 421-43-27350 - RETAINER | 56E-15-19291 - BEARING |
| 5065342 - CAP | 22U-27-21220 - O-RING | 6734-11-4180 - HOSE |
| 22F-60-11160 - SHEET | 5214670 - MOUNTING | 714-12-42410 - GEAR |
| 208-62-A1350 - HOSE | 17A-54-49990 - SCREW P60 | 3907611S - SERVICE PT |
| 20E-62-K7450 - HOSE | 85430 - SEAT | 195-54-56211 - STEP |
| 79713973 - PIPE | 426-13-43713 - TUBE | 19M-50-11381 - COVER |
| 5090275 - SHIM KIT | 6560-61-1513 - CONTROLLER A | 36088740 - CONNECTOR |
| 91002740 - CONVERTER | 6206-51-5120 - HEAD | 201-70-00930 - BOOM ASS'Y |
| 6127-31-1010 - CRANKSHAFT A | 707-58-85270 - ROD | 707-13-10300 - CYLINDER |
| 5008414 - ADAPTER 90 A | 561-40-00100 - SEAL KIT | 423-S62-2211 - HOSE |
| 425-43-58832 - HOSE | 415-33-11432 - RING | 93140640 - MODIFICATION |
| 21M-32-01132 - SHOE ASS'Y | 21M-04-14250 - BRACKET | 423-926-A640 - SEAL |
| 6261-11-8190 - COVER | 419-54-21770 - SHEET | 708-1H-14230 - RETAINER |
| 90748140 - RELAIS | 5091628 - HARNESS | 21U-62-34760 - BAND RED |
| 6253-11-5220 - SEAL RING | 195-30-17960 - PLATE | 707-13-14690 - XCYLINDER |
| 94200740 - PLATE | 6245-21-1910 - NOZZLE | 561-93-61531 - PLATE |
| 600-496-2200 - CONTROLLER A | 900265A - MINI SWINGER | 6240-71-6250 - BRACKET |
| 5236353 - PLANETARY GE | 702-16-58202 - HANDLE ASSM | 419-56-H1F00 - ANTENNA |
| 175-33-00130 - CYLINDER ASS | 51759598 - RING, SNAP | 426-54-41391 - COVER |
| 312607750 - HOSE PROTECT | 209-09-51180 - BOLT | 30170R1 - NUT |
| 42Y-06-H1220 - BULB | 21D-60-11210 - PLUG | 235-27-31280 - BOOT |
| 5224985 - HYD HOSE | 56D-61-22240 - TUBE | 23A-27-11160 - BRACKET |
| 417-54-13510 - CAP | 92828640 - ANGLE | 17M-49-21180 - BRACKET |
| 21S-62-32760 - HOSE | 20U-910-1290 - BUSHING | 421-07-23300 - BOX ASS'Y |
| 56D-54-16351 - BRACKET P6 | 538063R1 - CAP | 29216840 - SHAFT |
| 21K-30-41241 - COVER | 79461773 - CURRENT TRAN | 417-62-41590 - HOSE |
| 6685-11-4223 - GASKET | 90924A - TUBE | 567-15-45861 - COVER |
| 6162-73-5860 - TUBE | 56C-04-11101 - TANK ASS'Y | 421-U40-1420 - TUBE |
| 56B-03-21530 - HOSE | 20Y-62-28930 - BRACKET | 207-54-41181 - SEAL |
| 2A5-979-1811 - HOSE | 6128-61-3531 - PULLEY | 51867198 - HOSE |
| 232-45-11321 - CABLE | 561-40-81810 - ROD | 5216457 - DECAL |
| 20Y-60-31450 - VALVE ASS'Y | 723-47-29700 - CONTROL VALV | 423-03-A1110 - GUARD,FAN |
| 37A-06-A1140 - PLATE | 705-23-30230 - GEAR PUMP AS | 306426625 - BUSHING |
| 425-01-11320 - BRACKET | 22S-62-81730 - NIPPLE | 714-12-12131 - SHAFT ASS'Y |
| 707-29-12350 - HEAD | 423-43-47250 - ELBOW | 79245173 - PIPE |
| 837073491 - ID MODULE SE | 816214607 - COVER LH | 707-01-02561 - DUMP CYLINDE |
| 566-43-82395 - TUBE | 20K-979-3230 - HOSE | 391964013 - HEAD,CYL.HYD |
| 22F-54-12900 - COVER ASS'Y | 705-18-32450 - GEAR | 707-01-0E900 - BUCKET CYLIN |
| 622339C1 - GASKET | 195-30-01423 - TRACK ROLLER | 7821-26-8000 - CONTROLLER |
| 26733 - KIT, 12 VOLT | 546801480 - STUD | 22U-43-21730 - SEAT |
| 209-62-51250 - BLOCK | 836855522 - OIL COOLER | 55167340 - VALVE |
| 6210-11-7131 - O-RING | 232-817-1440 - BRACKET | 569-50-81540 - COVER |
| 837062742 - WATER SEPARA | 625387C91 - SWITCH | 22L-62-25233 - ELBOW |
| 8285-06-1210 - RESISTOR | 6150-61-9311 - TUBE | 21N-53-32510 - SUPPORT |
| 419-03-51110 - TUBE | 6262-11-7270 - BRACKET | 6505-52-5261 - XTURBOCHARGE |
| 708-1L-04880 - VALVE ASS'Y | 427-22-29630 - O-RING | 815-03-10190 - ROLLER |
| 733532C1 - WASHER | 707-40-11321 - RETAINER | 5224290 - POTENTIOMETE |
| 421-06-H2960 - HARNESS | 21N-72-32313 - ARM | 415-70-11942 - PIN |
| 421-Z02-3140 - ELEMENT | 208-30-67221 - TRACK FRAME | 6127-21-2521 - PLATE |
| 707-13-20760 - CYLINDER | 421-926-4760 - SHEET | 600-825-9420 - XALTERNATOR |
| 456646C1 - RODEND F | 51271598 - HOSE | 20T-62-76310 - HOSE |
| 37A-06-12110 - SWITCH | 20J-62-11411 - HOSE | 417-64-35150 - SPACER |
| 56D-54-38840 - COVER | 56D-02-21223 - TUBE | 19M-979-3151 - GLASS |
| 42C-43-17611 - TUBE P60 | 20Y-03-46130 - OIL COOLER A | 621113C93 - SEAL |
| 17M-61-51130 - TEE | 56B-02-21123 - BRACKET | 702-75-11830 - RING,BACK-UP |
| 6210-81-4700 - HOUSING ASS' | 6151-51-5710 - PIPE | 273-60-14520 - TUBE |
| 423-06-H2980 - COVER | 394360012 - BUSHING | 22U-70-00200 - LINK ASS'Y |
| 836852601 - GEAR | 37A-942-1051 - SUPPORT | 6735-K1-1130 - GASKET SET |
| 208-03-75450 - NET | 41E-33-00020 - FLOATING SEA | 17A-54-28421 - COVER |
| 566-22-21430 - GEAR | 17A-54-41921 - COVER | 21K-32-21520 - SHOE |
| 6736-19-1440 - INSERT,VALVE | 561-07-81201 - BLOWER | 20T-03-71740 - SEAL |
| 208-32-K1100 - TRACK SHOE A | 561-44-67261 - RING | 712-85-15530 - SEAL |
| 8240-70-1710 - BRACKET | 201-62-74730 - HOSE | 209-26-51260 - GAUGE |
| 58F-06-02770 - WIRING HARNE | 708-1T-12410 - SHAFT | 194611H1 - SEAL |
| 567-13-39870 - COUPLING | 566-01-32140 - BODY | 885091025 - FUSE 70 AMP |
| 707-01-0H042 - CYLINDER ASS | 50063098 - SCREW | 6735-21-3410 - ADAPTER |
| 418-875-2160 - TUBE | 235-27-11210 - O-RING | 6262-11-2780 - BRACKET |
| 17A-Z11-7911 - PLATE | 21X-62-32141 - HOSE | 21T-06-35232 - CABLE |
| 565-14-16250 - PLATE | 3132503R91 - GEAR | 707-99-44180 - SEAL KIT |
| 6731-71-5350 - TUBE,INJECT | 418-09-H0190 - CONTROLLER | 562-15-25180 - ORIFICE |
| 5092081 - HYDRAULIC HO | 421-54-64571 - HINGE | 423-62-H3451 - BRACKET |
| 6151-11-4280 - CONNECTOR | 5038758 - LATCH | 20K-63-02010 - CYLINDER ASS |
| 561-54-83411 - WIRING HARNE | 44023340 - BAR | 22B-03-12460 - SHEET |
| 702-25-21710 - SEAT | 6208-31-1511 - PULLEY | 708-1S-00253 - PUMP ASS'Y |
| 423-926-AD00 - DOOR, LH | 21K-63-54180 - TUBE | 915089134 - SCREW |
| 209-54-41560 - COVER | 64148240 - HOSE | 235-806-3462 - WIRING HARNE |
| 20Y-27-22190 - COVER | 705-33-26540 - PUMP ASS'Y | 6112-12-5311 - MUFFLER |
| 6560-81-4520 - SEAL | 22P-54-22210 - BRACKET | 421-20-34530 - PROPELLER SH |
| 421-06-13310 - BULB | 392430034 - FLEX HOSE | 428-70-11861 - BUSHING |
| 5259259 - CHAIN | 6217-21-1880 - COVER | 707-29-10342 - HEAD |
| 2A5-954-1121 - GUARD | 76987873 - LID | 600-497-2300 - CONTROLLER |
| 92213940 - WELD ON PLAT | 714-12-00020 - SHIM ASS'Y | 6162-63-5340 - BOLT |
| 6737-51-8310 - TUBE,OIL | 708-1U-15260 - LEVER | 92684140 - PIPE ASS'Y |
| 58C-06-00850 - FUNNEL,INLT | 22F-01-22410 - PIPE | 91377840 - Pipe assy. + |
| 423-46-A3280 - COVER LH | 21M-970-1181 - TUBE | 816024522 - GLASS DOOR |
| 6610-51-1812 - GASKET | 19M-01-12480 - BRACKET | 209-62-73310 - TUBE |
| 425-54-34770 - SHEET | 705-11-46240 - PUMP ASS'Y | 21N-54-31832 - COVER |
| 428-57-21150 - WASHER | 845010312 - GASKET KIT | 198-57-61130 - HOLDER |
| 17A-54-28181 - COVER | 207-977-2150 - ELBOW P60 | 42C-06-14390 - WIRING HARNE |
| 427-06-A2160 - STARTER WIRE | 569-13-52521 - SHAFT | 566-61-83511 - TUBE |
| 5273822 - PROTECTION | 714-13-X0041 - TRANS ASY | 203-30-00012 - CARRIER ROLL |
| 708-2L-00561 - XPUMP ASS'Y | 20Y-30-38E90 - PLATE | 423-43-37720 - SEAT |
| 22B-54-18420 - WIPER ARM | 21K-00-41291 - PLATE | 790-261-1204 - TESTER |
| 418-03-11330 - PLATE | 76390273 - ADJUSTER DIS | 37140299 - VALVE |
| 561-54-81150 - COVER | 19M-61-15110 - FLANGE | 836129942 - SEAL |
| 416-18-43670 - HOSE | 17A-61-12151 - BLOCK | 6127-81-9861 - CAUTION PLAT |
| 600-185-2200 - AIR ELEMENT | 5050438 - GUIDE | 900003A - CLAMP |
| 207-27-52290 - SPACER | 836855997 - PIPE | 20Y-06-21260 - BRACKET |
| 209-38-51131 - GASKET | 714-07-13670 - GEAR | 427-40-32530 - SHEET |
| 42U-54-26A10 - MAT | 97318800 - SUPPORT RING | 5074229 - COUPLING |
| 708-25-08550 - VALVE ASSM | 90329940 - DISTANCE SLE | 427-S05-4633 - BLOCK P6 |
| 424-23-31131 - CAGE | 419-54-61590 - SHEET | 89426840 - Pipe |
| 425-963-1970 - GROMMET | 42C-30-12420 - SIDE RING | 19M-61-29230 - SHIM |
| 21N-62-39120 - TUBE | 649029C2 - TUBE | 417-S62-2422 - TUBE |
| 426-06-61450 - WIRING HARNE | 6217-71-5471 - TUBE | 23A-22-11371 - SHAFT |
| 565-32-13112 - BRAKE SHOE | 90770540 - CABLE UNION | 21N-62-36321 - HOSE |
| 208-54-76431 - FRAME | 561-01-71240 - COVER | 17M-01-A0050 - COVER P6 |
| 203-54-64620 - SHEET | 8295-78-1152 - COVER | 6217-81-9510 - WIRING HARNE |
| 565-44-15421 - CONNECTOR | 21P-60-K1390 - SPACER | 20419KF - SHAFT,DRIVE |
| 23B-833-7130 - HOSE | 21U-01-21603 - ENGINE ASS'Y | 2A5-54-16681 - COVER |
| 707-88-03250 - BAND | 20K-23-31750 - RING | 20Y-01-K1211 - BRACKET |
| 42T-17-H0P05 - SEAL | 198-Z11-4670 - PLATE | 207-30-78240 - COVER |
| 201555N - MUFFLER | 707-11-10320 - XCYLINDER | 879678C1 - SLEEVE |
| 426-62-23474 - TUBE | 22J-04-35131 - SENSOR | 198-04-66131 - HOSE ASS'Y |
| 56D-54-21481 - BRACKET | 427-04-11330 - SPACER | 5059657 - COUPLING |
| 418-877-3340 - PLATE | 723-11-01680 - VALVE SUB AS | 195-27-31380 - COLLAR |
| 198-54-73960 - SEAL | 426-02-61940 - HOSE | 208-979-4230 - TUBE |
| 428-22-24100 - DRIVE ASSY,F | 42U-17-31020 - HYDRAULIC PU | 23B-03-73420 - SEAL |
| 273-03-62110 - HOSE | 569-50-61360 - PLATE | 426-03-21280 - PACKING |
| 23B-22-71301 - PINION ASS'Y | 723-56-33960 - ORIFICE | 17A-979-2970 - SEAL |
| 708-1H-22150 - BEARING | 614608930 - O-RING | 42U-70-H0P76 - SCREW - GRUB |
| 6262-81-6920 - PULLEY | 29443 - SHAFT SEAL, | 209-956-7112 - FRAME |
| 195-06-46520 - WIRING HARNE | 37A-06-11321 - CABLE-CAB AS | 708-7H-14420 - SPRING |
| 235-70-41130 - STUD | 21D-06-12252 - WIRE HARN LI | 64388840 - HOSE |
| 708-1W-00941 - PUMP ASS'Y | 566-61-83471 - TUBE | 79479273 - SEAL KIT |
| 427-T32-2120 - WIRING HARNE | 6216-61-5120 - CONNECTION | 6137-31-2040 - PISTON RING |
| 21T-03-67242 - BRACKET | 51489840 - WELD ON ANGL | 424-877-4191 - TEE |
| 426-93-A2170 - PLATE,SAFETY | 421-23-32231 - XFINAL DRIVE | 427-15-13361 - COLLAR |
| 6245-81-6880 - COVER | 85540 - TEE | 708-2L-04430 - CRADLE |
| 709-90-HP065 - SPRING | 79224773 - PISTON | 203-62-14570 - HOSE |
| 2A6-01-12711 - HOSE ASS'Y | 22B-00-11710XC - PLATE | 20567KF - HOSE ASSEMBL |
| 714-09-16160 - PIN | 205-43-74310 - ROD | 22P-53-15481 - COVER |
| 21S-973-3410NK - TUBE | 195-03-43350 - HOSE | 707-88-28850 - SEAT |
| 5213187 - RELIEF VALVE | 708-2K-16180 - O-RING | 837070185 - PISTON |
| 6156-11-3510 - BRACKET | 195-979-1150 - GLASS | 6746-81-5210 - BRACE |
| 195-30-16127E - TRACK ROLLER | 90764840 - SEAL RING | 22U-62-29660 - HOSE |
| 419-54-48881 - PLATE | 42W-30-21240 - RIM | 3F0592057 - PIN P60 |
| 4785376 - PRESSURE INS | 419-54-15522 - BRACKET | 21N-03-31420 - SHAFT |
| 5038961 - SEAL | 22M-62-16340 - HOSE | 203-979-6580 - COMPRESSOR |
| 21W-06-41561 - SHEET | 198-71-66711 - FRAME | 198-30-76130 - GUARD |
| 207-32-05002 - SHOE BOLT KI | 4899983 - BUSHING | 175-54-47360 - COVER |
| 4602731 - VALVE | 416-904-1370 - SPACER | 38601740 - BLOCK, CONNE |
| 720-98-05240 - SHIM KIT | 42N-54-18450 - DIFFUSER LH | 18892 - BEARING INP |
| 208-30-68350 - CAP | 8242-70-3250 - HOSE | 844020115 - KIT, SPRING |
| 421-09-A1240 - PLUG | 20Y-54-72481 - COVER | 207-43-61120 - GROMMET |
| 3A6-01-11640 - SPRING | 207-26-61130 - GEAR | 25624940 - O-RING |
| 95138340 - ROD SEAL | 421-09-A1190 - BOLT | 43092940 - COVER RING |
| 21P-54-K3373 - HOOD ASS'Y | 561-03-72550 - BRACKET | 423-46-24120 - COVER |
| 17M-63-12170 - TUBE | 561-03-83140 - HOSE | 21M-60-11130 - CASE |
| 6754-11-1012 - HEAD - CYLIN | 17M-61-51150 - HOSE | 8240-06-1111 - BOX |
| 569-15-31141 - HOUSING | 207-30-53181 - O-RING | 421-S33-4350 - HOSE |
| 5037720 - WELD STABIL | 6219-71-5540 - TUBE | 7835-53-2000 - XPUMP CONTRO |
| 17A-30-41112 - FRAME | 22U-54-14920 - CUSHION | 20Y-62-23312 - HOSE |
| 5062936 - SCREEN | 21W-54-41480 - BRACKET | 42N-06-15640 - LIGHT FRONT |
| 42U-23-H0P72 - O-RING | 417-T90-4212 - TUBE | 2A7-03-12121 - OIL COOLER |
| 20N-06-11120 - SWITCH | 702-15-23001 - VALVE ASSM | 42C-62-15341 - TUBE |
| 581-96-19551 - TIMER | 207-03-58220 - SHEET | 205-03-31230 - RADIATOR COR |
| 22U-62-31420 - HOSE | 93931 - TUBE WLD | 203-04-71210 - TANK |
| 20Y-00-K1110 - PLATE | 91730840 - CABLE | 20T-03-71711 - COVER |
| 208-54-43571 - SEAL | 923020A - PIPE,EXHAUST | 427-S62-2180 - HOSE |
| 561-57-61330 - RECLINING DE | 416-40-12680 - SCREW | 5062988 - CYLINDER TUB |
| 195-06-71880 - CLAMP | 22B-54-34470 - SEAL | 51657398 - HOSE |
| 2A7-30-11320 - SPRING | 707-35-91670 - RING | 5198636 - HOSE |
| 707-35-90360 - RING | 50983198 - SCREW | 425-46-12120 - PIN |
| 306503810 - HOSE | 76873773 - PIPE | 90772540 - SWITCH, PRES |
| 6162-23-3490 - HANGER | 421-00-H0130 - O-RING | 195-54-13436 - UNDER COVER |
| 621465C2 - IDLER | 36102540 - BUSHING | 569-86-63610 - WIRING HARNE |
| 23B-60-11300 - PUMP ASS'Y | 208-03-61460 - CAP | 714-23-18340 - BRACKET |
| 5241616 - ARM | 42C-22-13240 - TUBE | 427-57-A1230 - THEATHER BEL |
| 708-25-17451 - SLEEVE | 425-06-42270 - WIRING HARNE | 426-35-11571 - COVER |
| 22B-04-11231 - BRACKET | 42C-62-05240 - SERVICE KIT | 17A-03-41642 - HOSE |
| 6742-01-5505 - SCREW,HEX FL | 418-926-4670 - FINISHER | 721-11-12470 - CYLINDER |
| 24406 - PAD, BRAKE ( | 42C-54-15114 - HANDRAIL | 96321840 - CONNECTION B |
| 207-03-75270 - COVER | 615220C1 - SCREEN | 426-54-46781 - COVER |
| 20Y-43-22820 - LEVER, RH | 21W-70-01413 - BOOM ASS'Y | 707-E1-02320 - XLIFT CYLIND |
| 76981973 - VAPORIZER | 195-15-12152 - COUPLING | 561-74-A3520 - GUARD |
| 419-62-11610 - ELBOW | 720-2M-00041 - XPUMP ASS'Y | 56B-83-37750 - PLATE |
| 64380040 - HOSE | 423-S95-HP99 - UNION | 600-643-6530 - FAN |
| 209-00-41270 - PLATE | 569-97-8L440 - WIRING HARNE | 56B-33-21890 - BRACKET |
| 603540C1 - RING | 426-62-34420 - HOSE | 69742573 - ACTUATOR |
| 205-54-71551 - TRIM PAD | 802040033 - WASHER | 421-06-12840 - WIRE |
| 206-62-71120 - HOSE | 22B-60-11810 - VALVE ASS'Y | 22P-03-11892 - SHEET |
| 331871R2 - GEAR | 425-46-11541 - SHIM | 428-S33-2310 - REST |
| 425-54-54111 - BRACKET | 4596421 - OIL PIPE | 92493240 - SEAL KIT, PI |
| 58C-98-00510 - TOOL,EXTRACT | 569-15-36420 - PLUG | 20Y-54-14430 - CUSHION |
| 20U-98-41651 - PLATE | 21T-54-68440 - COVER | 195-30-52141 - COVER |
| 6212-21-5340 - GAUGE | 6271-71-6580 - BRACKET | 721-98-01090 - SERVICE KIT |
| 709-70-91150 - PLATE | 17M-06-44750 - WIRING HARNE | 566-06-82140 - WIRE ASS'Y |
| 205-63-55271 - BUSHING | 202-62-66150 - HOSE | 56D-61-58150 - HOSE ASS'Y |
| 4639707 - PIPE | 26949440 - GUIDE STRAP | 6560-01-1141 - COVER KIT |
| 36825840 - HOSE INSTRUM | 208-54-68870 - SHEET | 6209-31-1410 - PULLEY |
| 702-16-02460 - LEVER ASS'Y | 58E-46-01180 - LADDER A., L | 259231C - C W AIDS |
| 425-62-32510 - HOSE | 207-979-K520 - V BELT | 723-40-56900 - VALVE ASSY |
| 23C-27-62180 - BOOT | 7830-83-6002 - CONTROLLER | 421-22-31020 - XDIFFERENTIA |
| 198-30-76150 - GUARD | 51578 - SHAFT | 705-52-30080 - XPUMP A SS'Y |
| 427-62-15340 - TUBE | 6205-21-1401 - CYLINDER BLO | 17A-03-43311 - NET |
| 5074523 - HARNESS | 37D-09-53416 - UNION | 58C-22-12230 - SHIM |
| 22U-06-11971 - CLAMP | 707-99-36300 - SERVICE KIT | 694712 - PIPING |
| 416-54-44620 - STRIKER | 21Y-54-11930 - SHEET | 706-75-92360 - SPRING |
| 2A5-53-11690 - COVER | 21P-970-K150 - SPACER | 6218-H0-0590 - ENGINE ASS'Y |
| 2A5-54-16251 - COVER | 20C-27-31110 - SPROCKET | 21N-01-37111 - SUPPORT |
| 206-03-31391 - TUBE | 6215-81-6950 - COVER | 23125 - PLUG |
| 19M-43-34230 - ARM | 20P-70-81440 - SPACER | 6741-11-8121 - PACKING |
| 720-2M-15650 - COUPLING | 300-06-32200 - SWITCH | 203-03-67510 - SHEET |
| 561-88-86191 - BRACKET | 58F-06-01140 - BRACKET, FRO | 5263556 - ACCUMULATOR |
| 421-00-H0550 - STUD | 17709 - O-RING, THRU | 90781540 - HOSE |
| 86502M - MUFFLER | 312610617 - UNION | 22L-62-32220 - HOSE |
| 198-03-61841 - WINDBRAKE | 3A1-04-11411 - HOSE ASS'Y | 566-03-8L201 - OIL COOLER |
| 23A-952-1490 - FAN | 6240-31-5310 - PULLEY | 836655884 - SPRING |
| 705-22-34260 - PUMP ASS'Y | 208-03-41770 - COVER | 21T-68-32280 - TUBE |
| 42C-32-12680 - PLATE | 17A-06-42711 - WIRE.HARNESS | 21W-62-31360 - HOSE |
| 17A-30-23510 - COVER | 2A6-03-11291 - NET | 421-54-24680 - PLATE |
| 416-Z91-4272 - HOSE P60 | 417-823-1330 - PIN | 17A-71-51211 - FRAME |
| 170-901-7180 - O-RING | 3F0542087 - LEVER R. | 20T-03-22140 - HOSE |
| 836862243 - MANIFOLD EX | 51751498 - Thread pin | 796-946-1830 - SLEEVE |
| 21W-06-38220 - HARNESS,WIRI | 51451898 - HOSE | 195-04-31190 - JOINT |
| 5224626 - HYD PIPE | 20Y-27-22170 - CARRIER | 419-43-12301 - VALVE ASSY |
| 707-99-68460 - SERVICE KIT | 42N-54-14570 - PIN LOCK | 28583KF - VALVE- BALL- |
| 41Z-04-A1110 - HOSE,PER FT. | 6743-61-3350 - PULLEY | 350818R1 - RING |
| 49135A - MUFFLER | 42T-62-H0P01 - SEAL,SHAFT | 21D-09-23120 - NUT |