Komatsu HB365LC/NLC-3 Hydraulic Excavator parts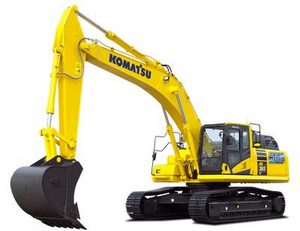 Komatsu HB365LC/NLC-3 Hydraulic Excavator - it is a big machine. It is a Crawler Excavator and works in difficult operating conditions. That's why this machine sometimes needs maintenance.
Our online parts store give you an access to more than 500 000 Komatsu parts that we have in our inventory.
Here is some more information about Komatsu HB365LC/NLC-3 Excavator:
ENGINE
Model --> Komatsu SAA6D114E-6
Type --> Common rail direct injection,
water-cooled, emissionised,
turbocharged, after-cooled diesel
Engine power
at rated engine speed --> 1.950 rpm
ISO 14396 --> 202 kW/271 HP
ISO 9249 (net engine power) --> 192 kW/257 HP
No. of cylinders --> 6
Bore × stroke --> 114 × 144,5 mm
Displacement --> 8,85 l
Air filter type --> Double element type with
monitor panel dust indicator
and auto dust evacuator
Cooling --> Suction type cooling fan
with radiator fly screen

If you send us your request, we will make you an offer for original and Aftermarket Komatsu parts for your Komatsu HB365LC/NLC-3 Excavator.
Below is a small list of Komatsu parts for this equipment. However, if you are interested in something - please use the site search.
| | | |
| --- | --- | --- |
| 428-62-13771 - PLATE | 5027020 - VALVE COMPL | 27616R1 - WASHER |
| 844200627 - JOINT | 195-27-12291 - COLLAR | 22U-54-28180 - CAB |
| 22B-62-33580 - HOSE | 58F-06-00481 - WIRING HARNE | 706-77-91540 - PLATE |
| 5082851 - CAP | 21T-06-11390 - HOSE | 21N-06-31312 - WIRING HARNE |
| 426-93-43211 - PLATE | 6212-32-1560 - PULLEY | 419-03-32171 - PIPE |
| 6212-65-6390 - PLATE | 18272KF - SHIM, CAB DO | 314842R1 - TRACKPI |
| 6154-D0-0010 - ENGINE ASS'Y | 37B-09-15217 - O-RING | 924081A - PIPE, TAIL |
| 20Y-43-22790 - LEVER ASM, R | 6742-01-3300 - GASKET | 417-06-23260 - LAMP |
| 2A5-46-18780 - GROMMET | 17A-Z11-1241 - GLASS | 86240 - SPRING |
| 235-70-15183 - GEAR | 98997640 - PISTON | 21Y-63-62580 - TUBE |
| 425-93-21530 - PLATE KIT | 428-03-12440 - TUBE | 42C-56-12880 - COVER P60 |
| 427-S95-1123 - COVER LH | 6127-19-4460 - O-RING | 6162-53-2101 - PUMP ASS'Y |
| 18586 - CABLE, BATTE | 17A-979-2571 - HOSE | 17A-54-28990 - BOLT |
| 2A7-62-12191NK - BRACKET | 58F-43-00101 - CPU CARD | 426-16-11462 - TUBE |
| 42N-54-19910 - DIFFUSER | 208-70-00913 - ARM ASS'Y | 56D-54-31960 - BRACKET |
| 427-54-21172 - DOOR | 21S-973-1330 - COUPLING | 56C-61-12761 - TUBE |
| 69922104 - SPACER | 209-27-71190 - CARRIER | 6210-21-6471 - BOLT |
| 8240-79-1310 - NOZZLE ASS'Y | 5029313 - WIPER BLADE | 425-43-36830 - BOOT |
| 566-95-6A720 - TUBE | 22U-54-25410 - MAT | 17A-15-25191 - SLEEVE |
| 198-862-1141 - BLADE, RADIA | 42C-16-11541 - COVER | 23B-735-3151 - BRACKET |
| 840225231 - VALVE | 723-43-13102 - CONTROL VALV | 42C-03-17661 - RUBBER |
| 930627C1 - RING | 6150-51-6280 - BRACKET | 426-54-61670 - HOSE |
| 362-43-16211 - HANDLE | 423-944-4720 - FINISHER | 5245458 - COUPLING |
| 6732-21-6130 - PLUG,EXPANSI | 9606165 - BUSHING | 23B-23-21170 - SPACER |
| 235-22-12940 - TUBE | 6207-81-8130 - XTURBOCHARGE | 208-979-6490 - O RING |
| 6560-11-8510 - O-RING | 23B-22-31820 - SHIM | 731093C1 - SEAL |
| 707-58-40H10 - ROD | 209-30-71140 - BRACKET | 20K-61-31840 - GUIDE |
| 707-01-0F770 - XCYLINDER AS | 86115M - MUFFLER | 6162-23-4150 - HOUSING |
| 427-853-1141 - PIN | 20S-63-77420 - ROD | 76933373 - LEVER |
| 56D-23-25053 - XFINAL DRIVE | 6152-22-5440 - GUIDE | 419-62-31153 - ELBOW |
| 6756-81-8140 - XTURBOCHARGE | 208-62-73680 - HOSE | 425-S33-3181 - BRACKET |
| 21N-27-00140 - XFINAL DRIVE | 41E-16-21631 - TUBE | 17A-22-17160 - TUBE |
| 426-Z04-2270 - PIPE | 20Y-62-45170 - BRACKET | 6753-81-8290 - TURBOCHARGER |
| 62117740 - STIRUP AXLE | 20Y-03-42721 - COVER | 707-99-38780 - SERVICE KIT |
| 569-22-12920 - NUT | 3055068R1 - BUSHING | 51868598 - HOSE ASS'Y |
| 207-06-A8261 - HARNESS | 427-62-23840 - VALVE ASSY | 22M-54-24670 - SEAL |
| 6164-11-6940 - TUBE | 3931874S - SERVICE PT | 709-25-11620 - O-RING |
| 17A-54-12231 - COVER | 23B-06-11140 - WIRING HARNE | 56B-54-16820 - BRACKET |
| 20Y-54-28852 - COVER | 195-862-9131 - SHEET | 58E-06-20140 - FUSE,25 AMP |
| 207-62-74132 - TUBE | 21N-06-11330 - WIRING HARNE | 235-15-12590 - THRUST WASHE |
| 6222-81-7910 - BODY | 707-00-0F760 - CYLINDER ASS | 56B-02-22531 - SHEET |
| 20Y-00-31220 - PLATE | 423-43-H0R19 - BUSHING | 22B-62-33971 - HOSE |
| 424-46-41180 - PIN | 20U-70-13350 - SHIM | 195-862-5291 - PULLEY |
| 705-44-57490 - GEAR,DRIVE | 21K-03-72620 - SHEET | 23A-06-21420 - LENS |
| 2270-1098-30AM - TRACK ROLLER | 42A-70-11980 - PIN | 5062832 - BLOCK |
| 569-97-8L451 - WIRING HARNE | 709-14-94100 - CONTROL VALV | 21A-43-11280 - BUSHING |
| 20Y-62-A1990 - HOSE ASSY | 6128-61-6221 - PIPE | 32158199 - SCREW |
| 392870001 - HOSE | 6212-12-4110 - MANIFOLD | 427-S95-3771 - TUBE |
| 23207140 - ALLEN HDWREN | 5003208 - SHIM REPLAC | 56B-54-27120 - BRACKET |
| 195-78-41240 - PIN | 207-06-41431 - BRACKET | 5058809 - AXLE |
| 421-54-41910 - COVER | 36341799 - BALL | 417-46-39120 - PLATE P60 |
| 56B-61-11960 - CLAMP | 427-976-2120 - STAY | 421-22-27320 - GEAR |
| 955976 - O'RING | 566-35-42560 - VALVE | 21S-54-32313 - CANOPY |
| 417-22-21310 - PROTECTOR | 2A5-54-11971 - STAY | 58B-06-00930 - SPEED SENSOR |
| 5275199 - HYD.MOTOR | 79773073 - FILTER ELEME | 20T-54-75180 - SASH |
| 201-03-72160 - GUARD | 415-884-1150 - PIN | 75736173 - DISK CARRIER |
| 21T-54-75510 - STEP | 561-15-55570 - SPRING | 419-64-23110 - BRACKET |
| 235-06-13310 - LENS | 20S-06-21491 - HOLDER | 23E-57-11460 - ADJUSTER |
| 208-54-77240 - COVER | 58E-00-01731 - BLOWER K,FLE | 419-15-16751 - VALVE |
| 22B-70-15130 - SEAT | 5076793 - HOSE CLAMP | 17A-54-45431 - COVER |
| 203-63-64371 - TUBE | 20Y-54-73411 - SHEET | 175-01-22120 - BUSHING |
| 425-S33-3342 - CABLE | 708-7T-12520 - BEARING | 232-60-54650 - ELBOW |
| 425-70-22130 - PLATE | 6275-61-4200 - IDLER ASS'Y | 6204-81-6710 - SPACER |
| 720-2M-03516 - VALVE ASSY P | 5007482 - BOLT HUB RE | 56D-15-25180 - ORIFICE P60 |
| 6736-39-1140 - SLEEVE ASSY | 5241565 - HYDRAULIC PI | 707-71-32910 - COLLAR P60 |
| 423-33-11651 - GUIDE | 195-54-56681 - STEP | 6204-11-3880 - GASKET |
| 926015A - PIPE,TAIL | 6261-61-8880 - TUBE | 198-54-42840 - BUSHING |
| 89657940 - TEMP. SENSOR | 418-07-33730 - FINISHER | 21W-62-42650 - ADAPTER |
| 4602641 - SLIDE PAD | 22L-98-18220 - MARK | 51197098 - KEY |
| 30498040 - BOLT | 6216-94-3410 - SUPPORT,AIR | 419-54-11660 - COVER |
| 707-88-25460 - BRACKET | 308872R1 - CLAMP | 6676-62-1310 - SHAFT |
| 207-62-72630 - HOSE | 20Y-54-12413 - DUCT | 6204-33-2140 - PISTON ASS'Y |
| 6204-61-5110 - COVER | 6742-11-4360 - TUBE-AIR FUE | 94072940 - SWITCH |
| 5071600 - MOUNTING | 801200702 - BOLT | 24884R1 - BOLT |
| 924007S - PIPE,EXHAUST | 21W-978-2611 - CONDENSER | 566-33-05015 - SERVICE KIT |
| 20Y-00-41311 - PLATE | 19M-15-00021 - HOUSING ASS' | 417-57-11160 - ARM REST |
| 21P-60-K1930 - VALVE ASM | 58B-06-20880 - HARNESS,CAM | 90350A - CLAMP |
| 234-15-22360 - CARRIER | 29474 - HOSE | 421-877-3180 - PLATE |
| 427-54-13370 - FENDER | 721-58-45430 - ROD | 707-71-31360 - COLLAR |
| 702-16-01570 - PILOT VALVE | 4876480 - SEAL KIT 99 | 209-62-42490 - HOSE |
| 6162-63-6210 - PIPE | 569-88-86242 - TUBE_____P60 | 418-03-21230 - HOSE |
| 418-18-51110 - GAUGE | 312606606 - BOLT | 418-01-21310 - TUBE |
| 426-06-12723 - WIRING HARNE | 7826-14-7504 - CONTROLLER | 363-43-31120 - BRACKET |
| 22B-62-16500 - JOINT ASS'Y | 209-09-61110 - BOLT | 6128-11-5470 - BOLT |
| 86627 - CUP | 69674R1 - GASKET SOFT | 425-54-24340 - SHEET |
| 195-63-22280 - TUBE | 708-3T-15541 - SPOOL | 419-04-10121 - TUBE |
| 209-25-72140 - PIN | 5196521 - VALVE | 56C-46-11640 - BRACKET |
| 232-06-13320 - BULB | 6215-11-6530 - TUBE | 688751C1 - KEY |
| 566-44-81112 - WIRING HARNE | 7872-11-4200 - CONTROLLER P | 419-S35-3160 - HOSE |
| 424-23-31860 - SPACER | 25508R1 - BOLT | 707-01-0A510 - CYL. ASM, BO |
| 6251-21-6550 - BRACKET | 20Y-54-26600 - HOOD ASM | 6219-71-6330 - HOSE |
| 20U-54-24451 - SEAL | 708-7W-12130 - SHAFT | 421-960-HP26 - COVERING, SE |
| 8208-35-1160 - CAP | 840225220 - PIPE | 195-04-11144 - CASE |
| 17A-98-22910 - CHART, OIL | 21M-62-11271 - BRACKET | 423-43-61190 - HOSE |
| 6643-31-1440 - RETAINER | 6127-21-4030 - HOUSING ASS' | 170-30-15210 - SNAP RING |
| 6216-84-9750 - MODULE-ELEC | 2A6-01-12652 - TEE | 855021127 - RING |
| 205-54-75581 - SHEET | 20G-01-11130 - SHAFT | 6156-11-1101 - HEAD ASS'Y |
| 707-98-62100 - KIT, CYL SEA | 235-63-63000 - CYL ASSM-ART | 600-311-8331 - CARTRIDGE |
| 6502-51-4410 - HOUSING | 378051R1 - RING | 418-46-35140 - PIN |
| 97800140 - SEALED CABLE | 5062341 - VALVE SECTIO | 424-54-44172 - FRAME |
| 23B-06-61810 - SPACER | 20T-98-22320 - PLATE | 56B-54-16692 - SHEET |
| 425-S95-7E30 - TUBE | 20Y-54-01341 - CAB ASS'Y | 569-61-65131 - TUBE |
| 419-Z93-6261 - BRACKET | 2A5-04-11231 - PLATE | 195-03-43490 - TUBE |
| 180-14-25590 - WASHER | 58B-54-02200 - PLATFORM,LH | 37C-01-11132 - PROTECTION |
| 6218-61-1640 - GASKET | 195-30-01021E - TRACK ROLLER | 94110240 - STRAINER |
| 306458611 - SHEET | 706-8H-41250 - SPRING | 37A-99-13100 - KIT CONTROL |
| 6215-71-4780 - TUBE | 56D-83-36111 - GUARD | 198-06-73721 - WIRING HARNE |
| 2A7-01-11531 - HOSE | 627945C91 - KIT | 421-S33-3940 - PLUG |
| 208-53-11760 - LOCK ASSY | 198-43-61750 - LEVER | 424-35-15850 - GOVERNOR |
| 2691-6-13720 - FILTER | 750-0024 - CLAMP SET -2 | 22P-973-1260 - TUBE |
| 702-21-26151 - ORIFICE | 705-19-01721 - BRACKET | 4878141 - CLAMP |
| 207-62-64840 - HOSE | 51783498 - HOSE ASSY | 21N-54-39490 - SHEET |
| 85756 - O-RING S | 419-06-11550 - SWITCH | 21D-98-11610 - SPANNER |
| 20Y-25-K1230 - BOLT | 421-925-A890 - CUSHION 1.57 | 21W-00-51121 - PLATE |
| 427-70-22330 - PLATE | 37C-970-1241 - PIPE | 707-51-85640 - RING |
| 22P-53-18831 - PLATE | 20Y-54-71144 - COVER | 5244346 - PLUG |
| 42U-17-H0P06 - O-RING | 23B-06-42321 - SWITCH | 426-926-3013 - CAB ASS'Y |
| 3F1081054 - CABLE | 705-94-80711 - PLATE | 723-19-11503 - VALVE ASM |
| 232-43-58740 - ROD | 419-62-21520 - ELBOW ASS'Y | 58E-03-01090 - BRACKET |
| 20U-70-11181 - SHAFT | 416-43-37541 - TUBE | 50111998 - O-RING |
| 395-56-11411 - LOCK | 6745-81-7020 - HOSE | 21N-68-32130 - PUMP ASM. GR |
| 42T-70-H0P11 - GASKET KIT | 385-10256931 - ELEMENT | 2A7-54-11111 - HOOD |
| 426-62-35511 - HOSE P60 | 42N-54-13400 - DOOR LH | 23S-55-51950 - RIVET |
| 76816373 - SEAL KIT | 37218199 - FITTING | 17A-72-41F50 - PLATE |
| 22B-62-22520 - HOSE | 20G-62-K3440 - O-RING | 561-03-81712 - BRACKET |
| 418-S95-2480 - TUBE | 425-32-22680 - PLATE | 208-53-11730 - PLATE |
| 7835-70-2414 - XCONTROLLER | 195-32-04661 - SHOE ASS'Y | 421-06-26120 - SWITCH |
| 714-07-35502 - VALVE ASS'Y | 20Y-62-A1440 - HOSE | 42C-03-12810 - HOSE |
| 6754-22-7120 - SEAL - O RIN | 6211-52-6420 - TUBE | 6222-63-1500 - WATER PUMP A |
| 708-2L-35280 - PIN | 723-47-29901 - CONTROL VALV | 395-70-13591 - BUSHING |
| 56B-50-35210 - CYLINDER | 4479885-30AM - IDLER W/COLL | 207-01-41351 - TUBE |
| 425-15-05302 - GASKET KIT | 708-3T-12410 - SCREW | 425-46-42H20 - PLATE,LH |
| 42C-15-15940 - SEAT | 421-56-12720 - LOCK | 425-16-41450 - TUBE |
| 419-54-51590 - SHEET | 22U-62-21461 - CLAMP | 705-17-34451 - DRIVE GEAR |
| 20P-43-81430 - CABLE | 708-2H-22220 - SHAFT | 21D-09-74520 - WASHER |
| 21580999 - TUBE 1=1 MET | 312238607 - PIN | 17A-43-24160 - JOINT |
| 6209-51-1201 - COVER ASS'Y | 5061774 - O-RING | 50485998 - SCREW |
| 738348C1 - SPRING | 17M-03-51640 - PROTECTOR | 58F-03-00200 - PLATE A., GU |
| 20U-62-46780 - RUBBER | 723-13-12400 - VALVE ASSM-C | 21W-62-52511 - HOSE |
| 21N-03-41260 - BRACKET | 6645-21-4140 - PLATE | 20K-54-12231 - SUPPORT |
| 8240-70-3A20 - PLATE | 705-17-48510 - GEAR | 17616 - HOSE ASSEMBL |
| 418-93-41220 - PLATE | 6219-71-5360 - BRACKET | 427-43-11230 - CABLE |
| 707-98-52210 - SERVICE KIT | 702-16-01250 - VALVE ASS'Y | 418-W27-1310 - RIM |
| 418-62-23270 - TUBE | 23B-43-35770 - PLATE | 5214735 - PLATE |
| 207-54-72750 - SHEET | 417-64-25110 - ROTOR | 417-01-41120 - CUSHION |
| 42N-64-11160 - VALVE-SOLENO | 426-32-15590 - KIT | 6165-61-3271 - GASKET |
| 6252-21-7520 - HOSE | 23B-22-11871 - SEAL | 203-03-56580 - NET |
| 426-43-11521 - PLATE | 4875188 - GUIDE | 198-61-52382 - TUBE |
| 6631-21-4481 - GASKET | 423-43-27450 - CROSS | 395-47-11450 - PIN |
| 421-877-4230 - HOSE | 23B-06-71173 - WIRING HARNE | 21T-68-67370 - TUBE |
| 6216-24-8710 - BOLT | 79539373 - FUSE | 88389740 - COVER |
| 232-71-13532 - PLATE | 17A-71-00050 - SHIM ASM | 205-53-31241 - BRACKET |
| 707-52-11631 - BUSHING | 6150-11-1920 - GROMMET | 20Y-43-41415 - FRAME W/ BEA |
| 22U-03-11423 - SHEET | 23B-60-61930 - HOSE | 21W-46-48322 - HAND RAIL |
| 6755-81-8410 - GASKET | 844020224 - CONTROL VALV | 17A-Z11-2711 - COVER |
| 968521 - PISTON | 423-54-35253 - HAND RAIL | 569-07-63260 - BRACKET |
| 20K-54-31860 - SHEET | 5055430 - COUPLING | 6206-61-1411 - BOSS |
| 6210-81-6750 - SPACER | 6610-71-8250 - CLIP | 6219-K2-1300 - GASKET KIT |
| 417-18-51580 - HOSE | 21T-62-69250 - TUBE | 56D-61-22560 - TUBE |
| 5258624 - DECAL | 195-71-62180 - PLATE | 21K-06-72222 - WIRING HARNE |
| 42C-56-12231 - BAR | 23B-60-72350 - HOSE | 86507M - MUFFLER |
| 17A-54-27420 - SEAL | 6162-63-3450 - COVER | 425-15-31113 - CASE |
| 6263-51-8150 - TUBE | 207-06-68190 - BRACKET | 421-70-31503 - BELLCRANK AS |
| 208-54-73690 - SHEET | 6610-71-8483 - O-RING | 9610323 - SCREW |
| 421-40-42230 - PAD ASS'Y | 4578163 - OIL PIPE | 915089507 - SHIM 1.5MM |
| 42U-00-H0040 - HOSE ASM. | 69837773 - RESISTOR | 19283 - CAPSULE, SPR |
| 22U-54-24711YN - BRACKET | 419-22-21160 - CARRIER | 566-43-45411 - RELAY |
| 209-954-4311 - GUARD | 6261-51-5121 - HEAD P60 | 23271240 - SOLENOID |
| 32394740 - GEWINDEBOLZE | 720-2T-12130 - COUPLING | 32118799 - FILLISTER-HE |
| 238-25-15130 - OIL SEAL | 195-06-72140 - WIRING HARNE | 21N-72-14231 - PIN |
| 6221-21-5880 - CLIP | 425-06-12570 - WIRING HARNE | 6223-13-4720 - TUBE |
| 419-06-13490 - PLATE | 5192191 - HYD.HOSE | 7823-33-6002 - CONTROLLER |
| 708-7R-18140 - SPRING | 73821 - ROLL-PIN | 42Y-56-H0P05 - NUT |
| 836866312 - FLANGE | 700-92-11780 - BOLT | 668843R91 - BEARING |
| 51754898 - WASHER | 205-70-73190 - BOLT | 6130-81-5290 - CAP |
| 421-06-A1680 - W HARNESS P6 | 22P-910-1431 - HOSE | 58F-60-40290 - BRACKET ASSY |
| 263-78-15550 - NIPPLE | 56B-60-32102 - TANK ASS'Y | 5197257 - AXLE |
| 425-S99-2233 - HARNESS WIRI | 702-16-55950 - SEAT | 23B-43-35460 - LEVER |
| 205-54-73260 - COVER | 6150-26-8050 - THRUST BEARI | 21T-54-12310 - HANDLE |
| 58E-40-00050 - TIE ROD TUBE | 195-61-45180 - YOKE | 79713873 - PIPE |
| 32490640 - RING | 17M-22-22210 - COVER | 37C-01-11762 - PROTECTION |
| 51197398 - KEY | 25786R1 - BOLT | 6208-38-2100 - PISTON RING |
| 707-42-80012 - PACKING | 7830-62-1005 - CONTROLLER | 6610-21-1350 - GASKET |
| 21N-54-35311 - COVER | 418-18-31302 - XMOTOR | 285-62-19360 - SEAT |
| 42N-93-12310 - DECAL | 707-51-10730 - PACKING | 76879773 - SEAL KIT |
| 58E-06-30370 - SWITCH,PRESS | 424-06-42610 - WIRING HARNE | 6219-11-5780 - COVER |
| 6742-01-1830 - CLIP | 21M-62-14411 - TEE | 561-06-81542 - CABLE |
| 25085 - HOSE ASSEMBL | 600-411-1451 - HEAD ASS'Y | 6162-83-6911 - VALVE |
| 418-62-52630 - TUBE | 207-62-75330 - HOSE | 22415 - HOSE ASSEMBL |
| 6678-22-4530 - CASE | 79444873 - WINDOW,SIDE | 25234KF - CABLE, GRID |
| 21M-63-72240 - XCYLINDER | 6741-81-6510 - BRACE | 33418 - RING |
| 423-22-31480 - GEAR | 600-825-9331 - XALTERNATOR | 423-54-A2550 - SCREEN |
| 885111126 - CALOTTE | 23B-54-31652 - COVER | 42N-54-14280 - GASKET |
| 198-54-55960 - COVER | 17M-49-41131 - TUBE | 712069C1 - TUBE |
| 5069320 - CONTROL UNIT | 417-54-34144 - FENDER | 42T-93-21B50 - DECAL |
| 23B-60-43540 - HOSE | 56B-54-37323 - FENDER | 6210-21-8730 - TUBE |
| 625363C91 - CONE | 76684473 - SPRING KIT | 63036940 - CLAM CLIP |
| 423-56-21530 - SEAL | 21N-54-31982 - BRACKET | 17A-61-51321 - TUBE |
| 203-70-53380 - CLAMP | 29445 - PILOT CAP KI | 22B-62-25221 - HOSE |
| 421-70-21960 - PIN | 425-Z90-3560 - SHEET | 42C-62-16921 - HOSE |
| 20M-70-71190 - BUSHING | 419-62-34481 - TEE | 22U-03-41121 - RADIATOR ASS |
| 206-70-63150 - LINK | 21T-70-31171 - PIN | 6754-81-9210 - WIRING HARNE |
| 22P-00-11130 - PLATE | 22L-06-28510 - PLATE | 561-95-83151 - BRACKET |
| 209-70-57180 - BLOCK | 395090011 - CYLINDER,RIG | 208-70-77350 - TUBE |
| 19M-72-22110 - JOINT | 206-03-35191 - NET | 21W-71-11210 - COVER |
| 855021616 - O-RING | 17A-06-63911 - WIRING HARNE | 922035A - PIPE,EXHAUST |
| 209-62-73870 - BRACKET | 203-54-68261 - PLATE | 56B-23-16471 - SHIM |
| 22M-62-37210 - HOSE | 195-30-64171 - COVER | 22M-977-2220 - PLATE |
| 195-06-41490 - WIRE | 707-71-61500 - PLUNGER | 427-43-11950 - ABSORBER |
| 6735-71-6230 - HEAD,FUEL FI | 64387740 - HOSE | 5060606 - HYDRAULIC RE |
| 198-03-00322 - RADIATOR ASS | 417-927-AT60 - KIT, WASHER | 569-16-61670 - CLIP |
| 29340 - SEAL KIT A-S | 6742-01-3950 - CORROSION RE | 419-64-25840 - SPRING |
| 885111102 - FRONT HEADLA | 93456540 - NUT | 42N-62-16291 - HOSE |
| 6240-11-9110 - PLATE | 20S-98-21151 - PLATE | 207-60-A1020 - O-RING |
| 6252-11-5210 - SEAL | 6746-81-5270 - BRACE | 209-54-41521 - DUCT |
| 95038140 - RING | 256424S - SHEL ASM | 17A-43-26191 - CABLE |
| 6151-SE-0010 - XSHORT BLOCK | 959208 - SCREW | 17M-54-56970 - COVER ASS'Y |
| 22B-62-22460 - BRACKET | 7823-35-2000 - CONTROLLER | 22M-54-14280 - RAIL |
| 56B-43-18172 - COVER | 6209-51-1400 - SHAFT ASS'Y | 22L-09-R2140 - TRACK SHOE P |
| 21A-43-11250 - BEARING | 58E-00-02140 - DRIVE,STATEX | 62127240 - DOUBLE PUMP |
| 5070342 - PROTECTION | 708-7R-13560 - SPRING | 900068A - ELBOW |
| 56C-22-17170 - BUSHING | 42T-18-21060 - TUBE | 206-54-A2130 - PLATE |
| 20Y-70-31251 - PIN P60 | 23B-70-31271 - EDGE | 20K-910-2150 - SEAT |
| 20Y-54-25451 - COVER | 566-06-41290 - INSULATOR P6 | 6754-61-6550 - BRACKET |
| 708-25-22830 - RING | 20S-70-00830 - LINK ASS'Y | 428-W90-1112 - TUBE |
| 836759574 - TURBOCHARGER | 234-785-1690 - LINK | 6207-37-3600 - METAL ASS'Y |
| 235-809-4560 - PLATE | 6240-51-8350 - CLAMP | 207-06-31240 - WIRING HARNE |
| 6261-61-7320 - TUBE | 418-875-2220 - HOSE | 21M-03-11730 - SEAL |
| 418-03-62761 - HOSE | 5023535 - DIPSTICK | 428-54-13590 - PLATE |
| 21N-06-41171 - WIRING HARNE | 5079784 - SHAFT | 235-63-76441 - CYLINDER |
| 21034KF - SAW SPROCKET | 22B-06-11990 - LENS | 5074230 - COUPLING |
| 22F-973-3691 - BRACKET | 20Y-54-37304 - WINDOW | 209-03-61170 - BRAKE |
| 708-1L-04720 - VALVE ASS'Y | 21T-30-00381 - IDLER ASS'Y | 58D-90-10120 - COVER |
| 209-63-77870 - TUBE | 6681-20-4920 - SHIM | 22B-62-15950 - JOINT |
| 6745-A0-0021T3 - ENGINE ASS'Y | 6162-13-6431 - GASKET | 426-62-23133 - TUBE |
| 561-15-41290 - BOLT | 425-62-33522 - TUBE | 195-03-66111 - TUBE |
| 5025324 - GLOW PIN | 22F-62-33230 - HOSE | 906635 - LOCKNUT M35- |
| 878040167 - ARM | 662822C93 - ASY,TRACK RO | 21K-979-7433 - HOSE |
| 6221-15-1310 - GUIDE | 22U-62-21451 - CLAMP | 707-88-95650 - BAND |
| 424-07-15110 - HOSE | 5057542 - MOUNTING | 2A6-06-11950 - WIRING HARNE |
| 6240-81-7701 - AIR CLEANER | 702222C1 - GAGE | 5058730 - PLATE |
| 92811840 - BUSHING | 600-825-3220 - ALTERNATOR A | 5069848 - RETROFIT KIT |
| 58B-60-00070 - HOSE | 2989388M - FILTER ELEME | 425-971-3121 - GUARD |
| 198-71-65161 - BRACKET | 561-88-66882 - BRACKET | 566-35-16840 - GASKET |
| 22M-54-14460 - BRACKET | 42N-70-11880 - SNAP RING | 702-13-42930 - PLATE |
| 425-62-A2310 - CLAMP BAND | 707-01-02571 - CYLINDER ASS | 6215-21-1850 - COVER |
| 21N-03-41780 - SHEET | 581-86-55710 - BATTERY,DRY | 6210-36-3041 - METAL ASS'Y |
| 76862373 - LIP SEAL | 56B-61-12A10 - CLAMP | 5078491 - FILTER ELEME |
| 424-54-44891 - STEP | 5259082 - PLUG | 37C-70-11180 - PIPE |
| 317549R91 - SEAL | 5007374 - KEY | 423-877-4781 - TEE |