Komatsu PC490/LC-11 Hydraulic Excavator parts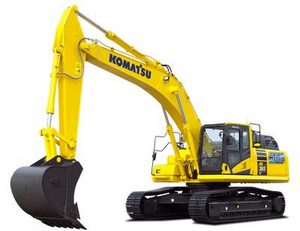 Komatsu PC490/LC-11 Hydraulic Excavator - it is a big machine. It is a Crawler Excavator and works in difficult operating conditions. That's why this machine sometimes needs maintenance.
Our online parts store give you an access to more than 500 000 Komatsu parts that we have in our inventory.
Here is some more information about Komatsu PC490/LC-11 Excavator:
ENGINE
Model -> Komatsu SAA6D125E-7
Type -> Common rail direct injection,
water-cooled, emissionised,
turbocharged, after-cooled diesel
Engine power
at rated engine speed -> 1.900 rpm
ISO 14396 -> 270 kW/362 HP
ISO 9249 (net engine power) -> 268 kW/359 HP
No. of cylinders -> 6
Bore × stroke -> 125 × 150 mm
Displacement -> 11,04 l
Air filter type Double element type with
monitor panel dust indicator
and auto dust evacuator
Cooling -> Suction type cooling fan
with radiator fly screen
Fan drive type Hydraulic, reversible

If you send us your request, we will make you an offer for original and Aftermarket Komatsu parts for your Komatsu PC490/LC-11 Excavator.
Below is a small list of Komatsu parts for this equipment. However, if you are interested in something - please use the site search.
| | | |
| --- | --- | --- |
| 419-46-12361 - COVER | 392401006 - HOSE | 705-40-18820 - GEAR |
| 51615898 - MINIMESSUNIO | 708-7P-00020 - MOTOR ASS'Y | 6222-35-2112 - PISTON |
| 17M-60-52131 - TUBE | 206-70-31170 - TUBE | 5007758 - SCREW SHC |
| 5200097 - PROTECTION | 708-2G-04370 - CASE | 6754-11-5610 - ELBOW |
| 6221-71-5550 - CLAMP | 427-12-21011 - DAMPER ASS'Y | 7875-25-7401 - WIRING HARNE |
| 566-88-6H261 - VALVE | 65987240 - CONNECTING C | 423-43-51350 - HOSE |
| 6137-71-1102 - INJECTION PU | 89054A - PIPE,STACK | 6215-61-5350 - PLATE,CLAMPI |
| 90756240 - VALVE | 21T-62-29960 - NIPPLE | 6735-61-3810 - SCREW,HEX HE |
| 92703540 - SLIP RING AS | 6240-51-8710 - COVER | 209-03-45270 - SHEET |
| 21W-62-22552 - HOSE | 421-U44-4470 - TUBE P60 | 21W-54-R1290 - LOWER ROLLER |
| 415-46-23130 - SHIM | 19M-01-32510 - COVER | 42U-01-11070 - CARRIER |
| 56B-07-14410 - COVER | 205-30-00090 - SEAL RING AS | 56D-15-21112 - CASE |
| 195-30-01761 - TRACK FRAME | 395077013 - CYLINDER | 6155-61-3810 - BRACKET |
| 5056911 - SLEEVE | 5204036 - HYD PIPE | 8240-62-1350 - HOSE |
| 5069582 - PISTON ROD | 207-62-71680 - HOSE ASS'Y | 56D-54-12433 - BRACKET |
| 427-43-28660 - UNION | 22U-30-00022 - CARRIER ROLE | 5059532 - MOUNTING |
| 42C-93-11510 - OIL CHART | 195-49-73271 - HOSE | 706-88-50010 - PIN |
| 6166-55-5731 - TUBE | 206-54-35340 - FRAME | 22B-62-43281 - HOSE |
| 69843473 - LOCK | 5207501 - CAMSHAFT | 418-22-12410 - SHAFT |
| 707-86-13170 - TUBE | 234-44-42140 - HEATER | 32432940 - NIPPLE |
| 51894998 - HOSE | 707-86-68100 - TUBE | 6223-13-4730 - HOSE |
| 20Y-54-36845 - BLOCK | 20K-03-32130 - HOSE | 195-71-74690 - SHIM |
| 42U-17-H0T03 - GASKET KIT | 2938544160 - LOCK ROD HOO | 705-49-01140 - GEAR PUMP AS |
| 23B-06-67111 - WIRE.HARNESS | 58F-54-40570 - SHEET,SHIM | 423-43-27430 - HOSE |
| 6755-41-9200 - ASY,EGR VALV | 17A-Z11-3130 - PLATE | 6731-12-1220 - CYL HEAD |
| 6262-51-5610 - TUBE | 195-49-35112 - CASE | 208-63-73320 - XROD, PISTON |
| 423-22-32662 - CARRIER | 19539KF - DECAL, ESCAP | 42C-02-11154 - BRACKET |
| 425-03-32271 - STAY | 723-11-02860 - PILOT VALVE | 423-54-11612 - SHEET |
| 922011067 - SEAL | 56D-46-13552 - COUPLING | 421-T32-3460 - COLLAR |
| 5245368 - CLAMP | 424-54-14630 - SPRING | 208-06-71250 - CLAMP |
| 6207-71-5440 - TUBE | 93006440 - PIPE | 723-40-90200 - VALVE ASS'Y |
| 208-43-58141 - SPRING | 418-54-41730 - SHEET | 42T-54-21B30 - INSULATING M |
| 3950396S - SERVICE PT | 21N-26-00051 - MACHINERY | 65809 - CLAMP |
| 5066950 - PISTON ROD | 6754-28-8100 - SET-MAIN BEA | 89978K - CONNECTOR |
| 206-27-44112 - GEAR | 418-06-32624 - WIRING HARNE | 20T-70-81541 - PIN |
| 392800012 - HOSE | 418-43-57930 - HOSE | 4666658 - SAW BAR KIT |
| 421-64-H0P92 - ADJ SLIDE | 5057988 - SCREW | 42T-54-31160 - LOCK MOUNTIN |
| 4A1-921-1120 - TANK | 17A-06-A0430 - HARNESS | 56B-88-12180 - VALVE |
| 200040628 - AXLE ASM,FRO | 22F-62-34110 - HOSE | 17A-54-42223 - COVER |
| 20Y-25-21310 - SEAL | 2A6-54-11261 - HANDRAIL | 22U-46-13340 - SHEET |
| 702-16-03870 - VALVE, PILOT | 561-61-66321 - BRACKET | 419-06-32251 - CABLE |
| 20Y-26-21260 - PLATE | 22U-03-27351 - TUBE | 6134-11-5810 - PIPE |
| 20Y-70-23130 - LINK | 561-74-8BU40 - PLATE | 20Y-62-A1620 - HOSE ASY. |
| 25758R1 - NUT | 20E-62-K4540 - O-RING | 425-23-20901 - AXLE ASS'Y |
| 425-54-34551 - BRACKET P6 | 22F-06-32911 - BRACKET | 723-15-12101 - VALVE ASSY |
| 708-1L-25561 - PLUG | 58B-22-12620 - COVER | 208-53-00130 - CAB ASS'Y |
| 89208A - STACK,STRAIG | 8296-75-2260 - BRACKET | 6206-31-6230 - SHAFT |
| 37A-09-4A005 - WASHER | 22M-01-21910 - COVER | 836662095 - BUSHING |
| 195-40-31730 - PLATE | 6114-21-5170 - CLIP | 42N-54-18650 - PIN |
| 56D-54-36990 - MAT | 42C-13-15570 - TUBE | 427-54-24113 - FRAME, FLOOR |
| 42U-22-H0P93 - SHAFT | 21T-03-67640 - HOSE | 21491 - BEARING FRO |
| 21R-43-15140 - LINING | 22M-54-31411 - COVER | 175-32-11131 - SHOE |
| 208-01-68430 - SHEET | 37C-04-11112 - TANK FUEL | 5198641 - CONTROL BOX |
| 195-03-22270 - SHIM | 582-06-11390 - LAMP | 423-54-34220 - SHEET |
| 258-80-24500 - PUMP ASS'Y | 5067949 - HOSE FLAP | 967324 - SCREW |
| 425-963-A321 - HOSE,A/CCND- | 707-99-25700 - GASKET KIT | 419-54-48261 - SHEET |
| 195-04-42670 - TUBE | 20Y-30-00380 - FLOATING SEA | 26409N - MUFFLER |
| 22B-54-14390 - SEAL | 17M-06-21211 - WIRING HARNE | 836640335 - GASKET |
| 19M-979-6630 - MAT | 22M-62-21250 - HOSE | 708-25-00390 - END |
| 58F-93-40620 - PLATE,ROPS W | 19974KF - HOSE KIT - C | 6136-61-2110 - COVER |
| 5090793 - SCREW | 37C-01-12240 - JOINT | 81784KF - TRACK SHOE, |
| 209-62-76880 - HOSE | 5071764 - DRIVE SHAFT | 428-22-05020 - SERVICE KIT |
| 601858C1 - COVER | 69645873 - SEAL KIT | 707-11-11920 - XCYLINDER-RH |
| 42W-56-H0P21 - KEY | 42C-62-11143 - TUBE | 198-Z11-2470 - GLASS |
| 708-2L-00351 - XPUMP ASSM | 79780773 - PRESSURE SWI | 566-15-11480 - BUSHING |
| 69452800 - V-BELT PULLE | 22W-06-13160M - FUSE | 561-86-67931 - BRACKET |
| 20Y-43-22161 - COVER | 425-43-38890 - HOSE | 418-54-31319 - FENDER |
| 801015570 - BOLT | 6755-81-8940 - SENSOR | 20Y-54-11813 - STRIKER |
| 708-7R-13210 - PLATE | 616221C1 - WASHER | 566-35-05015 - SERVICE KIT |
| 566-54-25712 - SASH | 707-76-60740 - BUSHING | 22U-03-28510 - SHEET |
| 796-627-1240 - WRENCH | 42C-62-13182 - TUBE | 17A-15-49440 - BEARING |
| 427-70-11470 - SHIM | 6166-11-4590 - SPACER | 581-32-12140 - PLUG |
| 569-22-71310 - CAGE | 424-06-43211 - HEAD LAMP | 37C-70-17120 - PIN |
| 21N-62-31431 - BRACKET | 707-98-32550 - KIT, SERVICE | 5244686 - HYDRAULIC VA |
| 201-70-00830 - LINK ASS'Y | 201-910-1830 - HOSE | 6262-61-6310 - ELBOW |
| 6135-K2-9901 - GASKET KIT | 17A-06-52261 - WIRING HARNE | 235-809-3730 - TUBE |
| 424-35-12740 - ADAPTER | 742426C2 - TUBE AS | 22U-03-28270 - NET |
| 23B-06-72561 - BRACKET | 17A-54-64550 - SEAL | 203-62-12961 - HOSE |
| 6162-35-2120 - PISTON | 195-54-42160 - COVER | 175-22-21131 - PLATE |
| 27331 - BRACKET ALT | 417-15-15251 - VALVE | 6202-13-6410 - CONNECTOR |
| 21M-54-33410 - CASE | 6206-81-7400 - AIR CLEANER | 5076140 - PIPE |
| 22U-06-12131 - WIRING HARNE | 421-43-67570 - COLLAR | 41F-70-15270 - PIN |
| 57624640 - VALVE | 423-07-31142 - BRACKET | 198-72-62550 - BLOCK |
| 56B-33-38150 - BRACKET | 5192182 - HYDRAULIC HO | 56B-93-15150 - PLATE |
| 720-2M-14280 - SLIDER | 195-60-45211 - TUBE P60 | 417-04-10131 - UNIT |
| 17M-61-43150 - PLATE | 42C-62-12380 - HOSE | 56B-54-22171 - COVER |
| 799-601-4200 - ADAPTER KIT | 175-06-61130 - WIRING HARNE | 419-54-15511 - GLASS |
| 58B-02-20300 - TUBE,EXH LH | 195-61-61711 - TUBE | 58F-54-05520 - HINGE |
| 42N-33-11220 - JOINT | 56D-06-26520 - WIRING HARNE | 23B-60-84461 - HOSE |
| 42A-43-53352 - CABLE | 42C-S95-3260 - JOINT P60 | 421-922-3620 - PLATE |
| 56B-54-31G40 - SHEET | 20M-46-71171 - BUSHING | 5023995 - SCREW HHC |
| 6733-71-6210 - HOSE | 424-15-05111 - KIT | 708-2L-04341 - CASE ASS'Y |
| 21U-62-34390 - TUBE | 5036100 - COVER | 70110C94 - PUMP |
| 424-54-45222 - FENDER | 22W-15-22390 - BUSHING | 421-07-31240 - CONTROLLER |
| 207-62-73640 - TUBE | 195-61-62751 - TUBE | 79761573 - SPUR GEAR |
| 6245-11-4111 - MANIFOLD | 529801570 - SCREW | 21J-62-18410 - HOSE |
| 427-43-27180 - JOINT | 6215-61-6720 - TUBE | 207-26-62130 - GEAR |
| 17A-30-13140 - BUSHING | 6221-71-3380 - GEAR | 421-56-H2230 - PROFILE |
| 89900040 - CYLINDER | 21M-01-21120 - HOSE | 569-04-81210 - HOSE |
| 7831-69-6004 - MONITOR | 418-03-41660 - TANK | 20K-60-41210 - CHARGING VAL |
| 76687673 - PLUG | 561-15-75131 - SEAT | 6735-21-5510 - CONNECTION,O |
| 426-54-69340 - SEAL | 23244 - BOLT, ALLEN | 5210271 - HYD HOSE |
| 6150-31-3100 - CONNECTING R | 203-62-65102SA - VALVE ASS'Y | 6210-29-2210 - SHIM |
| 26978940 - SCRAPER | 6204-31-1220 - GEAR | 419-54-32180 - SHEET |
| 6240-11-7650 - BRACKET | 835338130 - PIPE | 17M-27-41630 - TEETH |
| 836359885 - MOUNTING | 417-926-3890 - LOCK | 17A-15-25812 - COVER |
| 417-54-57171 - SHEET | 20Y-62-13740 - CLAMP | 364361C1 - HOSE PRC PER |
| 790-222-5070 - CONNECTOR | 20Y-62-22341 - TEE | 418-54-32424 - PLATE |
| 17M-98-41120 - PLATE | 21N-27-31210 - BEARING | 708-1H-00211 - X PUMP ASSY |
| 34521899 - SLEEVE, DOWE | 312731061 - PIPE | 5046488 - NUT |
| 708-2J-05220 - KIT | 421-54-34710 - HOOK | 65231522 - SWITCH |
| 6218-81-4220 - WIRE | 426-933-4120 - DECAL | 258-60-22620 - SPACER |
| 421-43-27420 - SPRING | 4578112 - CLAMP | 7835-10-3002 - MONITOR |
| 21N-54-39180 - COVER | 17M-71-00480 - SHIM ASS'Y | 21P-62-K2910 - HOSE |
| 207-30-75360 - BUSHING | 51685340 - PIPE | 207-62-52590 - HOSE |
| 21M-98-21120 - PLATE | 6505-52-2050 - HOUSING | 932447C1 - HOSE |
| 419-03-52810 - SEAL | 421-54-61241 - DOOR | 43073740 - SHIM |
| 3889690 - C W AIDS | 207-54-41671 - FRAME | 90807140 - Catch |
| 175-69-00014 - DRAWBAR ASS' | 6164-81-5270 - CLIP | 60407240 - HOSE |
| 702-21-60700 - PILOT VALVE | 423-957-4142 - BRACKET | 56B-46-13641 - SHIM |
| 561-50-63280 - DUST SEAL | 723-11-16870 - SPRING | 198-Z11-6350 - SEAL, LH |
| 20K-68-12141 - TUBE | 22L-62-14750 - HOSE | 6271-J0-0020 - XENGINE ASSY |
| 17A-43-13111 - LEVER | 5079379 - MOUNTING | 23B-60-72621 - HOSE |
| 37A-942-1180 - WIRING HARNE | 6210-62-3500 - TENSION PULL | 17A-49-16811 - BRACKET |
| 9923039 - SCREW | 423-879-A870 - BRACKET | 95135540 - HOSE ASS'Y |
| 714-11-19230 - RING | 42U-09-H4650 - HOSE | 208-06-61410 - SWITCH |
| 707-58-40A60 - XROD | 2938021111 - CLAMP 2. | 7823-43-3000 - CONTROLLER |
| 7835-46-6001 - CONTROLLER | 21T-06-32232 - WIRING HARNE | 17A-04-41161 - GRIP |
| 21K-979-3190 - BRACKET | 33989799 - RING | 5037831 - SLEEVE |
| 17M-911-A200 - HOSE | 708-25-08751 - VALVE ASSM | 195-15-03011 - TRANSMISSION |
| 56B-61-24270 - JOINT | 426-877-2130 - PLATE | 91443940 - DISTANCE SLE |
| 22B-03-12470 - SHEET P60 | 3946087S - SERVICE PT | 708-2L-23855 - CRADLE |
| 6261-21-4731 - HOUSING | 734377C1 - RING | 234-15-05012 - KIT |
| 50501298 - BOLT | 7821-93-3040 - TERMINAL | 707-00-0C671 - XLIFT CYLIND |
| 707-59-95050 - ROD | 22B-62-25341 - HOSE | 205-54-66820 - GLASS |
| 705-94-36820 - GEAR | 206-06-42114 - WIRE | 22L-43-11632 - CABLE |
| 423-46-41430 - SPACER | 749134C91 - AIR COMPRESS | 561-54-A4530 - GLASS |
| 58D-07-00010 - HOSE | 58F-00-10150 - FUEL K,VR300 | 21D-09-91580 - HOSE |
| 207-03-51111 - RADIATOR | 418-15-11231 - GEAR | 419-06-31114 - COVER |
| 23B-60-72590 - HOSE | 6252-71-5110 - TUBE | 56B-54-13C50 - PLATE |
| 5067337 - PIN | 42U-09-H4910 - HOSE, 2000MM | 195-Z11-7310 - PANEL |
| 79829373 - SEAL RING | 17M-71-22280 - TRUNNION | 95053240 - HOSE |
| 23B-54-74460 - COVER | 707-88-51090 - BRACKET | 20Y-62-52860 - HOSE |
| 58C-54-10180 - PLATE,GUSSET | 421-09-11310 - DUST SEAL | 357020R1 - WASHER |
| 22B-06-21450 - BOLT | 423-43-37650 - RELIEF VALVE | 205-03-35151 - RADIATOR ASS |
| 207-30-00790 - TRACK ROLLER | 42U-63-H0P42 - BUSHING | 561-84-81550 - COVER |
| 6246-71-7230 - TUBE | 5007920 - SUPPORTING R | 58E-54-19601 - CATCH,LADDER |
| 209-54-00170 - DOOR ASS'Y | 234-60-34220 - TUBE | 208-54-71280 - COVER |
| 8296-78-1161 - RUBBER | 23B-07-83141 - HOSE | 21K-60-71211 - VALVE ASS'Y |
| 234-27-00221 - HOUSING ASS' | 89596940 - TUBE | 69804073 - BLOWER FAN |
| 207-00-61170 - PLATE (FOR 2 | 5066227 - VALVE | 684193C91 - PACKAGE (3PC |
| 195-06-71171 - WIRING HARNE | 613C-SE-0020 - SHORT BLOCK | 20K-22-13822 - ARM |
| 6240-61-4721 - SHAFT | 5062887 - ENGINE SHELF | 23B-25-41120 - TUBE |
| 5043435 - DIFFERENTIAL | 424-35-12730 - ELBOW | 5270631 - PROTECTION |
| 708-21-13130 - WASHER | 566-35-05014 - SERVICE KIT | 5020926 - CABLE ENCODE |
| 94925640 - RADIATOR MOU | 569-88-68740 - DISC | 419-03-31521 - COOLER, OIL |
| 56B-54-33340 - COVER | 17A-Z11-3621 - PLATE | 20S-46-81112 - FRAME |
| 5058893 - BLOCK | 22F-54-32941 - SHEET | 5265985 - SLEEVE |
| 42N-43-12170 - CLAMP | 703-06-93210 - COVER | 926058A - PIPE AXLE UN |
| 36507240 - ADAPTER PLAT | 426-46-31980 - BUSHING | 425-S95-3711 - PIN |
| 714-17-05041 - SERVICE KIT | 421-971-4160 - PLATE | 702-82-01130 - WASHER |
| 5194460 - HYDRAULIC HO | 21M-54-23910 - FRAME | 42C-Z89-6320 - TUBE |
| 42C-06-14541 - WIRING HARNE | 427-62-23112 - TUBE | 20Y-43-41591 - COVER LOWER |
| 195-30-34380 - PLATE | 3F3061051 - HOSE | 203-62-61590 - HOSE |
| 27909KF - CLAMP, CONST | 22U-03-81420 - HOSE | 426-S33-2550 - PLATE |
| 209-62-58270NK - CLAMP | 207-43-A1241 - HANDLE | 416-07-46120 - HOSE |
| 426-43-27821 - TUBE | 234-16-31110 - ELBOW | 702-16-52410 - SPRING |
| 5200924 - HARNESS | 707-88-26530 - BAND | 5200642 - ROCKER BEARI |
| 79819073 - MOTOR | 625257C91 - BEARING | 56D-06-14520 - CABLE |
| 89409140 - HAND LEVER | 421-56-21850 - SHEET | 20P-43-72130 - GROMMET |
| 381083R2 - RING | 21P-62-K3420 - HOSE | 6127-71-3131 - COUPLING |
| 56D-54-32440 - GUARD | 2A5-06-18312 - COVER | 4A1-03-10740 - VALVE 24V |
| 8296-75-2810 - ROLLER | 50458698 - SAFETY PLAT | 205-54-31421 - SHEET |
| 426-13-43730 - HOSE | 175-15-13331 - SHIM | 175-06-71134 - WIRING HARNE |
| 20681 - POT LINEAR | 6166-11-7510 - COVER | 21W-26-51020 - SWING MACHIN |
| 423-22-32110 - FINAL DRIVE | 56D-54-52790 - BRACKET | 207-62-72840 - BRACKET |
| 42U-17-12111 - AXIAL PISTON | 424-43-27250 - TUBE | 20Y-62-43251 - BRACKET |
| 6162-75-4710 - COVER | 58E-06-10450 - CABLE A., 7M | 561-89-82552 - COVER |
| 428-20-15740 - OIL SEAL | 423-54-41620 - HINGE | 36829740 - HOSE |
| 207-62-74251 - BRACKET | 22B-04-11170 - HOSE | 708-3S-00441 - PUMP ASS'Y |
| 836846302 - PLATE | 306452612 - CAM | 418-06-36150 - SWITCH |
| 20U-43-21311 - LEVER | 56B-27-31490 - SHIM | 612354C1 - CLAMP |
| 6245-71-5490 - BRACKET | 7826-12-2202 - CONTROLLER P | 421-22-23110 - HOUSING |
| 923014A - PIPE,EXHAUST | 20Y-54-28281 - SHEET | 730936C1 - PLATE |
| 723-27-15101 - VALVE ASM | 198-03-71410 - BRAKE | 6210-21-1790 - BUSHING |
| 879079R1 - BEARING | 2A5-03-25581 - STAY | 707-01-0J782 - BUCKET CYLIN |
| 2A7-62-15371 - HOSE ASSY | 7875-33-2000 - MOTOR ASS'Y | 42N-70-11820 - SHIM |
| 419-54-48822 - FENDER | 425-46-34510 - GUARD | 22428 - VALVE SECTIO |
| 207-970-7711 - TUBE | 203-30-00231 - CARRIER ROLL | 20S-32-00064 - TRACK SHOE |
| 5P4130-AM - SEGMENT BOLT | 714-12-17111 - HOUSING | 209-72-54191 - BUSHING |
| 301803R91 - COCK,DRAIN | 6211-K2-9800 - GASKET KIT | 42W-03-13B10 - MAT, INSULAT |
| 20Y-27-11561 - BOLT | 195-21-32670 - BUSHING | 5023719 - ARM |
| 709-70-78100 - VALVE ASSM | 1970891C1 - GASKET | 426-S62-2110 - BRACKET |
| 42U-54-11140 - BRACKET | 195-49-14611 - HOSE ASSY. | 21M-54-52610 - COVER |
| 37A-62-14830 - HOSE | 651389C1 - COVER | 6746-61-6210 - THERMOSTAT |
| 26699640 - DISC | 17M-15-42130 - SHAFT | 6743-61-2112 - COVER |
| 203-54-62853 - COVER | 201-62-78360 - HOSE | 22E-60-12212 - ELEMENT |
| 6221-71-3390 - GEAR | 418-S99-3340 - HOSE | 17M-911-A060 - MOUNTING KIT |
| 42W-22-H0P20 - SHIM | 198-Z11-4560 - PLATE | 238-22-00051 - BEVEL GEAR A |
| 708-25-12330 - JOINT | 561-95-88330 - WIRING HARNE | 51700898 - HOSE |
| 22J-03-15153 - HOSE | 425-43-A2250 - COVER P60 | 425-35-11331 - TUBE |
| 427-S05-4130 - SEAT | 27055640 - HOSE | 416-03-31470 - SHEET |
| 723-11-28560 - PLUG | 42N-54-13960 - STOPPER | 723-57-16104 - CONTROL VALV |
| 20E-61-K1122 - CYLINDER ASS | 17A-06-23140 - FUSE | 205-63-65271 - BUSHING |
| 363-23-33110 - HOUSING | 566-81-13201 - RIM ASSM | 561-06-8A950 - TRANSMITTER |
| 416-06-11320 - WIRE | 20Y-30-32130 - CYLINDER | 6166-11-7570 - COVER |
| 195-13-13450 - GASKET | 175-61-15151 - BUSHING | 6505-51-0151 - THRUST BEARI |
| 8248-43-1312 - BRACKET | 426-S62-6310 - HOSE | 23B-15-16131 - GASKET |
| 20K-22-31630 - FLANGE | 79307073 - MOTOR,DC | 6212-K1-0901 - GASKET KIT |
| 22P-54-11211 - HOOD | 198-50-51150 - SHAFT | 8295-54-3212 - DECK |
| 42C-54-14654 - HANDRAIL | 203-62-42153 - ELBOW | 707-37-11080 - PISTON |
| 569-15-39210 - RING,SEAL | 51473098 - HOSE | 203-62-61141 - TUBE |
| 68318-21900 - CARRIER ROLL | 566-06-13790 - BLOCK | 416-03-42490 - SHEET |
| 58D-00-00040 - ACTUATOR K., | 419-54-41450 - PLATE | 22F-70-33831 - BUSHING |
| 22M-62-13390 - HOSE | 6136-11-1311 - VALVE SEAT | 21N-26-12220 - PLATE |
| 8295-70-1160 - SHIM | 5064765 - FAN | 802070024 - WASHER |
| 561-61-8A921 - COVER | 198-60-55131 - HOSE | 417-54-51971 - PLATE |
| 707-88-36770 - O-RING | 208-54-73260 - SHEET | 6215-81-9520 - PLUG |
| 312703627 - SUPPORT | 51888898 - HOSE ASS'Y | 207-54-78670 - FRAME |
| 392435013 - HOSE | 836859494 - BRACKET | 51353798 - SCREW |
| 898000014 - HOSE 1=4.0M | 95123540 - FLUID GREASE | 566-35-43531 - VALVE |
| 426-16-21480 - HOSE | 42C-15-15540 - COVER P60 | 600-813-9331 - STARTER |
| 6252-81-1110 - BRACKET | 90471K - ADAPTER THRE | 707-99-76131 - SERVICE KIT |
| 5065657 - DELIMBING KN | 4879428 - PLUG | 58B-06-00560 - RESISTOR KIT |
| 2A5-62-11112 - TUBE | 58B-22-12280 - SPACER | 3F0545056 - CANOPY |
| 198-54-46190 - COVER | 20Y-979-7412 - HOSE ASS'Y | 707-88-22930 - BRACKET |
| 426-35-15112 - RESERVOIR | 206-63-52180 - TUBE | 835330718 - SPRING |
| 195-03-00420 - RADIATOR ASS | 5247131 - DECAL | 6150-41-5420 - BUSHING |
| 701-40-71131 - VALVE | 42C-62-16740 - TUBE | 17A-03-41431 - BAFFLE |
| 22U-62-25750 - BRACKET | 720-2L-00030 - PUMP ASS'Y | 306510059 - ELBOW |
| 19M-09-11171 - BEARING | 427-S95-2621 - PIN | 42Y-71-H0P02 - PIN |
| 34348499 - DISC | 22L-979-2320 - V-BELT | 421-56-H0S57 - RAIL, GUIDE |
| 51632998 - HOSE | 6735-81-8620 - COLLAR,THRUS | 5065599 - ELECTRIC KIT |
| 25696R1 - BOLT | 21K-979-7350 - HOSE | 22B-00-11270 - PLATE |
| 56C-50-13120 - ROD | 21U-01-31144 - BRACKET | 207-27-71140 - GEAR |
| 721-98-01180 - SEAL KIT | 3945583S - SERVICE PT | 208-30-00521 - CARRIER ROLL |
| 56B-54-21E20 - SEAL | 209-38-73360 - BEARING | 209-54-41261 - SHEET |
| 5229292 - BOGIE CASING | 947077032 - CONTROL | 312614749 - DECAL |
| 22B-70-00102 - ARM ASS'Y | 561-54-84161 - BRACKET | 22M-62-33411 - BRACKET |
| 836855567 - GEAR KIT | 20K-54-21320 - SEAL | 569-84-83150 - PLATE |
| 8240-70-2212 - PLATE | 500355339 - TEE | 837073118 - SCREW |
| 56B-61-31510 - TUBE | 195-Z11-7651 - BRACKET | 22E-09-11550 - UNION |
| 42C-15-22860 - COLLAR | 24874R1 - BOLT | 17A-54-62711 - HOOD |
| 206-62-63400 - HOSE ASS'Y | 42U-56-21560 - GLASS | 741581C1 - SPACER |
| 569-54-83410 - COVER | 363-63-22100 - DUMP CYLINDE | 22F-62-34960 - HOSE |
| 6219-61-8340 - HOSE | 207-06-41311 - BRACKET | 175-71-21230 - LOCK |
| 425-16-41120 - TUBE | 427-01-A1260 - BRACKET,R.H. | 207-01-75180 - TUBE |
| 419-62-54250 - ELBOW | 8234-06-2910 - LAMP | 707-01-0K760 - XBOOM CYL RH |
| 21M-54-15531 - COVER | 2A5-46-13B10 - PLATE | 425-02-A2212 - BRACKET LH |
| 6505-52-2220 - HOUSING | 22M-43-22280 - PIN | 417-62-13291 - TUBE |