Caterpillar 434F2 Loader parts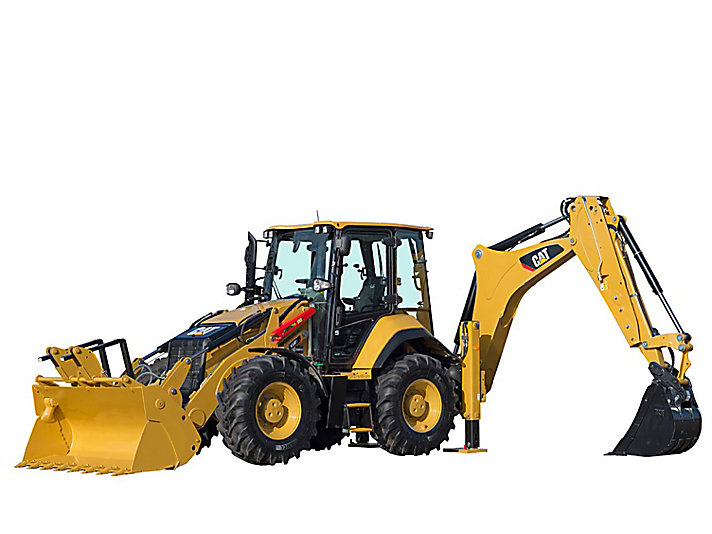 Here is some more information about Caterpillar 434F2 Loader:
ENGINE
Power - Net 64.9 kW
Dimensions - Bore 105.0 mm
Dimensions - Displacement 4.4 l
Dimensions - Stroke 127.0 mm
Engine 3054C 68.5 kW Mechanical Turbo
Maximum Torque 384.0 N·m

WEIGHTS
Operating Weight - Nominal 9257.0 kg
Operating Weight - Maximum 11500.0 kg
4.3 m Extendible Stick - Excluding Front Counterweight 203.0 kg
If you send us your request, we will make you an offer for original and Aftermarket Caterpillar parts for your Caterpillar 434F2 Loader.
Caterpillar 434F2 Loader - it is a big machine. But even such machine sometimes needs maintenance.
Our online parts store give you an access to more than 1 000 000 Caterpillar parts that we have in our inventory.
Below is a small list of Caterpillar parts for this equipment. However, if you are interested in something - please use the site search.
| | | |
| --- | --- | --- |
| 1597162 - MOTOR GP-PLF | 7G0894 - WASHER THRUS | 2663152 - PIN |
| 6Y9980 - MOUNT AS | 8W1876 - SHIM | 5K3854 - SHAFT |
| 7C0351 - PLUG | 0R4680 - PUMP GP | 3B2968 - CAPSCREW |
| 3122599 - HOSE AS | 4T5498 - HOSE A | 1628766 - WASHER THRUS |
| 4I3941 - FITTING A | 3128601 - PUMP G | 3383571 - GASKET KIT |
| 5D5755 - ADJUSTER | 2136567 - HOSE AS | 0618561 - SEAL |
| 3732980 - GEAR PLANET (1170751) | 8X1875 - HOSE A | 6V2962 - GASKET KIT |
| 3848602 - KIT-GASKET ( | 6V8197 - BOLT | 2W9062 - RETAINER A |
| 1119033 - CONE | 3E3713 - INDICATOR OI | 9K4066 - TUBE |
| 7V8054 - BEARING | 1595901 - HOSE AS | 4D9679 - 5S9187 |
| 8R7051 - TUBE A | 0338220 - HOSE A | 2421154 - MOTOR GP-PRV |
| 3G9512 - END EDGE | 6V0232 - GASKET KIT | 9G0294 - HOUSING |
| 4S7455 - AIR CLNR A | 2485709 - HOSE AS. | 7X0521 - WASHER |
| 1781702 - HOSE AS | 8J7596 - BEARING | 0919116 - HOSE A |
| 2089699 - HOSE AS. | 9X4757 - CABLE A | 5P2548 - GASKET GP |
| 3T4585 - STARTER - 24 VOLTS | 1315420 - SEAL KIT STD | 2751420 - HOSE AS. |
| 7D8643 - RETAINER | 8T2193 - SEAL-LIP TYP | 4W9576 - HOSE A |
| 9L5839 - COUPLING AS | 1764745 - HOSE AS. | 6V4432 - BOLT |
| 7S1303 - HOSE A | 3D8422 - SEAL O RING | 0875528 - HOSE A |
| 5M1996 - GASKET | 8D2452 - GEAR | 1891793 - SEAL KIT-STD |
| 1080953 - LINK A (1020741) | 3119401 - INSRT-IN-CLA | 1271518 - GASKET KIT |
| 5S1247 - REB CART G | 0772811 - BLOCK C10H PK-35 | 6P2776 - GEAR |
| 1979679 - SEGMENT | 9J3658 - CUTTING EDGE | 2923462 - PLUG |
| 0005894 - WASHER | 1671153 - PUMPGP | 6B4661 - BUSHING |
| 2430341 - GEAR-CLASSIC | 9R6193 - WHEEL A | 9N4303 - TIP |
| 2684685 - PUMP GP-PS-B | 1N3356 - BEARING | 9J5228 - CUTTING EDGE |
| 6A5067 - TERMINAL | 0835590 - HOSE AS | 5W7381 - SEAL |
| 1B7182 - CAPSCREW | 8Y0783 - JOINT AS | 6F8815 - CLAMP |
| 1972585 - HOSE AS | 2362877 - HOSE AS | 1300858 - LINER CYL |
| 1225220 - 122-5218 | 2M3553 - GASKET | 2S5628 - DIAPHRAGM |
| 8U0361 - HOSE A | 1735118 - HOSE AS | 2795761 - GASKET KIT |
| 1049270 - BUTTON | 2V0257 - HOSE A | 6V5839 - WASHER-HARD |
| 7U5227 - HOSE A | 6K6830 - HOSE A | 5W1321 - BOLT |
| 7S5621 - HOSE | 4674258 - KIT-GASKET | 7U0234 - HOSE A |
| 8T3991 - SCREW | 8C3224 - BOLT | 8V2540 - KIT-SHOE A |
| 1061616 - SHOE | 1561930 - GEAR | 812870 - WASHER 5/16 |
| 1908141 - SEAL KIT | 9T5976 - MOTOR G (1053196) | 5S4863 - HOLDER A |
| 7W9447 - HOUSING | 6Y7981 - DISC | 2424271 - CYL GP |
| 7P5952 - SPACER | 8T8148 - SEAL-FACE | 0689050 - BEARING |
| 6H4407 - GASKET | 1915721 - MOTOR GP-PSF | 3V1263 - HOSE A |
| 2657675 - ROLLER GP-CA | 2253143 - ALTERNATOR | 6Y0595 - HOSE A |
| 7X3189 - BOLT | 2144240 - GASKET KIT - | 6I0407 - THERMOCOUPLE |
| 3664623 - KIT SERVIC | 1246016 - GASKET | 4T9311 - HOUSING |
| 7J3296 - RING - LOCK | 7W1235 - GASKET | 7G2483 - GEAR |
| 1170138 - HOSE AS | 4C4788 - O-RING KIT | 7N7249 - CARTRIDGE AS |
| 3S7461 - BOLT | 3924638 - KIT GASKET | 3334948 - INSERT-CLA |
| 5P6322 - GASKET | 2430387 - KIT-SEAL-H.C | 5S9265 - HOSE A |
| 3G3321 - SEAL A | 1037490 - HOSE AS | 1W3302 - TUBE |
| 2V5721 - GEAR-SUN | 8X1872 - HOSE A | 1300229 - SEAL-O-RING |
| 3602473 - BOLT-TRK MAS | 6D0723 - ROLLER A | 1151372 - ROD AS |
| 9M5075 - GASKET KIT | 3071966 - STRIP-WEAR | 9C2236 - PLATE |
| 1060474 - GASKET | 6V2859 - SEAL | 1441636 - PIN-CONNECTO |
| 1898777 - PUMP AS | 9D2316 - SPACER | 1331774 - COVER AS |
| 5W2813 - BEARING | 2V4376 - JOINT G | 9P7990 - SLEEVE |
| 1058647 - GASKET KIT | 4L6182 - LOCK NUT | 8T7257 - SEAL-FACE |
| 1058735 - GEAR | 2N8915 - ELBOW | 3017967 - PIN-CLASSIC |
| 8E4236 - BOGIE A | 6I2726 - BEARING SLEEVE | 1Q3384 - HOSE A |
| 1306382 - CYLINDER AS | 7I0956 - HOSE AS | 7W8008 - TURBO G |
| 2758692 - KIT-GASKET | 1U1449 - CUTTING EDGE | 5P4941 - SEAL |
| 2075962 - WASHER | 8W4431 - HOSE A | 372407 - BEARING |
| 0781776 - HEXAGON NUT | 9L9132 - WASHER | 6L2284 - ROD |
| 1159672 - HOSE AS (1077876) | 1048975 - 104-8973 | 9N2837 - INSERT-VALVE |
| 3864915 - SHAFT-CLA | 2383170 - SIDECUTTER | 0870928 - BACKUP |
| 1114556 - HOSE AS | 2502419 - CYL GP-0150 | 4V7078 - YOKE A |
| 7Y6607 - BEARING | 7B3028 - SCREW | 2659381 - MOTOR GP-GRT |
| 9W1495 - METER KIT DIGITAL | 6P9612 - HOSE A | 7H1442 - CLAMP |
| 2610841 - PUMP GP-HYDR | 5H7225 - NUT | 2S2818 - GASKET |
| 2456832 - SEAL KIT | 8T7294 - SEAL | 2048148 - 204-8147 |
| 4N4295 - PUMP G BASIC | 3807410 - RING-RET-CLA | 5J3488 - NUT |
| 4N0216 - GASKET | 2590854 - CYL GRP | 2H2965 - CONNECTOR |
| 3622746 - BLADE AS-WIP | 6N8218 - TURBO G | 1065498 - HOSE A |
| 0950647 - BOLT,HEXSOCK | 0920751 - HOSE A | 2P3768 - REGULATOR 3304 175DEG |
| 5U0559 - HOSE ASSEMBL | 1857698 - SEAL KIT-STD | 2J5630 - BUSHING |
| 4L9556 - GASKET | 9V0244 - HOSE A | 0778329 - SEAL |
| 1405911 - GASKET KIT | 546552 - SHIM | 2267974 - CAGE-CLASSIC |
| 0785050 - HEXAGON CAP | 2495501 - GUARD AS | 6661248 - ELEMENT AS |
| 4369003 - KIT GASKET | 2289129 - PUMP GP F-PR | 7W5929 - PLUNGER |
| 6S0024 - SPACER | 2096862 - SWING FRAME | 4N9549 - TURBOCHARGER |
| 1131572 - DIAPHRAGM | 1143552 - BELT | 3A1565 - BEARING KIT |
| 5P9858 - GASKET KIT | 8S0023 - CLIP | 2114321 - PISTON RING SET |
| 1048160 - SWING FRAME | 1404107 - WASHER | 1358061 - SEAL O RING |
| 2G8737 - BEARING SLEEVE | 1314633 - CYLINDER A. | 6V1147 - GASKET KIT |
| 8T9101 - BOLT | 1085912 - INSERT | 1618068 - SEAL |
| 9W9383 - CONVERTER GP (1T1781) | 9D5912 - HOSE A | 1048733 - HOSE A |
| 9N1650 - WASHER | 4456245 - DOOR CATCH, CAB | 6K4617 - SHAFT |
| 6N4906 - HOSE A | 9G0282 - CARRIER | 1697845 - SEAL KIT |
| 2580034 - PLUG AS | 5P7530 - SEAL O RING | 2201012 - BEARING-SLEE |
| 9J7814 - SEAL | 0784990 - HEXAGON CAP | 7X2730 - SEAL KIT |
| 1547477 - SEAL | 5I7733 - GASKET | 2117237 - FILM-HOOD |
| 3H2646 - PIN | 1A8827 - PIN | 3E9341 - INDICATOR A |
| 9U3924 - HOSE A | 6E6594 - BEARING | 8T1656 - GASKET KIT |
| 6S4134 - HOSE A | 2460637 - KIT-SEAL-H.C | 3117972 - JOYSTICK A |
| 4H8878 - CLIP | 1026228 - GUIDE VALVE | 2090275 - VALVE |
| 1338954 - HOSE AS | 1552276 - WEDGE-PLUG L | 1606056 - HOSE AS |
| 7K7796 - HOSE A | 2R0811 - HOSE A | 964813 - BOLT |
| 1Q1380 - HOSE A | 1F1006 - DOWEL | 2497061 - HOSE AS |
| 1W9812 - GEAR | 5T9943 - HOSE A | 3F4937 - SCREW |
| 4P1839 - HOSE A | 1604784 - HOSE AS | 7J2087 - RING |
| 2263504 - HOSE AS | 6I6733 - HOSE A | 1416586 - GASKET KIT |
| 3223748 - TUBE-FUEL IN | 2191902 - HOSE AS | 8049578 - GUARD, TRACK |
| 1409269 - HOSE AS | 4T2283 - TUBE AS | 5V5227 - LEVER A |
| 9C1899 - HOSE A | 6E4000 - SPACER | 6D9958 - HOSE A |
| 5S9062 - SPACER | 2820683 - IMPELLER | 9S7949 - CUP |
| 2321805 - Turbocharger GTA5518B 741155-1 | 0R0919 - PUMP REMAN | 8X2926 - CHAIN GP |
| 1T0427 - CARRIER | 4P2004 - GASKET HEAD (1010785) | 6J7486 - BRACKET |
| 1087373 - 108-7372 | 9X4590 - SEAL A | 9G5315 - SEAL KIT |
| 7R3073 - PLATE | 3J1405 - 7S0491 | 1607321 - WASHER |
| 25738R1 - BOLT 7/8 X 3 | 1G5569 - HOSE A | 4U4921 - HOSE ASSEM 1 |
| 6D6089 - HOSE A | 4N1551 - GASKET | 4449667 - PLATE |
| 6V8021 - GASKET KIT | 1216386 - 121-6385 | 0827200 - SEAL-O-RING |
| 5G5781 - HOSE A | 7Y4666 - BEARING | 7V9117 - HOSE A |
| 1908590 - RING-SNAP | 1S1967 - CHAMBER AS | 2V0661 - HOSE A |
| 2W3815 - INSERT | 3648703 - HOSE AS (3553468) | 6V0506 - RING |
| 9T9201 - CYLINDER A | 4H8906 - RETAINER | 7R7148 - O RING |
| 5N4378 - SHAFT | 0510120 - KIT | 2893509 - LINK A |
| 7C8444 - DAMPER ASSY | 4369540 - MOTOR, WIPER EX | 6V9253 - GASKET KIT |
| 6B7042 - GASKET | 3061799 - KIT-GASKET-S | 7N9907 - COVER |
| 1473896 - STICK | 2S7064 - CAP | 1564593 - CONE |
| 5P1253 - CM HOSE BULK | 7J1935 - CYLINDER G | 8E2282 - SEAL G D40 |
| 0963216 - SET SCREW | 1876786 - HOSE AS (1529477) | 9M3688 - PINION |
| 3797062 - CONTROL GP PROD LK | 0849273 - WASHER | 1P4345 - INDICAT-HEAT |
| 7X0593 - WASHER | 9C5687 - SEPARATOR | 2034025 - SEAL |
| 1036717 - LOCKNUT | 1057913 - HOSE AS | 1023587 - SHOE |
| 6T4468 - IDLER A (9W0621) | 2056200 - HOSE AS | 8Y0607 - HOSE AS (1127367) |
| 2673507 - WASHER-HARD | 5F2907 - BRNGGRP | 8R2485 - ACTUATOR G |
| 8S9697 - GASKET KIT | 3002575 - CAP-CLASSIC | 4T0728 - HOSE A |
| 5M9655 - SPRING | 6N7727 - HARDWARE KIT | 2984552 - GASKET ROCKE |
| 1617163 - BEARING KT | 8C3088 - SEAL O RING | 8K3289 - COUPLING AS |
| 6L3636 - GASKET | 6J5387 - BRACKET A | 8S4636 - PISTON & |
| 3T1666 - HOSE A | 2712399 - KIT-GASKET-W | 8T4173 - BOLT |
| 1566472 - GLASS | 6Y9459 - RETAINER | 3091019 - REGULATOR |
| 6T4962 - HOSE A | 2382710 - PISTON SKIRT | 5D3632 - ROLLER A |
| 2Q2317 - BRACKET | 0775063 - BEARING, CON | 9N0869 - WASHER |
| 8J9911 - BEARING | 9S8914 - LINER G. | 1493298 - ELEMENT-FLTR |
| 9X8317 - GASKET KIT | 7F6283 - BEARING | 2001631 - RUBBER MOUNT |
| 1P7544 - PLATE | 9D6268 - HOSE A | 3003155 - SEAL-LIP TYP (3S7080) |
| 6T8907 - PAD | 10R7054 - PUMP GP HYD | 1711109 - SHAFT-AUGER |
| 1467738 - HOSE A | 2452425 - HOSE AS. | 2310002 - GEAR-CLASSIC |
| 4206530 - BALLSTUD-C | 1049091 - HOSE A | 2713093 - MOTOR GP |
| 8W4049 - HOSE A | 6K8113 - HOSE A | 0875510 - RING |
| 2270539 - HOSE AS | 1616571 - HOSE AS | 8P8221 - PLATE |
| 6N4785 - PISTON | 6J9823 - New Rebuilt - PUMP | 7K9430 - CUP |
| 9L6782 - SHIELD | 1227353 - VALVE-INLET | 2160170 - HOSE AS. |
| 1376453 - HOSE AS | 0951101 - BOLT,HEXSOCK | 6E5283 - SEAL KIT |
| 1M4165 - SHAFT | 5P9630 - GASKET KIT | 6V3348 - SEAL |
| 2784382 - PUMP GP-GR-B | 2849276 - WASHER-THRUS | 5P8064 - GASKET KIT |
| 7E6796 - TUBE AS | 3924642 - KIT GASKET | 2243252 - CRANKSHAFT A |
| 1333746 - GASKET | 7C7687 - TURBOCHARGER | 8V3134 - PINION |
| 3T3663 - GEAR | 5S8885 - HOSE A | 3G4768 - PUMP AS |
| 9R9701 - CYLINDER A | 8B1052 - GASKET | 0R4622 - PUMP GP |
| 0816902 - BOLT HEX HD | 1105513 - 110-5511 | 9W2622 - RING |
| 2856405 - BAR | 2886202 - TERMINAL AS. | 9Y5618 - GEAR |
| 1S1924 - SHOE 22 ESS - D8K | 6P8263 - RING | 1653176 - HOSE AS |
| 1T1009 - HOUSING | 7S0481 - HOSE A | 1175032 - GASKET |
| 4S8651 - MANIFOLD | 3704381 - ROLLER GP-SF | 3611703 - PIN-CLA |
| 1772461 - SWASHPLATE A | 6V3792 - GASKET KIT | 1480217 - PLATE ASSEMBLY |
| 2552751 - SWITCH AS-ST | 6I0563 - NUT | 6E3516 - MOTOR GP |
| 9X7743 - SEAL | 2037159 - GASKET KIT | 1126651 - HOSE A |
| 3825066 - EXTENSN-CLA | 2161252 - GASKET KIT | 7C5215 - VALVE INLET |
| 1414374 - GASKET KIT | 1D4610 - CAP SCREW | 5K7992 - BEARING |
| 8J5472 - RING | 7S3492 - HOSE A | 3P0072 - CASE A |
| 2465659 - RING-PISTON- | 1410711 - RING-WEAR | 2G6524 - HOSE A |
| 9H6213 - GASKET | 5V1040 - HOSE A | 4T6238 - CUTTING EDGE |
| 6F4161 - DOWEL | 2935782 - MOTOR GP-GRT | 1701115 - HANDLE |
| 3J9638 - 8S8893 | 1234612 - CROWN AS | 6N9298 - CLAMP DIAMETER 10.46(in) |
| 3G7660 - HYDRAULIC CARTRIDGE | 1241037 - HOSE A-XT5 | 5P1265 - CM HOSE BULK |
| 1N3987 - Turbocharger TW8104 465692-0002 | 8W2278 - HOSE A | 8S3554 - YOKE |
| 7N8345 - GEAR | 2275059 - SUPPORT | 7S3487 - HOSE A |
| 2076445 - HOSE AS | 1V8426 - GUARD A | 5P9484 - GASKET KIT |
| 951580 - O-RING | 3006057 - VALVE GP-SOL | 2159690 - WASHER |
| 9U8693 - BEARING | 9S8257 - GUARD A | 1991752 - HOSE AS |
| 2G1263 - HOSE A | 4B6072 - NUT | 1M4164 - SHAFT |
| 0323018 - RING | 9J8182 - PUMP AS | 3P8143 - YOKE AS |
| 1307673 - PUMP G | 4027983 - SEAL O-RING | 2Y3661 - HOSE A |
| 7W5695 - HUB | 1336531 - HOSE A | 1P7960 - THRUST PLATE STD |
| 0951788 - RING,BACK-UP | 4V6019 - HOSE A | 7T9586 - BEARING |
| 5225202 - SLV-WEAR-C | 9D0701 - SHAFT | 5I8516 - RING |
| 3134127 - HOSE AS. | 8T4417 - RING-RETAINI | 9N0407 - CONNECTING ROD |
| 7X9748 - HOSE A | 8T3980 - NUT | 1788973 - BEARING |
| 3E5107 - INDICATOR OI | 6R5045 - HOSE AS (1135993) | 7D2235 - HOSE A |
| 1412729 - SENSOR | 1M2711 - GASKET | 1160080 - CABLE |
| 2961357 - HUB-CLASSIC | 1521037 - HOSE AS | 1303007 - NUT |
| 2175701 - DM BULK SEAL | 8U4269 - HOSE A | 3I2013 - ELEMENT |
| 9N6289 - KIT REBUILD (1293068) | 2033953 - PIN A | 6N7550 - TUBE AS |
| 7C2295 - HEAD A. | 1065821 - CLAMP | 4179487 - DISC-FCN-C |
| 9J1328 - SEAL A | 1516906 - HOSE AS | 1W9832 - MUFFLER |
| 5H7826 - NIPPLE | 1690586 - SWITCH | 8T7584 - RING WEAR |
| 5B6458 - LOCK | 3061042 - C FRAME | 8Y3664 - SHOCK ABSORB |
| 1242300 - COUPLING | 9R3492 - HOSE AS | 6Y7219 - DISC |
| 0507105 - GROUP-HYDRAULIC KIT | 6T7693 - HOSE A | 3470484 - BUSHING-CLA |
| 1884120 - PUMP GP-GR A | 9R2485 - BOLT | 9C6357 - SPROCKET AS |
| 0966345 - HOSE | 7E2486 - LAMP AS | 8T4461 - SEAL-O-RING |
| 9J0950 - BEARING | 0785015 - HEXAGON CAP | 3996063 - RACE-OTR-CLA |
| 5P3264 - ELBOW | 1747876 - HORN AS- 24V | 6N6529 - REB CART G |
| 7N6152 - FUEL LINE | 1667276 - MANIFOLD | 5244060 - KIT SENDER |
| 0L0472 - BOLT | 9V0756 - HOSE A | 8T4925 - SEAL |
| 6I4500 - REGULATOR (1077568) | 2W3684 - INDICATOR | 6V7604 - PLUG CUP |
| 8P6608 - HOSE A | 1783306 - HOSE AS. (1087628) | 1P8492 - FAN A |
| 6I2581 - AIR CLNR G | 3G5497 - CYLINDER G | 1V4599 - LINK A |
| 2Y9941 - COMPRESSOR ASSY | 2768123 - COTTER | 4D9173 - 7S0331 |
| 1J8695 - RACE | 0677011 - WASHER | 7N4535 - GEAR |
| 0319416 - HOSE A (0358137) | 5D8512 - GEAR A. | 8J3809 - PUMP AS |
| 2348803 - PUMP GP-GR 1 | 8K0584 - COUPLING AS | 1087566 - HOSE A |
| 1857673 - SEAL KIT-STD (2386882) | 0773216 - O-RING | 3J7782 - SEAL ASSY |
| 3N3745 - CAPACITOR A | 1561245 - SEAL-RING | 8X5039 - HOSE A |
| 1482148 - HEAD AS-CY | 5J1825 - PIN | 4S5308 - HOSE A |
| 5P8786 - GASKET KIT | 1367966 - LINK AS | 3744715 - LINE-FI-CLA |
| 8J1455 - ADAPTER RH J450/J460 980-983-988 | 2251242 - GASKET | 2548100 - VALVE GRP |
| 6V9222 - GASKET KIT | 2896385 - PUMP GP-PS-B | 2H3750 - BOLT |
| 8M0280 - CLAMP DIAMETER 5.59(in) | 1W3175 - GEAR | 9T4684 - HOUSING |
| 1028809 - PLUG KIT | 0920367 - HOSE ASSY | 9R2477 - DISC |
| 8W6812 - HOSE A | 1P5279 - PUMP G-GEAR | 8S6085 - ELBOW |
| 2Y7248 - INDICATOR | 1724584 - GASKET | 4J1637 - BRACKET |
| 3317307 - PUMP GP-GR 2 | 2213451 - MOTOR AS.-WI | 7D7075 - WORM-CLASSIC |
| 2352470 - HOSE AS | 3089103 - PIN, BUCKET LIN | 3066830 - KIT-GASKET-W |
| 1408974 - HOSE AS | 6I7684 - HOSE A | 6P9931 - HOSE A |
| 3L3274 - PLATE | 6P6877 - MANIFOLD | 5I7549 - STUD |
| 3P1113 - LINK | 523146 - SEAL KIT D9G LI | 6V6360 - GASKET KIT |
| 8E6778 - SEAL AS. | 0773382 - BEARING, CUP | 9T4327 - SECTION KIT |
| 8W4914 - HOSE A | 0784969 - HEXAGON CAP | 8M7231 - SEAL WASHER |
| 8T4944 - BOLT | 4226480 - BRG-RLR-CL | 8X3855 - HOSE A |
| 2950778 - PUMP GP-GR-B | 0775018 - NUT, E.S. | 4B4845 - PLUG |
| 3342739 - CYL GRP | 2141333 - HOSE AS | 3182749 - PUMP GP F IN |
| 4661233 - SEAL O-RING | 7D5813 - GEAR | 9C3961 - HOSE A |
| 960327 - IDLER GROUP | 2U5372 - SEAL OIL 3 X | 3P5447 - LOCK NUT |
| 1994582 - BEARING | 5R4760 - SERVICE KIT | 3T4824 - GEAR |
| 6V5932 - GASKET KIT | 7T4031 - RING | 9W1706 - HOSE A |
| 0956636 - NUT | 5J3039 - New Rebuilt - VALVE GRP | 5P8361 - BOLT |
| 7Y4667 - SEAL | 2408539 - GUARD FAN | 1V4492 - JOINT AS |
| 4565323 - HOSE | 2410889 - GUARD | 2370946 - CYLINDER GRP |
| 1187279 - HOSE A | 2495300 - CYLINDER AS | 5G4912 - HOSE A |
| 1082393 - HOSE A | 1119916 - VALVE GP | 5V1352 - TUBE AS |
| 2T2616 - HOSE A | 2478310 - HOSE AS. | 6D1865 - PLATE |
| 5P7593 - SEAL | 3199869 - HOSE AS. | 1781686 - SHIM |
| 9S4185 - PLUG | 3272193 - PUMP GP-PS-B | 4F3657 - BOLT |
| 6Y4840 - PLATE | 2842844 - BUCKET | 1969335 - GASKET KIT |
| 0027344 - BEARING | 0965802 - WASHER 1/2 ID X 1 OD | 2270658 - HOSE AS. |
| 2125307 - HOSE AS | 1P2567 - BEARING | 2T1949 - WHEEL |
| 5I4345 - HOSE AS | 4V6133 - HOSE A | 1A5822 - CAPSCREW |
| 3232984 - HOSE AS. | 0010939 - PLUG | 6E1175 - CYLINDER G |
| 3256143 - PIN-CLA | 9W4957 - CARRIER | 2T2240 - HOSE A |
| 2751689 - HOSE AS. | 7G5832 - RETAINER | 1090959 - RING |
| 0830971 - NUT | 8W1592 - YOKE AS | 1W6186 - SHIELD |
| 7X6167 - HOSE A | 5P9297 - CLIP | 6J3892 - SEAL |
| 9L9424 - SPRING | 8L7418 - BEARING | 4N3700 - METER KIT |
| 2406957 - HOSE AS. | 8N4229 - HEAD A | 1081434 - GROMMET |
| 6V6436 - GASKET KIT | 8Y1388 - BRACKET | 5P9757 - SEAL |
| 3844788 - GEAR-PIN-CLA | 1467386 - GASKET | 2415634 - TUBE AS |
| 1676925 - HOSE A | 9M7524 - TURBOCHARGER | 3436898 - KIT GASKET |
| 0954649 - NUT | 6C9436 - HOSE AS | 0924434 - HOSE A |
| 3436811 - KIT GASKET | 2K5496 - TEE A | 9J9294 - CYLINDER A |
| 1685064 - GEAR GP -DIFF | 1952187 - CABLE AS | 5T9936 - HOSE A |
| 4260037 - SFT-PUMP-C | 2G8768 - WASHER | 6Y2353 - BUSHING |
| 3K6386 - GEAR | 9D5256 - HOSE A | 1W4462 - BEARING |
| 4N8445 - BOLT | 1377161 - HOSE AS | 1243027 - PUMP AS |
| 3126235 - TINE | 821918 - PLOW NUT 3/4 | 0899235 - ROLLER |
| 3S4420 - TURBOCHARGER | 5247980 - PIN-PISTON | 3094226 - HOSE AS. |
| 4N0445 - LEVER AS | 2632767 - GASKET KIT | 4T2400 - HOSE A |
| 2S5959T - R/H TRACK LINK | 1W9201 - FUEL LINE | 9N9996 - O RING |
| 0337621 - LOCK WASHER | 2V4990 - HOSE A | 1062894 - ROUTER BIT LH |
| 1W0098 - BOLT | 2128944 - HOSE AS. (1863469) | 9J7116 - RING |
| 3S7252 - SLEEVE | 6V3955 - SEAL O RING | 2811695 - SFT-PLAN-CLA |
| 1458327 - SEAL-O-RING | 2607524 - SCREW-VALVE | 1720942 - SCREW |
| 2323591 - SEAL-LIP | 1U3991 - CYLINDER G | 4551834 - KIT GASKET |
| 3T1218 - BODY | 7W6132 - SEAL GP. | 1C6799 - LINING |
| 7Y0467 - BOLT | 7X2526 - GASKET KIT | 7U9392 - HOSE A |
| 9K0743 - 9K8103 | 2698764 - CSHFT AS.-CL | 9S5311 - GASKET KIT |
| 2835209 - GEAR-CLA | 2418368 - SWITCH GP | 6A8441 - ROD |
| 7T1287 - DISC (8E8298) | 1699979 - HOSE AS | 5H1504 - WASHER |
| 3807371 - BRG-SLV-CLA | 1126150 - HOSE A | 4I0771 - 4I0769 |
| 4T5073 - RING | 0974399 - HOSE A | 5T4824 - HOSE A |
| 1566475 - GLASS | 1389507 - SEAL | 7V9159 - HOSE A |
| 4W9352 - LINE A-F INJ | 4T4524 - GUARD | 7T5038 - HOUSING |
| 7Y5128 - BEARING SLEEVE | 1733447 - SEAL-OIL | 1305831 - HOSE AS |
| 8M7908 - BEARING | 6E5024 - CYLINDER G | 8Y7919 - HOSE A |
| 1V9611 - BUSHING | 1037293 - KIT GASKET | 9G4438 - HOSE AS |
| 0774592 - ELEMENT | 6V1145 - GASKET KIT | 1310803 - GASKET KIT |
| 3403335 - VAVLE | 625400 - PLOW BOLT 5/8 X 4 | 9D5916 - HOSE A |
| 8X3024 - HOSE A | 4D9172 - 5S8367 | 1469007 - GLASS |
| 4I7612 - HOSE AS | 9H2367 - SPRING | 1090078 - SEAL O RING |
| 9M2414 - GASKET | 0L2315 - BOLT | 3083643 - CANOPY |
| 1960590 - HOSE AS | 4201835 - KIT GASKET | 8J8813 - PUMP AS |
| 8X4028 - GEAR | 3222929 - GASKET KIT | 1417275 - GASKET KIT |
| 0862369 - BOLT | 2348002 - GASKET KIT | 6B6205 - SPACER |
| 1008525 - GASKET | 3807372 - BRG-SLV-CLA | 3N4082 - BRACKET |
| 6V5960 - GASKET KIT | 6V0230 - GASKET KIT | 3T2646 - MOTOR G |
| 2S2140 - NUT | 4239424 - KIT GASKET | 3054895 - STRAP-CABLE |
| 2897887 - CYL GP-0130 | 9H1226 - PISTON RING SET | 7D1081 - HOSE A |
| 7K9575 - BEARING | 1T1558 - CONVERTER | 8W0302 - HOSE A |
| 4J8136 - GASKET | 1416054 - WHEEL GP | 4746049 - HOSE |
| 3U8685 - ELBOW 1/4 N. | 2153046 - GASKET KIT | 1136525 - 113-6524 |
| 9M0402 - REPAIR KIT | 3055219 - PIN, BUCKET LNK | 1697830 - SEAL KIT |
| 2S7209 - PUMP A | 9R6950 - PINION | 6D4408 - HOSE A |
| 1255370 - HOSE AS. | 1U1148 - CYLINDER G | 1340929 - SEAL |
| 3J7318 - HOSE A | 1884075 - CYLINDER AS | 5P3490 - CONE |
| 2074512 - PUMP AS | 4P8463 - HOSE AS | 1279810 - LOCK |
| 8E4520 - LINK | 6Y6220 - BRACKET A | 0R2150 - CYL HEAD-REM |
| 5K0216 - SEAL | 2166765 - HOSE AS | 4S7566 - HOSE A |
| 9J7857 - THRUST PLATE - 215 | 5C9120 - WASHER | 3W8410 - GUARD A |
| 1N4635 - VEE BELT | 6T4005 - HOSE A | 3S9233 - SEAL-O-RING (0861126) |