Komatsu WA600-8 Loader parts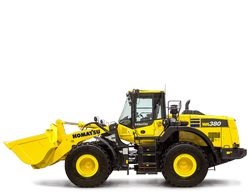 Komatsu WA600-8 Loader - it is a big machine. It is a Wheel Loader and works in difficult operating conditions. That's why this machine sometimes needs maintenance.
Our online parts store give you an access to more than 500 000 Komatsu parts that we have in our inventory.
Here is some more information about Komatsu WA600-8 Loader:
ENGINE POWER
396 kW / 530 HP @ 1.800 rpm
OPERATING WEIGHT
54.170 - 56.740 kg

ENGINE
Model -> Komatsu SAA6D170E-7
Type -> Common rail direct injection, water-cooled, emissionised, turbocharged, after-cooled diesel
Engine power
at rated engine speed -> 1.800 rpm
ISO 14396 -> 396 kW/530 HP
ISO 9249 (net engine power) -> 395 kW/529 HP
No. of cylinders -> 6
Bore × stroke -> 170 × 170 mm
Displacement -> 23,15 l
Fan drive type -> Hydraulic
Alternator -> 140 A/24 V
Starter motor -> 2 × 11 kW/24 V
Filter -> Full-flow type
Air-filter type -> Dry-air filter with automatic dust emission and preliminary purification including a dust display
If you send us your request, we will make you an offer for original and Aftermarket Komatsu parts for your Komatsu WA600-8 Wheel Loader.
Below is a small list of Komatsu parts for this equipment. However, if you are interested in something - please use the site search.
| | | |
| --- | --- | --- |
| 20T-03-82660 - DRAIN, VALVE | 5254472 - RED VALVE | 428-06-22680 - WIRING HARNE |
| 421-06-21211 - BRACKET | 426-963-1121 - BRACKET | 707-98-39700 - SERVICE KIT |
| 6216-84-5520 - BRACKET | 705-56-43010 - XPUMP ASS'Y | 30864599 - SCREW |
| 706-8F-04132 - END | 423-926-5740 - GLASS | 42U-70-11H40 - DISC |
| 427-15-13320 - COUPLING P6 | 68981H45 - BRG&SEA | 58F-98-00050 - THERMOSTAT,A |
| 21R-60-13210 - GEAR | 8248-70-5270 - WASHER | 707-44-10411 - RING |
| 924024A - PIPE,EXHAUST | 90678940 - RING | 76334073 - EXHAUST PIPE |
| 5073818 - HYDRAULIC HO | 20T-03-81850 - PACKING | 6751-11-4350 - PIPE |
| 71264 - SHIM-BAL | 6141-21-4811 - GASKET NON-A | 195-22-13150 - PISTON |
| 6745-D0-0011 - ENGINE ASS'Y | 707-13-13890 - XCYLINDER | 5034817 - BEARING BOG |
| 628740C2 - LINK | 198-98-41310 - LINE | 390597052 - PIN |
| 837070073 - GEAR | 423-43-18142 - PLATE | 6152-12-3320 - NOZZLE |
| 6751-31-1110 - CRANKSHAFT | 20Y-54-65170 - GROMMET | 80532273 - CHAIN |
| 425-43-36870 - PACKING | 206-03-35132 - OIL COOLER | 205-00-31460 - PLATE |
| 17M-43-21151 - BRACKET | 695040 - PRESSURE SWT | 79613373 - ADJUSTER |
| 20T-46-82330 - LEVER | 25228R1 - BOLT | 21P-979-K730 - PLATE |
| 21T-06-65580 - SHEET | 425-923-1310 - PLATE | 20K-54-21723NK - FRAME |
| 421-15-18133 - GAUGE | 58F-06-00610 - WIRING HARNE | 561-15-52871 - HUB |
| 955985 - O-RING | 5223307 - HYD PIPE | 6210-22-2420 - PLATE |
| 42U-56-11720 - DOOR LOCK | 444136 - TEE | 45589099 - TUBE, INSULA |
| 8234-60-1230 - VALVE ASS'Y | 562-06-31110 - CONTROLLER | 207-62-42710 - HOSE ASS'Y |
| 6166-51-8310 - HOSE | 203-01-A1130 - SPACER | 6156-81-8110 - XTURBOCHARGE |
| 58F-FM-AK090 - KC930-472-10 | 707-35-93020 - RING | 93535740 - TUBE |
| 6745-61-6210 - CONNECTOR | 6732-11-5290 - CLAMP | 56B-61-23912 - BRACKET |
| 6262-71-7780 - COVER | 566-06-46120 - BLADE | 5026703 - ELECTRIC CAB |
| 198-54-73141 - SHEET | 707-36-28070 - PISTON | 21W-30-12640 - LOCK |
| 855021836 - O-RING | 20T-54-82840 - HINGE ASS'Y | 569-50-8T901 - XSUSP ASSM P |
| 21K-26-B7390 - ROTOR GROUP | 425-62-21170 - TUBE | 600-816-2350 - SENSOR |
| 5048952 - SOLENOID | 5253138 - ENGINE SHELF | 207-46-A8941 - WEIGHT |
| 6502-51-1010 - IMPELLER | 20K-22-31240 - CLIP | 419-64-A5280 - VALVE,PRIORI |
| 707-88-10150 - CLAMP | 5207242ES - DECAL | 235-43-00011 - BANK PIN ASM |
| 20E-62-K7941 - TUBE | 6110-18-1171 - VALVE SEAT | 232-06-52380 - ADAPTER |
| 795-790-2910 - GAUGE | 425-07-23110 - HEATER | 76958373 - Cover plate |
| 6151-12-4310 - CONNECTOR | 855670017 - ORING | 418-T42-A330 - MOTOR |
| 22M-977-2132 - HOSE | 955120 - SCREW PAN HD | 42W-57-H0P06 - GRIP |
| 23A-15-11173 - HOUSING | 6219-21-1950 - NOZZLE ASS'Y | 427-23-13101 - HOUSING |
| 51624798 - Screw | 421-62-46330 - TUBE | 5075284 - COUPLING |
| 56B-54-12760 - PLATE | 5216738 - HYD HOSE | 86700M - MUFFLER,STAI |
| 42W-23-H0P52 - SHIM | 418-43-38164 - LEVER ASS'Y | 37A-46-11430 - PLATE |
| 350684R1 - RING | 20U-70-21760 - JOINT | 2A5-53-11330 - TRIM |
| 418-62-A1390 - UNION | 208-30-41390 - COLLAR | 801200697 - SCREW |
| 419-15-12210 - SEAL RING | 20Y-54-KA320 - COVER | 50732998 - NUT |
| 425-54-15980 - STRIP | 2A5-62-25110 - TUBE | 892887C1 - PLATE |
| 208-06-41160 - BRACKET | 421-06-32280 - HARNESS, WIR | 81253 - COIL |
| 42Y-06-H1130 - BUZZER | 209-04-77750 - ELBOW | 426-54-21980 - SHEET |
| 234-60-86440 - HOSE | 419-54-48955 - LADDER | 17877 - BEARING, ROD |
| 23W-60-28230 - VALVE ASS'Y | 5216737 - HYD HOSE | 207-06-K2354 - WIRING HARNE |
| 426-54-22180 - LEVER | 17M-30-25321 - COVER | 79588973 - CAPACITOR |
| 79299373 - INSTRUMENT P | 5072367 - HYDRAULIC HO | 64388940 - HOSE |
| 58E-MP-AK080 - STEERING PIN | 709-30-69200 - VALVE ASS'Y | 566-06-41190 - UNIT |
| 6136-19-1321 - VALVE SEAT | 22K-46-31820 - TUBE | 21T-54-32350 - COVER |
| 51820998 - HOSE | 427-54-11921 - COVER | 198-22-66270 - BLOCK |
| 90359C - CLAMP | 6742-01-0230 - TUBE | 425-62-13611 - TUBE |
| 6678-11-5720 - MUFFLER | 50020998 - RING | 63558640 - PIPE |
| 207-62-U1110 - TUBE | 425-35-11660 - ELBOW | 879671C93 - CABLE |
| 6736-21-3110 - HOUSING,GEAR | 417-926-3591 - WIRING HARNE | 21K-54-73611 - COVER |
| 6246-71-4220 - TUBE | 6151-81-3740 - TUBE | 56D-50-12125 - BAR,EQUALIZE |
| 421-03-31620 - PLATE | 390597070 - PIN | 21T-04-64340 - WASHER |
| 195-61-45880 - HOSE | 723-57-12701 - CONTROL VALV | 6222-61-2100 - WATER PUMP A |
| 30760099 - SCREW | 2A5-43-11533 - FRAME | 417-62-11340 - TUBE |
| 428-54-21161 - BRACKET | 4899861 - NIPPLE GREA | 170-69-11154 - BOLT |
| 706-75-74860 - HOUSING | 569-54-81591 - GUARD | 195-22-72370 - NIPPLE |
| 175-30-34191 - SPRING | 6721-31-1420 - PULLEY | 6162-73-1890 - INJECTION PU |
| 706-8J-41130 - CASE | 195-911-7280 - NUT | 714-07-22652 - PISTON |
| 69626873 - PIPE | 22M-979-2600 - HOSE P60 | 702-21-56620 - VALVE ASS'Y |
| 2A5-54-15361 - HANDRAIL | 50899998 - BEARING | 700-80-69002 - VALVE ASS'Y |
| 92348940 - CAP + BLOCK | 5214273 - MOUNTING | 198-43-44551 - JOINT |
| 75679573 - QUADRING | 58F-54-20880 - PLATE,BENT | 208-54-43722 - COVER |
| 5066720 - MOUNTING | 195-06-41830 - CLIP | 37C-22-11502 - FRAME |
| 300525R1 - FLANGE | 5058440 - HOSE | 418-22-A1010 - CABLE |
| 21N-60-33300 - VALVE ASS'Y | 569-07-61321 - CABLE ASS'Y | 42U-09-H4030 - HOSE ASSY |
| 723-11-01390 - CASE ASSM | 42N-64-11710 - COIL | 20K-54-31620 - NUT |
| 417-01-61441 - HOSE | 58F-46-40090 - UPRIGHT, STR | 20Y-54-25401 - DOOR ASSM |
| 6130-27-8101 - METAL ASS'Y | 5050440 - PISTON | 207-62-42410 - HOSE |
| 421-54-H4470 - STAIR | 421-23-32221 - XFINAL DRIVE | 393091008 - CLAMP |
| 419-54-54630 - STRIKER | 7861-92-4132 - SENSOR | 21T-68-32611 - PLATE |
| 6505-51-7970 - ROTOR ASS'Y | 17M-911-3120 - CLAMP | 56B-54-32182 - COVER |
| 427-54-25370 - HANDRAIL | 418-U77-3560 - HOSE | 6245-71-6240 - BLOCK |
| 20U-46-22141 - COVER | 51875298 - HOSE | 566-54-81753 - GUARD |
| 17A-Z11-3282 - PLATE | 22462KF - PLATE, INTER | 561-95-63250 - ELBOW |
| 421-06-36110 - RELAY P60 P5 | 6210-11-6540 - TUBE | 209-06-61214 - WIRING HARN |
| 421-54-57930 - BRACKET | 569-15-55820 - WIRING HARNE | 707-G0-01020 - CYLINDER ASS |
| 21X-06-21214 - WIRING HARNE | 701-30-51130 - SPRING | 8234-75-1741 - BRACKET |
| 21J-54-16310 - SHEET | 90673040 - RING | 8296-62-1690 - HOSE ASS'Y |
| 94668440 - INTERMED. PL | 208-03-51570 - TUBE | 7818-74-3000 - CONTROLLER |
| 79874573 - BUSHING | 711-66-11210 - CASE | 7823-45-5000 - CONTROLLER |
| 19M-01-33410 - COVER | 5213863 - TIE ROD | 418-54-14561 - SUPPORT |
| 426-06-32133 - WIRING HARNE | 21T-68-31331 - TUBE | 21D-43-11290 - COVER |
| 56B-61-32170 - HOSE | 6216-21-3170 - SEAL | 51729198 - UNION |
| 562-61-31430 - HOSE | 23B-950-1610 - GLASS | 42T-22-H0P24 - CYLINDER,BRA |
| 56D-61-23841 - PLATE | 416-Z91-4510 - BRACKET P60 | 915025009 - SEAL RING |
| 200362282 - COUPLING ASS | 22F-973-2680 - CAP | 427-04-21920 - HOSE |
| 195-03-41470 - TUBE | 21P-60-K2290 - O-RING | 22U-979-1440 - HOSE |
| 42T-56-21K60 - BRACKET | 21W-70-31180 - COVER | 207-06-51170 - BRACKET |
| 706-8F-41340 - SHAFT | 22B-70-00065 - ARM ASS'Y | 198-49-61210 - SPACER |
| 6150-12-5840 - BAND | 56B-46-22201 - SEAT ASS'Y | 705-57-21000 - PUMP ASS'Y |
| 561-88-64171 - WIRING HARNE | 56B-46-13170 - SHIM | 707-88-95501 - BRACKET |
| 20T-30-13141 - SNAP RING | 208-27-11133 - GASKET | 3308691S - GASKET |
| 23B-04-31630 - TUBE | 20Y-62-27141 - HOSE | 195-12-42131 - BODY |
| 998603 - NUT | 707-13-14580 - XCYLINDER | 207-70-00712 - ARM ASSEMBLY |
| 42T-57-21A10 - SEAT | 421-62-42390 - HOSE | 58F-80-05620 - SILENCER,INL |
| 708-1T-13460 - PLATE | 424-876-H150 - ACTUATOR | 421-54-22651 - BRACKET |
| 207-43-31130 - BAR | 421-03-31560 - SHROUD | 56D-06-11462 - WIRING HARNE |
| 714-07-17500 - VALVE ASS'Y | 7824-62-5002 - CONTROLLER | 195-15-15452 - STOPPER |
| 428-20-15411 - SEAL | 32459140 - BUTTON | 709-12-11820 - RETAINER |
| 5079014 - SCREW | 21D-09-92220 - HOSE | 5041507 - COMPRESSOR |
| 89068240 - SEGMENT | 566-02-8L412 - TUBE | 232-70-52270 - GUIDE |
| 5078239 - HYDRAULIC MO | 8295-62-1432 - TUBE | 20G-60-K4150 - PISTON |
| 21M-30-00130 - CUSHION ASS' | 6745-81-9720 - SPACER | 42R-17-H0R08 - PISTON |
| 392405009 - HOSE | 6166-65-8540 - TUBE | 21T-38-71190 - ELBOW |
| 58D-06-00460 - HARNESS | 6675-81-7011 - ELEMENT ASS' | 78059673 - KIT MOUNTING |
| 427-03-22150 - PACKING | 569-74-86C20 - PLATE | 37C-46-17H10 - PROTECTION |
| 20Y-06-12190 - BRACKET | 235-27-11911 - INSERT | 195-63-42133 - HEAD |
| 708-2G-04650 - BLOCK ASS'Y | 195-54-31481 - BRACKET | 711-47-71551 - BEARING |
| 6219-81-8680 - WIRING HARNE | 39515840 - DISTRIBUBLOC | 890350C1 - WASHER |
| 6164-31-1290 - WASHER | 195-Z11-4860 - BRACKET | 205-46-21351 - SHEET |
| 22F-70-24720 - CLAMP | 21D-06-11370 - LIGHT | 423-54-52920 - COVER |
| 6162-15-6510 - COVER | 17M-54-57150 - SEAL | 708-8F-31210 - BOLT |
| 198-79-16790 - HOSE | 207-46-71552 - COVER | 6207-11-5640 - CONNECTOR |
| 424-54-A1640 - HOOD | 703-08-91170 - ROTOR | 6736-73-1120 - PUMP - INJEC |
| 22B-43-11230 - KNOB ASS'Y | 419-64-45211 - BRACKET | 569-88-86270 - TUBE |
| 22B-54-15791 - SEAT | 37C-46-11150 - COVER | 20G-63-32100 - CYLINDER ASS |
| 22P-62-11531 - HOSE | 5057582 - HARNESS | 707-01-0K830 - XDUMP CYL AS |
| 6207-71-3131 - GEAR | 425-15-19420 - BEARING | 175-63-52551 - TUBE |
| 17M-03-46141 - TUBE | 21U-973-2290 - NIPPLE | 5028853 - SENDER OIL |
| 561-84-83530 - WIRING HARNE | 714-11-15230 - VALVE | 20U-54-21443 - BRACKET |
| 5069635 - HYDRAULIC CY | 816024514 - GLASS | 740088C1 - INSULATR |
| 427-06-25250 - BRACKET | 566-50-75310 - LEVER | 6216-64-4850 - SEAL |
| 92213440 - PIPE ASSY | 707-00-12081 - XCYLINDER AS | 427-Z89-1590 - TUBE |
| 6136-31-1511 - PULLEY | 50644098 - O-RING | 17A-13-23351 - RETAINER |
| 21T-54-65810 - CHAIN | 6114-39-3500 - METAL ASS'Y | 8295-72-1171 - SHIM |
| 51559998 - HOSE | 6151-71-5520 - CLAMP | 205-54-72790 - LOCK |
| 6219-81-8220 - BRACKET | 566-95-14200 - LAMP | 418-54-45591 - LADDER |
| 198-32-08312 - LINK KIT, LH | 17186 - NUT, TRACK S | 22K-06-21131 - CABLE |
| 5216688 - SWITCH | 42T-54-31C00 - AIR INTAKE | 419-S62-2161 - HOSE |
| 22U-06-11250 - SWITCH | 5066795 - FEED ROLLER | 8248-70-2340 - BEARING |
| 5091526 - WIPER BLADE | 95105140 - LAMP | 711-60-11392 - CAP |
| 198-54-56F50 - PLATE | 6217-11-9510 - COVER | 175-13-21654 - SHAFT |
| 5037539 - VALVE BLOCK | 468283R1 - RING | 6245-61-6250 - TUBE |
| 426-43-38373 - BRACKET | 363-06-37530 - WIRING HARNE | 67889 - NUT |
| 423-09-H3700 - PIPE | 6732-31-3310 - SCREW,CONNEC | 702-21-04210 - VALVE ASS'Y |
| 836322852 - GASKET | 561-54-62392 - PAD | 42C-43-27271 - TUBE |
| 198-06-74120 - BRACKET | 76733173 - Adjustable n | 6610-61-1120 - SNAP RING |
| 235-04-45180 - HOSE | 203762R1 - BOLT | 799-609-1010 - PULLER |
| 17A-911-6841 - SEAL | 5081199 - CYLINDER TUB | 6215-61-7691 - HOSE |
| 56D-04-31570 - COVER | 427-15-12312 - CARRIER | 21K-01-21230 - HOSE |
| 20Y-62-22871 - HOSE | 706-73-01162 - MOTOR,SWING | 425-S62-2311 - HOSE |
| 562-15-22230 - GEAR | 566-22-12731 - STUD | 363-43-36110 - WIRING HARNE |
| 6166-21-5980 - COUPLING | 22B-54-22230 - SEAL | 312605812 - PADS - NON-S |
| 566-40-42640 - PIN | 58B-50-01460 - BEARING,10.1 | 6115-11-4222 - CONNECTOR |
| 56B-43-17890 - STAY | 42N-03-11460 - GASKET | 22B-03-31661 - SHEET |
| 56B-54-22830 - SEAL | 20E-68-K1010 - SPRING | 37B-942-1700 - AIR CON KIT |
| 5057175 - HOSE | 22L-70-21550 - SEAL | 720-2M-13640 - PIN |
| 42N-856-1790 - PIN | 17M-15-25750 - COVER | 195-30-33910 - PAD |
| 6742-01-4110 - FILTER,CORRO | 427-62-12720 - TUBE | 198-30-11550 - CAP |
| 6735-71-6740 - STUD | 41L-70-15290 - ELBOW | 21T-70-34321 - BUSHING |
| 195-06-65310 - WIRING HARNE | 22J-71-15012 - BLADE ASS'Y | 195-15-75150 - BLOCK____P60 |
| 7825-30-1342 - POTENTIOMETE | 209-70-41210 - BOOM | 708-7T-13530 - WASHER |
| 37B-62-13311 - HOSE | 708-7W-00290 - MOTOR ASS'Y | 22U-54-22753 - SHEET |
| 22J-62-15141 - HOSE | 58E-80-01070 - FLAP | 20Y-03-21132 - SHROUD |
| 6150-61-2125 - COVER | 37B-09-86104 - GASKET | 6610-71-2370 - KEY |
| 705-12-44010 - PUMP ASS'Y | 5062003 - SHAFT | 20Y-03-41541 - SHEET |
| 425-22-27460 - PLATE | 5036457 - BEARING | 816214682 - ASY,DOORLH |
| 58B-43-00260 - GROMMET -2" | 20Y-27-31230 - COVER | 566-02-8A191 - BRACKET |
| 421-07-31110 - SHEET | 566-89-8F441 - COVER | 566-15-42560 - BUSHING |
| 421-43-15660 - YOKE | 707-46-18010 - BUSHING | 567-50-41160 - RING |
| 383260R1 - RING | 415-15-05111 - SERVICE KIT | 6215-11-3420 - NOZZLE |
| 20Y-54-11532 - BRACKET | 97066440 - BUSHING | 22U-01-A0160 - PIPE |
| 836859122 - SLEEVE | 2938061320 - WIRING HARNE | 17A-22-45480 - RETAINER |
| 569-54-87132 - STAY | 421-43-38630 - NUT | 5081194 - ASSEMBLY KIT |
| 21T-54-64412 - FRAME | 2A5-04-11111 - TANK | 6275-61-1310 - BEARING |
| 195-06-55591 - WIRING HARNE | 704-28-04012 - BRACKET | 7823-34-3004 - CONTROLLER |
| 23B-22-32210 - SHIM | 561-54-88201 - STEP | 569-03-88511 - NET |
| 423-57-H0P03 - REST | 424-54-11790 - BRACKET | 22F-979-3361 - HOSE |
| 423-54-A1640 - HOOD | 20Y-54-12550 - COLLAR | 8242-70-2441 - PLATE |
| 561-54-8H200 - COVER ASS'Y | 205-54-67880 - WEATHER STRI | 76450573 - NUT |
| 31272599 - SCREW | 21B-62-11180 - UNION | 5051392 - HOSE |
| 235-60-37170 - HOSE | 562-61-31640 - HOSE | 22M-03-22171 - SHEET |
| 421-06-36102 - BOX,RELAY AS | 23B-03-71570 - BRACKET | 24546KF - O-RING ART J |
| 21M-38-21370 - COUPLING | 418-T80-3170 - BRACKET | 20U-70-41841 - PIN |
| 418-62-32560 - CLAMP P60 | 5064694 - CLAMP | 4A1-06-10140 - WIRE, LOAD C |
| 363-06-37511 - WIRING HARNE | 208-62-63340 - HOSE | 20Y-30-28400 - RING |
| 426-54-25230 - HANDRAIL,LH | 6150-11-5380 - BRACKET | 58D-06-01070 - BRACKET A. |
| 42C-U44-1870 - HOSE | 711-57-11190 - GUIDE | 195-03-22520 - ISOLATOR |
| 706-77-43130 - RING | 5071081 - HARNESS | 46172140 - HOSE |
| 30831099 - SCHRAUBE | 175-30-23121 - SHAFT, IDLER | 5074028 - SHIM |
| 22P-54-12450 - SEAL | 6245-71-5141 - TUBE P60 | 58F-93-40020 - MARK,GREASE |
| 6112-28-8050 - THRUST BEARI | 421-22-32061 - XFINAL A. LH | 7T9825-AM - SQ NUT |
| 205-06-32970 - WIRING HARNE | 5068661 - STOP | 423-23-33320 - HOUSING |
| 20S-62-81870 - PLATE | 23B-44-71130 - MOTOR ASS'Y | 5259326 - ENGINE SHELF |
| 569-27-61211 - HUB | 566-35-16210 - SPRING | 743124C1 - BOLT |
| 21P-27-K1790 - HOUSING | 8240-62-1791 - HOSE | 426-06-31640 - CONNECTOR |
| 58B-06-20890 - HARNESS,CAM | 795-799-5721 - CABLE | 20Y-60-21420 - PACKING |
| 22U-04-31121 - BRACKET | 203-32-11381 - DUST SEAL | 561-15-76511 - COVER |
| 90389240 - SHAFT | 19M-54-12572 - COVER | 235-70-13331 - COVER |
| 707-45-90910 - WASHER | 42C-S31-1240 - COVER | 17M-13-21391 - CAP |
| 21T-01-67430 - ELBOW | 62135540 - RING | 427-S33-3280 - CONTROL VALV |
| 423-03-33290 - SHEET | 22U-06-21840 - WIRING HARNE | 234-20-31150 - BOLT |
| 209-62-76220 - HOSE ASSM | 56D-54-35530 - COVER | 423-23-13310 - SUPPORT |
| 708-27-22610 - IMPELLER | 3F3096610 - BRACKET ASSM | 561-87-65120 - TUBE |
| 201-70-00843 - LINK ASS'Y | 569-97-82410 - HARNESS, WIR | 600-463-1100 - CONTROLLER A |
| 5076142 - PIPE | 4401635M - SHIFT/CONV P | 20K-61-31610 - O-RING |
| 707-02-00040 - CYLINDER ASS | 706-8J-42410 - CASE | 418-54-24560 - SHEET |
| 17048840 - HOSE 1=1 ME | 58E-93-10030 - PLATE, DECAL | 8296-75-2710 - BELT |
| 714-23-15821 - COVER | 90670840 - VALVE | 58D-30-00120 - RING,SEAL |
| 56D-54-38530 - COVER | 707-01-0H022 - CYLINDER ASS | 22F-46-31101 - FRAME ASS'Y |
| 17A-49-41191 - TUBE | 312608095 - CABLE-PEDAL | 201-54-74160 - PLATE |
| 27045340 - SOCKET | 5225135 - HYDRAULIC PI | 8240-06-1591 - HARNESS,WIRI |
| 706-8J-42150 - SHAFT | 707-29-10420 - HEAD | 723-46-16190 - NUT |
| 198-54-61822 - CUSHION | 417-62-44170 - HOSE | 20Y-26-21290 - BEARING |
| 419-62-33121 - VALVE ASS'Y | 707-27-30031 - HEAD | 2A6-46-15111 - WEIGHT |
| 6211-61-3150 - PULLEY | 6252-61-6521 - HOSE | 42C-S62-1151 - HOSE |
| 6219-11-5650 - BRACKET | 42N-54-17550 - GASKET | 423-46-54550 - SEAL |
| 424-46-11160 - SPACER | 58C-31-00110 - HUB, WHEEL | 28093 - BUTTON, THRU |
| 56D-54-15580 - GUARD P60 | 6245-51-8110 - TUBE | 207-00-A8710 - PLATE CHART |
| 6210-61-6530 - PIN | 5027446 - RESISTANCE P | 417-43-39122 - BRACKET |
| 22F-43-12140 - CABLE | 640325039 - PLUG | 4566815 - RING |
| 426-V00-3240 - PLATE | 561-15-79670 - BEARING | 915089331 - DISC PLATE |
| 428-S95-2773 - WIRING HARNE | 417-926-3411 - SEAL | 428-13-05210 - SERVICE KIT |
| 6216-11-664A - CONNECTOR | 22M-06-25921 - LAMP ASSY | 198-49-63221 - HOSE ASS'Y |
| 426-S62-1160 - HOSE | 5036078 - BAR (RD) HI | 97064440 - COLLAR BUSH |
| 21M-54-14520 - PLATE | 708-1W-02270 - PUMP ASS'Y | 878000452 - GASKET KIT |
| 20Y-54-61490 - FRAME | 685654C91 - BELT SET= | 77515 - BRAKE |
| 21549299 - TUBE 1=1 MET | 20E-970-K110 - TUBE | 37245399 - UNION |
| 6534-91-1120 - CLAMP | 5083146 - HOUSING | 20K-47-13161 - PIN |
| 23B-57-21401 - SEAT ASS'Y | 5213146 - HOOD | 42C-03-17781 - RUBBER |
| 707-86-66790 - TUBE | 6540-71-1310 - PLUG | 74146 - BOOT |
| 5077583 - HARNESS | 419-963-A340 - DUCT ASSY RR | 82718KF - GROMMET PLAT |
| 195-54-43622 - FENDER | 207-03-41720 - COVER | 201-60-62140 - STRAINER |
| 6127-61-3850 - SPACER | 6128-71-6930 - HOSE | 206-32-41111 - SHOE |
| 5066138 - PROTECTION | 428-S33-1170 - TUBE | 418-926-4210 - COVER |
| 22L-60-21240 - COLLAR | 20G-06-K1921 - INDICATOR | 58F-06-40391 - HARNESS,M12 |
| 836640106 - SHIM | 707-35-52840 - RING, NYLON | 705-61-22010 - PUMP ASS'Y |
| 708-1H-04321 - CAP ASS'Y | 417-70-41601 - BOOM ASS'Y | 790-402-1601 - SLING |
| 423-35-16130 - O-RING | 56D-15-19240 - RING | 723-46-49600 - VALVE ASS'Y |
| 424-54-14991 - BRACKET | 561-54-6A151 - STEP | 17A-30-00611 - TRACK ROLLER |
| 5021597 - SPACER | 708-2L-25650 - ORIFICE | 427-62-21240 - NIPPLE |
| 198-Z11-3630 - TRIM | 235-25-00040 - SHIM ASS'Y | 42C-62-12580 - HOSE P60 |
| 79827173 - FILTER ELEME | 20Y-62-41580 - HOSE | 845080014 - VALVE |
| 6166-11-9133 - COVER | 20Y-04-31131 - BRACKET | 58C-98-00340 - HUB |
| 864676343 - ENGINE ASS'Y | 423-46-51400 - RETAINER | 17A-54-51811 - COVER |
| 836859308 - BELT PULLEY | 707-58-11810 - XROD | 175-30-33273 - GUIDE |
| 20G-22-11202 - PINION ASS'Y | 234-27-31270 - BEARING | 60836840 - SUCTION PIPE |
| 56B-43-17724 - TUBE | 79470973 - VENTILATOR | 17345 - PIPE |
| 6166-61-8650 - NIPPLE P60 | 20Y-970-7B60 - PLATE | 702-16-01930 - PILOT VALVE |
| 17A-22-13151 - DRUM | 671084C2 - GASKET | 885111120 - LIGHT, BACK |
| 5066957 - PISTON | 702744C1 - PACKING | 392801005 - HOSE |
| 44047940 - FILTER ASSM | 425-54-11512 - DOOR | 81825KF - HOSE |
| 267-11-31002 - NIPPLE | 381-986054-1 - COVER ASS'Y | 723-61-26700 - VALVE ASS'Y |
| 5198957 - FUEL FILTER | 208-00-61120 - PLATE | 195-15-12390 - LOCK |