Caterpillar Control Valves
When hydraulic systems are in operation, it becomes necessary to change the flow direction of the working fluid in its individual sections in order to change the direction of movement of the machine's actuators; it is required to provide the necessary sequence of activation of these mechanisms, to discharge the Caterpillar pump and the hydraulic system from pressure, and so on.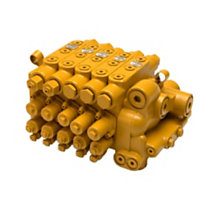 These and some other functions are performed by a special hydraulic device - the hydraulic Caterpillar control valve.
In the manufacture of Caterpillar hydraulic control valves, steel castings, modified cast iron, high and low carbon steel grades, and bronze are used as structural materials. To protect individual elements of the Cat control valves from abrasive wear, sliding surfaces are cemented, nitrided and so on.
The dimensions and mass of the Caterpillar control valve depend on the flow rate of the liquid through which the dimensions of the unit increase.
Thanks to the hydraulic system, the Caterpillar machine receives the necessary hydraulic energy for movement and operation. All Mechanisms for turning and manipulating the working parts or attachments of machinery, as well as controlling the machine, interact with the Caterpillar hydraulic system and are controlled by means of Caterpillar hydraulic control valves.
If you are interested in the original Caterpillar control valves or aftermarket or replacement Caterpillar hydraulic control valves, you can order it online
0869816 - VALVE HYD
0980352 - VALVE HYD CH
0980353 - VALVE HYD CH
0985801 - VALVE HYD
1188627 - VALVE HYD
8I3630 - VALVE HYD
8I3631 - VALVE HYD
8I3643 - VALVE HYD
8I3652 - VALVE HYD
8Q6310 - VALVE HYD
8I3788 - VALVE AS HYD
1272064 - VALVE-HYD
1315085 - VALVE-HYD
1618104 - VALVE-HYD
1229704 - VALVE GP HYD
8C0769 - VALVE A-HYD
1649585 - VALVE AS-HYD
1649586 - VALVE AS-HYD
1732363 - VALVE AS-HYD
0777187 - VALVE G-HYD
0776635 - VALVE, HYD
0773411 - VALVE, HYDRA
0774445 - VALVE, HYDRA