Hyundai Alternators
Electrical equipment of any Hyundai equipment includes an alternator Hyundai or AC Hyundai generator - a device that converts the mechanical energy received from a Hyundai engine into an electrical one. Together with a voltage regulator, it is called an alternator set. Hyundai alternators are installed on modern Hyundai equipment. They meet the requirements to the greatest degree.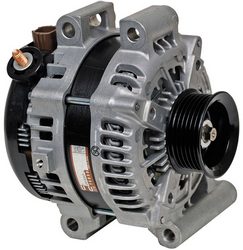 Requirements for the Hyundai alternator:
- the output parameters of the Hyundai alternator must be such that in any mode of motion of the machinery there is no progressive discharge of the Hyundai battery;
- The voltage in the onboard network of equipment powered by the Hyundai alternator must be stable over a wide range of speed and load variations.
The latter requirement is caused by the fact that the Hyundai rechargeable battery is very sensitive to the degree of voltage stability. Too low voltage causes a low battery and, as a consequence, difficulties with starting the engine, too high voltage leads to a battery recharge and accelerated failure of the battery.
The principle of operation of the Hyundai alternator and its principle constructive device are the same for all types of equipment, differ only in the quality of manufacture, dimensions and arrangement of the connecting units.
Order the original and aftermarket or replacement Hyundai alternators online.
| | |
| --- | --- |
| 1117645 - ALTERNATOR(240) 45A | 3920618 - ALTERNATOR |
| 119626-77210 - ALTERNATOR | 3921737 - SUPPORT-ALTERNATOR |
| 11S4-20051 - HOSE-ALTERNATOR | 3935530 - ALTERNATOR |
| 16427-64110 - PULLEY-ALTERNATOR | 3939905 - BRACE-ALTERNATOR |
| 17356-64010 - ALTERNATOR ASSY | 3944312 - BRACE-ALTERNATOR |
| 19279-64013 - ALTERNATOR ASSY | 3944405 - SUPPORT-ALTERNATOR |
| 1C011-64010 - ALTERNATOR ASSY | 3944407 - BRACE-ALTERNATOR |
| 218505 - SUPPORT-ALTERNATOR | 3955179 - SUPPORT-ALTERNATOR |
| 21E6-4001 - ALTERNATOR(240) | 3965146 - PULLEY-ALTERNATOR |
| 21E6-40011 - ALTERNATOR 60A | 3965147 - PULLEY-ALTERNATOR |
| 21E6-40030 - ALTERNATOR ASS'Y(=19010108) | 3968112 - SUPPORT-ALTERNATOR |
| 21EA-00040 - ALTERNATOR 24V 60A | 3972735 - ALTERNATOR |
| 21EA-00050 - ALTERNATOR | 4931017 - SUPPORT-ALTERNATOR |
| 21EA-60230 - BALL BEARING (ALTERNATOR) | 4936879 - ALTERNATOR |
| 21EA-60240 - FRAME DE (ALTERNATOR) N/A | E129-0005 - ALTERNATOR ASSY |
| 21EA-60250 - RETAINER (ALTERNATOR) | E129-0016 - ALTERNATOR |
| 21EA-60260 - STUD-RELAY (ALTERNATOR) | E129-0061 - ALTERNATOR(240) |
| 21EA-60310 - COVER (ALTERNATOR) N/A | XJAF-00531 - ALTERNATOR ASSY |
| 21EA-60370 - STUD M5 (ALTERNATOR) | XJAF-00822 - BRACKET-ALTERNATOR |
| 21EA-60390 - BEARING (ALTERNATOR) | XJAF-01559 - ALTERNATOR ASSY |
| 21L1-0007 - ALTERNATOR | XJAF-01560 - ALTERNATOR ASSY |
| 21L1-0008 - ALTERNATOR | XJAF-01704 - BOLT-ALTERNATOR |
| 21L8-00090 - ALTERNATOR ASSY | XJAF-01792 - ALTERNATOR ASSY |
| 21ND-20400 - WIRE LINK-ALTERNATOR | XJAF-01793 - BRACKET-ALTERNATOR |
| 21Q6-41000 - ALTERNATOR ASSY | XJAF-02065 - BELT-ALTERNATOR |
| 21S1-0002 - ALTERNATOR | XJAF-02236 - ALTERNATOR ASSY |
| 2614B544 - V-BELT, ALTERNATOR DX25 | XJAF-02522 - ALTERNATOR ASSY |
| 2874863 - ALTERNATOR | XJAU-00261 - ALTERNATOR ASSY |
| 3046204 - PULLEY-ALTERNATOR | XJAU-00608 - ALTERNATOR ASSY |
| 3284392 - ALTERNATOR | XJAU-00848 - ALTERNATOR ASSY |
| 32A68-01103 - BRACKET-ALTERNATOR | XJBR-01576 - ALTERNATOR ASSY |
| 32A68-06200 - ALTERNATOR ASSY | XJBR-01577 - SUPPORT-ALTERNATOR |
| 32A68-10500 - SHAFT-ALTERNATOR | XJBR-01578 - STAY-ALTERNATOR |
| 32B68-21100 - BRACKET-ALTERNATOR | XJBR-01599 - WASHER-ALTERNATOR |
| 3400698 - ALTERNATOR | XJBT-01514 - PULLEY-ALTERNATOR |
| 3400880 - PULLEY-ALTERNATOR | XJBT-02200 - ALTERNATOR ASSY |
| 3400881 - SUPPORT-ALTERNATOR | XKBH-00256 - BRACE-ALTERNATOR |
| 34368-02300 - ALTERNATOR ASSY | 19010108 - ALTERNATOR(240) 45A |
| 3680082 - PULLEY-ALTERNATOR | 21Q6-41000-K - ALTERNATOR ASS'Y(=19010108) |
| 37300-45500 - ALTERNATOR ASSY | 19010111 - ALTERNATOR |
| 37300-83015 - ALTERNATOR ASS'Y | 9439571 - BALL BEARING (ALTERNATOR) |
| 37300-83C01 - ALTERNATOR | 210393 - FRAME DE (ALTERNATOR) N/A |
| 37300-93C00 - ALTERNATOR ASSY | 210396 - RETAINER (ALTERNATOR) |
| 37300-93C10 - ALTERNATOR ASS'Y | 210412 - STUD-RELAY (ALTERNATOR) |
| 37471-83C00 - BRACKET-ALTERNATOR | 210569 - COVER (ALTERNATOR) N/A |
| 37471-93000 - BRACKET-ALTERNATOR | 10468162 - STUD M5 (ALTERNATOR) |
| 3883158 - SUPPORT-ALTERNATOR | 10472639 - BEARING (ALTERNATOR) |
| 3913345 - BRACE-ALTERNATOR | 4993343 - ALTERNATOR |
| 3918275 - PULLEY-ALTERNATOR | 21E7-3011 - ALTERNATOR (25A) |