John Deere Construction Lubrication System

John Deere lubrication system is designed to reduce friction between the mating parts of the John Deere engine. In addition to performing the main function, the lubrication system provides cooling of engine parts, removal of coke and wear products, and protection of parts of the John Deere engine against corrosion.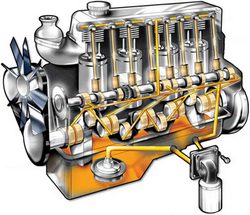 The engine lubrication system includes a crankcase with an oil sump, an oil pump, an oil filter, an oil cooler, which are interconnected by lines and ducts.

The engine oil sump is designed for storing oil. The oil level in the pallet is monitored with a feeler gauge, as well as with the oil level and temperature sensor.

John Deere Oil Pump is designed to pump oil into the system. The oil pump can be driven from the engine crankshaft, camshaft or additional drive shaft. The greatest application on engines was found John Deere gear oil pumps.

The John Deere oil filter serves to clean oil from wear and sludge products. The oil is cleaned with a John Deere filter element, which is replaced with an oil change.

The John Deere oil cooler is used to cool the engine oil. Cooling of the oil in the radiator is carried out by the flow of liquid from the cooling system.
Only here you can buy John Deere lubrication system spare parts online.