Komatsu Starter Motors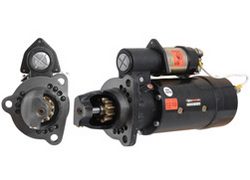 As the name suggests, a Komatsu starter for heavy equipment is used to start an internal combustion engine. To do this, it provides a primary rotation of the crankshaft with the required frequency. The starter is an integral part of the electrical system of any modern Komatsu equipment. Structurally it is a four-pole DC motor, powered by a Komatsu battery.
The Komatsu engine generates the energy necessary for the movement of the Komatsu equipment, due to the speed of the Komatsu crankshaft. All electrical equipment works from the same energy. In a stationary state, the engine is not capable of delivering either torque or electric energy. In this regard, it is necessary to "untwist" it with a special electric motor - a Komatsu starter motor, and an external power source - a Komatsu battery.
On motors with diesel power system, as well as on high-power engines, a Komatsu starter motor with a gearbox is installed. The planetary gearbox, consisting of several gears, is mounted in the starter housing. It several times strengthens the passing voltage, thereby increasing the torque.
Order the original or replacement (aftermarket) Komatsu starter motor you need online.
| | |
| --- | --- |
| 04405479 - STARTER | CR600-813-4222 - STARTER |
| 04610016 - STARTER | CR600-813-4231 - STARTER |
| 1251635H92 - XSTARTER | CR600-813-4232 - STARTER |
| 1308853H91 - XSTARTER | CR600-813-4350 - STARTER |
| 1308862H91 - STARTER | CR600-813-4351 - STARTER |
| 1308870H1 - STARTER, | CR600-813-4410 - STARTER |
| 1310443H91 - XSTARTER | CR600-813-4411 - STARTER |
| 198-06-73180 - STARTER | CR600-813-4412 - STARTER |
| 24671 - STARTER | CR600-813-4420 - STARTER |
| 3888619 - STARTER | CR600-813-4421 - STARTER |
| 421-00-H0R04 - STARTER | CR600-813-4422 - STARTER |
| 427-06-A2160 - STARTER | CR600-813-4423 - STARTER P60 |
| 42922840 - STARTER | CR600-813-4424 - STARTER P60 |
| 42W-06-11110 - STARTER | CR600-813-4425 - STARTER |
| 5023492 - STARTER | CR600-813-4461 - STARTER |
| 600-813-2380 - XSTARTER | CR600-813-4462 - STARTER |
| 600-813-3262 - STARTER | CR600-813-4530 - STARTER |
| 600-813-3282 - XSTARTER | CR600-813-4560 - STARTER |
| 600-813-3322 - STARTER | CR600-813-4561 - STARTER |
| 600-813-3392 - XSTARTER | CR600-813-4562 - STARTER |
| 600-813-3462 - XSTARTER | CR600-813-4650 - STARTER |
| 600-813-3551 - XSTARTER | CR600-813-4651 - STARTER |
| 600-813-3623 - STARTER | CR600-813-4652 - STARTER |
| 600-813-3662 - XSTARTER | CR600-813-4670 - STARTER |
| 600-813-3712 - XSTARTER | CR600-813-4671 - STARTER |
| 600-813-4122 - XSTARTER | CR600-813-4672 - STARTER |
| 600-813-4242 - STARTER | CR600-813-4680 - STARTER |
| 600-813-4271 - STARTER | CR600-813-4681 - STARTER |
| 600-813-4424 - XSTARTER | CR600-813-4682 - STARTER |
| 600-813-4461 - XSTARTER | CR600-813-4761 - STARTER |
| 600-813-4571 - STARTER | CR600-813-4810 - STARTER |
| 600-813-4652 - XSTARTER | CR600-813-4811 - STARTER |
| 600-813-4672 - XSTARTER | CR600-813-4812 - STARTER |
| 600-813-4682 - XSTARTER | CR600-813-4920 - STARTER |
| 600-813-4863 - STARTER | CR600-813-4921 - STARTER |
| 600-813-4923 - XSTARTER | CR600-813-4922 - STARTER |
| 600-813-4932 - XSTARTER | CR600-813-4923 - STARTER |
| 600-813-4933 - XSTARTER | CR600-813-4930 - STARTER |
| 600-813-5530 - XSTARTER | CR600-813-4931 - STARTER |
| 600-813-6212 - XSTARTER | CR600-813-4932 - STARTER |
| 600-813-6412 - XSTARTER | CR600-813-4933 - STARTER |
| 600-813-6612 - XSTARTER | CR600-813-4934 - STARTER |
| 600-813-6632 - XSTARTER | CR600-813-5530 - STARTER |
| 600-813-7113 - XSTARTER | CR600-813-6210 - STARTER |
| 600-813-7122 - XSTARTER | CR600-813-6211 - STARTER |
| 600-813-7132 - STARTER | CR600-813-6212 - STARTER |
| 600-813-7152 - XSTARTER | CR600-813-6410 - STARTER |
| 600-813-7542 - XSTARTER | CR600-813-6411 - STARTER |
| 600-813-7612 - STARTER | CR600-813-6412 - STARTER |
| 600-813-7641 - STARTER | CR600-813-6510 - STARTER P60 |
| 600-813-8320 - XSTARTER | CR600-813-6521 - STARTER |
| 600-813-9312 - XSTARTER | CR600-813-6610 - STARTER |
| 600-813-9322 - XSTARTER | CR600-813-6611 - STARTER |
| 600-813-9341 - STARTER | CR600-813-6612 - STARTER |
| 600-813-9361 - STARTER | CR600-813-6630 - STARTER |
| 600-813-9511 - XSTARTER | CR600-813-6632 - STARTER |
| 600-813-9540 - STARTER | CR600-813-6633 - STARTER |
| 600-863-1410 - STARTER | CR600-813-7110 - STARTER |
| 600-863-4131 - STARTER | CR600-813-7111 - STARTER |
| 600-863-4510 - XSTARTER | CR600-813-7112 - STARTER |
| 600-863-5111 - XSTARTER | CR600-813-7113 - STARTER |
| 600-863-5711 - XSTARTER | CR600-813-7114 - STARTER |
| 600-863-8112 - XSTARTER | CR600-813-7121 - STARTER |
| 835330965 - STARTER | CR600-813-7122 - STARTER |
| 836664354 - STARTER | CR600-813-7123 - STARTER |
| 836673289 - STARTER | CR600-813-7151 - STARTER |
| 836867133 - STARTER | CR600-813-7152 - STARTER |
| 871130098 - STARTER | CR600-813-7542 - STARTER |
| BF2210 - XSTARTER | CR600-813-7543 - STARTER |
| EH8911 - STARTER | CR600-813-8110 - STARTER |
| LA0848 - XSTARTER | CR600-813-8310 - STARTER |
| ND028099-2790 - STARTER | CR600-813-8320 - STARTER |
| ND128099-5620 - STARTER | CR600-813-8820 - STARTER |
| ND128099-5830 - STARTER | CR600-813-9310 - STARTER |
| R1308066H91 - STARTER | CR600-813-9311 - STARTER |
| R1308853H91 - STARTER | CR600-813-9312 - STARTER |
| R1439963H91 - STARTER | CR600-813-9313 - STARTER |
| R600-813-1721 - STARTER | CR600-813-9321 - STARTER |
| R600-813-2151 - STARTER | CR600-813-9322 - STARTER |
| R600-813-2180 - STARTER | CR600-813-9323 - STARTER |
| R600-813-2243 - STARTER | CR600-813-9510 - STARTER |
| R600-813-2342 - STARTER | CR600-813-9511 - STARTER |
| R600-813-2371 - STARTER | CR600-813-9910 - STARTER |
| R600-813-2394 - STARTER | CR600-863-1450 - STARTER |
| R600-813-2413 - STARTER | CR600-863-3110 - STARTER |
| R600-813-2590 - STARTER | CR600-863-3210 - STARTER |
| R600-813-2650 - STARTER | CR600-863-3211 - STARTER |
| R600-813-2692 - STARTER | CR600-863-4110 - STARTER |
| R600-813-2724 - STARTER | CR600-863-4210 - STARTER P60 |
| R600-813-2753 - STARTER | CR600-863-4211 - STARTER |
| R600-813-3172 - STARTER | CR600-863-4230 - STARTER MOTO |
| R600-813-3240 - STARTER | CR600-863-4410 - STARTER |
| R600-813-3282 - STARTER | CR600-863-4510 - STARTER |
| R600-813-3352 - STARTER | CR600-863-5110 - STARTER |
| R600-813-3392 - STARTER | CR600-863-5111 - STARTER |
| R600-813-3461 - STARTER | CR600-863-5710 - STARTER |
| R600-813-3462 - STARTER | CR600-863-5711 - STARTER |
| R600-813-3561 - STARTER | CR600-863-5712 - STARTER |
| R600-813-3662 - STARTER | CR600-863-8110 - STARTER |
| R600-813-3712 - STARTER | CR600-863-8111 - STARTER |
| R600-813-3732 - STARTER | CR600-863-8112 - STARTER |
| R600-813-3772 - STARTER | CR600-863-8113 - STARTER |
| R600-813-4122 - STARTER | CR6216-84-6630 - STARTER |
| R600-813-4222 - STARTER | CR6216-84-6640 - STARTER |
| R600-813-4412 - STARTER | CR6216-84-6660 - STARTER |
| R600-813-4424 - STARTER | CR6731-81-2530 - STARTER |
| R600-813-4461 - STARTER | CR6731-82-6510 - STARTER |
| R600-813-4562 - STARTER | CR6732-81-6510 - STARTER |
| R600-813-4652 - STARTER | CR6732-82-6510 - STARTER |
| R600-813-4672 - STARTER | CR6733-81-6510 - STARTER |
| R600-813-4682 - STARTER | CR6733-82-6510 - STARTER |
| R600-813-4761 - STARTER | CR6736-81-4210 - STARTER |
| R600-813-4812 - STARTER | CR6738-82-6810 - STARTER |
| R600-813-4923 - STARTER | CR6742-01-3330 - STARTER |
| R600-813-4933 - STARTER | CR6742-01-4240 - STARTER |
| R600-813-5530 - STARTER | CR6742-01-5225 - STARTER |
| R600-813-6212 - STARTER | CR6742-82-4210 - STARTER |
| R600-813-6412 - STARTER | CR6743-82-6130 - STARTER |
| R600-813-6612 - STARTER | CR6743-82-6150 - STARTER |
| R600-813-6632 - STARTER | CR6743-82-6810 - STARTER |
| R600-813-7113 - STARTER | CSTR1001 - STARTER |
| R600-813-7122 - STARTER | CSTR1002 - STARTER |
| R600-813-7152 - STARTER | CSTR1003 - STARTER |
| R600-813-7542 - STARTER | CSTR1004 - STARTER |
| R600-813-8110 - STARTER | CSTR1005 - STARTER |
| R600-813-8310 - STARTER | CSTR1006 - STARTER |
| R600-813-8320 - STARTER | CSTR1007 - STARTER |
| R600-813-8820 - STARTER | CSTR1008 - STARTER |
| R600-813-9312 - STARTER | CSTR1009 - STARTER |
| R600-813-9322 - STARTER | CSTR1010 - STARTER |
| R600-813-9511 - STARTER | CSTR1011 - STARTER |
| R600-813-9910 - STARTER | CSTR1012 - STARTER |
| R600-863-3210 - STARTER | CSTR1013 - STARTER |
| R600-863-4110 - STARTER | CSTR1014 - STARTER |
| R600-863-4210 - STARTER | CSTR1015 - STARTER |
| R600-863-4510 - STARTER | CSTR1016 - STARTER |
| R600-863-5711 - STARTER | CSTR1017 - STARTER |
| R600-863-8112 - STARTER | CSTR1018 - STARTER |
| R6733-81-6510 - STARTER | CSTR1019 - STARTER |
| R6736-81-4210 - STARTER | CSTR1020 - STARTER |
| R6738-82-6810 - STARTER | CSTR1021 - STARTER |
| RPK2873B071 - STARTER | CSTR1022 - STARTER |
| RXA3651 - STARTER | CSTR1023 - STARTER |
| RYM11922577011 - STARTER | CSTR1024 - STARTER |
| RYM11922677010 - STARTER | CSTR1025 - STARTER |
| RYM11925577010 - STARTER | CSTR1026 - STARTER |
| RYM12390077010 - STARTER | CSTR1027 - STARTER P60 |
| RYM12913677011 - STARTER | CSTR1028 - STARTER |
| RYM12940077012 - STARTER | CSTR1029 - STARTER |
| RYM12940777010 - STARTER | CSTR1030 - STARTER |
| RYM12969877010 - STARTER | CSTR1031 - STARTER |
| RYM12990077010 - STARTER | CSTR1032 - STARTER |
| RYM12991077022 - STARTER | CSTR1033 - STARTER |
| RYM12995377019 - STARTER | CSTR1034 - STARTER |
| STR1003 - STARTER | CSTR1035 - STARTER |
| STR1004 - STARTER | CSTR1036 - STARTER |
| STR1007 - STARTER | CSTR1037 - STARTER |
| STR1008 - STARTER | CSTR1038 - STARTER |
| STR1009 - STARTER | CSTR1039 - STARTER |
| STR1012 - STARTER | CSTR1040 - STARTER |
| STR1013 - STARTER | CSTR1041 - STARTER |
| STR1014 - STARTER | CSTR1042 - STARTER |
| STR1015 - STARTER | CSTR1043 - STARTER |
| STR1016 - STARTER | EA5801577137 - STARTER MOTO |
| STR1017 - STARTER | EH8909 - STARTER 24V |
| STR1019 - STARTER | KM10005 - DS STARTER A |
| STR1022 - STARTER | PB7884 - STARTER |
| STR1027 - STARTER | RYMR001789 - STARTER |
| STR1028 - STARTER | RYM12960877010 - STARTER |
| STR1029 - STARTER | RYM12993277012 - STARTER |
| STR1035 - STARTER | RYM12995377010 - STARTER |
| STR1038 - STARTER | R1308852H91 - STARTER |
| STR1039 - STARTER | R600-813-2242 - STARTER |
| STR1040 - STARTER | R600-813-3170 - STARTER |
| STR1041 - STARTER | R600-813-3171 - STARTER |
| STR1042 - STARTER | R600-813-3280 - STARTER |
| STR1043 - STARTER | R600-813-3281 - STARTER |
| VS2133 - STARTER | R600-813-3320 - STARTER |
| XA3660 - STARTER | R600-813-3350 - STARTER |
| YM123900-77010 - XSTARTER | R600-813-3351 - STARTER |
| YM129900-77010 - XSTARTER | R600-813-3380 - STARTER |
| YM129910-77022 - XSTARTER | R600-813-3390 - STARTER |
| BF4994R - STARTER, NO | R600-813-3391 - STARTER |
| BF4995 - XSTARTER PRE | R600-813-3460 - STARTER |
| CPSTR1015 - PL STARTER | R600-813-3530 - STARTER |
| CPSTR1016 - PL STARTER | R600-813-3560 - STARTER |
| CPSTR1017 - PL STARTER | R600-813-3610 - STARTER |
| CPSTR1024 - PL STARTER | R600-813-3611 - STARTER |
| CPSTR1025 - PL STARTER | R600-813-3630 - STARTER |
| CPSTR1026 - PL STARTER | R600-813-3650 - STARTER |
| CPSTR1027 - PL STARTER | R600-813-3660 - STARTER |
| CPSTR1028 - PL STARTER | R600-813-3661 - STARTER |
| CPSTR2001 - PL STARTER | R600-813-3710 - STARTER |
| CPSTR2002 - PL STARTER | R600-813-3711 - STARTER |
| CPSTR2004 - PL STARTER | R600-813-3730 - STARTER |
| CPSTR2006 - PL STARTER | R600-813-3771 - STARTER |
| CRBF4994 - STARTER | R600-813-3871 - STARTER |
| CRBF4995 - PL STARTER | R600-813-3941 - STARTER |
| CRBF5211 - PL STARTER | R600-813-3942 - STARTER |
| CRLA0848 - STARTER | R600-813-3951 - STARTER |
| CRPB8726 - STARTER | R600-813-4120 - STARTER |
| CRPB8727 - STARTER | R600-813-4121 - STARTER |
| CRPK2873B071 - STARTER | R600-813-4212 - STARTER |
| CRXA3651 - STARTER | R600-813-4221 - STARTER |
| CRYMR001789 - STARTER | R600-813-4410 - STARTER |
| CRYM11922577011 - STARTER | R600-813-4411 - STARTER |
| CRYM11922677010 - STARTER | R600-813-4420 - STARTER |
| CRYM11925577010 - STARTER | R600-813-4422 - STARTER |
| CRYM12390077010 - STARTER | R600-813-4423 - STARTER P60 |
| CRYM12913677011 - STARTER | R600-813-4425 - STARTER |
| CRYM12940077012 - STARTER | R600-813-4462 - STARTER |
| CRYM12940777010 - STARTER | R600-813-4530 - STARTER |
| CRYM12960877010 - STARTER | R600-813-4560 - STARTER |
| CRYM12969877010 - STARTER | R600-813-4561 - STARTER |
| CRYM12990077010 - STARTER | R600-813-4650 - STARTER |
| CRYM12991077022 - STARTER | R600-813-4651 - STARTER |
| CRYM12993277012 - STARTER | R600-813-4670 - STARTER |
| CRYM12995377010 - STARTER | R600-813-4671 - STARTER |
| CRYM12995377019 - STARTER | R600-813-4680 - STARTER |
| CR1208969H92 - STARTER | R600-813-4681 - STARTER |
| CR1219521H92 - STARTER | R600-813-4811 - STARTER |
| CR1222960H91 - STARTER | R600-813-4921 - STARTER |
| CR1243026H92 - STARTER | R600-813-4922 - STARTER |
| CR1243215H92 - STARTER | R600-813-4931 - STARTER |
| CR1251635H92 - STARTER | R600-813-4932 - STARTER |
| CR1253153H92 - STARTER | R600-813-4934 - STARTER |
| CR1267999H92 - STARTER | R600-813-6210 - STARTER |
| CR1268854H91 - STARTER | R600-813-6211 - STARTER |
| CR1268855H91 - STARTER | R600-813-6410 - STARTER |
| CR1304830H1 - STARTER | R600-813-6411 - STARTER |
| CR1306284H91 - STARTER | R600-813-6610 - STARTER |
| CR1307569H91 - STARTER | R600-813-6611 - STARTER |
| CR1308066H91 - STARTER | R600-813-6633 - STARTER |
| CR1308852H91 - STARTER | R600-813-7112 - STARTER |
| CR1308853H91 - STARTER | R600-813-7114 - STARTER |
| CR1310443H91 - STARTER | R600-813-7121 - STARTER |
| CR1310888H91 - STARTER | R600-813-7123 - STARTER |
| CR1439963H91 - STARTER | R600-813-7151 - STARTER |
| CR206-01-A1120 - STARTER | R600-813-7543 - STARTER |
| CR206-01-A1121 - STARTER | R600-813-9310 - STARTER |
| CR600-813-1721 - STARTER | R600-813-9311 - STARTER |
| CR600-813-2150 - STARTER | R600-813-9313 - STARTER |
| CR600-813-2151 - STARTER | R600-813-9321 - STARTER |
| CR600-813-2180 - STARTER | R600-813-9323 - STARTER |
| CR600-813-2240 - STARTER | R600-863-3110 - STARTER |
| CR600-813-2241 - STARTER | R600-863-3211 - STARTER |
| CR600-813-2242 - STARTER | R600-863-4211 - STARTER |
| CR600-813-2243 - STARTER | R600-863-4230 - STARTER MOTO |
| CR600-813-2340 - STARTER | R600-863-4410 - STARTER |
| CR600-813-2341 - STARTER | R600-863-5110 - STARTER |
| CR600-813-2342 - STARTER | R600-863-5111 - STARTER |
| CR600-813-2351 - STARTER | R600-863-5710 - STARTER |
| CR600-813-2371 - STARTER | R600-863-5712 - STARTER |
| CR600-813-2380 - STARTER | R600-863-8110 - STARTER |
| CR600-813-2391 - STARTER | R600-863-8111 - STARTER |
| CR600-813-2393 - STARTER | R600-863-8113 - STARTER |
| CR600-813-2394 - STARTER | R6732-82-6510 - STARTER |
| CR600-813-2411 - STARTER | R6733-82-6510 - STARTER |
| CR600-813-2412 - STARTER | STR1010 - STARTER |
| CR600-813-2413 - STARTER | STR1025 - STARTER |
| CR600-813-2430 - STARTER | STR1030 - STARTER |
| CR600-813-2590 - STARTER | STR1031 - STARTER |
| CR600-813-2620 - STARTER | STR1032 - STARTER |
| CR600-813-2650 - STARTER | STR1033 - STARTER |
| CR600-813-2680 - STARTER | STR1034 - STARTER |
| CR600-813-2681 - STARTER | STR1036 - STARTER |
| CR600-813-2692 - STARTER | STR1037 - STARTER |
| CR600-813-2724 - STARTER | TZ1138 - STARTER HARN |
| CR600-813-2753 - STARTER | XA4424 - STARTER-MOTO |
| CR600-813-2950 - STARTER | YMX0280996180 - STARTER |
| CR600-813-3130 - STARTER | YM129932-77011 - STARTER |
| CR600-813-3170 - STARTER | YM129932-77012 - XSTARTER |
| CR600-813-3171 - STARTER | YM129940-77010 - STARTER 12V, |
| CR600-813-3172 - STARTER | 4610356 - KIT STARTER |
| CR600-813-3230 - STARTER | 1245396H93 - STARTER MOTO |
| CR600-813-3240 - STARTER | 1304953H93 - STARTER |
| CR600-813-3280 - STARTER | 1316573H1 - STARTER KIT |
| CR600-813-3281 - STARTER | 5214556 - STARTER MOTO |
| CR600-813-3282 - STARTER | 5229413 - STARTER MOTO |
| CR600-813-3310 - STARTER | 58E-06-09300 - XSTARTER,LIG |
| CR600-813-3320 - STARTER | 600-813-1320 - STARTER CIRC |
| CR600-813-3330 - STARTER | 600-813-3323 - STARTER |
| CR600-813-3350 - STARTER | 600-813-3353 - STARTER |
| CR600-813-3351 - STARTER | 600-813-3393 - STARTER |
| CR600-813-3352 - STARTER | 600-813-3533 - STARTER |
| CR600-813-3380 - STARTER | 600-813-3561 - XSTARTER |
| CR600-813-3390 - STARTER | 600-813-3632 - STARTER |
| CR600-813-3391 - STARTER | 600-813-3682 - STARTER |
| CR600-813-3392 - STARTER | 600-813-3732 - XSTARTER |
| CR600-813-3460 - STARTER | 600-813-3742 - STARTER |
| CR600-813-3461 - STARTER | 600-813-3863 - STARTER |
| CR600-813-3462 - STARTER | 600-813-4112 - STARTER |
| CR600-813-3510 - STARTER | 600-813-4352 - STARTER |
| CR600-813-3521 - STARTER | 600-813-4413 - STARTER |
| CR600-813-3530 - STARTER | 600-813-4425 - XSTARTER |
| CR600-813-3550 - STARTER | 600-813-4462 - XSTARTER |
| CR600-813-3551 - STARTER | 600-813-4534 - STARTER |
| CR600-813-3560 - STARTER | 600-813-4562 - XSTARTER |
| CR600-813-3561 - STARTER | 600-813-4792 - STARTER |
| CR600-813-3610 - STARTER | 600-813-4934 - XSTARTER |
| CR600-813-3611 - STARTER | 600-813-6413 - XSTARTER |
| CR600-813-3621 - STARTER | 600-813-6613 - STARTER |
| CR600-813-3630 - STARTER | 600-813-6633 - XSTARTER |
| CR600-813-3640 - STARTER | 600-813-7114 - XSTARTER |
| CR600-813-3650 - STARTER | 600-813-7123 - XSTARTER |
| CR600-813-3660 - STARTER | 600-813-7153 - XSTARTER |
| CR600-813-3661 - STARTER | 600-813-7543 - XSTARTER |
| CR600-813-3662 - STARTER | 600-813-7642 - STARTER |
| CR600-813-3680 - STARTER | 600-813-9313 - XSTARTER |
| CR600-813-3710 - STARTER | 600-813-9323 - XSTARTER |
| CR600-813-3711 - STARTER | 600-813-9331 - STARTER |
| CR600-813-3712 - STARTER | 600-813-9332 - STARTER |
| CR600-813-3730 - STARTER | 600-813-9342 - STARTER |
| CR600-813-3732 - STARTER | 600-813-9431 - STARTER |
| CR600-813-3771 - STARTER | 600-813-9512 - XSTARTER |
| CR600-813-3772 - STARTER | 600-813-9521 - STARTER |
| CR600-813-3870 - STARTER | 600-813-9541 - STARTER |
| CR600-813-3871 - STARTER | 600-813-9721 - STARTER |
| CR600-813-3930 - STARTER | 600-813-9911 - XSTARTER |
| CR600-813-3941 - STARTER | 600-863-3211 - XSTARTER |
| CR600-813-3942 - STARTER | 600-863-4132 - STARTER |
| CR600-813-3950 - STARTER | 600-863-4150 - STARTER |
| CR600-813-3951 - STARTER | 600-863-4151 - STARTER |
| CR600-813-3960 - STARTER | 600-863-4311 - STARTER |
| CR600-813-3963 - STARTER | 600-863-4511 - STARTER |
| CR600-813-4120 - STARTER | 600-863-5112 - STARTER |
| CR600-813-4121 - STARTER | 600-863-5712 - XSTARTER |
| CR600-813-4122 - STARTER | 600-863-8113 - XSTARTER |
| CR600-813-4211 - STARTER | 6216-84-6630 - XSTARTER |
| CR600-813-4212 - STARTER | 692325 - STARTER |
| CR600-813-4220 - STARTER | 69232500 - STARTER |
| CR600-813-4221 - STARTER | 76809573 - STARTER |