Komatsu Alternators
Electrical equipment of any Komatsu equipment includes an alternator Komatsu or AC Komatsu generator - a device that converts the mechanical energy received from a Komatsu engine into an electrical one. Together with a voltage regulator, it is called an alternator set. Komatsu alternators are installed on modern Komatsu equipment. They meet the requirements to the greatest degree.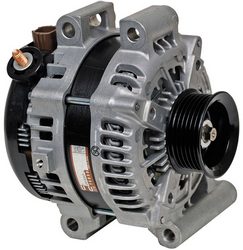 Requirements for the Komatsu alternator:
- the output parameters of the Komatsu alternator must be such that in any mode of motion of the machinery there is no progressive discharge of the Komatsu battery;
- The voltage in the onboard network of equipment powered by the Komatsu alternator must be stable over a wide range of speed and load variations.
The latter requirement is caused by the fact that the Komatsu rechargeable battery is very sensitive to the degree of voltage stability. Too low voltage causes a low battery and, as a consequence, difficulties with starting the engine, too high voltage leads to a battery recharge and accelerated failure of the battery.
The principle of operation of the Komatsu alternator and its principle constructive device are the same for all types of equipment, differ only in the quality of manufacture, dimensions and arrangement of the connecting units.
Order the original and aftermarket or replacement Komatsu alternators online.
| | |
| --- | --- |
| AC-27 - ALTERNATOR A | CR600-825-3160 - ALTERNATOR |
| ALT1008 - ALTERNATOR | CR600-825-3161 - ALTERNATOR |
| CALT1001 - ALTERNATOR | CR600-825-3210 - ALTERNATOR |
| CALT1002 - ALTERNATOR | CR600-825-3251 - ALTERNATOR |
| CALT1003 - ALTERNATOR | CR600-825-3260 - ALTERNATOR |
| CALT1004 - ALTERNATOR | CR600-825-3261 - ALTERNATOR |
| CALT1005 - ALTERNATOR | CR600-825-3730 - ALTERNATOR |
| CALT1006 - ALTERNATOR | CR600-825-3750 - ALTERNATOR |
| CALT1007 - ALTERNATOR | CR600-825-3810 - ALTERNATOR |
| CALT1009 - ALTERNATOR | CR600-825-5110 - ALTERNATOR |
| CALT1010 - ALTERNATOR | CR600-825-5120 - ALTERNATOR |
| CALT1011 - ALTERNATOR | CR600-825-5130 - ALTERNATOR |
| CALT1012 - ALTERNATOR | CR600-825-5150 - ALTERNATOR |
| CALT1013 - ALTERNATOR | CR600-825-5210 - ALTERNATOR |
| CALT1014 - ALTERNATOR | CR600-825-5220 - ALTERNATOR |
| CALT1015 - ALTERNATOR | CR600-825-5230 - ALTERNATOR |
| CALT1016 - ALTERNATOR | CR600-825-6110 - ALTERNATOR |
| CALT1017 - ALTERNATOR | CR600-825-6130 - ALTERNATOR |
| CALT1018 - ALTERNATOR | CR600-825-6150 - ALTERNATOR |
| CALT1019 - ALTERNATOR | CR600-825-6210 - ALTERNATOR |
| CALT1020 - ALTERNATOR | CR600-825-6250 - ALTERNATOR |
| CALT1021 - ALTERNATOR | CR600-825-6270 - ALTERNATOR |
| CALT1022 - ALTERNATOR | CR600-825-6330 - ALTERNATOR |
| CALT1023 - ALTERNATOR | CR600-825-6370 - ALTERNATOR |
| CALT1024 - ALTERNATOR | CR600-825-6410 - ALTERNATOR |
| CALT1025 - ALTERNATOR | CR600-825-6510 - ALTERNATOR |
| CALT1026 - ALTERNATOR | CR600-825-6520 - ALTERNATOR |
| CALT1027 - ALTERNATOR | CR600-825-6550 - ALTERNATOR |
| CALT1028 - ALTERNATOR | CR600-825-6720 - ALTERNATOR |
| CALT1029 - ALTERNATOR | CR600-825-6820 - ALTERNATOR |
| CALT1030 - ALTERNATOR | CR600-825-7110 - ALTERNATOR |
| CREF2654 - ALTERNATOR | CR600-825-7111 - ALTERNATOR |
| CRKD13A01 - ALTERNATOR | CR600-825-7210 - ALTERNATOR |
| CRKD140A01 - ALTERNATOR | CR600-825-7211 - ALTERNATOR |
| CRKD140A02 - ALTERNATOR | CR600-825-7212 - ALTERNATOR |
| CRKD15A01 - ALTERNATOR | CR600-825-9110 - ALTERNATOR |
| CRKD240A01 - ALTERNATOR | CR600-825-9130 - ALTERNATOR |
| CRKD240A02 - ALTERNATOR | CR600-825-9230 - ALTERNATOR |
| CRKD240A04 - ALTERNATOR | CR600-825-9310 - ALTERNATOR |
| CRKD25A01 - ALTERNATOR | CR600-825-9330 - ALTERNATOR |
| CRKD25A02 - ALTERNATOR | CR600-825-9410 - ALTERNATOR |
| CRKD25A03 - ALTERNATOR | CR600-825-9420 - ALTERNATOR 1 |
| CRKD25A04 - ALTERNATOR | CR600-825-9720 - ALTERNATOR |
| CRKD250A01 - ALTERNATOR | CR600-825-9730 - ALTERNATOR |
| CRKD30A01 - ALTERNATOR | CR600-825-9820 - ALTERNATOR |
| CRKD35A01 - ALTERNATOR | CR600-861-1611 - ALTERNATOR |
| CRKD35A02 - ALTERNATOR | CR600-861-2110 - ALTERNATOR |
| CRKD35A03 - ALTERNATOR | CR600-861-3111 - ALTERNATOR |
| CRKD35A04 - ALTERNATOR | CR600-861-3410 - ALTERNATOR |
| CRKD35A05 - ALTERNATOR | CR600-861-3420 - ALTERNATOR |
| CRKD50A01 - ALTERNATOR | CR600-861-3610 - ALTERNATOR |
| CRKD50A02 - ALTERNATOR | CR600-861-5110 - ALTERNATOR |
| CRKD50A03 - ALTERNATOR | CR600-861-5111 - ALTERNATOR |
| CRKD60A01 - ALTERNATOR | CR600-861-6110 - ALTERNATOR |
| CRKD60A02 - ALTERNATOR | CR600-861-6111 - ALTERNATOR |
| CRKD60A03 - ALTERNATOR | CR600-861-6410 - ALTERNATOR |
| CRKD75A01 - ALTERNATOR | CR600-861-6420 - ALTERNATOR |
| CRKD90A01 - ALTERNATOR | CR600-861-6510 - ALTERNATOR |
| CRKD90A02 - ALTERNATOR | CR600-861-8110 - ALTERNATOR |
| CRPC0644 - ALTERNATOR | CR600-861-9110 - ALTERNATOR |
| CRPK2871A163 - ALTERNATOR | CR600-861-9120 - ALTERNATOR |
| CRVJ2735 - ALTERNATOR | CR600-861-9121 - ALTERNATOR |
| CRXA2019 - ALTERNATOR | CR600-861-9140 - ALTERNATOR |
| CRXA2085 - ALTERNATOR | CR6216-84-6110 - ALTERNATOR |
| CRXA3023 - ALTERNATOR | CR6216-84-6130 - ALTERNATOR |
| CRXA3319 - ALTERNATOR | CR6216-84-6650 - ALTERNATOR |
| CRYMR001750 - ALTERNATOR | CR6731-81-6150 - ALTERNATOR |
| CRYMR002270 - ALTERNATOR | CR6732-81-6110 - ALTERNATOR |
| CRYM11957377201 - ALTERNATOR | CR6735-81-6110 - ALTERNATOR |
| CRYM11962677210 - ALTERNATOR-5 | CR6735-81-6230 - ALTERNATOR |
| CRYM11983677200 - ALTERNATOR | CR6742-01-3760 - ALTERNATOR |
| CRYM11983677201 - ALTERNATOR | CR6742-01-5170 - ALTERNATOR |
| CRYM12390077210 - ALTERNATOR | CR6742-01-5175 - ALTERNATOR |
| CRYM12391077210 - ALTERNATOR | CR6742-82-6110 - ALTERNATOR |
| CRYM12915077202 - ALTERNATOR | CR6743-82-6140 - ALTERNATOR |
| CRYM12924077200 - ALTERNATOR | CR6810-81-6101 - ALTERNATOR |
| CRYM12942377200 - ALTERNATOR | CR691970C91 - ALTERNATOR |
| CRYM12961277230 - ALTERNATOR | EA504225815 - ALTERNATOR A |
| CRYM12961277240 - ALTERNATOR | GE1249 - ALTERNATOR |
| CRYM12990077210 - ALTERNATOR | PC0154 - ALTERNATOR,G |
| CRYM12991077212 - ALTERNATOR | PC1074 - ALTERNATOR B |
| CR1117248 - ALTERNATOR | PC2665 - ALTERNATOR |
| CR1200574H91 - ALTERNATOR | PC3378 - ALTERNATOR,G |
| CR1200574H92 - ALTERNATOR | RKD240A01 - ALTERNATOR |
| CR1233843H92 - ALTERNATOR | RKD240A02 - ALTERNATOR |
| CR1243060H91 - ALTERNATOR | RKD250A01 - ALTERNATOR |
| CR1286822H91 - ALTERNATOR | RKD60A03 - ALTERNATOR |
| CR1302375H91 - ALTERNATOR | RKD90A02 - ALTERNATOR |
| CR1305787H91 - ALTERNATOR | RYM11962677210 - ALTERNATOR-5 |
| CR1307203H1 - ALTERNATOR | RYM12391077210 - ALTERNATOR |
| CR1310137H91 - ALTERNATOR | R1316534H91 - ALTERNATOR |
| CR1316278H91 - ALTERNATOR | R24669KF - ALTERNATOR - |
| CR1316279H91 - ALTERNATOR | R5035452 - ALTERNATOR R |
| CR1316520H91 - ALTERNATOR | R58B-06-02330 - ALTERNATOR |
| CR1316534H91 - ALTERNATOR | R600-821-3850 - ALTERNATOR |
| CR1316542H91 - ALTERNATOR | R600-821-5620 - ALTERNATOR |
| CR1439159H91 - ALTERNATOR | R600-821-6120 - ALTERNATOR |
| CR1439969H91 - ALTERNATOR | R600-821-7210 - ALTERNATOR |
| CR144-01-B5850 - ALTERNATOR | R600-821-7530 - ALTERNATOR |
| CR20Y-01-A1130 - ALTERNATOR | R600-821-8940 - ALTERNATOR |
| CR24669KF - ALTERNATOR - | R600-821-9290 - ALTERNATOR |
| CR42C-01-12100 - ALTERNATOR | R600-821-9321 - ALTERNATOR |
| CR42C-01-12101 - ALTERNATOR | R600-821-9340 - ALTERNATOR |
| CR5035452 - ALTERNATOR R | R600-821-9360 - ALTERNATOR |
| CR600-815-9310 - ALTERNATOR | R600-821-9390 - ALTERNATOR |
| CR600-821-3260 - ALTERNATOR | R600-825-9110 - ALTERNATOR |
| CR600-821-3290 - ALTERNATOR | R600-825-9410 - ALTERNATOR |
| CR600-821-3350 - ALTERNATOR | R600-825-9420 - ALTERNATOR 1 |
| CR600-821-3360 - ALTERNATOR | R600-861-5110 - ALTERNATOR |
| CR600-821-3370 - ALTERNATOR | R600-861-5111 - ALTERNATOR |
| CR600-821-3380 - ALTERNATOR | R600-861-6110 - ALTERNATOR |
| CR600-821-3571 - ALTERNATOR | R600-861-6111 - ALTERNATOR |
| CR600-821-3850 - ALTERNATOR | R600-861-8110 - ALTERNATOR |
| CR600-821-3860 - ALTERNATOR | R600-861-9110 - ALTERNATOR |
| CR600-821-3870 - ALTERNATOR | R600-861-9120 - ALTERNATOR |
| CR600-821-5170 - ALTERNATOR | R600-861-9140 - ALTERNATOR |
| CR600-821-5171 - ALTERNATOR | R6742-82-6110 - ALTERNATOR |
| CR600-821-5341 - ALTERNATOR | R6810-81-6101 - ALTERNATOR |
| CR600-821-5410 - ALTERNATOR | SD3448-03600X0 - ALTERNATOR F |
| CR600-821-5450 - ALTERNATOR | XA3885 - ALTERNATOR |
| CR600-821-5490 - ALTERNATOR | XA6116 - ALTERNATOR |
| CR600-821-5510 - ALTERNATOR | XA6246 - XALTERNATOR |
| CR600-821-5530 - ALTERNATOR | YM119573-77201 - XALTERNATOR |
| CR600-821-5540 - ALTERNATOR | YM121400-77201 - ALTERNATOR |
| CR600-821-5580 - ALTERNATOR | YM129900-77211 - ALTERNATOR |
| CR600-821-5620 - ALTERNATOR | YM129900-77241 - ALTERNATOR |
| CR600-821-5630 - ALTERNATOR | YM129908-77210 - ALTERNATOR |
| CR600-821-5640 - ALTERNATOR | YM129910-77211 - ALTERNATOR |
| CR600-821-5650 - ALTERNATOR | YM129910-77213 - ALTERNATOR |
| CR600-821-5660 - ALTERNATOR | 1241438H2 - ALTERNATOR |
| CR600-821-5690 - ALTERNATOR | 1318217H1 - ALTERNATOR |
| CR600-821-5720 - ALTERNATOR | 16389 - ALTERNATOR - |
| CR600-821-5991 - ALTERNATOR | 20857 - ALTERNATOR - |
| CR600-821-6110 - ALTERNATOR | 21K-01-B1680 - ALTERNATOR A |
| CR600-821-6120 - ALTERNATOR | 24668KF - ALTERNATOR - |
| CR600-821-6130 - ALTERNATOR | 42C-01-12102 - XALTERNATOR |
| CR600-821-6140 - ALTERNATOR | 5008781 - ALTERNATOR F |
| CR600-821-6150 - ALTERNATOR | 5035452R - ALTERNATOR R |
| CR600-821-6160 - ALTERNATOR | 5199189 - ALTERNATOR |
| CR600-821-6190 - ALTERNATOR | 58B-06-00680 - ALTERNATOR A |
| CR600-821-7160 - ALTERNATOR | 58B-06-02330 - ALTERNATOR |
| CR600-821-7170 - ALTERNATOR | 58B-80-20200 - ALTERNATOR |
| CR600-821-7210 - ALTERNATOR | 58B-80-20201 - ALTERNATOR |
| CR600-821-7220 - ALTERNATOR | 58B-80-20210 - ALTERNATOR |
| CR600-821-7230 - ALTERNATOR | 58C-MA-AK010 - ALTERNATOR K |
| CR600-821-7240 - ALTERNATOR | 58C-00-00250 - ALTERNATOR O |
| CR600-821-7250 - ALTERNATOR | 58C-80-20001 - ALTERNATOR |
| CR600-821-7260 - ALTERNATOR | 58C-80-20010 - ALTERNATOR |
| CR600-821-7310 - ALTERNATOR | 58E-06-03040 - ALTERNATOR A |
| CR600-821-7330 - ALTERNATOR | 58E-06-07200 - ALTERNATOR, |
| CR600-821-7350 - ALTERNATOR | 58F-00-01070 - ALTERNATOR K |
| CR600-821-7420 - ALTERNATOR | 58F-00-01780 - ALTERNATOR K |
| CR600-821-7530 - ALTERNATOR | 58F-01-00260 - XALTERNATOR |
| CR600-821-7540 - ALTERNATOR | 58F-06-00950 - ALTERNATOR A |
| CR600-821-7610 - ALTERNATOR | 600-821-2350 - ALTERNATOR |
| CR600-821-7620 - ALTERNATOR | 600-821-3290 - XALTERNATOR |
| CR600-821-7690 - ALTERNATOR | 600-821-3380 - XALTERNATOR |
| CR600-821-7790 - ALTERNATOR | 600-821-3570 - ALTERNATOR |
| CR600-821-8120 - ALTERNATOR | 600-821-3870 - XALTERNATOR |
| CR600-821-8160 - ALTERNATOR | 600-821-5420 - ALTERNATOR |
| CR600-821-8170 - ALTERNATOR | 600-821-5660 - XALTERNATOR |
| CR600-821-8340 - ALTERNATOR | 600-821-5870 - ALTERNATOR |
| CR600-821-8360 - ALTERNATOR | 600-821-5930 - ALTERNATOR |
| CR600-821-8420 - ALTERNATOR | 600-821-6140 - X ALTERNATOR |
| CR600-821-8440 - ALTERNATOR | 600-821-6160 - XALTERNATOR |
| CR600-821-8470 - ALTERNATOR | 600-821-7170 - XALTERNATOR |
| CR600-821-8540 - ALTERNATOR | 600-821-8120 - X ALTERNATOR |
| CR600-821-8650 - ALTERNATOR | 600-821-8170 - XALTERNATOR |
| CR600-821-8680 - ALTERNATOR | 600-821-8660 - ALTERNATOR |
| CR600-821-8780 - ALTERNATOR | 600-821-9270 - XALTERNATOR |
| CR600-821-8830 - ALTERNATOR | 600-821-9311 - XALTERNATOR |
| CR600-821-8940 - ALTERNATOR | 600-821-9390 - XALTERNATOR |
| CR600-821-8950 - ALTERNATOR | 600-821-9440 - XALTERNATOR |
| CR600-821-8970 - ALTERNATOR | 600-821-9810 - XALTERNATOR |
| CR600-821-8980 - ALTERNATOR | 600-825-3131 - XALTERNATOR |
| CR600-821-8990 - ALTERNATOR | 600-825-3220 - ALTERNATOR A |
| CR600-821-9250 - ALTERNATOR | 600-825-5111 - ALTERNATOR |
| CR600-821-9260 - ALTERNATOR | 600-825-5121 - ALTERNATOR |
| CR600-821-9270 - ALTERNATOR | 600-825-5211 - ALTERNATOR |
| CR600-821-9290 - ALTERNATOR | 600-825-5221 - XALTERNATOR |
| CR600-821-9311 - ALTERNATOR | 600-825-5230 - XALTERNATOR |
| CR600-821-9320 - ALTERNATOR | 600-825-6111 - ALTERNATOR A |
| CR600-821-9321 - ALTERNATOR | 600-825-6120 - ALTERNATOR |
| CR600-821-9322 - ALTERNATOR | 600-825-6130 - XALTERNATOR |
| CR600-821-9340 - ALTERNATOR | 600-825-6151 - ALTERNATOR |
| CR600-821-9360 - ALTERNATOR | 600-825-6191 - ALTERNATOR |
| CR600-821-9370 - ALTERNATOR | 600-825-6250 - XALTERNATOR |
| CR600-821-9371 - ALTERNATOR | 600-825-6271 - ALTERNATOR A |
| CR600-821-9380 - ALTERNATOR | 600-825-6371 - ALTERNATOR |
| CR600-821-9381 - ALTERNATOR | 600-825-6510 - XALTERNATOR |
| CR600-821-9382 - ALTERNATOR | 600-825-6820 - XALTERNATOR |
| CR600-821-9390 - ALTERNATOR | 600-825-9111 - XALTERNATOR |
| CR600-821-9420 - ALTERNATOR | 600-825-9131 - ALTERNATOR |
| CR600-821-9440 - ALTERNATOR | 600-825-9151 - ALTERNATOR |
| CR600-821-9510 - ALTERNATOR | 600-825-9230 - XALTERNATOR |
| CR600-821-9511 - ALTERNATOR | 600-825-9231 - ALTERNATOR |
| CR600-821-9530 - ALTERNATOR | 600-825-9311 - XALTERNATOR |
| CR600-821-9531 - ALTERNATOR | 600-825-9331 - XALTERNATOR |
| CR600-821-9541 - ALTERNATOR | 600-825-9410 - XALTERNATOR |
| CR600-821-9542 - ALTERNATOR | 600-825-9420 - XALTERNATOR |
| CR600-821-9550 - ALTERNATOR | 600-825-9721 - ALTERNATOR |
| CR600-821-9551 - ALTERNATOR | 600-825-9731 - ALTERNATOR |
| CR600-821-9630 - ALTERNATOR | 600-825-9741 - ALTERNATOR |
| CR600-821-9631 - ALTERNATOR | 600-825-9821 - XALTERNATOR |
| CR600-821-9680 - ALTERNATOR | 600-861-1930 - ALTERNATOR |
| CR600-821-9690 - ALTERNATOR | 600-861-5111 - XALTERNATOR |
| CR600-821-9730 - ALTERNATOR | 600-861-6111 - XALTERNATOR |
| CR600-821-9731 - ALTERNATOR | 600-861-8110 - XALTERNATOR |
| CR600-821-9770 - ALTERNATOR | 600-861-9111 - XALTERNATOR |
| CR600-821-9780 - ALTERNATOR | 600-861-9121 - XALTERNATOR |
| CR600-821-9810 - ALTERNATOR | 600-861-9130 - ALTERNATOR |
| CR600-821-9820 - ALTERNATOR | 600-861-9140 - XALTERNATOR |
| CR600-821-9970 - ALTERNATOR | 6731-82-6130 - ALTERNATOR |
| CR600-821-9971 - ALTERNATOR | 6736-81-6110 - ALTERNATOR |
| CR600-825-3111 - ALTERNATOR | 6742-82-6130 - ALTERNATOR |
| CR600-825-3131 - ALTERNATOR | 6742-82-6160 - XALTERNATOR |
| CR600-825-3150 - ALTERNATOR | 6742-82-6170 - ALTERNATOR |
| CR600-825-3151 - ALTERNATOR | |