Komatsu Belts
Belt transmission is the transmission of mechanical energy by means of a flexible element - the Komatsu drive belt, due to frictional forces or engagement forces (Komatsu timing belts). It can have both a constant and variable gear ratio, whose shafts can be with parallel and intersecting axes.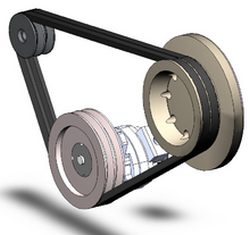 The Komatsu belt performs two tasks: it operates a gas distribution system and aggregates of additional equipment such as a Komatsu generator, a Komatsu air conditioner compressor and so on.
There is a huge variety of drive belts:
- Komatsu V-belt
- Toothed Komatsu belt
Also distinguish single-row belts and multi-row Komatsu belts. All of the above belts have one task - to drive the Komatsu pulley of additional equipment or to drive other systems of equipment.
Komatsu pulleys transmit torque using Komatsu belts.
Original and replacement or aftermarket Komatsu belts online.
| | |
| --- | --- |
| 00840326 - BELT A/ | 6735-61-3421 - V-BELT |
| 00840405 - V-BELT 1 | 6735-61-3911 - BELT - V |
| 00840869 - BELT A/ | 6735-82-6410 - BELT - V |
| 00850125 - BELT 8 | 6738-62-4110 - BELT,V R |
| 00850128 - V-BELT | 6738-62-4120 - BELT - V |
| 00850129 - V-BELT | 673946C91 - BELTS SE |
| 01695078 - BELTING | 673947C1 - BELT |
| 01695086 - BELTING | 673949C91 - BELT S |
| 03015699 - V-BELT | 6741-61-1621 - BELT |
| 03016599 - V-BELT | 674117C1 - BELT |
| 03017699 - V-BELT | 6742-61-3720 - BELT |
| 03026499 - V-BELT | 6742-82-3310 - BELT - V |
| 04120-21730 - V-BELT | 6743-61-1411 - BELT |
| 04120-21731 - V-BELT | 6743-62-3710 - BELT - V |
| 04120-21732 - V-BELT | 6743-62-3720 - BELT - V |
| 04120-21733 - V-BELT | 6751-81-3310 - BELT - V |
| 04120-21734 - V-BELT | 6754-61-3810 - BELT |
| 04120-21735 - V-BELT | 6754-62-3410 - BELT - V |
| 04120-21736 - V-BELT | 6754-81-3510 - BELT - V |
| 04120-21737 - V-BELT | 676835R1 - BELT |
| 04120-21738 - V-BELT | 680680C1 - BELT |
| 04120-21739 - V-BELT | 680681C1 - BELT |
| 04120-21740 - V-BELT | 6810-61-3131 - BELT 2=1 |
| 04120-21741 - V-BELT | 6810-61-3190 - SET,BELT |
| 04120-21742 - V-BELT | 683457C1 - BELT |
| 04120-21743 - V-BELT | 683548C92 - BELTASM |
| 04120-21744 - V-BELT | 683789C92 - BELT ASM |
| 04120-21745 - V-BELT | 683846C1 - BELT |
| 04120-21746 - V-BELT | 684120900 - V-BELT |
| 04120-21747 - V-BELT | 684120918 - V-BELT |
| 04120-21748 - V-BELT | 684121100 - V-BELT |
| 04120-21749 - V-BELT | 684121250 - BELT |
| 04120-21750 - V-BELT | 684121300 - V-BELT |
| 04120-21751 - V-BELT | 684121325 - V-BELT |
| 04120-21752 - V-BELT | 684121350 - V-BELT |
| 04120-21753 - V-BELT | 684121400 - V-BELT |
| 04120-21754 - V-BELT | 684121425 - V-BELT |
| 04120-21755 - V-BELT | 684121450 - V-BELT |
| 04120-21756 - V-BELT | 684121500 - V-BELT |
| 04120-21757 - V-BELT | 684121525 - V-BELT |
| 04120-21758 - V-BELT | 684121550 - V-BELT |
| 04120-21759 - V-BELT | 684121575 - V-BELT |
| 04120-21760 - V-BELT | 684121625 - V-BELT |
| 04120-21761 - V-BELT | 685121585 - BELT, V- |
| 04120-21762 - V-BELT | 685121610 - V-BELT |
| 04120-21763 - V-BELT | 685121725 - BELT, V- |
| 04120-21764 - V-BELT | 685122140 - V-BELT |
| 04120-21765 - V-BELT | 685509C1 - BELT |
| 04120-21766 - V-BELT | 685654C91 - BELT |
| 04120-21767 - V-BELT | 689260C91 - BELTS S |
| 04120-21930 - V-BELT | 690130C1 - BELT |
| 04120-21933 - V-BELT | 690507C91 - BELT |
| 04120-21934 - V-BELT | 692008 - BELT |
| 04120-21936 - V-BELT | 694528 - V-BELT P |
| 04120-21938 - V-BELT | 76230173 - V-BELT |
| 04120-21944 - V-BELT | 79210273 - V BELT S |
| 04120-21945 - V-BELT | 79332773 - BELT |
| 04120-21946 - V-BELT | 79353773 - BELT |
| 04120-21948 - V-BELT | 816215074 - SEATBELT |
| 04120-21949 - V-BELT | 816215075 - SEATBELT |
| 04120-21950 - V-BELT | 81672KF - BELT, SE |
| 04120-21951 - V-BELT | 82073KF - BELT, A/ |
| 04120-21952 - V-BELT | 8221-01-1160 - BELT |
| 04120-21953 - V-BELT | 8221-01-1161 - BELT |
| 04120-22232 - V-BELT | 8234-75-1990 - BELT |
| 04120-22250 - V-BELT | 8234-75-5440 - BELT |
| 04120-22260 - BELT SIN | 8240-70-5730 - BELT 9=1 |
| 04120-22267 - V-BELT | 8240-70-6280 - BELT P6 |
| 04120-22568 - V-BELT | 8240-75-1211 - BELT |
| 04120-22570 - V-BELT | 8240-75-5460 - BELT |
| 04120-31730 - V-BELT | 8242-70-2140 - BELT |
| 04120-31735 - V-BELT | 8248-75-2220 - BELT - C |
| 04120-31740 - V-BELT | 8295-70-1611 - V-BELT S |
| 04120-31755 - V-BELT | 8295-75-2760 - BELT |
| 04120-31933 - V-BELT | 8295-75-5441 - BELT |
| 04120-31949 - V-BELT | 8296-70-1130 - BELT ASS |
| 04120-31953 - V-BELT | 8296-75-2710 - BELT |
| 04120-40112 - V-BELT | 836129358 - BELT PUL |
| 04120-40118 - V-BELT | 836129464 - BELT PUL |
| 04120-43094 - V-BELT | 836136856 - BELT PUL |
| 04120-43096 - V-BELT | 836136857 - BELT PUL |
| 04120-43098 - BELT | 836136858 - BELT PUL |
| 04120-43106 - V-BELT | 836136938 - BELT PUL |
| 04120-43114 - V-BELT | 836136993 - BELT PUL |
| 04120-43116 - V BELT | 836138040 - V-BELT P |
| 04120-43118 - V-BELT | 836146468 - BELT PUL |
| 04120-43124 - BELT | 836147068 - BELT PUL |
| 04120-43128 - V-BELT | 836338194 - BELT PUL |
| 04120-43132 - V-BELT | 836752085 - BELT PUL |
| 04120-43136 - V-BELT | 836764241 - BELT PUL |
| 04120-43142 - V-BELT | 836764242 - BELT PUL |
| 04121-02253 - V-BELT | 836764243 - BELT PUL |
| 04121-02260 - V-BELT | 836764244 - BELT PUL |
| 04121-02548 - V-BELT | 836764245 - BELT PUL |
| 04121-21741 - V-BELT | 836764246 - BELT PUL |
| 04121-21744 - V-BELT | 836859308 - BELT PUL |
| 04121-21748 - V-BELT | 836866740 - BELT PUL |
| 04121-21762 - V-BELT | 836866777 - BELT PUL |
| 04121-21945 - V-BELT | 836867240 - V BELT P |
| 04121-22253 - V-BELT | 84581 - BELT, FA |
| 04121-22254 - V-BELT | 851-01-2495 - V-BELT |
| 04121-22256 - V-BELT | 851-20-1000 - BELT A/C |
| 04121-22257 - V-BELT | 85787 - BELT- SE |
| 04121-22258 - V-BELT | 87876 - SET,BELT |
| 04121-22259 - V-BELT | 88491 - BELT |
| 04121-22260 - V-BELT | 888011072 - BELT |
| 04121-22261 - V-BELT | 888011106 - BELT |
| 04121-22262 - V-BELT | 88844 - BELT |
| 04121-22263 - V-BELT | 89754640 - BELT PUL |
| 04121-22264 - V-BELT | 89756740 - BELT |
| 04121-22265 - V-BELT | 89816 - BELT SET |
| 04121-22266 - V-BELT | 90179940 - BELT |
| 04121-22268 - V-BELT | 90744340 - BELT, FL |
| 04121-22269 - V-BELT | 921001330 - FAN BELT |
| 04121-22270 - V-BELT S | 921001331 - V-BELT |
| 04121-22271 - V-BELT | 921001599 - V-BELT |
| 04121-22272 - V-BELT | 921001733 - V-BELT |
| 04121-22273 - V-BELT | 92489340 - BELT, V |
| 04121-22274 - V-BELT | 95977900 - V-BELT |
| 04121-22275 - V-BELT | 97483 - BELT |
| 04121-22276 - V-BELT S | 98735 - BELT SET |
| 04121-22277 - V-BELT | AK1566 - BELT |
| 04121-22278 - V-BELT | BF3522 - BELT,RIB |
| 04121-22279 - V-BELT | BF3915 - BELT,FAN |
| 04121-22280 - V-BELT | BF4356 - BELT, FA |
| 04121-22281 - V-BELT | BF4357 - BELT, AL |
| 04121-22282 - V-BELT | BF4991 - BELT, |
| 04121-22284 - V-BELT | BF5208 - BELT,FAN |
| 04121-22285 - V-BELT | EA504009874 - V-BELT |
| 04121-22548 - V-BELT | EM4061 - BELT,TET |
| 04121-22554 - V-BELT | HD14400ZA0003 - BELT |
| 04121-22558 - V-BELT | KC30527 - BELT DRE |
| 04121-22559 - V-BELT | KHJC-5V-2500 - BELT |
| 04121-22560 - V-BELT | KM37581 - BELT DRE |
| 04121-22561 - BELT SET | KT17594-9701-0 - V-BELT |
| 04121-22563 - V-BELT | KWKKS-75-71250 - BELT |
| 04121-22564 - V-BELT | MFL0000701 - BELT |
| 04121-22565 - V-BELT | MFQ0000401 - BELT |
| 04121-22566 - V-BELT | PB2759 - V-BELT |
| 04121-22570 - V-BELT S | PB3521 - V-BELT S |
| 04121-22572 - V-BELT, | PB3661 - V-BELT |
| 04121-22574 - V-BELT | PB3668 - BELT (SE |
| 04121-22575 - V-BELT | PB4925 - V-BELT |
| 04121-22576 - V-BELT | PB5935 - BELT |
| 04121-22579 - V-BELT | PB6005 - V-BELT |
| 04121-32262 - V-BELT | PB6043 - V BELT |
| 04121-32264 - V-BELT | PB6468 - BELT |
| 04121-32268 - V-BELT | PB6911 - BELT |
| 04121-32277 - V-BELT | PB7240 - BELT |
| 04121-32559 - V-BELT | PB8002 - V BELT |
| 04121-32570 - V-BELT | PB8251 - V-BELT |
| 04121-32574 - V-BELT | PB9227 - V BELT |
| 04121-40114 - V-BELT | PB9254 - V BELT |
| 04122-21933 - V-BELT | PB9317 - V BELT |
| 04122-22262 - V-BELT | PB9329 - BELT POL |
| 04122-22265 - V-BELT | PB9648 - V-BELT |
| 04122-22272 - V-BELT | PC0056 - V-BELT |
| 04122-22274 - V-BELT | PC0146 - BELT,BAN |
| 04122-22560 - V-BELT | PC0223 - BELT,BAN |
| 04122-22561 - V-BELT | PC0304 - BELT, V |
| 04122-22562 - V-BELT | PC0541 - BELT, TE |
| 04122-22563 - V-BELT | PC0556 - BELT, HD |
| 04122-22564 - V-BELT | PC1378 - BELTS V |
| 04122-22566 - V-BELT | PC1400 - V-BELTS |
| 04122-22567 - V-BELT | PC2050 - V BELT S |
| 04122-22568 - V-BELT | PC2051 - BELT, V |
| 04122-22569 - V-BELT | PC2278 - V-BELT |
| 04122-22570 - V-BELT | PC2335 - V-BELT |
| 04122-22571 - V-BELT=3 | PK2614B656 - BELT |
| 04122-22572 - V-BELT | PK2614B658 - V-BELT |
| 04122-22573 - V-BELT=3 | SC4348 - V-BELT |
| 04122-22574 - V-BELT | TA1381 - V BELT S |
| 04122-22575 - V-BELT | TA1385 - V BELT S |
| 04122-22576 - V-BELT | TA2316 - BELT-SET |
| 04122-22577 - V-BELT S | TH8464 - BELT |
| 04122-22578 - V-BELT | VE0441 - FAN BELT |
| 04122-22579 - V-BELT | VE0587 - ALT BELT |
| 04122-22580 - V-BELT | VE1433 - BELT |
| 04122-32564 - V-BELT | VE2885 - FAN BELT |
| 04122-32570 - V-BELT | VE2886 - FAN BELT |
| 04122-32574 - V-BELT S | VE3412 - BELT |
| 04122-32575 - V-BELT | VE3886 - BELT |
| 04122-32577 - V-BELT | VE4035 - BELT |
| 04400882 - FAN BELT | VE4063 - VEEBELT |
| 04401149 - FAN BELT | VE5263 - FAN BELT |
| 04401407 - BELT-ALT | VE6967 - BELT |
| 04403275 - V-BELT 5 | VE7067 - BELT |
| 04403337 - V-BELT | VE7080 - BELT |
| 04403360 - FANBELT | VE7216 - FAN BELT |
| 04403381 - BELTING | VH4678 - V-BELT |
| 09409-10001 - SEATBELT | VJ3975 - BELT |
| 09409-60000 - BELT,SEA | VJ8214 - DR BELT/ |
| 09409-70000 - BELT,LAP | VS3736 - V-BELTSE |
| 104126H45 - BELT SET | VS5902 - FAN BELT |
| 110186 - SEATBELT | VS7497 - BELT |
| 1106764C91 - BELT | VW6156 - BELT |
| 112237 - BELT | VW9984 - V BELT |
| 1127458C1 - BELT =2 | WA2622 - FAN BELT |
| 1130733C1 - BELTS | WA4692 - BELT SET |
| 1171431C1 - BELT | WA4798 - BELT SET |
| 120-57-31711 - BELT | XA0117 - BELT, AL |
| 1213134H91 - V BELT S | XA0193 - FAN BELT |
| 1213521H2 - V BELT | XA4549 - BELT |
| 1221047H1 - BRK BELT | XA4925 - BELT |
| 1232822H1 - U-BELT | YM119225-42290 - V-BELT |
| 1238446H1 - V BELT | YM119256-42290 - V-BELT |
| 1238447H1 - V BELT | YM119620-42291 - V-BELT |
| 1238776H1 - BELT, AL | YM119640-42290 - V-BELT |
| 1238934H1 - BELT, WA | YM119650-42291 - V-BELT |
| 1239034H1 - BELT | YM119656-42290 - V-BELT |
| 1239035H1 - BELT | YM119740-42370 - V-BELT |
| 1239036H1 - BELT | YM119831-42290 - V-BELT |
| 1239750H1 - V BELT | YM119856-42290 - V-BELT |
| 124-Z11-1720 - V-BELT,A | YM119865-42290 - V-BELT |
| 124165 - V-BELT S | YM121492-42290 - V-BELT |
| 1241835H1 - V BELT | YM121522-42290 - V-BELT |
| 1242060H1 - BELT,FAN | YM123913-42480 - V-BELT |
| 1246253H1 - V BELT | YM128695-44780 - V-BELT |
| 1251357H1 - V BELT | YM129044-42290 - V-BELT |
| 1257785H2 - BELT - V | YM129211-42290 - V-BELT |
| 1259535H1 - BELT SET | YM129258-42290 - V-BELT |
| 1259899H1 - BELT | YM129566-42290 - V-BELT |
| 1262844H1 - BELT | YM129612-42280 - V-BELT |
| 126431 - BELT SE | YM129612-42290 - V-BELT |
| 1270722H1 - BELT,V | YM129612-42310 - V-BELT |
| 127565 - BELT SE | YM129612-42320 - V-BELT |
| 1286807H1 - SEATBELT | YM129612-42330 - V-BELT |
| 129309 - BELT SET | YM129612-42350 - V-BELT |
| 1294097H1 - BELT | YM129612-42360 - V-BELT |
| 1295332H1 - BELT | YM129612-42370 - V-BELT |
| 1303599H1 - V-BELT | YM129612-42380 - V-BELT |
| 1304728H1 - BELT 12- | YM129612-42390 - V-BELT |
| 1304973H1 - BELT,V-R | YM129612-42400 - V-BELT |
| 1307625H1 - BELT,VRI | YM129910-42470 - V-BELT |
| 1307627H1 - BELT,VRI | YM171022-44960 - FAN BELT |
| 1310149H1 - BELT,V R | YM25112-003300 - V-BELT |
| 1310209H1 - BELT V | YM25132-003700 - V-BELT |
| 1310225H1 - V-BELT | YM25132-003800 - V-BELT |
| 1310375H1 - BELT,TOP | YM25132-003900 - V-BELT |
| 1310605H1 - BELT,V-R | YM25132-004100 - V-BELT |
| 1310611H1 - BELT, TE | YM25133-004700 - V-BELT |
| 1310612H1 - BELT,V-R | YM25133-004800 - BELT |
| 1310984H1 - BELT, V- | YM25133-004900 - FAN BELT |
| 1312779H1 - BELT SET | YM25137-003300 - V-BELT |
| 1312780H1 - BELT SET | YM25137-003400 - V-BELT |
| 1313065H1 - BELT,RIB | YM25152-003500 - V-BELT |
| 1313114H1 - BELT,V R | YM25152-003700 - V-BELT |
| 1313134H1 - BELT | YM25152-004200 - V-BELT |
| 1315171H1 - BELT,V S | YM25152-004300 - V-BELT |
| 1316516H1 - BELT,SEA | YM25152-004400 - V BELT |
| 134-01-62630 - V-BELT | YM25152-004700 - V-BELT |
| 1430264H1 - BELT ALT | YM25157-003300 - V-BELT |
| 1432106H1 - BELT BLU | YM25157-003500 - V-BELT |
| 1439170H1 - BELT | YM25157-003600 - V-BELT |
| 1439229H1 - BELT | YM25163-004801 - V-BELT |
| 1439634H1 - BELT,BLU | YMR001738 - V-BELT |
| 144-01-B5870 - V-BELT | YMR002580 - BELT-FAN |
| 154061 - V-BELT | YMR002668 - BELT |
| 156982 - BELT-CO | AK1606 - BELT |
| 15802 - BELT FA | AK7252 - SEATBELT |
| 15803 - BELT A/ | BB159784 - BELT,SEAT AS |
| 159686 - V-BELT S | BF4364 - BELT, ALT DR |
| 16071 - BELT FA | BS159022 - BELT |
| 16099 - BELT A/ | ED1157 - BELT GUARD S |
| 17A-57-21202 - BELT | GJ1138874 - BELT |
| 17A-911-4680 - V-BELT | GJ1150903 - BELT |
| 1800001C91 - BELT SET | GRY8012-00060 - BELT ASS'Y |
| 1808118C1 - V BELT | KHB-8V14004 - BELT |
| 18342 - BELT, A/ | KHJC-5V-1900 - BELT |
| 18343 - BELT, AC | KWKKS-75-55191 - BELT,CONVEYO |
| 18344 - BELT WA | KWKKS-75-56151 - BELT |
| 18823 - BELT FA | KWKKS-75-93190 - BELT |
| 19348 - BELT A/ | LA0231 - BELT FAN DRI |
| 19596 - BELT FA | LA0248 - SEATBELTASM |
| 20244KF - BELT HO | MFP0000401 - BELT |
| 203-57-61121 - BELT ASS | MFS0000401 - BELT |
| 203-979-K120 - V-BELT | PB0756 - V-BELT |
| 206-979-K340 - BELT | PB3638 - V BELT |
| 206-979-K430 - V-BELT | PB4914 - V BELT S |
| 207-978-5150 - V-BELT | PB8427 - GUARD, BELT |
| 207-979-K520 - V BELT | PB8454 - SEATBELT |
| 208-978-5150 - V-BELT | PB8628 - FAN BELT |
| 208-979-A180 - V-BELT | PB9243 - SEAT BELT |
| 208-979-K240 - V-BELT | PB9670 - POLY V-BELT |
| 208-979-K241 - V-BELT | PC0464 - BELT,HD VEE |
| 20E-01-K1530 - V-BELT | PC0808 - BELT V |
| 20K-57-31170 - BELT ASS | PC2186 - SEAT BELT |
| 20K-57-32280 - BELT | PC3040 - GUARD, BELT |
| 20P-57-81110 - BELT ASS | PC3045 - GUARD, BELT |
| 20T-57-81210 - BELT | PC3051 - GUARD, BELT |
| 20T-978-8480 - V-BELT | PC3054 - GUARD, BELT |
| 20U-978-2410 - V-BELT | PC3254 - SEAT BELT KI |
| 20Y-57-41910 - BELT | PK2614B665 - BELT |
| 20Y-57-A1620 - BELT,SEA | TA9728 - BELT FA |
| 20Y-978-1150 - V-BELT | VD4263 - V BELT |
| 21021 - BELT A/ | VF1245 - BELTS (S |
| 21J-57-11110 - BELT ASS | VH5262 - V-BELT |
| 21P-57-K1520 - BELT ASS | VJ6533 - BELT SET=2 |
| 21P-979-K390 - BELT | XA0189 - ALT. BELT |
| 21P-979-K590 - V-BELT | XA4081 - BELT-ALTERNA |
| 21T-54-37780 - BELT | XA5508 - SEAT BELT AS |
| 22B-57-11812 - BELT, LA | XA5525 - SEAT BELT AS |
| 22B-57-11911 - BELT, LA | XA6069 - RH SEAT BELT |
| 22F-57-31150 - BELT | XA6162 - BELT,ALTERNA |
| 22F-979-1411 - V-BELT | XA6199 - BELT - A/C |
| 22L-09-R6220 - BELT | XB7862 - BELT GUARD |
| 22L-979-2320 - V-BELT | XC0145 - BELT GUARD |
| 22M-57-21460 - BELT, SE | XK1267 - OP SEAT BELT |
| 22M-57-21490 - BELT | YMR002290 - BELT |
| 22M-57-22220 - BELT | YM129430-42260 - V-BELT |
| 24199 - BELT FA | YM129910-42480 - V-BELT |
| 24200 - BELT, FA | YM129930-42400 - V-BELT PULLE |
| 24222 - BELT AC | YM129930-42480 - V-BELT |
| 24223 - BELT | YM129940-42310 - BELT |
| 26094 - BELT FA | YM25117-004101 - V-BELT |
| 27082 - BELT, A/ | YM25132-003600 - V-BELT |
| 277448R1 - BELT | YM25132-004200 - V-BELT |
| 2938-07-1200 - BELT | YM25132-004250 - V-BELT |
| 2938544330 - SEATBELT | YM25153-004500 - V-BELT |
| 29444 - BELT, FA | 850115 - GATES BELT |
| 3016599 - V-BELT | 850127 - V-BELT |
| 3017699 - V-BELT | 1695087 - BELTING ROL |
| 3026499 - V-BELT | 2480712 - SEAT BELT KI |
| 304436R1 - FAN BELT | 3016999 - V-BELT |
| 306658R1 - BELT | 04120-22263 - V-BELT |
| 30982DB - BELT | 04120-31739 - V-BELT |
| 3117726R91 - BELTS | 04120-31748 - V-BELT |
| 3129139R1 - BELT FAN | 04120-31936 - V-BELT |
| 3129140R1 - BELT FAN | 04120-31938 - V-BELT |
| 328502R1 - BELT | 04120-31948 - V-BELT |
| 328539R1 - FAN BELT | 04120-31950 - V-BELT |
| 328540R1 - FAN BELT | 04120-31951 - V-BELT |
| 328927R11 - BELT | 04120-43104 - V-BELT |
| 37A-04-11131 - V-BELT | 04120-43112 - V-BELT |
| 37A-942-1830 - V-BELT | 04121-22252 - V-BELT SET= |
| 37C-942-1830 - BELT | 04121-22255 - V-BELT SET= |
| 37C-942-1840 - BELT | 04121-22562 - V-BELT SET= |
| 37C-942-1980 - V BELT | 04121-32263 - V-BELT |
| 37C-942-1990 - V BELT | 04121-32265 - V-BELT |
| 37D-54-11180 - BELT, SE | 04121-32273 - V-BELT |
| 385738R1 - BELT | 04121-32560 - V-BELT |
| 406097R1 - BELT | 04121-32561 - V-BELT |
| 416-963-A220 - BELT,COM | 04121-32563 - V-BELT |
| 417-09-H0270 - V-BELT | 04121-32566 - V-BELT |
| 417-963-A370 - BELT COM | 04122-22283 - V-BELT |
| 417-963-A640 - V-BELT | 04122-22565 - V-BELT SET= |
| 418-57-31040 - BELT | 04122-22582 - V-BELT SET= |
| 418-963-A560 - V-BELT | 04122-22584 - V-BELT SET= |
| 419-00-H0070 - V-BELT | 04122-32568 - V-BELT |
| 419-00-H0240 - V-BELT | 04122-32572 - V-BELT |
| 419-00-H1120 - BELT | 04122-32573 - V-BELT |
| 419-963-AB70 - V BELT | 4400074 - FAN BELT |
| 421-57-31130 - BELT | 4400139 - FAN BELT |
| 421-960-A521 - BELT,SEA | 4401148 - STUD-BELT ID |
| 421-963-A210 - V BELT | 4402543 - V-BELT - DEU |
| 423-963-A110 - V BELT | 4403307 - BELT ALT. |
| 424-963-A730 - V-BELT | 4403313 - V-BELT FREO |
| 425-963-A240 - V BELT | 113-X06-1580 - BELT |
| 427-07-A1741 - V-BELT | 1170099C1 - BELT |
| 42A-979-2840 - V-BELT | 12Y-57-11213 - SEAT BELT |
| 42N-07-11110 - V-BELT | 12Y-57-11232 - SEAT BELT |
| 42N-07-11240 - BELT P6 | 12Y-57-21111 - SEAT BELT |
| 42N-60-11910 - BELT | 124-01-55490 - BRACKET,BELT |
| 42U-09-H2750 - V-BELT | 1241963H1 - V BELT |
| 42W-01-22A40 - BELT COV | 1280036H1 - VBELT |
| 42W-09-H1440 - V-BELT | 1287372H2 - BRKT. BELT T |
| 42W-09-H1480 - BELT | 1304820H1 - BRACKET-BELT |
| 42W-09-H3070 - V-BELT | 1307594H1 - BRACKET,BELT |
| 42W-09-H3080 - V-BELT | 1307794H1 - BRACKET,BELT |
| 42Y-00-H0720 - BELT - V | 1310923H1 - BELT |
| 4608663H91 - BELT | 1312702H1 - BELT, FAN |
| 4691418 - BELT | 14X-01-64840 - BELT |
| 4875782 - BELT NY | 14X-01-64841 - BELT |
| 4877022 - BELT VA | 17A-57-51211 - SEAT BELT |
| 5007661 - FAN BELT | 19281 - BELT A/C DRI |
| 50144798 - V-BELT S | 2A5-57-11131 - SEAT BELT |
| 5024987 - FAN BELT | 2A5-57-11141 - SEAT BELT KI |
| 5025737 - V-BELT | 20G-57-K1121 - BELT |
| 5027286 - V-BELT | 20G-57-K1211 - BELT ASM |
| 5031726 - V-BELT | 20G-979-3340 - V-BELT |
| 50417098 - V-BELT | 20K-57-32140 - SEAT BELT |
| 5043076 - BELT | 20P-57-81111 - SEAT BELT |
| 5044804 - BELT PUL | 20P-979-8233 - V-BELT |
| 50599498 - V BELT S | 20Y-01-B4010 - BELT |
| 5063224 - BELT | 20Y-57-A1630 - BELT,SEAT AS |
| 50684498 - V-BELT | 20Y-978-1140 - V-BELT |
| 5071302 - BELT VA | 20Y-978-1340 - V-BELT |
| 5074724 - V-BELT | 207-979-K110 - V-BELT |
| 5076103 - BELT | 21W-979-R320 - BELT |
| 5076223 - BELT PUL | 22B-57-11850 - SEAT BELT |
| 5080647 - BELT | 22B-57-31921 - SEAT BELT |
| 51193498 - V-BELT | 22M-57-13190 - BELT, SEAT |
| 532030R2 - BELT | 22N-57-52320 - SEAT BELT |
| 534086R1 - BELT | 22N-979-5110 - V-BELT |
| 537072R91 - BELTS | 23B-57-82161 - SEAT BELT |
| 569-57-81120 - BELT | 35569740 - V-BELT PULLE |
| 56B-57-11122 - BELT | 37A-57-11611 - SEATBELT |
| 600-736-5580 - V-BELT | 37D-54-11181 - SEAT BELT |
| 600-736-5810 - V-BELT | 4A1-53-10211 - BELT STRAP |
| 600-736-6480 - V-BELT | 40585540 - V-BELT PULL |
| 600-736-7850 - V-BELT | 40997040 - V-BELT PULL |
| 600-736-7960 - V-BELT | 417-57-51161 - SEAT BELT |
| 600-736-9380 - V-BELT S | 419-06-H3260 - SEAT BELT WA |
| 600-736-9390 - V-BELT | 419-57-51120 - SEAT BELT |
| 600-736-9550 - V-BELT | 419-57-51140 - SEAT BELT |
| 600-736-9580 - V-BELT | 419-57-51141 - SEAT BELT |
| 600-736-9590 - V-BELT | 419-57-51150 - SEAT BELT |
| 600-736-9640 - V-BELT | 42C-01-12950 - BELT |
| 600-736-9650 - V-BELT S | 42N-01-13830 - BELT |
| 600-736-9680 - V-BELT | 42N-01-13850 - BELT |
| 600-736-9690 - V-BELT | 42N-56-17820 - SEAT BELT KI |
| 600-736-9710 - V-BELT | 42T-09-H3270 - AC BELT |
| 600-736-9720 - V-BELT | 42W-57-H0P05 - BELT,SAFETY |
| 600-736-9730 - V-BELT 4 | 42W-57-H0P11 - SAFETY BELT |
| 600-737-1300 - V-BELT | 42W-57-H0P38 - SEAT BELT |
| 600-737-1320 - V-BELT | 421-57-61171 - SEAT BELT |
| 601684C1 - BELT | 421-57-61181 - SEAT BELT |
| 612142C1 - BELT | 42537340 - CATCH BELT |
| 612175C11 - BELT | 426-57-51160 - SEAT BELT |
| 6140-81-2622 - V-BELT | 426-57-51170 - SEAT BELT |
| 6140-81-2630 - V-BELT | 426-57-51180 - SEAT BELT |
| 6144-81-2610 - V-BELT | 43609740 - V-BELT |
| 6144-81-2640 - V-BELT | 4626915 - BELT |
| 6166-61-3770 - V-BELT S | 5007388 - V-BELT (ALTE |
| 6202-83-2610 - V-BELT | 5007567 - SAFETY BELT |
| 6204-81-3270 - V-BELT | 5026279 - BELT |
| 6205-61-3400 - V-BELT | 5030946 - V-BELT |
| 6205-61-3500 - V-BELT | 51078940 - V-BELT WASH |
| 6205-61-3580 - V-BELT | 51533598 - FITTED BELT |
| 6205-61-3600 - V-BELT | 5198177 - V-BELT |
| 6205-61-3710 - V-BELT | 5198178 - BELT PULLEY |
| 6206-81-2610 - V-BELT | 5198309 - BELT PULLEY |
| 6209-61-2890 - V-BELT | 5198452 - BELT V |
| 6210-81-6970 - V-BELT | 51988798 - V-BELT P6 |
| 6211-62-3190 - V-BELT | 51988998 - V-BELT P6 |
| 6212-85-6840 - V-BELT | 51989098 - V-BELT P6 |
| 6215-61-3250 - V-BELT | 5199249 - BELT PULLEY |
| 6215-61-3390 - V-BELT S | 5202555 - BELT PULLEY |
| 6215-61-3690 - BELT S | 5204819 - BELT |
| 6215-62-3140 - V-BELT | 5204820 - BELT |
| 6216-64-3750 - BELT,V-R | 5204821 - BELT |
| 6216-64-3880 - V-BELT | 56B-57-11151 - SEAT BELT |
| 6216-64-4780 - BELT - G | 56B-57-31120 - SEAT BELT |
| 6216-84-6420 - BELT, V- | 56B-57-31121 - SEAT BELT |
| 6216-84-6710 - BELT - V | 56B-57-51170 - SEAT BELT |
| 6217-61-3190 - V-BELT | 56E-61-27770 - BELT |
| 621770C1 - BELT | 561-57-81410 - SEAT BELT |
| 6219-81-6750 - V-BELT | 562-57-3A130 - SEAT BELT |
| 6219-81-6760 - V-BELT | 58B-01-00220 - BELT,ALT DRI |
| 6221-61-3810 - BELT | 58E-10-10020 - BELT,FAN CLU |
| 6222-61-3710 - V-BELT | 58E-57-10000 - SEAT BELT P |
| 6222-61-3720 - V-BELT | 58E-57-10001 - SEAT BELT |
| 6222-61-3810 - V-BELT | 58E-57-10020 - SEAT BELT P |
| 6222-63-3820 - BELT | 58E-57-10021 - SEAT BELT |
| 6222-63-3830 - BELT | 58E-98-10211 - SEAT BELT |
| 6240-61-3330 - V-BELT | 58F-01-00520 - BRACKET,BELT |
| 6240-61-3821 - BELT | 58F-01-00530 - BRACKET,BELT |
| 6240-81-6180 - BELT | 58F-01-00540 - BRACKET,BELT |
| 6240-81-8720 - V-BELT | 58F-01-00560 - BRACKET,BELT |
| 6245-61-3360 - BELT | 58F-57-00010 - SEAT BELT, L |
| 6245-81-6360 - V-BELT | 600-736-5120 - V-BELT |
| 6245-81-6370 - BELT | 600-736-7840 - V-BELT |
| 6261-81-6810 - V-BELT | 600-736-7860 - V-BELT |
| 64279740 - V-BELT | 600-736-8460 - V-BELT |
| 6610-81-6111 - V-BELT | 600-736-9330 - V-BELT |
| 665064C2 - BELT | 600-736-9540 - V-BELT |
| 6676-82-6130 - V-BELT | 600-736-9620 - V-BELT |
| 6676-83-6160 - V-BELT | 6156-61-3540 - V-BELT SET O |
| 6686-82-6120 - V-BELT | 6166-11-7800 - BELT ASS'Y |
| 670464C1 - BELT | 6166-61-3230 - V-BELT |
| 670582C1 - BELT | 6204-81-3260 - V-BELT |
| 670711C1 - BELT SET | 6205-61-3610 - V-BELT |
| 670741C1 - BELT-SET | 6205-61-3760 - V-BELT P60 |
| 670939C2 - BELT | 6210-81-6960 - V-BELT |
| 672445C1 - BELT | 6245-81-6170 - BELT |
| 673089C1 - BELT | 6252-81-6370 - V-BELT |
| 6731-62-4110 - BELT - T | 6262-81-6610 - V-BELT |
| 6731-81-3310 - BELT, V | 6262-81-6620 - V-BELT (60 A |
| 6732-61-3461 - BELT - V | 6275-81-3250 - BELT |
| 6732-61-3871 - BELT | 6275-81-3450 - BELT |
| 6732-61-3881 - BELT - V | 6275-81-3680 - V-BELT |
| 6732-61-4461 - BELT - V | 6275-81-3750 - V-BELT |
| 6732-81-3391 - BELT - V | 6275-81-3930 - BELT |
| 6732-81-3421 - BELT - V | 6275-81-3950 - V-BELT |
| 6732-81-3461 - BELT - V | 62774740 - V-belt pulle |
| 6732-81-3521 - BELT - V | 6681-81-6120 - FAN BELT |
| 6732-81-3531 - BELT - V | 6731-81-3320 - BELT, V |
| 6732-81-3551 - BELT - V | 6731-81-6350 - BRACKET,BELT |
| 6732-81-3571 - BELT - V | 6732-81-3310 - BELT,FAN |
| 6732-82-3310 - BELT - V | 6732-81-3610 - BELT P60 |
| 6732-82-3320 - BELT - V | 6732-81-6170 - BELT,V RIBBE |
| 6732-82-3330 - BELT - V | 6732-81-6350 - BRKT BELT TE |
| 6732-82-3340 - BELT - V | 6732-82-3650 - BELT - V RIB |
| 6732-82-3350 - BELT - V | 6732-82-3710 - BELT |
| 6732-82-3360 - BELT - V | 6732-82-3780 - BELT |
| 6732-82-3380 - BELT - V | 6733-81-6270 - BRACKET,BELT |
| 6732-82-3390 - BELT - V | 6735-81-6430 - V-BELT |
| 6732-82-3410 - BELT - V | 6736-61-3710 - BELT |
| 6732-82-3420 - BELT - V | 6742-01-5496 - BRACKET,BELT |
| 6732-82-3430 - BELT - V | 6743-61-3740 - BELT |
| 6732-82-3440 - BELT - V | 6746-61-3710 - V-BELT |
| 6732-82-3450 - BELT - V | 6746-61-3720 - BELT |
| 6732-82-3460 - BELT - V | 6747-61-3710 - FAN BELT |
| 6732-82-3470 - BELT - V | 6755-61-3130 - V-BELT |
| 6732-82-3480 - BELT - V | 6755-61-3140 - V-BELT |
| 6732-82-3490 - BELT - V | 6756-61-4110 - V-BELT |
| 6732-82-3510 - BELT - V | 684121025 - BELT |
| 6732-82-3520 - BELT - V | 69038073 - V-BELT |
| 6732-82-3530 - BELT - V | 69437 - BELT |
| 6732-82-3540 - BELT - V | 69452800 - V-BELT PULLE |
| 6732-82-3550 - BELT - V | 76948973 - BELT SUSPENS |
| 6732-82-3560 - BELT - V | 79450273 - SAFETY BELT |
| 6732-82-3570 - BELT - V | 79751173 - SEAT BELT |
| 6732-82-3580 - BELT - V | 79842173 - SEAT BELT |
| 6732-82-3590 - BELT - V | 79877973 - V-BELT |
| 6732-82-3610 - BELT - V | 8221-75-2231 - BELT |
| 6732-82-3620 - BELT - | 8232-76-1561 - BELT |
| 6732-82-3630 - BELT - V | 8240-75-4140 - BELT |
| 6732-82-3640 - BELT - V | 8242-75-2130 - BELT |
| 6732-82-3660 - BELT - V | 8242-75-2980 - BELT |
| 6732-82-3670 - BELT - V | 8248-70-3610 - V-BELT |
| 6732-82-3680 - BELT - V | 8248-75-4120 - BELT |
| 6732-82-3690 - BELT - V | 837070334 - BELT PULLEY |
| 673481C1 - BELT S | 959779 - V BELT |
| 673489C2 - BELT ASM | |