Volvo Alternators
Electrical equipment of any Volvo equipment includes an alternator Volvo or AC Volvo generator - a device that converts the mechanical energy received from a Volvo engine into an electrical one. Together with a voltage regulator, it is called an alternator set. Volvo alternators are installed on modern Volvo equipment. They meet the requirements to the greatest degree.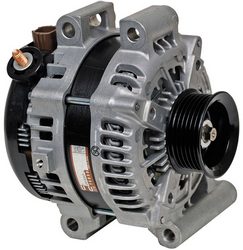 Requirements for the Volvo alternator:
- the output parameters of the Volvo alternator must be such that in any mode of motion of the machinery there is no progressive discharge of the Volvo battery;
- The voltage in the onboard network of equipment powered by the Volvo alternator must be stable over a wide range of speed and load variations.
The latter requirement is caused by the fact that the Volvo rechargeable battery is very sensitive to the degree of voltage stability. Too low voltage causes a low battery and, as a consequence, difficulties with starting the engine, too high voltage leads to a battery recharge and accelerated failure of the battery.
The principle of operation of the Volvo alternator and its principle constructive device are the same for all types of equipment, differ only in the quality of manufacture, dimensions and arrangement of the connecting units.
Order the original and aftermarket or replacement Volvo alternators online.
| | |
| --- | --- |
| RM20266771 Alternator Kit | VOE9013503982 Alternator |
| RM13882790 Alternator | VOE8015067533 Alternator |
| RM15634330 Alternator | VOE20571565 Alternator |
| RM15634314 Alternator | VOE8002290653 Alternator |
| VOE12730635 Belt-Alternator-G740B\u003EG78 | VOE8007412924 Alternator |
| PJ2871A147 Alternator | VOE8008156817 Alternator |
| PJ6810130 Alternator Adaptor | VOE8020715635 Alternator |
| PJ68101309 Adapt Alternator | VOE8021805948 Alternator |
| RM14147797 Alternator | VOE9013503800 Alternator |
| VOE12744536 Shield-Alternator-G710B\u003EG | VOE8021240558 Alternator |
| VOE12744535 Shield-Wa-Alternator-G740 | VOE8017265750 Alternator |
| VOE9021429783 Alternator | VOE14645434 Alternator |
| CH95268 Pulley-6Ct Alternator | VOE8017324096 Alternator |
| VOE1698690 Alternator Housing | VOE12803542 Alternator |
| CH86999 Support-Alternator | VOE8015017385 Alternator |
| VOE11180885 Alternator Anchorage | VOE8185046320 Alternator |
| VOE12723111 Pulley-Alternator-D10 Eng | VOE8013503966 Alternator |
| VOE16870671 Alternator Bracket | VOE8021429787 Alternator |
| VOE9002904163 Alternator | VOE8013504147 Alternator |
| VOE9007417830 Alternator | VOE8001089861 Alternator |
| ZM2904163 Alternator | VOE8014371018 Alternator |
| CH95269 Support-6Ct Alternator | VOE8020509446 Alternator |
| VOE16008563 Alternator Anchorage | VOE8021429786 Alternator |
| VOE9017265750 Alternator | VOE9043830660 Alternator |
| VOE17265750 Alternator | VOE21897549 Alternator |
| VOE9011713508 Alternator | VOE8014653971 Alternator |
| VOE22554170 Alternator | VOE8017235219 Alternator |
| RM54501663 Alternator | VOE22773185 Alternator |
| RM54567532 Alternator | VOE8012826811 Alternator |
| RM13503818 Alternator | VOE8000873757 Alternator |
| SK8035717 Alternator | VOE8020482686 Alternator |
| PJ7412924 Alternator | VOE8011714495 Alternator |
| VOE11713508 Alternator | VOE8013851407 Alternator |
| VOE17452634 Alternator | VOE8013503818 Alternator |
| RM13503750 Alternator | VOE9013851522 Alternator |
| VOE9007412924 Alternator | VOE8015063541 Alternator |
| VOE9013503750 Alternator | VOE8021489722 Alternator |
| RM54637095 Alternator | VOE8021489727 Alternator |
| VOE22800828 Alternator | VOE8021695802 Alternator |
| VOE11711484 Alternator | VOE8022686014 Alternator |
| VOE9013503818 Alternator | VOE8014632907 Alternator |
| VOE9011711484 Alternator | VOE12826811 Alternator |
| VOE9007410059 Alternator | VOE8022773185 Alternator |
| VOE17400619 Alternator | VOE8020549902 Alternator |
| VOE14520588 Alternator | VOE8013503750 Alternator |
| SK8032222 Alternator | VOE8013503982 Alternator |
| VOE9014520588 Alternator | VOE9013851688 Alternator |
| VOE11714495 Alternator | VOE8017224275 Alternator |
| VOE9011714495 Alternator | VOE8021679866 Alternator |
| PJ7417830 Alternator | VOE9016677786 Alternator |
| PJ7417699 Alternator | VOE8017248669 Alternator |
| RM13503719 Alternator | VOE8017254381 Alternator |
| VOE9013503719 Alternator | VOE8002901239 Alternator |
| VOE9007417699 Alternator | VOE8020555155 Alternator |
| VOE9185046320 Alternator | VOE8017204355 Alternator |
| VOE15107651 Alternator | VOE8013851522 Alternator |
| PJ185046320 Alternator | VOE8014632906 Alternator |
| VOE9007416583 Alternator | VOE8017284508 Alternator |
| VOE11180751 Alternator Anchorage | VOE17425650 Alternator |
| RM14131635 Alternator | VOE8012724607 Alternator |
| VOE14510698 Alternator | VOE8000068207 Alternator |
| VOE17224275 Alternator | VOE8013851423 Alternator |
| VOE9017224275 Alternator | VOE8043830660 Alternator |
| VOE20459026 Alternator | VOE8046642161 Alternator |
| VOE9020459026 Alternator | VOE12786098 Alternator |
| SA3911247 Alternator | VOE22840839 Alternator |
| RM58908401 Alternator | VOE8001089862 Alternator |
| VOE9043830686 Alternator | VOE8002904163 Alternator |
| VOE9017449724 Alternator | VOE8021245840 Alternator |
| VOE9002901239 Alternator | VOE8007417830 Alternator |
| VOE17449724 Alternator | VOE17417013 Alternator |
| VOE16677786 Alternator | VOE22686014 Alternator |
| ZM2901239 Alternator | VOE9022686014 Alternator |
| VOE9013503966 Alternator | VOE8000054960 Alternator |
| RM13976683 Alternator | VOE8007410059 Alternator |
| VOE9014653971 Alternator | VOE8001624089 Alternator |
| VOE14653971 Alternator | VOE8013851688 Alternator |
| RM58968975 Field Kit:90A Alternator | VOE8007416583 Alternator |
| RM13851407 Alternator | VOE8007417699 Alternator |
| RM13503966 Alternator | VOE8011707116 Alternator |
| VOE9013851407 Alternator | VOE8000849748 Alternator |
| VOE9011711978 Alternator | VOE8013503776 Alternator |
| VOE11711978 Alternator | VOE8016677786 Alternator |
| VOE9017404250 Alternator | VOE8021806017 Alternator |
| RM58968868 Alternator | VOE9021695802 Alternator |
| RM13503982 Alternator | VOE9017324096 Alternator |
| VOE14559184 Alternator | VOE8013503800 Alternator |
| VOE9014559184 Alternator | VOE8015196041 Alternator |
| RM43830645 Alternator | VOE8013787908 Alternator |
| RM13852256 Alternator | VOE8017248685 Alternator |
| VOE20584337 Alternator | VOE9022773185 Alternator |
| VOE9013852256 Alternator | VOE8017404250 Alternator |
| VOE17404250 Alternator | VOE8011714533 Alternator |
| RM9043977420 Alternator | VOE8011713508 Alternator |
| RM43977420 Alternator | VOE8021801402 Alternator |
| VOE9043977420 Alternator | VOE8013503719 Alternator |
| VOE8043977420 Alternator | VOE8043830686 Alternator |
| RM8043977420 Alternator | VOE17229692 Alternator Anchorage |
| VOE21489722 Alternator | RM20352563 Alternator |
| VOE21805948 Alternator | VOE17217986 Alternator Kit |
| VOE9020509446 Alternator | VOE15157046 Alternator Kit |
| VOE9021489722 Alternator | VOE15156603 Alternator Kit |
| VOE9021805948 Alternator | VOE17440170 Alternator Kit |
| VOE15017385 Alternator | VOE12723108 Pulley-Alternator-G710B\u003EG |
| VOE9015017385 Alternator | RM13851688 Alternator |
| VOE14521501 Alternator | RM59125427 Alternator |
| VOE8020776758 Alternator | VOE11993626 Alternator |
| VOE9021806017 Alternator | VOE11713507 Alternator Anchorage |
| VOE21806017 Alternator | RM59879791 Alternator |
| VOE21695802 Alternator | VOE11702862 Alternator |
| VOE1089862 Alternator | RM54527981 Alternator |
| RM13287214 Alternator | VOE11713777 Alternator Anchorage |
| VOE22098738 Alternator | VOE11170321 Alternator |
| VOE20549902 Alternator | VOE9011170321 Alternator |
| VOE9020549902 Alternator | VOE1675814 Alternator Bracket |
| CH68207 Alternator | VOE11173300 Alternator Anchorage |
| SA1122-05120 Alternator | VOE16213147 Alternator |
| VOE9011707116 Alternator | RM43830660 Alternator |
| RM59196063 Alternator | RM59193862 Alternator |
| VOE9014529113 Alternator | VOE11411160 Alternator Anchorage |
| RM13851423 Alternator | VOE11411159 Alternator Anchorage |
| VOE15063541 Alternator | VOE9017254381 Alternator |
| VOE9013851423 Alternator | VOE17235219 Alternator |
| VOE17204355 Alternator | VOE9017235219 Alternator |
| VOE14529113 Alternator | SA8210-02030 Alternator |
| VOE21801402 Alternator | VOE14550366 Alternator |
| VOE20715635 Alternator | VOE17254381 Alternator |
| VOE9020715635 Alternator | VOE9001624089 Alternator |
| VOE9021245840 Alternator | VOE1624089 Alternator |
| VOE9000042860 Alternator | VOE9014510698 Alternator |
| VOE9043830645 Alternator | RM13503800 Alternator |
| VOE8020849351 Alternator | VOE17324096 Alternator |
| RM46642161 Alternator | VOE17248685 Alternator |
| VOE9046642161 Alternator | VOE9021240558 Alternator |
| VOE9013503776 Alternator | VOE17229042 Alternator |
| VOE21429787 Alternator | VOE21615649 Alternator |
| RM43810027 Alternator | VOE9017248685 Alternator |
| VOE9021429786 Alternator | RM43830686 Alternator |
| VOE8156817 Alternator | VOE21489727 Alternator |
| VOE9008156817 Alternator | VOE9021489727 Alternator |
| VOE20849352 Alternator | RM58965492 Alternator |
| VOE9021429787 Alternator | VOE21240558 Alternator |
| VOE9015196041 Alternator | VOE8002904208 Alternator |
| VOE17231479 Alternator Kit | VOE9001089861 Alternator |
| VOE11039152 Alternator | VOE9017284508 Alternator |
| VOE12724552 Alternator-75 Amp | VOE17284508 Alternator |
| CH61066 Alternator | VOE20555155 Alternator |
| VOE8000057327 Alternator | VOE9020555155 Alternator |
| VOE849748 Alternator | VOE873757 Alternator |
| VOE9012724552 Alternator | VOE11063163 Alternator |
| VOE9000849748 Alternator | VOE21236925 Alternator |
| VOE12724607 Alternator-100 Amp | VOE9011063163 Alternator |
| VOE2557832 Alternator | VOE9000873757 Alternator |
| VOE9012724607 Alternator | VOE14371018 Alternator |
| VOE9001117734 Alternator | VOE9014371018 Alternator |
| VOE11707857 Alternator | VOE17229037 Alternator |
| VOE15211758 Alternator | VOE17438716 Alternator |
| VOE8011170321 Alternator | VOE17248669 Alternator |
| VOE11707710 Alternator | VOE9017248669 Alternator |
| VOE11707673 Alternator | CH75391 Alternator |
| RM13808241 Alternator | VOE3986428 Alternator |
| RM20259503 Alternator Kit | VOE9003986428 Alternator |
| RM54699384 Alternator | VOE20849351 Alternator |
| VOE14213832 Alternator | VOE21429786 Alternator |
| RM80679947 Alternator | RM13504147 Alternator |
| VOE9080679947 Alternator Exch | VOE9001089862 Alternator |
| RM20348272 Alternator | VOE20482686 Alternator |
| VOE12779867 Alternator | RM59489575 Alternator |
| RM80752439 Alternator | VOE9017204355 Alternator |
| RM14319891 Alternator | RM59196071 Alternator |
| RM54465356 Alternator | VOE9000054960 Alternator |
| RM19313071 Alternator | VOE9020482686 Alternator |
| VOE9012826811 Alternator | VOE9000068207 Alternator |
| RM20348264 Alternator | VOE9014632907 Alternator |
| VOE14262330 Alternator | VOE9015063541 Alternator |
| RM19312545 Alternator | VOE14632907 Alternator |
| VOE8014559184 Alternator | VOE14632906 Alternator |
| VOE8014520588 Alternator | VOE21429783 Alternator |
| VOE8014529113 Alternator | VOE9002290653 Alternator |
| VOE8014510698 Alternator | VOE15067533 Alternator |
| VOE8001117734 Alternator | VOE9021801402 Alternator |
| RM20319463 Alternator | VOE9015067533 Alternator |
| RM20290946 Alternator | VOE9021679866 Alternator |
| RM20335451 Alternator | VOE21245840 Alternator |
| RM13503776 Alternator | VOE21679866 Alternator |
| RM13787908 Alternator | VOE15196041 Alternator |
| VOE8003986428 Alternator | ALTERNATOR EXCH VOE9080752439 |
| VOE8020459026 Alternator | ALTERNATOR VOE15025292 |
| VOE8000042860 Alternator | ALTERNATOR CORE 8118272, VOE8118272 |
| VOE8011711484 Alternator | ALTERNATOR BUS 8112272, VOE8112272 |
| VOE8011711978 Alternator | ALTERNATOR BUS 8112273, VOE8112273 |
| VOE8013852256 Alternator | ALTERNATOR CORE 8118271, VOE8118271 |
| VOE8043830645 Alternator | ALTERNATOR CORE 8118933, VOE8118933 |
| VOE9014632906 Alternator | ALTERNATOR CORE 5009448, VOE5009448 |
| VOE8011063163 Alternator | ALTERNATOR CORE 8118273, VOE8118273 |
| VOE9013504147 Alternator | ALTERNATOR RUIL 5003448, VOE5003448 |
| VOE8080679947 Alternator Core | ALTERNATOR 1624090, VOE1624090 |
| VOE8021429783 Alternator | VOE8017449724 Alternator |
| VOE8012724552 Alternator | |