Volvo Swing Motors
Rotation of the working equipment of equipment to the place of unloading the bucket and a reverse rotation to the place of dripping are carried out by turning the turntable or the whole platform (for full-cycle Volvo excavators). The rotation takes approximately 60-70% of the working cycle time and significantly affects its overall duration.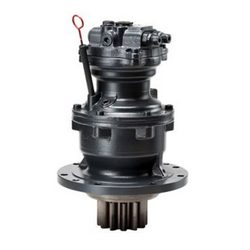 The hydrostatic Volvo Swing Motor just performs the function of turning in the horizontal plane of the working equipment relative to the running gear of the Volvo equipment.
The Swing Volvo Motor consists of a sturdy steel casing, in which several pairs of Novikov gearing gears are compactly arranged, allowing the transfer of loads significantly exceeding the permissible values ​​for involuntary engagement. On the low-speed shaft, on the splines, the output gear is attached, which is included in the open gearing with a gear ring of the turntable of the Volvo Heavy Equipment.
A large cogwheel is mounted on the fixed part of the Volvo platform. The Volvo rotation reducer is installed in such a way that the teeth of the output shaft of the Volvo rotary reducer engage the cogwheel of the Volvo equipment. When the Volvo swing motor shaft rotates, the equipment is rotated relative to the frame.
If you are interested in the original Volvo Swing Motor or the aftermarket (replacement) or rebuilt Volvo Swing Motor, you can order this unit online.
| | | | | | |
| --- | --- | --- | --- | --- | --- |
| | Model | Serial No. | Slew Drive Assembly | Slew Motor | Swing Gear Box |
| | EC13 XR | 40151-99999 | 11802165 | | |
| | EC13 XTV | 40151-99999 | 11802165 | | |
| | EC14 | 10151-21500 | | PJ5370024 | PJ4890041 |
| | EC14 | 21501-99999 | | PJ5370019 | PJ4890041 |
| | EC15 XR | 10151 ~ | PJ5370187 | | |
| | EC15 XT | 10151 ~ | PJ5370187 | | |
| | EC25 | 10151-20406 | 11806475 | | |
| | EC25 | 20407-21324 | 11807162 | | |
| | EC25 | 21325-21331 | 11808666 | | |
| | EC25 | 21324, 21332, 21338 | 11807162 | | |
| | EC25 | 21332 | 11807162 | | |
| | EC25 | 21337 | 11808666 | | |
| | EC25 | 21339 ~ | 11808666 | | |
| | EC30 | 10151-16384 | 11806475 | | |
| | EC30 | 16385-16466 | 11807162 | | |
| | EC30 | 16467 ~ | 11808666 | | |
| | EC35 | 10151-18462 | 11806478 | | |
| | EC35 | 18963-19474 | 11806964 | | |
| | EC35 | 19475 ~ | 11808667 | | |
| | EC45 | 10151-17298 | 11806478 | | |
| | EC45 | 17799-18013 | 11806964 | | |
| | EC45 | 18014 ~ | 11808667 | | |
| | EC50 | 10151-17897 | PJ4890052 | | |
| | EC50 | 17898-19063 | PJ4890095 | | |
| | EC50 | 19064 ~ | PJ4890100 | | |
| | EC50 VV | 10151-99999 | PJ4890100 | | |
| | EC55 | 3001-5000 | 1155-30011 | 1155-30080 | 8230-24760 |
| | EC55-2 | 5001-6552 | 1155-30090 | 1155-30080 | 8230-24760 |
| | EC55-2 | 6553 ~ | 14513821 | 14514261 | 8230-24760 |
| | EC55-EU | 20001-20603 | 1155-30090 | 1155-30080 | 14529547 |
| | EC55-EU | 20604 ~ | 14513821 | 14514261 | 14529547 |
| | EC70 | 10151-11221 | | | |
| | EC70 | 11222-14628 | | | |
| | EC70 | 14629 ~ | | | |
| | EC70 VV | 10151-54579 | | | |
| | EC70 VV | 54580 ~ | PJ5370257 | | |
| Akerman | EC130 | 37-103 | | 14215117 | 14250820 |
| | EC140 LC | 3001-9999 | 14501683 | 1142-06500 | 7118-23101 |
| | EC140 LCM | 3001-9999 | 14501683 | 1142-06500 | 7118-23101 |
| | EC150 | 3001-9999 | 7118-27010 | 14504222 | 7118-27110 |
| Akerman | EC150 | 1-129 | | 14211116 | 14250820 |
| | EC150 LC | 3001-9999 | 7118-27010 | 14504222 | 7118-27110 |
| | EC160 | 1001-1113 | 14372614 | | |
| | EC200 | 2760-9999 | | 14211116 | 14256325 |
| Akerman | EC200 | 2101-2759 | | 14211116 | 14256325 |
| | EC210 | 3001-9999 | 7118-30000 | 1142-00930 | 7118-30100 |
| | EC210 F | 4525-9999 | 7118-30000 | 1142-00930 | 7118-30100 |
| | EC210 LC | 3001-9999 | 7118-30000 | 1142-00930 | 7118-30100 |
| | EC210 LR | 3001-9999 | 7118-30000 | 1142-00930 | 7118-30100 |
| | EC210 NLC | 3001-9999 | 7118-30000 | 1142-00930 | 7118-30100 |
| Akerman | EC230 | 4105-4368 | | 14211154 | 14233392 |
| | EC240 | 3001-3103 | 7118-34000 | 1142-00520 | 7118-34100 |
| | EC240 | 3104-9999 | 14500454 | 14500382 | 7118-34100 |
| | EC240 LC | 3001-3103 | 7118-34000 | 1142-00520 | 7118-34100 |
| | EC240 LC | 3104-9999 | 14500454 | 14500382 | 7118-34100 |
| | EC240 LR | 3001-3103 | 7118-34000 | 1142-00520 | 7118-34100 |
| | EC240 LR | 3104-9999 | 14500454 | 14500382 | 7118-34100 |
| | EC240 NLC | 3001-3103 | 7118-34000 | 1142-00520 | 7118-34100 |
| | EC240 NLC | 3104-9999 | 14500454 | 14500382 | 7118-34100 |
| | EC280 | 1001-9999 | | 14265302 | 14267504 |
| | EC290 | 3001-9999 | 7118-38000 | 1142-00651 | 7118-38100 |
| | EC290 LC | 3001-9999 | 7118-38000 | 1142-00651 | 7118-38100 |
| | EC290 LR | 3001-9999 | 7118-38000 | 1142-00651 | 7118-38100 |
| | EC290 NLC | 3001-9999 | 7118-38000 | 1142-00651 | 7118-38100 |
| Akerman | EC300 | 4371-4797 | | 14211078 | 14231304 |
| | EC340 | 1001-9999 | | 14341272 | 14264157 |
| | EC360 | 3001-9999 | 1055-00451 | 8230-31780 | 8230-27000 |
| | EC360 LC | 3001-9999 | 1055-00451 | 8230-31780 | 8230-27000 |
| | EC360 NLC | 3001-9999 | 1055-00451 | 8230-31780 | 8230-27000 |
| | EC390 | 1001-9999 | | 14341272 | 14264157 |
| Akerman | EC420 | 1357-1550 | Please Call | Please Call | Please Call |
| | EC450 | 1782-9999 | | Please Call | 14263538 |
| Akerman | EC450 | 1601-1751 | | Please Call | 14263538 |
| | EC460 | 3001-9999 | 7118-30030 | 1142-07410 | 7118-30130 |
| | EC460 LC | 3001-9999 | 7118-30030 | 1142-07410 | 7118-30130 |
| Akerman | EC620 | 401-445 | | 14214158 | 14235261 |
| | EC650 | 539-618 | | 14214158 | 14235261 |
| Akerman | EC650 | 501-538 | | 14214158 | 14235261 |
| | | | | | |
| | Model | Serial No. | Slew Drive Assembly | Slew Motor | Swing Gear Box |
| B Series Excavators | EC15B XR | 10151-99999 | PJ5370187 | | |
| Go to Top | EC15B XR | 10151-99999 | 11809175 | | |
| | EC15B XT | 25151-40000 | PJ5370187 | | |
| | EC15B XTV | 40151-99999 | PJ5370187 | | |
| | EC15C | 1533 ~ | 11809175 | | |
| | EC17C | 1737 ~ | 11809175 | | |
| | EC18C | 1839 ~ | 11809175 | | |
| | EC20 XT | 10151-99999 | 11806070 | | |
| | EC20 XTV | 10151-99999 | 11806070 | | |
| | EC20B XT | 60151-80000 | 11806070 | | |
| | EC20B XTV | 80151-99999 | 11806070 | | |
| | EC55B | 30001-33657 | 14513821 | 14514261 | 14529547 |
| | EC55B | 33658 ~ | 14532628 | 14532629 | 14529547 |
| | EC55B | 50001 ~ | 14532628 | 14532629 | 14529547 |
| | EC135B LC | 20001-20020 | 14507899 | 14524188 | 14507900 |
| | EC135B LC | 20021-99999 | 14541065 | 14524188 | 14541064 |
| | EC140B LC | 10001-11940 | 14507899 | 14524188 | 14507900 |
| | EC140B LC | 11941 ~ | 14541065 | 14524188 | 14541064 |
| | EC140B LC | 20001-20374 | 14507899 | 14524188 | 14507900 |
| | EC140B LC | 20375 ~ | 14541065 | 14524188 | 14541064 |
| | EC140B LCM | 10001-11940 | 14507899 | 14524188 | 14507900 |
| | EC140B LCM | 11941 ~ | 14541065 | 14524188 | 14541064 |
| | EC140B LCM | 20001-20374 | 14507899 | 14524188 | 14507900 |
| | EC140B LCM | 20375 ~ | 14541065 | 14524188 | 14541064 |
| | EC160B LC | 10001-11032 | 14515044 | 14514894 | 14515046 |
| | EC160B LC | 11033-11551 | 14541066 | 14514894 | 14541067 |
| | EC160B LC | 11552 ~ | | 14514894 | 14541067 |
| | EC160B NLC | 10001-11032 | 14515044 | 14514894 | 14515046 |
| | EC160B NLC | 11033-11551 | 14541066 | 14514894 | 14541067 |
| | EC160B NLC | 11552 ~ | | 14514894 | 14541067 |
| | EC180B LC | 10001-10238 | 14515044 | 14514894 | 14515046 |
| | EC180B LC | 10239-11551 | 14541066 | 14514894 | 14541067 |
| | EC180B LC | 11552 ~ | | 14514894 | 14541067 |
| | EC180B LC | 12001 ~ | | 14514894 | 14541067 |
| | EC200B | 30001 ~ | | 14541069 | 14552686 |
| | EC210B | 10001-12467 | 14516442 | 1142-00930 | 14541069 |
| | EC210B | 12468-14022 | 14516442 | 14524189 | 14541069 |
| | EC210B | 14023-16027 | 14528621 | 14521451 | 14541069 |
| | EC210B | 16028-17232 | 14541068 | 14521451 | 14541069 |
| | EC210B | 17233 ~ | | 14550091 | 14541069 |
| | EC210B | 20001-20349 | 14528621 | | 14541069 |
| | EC210B | 20350-20728 | 14541068 | | 14541069 |
| | EC210B | 20729 ~ | | 14521451 | 14541069 |
| | EC210B | 30001-30273 | 14516442 | 1142-00930 | 14541069 |
| | EC210B | 30273-30778 | 14516442 | 14524189 | 14541069 |
| | EC210B | 30779-31519 | 14541068 | 14521451 | 14541069 |
| | EC210B | 31520 ~ | | | 14541069 |
| | EC210B FX | 16199-17232 | 14541068 | 14521451 | 14541069 |
| | EC210B FX | 17233-20000 | | 14550091 | 14541069 |
| | EC210B LC | 10001-12467 | 14516442 | 1142-00930 | 14541069 |
| | EC210B LC | 12468-14022 | 14516442 | 14524189 | 14541069 |
| | EC210B LC | 14023-16027 | 14528621 | 14521451 | 14541069 |
| | EC210B LC | 16028-17232 | 14541068 | 14521451 | 14541069 |
| | EC210B LC | 17233-29999 | | 14550091 | 14541069 |
| | EC210B LC | 30001-30273 | 14516442 | 1142-00930 | 14541069 |
| | EC210B LC | 30273-30778 | 14516442 | 14524189 | 14541069 |
| | EC210B LC | 30779-31519 | 14541068 | 14521451 | 14541069 |
| | EC210B LC | 31520 -35000 | | | 14541069 |
| | EC210B LC | 35001 ~ | | 14552686 | 14541069 |
| | EC210B LC | 70001 ~ | | 14552686 | 14541069 |
| | EC210B LC | 80001 ~ | | 14552686 | 14541069 |
| | EC210B LR | 10001-12467 | 14516442 | 1142-00930 | 14541069 |
| | EC210B LR | 12468-14022 | 14516442 | 14524189 | 14541069 |
| | EC210B LR | 14023-16027 | 14528621 | 14521451 | 14541069 |
| | EC210B LR | 16028-17232 | 14541068 | 14521451 | 14541069 |
| | EC210B LR | 17233-29999 | | 14550091 | 14541069 |
| | EC210B LR | 30001-30273 | 14516442 | 1142-00930 | 14541069 |
| | EC210B LR | 30273-30778 | 14516442 | 14524189 | 14541069 |
| | EC210B LR | 30779-31519 | 14541068 | 14521451 | 14541069 |
| | EC210B LR | 31520 -35000 | | | 14541069 |
| | EC210B LR | 35001 ~ | | 14552686 | 14541069 |
| | EC210B LR | 70001 ~ | | 14552686 | 14541069 |
| | EC210B LR | 80001 ~ | | 14552686 | 14541069 |
| | EC210B NC | 10001-12467 | 14516442 | 1142-00930 | 14541069 |
| | EC210B NC | 12468-14022 | 14516442 | 14524189 | 14541069 |
| | EC210B NC | 14023-16027 | 14528621 | 14521451 | 14541069 |
| | EC210B NC | 16028-17232 | 14541068 | 14521451 | 14541069 |
| | EC210B NC | 17233-29999 | | 14550091 | 14541069 |
| | EC210B NC | 30001-30273 | 14516442 | 1142-00930 | 14541069 |
| | EC210B NC | 30273-30778 | 14516442 | 14524189 | 14541069 |
| | EC210B NC | 30779-31519 | 14541068 | 14521451 | 14541069 |
| | EC210B NC | 31520 -35000 | | | 14541069 |
| | EC210B NC | 35001 ~ | | 14552686 | 14541069 |
| | EC210B NC | 70001 ~ | | 14552686 | 14541069 |
| | EC210B NC | 80001 ~ | | 14552686 | 14541069 |
| | EC210B NLC | 10001-12467 | 14516442 | 1142-00930 | 14541069 |
| | EC210B NLC | 12468-14022 | 14516442 | 14524189 | 14541069 |
| | EC210B NLC | 14023-16027 | 14528621 | 14521451 | 14541069 |
| | EC210B NLC | 16028-17232 | 14541068 | 14521451 | 14541069 |
| | EC210B NLC | 17233-29999 | | 14550091 | 14541069 |
| | EC210B NLC | 30001-30273 | 14516442 | 1142-00930 | 14541069 |
| | EC210B NLC | 30273-30778 | 14516442 | 14524189 | 14541069 |
| | EC210B NLC | 30779-31519 | 14541068 | 14521451 | 14541069 |
| | EC210B NLC | 31520 -35000 | | | 14541069 |
| | EC210B NLC | 35001 ~ | | 14552686 | 14541069 |
| | EC210B NLC | 70001 ~ | | 14552686 | 14541069 |
| | EC210B NLC | 80001 ~ | | 14552686 | 14541069 |
| | EC230B | 5252-9999 | | 14211154 | 14233392 |
| Akerman | EC230B | 4369-5251 | | 14211154 | 14233392 |
| | EC240B FX | 80361-85000 | | 14500382 | 14542163 |
| | EC240B LC | 10001-15000 | | 14500382 | 14503783 |
| | EC240B LC | 30001-35000 | | 14500382 | 14542163 |
| | EC240B LC | 80001-85000 | | 14500382 | 14542163 |
| | EC240B LR | 10001-15000 | | 14500382 | 14503783 |
| | EC240B LR | 30001-35000 | | 14500382 | 14542163 |
| | EC240B LR | 80001-85000 | | 14500382 | 14542163 |
| | EC240B NLC | 10001-15000 | | 14500382 | 14503783 |
| | EC240B NLC | 30001-35000 | | 14500382 | 14542163 |
| | EC240B NLC | 80001-85000 | | 14500382 | 14542163 |
| | EC290B FX | 80520-85000 | | 14524190 | 14542165 |
| | EC290B LC | 10001-17000 | | 14524190 | 14542165 |
| | EC290B LC | 17001 ~ | | 14598751 | 14569767 |
| | EC290B LC | 30001-35000 | | 14524190 | 14542165 |
| | EC290B LC | 35001 ~ | | 14598751 | 14569767 |
| | EC290B LC | 80001-85000 | | 14524190 | 14542165 |
| | EC290B LC | 85001 ~ | | 14598751 | 14569767 |
| | EC290B LR | 10001-17000 | | 14524190 | 14542165 |
| | EC290B LR | 17001 ~ | | 14598751 | 14569767 |
| | EC290B LR | 30001-35000 | | 14524190 | 14542165 |
| | EC290B LR | 35001 ~ | | 14598751 | 14569767 |
| | EC290B LR | 80001-85000 | | 14524190 | 14542165 |
| | EC290B LR | 85001 ~ | | 14598751 | 14569767 |
| | EC290B NLC | 10001-17000 | | 14524190 | 14542165 |
| | EC290B NLC | 30001-35000 | | 14524190 | 14542165 |
| | EC290B NLC | 80001-85000 | | 14524190 | 14542165 |
| | EC330B LC | 10001-10712 | 14509428 | 14512786 | 14512787 |
| | EC330B LC | 10713-15013 ~ | | 14512786 | 14596603 |
| | EC330B LC | 80001-85000 | | 14512786 | 14596603 |
| | EC360B LC | 10001-12151 | 14509428 | 14512786 | 14512787 |
| | EC360B LC | 12152-15002 ~ | | 14512786 | 14596603 |
| | EC360B LC | 30001-35264 ~ | | 14512786 | 14596603 |
| | EC360B LC | 80001-85019 ~ | | 14512786 | 14596603 |
| | EC360B LR | 10001-12151 | 14509428 | 14512786 | 14512787 |
| | EC360B LR | 12152-15002 ~ | | 14512786 | 14596603 |
| | EC360B LR | 30001-35264 ~ | | 14512786 | 14596603 |
| | EC360B LR | 80001-85019 ~ | | 14512786 | 14596603 |
| | EC360B NLC | 10001-12151 | 14509428 | 14512786 | 14512787 |
| | EC360B NLC | 12152-15002 ~ | | 14512786 | 14596603 |
| | EC360B NLC | 30001-35264 ~ | | 14512786 | 14596603 |
| | EC360B NLC | 80001-85019 ~ | | 14512786 | 14596603 |
| | EC460B LC | 10001-10410 | 7118-30040 | 14504280 | 7118-30140 |
| | EC460B LC | 10411-10908 | 14521443 | 14504280 | 14521444 |
| | EC460B LC | 10909-11387 | 14528622 | 14550092 | 14521444 |
| | EC460B LC | 11388-11514 | 14541029 | 14550092 | 14541030 |
| | EC460B LC | 11515-11718 | | 14521452 | 14541030 |
| | EC460B LC | 11719-15000 ~ | | 14550092 | 14541030 |
| | EC460B LC | 80001-80334 | | 14521452 | 14541030 |
| | EC460B LC | 80335-85001 ~ | | 14550092 | 14541030 |
| | EC460B LR | 10001-10410 | 7118-30040 | 14504280 | 7118-30140 |
| | EC460B LR | 10411-10908 | 14521443 | 14504280 | 14521444 |
| | EC460B LR | 10909-11387 | 14528622 | 14550092 | 14521444 |
| | EC460B LR | 11388-11514 | 14541029 | 14550092 | 14541030 |
| | EC460B LR | 11515-11718 | | 14521452 | 14541030 |
| | EC460B LR | 11719-15000 | | 14550092 | 14541030 |
| | EC460B LR | 80001-80334 | | 14521452 | 14541030 |
| | EC460B LR | 80335-85000 | | 14550092 | 14541030 |
| | EC460B LR | 15001 ~ | | 14550092 | 14541030 |
| | EC460B LR | 85001 ~ | | 14550092 | 14541030 |
| | EC700B HR | 90001-90013 ~ | 14522563 | 14535293 | 14609494 |
| | EC700B LC | 10001-10517 ~ | 14522563 | 14535293 | 14609494 |
| | | | | | |
| | Model | Serial No. | Slew Drive Assembly | Slew Motor | Swing Gear Box |
| C Series Excavators | EC20C | 2038 ~ | 15636506 | | |
| Go to Top | EC27C | 2742 ~ | 11808385 | | |
| | EC35C | 3538 ~ | 11808378 | | |
| | EC55C | 110001 ~ | | 14579564 | 14560849 |
| | EC55C | 120001 ~ | | 14579564 | 14560849 |
| | EC60C | 110001 ~ | | 14579564 | 14560849 |
| | EC130C | 221-9999 | | 14211116 | 14250820 |
| Akerman | EC130C | 1-220 | | 14211116 | 14250820 |
| | EC140C L | 110001 ~ | | 14539045 | 14540907 |
| | EC140C LM | 110001 ~ | | 14539045 | 14540907 |
| Akerman | EC150C | 201-9999 | | 14211116 | 14250820 |
| | EC160C L | 120001 ~ | | 14538545 | 14540719 |
| | EC160C L | 140001 ~ | | 14538545 | 14540719 |
| | EC160C NL | 120001 ~ | | 14538545 | 14540719 |
| | EC160C NL | 140001 ~ | | 14538545 | 14540719 |
| | EC180C L | 120001 ~ | | 14538545 | 14540719 |
| | EC210C L | 110001 ~ | | 14552686 | 14541069 |
| | EC210C L | 120001 ~ | | 14552686 | 14541069 |
| | EC210C L | 140001 ~ | | 14552686 | 14541069 |
| | EC210C LD | 110001 ~ | | 14552686 | 14541069 |
| | EC210C LD | 120001 ~ | | 14552686 | 14541069 |
| | EC210C LD | 140001 ~ | | 14552686 | 14541069 |
| | EC210C LR | 110001 ~ | | 14552686 | 14541069 |
| | EC210C LR | 120001 ~ | | 14552686 | 14541069 |
| | EC210C LR | 140001 ~ | | 14552686 | 14541069 |
| | EC210C N | 110001 ~ | | 14552686 | 14541069 |
| | EC210C N | 120001 ~ | | 14552686 | 14541069 |
| | EC210C N | 140001 ~ | | 14552686 | 14541069 |
| | EC210C NL | 110001 ~ | | 14552686 | 14541069 |
| | EC210C NL | 120001 ~ | | 14552686 | 14541069 |
| | EC210C NL | 140001 ~ | | 14552686 | 14541069 |
| | EC235C LD | 120001 ~ | | 14552686 | 14541069 |
| | EC235C NL | 120001 ~ | | 14552686 | 14541069 |
| | EC240C L | 110001-110865 ~ | | 14550094 | 14542163 |
| | EC240C L | 120001 ~ | | 14577125 | 14566202 |
| | EC240C LD | 110001-110865 ~ | | 14550094 | 14542163 |
| | EC240C LD | 120001 ~ | | 14577125 | 14566202 |
| | EC240C LR | 110001-110865 ~ | | 14550094 | 14542163 |
| | EC240C LR | 120001 ~ | | 14577125 | 14566202 |
| | EC240C NL | 110001-110865 ~ | | 14550094 | 14542163 |
| | EC240C NL | 120001 ~ | | 14577125 | 14566202 |
| | EC290C L | 110001-111274 ~ | | 14550095 | 14542165 |
| | EC290C LD | 110001-111274 ~ | | 14550095 | 14542165 |
| | EC290C LR | 110001-111274 ~ | | 14550095 | 14542165 |
| | EC290C NL | 110001-111274 ~ | | 14550095 | 14542165 |
| | EC330C L | 110001-110084 ~ | | 14512786 | 14596603 |
| | EC330C L | 140001 ~ | | 14512786 | 14596603 |
| | EC330C LD | 110001-110083 ~ | | 14512786 | 14596603 |
| | EC330C LD | 140001 ~ | | 14512786 | 14596603 |
| | EC360C HR | 190001 ~ | 14569652 | 14586029 | 14601604 |
| | EC360C L | 110001-115000 | | 14512786 | 14596603 |
| | EC360C L | 140001-145000 | | 14512786 | 14596603 |
| | EC360C L | 115001 ~ | | 14608434 | 14601604 |
| | EC360C L | 145001 ~ | | 14608434 | 14601604 |
| | EC360C LD | 115001 ~ | | 14608434 | 14601604 |
| | EC360C LD | 145001 ~ | | 14608434 | 14601604 |
| | EC360C NL | 110001-115000 | | 14512786 | 14596603 |
| | EC360C NL | 140001-145000 | | 14512786 | 14596603 |
| | EC360C NL | 115001 ~ | | 14608434 | 14601604 |
| | EC360C NL | 145001 ~ | | 14608434 | 14601604 |
| | EC460C HR | 190001 ~ | | 14569651 | 14541030 |
| | EC460C L | 110001-115000 | | 14550092 | 14541030 |
| | EC460C L | 115001 ~ | | 14569651 | 14541030 |
| | EC460C LD | 115001 ~ | | 14569651 | 14541030 |
| | EC700C L | 110001 ~ | | 14535293 | 14609494 |
| | EC700C LD | 110001 ~ | | 14535293 | 14609494 |
| | | | | | |
| | Model | Serial No. | Slew Drive Assembly | Slew Motor | Swing Gear Box |
| D Series Excavator | EC80D | | 14636561 | | |
| Go to Top | EC140D | | 14642270 | 14539045 | 14540907 |
| | EC140D LM | | 14642270 | 14539045 | 14540907 |
| | EC160D | | 14538587 | 14538545 | 14540719 |
| | EC160D NL | | 14538587 | 14538545 | 14540719 |
| | EC180D | | 14538587 | 14538545 | 14540719 |
| | EC200D LR | | 14555790 | 14552686 | 14541069 |
| | EC220D | | 14555790 | 14552686 | 14541069 |
| | EC220D N | | 14555790 | 14552686 | 14541069 |
| | EC220D NL | | 14555790 | 14552686 | 14541069 |
| | EC235D | | 14555790 | 14552686 | 14541069 |
| | EC250D L | | 14598762 | 14598750 | 14566202 |
| | EC250D LR | | 14598762 | 14598750 | 14566202 |
| | EC250D NL | | 14598762 | 14598750 | 14566202 |
| | EC300D L | | 14598760 | 14595269 | 14569767 |
| | EC300D LD | | 14598760 | 14595269 | 14569767 |
| | EC300D LR | | 14598760 | 14595269 | 14569767 |
| | EC300D NL | | 14598760 | 14595269 | 14569767 |
| | EC340D L | | 14624480 | 14622005 | 14619955 |
| Variable Track Gauge | EC380D HR | | 14622770 | 14622006 | 14601604 |
| Foldable Steps | EC380D HR | | 14622770 | 14622006 | 14601604 |
| | EC380D L | | 14622770 | 14622006 | 14601604 |
| | EC380D NL | | 14622770 | 14622006 | 14601604 |
| | EC480D L | | | 14612482 | 14541030 |
| Variable Track Gauge | EC480D HR | | | 14612482 | 14541030 |
| | | | | | |
| | Model | Serial No. | Slew Drive Assembly | Slew Motor | Swing Gear Box |
| ECR Series Excavators | ECR28 | 10151-10946 | 11801619 | | |
| Go to Top | ECR28 | 10947-11522 | 11808668 | | |
| | ECR28 | 11523 ~ | 15611734 | | |
| | ECR38 | 10151-10946 | 11801620 | | |
| | ECR38 | 10947 ~ | 11808669 | | |
| | ECR48C | 4838 ~ | 11808387 | | |
| | ECR58 | 10001 ~ | 14572714 | | |
| | ECR88 | 10001-14011 ~ | 14572717 | | |
| | ECR145C L | 110001 ~ | | 14549861 | 14563573 |
| | ECR235C L | 110001 ~ | | 14552686 | 14552871 |
| | ECR305C L | 110001 ~ | | 14592186 | 14570292 |
| | | | | | |
| | Model | Serial No. | Slew Drive Assembly | Slew Motor | Swing Gear Box |
| Wheeled Machines | EW50 | 10151-20235 | PJ4890052 | | |
| Go to Top | EW50 | 20236-????? | PJ4890095 | | |
| | EW50 | ????? ~ | PJ4890100 | | |
| | EW50 VV | 10151-99999 | PJ4890100 | | |
| | EW55 | 5001-5421 | 1155-30090 | 1155-30080 | 14529547 |
| | EW55 | 5422-9999 | 14513821 | 14514261 | 14529547 |
| | EW55B | 30001-30383 | 14513821 | 14514261 | 14529547 |
| | EW55B | 30384 ~ | 14532628 | 14532629 | 14529547 |
| | EW60C | 110001 ~ | | 14579564 | 14560849 |
| | EW70 | 10151-14297 ~ | PJ5370257 | | |
| | EW70 VV | 10151-54296 | | | |
| | EW70 VV | 54297 ~ | PJ5370257 | | |
| Akerman | EW130 | 199-447 | | 14215117 | 14250820 |
| | EW130 | 3001-4169 | 7118-23001 | 1142-00920 | 7118-23101 |
| | EW130 | 4170-9999 | 14521441 | 1142-00920 | 14521442 |
| Akerman | EW130C | 1-583 | | 14211116 | 14250820 |
| | EW130C | 584-9999 | | 14211116 | 14250820 |
| | EW140 | 1001-1487 | 14372613 | | |
| | EW140B | 1001-9999 | 14380035 | | |
| | EW140C | 120012 ~ | 14388139 | | |
| | EW145B | 10001-10370 | 14527711 | 1142-00920 | 14507900 |
| | EW145B | 10371-15000 | 14541063 | 1142-00920 | 14541064 |
| | EW145B | 15001 ~ | | 14559150 | 14540907 |
| Akerman | EW150 | 1-318 | | 14211116 | 14250820 |
| Akerman | EW150C | 501-688 | | 14211116 | 14250820 |
| | EW150C | 689-9999 | | 14211116 | 14250820 |
| | EW160 | 1001-1912 | 14372614 | | |
| | EW160B | 8731001-8731851 | 14377749 | | |
| | EW160B | 8731852 ~ | 14382340 | | |
| | EW160C | 120012-121463 | 14387541 | | |
| | EW160C | 121464 ~ | 14604593 | | |
| | EW170 | 3001-9999 | 7118-27000 | 1142-04800 | 7118-27100 |
| | EW170 KR | 3001-9999 | 7118-27000 | 1142-04800 | 7118-27100 |
| | EW180 | 3001-9999 | 7118-27000 | 1142-04800 | 7118-27100 |
| | EW180B | 1-8751398 | 14376571 | | |
| | EW180B | 8751399-9999999 | 14382321 | | |
| | EW180C | 120013 ~ | 14388282 | | |
| | EW200 | 3175-9999 | | 14211116 | 14256325 |
| Akerman | EW200 | 2401-3174 | | 14211116 | 14256325 |
| | EW200B | 10001-99999 | 14376409 | | |
| | EW210C | 120013 ~ | 14577134 | | |
| Akerman | EW230 | 1369-1447 | | 14211154 | 14233392 |
| Akerman | EW230B | 1448-1735 | | 14211154 | 14233392 |
| | EW230B | 1736-9999 | | 14211154 | 14233392 |
| | EW230C | 12001 ~ | 14601108 | | |
| | | | | | |
| | Model | Serial No. | Slew Drive Assembly | Slew Motor | Swing Gear Box |
| Foresty Machines | FC2121C | 110001 ~ | | 14552686 | 14541069 |
| Go to Top | FC2421C | 110001 ~ | | 14552686 | 14541069 |
| | FC2924C | 110001-110013 | | 14550094 | 14542163 |
| | FC2924C | 110014 ~ | | 14577125 | 14566202 |
| | FC3329C | 110001-110017 | | 14550095 | 14542165 |
| | FC3329C | 110018 ~ | | 14598751 | 14569767 |
| | |
| --- | --- |
| VOE14518162 Seal Kit Swing Motor | VOE14663485 Swing Motor |
| VOE8014512786 Swing Motor | VOE8014627481 Swing Motor |
| VOE9011802165 Swing Motor | VOE9014604593 Swing Motor |
| VOE11806070 Swing Motor | VOE14627481 Swing Motor |
| SA1042-06530 Swing Motor | VOE14604593 Swing Motor |
| VOE14532629 Swing Motor | VOE9014627480 Swing Motor |
| VOE9014532629 Swing Motor | VOE9014604592 Swing Motor |
| VOE14579564 Swing Motor | VOE14604592 Swing Motor |
| VOE9011809175 Swing Motor | VOE14627480 Swing Motor |
| VOE15636506 Swing Motor | VOE9014641995 Swing Motor |
| VOE11808963 Swing Motor | VOE14641995 Swing Motor |
| VOE11809175 Swing Motor | VOE14380035 Swing Motor |
| VOE11808378 Swing Motor | VOE14372613 Swing Motor |
| VOE14504222 Swing Motor Ass | VOE14372614 Swing Motor |
| SA7240-00040 Swing Motor | VOE9014372613 Swing Motor |
| VOE14673318 Swing Motor | VOE9014372614 Swing Motor |
| VOE14559150 Swing Motor | VOE9014380035 Swing Motor |
| VOE9014559150 Swing Motor | VOE14626918 Swing Motor |
| VOE9011708292 Swing Motor | VOE9014626918 Swing Motor |
| VOE9014617780 Swing Motor | VOE14601108 Swing Motor |
| VOE14617780 Swing Motor | VOE8014601108 Swing Motor |
| VOE14538545 Swing Motor | VOE14389044 Swing Motor |
| VOE9014538545 Swing Motor | VOE14388282 Swing Motor |
| VOE9014514894 Swing Motor | VOE9014388282 Swing Motor |
| VOE8011707166 Swing Motor | VOE9014577134 Swing Motor |
| VOE8011708156 Swing Motor | VOE14577134 Swing Motor |
| VOE14673219 Swing Motor | VOE14376409 Swing Motor |
| VOE14699772 Swing Motor | VOE9014382340 Swing Motor |
| VOE9014552686 Swing Motor | VOE8014382321 Swing Motor |
| VOE14550095 Swing Motor | SA1055-00451 Swing Motor |
| VOE9014550095 Swing Motor | VOE14635750 Swing Motor |
| VOE9014569651 Swing Motor | VOE14653032 Swing Motor |
| VOE9014550092 Swing Motor | SA1055-00570 Swing Motor Ass |
| VOE14612482 Swing Motor | SA8220-14950 Swing Motor Ass |
| VOE9014612482 Swing Motor | SA1042-12220 Swing Motor Ass |
| VOE14569651 Swing Motor | SA1042-06520 Swing Motor |
| VOE14549861 Swing Motor | SA1042-08140 Swing Motor |
| VOE14532628 Swing Motor | SA1040-20040 Swing Motor |
| VOE14550091 Swing Motor | VOE8014645001 Swing Motor |
| VOE14552686 Swing Motor | VOE8014663485 Swing Motor |
| VOE9014550091 Swing Motor | SA8230-06660 Swing Motor |
| VOE9014572714 Swing Motor | SA1040-74410 Swing Motor |
| VOE14572714 Swing Motor | VOE8011708292 Swing Motor |
| VOE14654548 Swing Motor | VOE8014550092 Swing Motor |
| VOE9014654548 Swing Motor | VOE8014569651 Swing Motor |
| VOE9014524188 Swing Motor | VOE8014519306 Swing Motor |
| VOE14524188 Swing Motor | VOE8014514894 Swing Motor |
| VOE9011707158 Swing Motor | VOE8014552686 Swing Motor |
| VOE9014519306 Swing Motor | VOE9014539045 Swing Motor |
| VOE9014645001 Swing Motor | VOE8014559150 Swing Motor |
| VOE14625697 Swing Motor | VOE8014666239 Swing Motor |
| VOE14608434 Swing Motor | VOE8014538545 Swing Motor |
| VOE14688500 Swing Motor | VOE8014622006 Swing Motor |
| VOE14586029 Swing Motor | VOE8014627480 Swing Motor |
| VOE14645001 Swing Motor | VOE8011707158 Swing Motor |
| VOE9014625697 Swing Motor | VOE8014572714 Swing Motor |
| VOE14622006 Swing Motor | VOE8014595269 Swing Motor |
| VOE9014550094 Swing Motor | VOE8011802165 Swing Motor |
| VOE14550094 Swing Motor | VOE8014579564 Swing Motor |
| VOE9014645005 Swing Motor | VOE9014579564 Swing Motor |
| VOE14645005 Swing Motor | VOE9014673219 Swing Motor |
| VOE9014572717 Swing Motor | VOE8014604593 Swing Motor |
| VOE14622005 Swing Motor | VOE8011809175 Swing Motor |
| VOE14622768 Swing Motor | VOE8014622005 Swing Motor |
| VOE14645003 Swing Motor | VOE8014633637 Swing Motor |
| VOE14572717 Swing Motor | VOE8011707160 Swing Motor |
| VOE9014622005 Swing Motor | VOE8014380035 Swing Motor |
| VOE8011707159 Swing Motor | VOE8014382340 Swing Motor |
| VOE14598751 Swing Motor | VOE8011801619 Swing Motor |
| VOE9014595269 Swing Motor | VOE8014604592 Swing Motor |
| VOE14639135 Swing Motor | VOE8014539045 Swing Motor |
| VOE14592186 Swing Motor | VOE8014633636 Swing Motor |
| VOE9014633637 Swing Motor | VOE8014617780 Swing Motor |
| VOE14595269 Swing Motor | VOE8014550095 Swing Motor |
| VOE14633636 Swing Motor | VOE8014372613 Swing Motor |
| VOE14633637 Swing Motor | VOE8014577134 Swing Motor |
| VOE14577125 Swing Motor | VOE8014641995 Swing Motor |
| SA7240-00011 Swing Motor | VOE8014625697 Swing Motor |
| VOE14539045 Swing Motor | VOE8014626918 Swing Motor |
| VOE8014535293 Swing Motor | VOE8014654548 Swing Motor |
| VOE14598750 Swing Motor | VOE8014524188 Swing Motor |
| VOE9014622007 Swing Motor | VOE8014629678 Swing Motor |
| VOE14535293 Swing Motor | VOE8014372614 Swing Motor |
| VOE14622007 Swing Motor | VOE8014532629 Swing Motor |
| VOE14550092 Swing Motor | VOE8011801620 Swing Motor |
| VOE9014629678 Swing Motor | VOE8014388282 Swing Motor |
| VOE14629678 Swing Motor | VOE8014550094 Swing Motor |
| SA8230-31780 Swing Motor | VOE8014550091 Swing Motor |
| VOE14607884 Swing Motor | VOE8014572717 Swing Motor |
| VOE9011707160 Swing Motor | VOE8014622007 Swing Motor |
| VOE14664496 Swing Motor | VOE8014645005 Swing Motor |
| VOE14512786 Swing Motor | VOE8014673219 Swing Motor |
| VOE14653149 Swing Motor | VOE14527680 Pin Swing Motor |
| VOE14634201 Swing Motor | VOE8011707161 Swing Motor |
| VOE9014663485 Swing Motor | SWING MOTOR VOE14514261 |
| VOE14666239 Swing Motor | SWING MOTOR VOE14521451 |
| VOE9014666239 Swing Motor | |