Spare parts for Caterpillar road rollers
To ensure correct paving, it is necessary to have available spare parts for Caterpillar road rollers. Over the years, the company Heavy Equipment Spare Parts is engaged in supplying high quality parts from manufacturers to customers in various industries.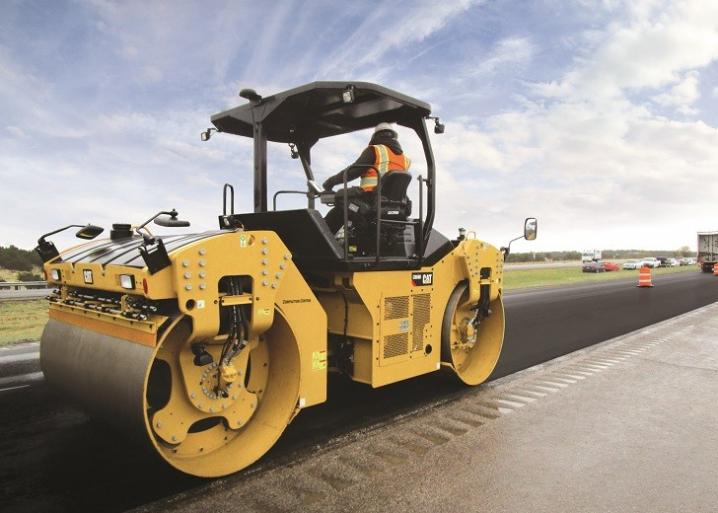 If you are good at construction, then you know that
Caterpillar
is one of the most famous brands. Caterpillar has worked hard to establish standards of reliable equipment and excellent customer service. In stores Heavy Equipment Spare Parts You will find various parts of your equipment, ranging from small parts to seal landfill capacity of 253 hp to large pnevmokatkami for road works.
To ensure high efficiency and long life of your roller Caterpillar, you must have access to the best spare parts. Our non-genuine spare parts and comply with all technical requirements, and you can always count on their prompt delivery.
If you need spare parts for rollers, pavers or excavator
of Caterpillar
, you can buy everything you need at the Heavy Equipment Spare Parts. You can rely on Heavy Equipment Spare Parts - we will deliver everything you need quickly and at low cost. Please Heavy Equipment Spare Parts and find out how much you can save by buying parts you require.
| | | | |
| --- | --- | --- | --- |
| 8H4245-SHELL | 2J0564-NUT | 4J6557-RING | 6J5733-RING |
| 8H4477-PIPE | 2J0744-RING | 4J6580-WASHER | 6J5773-WASHER |
| 8H4514-INSERT | 2J1404-SHIM | 4J6750-SPACER | 6J5985-PIN |
| 8H4681-FILTERG | 2J1408-PACKING | 4J6802-SPRING | 6J6043-BEARING |
| 8H4827-GASKET | 2J1737-CLAMP | 4J6803-ORIFICE | 6J6604-PIN |
| 8H5027-GASKET | 2J1799-GASKET | 4J6806-SHIM | 6J7240-SPRING |
| 8H5306-KEY | 2J1826-SEALRIN | 4J6809-SPRING | 6J7264-RING |
| 8H5324-GASKET | 2J1833-HOSE | 4J6888-NUT | 6J7270-GASKET |
| 8H5347-STUD | 2J2152-CUP | 4J6898-WASHER | 6J7366-CAP |
| 8H5352-BEARING | 2J2389-SPRING | 4J7032-PIN | 6J7376-GASKET |
| 8H5488-LOCK | 2J2548-BOLT | 4J7313-HOSE | 6J7836-RING |
| 8H5724-NUT | 2J2555-BOLT | 4J7376-RING | 6J7846-RACE |
| 8H5727-BOLT | 2J2631-SEAL | 4J7386-SHIM | 6J7854-RING-SNAP |
| 8H5751-WASHER | 2J2664-SPRING | 4J7415-VALVE | 6J7855-RING-LOCK |
| 8H5772-BOLT | 2J2668-COVER | 4J7441-SEAL | 6J7926-HOSE |
| 8H6393-RING | 2J2866-SHIM | 4J7490-SPRING | 6J8696-SHIM |
| 8H6507-SPRING | 2J3118-BOLT | 4J7533-SEALOR | 6J8811-PINA |
| 8H6508-BOLT | 2J3505-NUT | 4J7546-PILOT | 6J8814-PROTECTO |
| 8H6714-CAPA | 2J3506-NUT | 4J7945-BOLT | 6J8873-PIN |
| 8H6913-NUT | 2J3507-NUT | 4J8136-GASKET | 6J9224-ROLLERA |
| 8H7035-GASKET | 2J3864-SHIM | 4J8224-SHIM | 6J9354-SEALA |
| 8H7202-CASEA | 2J3950-NUT | 4J8250-RETAINER | 7J0204-SEALORING |
| 8H7204-FILTERG | 2J3961-RING | 4J8251-GROMMET | 7J0397-GASKET |
| 8H7211-LOCK | 2J4066-RING | 4J8252-GLASS | 7J0435-ROD |
| 8H7319-SEAL | 2J4672-GASKET | 4J8268-SEALOR | 7J0482-ELBOW |
| 8H7504-BOLT | 2J5038-ROD-END | 4J8425-GASKET | 7J0728-CLIP |
| 8H7521-SEAL-O-R | 2J5245-BOLT | 4J8622-BOLT | 7J0729-CLIP |
| 8H7577-PLATE | 2J5462-TRUNNION | 4J8665-BIT | 7J1309-BEARING |
| 8H7801-CONE | 2J5637-PIN | 4J8724-BITEND | 7J1333-BEARING |
| 8H7803-CUP | 2J5649-PIN | 4J8734-NUT | 7J1334-BEARING |
| 8H7980-PISTON | 2J5815-NUT | 4J8843-BIT | 7J1335-BEARING |
| 8H8024-RING | 2J5820-PLUG | 4J8844-BIT | 7J1336-BEARING |
| 8H8175-BEARING | 2J5846-RING | 4J8849-BIT | 7J1369-SEAL |
| 8H8257-SEAL-O-R | 2J5907-BOLT | 4J8850-BIT | 7J1627-RING |
| 8H8376-GASKET | 2J5997-LOCKNUT | 4J8947-SPRING | 7J1731-RING |
| 8H8437-GASKET | 2J6088-SPRING | 4J8982-SEAL | 7J1938-RING |
| 8H8580-SCRAPER | 2J6089-SPRING | 4J8996-SEALOR | 7J2036-SEALOR |
| 8H8648-PLATE | 2J6232-CUP | 4J8997-SEALOR | 7J2037-SEAL |
| 8H8754-GASKET | 2J6233-CONE | 4J8998-SEALOR | 7J2038-SEALRIN |
| 8H8769-BOLT | 2J6262-BEARINGA | 4J9058-BOLT | 7J2087-RING |
| 8H8830-RING | 2J6274-SEALOR | 4J9208-BOLT | 7J2150-SEALA |
| 8H8871-SHIM | 2J6356-RINGLOC | 4J9218-RING | 7J2604-BEARING |
| 8H8898-PIN | 2J7188-GASKET | 4J9220-RING | 7J2656-SCREENG |
| 8H9155-SEAL | 2J7295-SPRING | 4J9221-RING | 7J3023-BIT |
| 8H9180-SEAL | 2J7426-SEAL | 4J9222-RING | 7J3216-BEARING |
| 8H9181-SPRING | 2J7550-RING | 4J9223-RING | 7J3296-RING-L |
| 8H9182-ROLLER | 2J7606-GASKET | 4J9224-RING | 7J3297-BEARING |
| 8H9186-SPRING | 2J7686-NUT | 4J9225-RING | 7J3300-RING-WEA |
| 8H9187-BEARING | 2J7759-WIPER | 4J9535-SEALOR | 7J3351-HEAD |
| 8H9189-DOWEL | 2J7761-RING | 4J9964-SEAL | 7J3663-WASHER |
| 8H9204-WASHER | 2J7763-WASHER | 5J0390-SHIM | 7J3863-SEAL-RIN |
| 8H9208-DOWEL | 2J7767-RING | 5J0490-BOLT | 7J3864-SEAL-RIN |
| 8H9220-GASKET | 2J8163-SEAL | 5J0780-GASKET | 7J3867-SEAL-RIN |
| 8H9223-GASKET | 2J8168-WASHER | 5J0835-SHIM | 7J4026-ELBOW |
| 8H9329-IMPELLER | 2J8170-WIPER | 5J0901-VALVE | 7J4169-RING |
| 8H9364-GASKET | 2J8172-RING | 5J0936-GASKET | 7J4824-SEALA |
| 8H9370-BUSHING | 2J8239-ADAPTER | 5J0937-GASKET | 7J4981-TRUNNION |
| 8H9405-GASKET | 2J8333-SEAL | 5J0995-LEVER | 7J4982-BEARING |
| 8H9520-SEAL | 2J8348-BOLT | 5J1036-SHIM | 7J4983-CAPBRG |
| 8H9523-SPRING | 2J8489-BEARING | 5J1086-SEALOR | 7J5131-TRUNNION |
| 8H9585-BEARING | 3J0365-SEAL | 5J1184-BEARING | 7J5217-SPACER |
| 8H9620-WASHER | 3J0369-SEAL | 5J1192-BEARING | 7J5242-SPIDERA |
| 8H9788-GASKET | 3J0377-SEAL | 5J1246-SHIM | 7J5326-RING |
| 8H9789-BEARING | 3J0378-SEAL | 5J1389-SPRING | 7J5355-GUIDERH |
| 8H9804-SHAFT | 3J0634-SEAL | 5J1419-ENDBIT | 7J5356-GUIDELH |
| 8H9818-GASKET | 3J0695-BEARING | 5J1420-ENDBIT | 7J5358-BUSHING |
| 8H9819-ADAPTER | 3J1770-PIN | 5J1449-PINA | 7J5367-LOCKNUT |
| 9H0223-SEAL | 3J1805-BOLT | 5J1702-BOLT | 7J5521-SEAL |
| 9H0415-RINGSEA | 3J1907-SEAL | 5J1731-SEAL | 7J5561-BUSHING |
| 9H0846-SEALOR | 3J1984-SEAL | 5J1808-SEALOR | 7J5639-BOLT |
| 9H0858-SEAL | 3J1991-GASKET | 5J1825-PIN | 7J5802-SLEEVE |
| 9H1020-STUD | 3J2333-BEARING | 5J1968-SHAFT | 7J5826-SLEEVE |
| 9H1022-STUD | 3J2364-SHAFTA | 5J2245-BEARING | 7J6003-BUSHING |
| 9H1024-WASHER | 3J2373-BEARING | 5J2246-BEARING | 7J6163-NUT |
| 9H1031-WASHER | 3J2443-BEARING | 5J2274-WIPER | 7J6250-BRG-SLEE |
| 9H1077-STUD | 3J2801-BOLT | 5J2383-SEALOR | 7J6285-SEAL |
| 9H1110-WASHER | 3J3668-PIN | 5J2409-BOLT | 7J6418-FITTING |
| 9H1112-SPRING | 3J3689-SHIM | 5J2445-BEARING | 7J6420-FITTING |
| 9H1113-RING | 3J3690-SHIM | 5J2721-SHIM | 7J6461-CROWN |
| 9H1129-SEAL | 3J3953-BEARING | 5J2722-SHIM | 7J6515-HOSE |
| 9H1145-GASKET | 3J4278-SPACER | 5J2974-SEAL | 7J6525-RING |
| 9H1284-BEARING | 3J4407-SEAL | 5J3095-SHIM | 7J6571-HOSEA |
| 9H1288-STUD | 3J4776-SEAL | 5J3140-GASKET | 7J6576-SEAL |
| 9H1296-BEARING | 3J4777-SEAL | 5J3172-GASKET | 7J6580-RING |
| 9H1434-GASKET | 3J4779-ROLLERA | 5J3233-SPRING | 7J6583-SEAL |
| 9H1958-BREAKER | 3J4818-LOCKWASH | 5J3241-BEARING | 7J6818-SEAL |
| 9H2036-PLATEA | 3J5389-PLUG | 5J3316-GASKET | 7J6833-SEAL |
| 9H2256-PUMP | 3J5390-PLUG | 5J3326-RING | 7J6862-BUSHING |
| 9H2257-SEAL | 3J5397-ROLLER | 5J3488-NUT | 7J6868-RING |
| 9H2258-SEAL | 3J5552-GASKET | 5J3553-WASHER | 7J6869-RING |
| 9H2282-GASKET | 3J5553-GASKET | 5J3576-SPRING | 7J6871-SHIM |
| 9H2367-SPRING | 3J6043-TRUNNION | 5J3886-SEALOR | 7J6872-SHIM |
| 9H2400-BUSHING | 3J6216-WASHER | 5J3942-SEAL | 7J6873-SHIM |
| 9H2710-GASKET | 3J6412-BEARING | 5J3964-RING | 7J6876-WASHER |
| 9H2711-GASKET | 3J6572-SHIM | 5J4009-GASKET | 7J6877-NUT |
| 9H2713-GASKET | 3J6899-NUT | 5J4321-TRUNNION | 7J6884-SHAFT |
| 9H2769-BOWL | 3J6956-SPRING | 5J4407-RING | 7J6885-PIN |
| 9H2770-GASKET | 3J7283-FITTING | 5J4561-NUT | 7J6887-RETAINER |
| 9H3249-BEARING | 3J7352-CONNECTO | 5J4571-SPRING | 7J6893-RING |
| 9H3360-SEAL | 3J7354-SEALOR | 5J4664-SPRING | 7J6916-RING |
| 9H3452-RING | 3J7355-ADAPTER | 5J4698-SPRING | 7J7235-VALVEA |
| 9H3771-FITTING | 3J7470-SHIM | 5J4771-BOLT | 7J7320-SEAL |
| 9H3922-GASKET | 3J7473-SHIM | 5J4772-BOLT | 7J7423-VALVE |
| 9H3939-GASKET | 3J7584-BEARING | 5J4773-BOLT | 7J7621-SEAL |
| 9H3984-BEARING | 3J7620-SHIM | 5J4776-SHIM | 7J7673-SEAL |
| 9H4015-RETAINER | 3J7632-RING | 5J4986-SEALA | 7J7837-SPRING |
| 9H4105-DOWEL | 3J7704-SLEEVE | 5J4988-SEALA | 7J7852-SPRING |
| 9H4557-SEAL | 3J7705-NUT | 5J4989-SEALA | 7J8007-SEATCHECK |
| 9H4885-GASKET | 3J7719-RING | 5J4990-SEALA | 7J8014-COVERFILTER |
| 9H4886-GASKET | 3J7848-RING | 5J4991-SEALA | 7J8064-RING |
| 9H4891-GASKET | 3J7957-SHIM | 5J4993-SEALA | 7J8114-GASKET |
| 9H5156-GROMMET | 3J8281-BOLT | 5J5020-SEALA | 7J8273-SEAL |
| 9H5205-BEARING | 3J8466-RING | 5J5150-SEAL | 7J8295-HEAD |
| 9H5322-RACE | 3J8683-RING | 5J5160-GASKET | 7J8458-BEARING |
| 9H5537-SPRING | 3J8688-BEARING | 5J5247-GASKET | 7J8611-FITTING |
| 9H5548-SEALOR | 3J8775-SPACER | 5J5314-BOLT | 7J8804-KEY |
| 9H5604-RING | 3J8903-RING | 5J5315-END | 7J8881-RING |
| 9H5729-WASHER | 3J9015-SEALORIN | 5J5402-SEALA | 7J8893-CONE |
| 9H5746-CHECK | 3J9026-RING | 5J5559-SEALA | 7J8894-CUP |
| 9H5797-PLUNGER | 3J9027-RING | 5J5643-6ONNECTOR | 7J8902-BOLT |
| 9H5829-GASKET | 3J9133-BEARING | 5J5689-NUT | 7J8955-RING |
| 9H5897-GASKET | 3J9134-BEARING | 5J5731-NUT | 7J8956-SEAL |
| 9H5920-GASKET | 3J9196-NUT | 5J5784-SPACER | 7J9017-SEAL |
| 9H5921-GASKET | 3J9449-NUT | 5J5793-BOLT | 7J9108-SEAL |
| 9H5999-STUD | 3J9511-BEARING | 5J5942-GASKET | 7J9247-RING-WEA |
| 9H6067-SEAL | 3J9545-NUT | 5J6153-SHIM | 7J9250-NUT |
| 9H6079-SEALOIL | 3J9697-SHIM | 5J6430-BEARING | 7J9344-BRGSLEE |
| 9H6213-GASKET | 3J9703-RING | 5J6444-RING | 7J9346-BRGSLEE |
| 9H6236-RODA | 3J9745-SPRING | 5J6611-BEARING | 7J9351-BRGSLEE |
| 9H6454-GASKET | 4J0519-SEAL-O-R | 5J6795-WIPER | 7J9365-BRGSLEE |
| 9H6673-PIN | 4J0520-SEAL-O-RING | 5J7004-SEALA | 7J9374-BRGSLEEVE |
| 9H6687-PIN | 4J0521-SEALOR | 5J7010-SEALA | 7J9385-WASHER |
| 9H6700-SPRING | 4J0522-SEAL-O-RING | 5J7030-WIPER | 7J9396-SHIM |
| 9H6761-SEALOR | 4J0523-SEALOR | 5J7032-WIPER | 7J9397-SHIM |
| 9H6832-SEAL | 4J0524-SEAL-O-R | 5J7036-WIPER | 7J9398-SHIM |
| 9H6864-BOLT | 4J0525-SEALOR | 5J7157-VALVE | 7J9434-SHAFT |
| 9H7668-RING | 4J0526-SEAL-O-R | 5J7303-ELBOW | 7J9682-BRGSLEE |
| 9H7759-RING | 4J0527-SEALOR | 5J7854-SEALA | 7J9688-BRG-SLEE |
| 9H8136-GASKET | 4J0528-SEALOR | 5J7865-RING | 7J9694-BRG-SLEEVE |
| 9H8217-GASKET | 4J0805-WASHER | 5J7942-RING | 7J9699-BRG-SLEEVE |
| 9H8260-BOLT | 4J1105-SHIM | 5J8004-SPRING | 7J9707-BEARING |
| 9H8644-GASKET | 4J1253-SEALORING | 5J8011-SEALA | 7J9884-BEARING |
| 9H8712-ROLLERA | 4J1435-BEARING | 5J8019-RING | 7J9885-RING |
| 9H8751-BEARING | 4J2207-NUT | 5J8157-RING | 7J9933-SEAL |
| 9H8770-GASKET | 4J2208-SLEEVE | 5J8361-BEARING | 8J0061-SEAT |
| 9H8839-SEAL | 4J2286-SPACER | 5J8363-BEARING | 8J0112-RING-WEAR |
| 9H8872-GASKET | 4J2506-SEAL | 5J8966-ROLLER | 8J0201-BEARING |
| 9H8890-GASKET | 4J2620-RING | 5J8978-WASHER | 8J0217-SHIM |
| 9H9831-HOSE | 4J2667-BEARING | 5J8979-WASHER | 8J0218-SHIM |
| 1J0249-WASHER | 4J2677-WASHER | 5J8980-WASHER | 8J0220-SHIM |
| 1J0708-RING | 4J2683-SEAL | 5J9073-RING | 8J0221-SHIM |
| 1J0849-BOLT | 4J2701-END | 5J9100-SHIM | 8J0240-GASKET |
| 1J0962-BOLT | 4J2861-WASHER | 5J9348-BEARINGA | 8J0278-BEARING |
| 1J1902-SEAL | 4J2940-SHIM | 5J9349-CAP | 8J0322-SPRING |
| 1J2087-BUSHING | 4J2941-SHIM | 5J9822-SEALA | 8J0323-SEAT |
| 1J2148-PACKING | 4J2969-FITTING | 5J9969-SEAL | 8J0331-VALVE |
| 1J2150-SEAL | 4J2970-TUBE | 6J0368-CAP | 8J0388-SEAL |
| 1J2175-CAPSCREW | 4J3021-GASKET | 6J0468-INDICATO | 8J0389-WASHER |
| 1J2176-SEAL-O-R | 4J3044-BEARING | 6J0488-SCREW | 8J0393-SEAL |
| 1J2674-RING | 4J3047-BEARING | 6J0542-WIPER | 8J0412-CUP |
| 1J2859-SEAL | 4J3236-RING | 6J0793-SEALA | 8J0422-CUP |
| 1J2860-CUP | 4J3302-SPRING | 6J1038-SEAL-O-R | 8J0423-CONE |
| 1J2919-COTTERP | 4J3303-SPRING | 6J1053-GASKET | 8J0438-SPRING |
| 1J2921-CAPSCREW | 4J3342-RING | 6J1080-GROMMET | 8J0483-SPRING |
| 1J2989-BOLT | 4J3362-BEARING | 6J1081-GLASS | 8J0484-RING |
| 1J3527-BOLT | 4J3363-BEARING | 6J1144-BEARING | 8J0491-SHIM |
| 1J3710-BEARING | 4J3420-RING | 6J1152-BEARING | 8J0499-GASKET |
| 1J3720-WASHER | 4J3745-RING | 6J1311-ROD | 8J0503-SHIM |
| 1J4034-SEAL | 4J3754-CAP | 6J1381-RING | 8J0504-SHIM |
| 1J4143-NUT | 4J3815-GASKET | 6J1536-BOLT | 8J0548-RING |
| 1J4384-PIN | 4J3816-PLATE | 6J1551-BOLT | 8J0632-PIN |
| 1J4757-CONE | 4J3914-UNION | 6J1702-ROLLERA | 8J0729-RETAINER |
| 1J4947-BOLT | 4J3915-SHIM | 6J1878-PACKING | 8J0927-PIN |
| 1J4948-BOLT | 4J4288-BOOT | 6J1879-WIPER | 8J0928-PIN |
| 1J5257-CAPSCREW | 4J4605-RING | 6J1889-SEALVC | 8J1021-WASHER |
| 1J5269-WASHER | 4J4606-RING | 6J1890-WIPER | 8J1022-WASHER |
| 1J5334-SHIM | 4J4630-RING | 6J1972-SEALA | 8J1081-SPRING |
| 1J5353-PIN | 4J4968-RING | 6J2214-SCREW | 8J1148-BOLT |
| 1J5412-WASHER | 4J5140-SEALOR | 6J2244-SEALORING | 8J1256-CLIP |
| 1J5607-BOLT | 4J5193-PIN | 6J2419-SEALOR | 8J1300-PINA |
| 1J5799-PIN | 4J5241-RETAINER | 6J2420-RING | 8J1327-KIT |
| 1J6239-BEARINGA | 4J5267-SEAL-O-R | 6J2515-BOLT | 8J1543-TUBEA |
| 1J6472-RING | 4J5268-SEAL-O-R | 6J2561-VALVE | 8J1616-LEVER |
| 1J6474-RING | 4J5309-SEAL | 6J2680-SEALOR | 8J1620-BEARING |
| 1J6740-BEARING | 4J5325-PIN | 6J2797-RINGWEA | 8J1623-BOOT |
| 1J6746-PIN | 4J5351-SEAL | 6J2819-SCREW | 8J1665-SEALOR |
| 1J6761-BOLT | 4J5477-SEALOR | 6J3134-SEAL | 8J1666-RING |
| 1J6762-BOLT | 4J5573-SEAL | 6J3335-PIN | 8J1688-SEAL-O-R |
| 1J6775-BOLT | 4J5689-WASHER | 6J3405-SEAT | 8J1689-RING |
| 1J7468-CLAMP | 4J5690-WASHER | 6J3913-BOLT | 8J1690-RING |
| 1J8497-VALVE | 4J5691-WASHER | 6J3993-SHIM | 8J1699-SEAL-O-R |
| 1J8595-GASKET | 4J5692-WASHER | 6J4003-RING | 8J1717-RING |
| 1J8668-STUD | 4J5693-BEARING | 6J4081-BOLT | 8J1746-RING |
| 1J8960-SPRING | 4J5694-BEARING | 6J4568-BOOT | 8J1864-SHIM |
| 1J8965-WASHER | 4J5695-BEARING | 6J5179-RETAINER | 8J1898-SHIM |
| 1J9227-BEARING | 4J5830-PACKING | 6J5342-RETAINER | 8J2040-INSERT |
| 1J9533-SPRING | 4J5977-NUT | 6J5383-BEARING | 8J2043-SPRING |
| 1J9671-SEALORING | 4J6167-BEARING | 6J5541-SEAL | 8J2068-SHIM |
| 2J0075-SPRING | 4J6326-BEARING | 6J5730-NUT | 8J2069-SHIM |
| 2J0157-SEALOR | 4J6374-BEARING | 6J5731-RING | 8J2160-CAP |