Caterpillar 422F2 Loader parts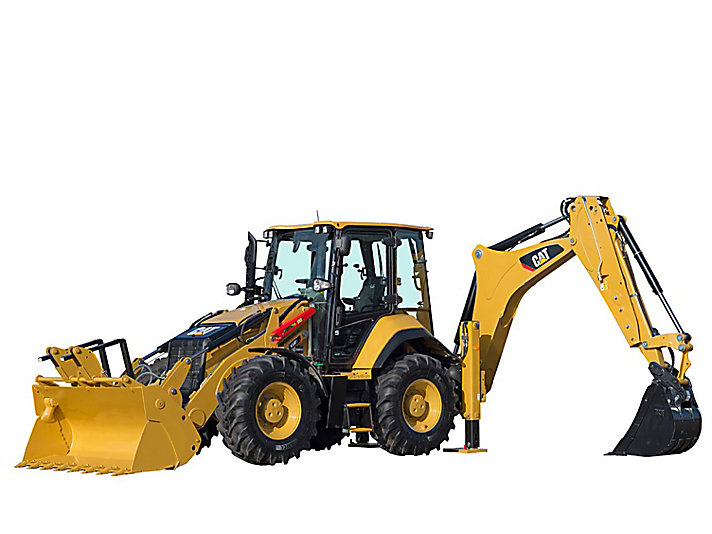 Here is some more information about Caterpillar 422F2 Loader:
ENGINE
Power - Net 52.9 kW
Bore 105.0 mm
Displacement 4.4 l
Maximum Torque - 1,400 rpm 288.0 N·m
Model 3054C 56.5 kW Naturally Aspirated

WEIGHTS
Operating Weight - Nominal 7529.0 kg
Operating Weight - Maximum 11000.0 kg
4.3 m Extendible Stick - Excluding Front Counterweight 203.0 kg
If you send us your request, we will make you an offer for original and Aftermarket Caterpillar parts for your Caterpillar 422F2 Loader.
Caterpillar 422F2 Loader - it is a big machine. But even such machine sometimes needs maintenance.
Our online parts store give you an access to more than 1 000 000 Caterpillar parts that we have in our inventory.
Below is a small list of Caterpillar parts for this equipment. However, if you are interested in something - please use the site search.
| | | |
| --- | --- | --- |
| 3K0650 - CONE | 5I7671 - CRANKSHAFT | 6Y3827 - SEAL AS. |
| 1699815 - BOLT | 2043119 - BEARING | 3318464 - CARTRIDGE AS |
| 9H2257 - SEAL | 2270728 - HOSE AS. | 8T4460 - CAP SCREW |
| 8W5405 - HOSE A | 1786571 - GASKET | 2J9068 - FITTING |
| 3148081 - HOSE AS | 7N3763 - TUBE AS | 6I1032 - FUEL LINE |
| 5K9243 - ELBOW | 1V7038 - BEARING | 1345959 - SEAL-O-RING |
| 1881600 - HOSE AS. | 9P5452 - SWITCH A | 9N2057 - TUBE A BLEED |
| 1352380 - SEAL KIT | 2H4438 - STUD | 2W5540 - RADIATOR CORE |
| 9L7883 - NOZZLE ASSY (23143) | 4K5080 - BEARING A | 9M3879 - SEAL |
| 4D7849 - SEAL | 8J7579 - HOSE A | 2720464 - PUMP AS-WATE |
| 8E9346 - EDGE | 1287596 - HOSE AS | 5U3287 - HOSE ASSEM 1 |
| 1923009 - SEAL KIT-STD (7X2688) | 3912167 - LOCKNUT-FL | 1430171 - HOSE |
| 8W4022 - HOSE A | 0R3358 - CORE GP OIL | 1979384 - LINER - CYLI |
| 3P2777 - PLATE | 2704353 - LINER KT-CLA | 1609364 - KIT GASKET |
| 2751688 - HOSE AS. | 2257940 - O-RING | 6I4005 - GASKET |
| 4369631 - LOCK, INNER | 3685090 - WASHER-HARD | 8I4328 - BEARING |
| 1T1594 - CARRIER | 8P1807 - MANIFOLD | 6J2225 - BEARING |
| 8C1903 - HOSE A | 7Y4939 - BEARING SLEEVE | 8I4032 - BEARING |
| 1T0576 - BEARING | 6J8419 - PIN | 3434037 - SHANK TOOTH UNIVERSAL |
| 8N8975 - MAIN BEARING | 7M8515 - SLEEVE | 3P2811 - FLANGE |
| 1531282 - KIT-SEAL-H.C | 2G2478 - HOSE A | 2U9202 - PIN A |
| 4Y3999 - HOSE AS. | 7V7870 - HOSE A | 6D5744 - HOSE A |
| 2H1142 - RING | 5P0090 - BEARING | 1672467 - SEAL-WIPER |
| 3234655 - BEARING-SPL (3P1911) | 4F4541 - BEARING | 8V5865 - HOSE A |
| 5850-U30 - ADAPTER,1.5 | 2024016 - HOSE AS | 2137536 - GUIDE-VALVE |
| 2229154 - GASKET KIT | 1099349 - MOUNT AS | 3J6442 - BEARING |
| 0954419 - COTTER | 9T7757 - BARREL | 1445394 - DRUM AS (1754157) |
| 1646403 - HEAD | 1554833 - STUD | 2186115 - HOSE AS. |
| 7S4439 - RING | 3K8767 - GASKET | 6I4182 - HOUSING |
| 4T6406 - HOSE A | 3437104 - FILTER AS FU | 6V3206 - BEARING |
| 7N0246 - PIPE | 1013440 - CARTRIDGE AS | 1933322 - GASKET KIT |
| 7T9035 - HOSE A | 5216888 - PIN-DIFF-C | 2P6465 - GASKET KIT |
| 2941790 - PIPE | 3T9293 - PLATE | 3334951 - PULLEY-CLA |
| 9V2572 - PIN | 3510925 - DISC-FRICTIO | 8L5180 - ELBOW |
| 5P8972 - GASKET KIT | 7C3493 - SHAFT | 2208127 - PUMP GP-GR 1 |
| 3367359 - KIT-SEAL-H.C | 9M4302 - GASKET | 1G4725 - HOSE A |
| 4P9663 - LINE AS | 9R8548 - AXLE | 4U9417 - HOSE ASSEMBL |
| 3083436 - KIT-GASKET(W | 7T9277 - SWITCH A | 1W4340 - SHAFT |
| 6V1164 - GASKET KIT | 7T0626 - HOSE A | 1556632 - CRANKSHAFT A |
| 1777185 - HOSE AS. | 3359191 - GASKET KIT | 1637344 - ELEMENT |
| 1157994 - HOSE A | 1642464 - HOSE AS | 2388864 - PUMP AS-LIFT |
| 6V1135 - GASKET KIT | 7N1462 - GASKET | 4D5758 - BIT |
| 4328274 - BLK-RUB-CL | 5E2818 - O RING | 1402455 - ROLLER GP-SF |
| 2J0564 - NUT | 2233344 - GASKET KIT | 3F4746 - DOWEL |
| 2G2195 - HOSE A | 5J0698 - PIN | 5P9637 - GASKET KIT |
| 2635376 - HOSE | 2P7836 - ALTERNATOR G | 0R4225 - PUMP GRP |
| 9K6765 - KNOB | 6N4744 - ADAPTER | 5D3149 - BEARING |
| 8H2021 - PRECLEANER | 1151855 - PIN-TCK MAST | 1424337 - GASKET KIT (1471006) |
| 1857596 - HOSE AS | 2766163 - BUSHING | 2592499 - HOSE AS. |
| 10R8703 - MOTOR GP | 4160066 - KIT SEAL | 1661903 - GASKET KIT |
| 1540766 - SEAL KIT | 6U1684 - HOSE ASSEM 1 | 1612161 - SEAL-O-RING |
| 0950879 - PIN,SPRING | 2Q0942 - HOSE A | 2208585 - HOSE AS. |
| 9T3932 - SHAFT | 5J4609 - SEAL | 7X8715 - BREATHER |
| 4I0801 - 4I0800 | 7P6820 - SPACER | 1864336 - SEAL KIT-STD (7X2663) |
| 6V5472 - KIT GASKET | 1917712 - CYLINDER AS. | 9D2205 - PIN |
| 5J3326 - RING | 1333830 - Turbocharger S200G-001 168867 | 6W7759 - HOSE AS |
| 1989320 - HOSE AS. | 0920529 - HOSE ASSY | 8P0420 - BEARING |
| 0813504 - CIRCLIPS | 2426765 - CYL GP-0140 | 5E2397 - O-RING |
| 8W8334 - SPROCKET | 2137457 - HOSE AS | 4T9052 - HOSE A |
| 9R9112 - HOSE A | 3305023 - MOTOR GP-WIP | 8N7931 - ENGINE BEARING |
| 2974826 - GASKET KIT | 8C7433 - SEAL | 6G6398 - HOSE A |
| 9P0418 - CAGE | 6D5266 - HOSE A | 1448234 - HOSE A |
| 8S1831 - GUARD A | 3T1377 - BUSHING | 8T7530 - NUT |
| 9Y7734 - BOLT | 4600814 - KITGASKET | 9T0277 - GLAND - PED |
| 7N7441 - COVER AS | 0618293 - HOSE A | 688093 - RING |
| 2267980 - GEAR-CLASSIC | 3240165 - EDGE | 1135317 - TACHOM AS |
| 2794699 - PUMP GP-GEAR | 3P2783 - HOSE A | 7U4958 - HOSE A |
| 8C9228 - HOSE A | 1005414 - HOSE AS | 4T6930 - RING |
| 1850885 - HEAD GASKET | 2G3672 - HOSE A | 2064202 - RECTIFIER AS |
| 9X5321 - COIL ASSY. | 10R1372 - BLOCK GP CYL | 7S5005 - DOWEL |
| 1310048 - HOSE AS | 515143 - SEAL KIT HYDRAULIC CYLINDER | 4N4476 - HOSE |
| 2465542 - MOTOR GP-STG | 3H0120 - ELBOW | 2202363 - MOTOR AS |
| 0813647 - KEY | 2U6158 - HOSE AS XT3 | 6V1501 - GASKET KIT |
| 3E3761 - SENSOR A | 5I9079 - GASKET KIT | 3U5944 - HOSE ASSEM 1 |
| 8D0087 - STEM | 8K1759 - HOSE A | 4W2446 - DAMPER AS |
| 7Y7915 - 7Y8001 | 2364419 - CRANKSHAFT A | 2412600 - PIN-CLASSIC |
| 2A0762 - BOLT | 2765648 - HOUSING AS | 7S7680 - CLAMP |
| 2273509 - HOSE AS | 1043139 - HUB | 8X6484 - HOSE A |
| 2458404 - HOSE AS. | 1672463 - SEAL-WIPER | 2618288 - BOGIE MINOR |
| 2289434 - PIN-CLASSIC | 3108520 - GASKET-CYL H | 5T4995 - HOSE A |
| 7S2374 - GASKET | 5R3557 - HOSE AS | 1175063 - BODY AS |
| 1335775 - HOSE AS | 5K1068 - RETAINER | 6V3309 - ROLLER A |
| 2152606 - GASKET | 1K8327 - HOSE A | 1979845 - SPINDLE AS |
| 9C5987 - HOSE A | 1U4287 - HOSE A | 2P0982 - TURBO |
| 931430 - SEAL,DUST | 2097849 - HOSE AS | 8H5488 - LOCK |
| 1488466 - HOSE AS | 2977106 - SCREW-HEX HD | 9U3396 - BASE A |
| 1163638 - CYLINDER GP | 6N7344 - RING GROUP - PISTON | 2991993 - COLLAR-CLASS |
| 0950306 - RING,SNAP | 2B2673 - NUT | 1243240 - PIN |
| 8W4907 - HOSE A | 2377623 - SEAL-O-RING | 8X6170 - HOSE A |
| 9W5226 - PLUG | 2287547 - MOTOR GP-FAN | 1275150 - Turbocharger S3BSL-128 196425 |
| 7D5228 - HOSE A | 9K5466 - HOSE A | 3081344 - NUT - TRACK 330L |
| 949643 - SEAL | 0R6467 - TURBO GP | 8K6546 - HOSE A |
| 1885311 - TRACK SHOE | 2N8947 - VEE BELT | 1445380 - GASKET |
| 1359001 - 135-9000 | 1193093 - VALVE | 1885711 - LINK-LH (7S9602) |
| 2G6306 - HOSE A | 8D0569 - HOSE A | 2173609 - HOSE AS (2137435) |
| 2443336 - HOSE AS | 7T9339 - HOSE A | 5T9451 - HOSE A |
| 2383169 - SIDECUTTER | 9G5321 - SEAL KIT | 4177911 - KIT GASKET |
| 6I0037 - FUEL LINE | 6V7273 - GASKET KIT | 8N5386 - MANIFOLD |
| 1191098 - SHAFT | 9Y0140 - ELBOW | 3R5327 - EXHAUST PIPE |
| 0951558 - O-RING | 1709845 - SEAL-BUFFER | 7N6983 - BEARING-SLEEVE |
| 9T1062 - MOTOR AS | 7N7798 - CONNECTOR AS | 9X4600 - SEAL |
| 3253359 - GASKET (1095307) | 5P0376 - SEAL G | 1606567 - CONT GP |
| 1163589 - RING | 6L6838 - TUBE | 3988349 - SFT-PLAN-CLA |
| 0R4316 - MOTOR GP | 3S8617 - COUPLING AS- | 8H5548 - LOCK |
| 1998311 - HOSE AS | 0937176 - GASKET | 7Y3792 - HOSE AS |
| 6L7446 - New Rebuilt - PUMP | 1C4716 - HOSE CLAMP | 6P5159 - HOSE A |
| 1P1555 - SHAFT | 3198277 - CYL GP | 9J2364 - PIN |
| 3290408 - PUMP GP-FUEL | 6S4017 - PLATE | 1697451 - HOSE AS |
| 2L3404 - INDICATOR | 7T9415 - YOKE A | 7J9675 - CYLINDER G |
| 1753587 - BUSHING | 3309281 - RETAINER-CLA | 9K3969 - SPIDER |
| 3709894 - COMPRESSOR A | 6Y0299 - SHAFT A (1267130) | 9C8618 - HOSE A |
| 0676135 - KEY | 2013360 - VALVE | 2357505 - HOUSING BEARING |
| 1647455 - HOSE AS | 5M1998 - DRUM | 1452950 - SHOE-TRACK |
| 0319600 - HOSE A | 6I6585 - GEAR | 7K6117 - WASHER |
| 8K5910 - FITTING (0271287) | 4D0905 - PIN | 2S0669 - BEARING NEEDLE |
| 2086722 - HOSE AS. | 1461799 - WASHER | 2209981 - WASHER |
| 8T8365 - WEAR RING | 4I1639 - 4I1637 | 1758759 - LINK AS |
| 2571991 - LINK AS-CLA | 8Y3633 - STRIP | 4245181 - KIT GASKET |
| 1864348 - SEAL KIT-STD (7X2679) | 3R2605 - CORE A RAD | 6T0275 - CARRIER |
| 1462616 - PISTON | 3S0120 - HOUSING | 1261971 - LOCKNUT |
| 1247570 - GASKET KIT | 2056741 - TURBO GP | 2840757 - WASHER |
| 1903941 - Turbocharger S2EG-099 166802 | 8E8653 - DISC | 6V2509 - KIT GASKET |
| 7C6610 - CARTRIDGE G | 6I2517 - GASKET | 1308412 - PISTON |
| 2785166 - TUBE AS-FUEL | 2457491 - CYLINDER GP | 5I8068 - CAMSHAFT AS |
| 6T4806 - HOSE A | 2324649 - GASKET KIT | 3035189 - HOUSING |
| 1419676 - COMPRESSOR G | 8W0101 - HOSE A | 9M6054 - HOSE A |
| 7D4065 - HOSE A | 9H7545 - STOP | 1442574 - NUT |
| 5K8628 - CAGE | 5D4518 - 5S7724 | 2628382 - GASKET |
| 1786345 - MOTOR GP-PLV | 7Y9945 - PIN | 7G3470 - GEAR |
| 5S7173 - FUEL LINE | 1352405 - GASKET | 2M8075 - NUT |
| 7E6002 - BEARING | 6D6033 - BALLSTUD | 4F5395 - LOCKWASHER |
| 7Y1198 - NUT | 0R3845 - COMPRESSOR G | 3S8014 - SEAL |
| 9T6689 - PUMP G | 5P2102 - GASKET KIT | 7J9677 - CYLINDER A |
| 1D4639 - CAP SCREW | 2094267 - PLUG | 6Y1244 - RIM |
| 1043122 - VALVE GRP | 1471905 - GASKET KIT | 9R8206 - PIN |
| 0R3424 - NOZZLE A | 6E4234 - PLATE | 7W5648 - GASKET |
| 6Y0859 - SEAL KIT | 2D6533 - SEAL O RING | 6N3253 - TURBO G |
| 7M5202 - CARRIER ROL | 4B7054 - LOCK | 4K6558 - PIN |
| 3W7515 - CYLINDER A | 7R8487 - BOLT | 1127993 - GASKET KIT |
| 9P0131 - HOSE A | 9D5986 - HOSE A | 8T0100 - BOLT |
| 1410339 - GASKET KIT | 7S0292 - HOSE A | 5S0802 - HOSE A |
| 6V9897 - GASKET KIT | 6E4753 - SEAL KIT | 2684300 - HOLD DOWN |
| 3G2476 - HOSE A | 8W2998 - HOSE A | 5M6668 - SCREW |
| 1W5813 - GASKET | 4999026 - ROLLER GP- | 6Y6236 - BEARING |
| 5I4936 - BOLT | 8J7578 - HOSE A | 4L3862 - GASKET |
| 8M8761 - SEAL | 1880287 - HOSE AS. | 2U5339 - O RING 34.6 |
| 0993611 - WASHER | 3P6636 - HOSE A | 3V0867 - PIN A |
| 6Y2538 - CONE | 7W1665 - BELT SET | 3E3286 - GASKET KIT |
| 3002586 - RETAINER-CLA | 9R6671 - BOLT | 3214936 - PUMP GP-F IN |
| 4I3825 - HOSE AS | 8J9653 - VALVE | 3139224 - GASKET KIT |
| 3731893 - LINE-FI-CLA | 2137435 - HOSE AS | 3763635 - BRG-SLV-CLA |
| 9D3402 - BEARING | 5J9318 - BRACKET | 340707 - WASHER - SEGMENT D8L |
| 2345974 - SHOE TRACK | 6V1141 - GASKET KIT | 0772930 - O RING |
| 3T1677 - HOSE A | 1424444 - HOSE AS | 5T6309 - HOSE A |
| 2F5910 - SLEEVE | 2169144 - PUMP AS-WINC | 0S2457 - CAP SCREW |
| 2S5904 - GASKET KIT | 2W8085 - GEAR | 9R9066 - HOSE A |
| 8T5878 - BOLT | 8P6438 - HOSE A | 2611324 - BUCKET |
| 2493849 - HOSE AS. | 1413247 - Turbocharger S3BSL-128 196425 | 1853996 - COMPOUND |
| 2481173 - SEAL KIT | 6Y4003 - RING | 0845806 - NUT |
| 9L7712 - NUT | 9H2256 - PUMP AS | 1584241 - HOSE AS |
| 1630832 - BRACKET AS | 7I1399 - HOSE A XT (7I0138) | 3G8321 - END BIT |
| 1114337 - WASHER | 4V0612 - PLATE | 1653190 - HOSE AS |
| 2755120 - ADAPTER GP | 8N8786 - TUBE AS | 8N3844 - SENDER AS |
| 1084096 - DAMPER AS | 6V1140 - GASKET KIT | 5W4712 - V-BELT |
| 3T0300 - PUMP AS | 2W4561 - GASKET | 1746173 - FILTER |
| 9S1312 - SPRING | 8T3652 - NUT | 1700271 - HOSE AS |
| 3500970 - KIT-SEAL | 0996922 - PACKING | 3552203 - BEARING-SLEE |
| 9P9509 - ADAPTER | 6V3342 - ELBOW | 6Y8162 - RIPPER TOOTH CL |
| 5T6311 - HOSE A | 9R9232 - HOSE A | 3T6065 - HOSE A |
| 2236793 - HOSE AS | 1S6943 - LINK A | 1032084 - TURBOCHARGER |
| 0821856 - WASHER | 1P0905 - GASKET KIT | 9P8299 - HOUSING |
| 5F2465 - CUP AS | 1135958 - HOSE A | 1W2072 - BODY A |
| 4685305 - SPACER | 2082826 - HOSE AS. | 4V4835 - CABLE |
| 2435818 - SEAL KIT | 6N3637 - BELT SET | 2U2428 - WASHER SPRIN |
| 0950942 - RING,SNAP | 4E2166 - CARRIER | 1209975 - SEAL-O-RING |
| 9R1034 - HOSE AS | 2043080 - BALL JOINT | 7T3032 - HOSE A |
| 6V4526 - GASKET KIT | 6H2948 - DOWEL | 0S2353 - BOLT (0358068) |
| 5P4061 - SEAL | 6V8716 - CONNECTOR AS | 1782987 - GASKET KIT |
| 3178750 - GASKET KIT | 9C1198 - HOSE A | 9L5065 - MOTOR G |
| 3769068 - LINER-CLA | 3T4952 - PIPE | 7M9564 - HOSE A |
| 7H7954 - BOLT | 2617017 - HOSE AS. | 2395609 - CLAMP TBOLT |
| 9L2169 - ELEMENT | 4N5795 - GASKET | 4S7716 - GASKET KIT |
| 1P1533 - LINK M | 5M2734 - PRESCREENER | 1W1809 - TURBO G |
| 2163976 - GASKET KIT | 9G3082 - HOSE A | 3488092 - HOSE AS. |
| 2H5571 - GASKET | 2136939 - CARRIER-LGCY | 2G1421 - HOSE A |
| 8N1417 - BONNET | 7K7755 - HOSE A | 9C3617 - HOSE A |
| 9M2038 - GEAR | 7D5218 - HOSE A | 7W8630 - LINE ASSY. |
| 8T7881 - GASKET KIT | 5P3086 - BEARING | 2308001 - PUMP GP-PS-B |
| 1655140 - ALTERNATOR G | 3E8025 - BOLT | 1N8173 - SPIDER |
| 4I7778 - HOSE AS (4I6183) | 1348221 - BOLT | 5U1392 - HOSE ASSEMBL |
| 4688084 - KITGASKET | 121232 - IDLER W2000 | 9M7949 - HOSE A |
| 0950649 - BOLT,HEXSOCK | 1M6128 - MANIFOLD | 1591721 - CONE-BRG |
| 9S9400 - ROLLER G.SF | 5S9060 - GASKET | 6C8434 - BLADE AS |
| 2511789 - BUCKET | 3448257 - VALVE GP-CON | 2679695 - KIT SEAL |
| 8M6346 - GEAR | 5I5200 - UVERHAUL GAS | 1364224 - HOSE AS. |
| 1B2717 - BOLT | 3334733 - TUBE FUEL IN | 8M1051 - SEAL |
| 6A5591 - BOLT | 6T1936 - GUIDE | 3192204 - GASKET KIT |
| 5E2541 - BEARING | 3Q6374 - TRACK GRP | 1111730 - IDLER G |
| 3V5317 - GEAR | 1176418 - HOSE AS | 6V2696 - SEAL G |
| 1B4434 - NUT SQUARE 3/4 | 2037607 - HOSE | 9K1776 - CUSHION A |
| 8U2301 - BEARING | 1856350 - HOSE AS. | 3V7096 - CABLE |
| 1747567 - HOSE AS. | 3T9154T - SPROCKET RIM - 215 EXC. | 1336672 - CYLINDER A |
| 5P0746 - CM-CABLE STK | 6V9894 - GASKET KIT | 2U6575 - HOSE A |
| 2176702 - MOTOR GP-COM | 7E7610 - PLATE THRUST (1105138) | 1620162 - VALVE |
| 2172594 - PUMP GP-CLAS | 6D0443 - HOUSING | 4E2616 - GEAR |
| 2V7156 - LEVER | 4N0932 - PLUG | 949328 - WASHER 5/16 |
| 5F8807 - CAPSCREW | 4P6776 - SEAT VALVE | 1428593 - GASKET KIT |
| 1510254 - ARM AS | 8N3253 - SHAFT | 5M8009 - PIN |
| 5D2779 - WASHER | 2137509 - SEAL GP | 8W0503 - HOSE A |
| 0508115 - GROUP-HYDRAULIC KIT | 1504443 - HOSE AS | 1927509 - SEAL-O-RING |
| 9H8762 - HOSE A | 1397018 - CRANKSHAFT | 1763276 - HOSE A |
| 0676355 - CLIP | 5J4965 - RING | 2558691 - SEAL KIT |
| 1864341 - SEAL KIT-STD (7X2670) | 8D0602 - HOSE A | 1097021 - CYLINDER G |
| 6Y5913 - DISC | 2826563 - PLATE-CLA | 2393902 - CONVERTER - PWR |
| 8S4755 - BOLT | 4L3804 - GASKET | 1Q5314 - HOSE A |
| 2G6384 - TUBE AS | 1990860 - NUT-SPANNER | 7N6806 - SEAL |
| 0982656 - SCREW | 8T1618 - KIT GASKET | 1K4682 - BUSHING |
| 2Y4967 - 7D9053 | 4F0588 - BEARING-BALL | 2892934 - SEAL RING |
| 2386646 - SEAL-O-RING | 7M8227 - GASKET | 1J8960 - SPRING |
| 6Y6300 - SHOE | 7X4757 - RING | 2842314 - GASKET KIT |
| 1L5606 - HOSE A | 1968013 - PIPE | 3199510 - SPRING AS. |
| 8T6692 - GASKET KIT | 2835755 - GASKET KIT | 6D5638 - 7D5261 |
| 3994435 - RACE-OTR-CLA | 2900823 - MST PIN- CLA (8M2618) | 5D0019 - BULB |
| 1855310 - VALVE GP-FUE | 3G6492 - VALVE G | 1397629 - RETAINER |
| 2Y8425 - HOSE A | 1102220 - SEAL O RING | 8T4293 - CAPSCREW |
| 2023100 - HOSE AS. | 1806645 - SHAFT AS (1620153) | 8D9686 - COLLAR |
| 6J3390 - HOSE A | 2429849 - GASKET KIT | 6Y0286 - RIPPER TOOTH CL |
| 4T4811 - RING | 5H8510 - BUSHING | 1529071 - HOSE AS. |
| 7C3446 - TURBOCHARGER | 3274184 - BELT-FAN | 7J3410 - HOSE A |
| 1395249 - PLATE LH | 1345125 - HOSE AS | 8N6185 - OIL PAN |
| 6I0274 - ELEMENT | 4V5483 - HOSE A | 5D9844 - BOLT |
| 6V0335 - GASKET KIT | 1628550 - STRUT | 7X2671 - SEAL KIT-H.C |
| 7J9689 - ROD A | 0510745 - BEARING | 8S9239 - TURBO A |
| 4151922 - RACE-OTR-CLA | 6V2581 - GASKET KIT | 6L7816 - SEAL-O-RING |
| 8R9529 - HOSE A | 8T0646 - BOLT | 7N1961 - BOLT |
| 6V8255 - WIPER BLADE | 6Y2047 - SEGMENT-D3 (5PCS) | 3E6466 - LAMP G |
| 1U0406 - PLATE | 1803721 - HOSE AS. | 9D8556 - HANDLE |
| 10R6251 - GEAR | 2555095 - PUMP GP-GR A | 2266076 - PINION-CLASS |
| 9T2004 - NUT | 1935152 - RING-RETAIN | 4F0324 - LOCK |
| 1M4459 - BEARING | 3309261 - BRG-SLV-CLA | 0R9956 - TURBO GP |
| 9G5092 - SEAL O RING | 8E5728 - RING | 4N1998 - GASKET |
| 1049030 - HOSE AS | 9P9212 - GASKET | 2454980 - HOSE AS. |
| 6Y9529 - HOSE AS | 0950930 - RING,SNAP | 5W5351 - NUT |
| 8S9704 - GASKET GP | 8X6644 - HOSE | 2071351 - TURBO GP-BAS |
| 2709176 - HOSE AS. | 2T0732 - HOSE A | 3K9508 - LINING KIT-B |
| 7N5193 - GEAR | 4N9484 - GASKET | 1466388 - ELEMENT |
| 7K9357 - PIN | 6V0653 - SEAL | 5P5689 - M-WIRE STK |
| 7Y1633 - IDLER G | 3S3285 - BEARING | 3R5938 - HOSE A |
| 8U2743 - SEAL O RING | 2S4569 - RACE | 1967700 - NUT |
| 2464793 - HOSE AS | 6T6435 - GEAR | 8R4266 - COLLET |
| 4L3856 - GASKET | 3S1811 - GASKET | 8U3431 - HOSE A |
| 3741458 - BRG-SLV-CLA | 6J0793 - SEAL A | 6D8504 - HOSE A |
| 4460477 - SEAL O-RING | 4M8958 - RACE | 1374347 - TUBE AS |
| 5N4583 - LINK A | 7D8715 - HOSE A | 7N0572 - VALVE |
| 8U3471 - SEAL O RING (6V7660) | 0969074 - BRACKET-REAR | 1052977 - ROD A |
| 4362657 - SEAL-RNG-C | 6K6413 - COUPLING AS | 9X8572 - GASKET KIT |
| 1377159 - PLATE A | 2276221 - BREATHER AS | 0964615 - SEAL |
| 7S4584 - SPACER | 0054834 - CONE | 4M5413 - VEE BELT |
| 6D9968 - HOSE A | 3807505 - BRG-RLR-CLA | 1388533 - HOSE AS |
| 6P8262 - RING | 4F0886 - BUSHING | 7Y1900 - INSERT |
| 8V6293 - SPACER | 8C1326 - HOSE A | 3537428 - KIT-BRG(-0.2 (0332379) |
| 1965951 - TURBO GP-BAS | 1T0747 - CARRIER | 4165886 - PUMPGP-F |
| 3B4757 - END BIT | 930267 - BOLT | 3296152 - PUMP GP-GR A |
| 2457484 - CYL GP-0170- | 3T5355 - FLANGE | 6V1320 - SEAL O RING |
| 3N7239 - HOSE A (2M0378) | 2836132 - CYL GP-0120 | 2295101 - RING-RETAINI |
| 1892218 - BELT | 3V5793 - HOSE A | 3038445 - PIN, LINKAGE |
| 3H5823 - RING | 8E9047 - HOSE A | 096-0059 - SEAL |
| 7I3126 - HOSE A | 3807388 - JOINT-CLA | 6V8384 - SEAL-LIP TYP |
| 0817507 - UNION A | 4F3714 - WASHER | 2005220 - INDICATOR |
| 0926111 - HOSE A | 2W3753 - HOSE-TEE | 1109589 - SPRING A |
| 3014299 - Turbocharger GTA5518 750863-0006 | 1271666 - BRAKE CALIPE | 1418987 - HOSE AS |
| 3086022 - HOSE AS. | 1V4613 - SHOE MASTER | 8T4876 - GASKET KIT |
| 2412506 - PIN AS-CLA | 7I5421 - HOSE AS | 3V2333 - BEARING |
| 1059218 - PISTON RINGS | 6V0439 - PLUG | 1305923 - SEALKIT-STD |
| 6J9178 - SEAL | 8K9619 - GUIDE | 3A1336 - LAMP A |
| 2164983 - CLAMP-T'BOLT | 2G5719 - SHOE AS | 2P6464 - GASKET KIT |
| 4V6858 - TUBE AS | 8X5338 - HOSE A | 2228772 - CYLINDER AS |
| 0776861 - BEARING CUP | 1W7556 - INDICATOR | 9J7325 - HOSE A |
| 2930730 - RING-BACKUP | 2976575 - PUMP GP-2PS- | 1880125 - SSL TIRE |
| 7R6121 - BEARING | 1876926 - HOSE AS | 8X8291 - JOINT AS |
| 1R7928 - SEAL KIT | 1931367 - RING | 7W7778 - CLAMP |
| 7B4505 - SPRING | 6V0219 - GASKET KIT | 8V7319 - YOKE A |
| 6T1724 - BAR A | 1279115 - HOSE AS | 8N5565 - MUFFLER |
| 5P2566 - BOLT | 8E1006 - HOSE A | 5K4921 - HOSE A |
| 0R9449 - PUMP GP OIL | 6T4250 - HOSE A | 3E3300 - SEAL KIT |
| 4158665 - KIT GASKET | 2W2605 - PUMP A | 8T3362 - GASKET KIT |
| 6L2965 - METER KIT | 4V6400 - CUSHION A | 2605879 - SPROCKET |
| 1958486 - MOTOR AS | 5R0715 - SHAFT | 2F4594 - GASKET |
| 1130422 - HOSE A | 0686135 - HOSE A | 0928264 - HOSE A |
| 0874629 - SHAFT | 8R7812 - GEAR | 0785397 - O'RING |
| 10R1670 - PUMP GP WTR | 3E9850 - BOLT | 9C1588 - HOSE A |
| 3Y0174 - BUSHING A | 3N8721 - PUMP GRP MAR | 5I4194 - HOSE AS |
| 6V9715 - GASKET KIT | 5C5152 - HOSE A | 2230532 - HOSE AS |
| 0782407 - RETAINING RI | 7J6582 - SEAL | 1U4290 - HOSE A |
| 2043481 - HOSE AS | 0828973 - BEARING | 8H2867 - New Rebuilt - OIL PUMP |
| 1U4851 - CYLINDER G | 1336901 - SEAL KIT | 7X5019 - HEX NUT |
| 1052070 - BUSHING | 8E0720 - HOSE AS | 1198605 - ADAPTER-RH |
| 8S8923 - HOSE A | 2836179 - KIT-SEAL | 9C2361 - HOSE A |
| 8T7819 - GASKET KIT | 1010705 - TIP | 2G4403 - HOSE A |
| 3206819 - GASKET KIT | 0856357 - HOSE A | 9V7760 - SEAL |