Caterpillar 972L Loader parts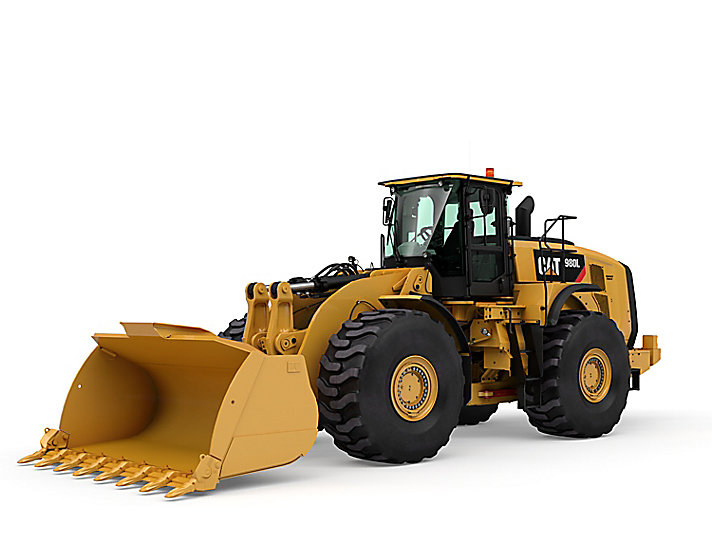 Here is some more information about Caterpillar 972L Loader:
ENGINE
Net Power - ISO 9249 222.0 kW
Engine Model Cat C9.3 ACERT
Displacement 9.3 l
Maximum Gross Power - 1,800 rpm - ISO 14396 - Metric 242.0 kW
Maximum Net Power - 1,700 rpm - ISO 9249 - Metric 222.0 kW
Maximum Net Torque - 1,100 rpm 1632.0 N·m
Peak Gross Torque - 1,200 rpm - ISO 14396 1710.0 N·m

WEIGHTS
Operating Weight 24897.0 kg
If you send us your request, we will make you an offer for original and Aftermarket Caterpillar parts for your Caterpillar 972L Loader.
Caterpillar 972L Loader - it is a big machine. But even such machine sometimes needs maintenance.
Our online parts store give you an access to more than 1 000 000 Caterpillar parts that we have in our inventory.
Below is a small list of Caterpillar parts for this equipment. However, if you are interested in something - please use the site search.
| | | |
| --- | --- | --- |
| 6V6439 - KIT GASKET | 4W2754 - SEAL | 7S4595 - SPRING |
| 1W6188 - ELBOW | 2M2820 - FITTING | 7Y0725 - WASHER |
| 9W8551 - TIP SHORT | 1Y0684 - HOSE A | 4H8419 - PINION |
| 9M8947 - HOSE A | 2S2078 - SEAL | 1216388 - HOSE AS |
| 1653186 - HOSE AS | 6D0405 - HOSE A | 6K2300 - TUBE A |
| 6Y4060 - HOSE A | 2392402 - SEAL-FUEL SY | 3U5076 - HOSE AS |
| 4P1639 - SEAL | 1520269 - HOSE AS | 1450910 - HOSE AS |
| 1597152 - MOTOR GP-PLF | 2465935 - KIT-SEAL-H.C | 3227997 - PUMP GP-PIST |
| 3B9378 - SEAL | 2H3429 - RING | 1L8544 - NUT |
| 6K6848 - HOSE A | 1573178 - MOTOR AS-GOV | 1374680 - HOSE A |
| 3V0002 - NUT | 3537472 - PUMP GP-PS-B | 6V8595 - GASKET KIT |
| 3148646 - BRG-CLA | 9R2494 - RING | 3P2178 - STRIP-WEAR |
| 6N2044 - TUBE AS | 2116007 - HOSE AS. | 4M4319 - INSERT |
| 1248992 - BOLT | 9R8955 - HOSE A | 951619 - SEAL-O-RING |
| 7R7405 - HOSE A | 5I6772 - SEAL | 9J8760 - CYLINDER A |
| 7P3466 - BEARING | 2362226 - HOSE AS | 1407533 - HOSE AS |
| 2B7905 - NUT | 4I7434 - MOUNT AS | 7N2900 - WASHER |
| 5T6909 - HOSE A | 5S7212 - FUEL LINE | 1767509 - ROTATING GP- |
| 5K8315 - DOWEL | 0659845 - BEARING | 2390723 - PUMP GP-PS-B |
| 9C8604 - HOSE A | 2Y5722 - FUEL LINE | 1218168 - SEAL-LIPTYPE |
| 1890172 - COIL AS (1418605) | 7I3584 - HOSE A | 9C9173 - BEARING |
| 0814787 - CLUTCH DISC | 5D7645 - SENDER | 7J8955 - RING |
| 2M7819 - RING | 1638781 - SPRING | 2713841 - HOSE AS. |
| 8P9869 - HOSE A | 8E7659 - CONNECTOR | 8K3612 - HOSE A |
| 8P2023 - RING-SEAL | 8K7167 - HOSE A | 8S8246 - HOSE A |
| 1672215 - SEAL AS-BUFF | 9N3055 - MAIN BEARING 0.010 | 4Y3427 - HOSE AS. |
| 8W4909 - HOSE A | 5E3308 - O RING | 2S6140 - PULLEY |
| 2903211 - BOX GRP | 2184364 - GASKET KIT | 1139539 - RADIATOR CORE |
| 1885313 - TRACK SHOE | 6V8360 - BOLT | 9R7710 - FRAME A |
| 4231982 - IN HOSE BL | 2M8308 - RACE | 7Y5117 - SEAL U CUP |
| 1383387 - HOSE A | 1944607 - HOSE AS. | 4H7134 - LOCK NUT |
| 7N6607 - RING | 1501978 - CAP AS | 1780462 - LINER |
| 5T6824 - HOSE A | 8T1405 - SEAL KIT-STD | 1156897 - M HOSE |
| 0772873 - WASHER, LOCK | 1567337 - HOSE AS | 1Q1382 - HOSE A |
| 0816413 - BOLT | 2769507 - HOSE | 6N1005 - TUBE AS |
| 781814 - LOCKWASHER 1 INCH | 3119420 - LINE-FI-CLA | 7H6981 - BEARING |
| 9K9153 - BAR | 9C8184 - DIFFERENTIAL | 1864334 - SEAL KIT-STD (7X2661) |
| 5T2241 - PIN | 1792209 - HOSE AS. | 1130492 - HOSE A |
| 7X2574 - BOLT | 8W5061 - HOSE A | 1081263 - BLOCK |
| 2919390 - DRIVE GP | 4U1325 - HOSE ASSEM 1 | 7G0896 - DISC-THRUST |
| 8D2259 - HOSE A | 6D9566 - TUBE AS | 1T1729 - STATOR |
| 0775281 - CAPSCREW | 3678465 - SEAL-LINKAGE (0931342) | 10R7298 - TURBO GP B |
| 3E7861 - LEVER AS | 951721 - O-RING | 3624589 - CYL GP-022 |
| 5M8007 - GEAR | 1910785 - HOSE AS. | 1063392 - PIPE |
| 8T8434 - RING | 2551755 - HOSE AS. | 2246369 - PUMP GP-PS-B |
| 2418935 - HOSE AS. | 4D3966 - GEAR | 8J2331 - SEAL |
| 2236971 - HOSE AS. | 1P6060 - REPAIR KIT | 6V6543 - WIPER BLADE |
| 4H8811 - BUSHING | 6T9189 - GASKET | 6C6480 - HOSE AS XT |
| 1260110 - Crankshaft SEAL GP | 1155983 - PLATE | 966100 - SEAL-O |
| 1355650 - HOSE UPPER | 9J9148 - ARM | 2029093 - NUT |
| 2W7256 - GUARD A | 1140752 - BEARING (0931822) | 8M4793 - GASKET |
| 2027475 - LIFTER AS. U | 1145683 - BRG-CONE | 4P0494 - PIPE |
| 9P8521 - GEAR | 1987823 - BEARING | 6V9961 - COUPLING AS |
| 2N3553 - SEAL | 5W8101 - HOSE A | 6D5693 - HOSE A |
| 2606672 - BOLT-HEX HEA | 8X1823 - HOSE A | 9X6255 - SEAL KIT |
| 9H7481 - GEAR | 1411311 - 141-1310 | 2974858 - JOINT AS-CLA |
| 2641702 - PIN AS | 3B5316 - COTTER PIN | 0016304 - ELBOW |
| 9W7331 - SEAL G | 7V6791 - SHAFT | 3T8039 - HOSE A |
| 1W9194 - FUEL LINE | 1943579 - HOSE AS | 1544999 - HOSE AS |
| 2K4683 - PIN | 6C4495 - HOSE A | 9V1736 - HOSE A |
| 1T0032 - PLATE | 1076257 - SEAL-BUFFER | 1353253 - SEAL KIT-STD |
| 3W7514 - RETAINER | 6T9143 - SHIM | 8W2956 - HOSE A |
| 5S9309 - HOSE A | 1151432 - GASKET KIT | 1180977 - HOSE |
| 11668968 - Turbocharger 3LJ319 159484 | 9U3646 - HOSE A | 8R2013 - HOSE A |
| 3W6478 - PLATE | 6N7553 - TUBE AS | 1U7667 - FITTING |
| 6Y5441 - HOSE A | 6T0443 - PINION | 6V2577 - GASKET |
| 6T2023 - CAP A | 3802429 - RING SET PISTO | 4I0755 - NUT |
| 2033305 - HOSE AS | 6N7887 - GASKET | 2436718 - BEARING |
| 2938747 - KNUCKLE/HS S | 8T4079 - BLOCK-CUTTER | 3F0808 - BEARING |
| 1490267 - HOSE AS | 1080711 - HOSE A | 7G4589 - CARRIER |
| 4369634 - HANDLE, INNER | 2044033 - PLATE | 5I8892 - SEAL KIT |
| 8B9787 - PIN | 2432653 - HOSE AS. | 2974896 - CYL GP-0100- |
| 0023455 - SNAP RING | 8E4326 - LINK A | 5A9036 - LOCK-NUT |
| 6N1889 - MOTOR G | 9T7769 - GUIDE-SPRING | 1597682 - HOSE AS |
| 3E8905 - GASKET KIT | 8R2203 - GEAR | 4J0823 - New Rebuilt - PUMP |
| 2095526 - HOSE AS | 2571702 - PISTON | 1608752 - BOLT |
| 1B8741 - KEY | 1456338 - HOSE AS | 8W9919 - TUBE A |
| 10R0368 - TURBO GP BAS | 9Y7735 - BEARING | 1475570 - PLATE |
| 3B6694 - PINION | 5K0658 - SEAL | 1352652 - SEAL-O-RING |
| 2843471 - GASKET KIT | 1856373 - PUMP GP-HYD | 6B4524 - BEARING SLEEVE |
| 8C5495 - KIT GASKET | 7S9098 - TRACK SHOE | 4W5733 - ADAPTER A |
| 5J8052 - TRUNNION | 1527582 - INSERT-VALVE | 1490071 - GASKET KIT |
| 2806710 - PUMP AS.-INJ | 1757453 - CORE AS | 9U8039 - HOSE AS |
| 0688026 - HOSE A | 4N8942 - MUFFLER | 6U6732 - HOSE A |
| 6N7812 - TURBO G | 9G8302 - GUIDE | 6E5290 - PUMP GP |
| 2213499 - HOSE AS. | 8V0727 - HOSE A | 8N9795 - HOSE A |
| 2749256 - RACE | 2429870 - KIT-GASKET-M | 1511833 - HOSE AS |
| 2344516 - CYLINDER AS | 1240042 - GASKET KIT | 4B1127 - RING |
| 4J6897 - PACKING | 0951593 - O-RING | 1130527 - BEARING |
| 1430823 - PANEL AS | 7W1056 - TUBE AS | 7S0190 - HOSE A |
| 4N8225 - PULLEY | 1751375 - HOSE AS | 6D8878 - HOSE A |
| 1749690 - BELT | 6T7689 - HOSE A | 9D5928 - HOSE A |
| 1M0638 - SPACER | 1048783 - HOSE A | 0960263 - LINK LH |
| 6A4713 - LINK A | 1159041 - HOSE A | 2S6344 - GEAR-CLA |
| 1672469 - SEAL-WIPER | 6N6015 - WATER PUMP | 7C0338 - GASKET-HEAD |
| 1689605 - HOSE AS | 1138315 - CARTRIDGE GP | 5V0133 - HOSE A |
| 5230571 - HSG-BRAKE- | 2110587 - MAIN BEARING | 5P1442 - CM-HOSE STK (1430344) |
| 2435142 - GASKET KIT | 3B7730 - ELBOW | 1433841 - BEARING |
| 2141121 - WASHER-THRUS | 1245233 - PIN | 7I7131 - RETAINER |
| 1929975 - HOSE AS | 7S5833 - CM HOSE BULK | 0780310 - SHEAR BOLT |
| 9R6247 - TIE | 2W0461 - Turbocharger Compatible 4LF302 2W0461 | 1140464 - ADAPTER |
| 1927217 - HOSE AS. | 9G6744 - BEARING | 6V2044 - GAGE |
| 7N7267 - SPRING | 9W6691 - SEAL KIT | 9W8703 - HOSE A |
| 4Y0556 - HOSE | 6V4553 - GASKET KIT | 6K6307 - SEAL-O-RING |
| 2299558 - GUARD | 6K6552 - GASKET | 1402731 - GASKET KIT |
| 9W7464 - PLATE | 9T3714 - ROTATING GP | 8C1911 - HOSE A |
| 8J5960 - SEAL A | 1353200 - COVER | 1733853 - PUMP GP-PREL |
| 8X5444 - VALVE RELAY | 8N6292 - HOSE | 2T1916 - HOSE A |
| 4K3628 - CAP A | 1758366 - 20" MASTER G | 1219242 - CYL-GRP |
| 4T0172 - TRUNNION | 1066734 - PIN | 0869388 - BOLT |
| 1343040 - GASKET KIT | 2813588 - DRIVE AS-FAN | 1486111 - WATER PUMP A |
| 8W0697 - HOSE A | 4T2948 - CUTTING EDGE | 2601511 - SEGMT GP-CLA |
| 6F7030 - BOLT | 2916254 - HOSE | 3G4766 - RING-EXPANDE |
| 9L5809 - HOSE A | 7Y7256 - SCREW | 1T1995 - CARRIER |
| 6V7450 - GASKET KIT | 9X7673 - SEAL | 0980264 - CLAMP HOSE (0821118) |
| 1159781 - HOSE A | 1763645 - HOSE A | 8J6296 - SHAFT |
| 2258533 - GASKET | 7S2136 - HOSE A | 3I0783 - P181030 FILT |
| 1931414 - SHAFT | 3589085 - PUMP GP-FUEL | 8T9399 - BOLT |
| 1718823 - TANK GP LUB | 8N4361 - Turbocharger TV8110 465480-9002 | 6V9225 - GASKET KIT |
| 3790185 - BRG-SLV-CLA | 7P6887 - PIN A | 8R8634 - HOSE A |
| 4T7758 - HOSE A | 1875739 - HOSE AS | 8W0340 - HOSE AS |
| 9Y5652 - ADAPTER | 4P0707 - CLAMP AS | 8N8312 - TURBO G |
| 4P9639 - HOSE AS | 3N1414 - SPACER | 2T2422 - HOSE A |
| 2D0376 - FACING A | 7S2594 - HOSE A | 8S0510 - FLANGE |
| 4N9057 - GASKET | 4480607 - GASKET | 1189954 - CORE AS |
| 1800865 - RING RETAING | 3147650 - HOSE AS. | 6V8636 - CONNECTOR AS |
| 5I7661 - GASKET | 4372034 - GASKET-K-C | 4V6442 - PLATE |
| 5U9917 - LIGHT ASSEM | 5M7171 - RACE | 1M2069 - NUT |
| 1140359 - RETAINER AS | 9T4057 - SEAL O RING | 2519335 - SPRING-WAVE |
| 3L1907 - GASKET | 9H5876 - GASKET | 5P8055 - GASKET KIT |
| 2273205 - HOSE AS | 8D6613 - HOSE A | 1449005 - CYLINDER GP |
| 2450613 - SEAL KIT | 0773323 - O-RING | 8T7542 - GASKET KIT |
| 2474126 - BEARING-CLA | 1211371 - SEAL U CUP | 0305832 - HOSE A |
| 1U0777 - HOSE A | 0965304 - FITTING | 2235850 - GASKET KIT |
| 0875778 - HOSE A | 2S3913 - CAGE | 2K6057 - BEARING |
| 9U4661 - HOSE A | 2244440 - GASKET KIT | 1606386 - SEAL |
| 1734614 - HOSE AS. | 3P5345 - HOSE A | 2G2561 - HOSE A |
| 7X3181 - BOLT | 6I1127 - GASKET | 8T7990 - CUP |
| 3S7254 - GEAR | 0L1147 - GASKET | 3125697 - KIT-GASKET(T |
| 2503998 - SEAL AS | 4Z8233 - CUTTING EDGE | 5U1772 - HOSE ASSEMBL |
| 2769875 - COMPRESSOR G | 5K8592 - BEARING | 8X8975 - HOSE AS |
| 4239461 - KIT GASKET | 9J7087 - CYL G | 1965583 - MOTOR GP-PIS |
| 10R4581 - MOTOR GP HYD | 0R9384 - HEAD AS | 5S9193 - HOSE A |
| 1261263 - HOSE AS | 1M3925 - GEAR | 9L5962 - GEAR |
| 3155726 - GASKET KIT | 9W8774 - SHAFT | 0695800 - HOSE A |
| 3011151 - GASKET KIT | 9C3616 - HOSE A | 1173249 - HOSE AS. |
| 2V4727 - HOSE A | 8G1018 - HOSE A | 2080037 - Turbocharger GT5002 701756-5001 |
| 0951731 - O-RING | 2T2623 - SEGMENT | 8C6930 - GASKET KIT |
| 1076699 - HOSE A | 9R9363 - HOSE A | 7C3801 - GASKET KIT |
| 2049737 - HOSE AS | 2S1778 - PIN & SPACER | 4D9529 - 7S0190 |
| 9V0720 - GEAR PUMP | 9W9014 - BIT-END LH | 2481583 - HOSE AS. |
| 7T6624 - HOSE A | 3B2484 - DOWEL | 2185580 - HOSE AS |
| 9D5637 - BEARING | 5T9902 - HOSE A | 8V6710 - HOSE A |
| 6E4977 - HEAD AS | 0179889 - BOLT | 9J0115 - CHAIN A |
| 4499547 - SHIELD-CLA | 1W6601 - PUMP G | 3568331 - SEAL-U-CUP |
| 4J6790 - CARTRIDGE G. (17 GPM) | 1540732 - SEAL-BUFFER | 2S3616 - HUB |
| 9T0143 - CYL G | 8M6393 - RING (0686728) | 1593305 - HOSE AS |
| 1S3736 - DISC | 8N2983 - MANIFOLD | 1022014 - INJECTOR GP |
| 1786460 - HOSE | 5B8473 - BELT | 2107722 - BOLT-FLANGE |
| 9K0461 - STRIP | 9N5250 - PISTON AS | 7G5837 - HUB |
| 2168333 - INSERT-EXHAU | 3185066 - KIT-GASKET(C (1422214) | 7B2725 - BOLT |
| 0692178 - HOSE A | 2300485 - HOSE AS. | 6L3616 - FITTING |
| 9J4979 - RING-EXPANDE | 0781955 - SEAL O RING | 4P3769 - OIL PAN |
| 1241270 - HOSE A | 6K9712 - HOSE A | 9D6063 - HOSE A |
| 9J9287 - KIT-SECTION | 3900935 - LINE-FI-CLA | 7W6165 - LINE A |
| 6V9177 - SEAL | 2W0646 - PLATE THRUST | 7G3903 - BOGIE AS |
| 8W6155 - HOSE A | 7N3349 - SHAFT | 3W6685 - HOSE A |
| 1276836 - HOSE AS | 0772976 - SCR CAP HEX | 0540731 - HOSE A |
| 5T3168 - HOSE A | 1531624 - GUARD AS-TCK | 2358747 - SWITCH |
| 2W2662 - WASHER | 1168690 - GRILL | 1253469 - HOSE AS |
| 2588695 - TANK | 0R9853 - MOTOR GP | 1234517 - HOSE A |
| 8J8171 - HOSE A | 1P8560 - CONNECTOR AS | 868571 - WASHER - D4H/D5H |
| 2U2517 - BOLT HEX HD | 3E3322 - GASKET KIT | 2079506 - HOSE AS. |
| 9L6724 - BELT SET | 3207376 - O-RING | 0813506 - PADLOCK |
| 4E2138 - GEAR | 1482303 - HOSE AS | 1565427 - HOSE |
| 9F6580 - BOLT | 3U7364 - HOSE ASSEM 3 | 8B3546 - BELT |
| 4Y3201 - HOSE A | 9M6097 - RING | 2111471 - BOLT |
| 6I8134 - HOSE AS | 1W1657 - ENGINE BEARING | 3V6805 - HOSE A |
| 7C3901 - PISTON PIN | 1127308 - CARRIER | 8V6562 - HOSE A |
| 1242583 - INJECTOR GP | 9M3296 - STUD | 1M8652 - RING |
| 4450691 - LINK AS-TR | 7X2745 - SEAL KIT | 4I1404 - HOSE A |
| 8Y0851 - HUB | 9W2633 - HOSE A | 8T9522 - SEAL |
| 1S6236 - PLATE | 3262047 - GASKET KIT | 1195117 - HOSE AS |
| 1855128 - HOSE AS | 1575075 - GEAR | 5I8414 - PUMP GP |
| 2Y6107 - BOLT | 6V7265 - GASKET KIT | 1772215 - STRAP-DUAL C |
| 2129586 - GASKET KIT | 1048624 - HOSE A | 3209241 - PIN-9 |
| 7S8545 - HOUSING | 8U0548 - BOLT | 3G5337 - BEARING |
| 3T9608 - CONVERTER A | 1V4332 - HOSE A | 2125027 - CONE |
| 2781886 - PUMP GP-FUEL | 8T8205 - RING-WEAR | 2794986 - LINE AS-CLA |
| 9H1409 - RING G | 9Y9773 - SEGMENT A | 1723783 - NUT |
| 4256713 - KIT GASKET | 3478680 - KIT-GASKET(F | 1B9704 - SPRING |
| 1222154 - HOSE AS. | 2266095 - SUPPORT AS-C | 1363803 - WASHER |
| 9J4444 - PLATE-WEAR | 4W4616 - SEAL | 8K4927 - HOSE A |
| 7H4449 - ENGINE BEARING | 1510870 - HOSE AS | 2153709 - HOSE AS |
| 8K4230 - HOSE A | 2K5205 - O RING | 6I1037 - FUEL LINE |
| 8G1682 - PIN | 9J3768 - HOSE A | 3I0550 - P163412 FILT |
| 4191866 - BALL-JNT-C | 2D5389 - HOSE | 8D2369 - SPRING |
| 6I1647 - ARM GP | 7E8656 - PISTON AS | 6V5432 - GASKET KIT |
| 2R0033 - BEARING KIT | 3T8906 - SHAFT | 8X6612 - HOSE AS |
| 2P4339 - NUT | 2U4222 - ELBOW | 3V5920 - HUB |
| 1111055 - HOSE A | 3081873 - SEAL AS-U-CU | 7X2550 - BOLT |
| 2553016 - V-BELT | 6T0307 - HOSE A | 2201644 - HOSE AS. (1080887) |
| 3637452 - CORE-RDR-CLA | 7Y4258 - SPACER | 0915630 - WASHER |
| 1271527 - GASKET KIT | 7N0631 - GASKET | 2261955 - HOSE AS |
| 3B9110 - FITTING | 1K7990 - BEARING | 7C2318 - TUBE AS |
| 1076808 - BAR | 2360737 - CYLINDER | 1W9373 - PISTON G |
| 9R2077 - HOSE AS | 1874858 - ADHESIVE (0815650) | 5I8864 - HOSE A |
| 639-1500 - RUBBER TRACK | 1050381 - BASE | 4I1079 - HOSE AS |
| 8K5676 - TUBE AS | 8T0072 - CONE | 1W3711 - BELT SET |
| 3T2652 - MOTOR GP | 1756123 - HOSE AS | 1725226 - HOSE AS |
| 2605321 - SEAL KIT | 7J9368 - CYLINDER A | 8R6287 - HOSE A |
| 4T2958 - HOSE A | 8V6159 - HOSE A | 4174529 - RACE-OTR-C |
| 8X6433 - HOSE A | 8T5063 - ROD END | 2344815 - PISTON PIN |
| 0897912 - HOSE A | 1T0565 - CARRIER | 0774199 - RETAINING RI |
| 951729 - SEAL O RING | 0921261 - HOSE A | 1114543 - HOSE AS |
| 7X7712 - GASKET KIT | 4W6167 - Turbocharger TW6147 466378-1 | 9P2666 - SHOE |
| 2037756 - CYL GP-0125- | 1919636 - PIN | 5P9383 - SEAL |
| 6C5571 - SERVICE | 1054740 - PIN | 4T2946 - CUTTING EDGE |
| 7E8554 - PUMP GP (1025844) | 7X5730 - BOLT | 6N7243 - REPAIR KIT |
| 7T9646 - HOSE A | 1602205 - HOSE AS | 4S5149 - LINING |
| 8H9183 - GASKET | 1T0550 - PIN | 3D8928 - HOSE A |
| 9T9461 - SHAFT | 7D6095 - HOSE A | 1319727 - HOSE AS. |
| 10R6013 - CYL PACK | 3G5868 - GEAR PUMP | 4J4233 - BEARING |
| 4J2923 - FLANGE | 2K0120 - PIN | 6P9497 - HOSE A |
| 2H9192 - BEARING | 9X8566 - GASKET KIT | 5I8831 - HOSE A |
| 7N4045 - HOSE A | 2167848 - CAGE-CLASSIC | 7T4616 - SPRING |
| 8X1381 - HOSE A | 3L7539 - VEE BELT | 3E8588 - COIL AS |
| 3119356 - BRG-BALL-CLA | 8T5380 - RING | 1069612 - RETAINING PI |
| 1052694 - HOSE AS XT | 1487011 - HOSE AS | 1661074 - HOSE ASSEM 1 |
| 8S6782 - ADAPTER | 1110935 - 111-0934 | 4151926 - RACE-OTR-CLA |
| 1294121 - HOSE AS | 7J3320 - SEAL WIPER | 2795380 - BUCKET |
| 0653704 - RLR HC80 | 2627043 - BEARING | 4U2266 - HOSE ASSEM 3 |
| 9R9327 - HOSE A | 1U4627 - RING | 332379 - MAIN BRG .010 |
| 2965616 - COOLER AS | 7K9207 - SEAL | 5U9006 - HOSE ASSEM 1 |
| 1086625 - HOSE | 9N0486 - GASKET | 6I0453 - GASKET |
| 4363458 - KIT GASKET | 5P7533 - CM GURD HOSE | 7T2212 - LINK (7G6024) |
| 0513123 - SEAL KIT | 5L3870 - LOCKWASHER | 3199464 - GASKET KIT |
| 2548155 - LIGHT | 1507299 - HOSE AS | 1S8814 - SEAL-LIP TYP |
| 7L8227 - HOSE | 8T6744 - RING-WEAR | 6P6653 - PLATE |
| 8T3364 - KIT GASKET | 951574 - SEAL-O-RING | 9C1295 - HOSE A |
| 3857228 - CORE-CLR-CLA | 6V1183 - GASKET KIT | 8H6356 - FITTING |
| 7C9895 - TURBO G | 2N9850 - TUBE | 7N0808 - CLAMP |
| 5I5129 - PLUNGER | 1158163 - HOSE A | 0931434 - SEAL,DUST |
| 8J2330 - SEAL | 2426766 - CYL GP-0140 | 8W4700 - ROLLER AS |
| 5S7758 - HOSE A | 0062995 - SEAL | 8E4541C - CAST END BIT D9 |
| 4W6950 - GASKET | 951763 - SEAL O RING | 3779341 - PUMP AS-FUEL |
| 9V7860 - SUPPORT A | 8E9214 - PIN | 111184 - HOSE A |
| 1137158 - HOSE A (1620774) | 9W3605 - CARRIER | 5I5014 - STUD |
| 1218112 - SEAL-O-RING | 0R1482 - CART A REMF | 2692430 - RING |
| 2167022 - HOSE AS. | 1948124 - SLEEVE AS (1075670) | 7F5227 - CAP SCREW |
| 2468296 - HOSE AS. | 1060578 - HOSE A | 3P2871 - CASE |
| 1060713 - CARRIER | 8U4782 - REPAIR KIT | 1434969 - LEVER AS |
| 1534695 - HOSE AS | 3085804 - KIT-GASKET | 8S6410 - GASKET |
| 7T3021 - SYNCHRO G | 5P7661 - BEARING | 1445739 - HOSE A |
| 1246398 - HOSE AS | 1599458 - PUMP GP | 5T4543 - HOSE A |
| 8R5918 - HOSE A | 0983973 - O RING | 0R5926 - REB CART G |
| 3368179 - TUBE FUEL-IN | 5W7491 - SEAL-O-RING | 5I7951 - ELEMENT |
| 6Y3586 - GEAR PUMP | 6C2473 - CONNECTOR | 7V5614 - HOSE A |
| 0871941 - HOSE AS | 1141511 - DRIVE GP | 2963252 - CYL GP-0090 |
| 6Y9044 - HOSE AS-RH | 6V3789 - GASKET KIT | 6U0013 - GASKET |
| 5N8379 - SEAT | 6K5513 - PIN | 8V4090 - HOSE A |
| 2213667 - PUMP GP-PS-B | 4392697 - SEAL-U-CUP | 2W0727 - CARTRIDGE AS |
| 2263509 - HOSE AS | 3169766 - PUMP GP-FUEL | 7R6648 - HOSE A |
| 4N8735 - OIL PUMP | 2221133 - Turbocharger GTA4702BS 732915-3 | 3T0844 - BRUSH KIT |
| 3G6908 - GEROTOR AS | 1504792 - RING-PISTON | 6N2469 - GASKET |
| 1450803 - PIN | 6U8403 - HOSE ASSY | 1N3505 - SPACER |
| 6N2450 - OIL PUMP | 1937631 - SEAL KIT-STD | 3Y2888 - PLUG |
| 8X4435 - DAMPER A | 7H9678 - RETAINER | 4N6883 - VALVE EXHAUST |
| 1117309 - HOSE | 2457511 - HOSE AS. | 5I0556 - BEARING |
| 5T1242 - BEARING | 2391122 - HOSE AS. | 8S4368 - GEAR |
| 1D6089 - BOLT | 1467808 - BEARING KIT- | 2H4406 - SPRING |
| 5I7792 - PISTON | 2532111 - LOCKWASHER | 1937619 - SEAL KIT-STD (3E8878) |
| 2823372 - PUMP GP HYD | 9J7142 - PLATE | 2276117 - HOUSING-MOTO |
| 3E9362 - RELAY A | 3940196 - PLUG-CLA | 9G5789 - HOSE A |
| 9S7690 - CONNECTOR | 5J7853 - RING | 2H4385 - PIN |
| 7T1890 - ELEMENT | 7X2750 - SEAL KIT | 6D2719 - 7D6401 |
| 2Y1807 - SHELL CORE | 0775157 - CAPSCREW | 9L7363 - HEAD ASSY. |
| 6V5196 - BOLT | 2023164 - HOSE AS | 6V5699 - STUD |
| 9U9042 - HARNESS AS | 5L2702 - BUSHING | 2H3337 - GASKET |
| 1073882 - HOSE AS XT | 3Y0757 - GASKET KIT | 3256005 - BRACKET-CLA |
| 3863811 - VALVE-CLA | 1W0703 - INDICATOR | 3807416 - STRIP-CLA |
| 9U8790 - PLATE AS | 5M1143 - GEAR | 7D6097 - HOSE A |
| 1307754 - VALVE | 7M1185 - HOUSING A | 3149338 - CYL GP-0089- |
| 0983767 - NUT | 0094864 - BEARING | 7M7272 - GASKET |
| 7H0674 - GASKET | 4M4419 - LOCK | 1S3311 - RING |
| 2P9343 - DISC A | 4I1091 - HOSE AS | 7U9376 - HOSE AS |
| 2V4765 - LINK A | 4N9534 - CARTRIDGE | 6K2037 - HOUSING |
| 1918019 - TURBOCHARGER | 9W9544 - STOP | 4W4905 - HOSE A |
| 2323675 - GASKET KIT | 4H3634 - HOSE A | 3371165 - HOSE AS. |
| 1376792 - CYLINDER AS | 7W2061 - INDICATOR | 6R9054 - HOSE A |
| 8W2463 - HOSE A | 6B4941 - GASKET | 6V8056 - KIT GASKET |
| 6U7710 - HOSE A | 5P3987 - SEAL | 7E0830 - CORE AS |
| 1034518 - SEAL KIT | 2640600 - GASKET KIT | 2617024 - HOSE AS. |
| 0969538 - BEARING | 1326770 - SEAL KIT-STD | 8T8159 - SEAL |
| 9S5147 - GOVERNOR ASSY. | 2Y1921 - MOTOR G- | 3G2717 - HYDRAULIC CARTRIDGE |
| 2898490 - BELT | 9T4841 - PIN | 8M3120 - ELEMENT-AIR |
| 8U4122 - SEAL O RING | 0R3008 - PUMP G | 2P2925 - COVER A |
| 4W9372 - LINE A-F INJ | 2019382 - VALVE | 8T3283 - BOLT HEX |
| 0951611 - SEAL-O-RING | 8N8196 - ADAPTER | 8D0178 - HOSE A |
| 8E2748 - HUB (1068535) | 5A7512 - CLAMP | 2033382 - HOSE AS |