Komatsu WA320-8 Loader parts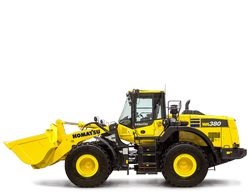 Komatsu WA320-8 Loader - it is a big machine. It is a Wheel Loader and works in difficult operating conditions. That's why this machine sometimes needs maintenance.
Our online parts store give you an access to more than 500 000 Komatsu parts that we have in our inventory.
Here is some more information about Komatsu WA320-8 Loader:
ENGINE POWER
127 kW / 170 HP @ 2.100 rpm
OPERATING WEIGHT
15.700 - 16.225 kg

ENGINE
Model -> Komatsu SAA6D107E-3
Type -> Common rail direct injection,
water-cooled, emissionised,
turbocharged, after-cooled diesel
Engine power
at rated engine speed -> 2.100 rpm
ISO 14396 -> 127 kW / 170 HP
ISO 9249 (net engine power) -> 123 kW / 165 HP
No. of cylinders -> 6
Bore × stroke -> 107 × 124 mm
Displacement -> 6,69 l
Battery -> 2 × 110 Ah
Alternator -> 90 A
Air-filter type -> Dry-air filter with automatic
dust emission and preliminary purification including a dust display
If you send us your request, we will make you an offer for original and Aftermarket Komatsu parts for your Komatsu WA320-8 Wheel Loader.
Below is a small list of Komatsu parts for this equipment. However, if you are interested in something - please use the site search.
| | | |
| --- | --- | --- |
| 5200397 - JUNCTION BOX | 56E-40-23490 - SHEET | 20Y-54-61621 - SUPPORT |
| 657951C3 - GASKET | 6754-81-2702 - SENSOR, T-MA | 707-01-0H781 - XBUCKET CYLI |
| 58E-98-10170 - ARMREST PAD | 6206-61-5170 - PLUG | 423-928-3122 - SUPPORT |
| 56B-07-16412 - WIRING HARNE | 17A-54-43870 - SHEET | 419-03-48316 - BRACKET |
| 2A5-54-15130 - COVER | 6110-83-5310 - SPACER | 5090967 - HYDRAULIC HO |
| 175-04-21330 - NIPPLE | 674695C1 - SHIM | 5281033 - SLEEVE |
| 561-83-8B610 - EXTENSION | 69639673 - MOTOR | 6219-71-8550 - TUBE |
| 795-611-1610 - REMOVER | 6731-12-3200 - INJECTOR KIT | 77003673 - VALVE |
| 426-54-46830 - PLATE | 56B-06-11141 - BRACKET P60 | 70427R1 - BOLT |
| 428-02-21130 - MUFFLER STAC | 6240-61-2610 - THERMOSTAT | 42T-02-31040 - MUFFLER P60 |
| 94007840 - HOSE | 6219-61-6730 - HOSE | 427-43-27471 - TUBE |
| 3F3034053 - CABLE | 21P-26-K1170 - BEARING | 561-07-82390 - GROMMET |
| 17M-22-45103 - VALVE ASS'Y | 6501-11-1650 - LOCK | 6271-51-5830 - HOSE |
| 89072A - ELBOW | 37A-98-12310 - PLATE | 426-93-21151 - CHART |
| 51657498 - HOSE | 75724773 - PLUG | 77093 - CROSS |
| 195-40-31370 - SPRING | 426-70-11470 - SHIM | 22U-54-00142 - CAB ASS'Y |
| 198-09-11220 - BEARING | 6206-11-5960 - BOLT | 198-03-71360 - BRAKE |
| 3055178R1 - PULLEY | 6505-67-5120 - TURBOCHARGER | 17A-06-11283 - WIRING HARNE |
| 566-61-81280 - TUBE | 6736-29-1410 - BUSHING | 42A-03-51461 - NET |
| 23B-60-42250 - TUBE | 21T-06-34442 - WIRING HARNE | 209-64-16890 - HOSE |
| 23B-22-31151 - COUPLING | 955973 - O'RING | 22M-57-21250 - PLATE |
| 419-06-12294 - WIRING HARNE | 27172R1 - SCREW | 702-16-51231 - PLATE |
| 567-06-71230 - CONNECTOR | 42C-Z89-3981 - CONNECTOR | 562-15-55200 - VALVE |
| 42C-56-12281 - GRIP | 418-54-52340 - SHEET | 95061740 - NUT |
| 58D-98-00290 - CAP, BEARING | 22T-P01-1620 - SWITCH | 22P-62-22291 - HOSE |
| 51204498 - TUBE 1=1 MET | 421-V91-2290 - PLATE | 259216 - HEATER |
| 417-926-AY70 - DOOR HOLD RO | 208-62-72470 - HOSE | 22F-62-17510 - HOSE |
| 89918A - PIPE,STACK | 709-90-HP100 - SPRING | 23A-45-11121 - YOKE |
| 417-Z02-3130 - HOSE ASS'Y | 209-62-41652 - TUBE | 836773146 - OIL PUMP |
| 6711-29-1320 - SEAL | 195-Z11-1181 - WEATHER STRI | 21T-06-72320 - WIRING HARNE |
| 56B-02-12241 - BRACKET | 428-43-11111 - CABLE ASS'Y | 707-51-85030 - PACKING |
| 42N-30-11381 - RIM | 4691561 - PIN | 723-65-21300 - VALVE, CONTR |
| 707-86-66250 - TUBE | 425-S33-2141 - PLATE | 58E-54-18590 - DUCT A.,STR |
| 209-03-41721 - HOSE | 22P-62-13560 - CLAMP | 4876753 - SPRING |
| 416-926-A750 - GROMMET BUMP | 9403298 - NUT | 198-43-61530 - SHEET |
| 6128-61-3330 - PULLEY | 34269399 - RING | 845015036 - O-RING |
| 42T-70-H0R33 - GOVERNOR | 5016216 - HYDRAULIC PU | 235-54-31941 - PLATE |
| 17A-15-25140 - BLOCK | 42N-856-3601 - CYLINDER | 22B-62-25541 - HOSE |
| 417-54-24420 - HINGE | 20N-06-71331 - SWITCH | 22W-06-13430 - DIODE |
| 708-2J-03110 - VALVE ASS'Y | 419-54-12250 - SHEET | 208-943-0301 - ARM ASS'Y |
| 6218-11-6240 - COVER | 198-68-11930 - HOSE | 63154940 - LAMP |
| 840225319 - SOLENOID | 416-926-A670 - ROD,DOOR LAT | 207-54-62721 - COVER |
| 721-58-70050 - PISTON ROD | 816206014 - KIT-BASIC ST | 23A-40-43110 - HOSE |
| 22P-46-21540 - SHEET | 79677073 - MOTOR | 416-62-11560 - TUBE |
| 6219-71-3160 - PLATE | 23A-70-11230 - GUIDE | 19M-15-22121 - SHAFT P60 |
| 6128-11-4112 - INTAKE MANIF | 19119 - CAP, RADIATO | 561-84-84351 - TUBE |
| 23B-71-31312 - SHAFT | 84877 - COLLAR | 76661073 - CONTACTOR |
| 21Y-62-21510 - HOSE | 619773C91 - BUSHING | 5009741 - HYDRAULIC HO |
| 419-15-16180 - SPRING | 17A-43-46760 - LEVER ASS'Y | 42Y-06-H2134 - HARNESS |
| 417-62-31561 - VALVE | 203-62-62780 - HOSE | 83570KF - LEVELER INT. |
| 195-06-51120 - WIRING HARNE | 209-62-15930 - BRACKET | 175-49-21291 - TUBE |
| 20K-23-31510 - NUT | 22B-54-27351 - LOCK ASS'Y | 5084165 - HYDRAULIC HO |
| 706-77-42081 - SHAFT | 23B-22-31830 - SHIM | 281-13-12161 - FREE WHEEL |
| 5073854 - MOUNTING | 427-03-24412 - OIL COOLER | 6206-61-1661 - FLANGE |
| 6505-61-4470 - HOUSING | 17A-54-45123 - COVER | 421-06-51250 - WIRING HARNE |
| 708-8H-04712 - CASE ASS'Y | 56D-54-12523 - COVER | 37297899 - SCREW |
| 643445161 - ADAPTER ST ( | 6162-23-9920 - TRUNNION | 21T-32-31133 - LINK |
| 20Y-06-A1151 - CLAMP | 5038960 - O-RING | 5513040 - FLAT PLUG |
| 568-13-14210 - GEAR | 5228837 - PANEL | 208-01-K2010 - BRACKET |
| 561-95-14200 - LAMP | 97216200 - O-RING | 22M-62-21181 - HOSE |
| 816214840 - LATCH ASM LH | 37A-942-1330 - HARNESS | 17M-911-4560 - HOSE |
| 58E-09-00090 - BOLT,HEX FLN | 58130629 - SCREW | 21M-54-18810 - FRAME |
| 844020364 - CONTROL VALV | 208-53-00020 - WINDOW ASSY | 80676473 - SEAL |
| 3917160S - SERVICE PT | 22J-62-25210 - HOSE | 426-62-31711 - HOSE |
| 198-30-45410 - CARRIER ROLL | 425-46-12221 - PACKING | 616211C3 - LINK |
| 170-70-12190 - PLATE | 42C-54-11143 - PANEL | 20Y-62-13580 - TUBE |
| 56B-54-32770 - BRACKET | 5196574 - CLAMP | 5253334 - HOUSING |
| 22M-43-22271 - PEDAL | 421-40-22110 - WHEEL ASS'Y | 569-43-83860 - PLATE |
| 2A5-43-12371 - WIRE | 22B-57-21301 - SEAT ASS'Y | 20Y-60-31240 - O-RING |
| 5072366 - HYDRAULIC HO | 416-U77-5541 - HOSE | 425-56-H1870 - WINDSHIELD |
| 392368072 - FLEX HOSE | 57609740 - HOSE | 23B-60-33134 - ELBOW |
| 23B-03-34151 - HOSE | 381-943918-1 - CUP | 25759040 - ROLLER CARR |
| 600-497-1100 - CONTROLLER | 42T-93-31140 - DECAL | 6524-81-1020 - HOSE |
| 419-54-55130 - STAY | 22B-62-17530 - HOSE | 711-73-21750 - RING |
| 58E-46-00950 - BRACKET,STEE | 90782240 - FUSE BOX | 95169340 - VALVE |
| 56B-15-15861 - COVER | 198-54-61770 - COVER | 20694KF - PIN, ASSEMBL |
| 6261-11-7220 - BRACKET | 933965R1 - WASHER | 6164-11-5151 - EXHAUST MANI |
| 22K-54-21430 - BRACKET | 808000011 - VIBRATION-DA | 6219-71-5141 - TUBE,FUEL |
| 709-12-11340 - SLEEVE | 5245155 - SPACER | 235-22-12600 - VALVE ASS'Y |
| 92521740 - TOOL KIT CPL | 6130-12-5580 - GASKET P60 | 6205-21-5740 - BRACKET |
| 253621 - LUB HSG PKG | 20Y-53-13480 - SEAL | 3912717S - SERVICE PT |
| 21P-62-K2390 - HOSE | 56B-54-12940 - COVER | 5223763 - SHAFT |
| 20Y-26-22440 - BEARING | 28998 - KIT, UP-TIME | 232-843-1720 - PLUG |
| 21K-00-41231 - PLATE | 5225657 - HYDRAULIC HO | 561-95-83470 - HOSE |
| 418-07-23450 - BOX ASM | 17256 - BREATHER, PU | 17A-Z11-1620 - STRIKER |
| 709-74-92170 - O-RING | 97985840 - HARNESS | 198-61-43330 - FRANGE |
| 273-14-61220 - GASKET | 79413773 - CLAMP | 561-27-71200 - SHIM ASSY |
| 6251-51-7170 - BRACKET | 6742-01-5501 - BRACE, TUBE | 21D-09-72300 - WASHER |
| 23A-952-1812 - LOCK | 208-00-31150 - MARK | 206-970-7230 - PLATE |
| 6127-71-5133 - INJECTION PI | 207-62-51270 - BRACKET | 22P-30-00101 - CARRIER ROLL |
| 802640756 - KNOB | 37A-942-1440 - HOSE | 22L-98-18211 - PLATE |
| 428-01-11150 - HOSE | 428-62-23250 - BRACKET | 22J-98-11540 - PLATE |
| 79865173 - MODIFICATION | 6742-01-5019 - INSOLATOR,VI | 6221-61-1120 - COVER |
| 566-63-42460 - RING | 90626740 - RING | 19648540 - VALVE |
| 22U-60-21232 - COVER | 235-01-31230 - PLATE | 5078842 - OIL FILTER |
| 23B-952-7450 - ARM | 22F-62-32130 - HOSE | 17M-911-2731 - PLATE |
| 5070451 - OIL COOLER | 427-03-22271 - TUBE | 56D-15-35130 - BLOCK |
| 20Y-54-43201 - WINDOW ASS'Y | 6207-38-3900 - METAL ASS'Y | 707-71-70220 - PLUNGER |
| 21M-54-24110 - COVER | 21K-54-73651 - COVER | 707-99-58060 - SERVICE KIT |
| 23B-40-44290 - SPRING | 6155-11-8622 - COVER | 705-12-40010 - XPUMP ASS'Y |
| 424-43-47220 - HOSE | 17075 - CAP - FF9863 | 421-06-31510 - CONNECTOR |
| 848101137 - GASKET KIT | 5070369 - BOLT | 707-98-40020 - KIT, CYL SEA |
| 4A1-53-10620 - XT CAB SEE P | 5092087 - HYDRAULIC HO | 5065878 - XCOMPUTER FO |
| 419-S99-A150 - DECAL,SWITCH | 3843722S - THERMOSTAT | 21N-54-31131 - COVER P |
| 424-62-42121 - TUBE | 714-11-10041 - TRANSMISSION | 426-54-11531 - SEAL |
| 7831-69-7101 - XMONITOR | 23B-15-72430 - GEAR | 23B-25-73170 - SEAL |
| 195-63-08132 - CYLINDER ASM | 20N-62-81212 - HOSE | 18816KF - CONNECTOR, A |
| 424-54-14470 - PLATE | 37A-54-15930 - PLATE - GASK | 17A-49-41542 - HOSE |
| 5093343 - BEARING | 89816140 - CYLINDER | 21T-06-34791 - BRACKET |
| 17A-03-42420 - SHEET | 802510220 - PIN | 208-03-71121 - OIL COOLER A |
| 51893898 - BOLT | 86191M - MUFFLER | 600-311-9670 - DETECTOR |
| 17781 - O-RING BRAK | 205-06-31491 - WIRING HARNE | 208-54-24750 - SHEET |
| 79715773 - PIPE | 37C-97-01780 - PIPE | 41D-62-23810 - HOSE |
| 209-27-51193 - SHAFT | 208-53-00090 - WINDOW ASS'Y | 426-04-61290 - BRACKET |
| 6251-11-6480 - BRACKET | 89599040 - COVER | 19496KF - TUBELINE - . |
| 89270A - REDUCER | 421-70-31702 - BELLCRANK AS | 6240-11-4240 - PLATE |
| 8295-93-1310 - PLATE | 561-43-83351 - TUBE | 5251670 - HARNESS |
| 207-00-A8820 - PLATE,LIFT C | 5074478 - COUPLING | 20Y-54-76490 - COVER |
| 21S-62-31660 - ELBOW | 3F3013601 - HOSE(1200MM) | 206-03-61130 - SEAL |
| 23B-60-14430 - ELBOW | 706-8H-53130 - SEAT | 561-06-86703 - SWITCH ASS'Y |
| 56D-07-21202 - COMPRESSOR K | 421-62-31120 - PLATE | 6245-71-5940 - BRACKET |
| 5076136 - PLUG | 6212-12-5390 - MUFFLER | 79405773 - SEAL KIT |
| 21P-60-K4080 - STUD | 885081043 - BLOCK | 195-862-7421 - BRACKET |
| 22B-54-28521 - COVER | 56B-54-23940 - SHEET | 37A-54-14432 - STOPPER |
| 708-2L-29460 - ORIFICE | 425-43-38541 - HOSE | 426-56-21100 - DOOR ASS'Y |
| 312739072 - PIPE | 706-8L-91360 - SPRING | 709-10-93800 - VALVE ASS'Y |
| 425-54-H4761 - COVER | 6218-21-3811 - HOUSING | 418-54-41122 - DOOR |
| 207-30-68420 - YOKE | 2A7-03-12471 - BAND | 6112-83-7610 - ELEMENT |
| 20Y-54-32250 - SHEET | 22P-25-21100 - CIRCLE | 720-2T-13280 - PLATE |
| 562-98-31301 - DISC, BRK TO | 5254606 - PROTECTION | 207-54-61121 - COVER |
| 708-1T-13690 - GUIDE | 421-09-11320 - SEAL | 312607090 - RADIATOR |
| 21P-57-K1520 - BELT ASSY | 875001159 - EXCHANGER,H2 | 5195033 - HYD.CYLINDER |
| 207-54-52830 - SIDE COVER | 6610-71-8482 - GASKET | 423-62-41140 - HOSE |
| 706-7G-11290 - OIL SEAL | 22M-910-1470 - ELBOW | 50614298 - TEST UNION |
| 22B-04-31131 - PLATE | 707-52-15850 - BUSHING | 37C-98-11521 - DECAL |
| 208-979-4290 - BRACKET | 5061972 - O-RING | 23A-952-1112 - GLASS |
| 561-43-8A881 - SOLENOID VAL | 22M-03-11920 - NET | 49067340 - XMOTOR P60 |
| 79369873 - HOSE ASSY | 17M-54-A1220 - MASK | 76739673 - SEAL KIT |
| 7875-25-0180 - WIRING HARNE | 720-68-12710 - ARM | 6711-11-5731 - EXHAUST PIPE |
| 561-02-81210 - TUBE | 42N-06-11140 - CABLE-GROUND | 21U-43-26151 - PIN |
| 56B-61-32490 - COVER | 5047496 - MEASURING EQ | 20P-30-81300 - IDLER ASS'Y |
| 6742-01-5046 - MANIFOLD-EXH | 419-46-32321 - BUMPER | 421-54-31472 - SHEET |
| 21P-54-K5240 - SHEET | 705-41-05910 - PUMP ASS'Y | 56B-03-22250 - SHEET |
| 6502-51-0710 - SHIELD | 6732-21-1980 - PLUG | 6221-13-1310 - VALVE GUIDE |
| 42W-22-16100 - BRAKE LEVER | 8240-72-1132 - BRACKET | 5078266 - STRUT |
| 6221-51-8651 - BRACKET | 198-43-42220 - PACKING | 6202-13-3330 - NOZZLE |
| 676474R1 - SPACER | 42N-64-11690 - VALVE | 836840256 - REPAIR KIT |
| 417200C2 - TUBE PRC PER | 22M-27-11110 - SPROCKET | 17M-54-41770 - BRACKET |
| 207-26-62110 - GEAR | 424-35-16750 - HOLDER | 21T-62-74430 - BRACKET |
| 561-06-81550 - CABLE | 708-27-22131 - O-RING | 235-53-31250 - PLATE |
| 326503R1 - SLEEVE | 421-03-51930 - PLATE | 6534-01-0060 - XDPF ASSY |
| 22B-54-17271 - GROMMET | 22J-06-25530 - WIRING HARNE | 207-06-75361 - COVER |
| 569-83-82210 - EXTENSION | 312739055 - PIPE, RH | 416-64-15410 - PIN |
| 42C-01-12565 - BLOCK | 6211-61-3900 - PULLEY ASS'Y | 418-43-17580 - HOSE |
| 700-22-11360 - PLUG | 205-06-32180 - WIRING HARNE | 428-03-22130 - TUBE |
| 21T-04-31760 - BRACKET | 175-32-31440 - SHOE, TRACK | 6261-81-8740 - WIRING HARNE |
| 6217-21-3480 - GASKET | 42C-54-13560 - BRACKET | 56343 - CABLE,C |
| 723-50-61440 - PLUG | 90760040 - SEAL | 208-03-75980 - SEAL |
| 801250231 - SCREW | 205-06-K1223 - LAMP ASS'Y | 42C-01-11213 - TUBE |
| 567-35-11202 - RELAY VALVE | 421-01-23120 - BOWL | 6524-91-1040 - GASKET |
| 707-58-70781 - ROD | 37B-54-11313 - HOOD | 92803340 - PIPE ASSY |
| 51162098 - BOLT | 76981873 - CAPACITOR | 427-15-19460 - BEARING |
| 416-18-41700 - MOTOR ASS'Y | 2A5-954-1331 - GUARD | 423-04-11770 - PACKING |
| 417-43-47490 - HOSE | 569-15-51731 - ELEMENT ASS' | 21N-939-3980 - SHIM |
| 6219-71-6350 - BRACKET | 21N-54-42820 - CUSHION | 705-21-36170 - PUMP ASS'Y |
| 58F-43-00410 - CONN, CPU JU | 76849673 - REGULATOR | 312649647 - COVER |
| 37155299 - VALVE | 5070832 - OIL COOLER | 6685-11-5111 - EXHAUST MANI |
| 705-17-01541 - BRACKET ASS' | 20Y-62-51790 - HOSE | 569-13-01100 - CONVERTER AS |
| 709-12-12750 - ELBOW | 5055033 - SEAL | 89022A - PIPE,STACK |
| 723-11-01690 - VALVE ASS'Y | 209-62-45740 - HOSE | 708-7L-05010 - SPACER KIT |
| 600-487-1602 - CONTROLLER A | 421-62-43630 - PLATE | 534086R1 - BELT |
| 6162-53-6410 - PIPE | 56D-46-13440 - SHIM | 64044640 - HOSE |
| 42C-15-18421 - TUBE | 5067376 - MOUNTING | 22E-98-21140 - PLATE P |
| 58E-00-00330 - KIT, ISOL. | 3901159S - C W AIDS | 4670507 - HYD HOSE |
| 42N-856-3310 - SPACER | 418-54-21830 - SHEET | 6166-61-3840 - PLATE |
| 6162-85-6240 - COVER | 201-54-75331 - SHEET | 423-S33-4150 - HOSE |
| 21N-30-32131 - LADDER | 23B-06-71160 - WIRING HARNE | 21W-70-44551 - BRACKET |
| 42T-09-H0720 - HOSE ASM. | 251432SJ - SERVICE PT | 37291799 - UNION |
| 42W-46-25530 - BRACKET | 707-88-22560 - BRACKET | 21W-46-41641 - SEAL |
| 5036118 - SWITCH ACTUA | 22P-70-12220 - BRACKET | 423-877-3370 - TUBE |
| 2A5-03-13141 - AFTER COOLER | 845240018 - VALVE - SOLE | 56B-54-15223 - SHEET |
| 836859104 - SCREW | 195-54-76710 - COVER | 21K-46-71210 - SHEET |
| 21W-06-41620 - BUZZER | 90604C - STACK CHROME | 428-54-21721 - BRACKET RH |
| 720-2T-03611 - ROTOR ASS'Y | 723-46-14250 - SPRING | 418-70-31201 - BELLCRANK AS |
| 21K-62-34790 - TUBE | 419-93-21240 - PLATE | 6136-81-3920 - BOLT |
| 427-V00-1130 - CAUTION PLAT | 17A-49-27130 - HOSE | 6209-11-8910 - TUBE |
| 42R-17-H0R01 - O-RING | 600-211-7332 - GASKET | 21M-62-17230 - SEAT |
| 425-S99-2810 - TUBE | 6136-62-1120 - SHAFT | 195-71-52530 - HOSE |
| 209-62-73330 - TUBE | 198-32-00376 - TRACK LINK A | 91470740 - ADAPTER |
| 3833691S - FILTPART | 561-84-84570 - BRACKET | 21S-98-31280 - PLATE |
| 426-54-32170 - MAT | 42C-12-11880 - TUBE | 6218-61-8710 - TUBE |
| 707-00-0H090 - CYLINDER ASS | 6151-71-1771 - XINJECTION P | 23A-43-13340 - PISTON |
| 421-46-11382 - SHIM | 723-11-16230 - SPRING | 816215077 - PLATE |
| 566-93-8B360 - PLATE | 56B-54-39452 - STEP | 5246567 - PROTECTION |
| 419-60-55310 - HOSE | 23C-04-51170 - SEAL | 312612054 - SWITCH |
| 5210976 - PROTECTION R | 6560-61-1503 - CONTROLLER | 23A-70-11240 - GUIDE |
| 208-54-K3860 - SPRING | 3051729R92 - SWITCH | 79395973 - PIPE |
| 86408M - MUFFLER,STAI | 6136-52-1410 - GEAR | 206-30-22170 - SPRING |
| 22B-54-31460 - SEAL | 42U-09-H2210 - HOSE ASS'Y | 20Y-54-39471 - STOPPER |
| 21N-62-13160 - CLAMP | 714-16-16250 - VALVE | 207-01-68210 - TUBE W/BRACK |
| 569-94-82110 - PLATE | 566-43-43181 - SPACER | 708-2L-43150 - SPRING |
| 424-54-11571 - PLATE | 1808482C91 - TUBE AS | 81804KF - HUB TAPERED |
| 235-60-34110 - PLATE | 94032640 - HOSE | 23B-06-72312 - PANEL |
| 5017206 - VALVE | 20S-63-57441 - CYLINDER | 426-43-11132 - CABLE |
| 195-Z11-7820 - BRACKET | 21N-53-32590 - SHEET | 51799398 - HOSE |
| 6732-21-7510 - HOSE,PLAIN | 90686140 - VALVE | 6251-71-7711 - HOSE |
| 53399899 - CLIP | 202-973-6890 - CABLE | 195-15-42150 - COLLAR |
| 426-Z91-1110 - HOLDER | 702-21-38470 - O-RING | 6262-81-6510 - BRACKET |
| 198-49-11440 - ELEMENT | 89985C - PIPE,STACK | 201-26-61211 - CARRIER |
| 22B-03-31221 - HOSE | 5051091 - HINGE | 20S-26-81171 - CASE |
| 6711-84-7050 - ELEMENT ASS' | 37300399 - COUPLING | 705-51-30190 - PUMP ASS'Y |
| 21M-62-17790 - HOSE | 423-40-42150 - RUBBER | 561-07-81131 - INTAKE |
| 20Y-62-K3180 - HOSE | 5069724 - GUIDE | 17A-06-52371 - BRACKET |
| 5038696 - HYD. MOTOR | 21T-06-34141 - WIRE HARNESS | 22J-06-1A311 - HARNESS,WIRI |
| 677688R1 - PIN | 22765A - MUFFLER | 58C-BK-AK040 - FRT BRAKE SE |
| 705-41-02460 - PUMP ASS'Y,G | 76621673 - SEAL | 37B-62-15160 - HOSE |
| 707-91-90060 - PISTON ASS'Y | 90354B - CLAMP | 707-98-85320 - SEAL KIT |
| 561-44-67213 - WIRING HARNE | 421-03-A1640 - ELBOW | 561-22-78102 - DIFFERENTIAL |
| 21T-70-75290 - BRACKET | 415-43-18260 - PIN | 42N-62-16252 - HOSE |
| 17M-911-2560 - PLATE | 423-Z90-5420 - PLATE | 708-7W-12140 - BEARING |
| 22P-06-11141 - CABLE | 21M-72-11280 - PIN | 705-22-36270 - PUMP ASS'Y |
| 58B-60-01300 - SEAL,WIPER 3 | 6736-21-3230 - BOLT | 363-54-32320 - GRILLE |
| 80660KF - PLATE | 69637973 - TUBE | 76713073 - O-RING |
| 5035951 - A/C HOSE ASS | 930252C2 - CAP | 419-U77-4570 - BRACKET |
| 79796273 - SEAT | 21K-62-14432 - TUBE | 51113698 - HOSE |
| 6246-61-9180 - TUBE | 714-07-10001 - XTRANSMISSIO | 27010KF - O-RING |
| 175-06-37174 - WIRE ASS'Y | 6275-81-4120 - BOLT | 205-06-99830 - WIRING HARNE |
| 17A-54-61520 - MASK | 922426C1 - PISTON | 562-15-55400 - E.C.M.V.ASSE |
| 20U-54-21570 - CAP | 425-S33-4250 - SHIM | 871-01-0324 - COMPUTER |
| 5045802 - STRUT | 20G-14-K2340 - BUSHING | 2A5-62-15710 - HOSE |
| 21M-70-11240 - PIN | 4787532 - BUSHING BOTT | 195-Z11-0070 - CONVERTER AS |
| 630694C91 - BEARING | 64074840 - PIN | 33279040 - BLOCK GREASE |
| 20U-54-42330 - COVER | 723-26-16390 - CASE | 56B-06-21411 - WIRING HARNE |
| 201-62-71490 - HOSE | 208-62-75120 - HOSE | 201-Z68-7270 - HOSE |
| 175-54-46500 - BRACKET ASS' | 418-06-51530 - COVER | 195-22-15120 - HUB |
| 425-46-11251 - SHIM | 708-27-08180 - SERVO VALVE | 426-06-12330 - WIRING HARNE |
| 198-03-51810 - BRAKE | 790-101-4200 - PULLER ASS'Y | 91401 - TUBE |
| 658484C1 - SHIM | 20Y-62-51910 - HOSE | 56D-23-16592 - COVER |
| 404769R91 - PUMP | 423-54-H4191 - STAIR | 22224 - PLUG, MALE - |
| 207-63-53271 - TUBE | 6221-71-5141 - TUBE | 417-16-21110 - HOSE |
| 20T-30-73150 - CAP | 561-06-82730 - COVER | 20T-71-00240 - BLADE ASS'Y |
| 23S-22-18690 - BUSHING | 427-S05-3531 - TUBE | 882665C1 - SWITCH |
| 93803440 - SUPPORT | 5278183 - HYD. CYLINDE | 22J-60-25221 - COVER |
| 6150-21-5831 - GASKET | 195-71-11282 - SCREW | 6261-71-5151 - TUBE |
| 21T-03-31791 - BRACKET | 426-54-11122 - FENDER | 5034879 - RUBBER BOOT |
| 6262-11-2870 - TUBE | 198-54-78613 - COVER | 22L-54-18503 - COVER ASS'Y |
| 423-64-15540 - SEAT | 65478240 - PUMP | 712-74-Z3720 - TUBE |
| 20K-54-31502 - COLUMN ASSY | 235-22-00070 - CASE ASSM | 51749398 - CLAMP |
| 6218-61-1600 - DRIVE ASSY | 8240-70-2181 - COVER | 421-03-33122 - GUARD |
| 23S-55-51840 - RUBBER | 21K-60-99976 - POPPET | 56C-43-17470 - TANK P60 |