Caterpillar CB534D Compactor parts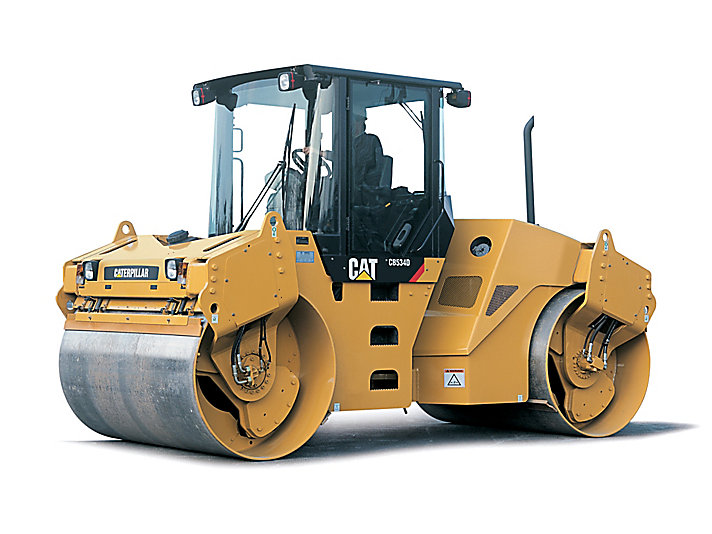 Here is some more information about Caterpillar CB534D Compactor:
ENGINE
Gross Power 97.0 kg/mm
Engine Model 3054C

WEIGHTS
Operating Weight 10450.0 kg

DIMENSIONS
Overall Length 4940.0 mm
Wheel Base 3640.0 mm
Height - Steering Wheel 2320.0 mm
Overall Width 1880.0 mm
Drum Diameter 1300.0 mm
Drum Width 1700.0 mm
Maximum Machine Height 3050.0 mm
If you send us your request, we will make you an offer for original and Aftermarket Caterpillar parts for your Caterpillar CB534D Compactor.
Caterpillar CB534D Compactor - it is a big machine. But even such machine sometimes needs maintenance.
Our online parts store give you an access to more than 1 000 000 Caterpillar parts that we have in our inventory.
Below is a small list of Caterpillar parts for this equipment. However, if you are interested in something - please use the site search.
| | | |
| --- | --- | --- |
| 0773520 - SEAL O RING | 2250773 - GASKET KIT | 0781757 - HEXAGON NUT |
| 1054807 - HOSE A XT | 8C7573 - KIT-GASKET-S | 1296040 - HOSE AS |
| 1282798 - HOSE AS | 1068841 - PLATE | 2388693 - HOSE AS. |
| 4W0419 - CORE AS | 5J2526 - ROD | 2527049 - GASKET KIT |
| 9W6193 - BIT END RH | 9G5790 - HOSE A | 7I8458 - 7I8457 |
| 2698159 - VALVE GRP | 6V8189 - NUT (1167226) | 3L9656 - HOSE |
| 1033196 - GROMMET | 1875484 - HOSE AS. | 4S6682 - HOSE A |
| 3148649 - BRG-CLA | 2T1149 - HOSE A | 5P0067 - SEAL |
| 3119351 - BOLT-ROD-CLA | 9Y0810 - SLEEVE | 1077604 - SLEEVE CYL |
| 4174316 - KIT GASKET | 2D4205 - BLOCK | 2465931 - SEAL KIT |
| 9S4693 - BREAKER | 5D3118 - STUD | 2758417 - CYLINDER AS. |
| 0R6601 - Turbocharger S4TW-509 166462 | 1885590 - CARRIER ROLL | 8W9875 - HOSE A |
| 0874560 - HOSE AS | 8T2451 - GASKET KIT | 1048604 - HOSE A |
| 1S3317 - PISTON A | 2842878 - VALVE GP | 3845946 - SPDR-BRG-CLA |
| 6V1394 - BEARING | 9W2199 - ROLLER A | 1306723 - HOSE AS |
| 5S3414 - OIL COOLER - CORE ASSY | 9P6214 - SPACER | 2277657 - MOTOR AS |
| 3532794 - RECIEVER | 2461854 - INJECTOR | 2M8183 - VEE BELT |
| 4H1440 - PIN | 3N4079 - BELT SET | 5T9790 - VALVE G |
| 1906136 - HOSE AS | 6V5998 - GASKET KIT | 2S5928 - ROD G (2S5886) |
| 9W7827 - ROLLER GP DF | 0850754 - SCREW BOLT | 1864366 - KIT-SEAL-H.C |
| 8X9257 - HOSE AS | 1083414 - HOSE A | 1230269 - HOSE A |
| 3775851 - CAMSHAFT-CLA | 2110592 - BEARING - MA | 2350350 - KIT-SEAL-H.C |
| 3178766 - BEARING | 625742C91 - CONE (7K5449) | 4675333 - KITGASKET |
| 0950945 - RING,SNAP | 6T6781 - SEGMENT | 1193061 - SLEEVE |
| 7I7117 - HOSE A | 0925361 - HOSE A | 1P0913 - GASKET KIT |
| 3K7953 - SPACER | 0940577 - PLATE,THRUST | 7X7975 - GASKET KIT |
| 1236449 - ALARM | 0849104 - CLAMP | 1P3958 - ROLLER A |
| 1649507 - GASKET KIT | 3465678 - PLT-PORT-CLA | 7X2783 - SEAL KIT |
| 5P9812 - GASKET KIT | 1730945 - SEGMENT | 9X2612 - GASKET KIT |
| 4D5055 - HOSE A | 4W3122 - SLEEVE | 8P5240 - CASE A |
| 9X7352 - WIPER SEAL | 1S3512 - BEARING | 7E9506 - PIPE |
| 0802265 - SCREW | 8C4387 - GASKET KIT | 2382666 - HARNESS AS |
| 2255499 - VALVE-EXHAUS | 1P3355 - HOSE A | 0R0713 - PUMP A WATER |
| 1338123 - HOUSING A | 5P5705 - GASKET | 1G1726 - CUTTING EDGE D6 |
| 0776400 - O-RING | 1024164 - PUMP GP-GR A | 6V8610 - GASKET KIT |
| 8T2185 - SEAL | 6V8880 - GASKET KIT | 6I6609 - RETAINER A |
| 1863736 - SOCKET-CONNE | 8E1707 - PISTON | 3173327 - PIN-COTTER |
| 7X3391 - WASHER HARD | 3349971 - MOTOR GP-PSF | 1761579 - HOSE AS. (1529071) |
| 7N1819 - GUIDE | 1105511 - HOSE A | 1870830 - COOLER AS-OI |
| 1935431 - SEAL KIT | 909025 - KIT | 1W7879 - HEAD GASKET |
| 9S7148 - CAP A | 9W0517 - CARRIER | 8V6390 - DRUM-BRAKE |
| 0870034 - HOSE A | 4N4978 - VEE BELT | 1052323 - CYLINDER G |
| 9M3766 - GASKET KIT | 1095700 - SEAL | 8R2489 - ACTUATOR G |
| 5M8034 - BULB | 9S4128 - GASKET | 8X1576 - HOSE A |
| 7G9153 - BOLT | 750300 - PLOW BOLT 3/4 X 3.1/8 | 1480906 - HOSE AS |
| 6Y9855 - BEARING | 2443618 - HOSE AS. | 0695753 - HOSE A |
| 1786554 - STUD | 6P7757 - TUBE AS | 1381639 - HOUSING CENTER |
| 3488631 - KIT-GASKET(F | 6T4179 - SEGMENT (6Y5012) | 7D3494 - HOSE A |
| 7G4605 - SUPPORT A | 4T3132 - ELEMENT | 0543058 - HOSE A |
| 1237316 - PUMP GP-HYD | 3G5869 - PUMP AS | 5S9354 - HOSE A |
| 4L7885 - GASKET | 1199602 - EDGE-SEGMENT | 506116 - GROUP-HYDRAULIC |
| 5F3144 - SEAL | 3T8500 - SEAL G | 1934592 - GEAR |
| 0320676 - BOLT | 1018745 - HOSE A | 1368869 - MOTOR GP PST |
| 3U9711 - HOSE ASSEM 1 | 2B9511 - TRACK BOLT 9/16X1-15/16 | 1314402 - CYL GRP |
| 6D5998 - HOSE A | 9W7143 - SEAL GP. DUO-CONE | 3E4895 - FLANGE |
| 1749997 - HOSE AS (254 | 8T2275 - BALL | 1083320 - SWITCH A |
| 7F8923 - INSERT-V.SEA | 2835221 - PUMP-CLA | 1302613 - GUIDE-VALVE |
| 0303256 - HOSE A. | 2213303 - HOSE AS (1185461) | 1097411 - SEAL-O-RING |
| 5S2898 - GAUGE | 2F7036 - STUD | 7C6671 - BOLT |
| 1605136 - CYLINDER HEAD | 3E8782 - ACTUATOR | 1316663 - HOSE AS. |
| 1093731 - PIN | 2999131 - PUMP GP-PS-B | 1U0293 - CUTTING EDGE |
| 9W9635 - SEAL AS | 0964665 - SWITCH SNAP | 1804327 - CYL GP - REBUILT |
| 0982992 - SEAL | 4I4618 - PIN | 5T4812 - HOSE A |
| 5M1889 - INSERT | 1363698 - HOSE AS | 4J5613 - CUTTING EDGE 824C/834C |
| 5W1772 - SEAL-O-RING | 4D7388 - CLIP | 0776240 - CUP, BRG |
| 8N2818 - VEE BELT | 6T3365 - PLUNGER | -2988000 |
| 1801486 - HOSE AS. | 0784949 - HEXAGON CAP | 9C4806 - HOSE A |
| 9Y2094 - GEAR | 6V0397 - FLANGE-SPLIT | 2069291 - SEAL-O-RING |
| 1540867 - ROD AS-CONN | 2527187 - HOSE-FUMES D | 1J5929 - BOLT |
| 2W0855 - GASKET | 6W2985 - CUTTING EDGE | 1319686 - 111-6545 |
| 8V9225 - HOSE A | 3931053 - PLATE-CLA | 6S3453 - BEARING |
| 9T3023 - SPRING | 1011188 - GASKET HEAD | 9S8022 - PUMP ASSY. |
| 1482048 - GASKET AS-CY | 8E9828 - HOSE A | 1960641 - 196-0640 |
| 1420371 - REGULATOR | 9W3258 - HOSE A | 7E9496 - HOUSING |
| 6Y7477 - PIN | 6V6768 - RING | 5D1817 - 7S2329 |
| 9V2665 - HOSE A | 4N0235 - ELBOW | 1268312 - CYL GP |
| 2G7594 - SHAFT | 4J6569 - New Rebuilt - PUMP | 2759234 - HOSE AS. |
| 9J5115 - SEAL KIT | 2G4566 - HOSE A | 8R1538 - HOSE A |
| 2318567 - BUCKET | 9M8151 - GASKET KIT | 7E4137 - 3N4847 |
| 1B8088 - PACKING | 2214872 - HOSE | 1588960 - MOTOR GP-PST |
| 3D8752 - NUT | 4216811 - KIT GASKET | 8E4416 - SHOE |
| 5M3935 - CM. HYDRAULIC HOSE | 4B9842 - HOSE | 0776388 - SCREW |
| 1L7388 - RING-PISTON | 6V2566 - GASKET KIT | 2023267 - MANIFOLD |
| 2409954 - ROD AS-CONN | 6Y2082 - DISC | 4N5836 - IMPELLER |
| 1709979 - SPACER | 4E5116 - HOSE AS | 2854031 - CYLINDER GP |
| 6B9255 - MUFFLER | 6V5901 - KIT GASKET | 1T0013 - RING |
| 0827322 - BEARING | 6K0043 - COLLAR | 0R4488 - CYL KIT |
| 3436912 - GASKET KIT | 1V9148 - BEARING SLV | 1668140 - CYL GP-0095- |
| 1583815 - HOSE AS | 7K7435 - HUB A | 4T1453 - TIP |
| 8K6257 - HOSE A | 2216946 - GASKET KIT | 2076206 - HOSE AS |
| 2277670 - MOTOR AS-GOV | 1032425 - CAP,SEALING | 3933630 - GASKET-CLA |
| 0993220 - SPROCKET | 1666760 - YOKE | 8W1760 - HOSE A |
| 0951000 - BEARG,ROLLER | 8A7914 - CUTTING EDGE | 2457560 - HOSE AS. |
| 2G1089 - HOUSING | 1134146 - HOSE A | 1981725 - WASHER |
| 2382716 - PISTON SKIRT | 2059622 - GLASS | 7S3883 - GEAR |
| 1071651 - HOSE A XT | 1P6752 - GEAR PUMP | 5T7147 - HOSE A |
| 1363191 - NOZZLE | 1608529 - HOSE AS | 7W1841 - HOSE A |
| 4D3733 - HOSE A | 4198601 - KIT GASKET | 7E4342 - GASKET |
| 4S6680 - CONNECTOR AS | 7T4459 - HOSE A | 6G4896 - BALL |
| 3V6782 - HOSE A | 1M5392 - STOP | 1883984 - SWITCH AS |
| 7N2111 - CORE A OIL C | 3G2233 - CARTRIDGE G | 4J5694 - BEARING |
| 2430363 - WORM-CLASSIC (7D7075) | 2199677 - PINION-CLASS | 4L6251 - SHAFT ASSY. |
| 6G1631 - LINK | 7T4102 - ROLLER GP-SF | 9D4291 - HOSE A |
| 1109539 - HOSE A | 7D8702 - HOSE A | 8V1723 - HOSE A |
| 0856356 - HOSE | 4H3376 - GASKET | 6T1141 - CAP G |
| 2W1374 - HOSE A | 6Y5793 - RING SEAL | 3J2465 - END BIT |
| 5I4010 - HOSE A | 1295866 - HOSE A-XT | 8U2552 - SEAL-O-RING |
| 1243007 - GASKET KIT | 9J8911 - TIP RIPPER PENET.LONG D4-963-225 | 1D4630 - CAP SCREW |
| 8E4539-Z - END BIT - RH D9N/R (CAST) | 5P6032 - M-WIRE STK | 8W5736 - HOSE A |
| 3166134 - CARTRIDGE AS | 2789492 - PLATE-SWING | 6T6987 - PISTON- CLUTCH |
| 7G3832 - GROMMET | 9K1774 - CUSHION | 9C6027 - CARRIER |
| 8C8596 - KIT GASKET (7X2407) | 8S9292 - HOSE A | 6V6864 - WIPER BLADE |
| 1976466 - PUMP GP-PS-B | 5K7534 - TUBE A | 3338005 - SEAL-RING |
| 8N5337 - BRG-ROD | 7X7742 - WASHER | 0340748 - HOSE A |
| 4Q1496 - HOSE A | 9B4179 - HOSE | 4E5882 - SHAFT |
| 4H7869 - GASKET | 2435810 - SEAL KIT | 9D6049 - HOSE A |
| 8T4250 - NUT | 2076266 - HOSE AS | 6H3568 - BEARING |
| 5T2333 - SEGMENT | 9U2918 - SEAL | 1061573 - PAD |
| 1434290 - HOSE AS | 7L7850 - GASKET | 3533584 - MIRROR RH |
| 9W9604 - IDLER GP-TRA | 0775779 - HOSE, RUBBER | 1939266 - SEAL KIT-STD |
| 8T9375 - BOLT | 8I3906 - BREATHER | 1S4810 - GASKET |
| 3J6452 - SEAL - LIP TYPE | 7M4142 - TUBE AS | 3Y0902 - BAIL A |
| 1146099 - BOLT | 1862001 - ROTOCOIL AS | 3S0801 - GASKET KIT |
| 5J9602 - HOSE A | 7X7702 - CM-CONDUIT | 1414690 - BAR GP-EQUAL |
| 0L1034 - GASKET | 8N8194 - ELBOW | 2380296 - VALVE GP-BAS (1565783) |
| 1049634 - EDGE CUT | 2108609 - HOSE AS. | 1551381 - GASKET KIT |
| 1319610 - 131-9609 | 7J0612 - PUMP G VANE | 1945612 - SEAL KIT-STD (1371955) |
| 7X2820 - SEAL KIT | 1W5652 - TUBE A (9Y2149) | 8E4056 - LINK |
| 2558195 - GASKET KIT | 7T2207 - LINK | 3880649 - GASKET-CLA |
| 1F5471 - SEAL-OIL | 6Y4890 - BEARING | 3117403 - PUMP GP-2 PS |
| 9X2857 - RING | 1177900 - GASKET KIT | 0903093 - SEAL |
| 2166969 - HOSE AS. (1440338) | 2015626 - HOSE AS. | 8T8373 - SEAL |
| 1301638 - PIN | 4D6472 - DOWEL | 2P3759 - GASKET |
| 2357641 - PIN | 1917591 - PLATE | 6V0228 - GASKET KIT |
| 0814146 - SCREW | 6K8542 - PIN | 1338305 - WASHER |
| 2836093 - CYLINDER AS | 2W5184 - GAGE | 1003137 - BIT END RH |
| 8K4868 - HOSE A | 0043919 - O RING | 2807990 - GASKET KIT |
| 9D0586 - HOSE A | 9W0472 - SHOE AS | 9S9539 - ROLLER G.SF |
| 3931047 - MOUNT-CLA | 1714650 - CYLINDER GRP | 1092367 - HOSE AS |
| 2368183 - BEARING SLEEVE | 1718971 - BOLT | 4I1805 - HOSE AS |
| 1241268 - HOSE AS | 9Y4230 - TURBO GP | 8K5945 - PIN |
| 1175764 - LINER-BRG. | 6N4964 - GASKET | 4I9868 - SEAL A |
| 1398972 - GROUP SNG CYL/LINER | 7L7099 - BELT SET | 2H3973 - BEARING |
| 1W1587 - HEAD | 8W5152 - HOSE A | 1B4206 - NUT |
| 3S2616 - PUMP AS | 2507858 - LOCK NUT | 1693799 - SHIELD |
| 2125522 - 212-5520 | 1566011 - PUMP GP-WTR | 5V6455 - WASHER |
| 8T9396 - BOLT | 6V8048 - GASKET KIT | 2950417 - SHAFT-CLA |
| 0015645 - BELT | 2260174 - PUMP GP-CLA | 5P4822 - GASKET KIT |
| 8C9112 - RING | 3U4735 - HOSE AS | 9J8757 - SEAL |
| 3P3890 - SHOE-MASTER | 7Y3765 - HOSE AS | 4F3649 - BOLT (0821392) |
| 8L8227 - SEAL A | 9R3677 - HOSE A | 1962481 - CARTRIDGE AS |
| 0R4103 - INJECTOR G | 9J5104 - SHAFT | 3510886 - IDLER GRP |
| 5S1246 - REB CART G | 5K5068 - NIPPLE | 6N6874 - SOLENOID |
| 5J6895 - EDGE | 8H3498 - STRAINER A | 1621554 - HOSE AS |
| 1265869 - REGULATOR | 8T4846 - KIT GASKET | 9W7216 - SEAL KIT |
| 9S8322 - ROLLER A | 1123199 - HOSE AS | 6V2075 - HOSE A. |
| 1060582 - HOSE A | 9L9235 - PLUNGER | 7H4223 - GASKET |
| 5I4131 - HOSE AS | 5I8681 - 5I8679 | 2254593 - CYLINDER GRP |
| 2115000 - GASKET KIT - | 1T0268 - SCREW | 1694187 - CRANKSHAFT A |
| 5J1356 - SEAL | 7E9068 - HOUSING | 9X6598 - GASKET KIT |
| 2729759 - HOSE AS. | 1M4486 - PISTON-CLUTCH | 7J9256 - SEAL |
| 3905264 - DISC-FCN-CLA | 6V5987 - KIT GASKET | 4K5122 - HOLDER |
| 8N1317 - LIFTER AS | 2D1683 - FITTING | 6T8703 - SHAFT A |
| 8W4983 - HOSE A | 5S9233 - HOSE A | 5D9559 - EDGE |
| 3028729 - PUMP GP-PREL | 1301457 - GASKET KIT | 2028908 - SEAL KIT-STD |
| 3P4835 - HOSE A | 6T9888T - S/F ROLLER SHELL - D4 | 1532031 - HOSE A |
| 1290375 - BOWL | 1932863 - HOSE-UPPER | 3I1314 - ELEMENT |
| 6Y4283 - HOUSING | 4W8093 - MAIN BEARING | 3405600 - GASKET KIT |
| 1900501 - HOSE AS (1711254) | 1962776 - TURBO GP-BSC | 1758263 - IDLER AS |
| 5S9303 - HOSE A | 1297866 - CYL AS | 1021237 - HOSE A XT |
| 3K6575 - BEARING | 3005892 - HOSE AS. | 9W7839 - CARRIER |
| 2712312 - HOSE AS. | 7W2518 - BOLT | 2110588 - BEARING |
| 8W0070 - HOSE A | 6J9221 - ROLLER A | 9W9230 - SEAL KIT |
| 4U3548 - HOSE ASSY | 7E4808 - PLATE | 0919107 - HOSE A |
| 1196772 - VALVE | 6N7818 - LOCK RING | 4D8121 - 5S9336 |
| 1475508 - SEAL GP-DUO | 2P1281 - UNION | 1P8070 - HOSE A |
| 2022044 - HOSE AS. | 4Y5303 - HOSE A | 6Y5407 - TRK LINK 78 |
| 1284318 - BEARING | 7T5417 - BOGIE A | 1173270 - SEAL AS |
| 7K9374 - PIN | 3169785 - VALVE | 1856152 - SEGMENT-SPRO (1222277) |
| 6V6753 - BOLT | 7Y4695 - LOCKNUT-SPL | 2R0645 - ADAPTER |
| 2P6532 - VEE BELT | 1935163 - LOCKWASHER | 951573 - SEAL |
| 5457170 - JOINT GP-S | 4Z6313 - CYLINDER GP | 4I6132 - HOSE AS |
| 1944863 - BRACKET | 3P1323 - BOLT | 1635673 - SWITCH AS-CO |
| 3W8536 - STRIP | 4N7000 - CYLINDER HEAD | 1560968 - HOSE AS. |
| 4Z6074 - CYL AS | 2W2142 - GASKET | 9X7409 - SEAL O RING |
| 1843834 - MOTOR GP-PST | 8J2936 - TOOTH-MOND | 1230231 - MOTOR GP |
| 5C4975 - HOSE A | 3J1425 - 7S0227 | 2256005 - GASKET |
| 2842711 - Turbocharger GTA5008 750525-9020 | 3464999 - HOSE AS. | 8T5379 - BOLT |
| 9T7305 - GASKET | 9X2205 - ELEMENT | 7N7964 - ROTOCOIL AS |
| 4S8055 - GASKET KIT | 2750883 - PUMP GP-F IN | 1418937 - Turbocharger S410G 177148 |
| 2S3414 - GEAR | 3505721 - GASKET KIT | 1617164 - BEARING KT |
| 7S0892 - HOSE A | 9L6725 - BELT SET | 3S8664 - CLIP |
| 4S9058 - SEAL KIT | 3135004 - CORE A | 6C1638 - HOSE A |
| 2070544 - SEAL AS | 8T8912 - BOLT | 3731765 - ELEMENT AS |
| 1269339 - SEAL | 2260210 - COLLAR-CLASS | 9W3611 - HOSE A |
| 8T7524 - O RING SEAL | 0995587 - HOSE FLEX | 3021515 - SEAL GP DUO |
| 1601552 - HOSE AS | 8H3981 - RING | 3P0364 - MANIFOLD |
| 6V3907 - SEAL-O-RING | 9D4305 - HOSE A | 3B4510 - LOCKWASHER |
| 1F5403 - END | 2391808 - HOSE AS. | 3P2701 - TUBE AS |
| 9T0665 - CYLINDER AS | 1Y3770 - SEAL OIL P | 4P9961 - FUEL LINE |
| 0779970 - BEARING | 2402622 - HOSE AS. | 8U2233 - SEAL-O-RING |
| 5P8066 - SEAL | 8K2774 - HOSE A | 2H9523 - GROMMET |
| 2T1811 - HOSE A | 1694500 - EXTENSION AS | 1047035 - GASKET KIT |
| 1940289 - HOSE AS | 5J8978 - WASHER | 5I8713 - HOSE AS |
| 2284947 - SEAL-O-RING | 8X3295 - HOSE A | 2K2834 - KEY |
| 2941820 - GASKET | 3R6674 - CAP | 2054839 - HOSE AS. |
| 2559268 - DISC-FRICTIO | 1198606 - ADAPTER LH | 2234816 - GEAR-CLASSIC |
| 5K2294 - BEARING | 9H4916 - TUBE | 0911373 - HOSE A |
| 1763137 - VALVE-EXHAUS | 5P8472 - RING-RET | 0969533 - GUIDE |
| 2338683 - GASKET KIT | 1365932 - MOTOR GP | 1670994 - PUMP AS |
| 5M8994 - SHAFT | 8T5318 - CONNECTOR (1516320) | 1986060 - GASKET KIT |
| 2N3965 - GASKET | 8M3768 - GASKET KIT | 8S6040 - SEAL A |
| 6K2696 - SHIM PACK | 9L6641 - VEE BELT | 7D4589 - HOSE A |
| 5S5746 - RETAINER | 2653700 - HOSE AS. | 2007929 - HOUSING |
| 8P5927 - HOSE A | 0944903 - O-RING | 3J4779 - ROLLER A |
| 0665809 - BUSHING | 1287432 - 124-1327 | 1606013 - HOSE AS |
| 5P6251 - GASKET KIT | 1T0765 - BOLT | 4607476 - KIT GASKET |
| 8T8966 - SEAL O RING | 6U6761 - HOSE A | 1362393 - ROLLER GP |
| 3167146 - GASKET KIT | 4202498 - BRG-ALIN-C | 6S3006 - GEAR |
| 0619454 - SEAL-O-RING | 1625380 - HOSE AS | 1321863 - STRIP |
| 2066749 - MOTOR GP-ELE | 5C2584 - HOSE A | 9X6258 - SCREW |
| 9G4521 - PLATE A | 2T2758 - HOSE A | 5S0762 - HOSE A |
| 9T3492 - CYLINDER G | 0996720 - BOLT | 2489469 - HOSE AS |
| 2G3294 - SPROCKET | 2136537 - HOSE AS | 8X5110 - YOKE AS |
| 1670618 - GASKET KIT | 328047 - FERRULE | 4C9507 - COMPOUND (0773192) |
| 4V0611 - CLAMP | 0R0914 - ROD A CON RE | 8R0841 - BRAKE G |
| 0R4613 - MOTOR GP HYD | 1265067 - SHOE | 1931683 - PAD |
| 6F5953 - BEARING | 2Y2300 - MOTOR GP | 6E4269 - CARTRIDGE |
| 0781713 - BOLT 1/2 X 1 1/4 | 9R9394 - HOSE AS | 3G4533 - CYLINDER G |
| 9G8639 - GEAR | 9U2037 - HOSE A | 1639292 - COVER |
| 1597161 - MOTOR GP-PLF | 1T1897 - PLATE | 8X8890 - HOSE AS |
| 8D2997 - HOSE A | 6N5131 - LINEASSYNO#1 | 2095503 - SEAL-COVER |
| 3S4506 - LOCK | 9S5033 - BOLT | 951732 - SEAL O-RING |
| 1947712 - HOSE AS. | 3P9051 - HOSE | 5V9296 - JOINT AS |
| 2385466 - CONTROL GP WINCH | 1246311 - BRAKE GP | 1411279 - 141-1278 |
| 0784996 - HEXAGON CAP | 2553841 - HOSE AS. | 1659756 - BOLT-HEX HEA |
| 2975348 - KIT-GASKET-F | 7X7182 - CAPSCREW | 1203975 - GASKET KIT |
| 9D2549 - HOSE A | 4W2142 - METER AS | 1115996 - HOSE A |
| 0393594 - HOSE A | 3872905 - BRG-SLV-CLA | 9C8772 - PISTON |
| 8K0323 - LINK AS-CLA | 7Y1727 - BOLT | 1166098 - HOSE AS-XT |
| 4N8353 - HOSE | 2M8089 - GASKET | 1856599 - SEAL KIT |
| 2478868 - SEAL KIT | 9W4272 - PIN | 3054908 - PULLEY |
| 1409047 - GASKET KIT | 1P4220 - GEAR PUMP | 1426900 - GASKET KIT |
| 6E5651 - HEAD AS | 3D9335 - CYLINDER KIT | 1729381 - HOSE AS. |
| 4W9533 - COVER | 6U0350 - HOSE ASSY 1/ | 1891784 - SEAL KIT-STD |
| 1085751 - DISC | 7F1859 - NUT HEX | 1635689 - HOSE KIT |
| 10R9791 - ALTERNATOR G | 2L9168 - DIAPHRAGM | 1P6874 - CUP |
| 4I1471 - 4I1470 | 0940747 - RING,SNAP | 1614113 - OIL PUMP |
| 6N2009 - MOUNT AS | 6V9215 - KIT GASKET | 3V5763 - SUPPORT A |
| 1M8735 - CONE | 0915464 - HOSE A | 6P6630 - SPRING |
| 2698158 - VALVE GRP | 4D6891 - HOSE A. | 4L3220 - BEARING |
| 4E9419 - HOSE A | 3T4244 - BEARING-OUTER | 2087454 - HOSE AS |
| 3P3961 - New Rebuilt - VALVE | 0802270 - SCREW | 2K9124 - LOCK |
| 6U7365 - HOSE A | 2219705 - KIT-SEAL-H.C | 9C8171 - DIFFERENTIAL GP |
| 9T2860 - CYL GRP | 4P3817 - BEARING | 1756620 - GASKET KIT |
| 1754070 - BUSHING | 8S4004 - CLAMP | 3J1151 - DISC A |
| 2P1076 - GEAR | 4S6136 - BEARING | 2A6737 - HOSE A |
| 1585633 - PIN | 1334040 - SHOE AS | 3G1719 - SHAFT |
| 3P8160 - PLATE | 1555161 - SEAL-OIL-DAM | 9D5973 - HOSE A |
| 1T1281 - RETAINER | 0L0796 - LOCK | 6F8814 - CLAMP DIAMETER 5.18(in) |
| 1007432 - GASKET | 1W0481 - RING | 5I7666 - GASKET |
| 3994448 - BRG-TPR-CLA | 2266590 - HOSE AS | 2202719 - ACCUMULATOR |
| 1T0448 - BOLT | 8R8228 - HOSE A (1650506) | 337849 - PLUG |
| 7M8594 - RIVET | 7W8106 - SPACER | 2094157 - GEAR |
| 1604189 - HOSE AS | 5D7059 - HOSE A | 63272VU - RUBBER TRACK |
| 9W8704 - HOSE A | 1341487 - PUMP GP WTR | 1251545 - CYL G |
| 8C1900 - HOSE A | 1W7816 - PLATE | 3T1887 - DIODE A |
| 2227987 - GASKET KIT | 6V6640 - SEALANT | 2Y8929 - BODY |
| 2L8076 - TERMINAL | 4P0953 - PULLEY | 9V7920 - RIM A |
| 3350411 - VALVE GP-CHE | 6F8921 - BUSHING | 8U4125 - SEAL O RING |
| 7N7110 - HEAD A | 5S3972 - CAMSHAFT (3306) | 2767476 - RING KIT-PIS |
| 7S8735 - CLAMP | 4L6929 - SCREW | 4F4684 - BEARING ASSY |
| 1595325 - MOTOR GP-GRT | 2305935 - SEAL-O-RING | 2257046 - HOSE AS |
| 7X2657 - SEAL KIT | 7H0847 - STUD | 10R1700 - Turbocharger BTL7510 709102-5001S |
| 4K0034 - TIP | 8K1651 - New Rebuilt - BRAKE GRP | 1764818 - HOSE AS |
| 1334829 - HOSE A | 4T3043 - END BIT | 10R7668 - INJ GP FUEL |
| 1048989 - HOSE A | 4158660 - KIT GASKET | 2177088 - HOSE- HUMP |
| 6D5512 - SEAL | 7G5780 - SHAFT | 4W6311 - LINE A |
| 2866782 - HOSE AS. | 4V3339 - HOSE A | 2U2604 - PIN SPLIT CO |
| 957424 - RING | 7C3938 - PULLEY | 6P6705 - HOSE A |
| 7M5761 - WASHER | 1S6469 - CARRIER | 0951806 - BEARG,ROLLER |
| 3498238 - CORE AS RADI | 1454923 - GASKET KIT | 8S4745 - BOLT |
| 3H0703 - DOWEL | 8E4722 - SHOE | 8T0332 - BEARING A |
| 0R8316 - CORE GP OIL | 4K8380 - HOSE | 6D2866 - 7D5187 |
| 4K0041 - PLUG | 3305014 - MOTOR GP-WIP | 9L9244 - VALVE EXHAUST |
| 9J2163 - HOSE A | 1382924 - VALVE GP-SOL | 6V9921 - GASKET KIT |
| 9R1104 - BEARING | 3S7885 - GASKET | 0093701 - BALL-JOINT A |
| 6K1964 - ADAPTER | 5N7857 - BRACKET | 5N5743 - HOSE |
| 2310013 - SHAFT AS-CLA | 0179845 - BOLT | 7D8787 - HOSE A |
| 3963754 - ROLLER GP- | 3201197 - PEDAL GRP | 7J1338 - BEARING |
| 4E9280 - HOSE A (1218012) | 3W0545 - TUBE A | 5P1465 - CM-HOSE STK |
| 2Y4976 - GASKET | 8Q5969 - PISTON ROD | 8P5696 - TURBINE |
| 8E2827 - RING | 9W7382 - SHANK | 2597143 - HOSE AS. |
| 3F4597 - BEARING | 1958682 - HOSE AS | 9M4218 - SEAL O RING |
| 0930122 - SPACER | 5Y1086 - RING RETAIN | 6C2865 - BULB |
| 1016181 - HOSE A | 3744725 - SHLD-MAN-CLA | 6Y3294 - HOSE A |
| 2198791 - SHAFT-SUN | 2744274 - BEARING-SLEEVE | 2831137 - ACCUMULATOR |
| 3N2110 - PLUG | 10R7908 - PUMP GP F | 4I5792 - HOSE A |
| 3W3828 - HOUSING | 1669130 - HOSE AS | 5M3179 - SEAL |
| 3251567 - GASKET KIT | 1875762 - HOSE AS | 7T5772 - HOSE A |