Komatsu HD465/HD605-8 Rigid Dump Truck parts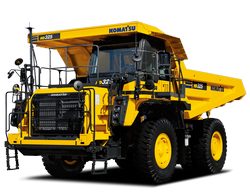 Komatsu HD465/HD605-8 Dump Truck - it is a big machine. It is a Rigid Dump Truck and works in difficult operating conditions. That's why this machine sometimes needs maintenance.
Our online parts store give you an access to more than 500 000 Komatsu parts that we have in our inventory.
Here is some more information about Komatsu HD465/HD605-8 Rigid Dump Truck:
ENGINE POWER
578 kW / 778 HP @ 2.000 rpm
NOMINAL PAYLOAD
HD465-8: 55 metric tons
HD605-8: 63 metric tons
BODY CAPACITY, HEAPED
HD465-8: 34,2 m³
HD605-8: 40,0 m³

ENGINE
Model -> Komatsu SAA6D170E-7
Type -> Common rail direct injection, water-cooled, turbocharged, after-cooled, cooled EGR diesel
Engine power
at rated engine speed -> 2.000 rpm
ISO 14396 -> 578 kW/778 HP
ISO 9249 (net engine power) -> 540 kW/724 HP
No. of cylinders -> 6
Bore × stroke -> 170 × 170 mm
Displacement -> 23,15 l
Max. torque -> 3.644 Nm (372 kgf-m)
Governor -> Electronically controlled
Lubrication system
Lubrication method -> Gear pump, force lubrication
Filter -> Full-flow filter
Air-filter type -> Dry type with double elements, precleaner and evacuator valve
If you send us your request, we will make you an offer for original and Aftermarket Komatsu parts for your Komatsu HD465/HD605-8 Rigid Dump Truck.
Below is a small list of Komatsu parts for this equipment. However, if you are interested in something - please use the site search.
| | | |
| --- | --- | --- |
| 5195061 - HYDRAULIC MO | 42C-56-11560 - WEATHER STRI | 419-01-51120 - BRACKET |
| 796-770-1320 - ADAPTER | 5270386 - HYDRAULIC PI | 90105940 - Intake |
| 708-2H-22470 - SHAFT | 207-30-68500 - CUSHION | 799-601-7820 - REMOVER |
| 5016892 - SEAL RING M | 419-09-H2190 - O-RING | 6524-01-1112 - XDPF ASSY |
| 569-27-61311 - DISC | 42C-22-20002 - FRONT AXLE A | 3939408S - SERVICE PT |
| 195-911-8223 - CASE | 21T-62-A0020 - UNION, ADAPT | 421-54-64551 - COVER |
| 8296-70-5520 - BAR | 925005A - PIPE,EXHAUST | 89092140 - PROTECTIVE F |
| 207-54-74141 - COVER | 561-06-63450 - BRACKET | 198-30-67570 - SHIM |
| 6245-B0-0032T3 - XENGINE ASS' | 22M-70-31260 - BUSHING | 17098 - TUBE, SUCTIO |
| 56B-61-34362 - TUBE | 20Y-43-17141 - LEVER | 855080622 - RING - WEAR |
| 198-50-32720 - RING | 6219-11-5130 - BRACKET | 79391273 - POWER SWITCH |
| 6221-11-3100 - NOZZLE HOLDE | 21N-60-32401 - VALVE ASS'Y | 207-62-54981 - BRACKET |
| 21K-54-43451 - FRAME | 6162-63-8240 - TUBE | 42R-22-H0P11 - WASHER THRUS |
| 5078365 - RIM | 6262-81-8320 - BRACKET | 56E-54-23433 - WIRING HARNE |
| 72799 - SPRING | 4876112 - WASHER DIA 1 | 561-43-84560 - TUBE |
| 203-62-12951 - HOSE | 844200467 - FLANGE KIT | 86610M - MUFFLER |
| 6217-21-1980 - PLUG | 17A-06-25440 - WIRING HARNE | 427-30-12402 - WHEEL ASS'Y |
| 427-S05-3920 - FILTER | 707-98-46100 - KIT, CYL SEA | 19M-63-02076 - TILT CYLINDE |
| 418-03-H3260 - HOSE | 345292R1 - BUSHING | 94186540 - FAN MOTOR RA |
| 9413981 - NUT | 79370573 - HOSE ASSY | 416-15-28120 - GAUGE |
| 30831499 - SCREW | 6144-11-5821 - GASKET | 50930898 - LOCK WASHER |
| 21T-04-31491 - BRACKET | 20Y-00-41341 - PLATE DECAL | 6216-94-3160 - PLATE,COVER |
| 89181940 - NACHSPANNSCH | 37A-03-11204 - RADIATOR ASS | 6215-61-3560 - WASHER |
| 195-30-62100 - PIN ASS'Y | 375269R1 - RING | 79A-222-3320 - HOUSING |
| 6209-61-1141 - COVER | 426-46-31860 - SHIM | 21322N - MUFFLER |
| 421-03-51450 - CUSHION | 424-54-21251 - HOOD | 426-60-35151 - SUPPORT |
| 707-18-16050 - CYLINDER | 421-40-22480 - WASHER | 58F-90-40004 - PLATFORM,LH |
| 17M-54-52171 - SHEET | 561-89-43120 - BOSS | 428-62-14230 - CUSHION |
| 20P-62-73460 - HOSE | 195-06-55651 - BRACKET | 198-04-41310 - BRACKET |
| 203-46-62130 - SHEET | 206-70-61251 - TUBE | 723-46-27101 - CONTROL VALV |
| 17870 - COVER, TRACK | 17A-61-41690 - FLANGE | 22L-62-18511 - HOSE |
| 3922052 - SERVICE PT | 6211-51-8160 - HOSE | 208-06-27161 - CABLE |
| 5204741 - O-RING | 6110-31-2410 - PISTON PIN | 58B-60-00230 - MANIFOLD,FLW |
| 6745-11-8310 - COVER | 207-04-41270 - BRACKET | 426-70-11170 - RING |
| 51722698 - SOCKET | 89071040 - RETAINER | 569-03-8L341 - AFTER COOLER |
| 22U-62-26470 - HOSE | 51100A - DECAL-NA | 624650C1 - GASKET SOFT |
| 6215-71-5640 - NIPPLE | 6131-12-8860 - HOSE | 90066A - REDUCER |
| 69620073 - HOLDER | 42U-06-11330 - RELAY, FLASH | 417-46-11270 - WASHER |
| 21N-62-39690 - TUBE | 428-22-12641 - CARRIER | 2A5-06-21860 - HOSE |
| 21N-63-72380 - TUBE | 42C-62-16341 - TUBE | 20Y-62-53650 - HOSE |
| 196-70-12180 - BOLT | 21W-978-2330 - HOSE | 20Y-53-12463 - COVER LH |
| 22L-98-27820 - CAUTION PLAT | 6523-01-0200 - CATALYZER | 94282340 - ANGLE |
| 5076138 - PLUG | 56D-61-24341 - JOINT | 8295-70-1513 - GUARD |
| 427-93-22190 - PLATE | 426-54-25161 - HANDRAIL | 424-43-37531 - TEE |
| 21K-06-41342 - HOSE | 17A-49-12250 - ELBOW | 6502-51-2020 - HOUSING |
| 561-95-63550 - HOSE | 42923540 - TRACK ROLLER | 235-15-11371 - TUBE P60 |
| 234-A44-1250 - VALVE | 392860024 - HOSE | 70089 - BRG,STRA |
| 17A-06-13251 - WIRING HARNE | 312315053 - PIN | 707-51-40020 - PACKING |
| 569-06-83290 - WIRING HARNE | 22B-04-31211 - HOSE | 421-35-11753 - TUBE |
| 720-2M-04231 - CAP ASS'Y | 56B-54-16830 - SHIM | 425-963-A840 - BOLT 10-32X1 |
| 76800673 - PIPE | 711-20-37250 - SEAL RING | 419-62-34450 - HOSE |
| 90364P - CLAMP | 17A-979-1640 - COVER | 6547-01-0010 - CATALYZER |
| 58D-98-02501 - SADDLE K,PUM | 9910379 - LOCK WASHER | 62054740 - PIN |
| 21N-04-37280 - JOINT | 566-43-82640 - TUBE | 419-06-12371 - FUSE BOX |
| 93991140 - SHEET PLATE | 68108690 - CHARGER DC | 6686-K1-2103 - GASKET KIT |
| 715622C1 - SEAL | 22U-46-21513NK - FRAME | 42C-43-18930 - TUBE |
| 644318C1 - WHEEL | 76796673 - SEAL KIT | 6746-61-1201 - XWATER PUMP |
| 23B-60-43470 - HOSE | 428-S33-2230 - PLATE | 235-834-1202 - VALVE ASSM |
| 6215-72-7430 - VALVE | 392059081 - HOSE | 419-46-12180 - PACKING |
| 5066948 - GASKET KIT | 836866569 - PIPE | 418-93-51720 - OIL CHART |
| 6124-51-9521 - CLIP | 80402600 - COVER | 37C-22-11420 - SCREW |
| 21D-62-14160 - PIPE | 705-12-33110 - XPUMP ASM | 85673KF - SPACER, LEVE |
| 5244025 - CYLINDER | 687080C1 - WASHER | 22B-06-21292 - HOSE |
| 709-63-11202 - VALVE ASS'Y | 208-70-00712 - ARM ASS'Y | 21N-00-41320 - PLATE(ANTI-S |
| 562-01-12711 - COUPLING | 423-03-51132 - AFTER COOLER | 56D-06-34160 - LAMP ASS'Y |
| 723-50-57100 - PLUG ASS'Y | 419-06-22582 - HARNESS, WIR | 21K-62-41240 - TUBE |
| 423-54-21220 - HINGE R.H. | 707-35-52660 - RING | 569-61-8M851 - HOSE |
| 42C-U44-1281 - TUBE | 421-70-00120 - BELLCRANK AS | 421-20-12660 - SEAL |
| 175-27-00131 - SEAL RINASSM | 42U-70-11H30 - DISC | 561-03-64103 - RADIATOR ASS |
| 2A6-03-A1220 - HOSE | 42U-17-H0P51 - BUSHING | 423-S62-4221 - HOSE |
| 5227498 - DELIMBING KN | 234-71-13224 - GEAR | 423-957-4162 - COVER |
| 21P-63-K1810 - O-RING | 42N-54-12740 - RADIO ANTENN | 419-942-1120 - HOSE |
| 427-62-14190 - TUBE | 723-11-28630 - SPRING | 42U-17-H0P69 - BEARING |
| 423-54-55380 - SPACER | 37C-98-11620 - MARK PLATE R | 5029293 - SEAL |
| 20Y-54-23100 - SASH ASS'Y | 205-62-34350 - BRACKET | 20T-32-76113 - SHOE, LINER |
| 209-62-75710 - HOSE | 418-43-11140 - CABLE | 58F-54-10183 - PLATFORM,LH |
| 426-07-38211 - INSULATOR | 614901030 - O-RING | 208-947-6110 - ARM |
| 209-04-71120 - FLANGE | 707-99-85350 - SERVICE KIT | 20520KF - HOSE ASSY |
| 201-973-7480 - ELEMENT | 5201354 - PRE FILTER | 41E-54-24150 - BRACKET |
| 21T-04-31251 - TUBE | 198-38-11660 - GASKET | 566-93-25310 - PLATE |
| 5074663 - SAW MOUNTING | 426-04-61280 - TUBE | 702-21-08512 - PILOT VALVE |
| 421-15-12150 - SPACER | 20Y-06-15251 - WIRING HARNE | 423-70-A1230 - LINK WELDMT |
| 426-56-A1770 - LAMP,WORKING | 426-22-32840 - BEARING | 21T-54-31291 - NET |
| 707-99-23010 - KIT, CYL SEA | 428-16-21120 - TUBE | 93289340 - CONTROL UNIT |
| 820510671 - SHOE | 706-86-51110 - SCREW | 6731-11-4840 - CONNECTION,A |
| 425-963-1631 - COVER | 32446740 - SUPPORT RING | 79282373 - AUX. CONTACT |
| 21T-30-13170 - BOLT | 175-71-31121 - BRACKET | 708-27-14230 - CAP |
| 6127-31-1120 - GEAR | 34267699 - CIRCLIP | 419-62-31911 - VALVE ASS'Y |
| 90101A - INSERT | 195-06-71280 - WIRING HARNE | 561-54-84160 - LEVER |
| 427-60-15320 - STRAINER | 417-06-12312 - WIRING HARNE | 427-62-15610 - HOSE |
| 4656658 - CLAMP | 58F-06-03020 - WIRING HARNE | 707-88-35380 - BRACKET |
| 6202-72-5110 - TUBE | 5204888 - DECAL | 3136046R93 - FILTER |
| 56D-30-51400 - RIM ASS'Y | 6741-11-1190 - CYLINDER HEA | 5074950 - SCREW |
| 208-62-43641 - HOSE ASS'Y | 50457298 - NUT | 23B-952-8950 - HANDRAIL |
| 17A-06-25151 - WIRING HARNE | 561-95-83630 - HOSE | 76892773 - PIPE ASSY |
| 21P-63-K1660 - BACK-UP RING | 707-99-39770 - SEAL KIT | 566-06-13872 - SWITCH |
| 42N-43-14870 - PIN | 9403296 - NUT | 56B-61-22960 - BRACKET |
| 424-15-12510 - SHAFT | 561-95-84800 - PUMP ASS'Y | 425-03-23411 - GUARD |
| 421-70-11251 - BUSHING | 6114-21-3721 - POINTER | 7861-93-3510 - SENSOR |
| 417-43-27420 - SPRING | 707-99-52600 - KIT, CYL SEA | 56D-54-21F50 - SEAL |
| 35719 - SHOE,ADJ | 17M-911-6742 - BRACKET P60 | 6215-71-4730 - TUBE |
| 17A-49-21980 - BRACKET | 195-50-41140 - BUSHING | 209-54-41131 - BRACKET |
| 426-971-2120 - GUARD | 37A-54-15151 - GUIDE | 42Y-22-H6150 - CABLE |
| 209-54-43260 - SHEET | 22B-46-23180 - CAP | 8234-03-1461 - SEAL |
| 6731-32-2100 - KIT - PISTON | 600-411-2400 - CORROSION RE | 203-62-62522 - HOSE |
| 21T-64-32740 - HOSE | 708-17-07130 - SERVO VALVE | 21W-54-41231 - COVER |
| 56B-03-21552 - TUBE | 206-25-00600 - SWING CIRCLE | 5078056 - STUD |
| 714-13-10000 - XTRANSMISSIO | 8248-62-1270 - HOSE | 885071034 - RELAY |
| 6252-21-7530 - HOSE | 416-03-47360 - GROMMET P6 | 723-46-18401 - CASE ASSY |
| 705-52-30390 - PUMP ASS'Y | 708-8K-16260 - PLUG | 423-15-05131 - KIT |
| 23B-03-71810 - SHEET | 51472198 - HOSE | 5210136 - HYD.HOSE |
| 312612090 - TERMINAL(-) | 6212-71-5250 - TUBE | 30846099 - SCREW |
| 2A6-62-11581 - TUBE | 90092A - CLAMP,GUILLO | 6215-51-5250 - COVER |
| 27552KF - CARTRIDGE, M | 6136-21-2240 - O-RING | 69764673 - TUBE |
| 425-54-36151 - SHEET | 28553KF - HOSE ASSEMBL | 20Y-62-51260 - HOSE |
| 235-45-12170 - COVER | 5053965 - ACCUMULATOR | 21M-62-12510 - BRACKET |
| 561-87-61340 - CONNECTOR | 331879R1 - RING | 175-22-21190 - SEAL RING |
| 8240-79-1721 - BRACKET | 23S-55-51530 - CLIP | 714-07-12510 - SHAFT |
| 708-27-07112 - SERVO VALVE | 17A-30-14311 - CYLINDER | 843100185 - SPACER |
| 205-70-65750 - PIN | 198-30-69820 - GUARD | 22F-973-2870 - BRACKET |
| 708-8H-35120 - DISC | 423-06-22182 - WIRING HARNE | 421-03-23710 - GUARD |
| 6245-31-8121 - FLANGE | 22J-62-16710 - HOSE | 926022A - PIPE,EXHAUST |
| 6210-61-1510 - SEAL | 195-54-21851 - SHUTTER | 203-62-63390 - HOSE |
| 56D-52-32370 - TUBE | 6245-11-8170 - TUBE | 6206-31-1420 - PULLEY |
| 195-49-14511 - HOSE ASS'Y | 20Y-957-1470 - UNION | 20Y-62-43720 - BRACKET |
| 624E-B0-0013UX - ENGINE ASS'Y | 62700240 - RING | 5091225 - PIN |
| 90694240 - Pole end pla | 418-17-33440 - SHIM | 20S-70-81740 - SPACER |
| 205-06-32310 - BRACKET | 42969240 - PIN | 424-03-41513 - HOSE |
| 6732-22-3520 - SHAFT ASSM | 56B-93-22240 - PLATE | 5080958 - PROTECTION |
| 22U-54-42851 - BRACKET | 421-06-18160 - KNOB | 93830140 - HARNESS |
| 23246040 - SOCKET WREN | 207-32-11183 - SHOE | 42W-01-22B10 - LINK |
| 17M-54-45410 - COVER | 706-8J-41110 - CASE | 733805C2 - GASKET,NONAS |
| 21T-54-31611 - DOOR | 42C-62-13832 - BLOCK | 22L-03-27151 - SHEET |
| 425-01-A1330 - AIR TUBE INL | 3047879R1 - RING | 566-61-81331 - TUBE |
| 723-18-13504 - CONTROL VALV | 6507-12-5020 - XTURBOCHARGE | 569-03-88740 - SEAL |
| 427-03-11510 - HOSE | 22L-973-1D10 - TUBE | 56B-61-32540 - TUBE |
| 21N-942-1350 - TUBE | 21N-54-42540 - BRACKET | 707-86-68730 - TUBE |
| 6261-71-5450 - HOSE | 42U-01-33051 - BRACKET | 90855A - TUBE |
| 23B-952-1521 - COVER | 5069659 - HYDRAULICS | 20Y-43-41890 - WIRE |
| 42N-54-17510 - HYD STEERIN | 709-10-92400 - ORIFICE | 419-62-54451 - HOSE |
| 6240-11-7280 - BRACKET | 21K-54-71541 - COVER | 428-54-23510 - COVER |
| 58F-46-10131 - GUSSET,SUPPO | 708-1S-13370 - GUIDE,RETAIN | 195-61-61210 - SPACER |
| 21T-54-31121 - PLATE | 2A5-53-13410 - SEAL | 536157R1 - MUFFLER |
| 702-16-57430 - SEAL | 702-16-02420 - LEVER ASS'Y | 721-11-12831 - XCYLINDER |
| 609-02-0101-3 - BULB | 235-63-28140 - CYLINDER | 882437C1 - PLATE,RETAIN |
| 6240-41-5220 - BUSHING | 94507040 - RAIL | 21W-54-R3K70 - WIPER MOTOR |
| 5082941 - SENSOR | 6756-61-4110 - V-BELT | 581-40-54230 - PLUG |
| 816214029 - BUSHING | 56B-61-12762 - TUBE | 864457R1 - ELBOW |
| 21N-30-37570 - LADDER | 6110-40-4500 - VALVE | 5006685 - HOSE ASSY .3 |
| 207-06-K1520NK - LAMP ASSM | 418-T80-3713 - HARNESS, WIR | 426-56-31970 - CUSHION |
| 17M-22-41101 - STEERING ASS | 234-03-42120 - HOSE | 17A-01-11153 - DUCT |
| 46759840 - BUSHING P60 | 418-23-33610 - HOUSING | 565-54-12841 - WASHER |
| 5220631 - HYDRAULIC HO | 708-1S-00980 - PUMP ASS'Y | 4A1-60-10020 - SUPPORT, HYD |
| 37A-62-14620 - HOSE | 6136-61-8811 - GASKET | 6151-21-1840 - NOZZLE |
| 20Y-979-6130 - CONDENSER AS | 17A-30-21530 - SPACER | 17M-43-22570 - SPRING |
| 23B-06-46760 - BRACKET P60 | 23B-60-42701 - SWIVEL JOINT | 20U-54-41900 - COVER ASS'Y |
| 423-62-41491 - HOSE | 423-Z91-5111 - CABLE | 91108440 - COLLAR BUSH |
| 3F0535737 - GASKET | 195-01-36510 - HOSE | 22M-62-22860 - HOSE |
| 42U-70-H0R14 - SCREW | 5205780 - HYDRAULIC PI | 21T-06-32511 - BRACKET |
| 900360K - TUBING | 23B-70-31G90 - RAIL | 22M-46-21220 - SPACER |
| 79380573 - PANEL,OPERAT | 208-54-41512 - FRAME | 6219-71-1160 - GASKET |
| 4A1-53-10010 - PANEL, HEADL | 425-06-43440 - PLATE | 56B-54-53370 - BRACKET |
| 425-54-44920 - BRACKET | 569-54-89270 - SEAL | 58F-06-11220 - SEAL, BULLET |
| 6752-81-5110 - WIRING HARNE | 198-06-51133 - WIRING HARNE | 312608090 - CABLE |
| 569-43-84944 - TUBE | 51651198 - HOSE | 5063437 - NIPPLE |
| 23B-22-31112 - CASE | 37D-09-5K751 - PLUG | 42C-32-18741 - SLEEVE |
| 6240-11-7380 - COVER | 6215-11-5760 - SHIM | 836316495 - GASKET KIT |
| 6689-72-8111 - TUBE | 203-43-56232 - LEVER | 707-34-55020 - O-RING |
| 22B-979-2701 - UNIT ASS'Y | 20Y-27-22261 - LOCKNUT | 5235644 - HYDRAULIC HO |
| 6261-81-8591 - WIRING HARNE | 20Y-27-42260 - PIN | 6754-71-5330 - CLIP |
| 702-16-72740 - CAP ASS'Y | 17M-911-3310 - SHAFT | 208-26-62140 - CARRIER |
| 42C-70-14631 - BUSHING | 205-950-0012 - RIPPER ASS'Y | 6215-71-7371 - BOLT |
| 209-68-11430 - ELBOW | 708-7R-15131 - PLATE | 23B-43-72840 - NUT |
| 207-70-61164 - BRACKET | 6217-11-5910 - BOLT | 21T-62-67112 - BLOCK |
| 6754-22-3120 - HOUSING - GE | 562-13-12641 - NUT | 425-56-H0R08 - LIFTER, WIND |
| 57640640 - UNION | 425-43-48960 - HOSE | 201-54-72510 - MAT |
| 22B-62-13740 - HOSE | 427-70-11362 - FLANGE | 21T-30-74140 - GLAND |
| 36650940 - COVER | 6110-63-2130 - COVER | 419-33-21122 - PISTON |
| 203-54-12351 - COVER | 70833C1 - GUARD | 816213544 - KNOB |
| 5250958 - ACCUMULATOR | 21T-54-34542 - BRACKET | 20Y-30-28510 - ROLLER |
| 42C-62-16741 - TUBE | 6210-52-6310 - PIPE | 56B-54-13290 - HOSE |
| 42U-01-33110 - SUCTION PIPE | 600-821-9962 - ALTERNATOR | 195-928-2190 - COVER |
| 20K-62-33124 - TUBE | 205-26-71332 - CARRIER | 427-15-11180 - HOUSING |
| 6680-41-1011 - CAMSHAFT ASS | 56B-02-12121 - HOSE | 22K-03-21111 - RADIATOR ASS |
| 20Y-04-38112NK - TANK | 20Y-00-31380 - PLATE | 37C-970-1410 - CLAMP |
| 93534240 - PIPE COUPLER | 42T-56-H0P06 - SWITCH | 208-62-71550 - ADAPTER |
| 417-823-2670 - CONNECTOR | 235-834-1200 - SOLENOID VAL | 888011052 - AIR CONNECTI |
| 42N-56-11230 - SEAL | 421-06-52511 - WIRING HARNE | 569-87-61120 - BRACKET |
| 426-06-31420 - CAP | 3924027S - SERVICE PT | 5022719 - GEAR RIM |
| 419-06-33127 - SUPPORT, R.H | 421-U45-4380 - COVER P60 | 235-22-51340 - SHAFT |
| 6219-51-5740 - TUBE | 425-46-45120 - PIN | 195-54-00180 - COLLAR ASS'Y |
| 209-54-77980 - SEAL | 42C-54-32650 - SHEET | 6275-11-9550 - GASKET |
| 561-07-A1220 - SET,V-BELT | 707-36-95170 - PISTON | 565-22-14451 - RETAINER |
| 195-43-46550 - LEVER | 27542KF - CLAMP, STRAP | 888011086 - BOLT |
| 723-40-87400 - VALVE ASS'Y | 5060869 - PIN | 41E-56-21250 - GLASS |
| 561-61-66340 - TUBE | 198-06-62115 - WIRING HARNE | 5057912 - VALVE |
| 418-879-2630 - BUSHING | 6136-61-1370 - SLEEVE | 23B-54-72450 - CUSHION |
| 203-04-11330 - HOSE | 561-54-64320 - HANDLE | 707-00-03140 - CYLINDER,LIF |
| 705-12-22740 - PUMP ASS'Y | 426-06-12122 - WIRING HARNE | 209-62-73470 - TUBE |
| 17A-61-13491 - HOSE | 58B-06-01521 - CABLE | 425-46-18120 - TUBE |
| 42C-54-15142 - HANDRAIL | 21M-30-17100 - IDLER | 21T-60-12750 - O-RING |
| 723-46-17560 - PLATE | 421-43-21750 - PIN | 428-971-1110 - GUARD |
| 421-54-33580 - PLATE P60 | 60131A - BUSHING | 7824-86-9000 - MONITOR ASM |
| 6745-11-4161 - SEAL | 58B-32-00171 - HUB A,WHEEL | 23S-54-36560 - SEAL |
| 22R-62-11440 - NIPPLE | 79731073 - CONTACT | 423-54-H2120 - COVERING |
| 6215-81-8220 - WIRE | 3929722S - SERVICE PT | 5069280 - BOGIE |
| 5081233 - SLIDE RAIL | 6245-51-5200 - HEAD ASS'Y | 17A-Z11-4810 - BRACKET |
| 707-29-11850 - HEAD | 723-46-41210 - VALVE | 19954KF - BEARING, ROD |
| 195-13-71140 - RETAINER | 17A-03-23231 - TUBE | 836859427 - SUPPORT |
| 22N-98-11431 - PLATE | 6810-21-6190 - JOINT | 22561 - BOLT - 16MM |
| 392378002 - HOSE | 22B-54-19791 - SHEET | 92922240 - BUSHING |
| 205-70-65681 - PIN | 5229493 - NUT | 425-06-34123 - COVER RH |
| 94031440 - HOSE | 31004440 - SECURING PLA | 6741-81-8830 - GASKET |
| 230-09-23145 - HOSE | 425-963-1940 - THERMOSTAT | 709-91-12900 - VALVE ASS'Y |
| 7831-64-4001 - PANEL ASS'Y | 42C-15-25550 - COVER | 886085C1 - BUSHING |
| 20Y-54-71311 - FRAME | 24377R1 - SCREW | 21M-03-15162 - HOSE |
| 6159-K2-9900 - GASKET SET,C | 5199672 - SCREW | 21K-62-75380 - HOSE |
| 6212-81-3680 - TUBE | 21N-06-11217 - WIRING HARNE | 400745R1 - RING |
| 92399340 - PIPE | 58B-98-00710 - CLIP, NOZZLE | 51682298 - SOCKET |
| 840220142 - PUMP ASSM | 201-32-51121 - LINK | 198-911-8681 - BRACKET |
| 6215-21-8780 - TUBE | 82912KF - 425 KLTD TRK | 705-51-30110 - PUMP ASS'Y |
| 42C-01-12680 - O-RING | 43070240 - COVER RING | 370686R1 - BUSHING |
| 21Y-06-11230 - CLAMP | 707-00-0E801 - CYL. ASS'Y P | 706-77-91410 - SPRING |
| 311591R1 - BOLT | 417-54-H4100 - PLATE | 567-15-05041 - KIT |
| 20Y-06-41790 - BRACKET | 198-06-62381 - WIRING HARNE | 17M-54-26420 - COVER |
| 21W-54-14921 - BRACKET | 207-70-31242 - PLATE | 816210894 - TIE-ROD L.H |
| 714-23-19410 - BEARING | 702-16-03880 - PILOT VALVE | 423-S95-2921 - PIN |
| 93530640 - TUBE | 816214592 - GASKET DOOR | 600-411-2110 - HEAD |
| 500380481 - ELBOW | 17A-49-18921 - HOSE | 943885C91 - COVER |
| 6735-21-3740 - NUT | 198-03-52270 - O-RING | 30788799 - SCREW HEX |
| 90926A - ELBOW | 844200212 - SHIFTER | 419-U77-4215 - FENDER |
| 708-25-22750 - RETAINER | 423-62-43680 - ELBOW | 566-61-6D131 - HOSE |
| 195-15-81003 - TRANSMISSION | 416-06-21120 - SWITCH | 17A-54-41824 - GRIP |
| 42N-43-15740 - SUPPORT, LH | 205-54-32360 - SHEET | 421-T80-5110 - FUEL TANK |
| 19M-72-12351 - BUSHING | 17A-30-15110 - TRACK ROLLER | 702-21-04360 - PILOT VALVE |
| 42C-06-13163 - WIRING HARNE | 22253 - DIFFUSER, HE | 232-32-56301 - CYLINDER ASS |
| 6219-11-5910 - BRACKET | 700-26-11150 - PLUG | 80402700 - DRIVE SHAFT |
| 26900 - DOOR, CAB - | 8234-70-5121 - PLATE, CHEEK | 392364017 - FLEX HOSE |
| 37A-57-11590 - BRACKET | 6731-71-5330 - FUEL,INJECTF | 51661998 - Bolt |
| 418-62-11421 - HOSE | 424-54-A1430 - SHEET RH | 195-06-41130 - ROD |
| 723-36-15120 - RETAINER | 569-03-81850 - SEAL | 195-979-3510 - COLLAR |
| 426-46-22361 - GUARD | 8240-75-2720 - PLATE | 57655340 - LADDER |
| 21N-53-32470 - SHEET | 600-311-7460 - CARTRIDGE | 22J-60-18100 - MOTOR,SWING |
| 707-27-28012 - HEAD | 707-E1-00400 - XARM CYLINDE | 419-54-24311 - FENDER LH |
| 17833 - RING SNAP - | 5233889 - DETECTOR LOO | 56B-54-12280 - BRACKET |
| 21D-09-24210 - NUT | 21T-64-34510 - VALVE ASS'Y | 58B-03-11200 - BRACKET, RAD |
| 418-62-23750 - TUBE | 20T-43-71361 - PLATE | 707-51-90020 - PACKING |
| 561-54-62791 - CLIP | 5037872 - SEAL | 207-62-51373 - BRACKET |
| 51610798 - HOSE | 5074640 - SHIM | 234-44-42150 - REPAIR KIT |
| 17M-13-46310 - TUBE | 50675598 - SCREW | 7872-11-2200 - CONTROLLER P |