Komatsu HD325-8/HD405-8 Rigid Dump Truck parts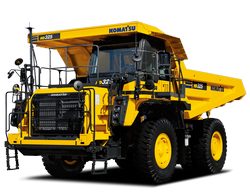 Komatsu HD325-8/HD405-8 Dump Truck - it is a big machine. It is a Rigid Dump Truck and works in difficult operating conditions. That's why this machine sometimes needs maintenance.
Our online parts store give you an access to more than 500 000 Komatsu parts that we have in our inventory.
Here is some more information about Komatsu HD325-8/HD405-8 Rigid Dump Truck:
ENGINE POWER
386 kW / 518 HP @ 2.000 rpm
NOMINAL PAYLOAD
HD325-8: 36,5 metric tons
HD405-8: 40,0 metric tons
BODY CAPACITY, HEAPED
HD325-8: 24,0 m³
HD405-8: 27,3 m³

ENGINE
Model -> Komatsu SAA6D140E-7
Type -> Common rail direct injection, water-cooled, turbocharged, after-cooled, cooled EGR diesel
Engine power
at rated engine speed -> 2.000 rpm
ISO 14396 -> 386 kW / 518 HP
ISO 9249 (net engine power) -> 383 kW / 514 HP
No. of cylinders -> 6
Bore × stroke -> 140 × 165 mm
Displacement -> 15,24 l
Max. torque -> 3.644 Nm (372 kgf-m)
Governor -> Electronically controlled
Lubrication system
Lubrication method -> Gear pump, force lubrication
Filter -> Full-flow filter
Air-filter type -> Dry type with double elements, precleaner and evacuator valve
If you send us your request, we will make you an offer for original and Aftermarket Komatsu parts for your Komatsu HD325-8/HD405-8 Rigid Dump Truck.
Below is a small list of Komatsu parts for this equipment. However, if you are interested in something - please use the site search.
| | | |
| --- | --- | --- |
| 198-54-78671 - SHEET | 2A5-54-12931 - SHEET | 2938-54-1910 - SPINNER KNOB |
| 6211-11-5161 - EXHAUST MANI | 22F-01-31102 - XENGINE ASS' | 19163 - BOOT, RUBBER |
| 198-54-75710 - COVER | 92358740 - HARNESS | 56D-54-33410 - WIRING HARNE |
| 5072424 - HYDRAULIC HO | 61406013 - SEAL | 28281 - PLUG, 3/4" N |
| 58E-03-01030 - HOSE | 711-50-72160 - FREE WHEEL | 198-78-21210 - PIN |
| 58F-54-01310 - HANDRAIL A. | 198-03-72100 - RADIATOR SUB | 914533 - CIRCLIP |
| 5022713 - SOLENOID | 22F-46-33810 - BUSHING | 6166-11-9450 - CONNECTOR |
| 6732-21-5642 - OIL GAUGE | 4A1-53-12280 - BOOMSIDE LG | 561-40-83730 - SEAL |
| 61122 - BRG,STR | 56D-06-12411 - WIRING HARNE | 206-06-35112 - WIRING HARNE |
| 836862271 - REPAIR KIT | 708-1S-00951 - PUMP ASS'Y | 42U-06-12150 - HARNESS |
| 8234-70-2281 - CABLE | 60022799 - CABLE TERM | 6251-11-5510 - CONNECTOR |
| 723-18-15904 - CONTROL VALV | 5053010 - NOZZLE | 6738-K2-1201 - GASKET KIT |
| 600-311-9640 - HEAD | 22M-62-12521 - HOSE | 42T-62-23400 - TUBE |
| 17A-57-41131 - SEAL | 94580440 - PIPE | 421-46-34142 - COVER |
| 423-04-51570 - JOINT | 22B-06-31961 - SHEET | 22P-53-15351 - COVER |
| 56B-06-24321 - BRACKET | 7818-36-1600 - CONTROL BOX | 709-14-12190 - PLATE |
| 600-311-6720 - PLUG | 208-03-51450 - NET | 208-03-41860 - BRACKET |
| 2A5-62-12362 - HOSE ASS'Y | 5223440 - MOUNTING | 51313498 - SCREW |
| 195-54-89760 - BRACKET | 600-813-4792 - STARTER | 21080 - SCREW WEAR |
| 6218-21-3754 - SUPPORT | 561-61-81150 - BRACKET | 198-Z11-2241 - GLASS |
| 6151-11-5510 - MUFFLER | 209-54-31420 - SEAL | 208-54-58140 - SHEET |
| 27364KF - ELBOW, EXHAU | 6216-54-6430 - HEAD-LUB OIL | 4645675 - CONE |
| 207-00-31111 - MARK | 928002A - PIPE,TAIL | 198-54-78432 - COVER |
| 567-32-41201 - BRAKE ASS'Y | 198-61-32620 - BRACKET | 5224418 - DETECTOR LOO |
| 711-20-11550 - BEARING | 175-27-22271 - NUT | 6162-53-6314 - PIPE |
| 21D-54-14340 - CONTACTOR | 714-23-12561 - GEAR | 21W-43-41441 - LEVER |
| 6218-21-7120 - FILLER, OIL | 56D-86-32121 - HANDRAIL | 79807473 - SILICONE P |
| 419-22-27460 - PLATE | 2A5-954-1251 - GUARD | 708-7T-00490 - MOTOR ASS'Y |
| 423-S62-2520 - TUBE | 42W-46-25230 - MAT | 708-3M-04213 - CAP ASS'Y |
| 5253338 - HYDRAULIC HO | 198-54-78360 - PLATE | 56B-46-37201 - SEAT ASS'Y |
| 58C-00-00080 - ROCK EJECTOR | 2938041170 - HOSE | 209-38-51170 - SPACER |
| 35433399 - KEY | 30432599 - SCREW | 22M-70-31140 - BUSHING |
| 20M-60-63001 - MOTOR ASS'Y | 566-03-81181 - BRACKET | 20Y-54-11383 - BRACKET |
| 426-S95-4411 - TUBE | 58F-MH-AK040 - REAR BRK MT | 423-93-51120 - PLATE |
| 425-S33-4130 - RAIL | 5078935 - PIPE | 417-926-4240 - SEAL |
| 426-03-11260 - PLATE | 423-06-62441 - WIRING HARNE | 566-93-8A180 - PLATE |
| 205-30-73140 - SHAFT | 707-01-0EJ70 - XCYLINDER AS | 20U-54-24761 - WINDOW |
| 419-54-A5170 - PLATE | 8240-54-4651 - SHEET | 209-62-75740 - HOSE |
| 34208199 - SPLIT PIN | 705-89-00026 - BRACKET | 500270009 - SPACER |
| 418-03-52441 - FRAME | 567-03-41110 - RADIATOR | 41E-04-31210 - BLOCK |
| 600-181-1400 - ELEMENT ASSM | 417-54-65521 - LADDER | 423-22-31131 - CAGE |
| 95932940 - ACCUMULATOR | 20Y-979-6341 - SENSOR | 711-15-26680 - SPRING |
| 561-30-81430 - HOUSING | 198-60-31190 - FLANGE | 20Y-970-7160 - TUBE |
| 195-63-12250 - PISTON RING | 22U-54-25211 - COVER | 81N1-12010 - CARRIER ROLL |
| 569-50-31130 - RING | 42968540 - Top roller b | 421-15-05040 - SHIM KIT |
| 20U-62-22613 - BRACKET | 76984573 - RING | 51238798 - HOSE |
| 428-Z90-3321 - DOOR | 208-70-61480 - BUSHING | 428-16-21161 - TUBE |
| 69843973 - RUBBER 1=1 M | 17A-Z11-2540 - WIPER BLADE | 421-62-51280 - HOSE |
| 207-62-72850 - PLATE | 6166-61-1750 - TUBE | 421-40-52361 - COVER |
| 22B-70-00241 - LINK ASS'Y | 3317283 - HEATER COOL | 175-49-25530 - VALVE ASS'Y |
| 425-15-12740 - PLATE | 22B-70-21850 - TUBE | 3F0569057 - HOSE |
| 2404N267-27AM - SPROCKET | 37A-62-14310 - HOSE | 42C-54-11313 - COVER |
| 569-06-61910 - PLATE | 6205-11-5620 - PIPE | 92258640 - PLATE RH |
| 416-926-A640 - SHEET R.H. | 175-33-23470 - TUBE | 22N-910-1120 - UNION |
| 19M-63-02067 - CYLINDER ASS | 22U-54-26650 - SHEET | 427-62-21830 - TUBE |
| 5016770 - WIPER | 51239098 - HOSE | 25358R1 - BOLT |
| 429-07-3028 - SHIM (0.8M | 22B-06-11860 - WIRING HARNE | 423-22-21300 - GEAR ASS'Y |
| 237-27-11290 - WASHER | 21K-70-72250 - BUSHING | 17A-49-18511 - HOSE |
| 426-22-12411 - SHAFT | 42C-S95-2430 - GASKET | 702-16-55530 - COLLAR |
| 58E-06-06900 - CABLE, CAT5E | 209-03-77610 - OIL COOLER | 283-87-12130 - CABLE |
| 51645698 - HOSE | 569-54-63380 - LATCH | 561-15-74660 - SENSOR |
| 743412C1 - SHAFT | 208-62-64241 - TUBE | 421-06-H4430 - BOX |
| 58B-06-20060 - HARNESS,RH F | 56B-15-32010 - CLUTCH ASS'Y | 195-911-9380 - SHEET |
| 737460C1 - KNOB | 6152-12-4680 - PLATE | 363-70-11250 - PIN |
| 209-03-11160 - COVER | 21N-68-11181 - REGULATOR | 79786773 - SUPPORT |
| 416-54-34571 - PLATE | 58E-06-10772 - TAG,TB32 ID | 5047745 - WHEEL AXLE |
| 6219-21-8770 - PLATE | 391-98-0001 - BEARING ASSY | 42C-06-21830 - PLATE |
| 208-03-71480 - SEAL | 263415R2 - RETAINE | 421-54-55810 - SHEET |
| 23A-54-12440 - GRILLE | 21S-70-2A300 - BOOM ASS'Y | 198-61-61271 - BRACKET |
| 42U-00-H0630 - HOSE ASSM | 418-54-24111 - LADDER | 5057494 - WASHER |
| 206-03-21461 - SHEET | 6245-11-7760 - BRACKET | 42C-43-18320 - SWITCH |
| 207-26-54230 - PLATE | 17M-61-24360 - BRACKET | 561-22-71440 - SLEEVE |
| 58E-43-10301 - XDUAL ETH. C | 76973873 - PIPE ASY. | 206-62-45150 - HOSE |
| 22B-63-02460 - CYLINDER ASS | 427-S95-A240 - PUMP, HYD | 421-07-23450 - SHEET |
| 416-926-A710 - ROD,DOOR LOC | 707-88-21620 - BAND | 711-66-16660 - PLATE |
| 208-32-41120 - LINK | 22J-35-16361 - SPACER | 58F-06-11060 - ROTOR,CLEAT |
| 20G-70-K2190 - PIN | 561-34-62130 - PISTON | 76941673 - Piston with |
| 7830-32-1420 - BOX | 421-43-57730 - HOSE | 19M-61-33870 - BLOCK |
| 206-70-61281 - TUBE | 421-V06-2111 - PLATE KIT | 17A-40-00030 - VALVE ASS'Y |
| 425-01-11370 - CUSHION | 89533K - CLAMP, V-BAN | 76801873 - HOSE |
| 6205-31-1202 - CRANKSHAFT A | 21T-54-33331 - STEP | 6127-71-3210 - SHAFT |
| 77261973 - PIPE | 208-27-52271 - HOLDER | 8296-62-1741 - HOSE |
| 425-877-3270 - TUBE | 75715173 - SEAL KIT | 89458340 - KIT SENSOR M |
| 23B-60-42710 - CASE | 426-54-15003 - CAB ASS'Y | 207-06-76710 - WIRING HARNE |
| 58F-93-40480 - PLATE,WARNIN | 5262167 - LOCK PLATE | 50218998 - DOWEL SLEEVE |
| 20T-70-41141 - PIN | 707-88-95770 - BAND | 20T-43-42120 - CABLE |
| 5072542 - HYDRAULIC HO | 6134-51-5121 - CARTRIDGE | 6737-51-8150 - TUBE |
| 207-54-A1941 - GUARD | 418-18-32342 - ELBOW | 561-07-82213 - DUCT |
| 56B-83-27160 - PLATE P60 | 418-54-44630 - CUSHION | 21M-54-11421 - COVER |
| 42N-856-1430 - PIN | 80403700 - RETAINER | 417-15-14660 - MAGNET |
| 22F-46-31522 - PLATE | 6245-51-5180 - BRACKET | 17M-30-29320 - COVER |
| 175-06-61150 - WIRING HARNE | 7824-84-2810 - SWITCH | 20Y-70-23230 - SEAL |
| 20R-03-11220 - CAP | 207-62-K3620 - HOSE ASS'Y | 20S-43-11230 - COVER |
| 421-U44-4920 - HOSE P60 | 426-62-23641 - TUBE | 419-03-52460 - PACKING |
| 421-06-H4440 - BOX | 6754-72-5310 - TUBE-FUEL SU | 405030R91 - CARB |
| 421-06-H2615 - HARNESS | 76647673 - GEAR BOX | 5063729 - MOUNTING |
| 21466 - WASHER HARD | 708-3S-03960 - SLEEVE ASS'Y | 203-62-62121 - BRACKET |
| 7818-74-8000 - CONTROLLER | 423-Z13-4191 - HOSE | 58F-FM-AK160 - KIT,930E-3 F |
| 20U-54-43240 - COVER | 208-60-71520 - VALVE ASS'Y_ | 2A5-54-13390 - BRACKET |
| 569-50-63182 - FLANGE | 708-7S-01570 - VALVE ASS'Y | 76797873 - TUBE |
| 708-1L-03400 - VALVE ASS'Y | 209-06-71120 - CABLE | 56B-54-19351 - RUBBER |
| 427-Z89-1420 - TUBE | 6735-31-8120 - DAMPER,VIBRA | 58F-06-20240 - TRIM, EDGE |
| 566-03-81251 - HOSE | 3F1042613 - COVER | 6215-85-4120 - STAY |
| 799-601-9250A - ADAPTER | 22L-943-2720 - HOSE | 21T-60-71180 - FILTER |
| 5253895 - HYDRAULIC HO | 90765740 - ROD SEAL | 208-03-75410 - TUBE |
| 6211-11-5980 - GASKET | 425-93-21812 - PLATE | 2A5-46-11231 - SHEET |
| 423-06-H3150 - LAMP RH | 4530480 - COMPARTMENT | 714-07-18692 - SPLINE HUB |
| 714-11-12520 - GEAR | 423-62-43610 - ELBOW | 5072834 - PIPE |
| 201-973-6270 - LEVER | 22B-03-21641 - HOSE ASS'Y | 22B-62-43591 - HOSE |
| 5257223 - CHAIN CAPTUR | 58B-03-00250 - TIE, TENSION | 6221-71-4250 - PIPE |
| 21P-60-K3850 - SEAT | 17A-15-12951 - SPACER | 196-911-2570 - STRIP |
| 419-15-14111 - SHAFT | 836640121 - SHIM | 20T-04-71130 - ELBOW |
| 195-43-48730 - ROD | 79715173 - PIPE | 30044R1 - BOLT |
| 22407R1 - RING | 425-54-A1160 - PLATE | 426-01-A1250 - HOSE |
| 707-69-60010 - SLIDER | 8234-70-2440 - SHIM | 20Y-62-51870 - HOSE |
| 205-03-71362 - SEAL | 58E-09-40020 - FITTING,ANCH | 6735-71-1320 - INJECTION PU |
| 426-54-32590 - SHEET | 6151-51-8390 - CLAMP | 425-09-H0270 - PRE FILTER T |
| 900269A - HANGER | 21D-09-69250 - O-RING | 6216-94-3620 - VALVE,CAP UN |
| 878064C1 - PACKING | 90576640 - TUBE | 426-62-32550 - STRIP |
| 843200381 - MOTOR,TRAVEL | 23B-70-31850 - RAIL | 22U-04-11112 - TANK |
| 5075193 - PROTECTION | 42N-33-11100 - PUMP,BRAKE | 423-975-2120 - COUNTER WEIG |
| 6751-81-8920 - COVER | 421-S61-3112 - HARNESS | 427-54-28680 - SHEET |
| 427-43-21672 - HOSE | 19M-03-11460 - PIN | 922011681 - O-RING |
| 6138-11-6470 - HOUSING,THER | 6245-81-9420 - PLATE | 312731075 - TUBE |
| 42N-03-11610 - DAMPER | 58F-14-00150 - CARRIER,HIGH | 25930R1 - NUT |
| 251152S - SPRING | 56D-06-26190 - PLATE | 42W-54-21180 - SIDE |
| 235-15-13160 - CAGE | 708-1W-03920 - BLOCK ASS'Y | 5228838 - PANEL |
| 20Y-54-K7441 - SEAL | 42W-09-H2760 - HOSE | 56B-15-17860 - SEAL RING |
| 6246-71-7310 - TUBE | 79395473 - PIPE | 19397R1 - PIN |
| 6217-51-5103 - HEAD ASS'Y | 46220740 - STRAP | 715370C1 - PLUG |
| 5071494 - CONNECTOR | 21K-70-71241 - TUBE | 6151-51-1710 - SHIM |
| 843100192 - RING, NUT | 56B-60-57100 - FILTER ASS'Y | 423-54-44842 - FLOOR,LADDER |
| 714-07-28760 - SPACER P60 | 5196868 - HANDLE | 17A-911-3612 - HOSE |
| 2A5-62-11861 - BRACKET | 17A-911-7350 - COVER | 58E-00-10220 - PLATE |
| 83208KF - HOSE ASSEMBL | 5273560 - HOLDER | 421-15-12251 - GEAR |
| 209-03-61220 - NET | 426-15-12850 - COLLAR | 42N-56-14030 - CAM |
| 569-85-61130 - WIRING HARNE | 201-70-74274 - RING | 232-46-53211 - BUSHING |
| 6216-34-4140 - GEAR,FLYWHEE | 427-32-15421 - COVER | 42024799 - TERMINAL |
| 206-54-35370 - HINGE | 56D-50-14160 - WASHER | 235-60-11740 - PLATE |
| 6156-51-5250 - BRACKET | 207-30-75341 - COVER | 561-46-82160 - FRAME SUB AS |
| 706-75-85401 - VALVE ASS'Y | 415-Z96-1311 - SUPPORT | 427-Z89-6611 - CABLE |
| 20Y-03-18121 - HOSE | 425-15-33170 - CAGE | 23B-54-73130 - COVER |
| 706-77-42110 - SPRING | 6204-13-1100 - CYLINDER HEA | 9602208 - SCREW FLG HC |
| 6217-11-9520 - BRACKET | 425-43-48450 - HOSE | 58F-00-01120 - HEADACHE RAC |
| 31926199 - ALLEN SCREW | 711-59-12530 - SLEEVE | 5063825 - PROTECTION |
| 423-06-43121 - SUPPORT | 56D-27-12362 - RETAINER | 707-00-0A190 - CYLINDER ASS |
| 6218-61-3150 - PULLEY | 707-00-03952 - XCYL RH STR | 416-18-43750 - HOSE |
| 423-22-41010 - XDIFFERENTIA | 421-S99-3570 - PLUG ASS'Y | 714-11-15600 - VALVE ASS'Y |
| 30835999 - BOLT | 569-06-87211 - WIRING HARNE | 209-62-55440 - UNION |
| 8240-75-1671 - PLATE | 203-54-66621 - FRAME | 201-32-51360 - RUBBER SHOE |
| 175-30-43161 - PLATE | 418-06-22372 - CABLE | 5053600 - MOTOR ACTUAT |
| 21W-98-38113 - MARK | 418-926-4410 - BOX | 76807073 - RING, LOCATI |
| 426-06-31532 - BOX | 423-04-A1450 - SHEET | 22J-54-25870 - WASHER |
| 425-15-35330 - BRACKET | 5253290 - HYDRAULIC HO | 426-62-13490 - TUBE |
| 42W-03-23A60 - MAT | 885071027 - SUPPORT | 175-54-21167 - HOOD |
| 723-36-14110 - SPRING | 79617 - CLIP | 51310120 - NUT |
| 707-13-16861 - CYLINDER | 195-30-64122 - COVER | 6245-71-5590 - BRACKET |
| 2A5-62-15690 - HOSE ASS'Y | 79313473 - REPAIR KIT | 708-7R-13520 - SPRING |
| 421-03-11931 - HOSE | 418-22-31131 - CAGE | 22B-70-22251 - TUBE |
| 21P-60-K1270 - O-RING | 56B-54-37530 - PLATE | 8232-60-1360 - GEAR PUMP |
| 5041108 - WELD CAB MO | 22F-973-2550 - HOSE | 8240-75-1920 - ROLLER |
| 76348473 - SEAL KIT | 6215-21-3190 - SLEEVE | 195-61-45440 - BEARING |
| 17M-30-29522 - YOKE | 21P-03-K2181 - SEAL | 6166-85-6521 - WIRING HARNE |
| 22F-62-12640 - CUSHION | 42N-43-13620 - PROTECTION | 208-54-78650 - PLATE |
| 705-44-82930 - PLATE | 5026387 - SWITCH | 566-01-61190 - ELBOW |
| 392078012 - HOSE | 81942 - GUARD FINGER | 416-54-43530 - PLATE P60 |
| 416-S62-4820 - BRACKET | 562-13-14460 - BEARING | 235-01-00011 - SHIM ASS'Y |
| 424-43-27290 - TUBE | 566-03-81112 - CORE | 416-06-34171 - HOLDER P6 |
| 385-10267761 - CUP | 22B-62-32551 - HOSE | 707-13-12260 - XCYLINDER |
| 675550R1 - GASKET | 569-15-36110 - SPRING | 201-01-71720 - STOPPER |
| 17M-72-47150 - PLATE | 6128-81-2830 - SEAL RING | 56D-54-23470 - COVER |
| 20Y-54-71980 - SHEET | 235-809-4450 - HOSE | 5224597 - EXHAUST HOSE |
| 707-29-11410 - HEAD | 706-66-40251 - RING | 423-57-11650 - SPRING |
| 561-54-83840 - SHEET | 6202-13-3530 - NOZZLE | 22B-62-33661 - HOSE |
| 569-61-85131 - TUBE | 706-8F-51110 - COVER | 17A-43-41190 - SHIM |
| 427-46-16153 - TUBE | 5043033 - COUPLING | 6262-71-6911 - HOSE |
| 97388440 - YOKE | 42C-30-12140 - RING,LOCK | 714-23-12240 - SHAFT |
| 207-62-68240 - HOSE | 90892K - KIT,TUBE CON | 709-12-13470 - PISTON |
| 418-54-44712 - DOOR | 92335540 - PIPE ASSY | 27785KF - VALVE, PROPO |
| 24215 - FAN,SU | 41E-16-11230 - O-RING | 76895773 - PIPE |
| 96243470 - CYLINDER | 42C-13-11112 - CASE | 6251-11-6520 - COVER |
| 6155-51-5771 - TUBE | 7830-74-4002 - CONTROLLER | 425-54-54121 - BRACKET |
| 2A5-54-15810 - FRAME | 21N-54-41540 - SHEET | 428578 - GASKET |
| 195-22-12180 - CAGE | 83024KF - HOSE ASS'Y | 421-40-12370 - BOLT |
| 209-979-5170 - HOSE | 428-54-22160 - HOSE | 426-43-27811 - TUBE |
| 569-15-42311 - CARRIER | 362-15-12740 - PISTON | 20Y-09-31130 - BEARING |
| 706-7H-13580 - PISTON | 707-76-12041 - BUSHING | 426-06-33261 - WIRING HARNE |
| 42C-62-18210 - STRAINER | 41E-56-11540 - PLATE | 42C-06-12950 - WIRING HARNE |
| 76966373 - SWITCH ASSY | 6610-61-2350 - NUT | 628741C2 - LINK |
| 423-02-61321 - HOSE | 56B-46-13451 - SHIM | 195-43-42480 - WASHER |
| 5078204 - KNIFE | 702-19-35101 - VALVE | 309815R1 - PLATE |
| 21M-03-15430 - SHEET | 421-60-H5130 - SLEEVE | 58C-22-12430 - GEAR |
| 6215-61-6730 - TUBE | 415-15-15671 - CHECK VALVE | 58E-54-50780 - BRACKET A,ST |
| 8295-62-1280 - HOSE | 705-94-80820 - SEAL | 709-15-95400 - VALVE ASS'Y |
| 209-06-51750 - SWITCH ASS'Y | 6261-61-3190 - PULLEY | 209-01-41510 - PIPE |
| 421-926-4112 - ROPS CAB WEL | 5034016 - PIPE | 500380325 - UNION, ASSY |
| 424-01-41150 - TUBE | 22335 - HOSE ASSEMBL | 31916099 - ALLEN SCREW |
| 208-943-3140 - TUBE | 3F10B2606 - PLATE SFTY E | 22M-54-11391 - COVER |
| 8248-54-1292 - STEP | 5090212 - SHIM | 42W-09-H1690 - HOSE ASSY. |
| 421-925-3342 - ROPS CAB ASS | 6560-11-8310 - O-RING | 6754-71-9930 - BRACKET |
| 6261-11-4590 - BRACKET | 21N-979-4260 - HOSE ASS'Y | 207-32-77130 - LINK RH |
| 562-61-31330 - BRACKET | 417-02-62921 - HOSE | 195-40-11120 - SPRING |
| 426-23-11311 - SUPPORT | 178-70-12550 - SPACER | 6251-D0-0043 - ENGINE ASS'Y |
| 21W-60-48120 - TUBE | 566-06-16411 - ASHTRAY | 51090940 - NUT |
| 427-56-21610 - PLATE | 418-93-11430 - PLATE | 5241279 - LOCK RING |
| 709-32-11570 - COVER | 20K-979-1420 - TUBE | 6262-11-6620 - TUBE |
| 22M-60-32502 - MOTOR ASS'Y | 706-75-43430 - SEAL | 21S-98-32140 - PLATE |
| 421-U45-4250 - UNION P60 | 203-60-52240 - ELBOW | 707-99-74190 - SEAL KIT |
| 24226KF - VALVE, RELIE | 885081154 - SWITCH | 21581799 - PIPE 1=1 MET |
| 22M-54-26732 - SEAL | 17M-03-51560 - SHEET | 426-93-A0180 - DECAL P6 |
| 195-30-66222 - COLLAR | 19M-43-31181 - BRACKET | 30963540 - TUBE |
| 427-S05-3643 - TUBE | 421-06-13322 - SUPPORT | 6962-43-4810 - SPACER |
| 421-22-30061 - AXLE ASS'Y | 419-17-30005 - TRANSFER ASS | 210849H1 - SPACER FAN |
| 22F-70-23400 - ARM ASS'Y | 423-925-4135 - SASH ASS'Y | 6127-31-1012 - XCRANKSHAFT |
| 707-51-17130 - PACKING | 421-22-32740 - SHAFT | 569-22-62980 - BEARING |
| 426-54-65550 - HANDRAIL | 6742-01-5521 - TUBE,INJ FUE | 21N-64-3664A - TEE |
| 42T-64-23190 - LEVER ASSY. | 17A-01-62461 - HOSE | 56D-54-31290 - COLLAR |
| 3919307 - SERVICE PT | 6732-11-4160 - SCREW,HEX HE | 51093498 - HOSE |
| 23B-04-31511 - TANK | 232-855-1880 - SPACER | 207-62-74781 - HOSE |
| 195-06-21910 - FUSE | 426-879-3610 - LEVER P60 | 6132-51-2620 - CLIP |
| 198071C1 - SWITCH | 21M-54-22860 - SHEET | 58E-80-10030 - PLATE |
| 6736-22-5330 - TUBE,OIL GAU | 82153KF - BRACKET-UPR | 6216-84-9430 - SWITCH,PRESS |
| 418-877-1140 - CLAMP | 5075483 - HYDRAULIC HO | 21225 - NIPPLE, 90 S |
| 198-54-78450 - FENDER | 203-01-67560 - SEAT P60 | 723-25-11100 - CONTROL VALV |
| 705-19-39130 - GEAR | 21T-38-31370 - FLANGE | 425-54-14181 - FLOOR |
| 425-15-22760 - PISTON | 208-26-63140 - GEAR | 5061921 - PRESSURE INS |
| 855021229 - O-RING | 705-51-31210 - HYDR. PUMP | 89732B - TUBING |
| 561-35-63260 - TUBE | 885231012 - TERMINAL | 23835 - BOLT - 8MM X |
| 566-89-8G740 - SHEET | 714-12-37150 - SPRING | 42T-40-22100 - PIN |
| 42Y-71-H0P24 - FORK | 21Y-98-17490 - PLATE | 17A-22-41100 - XSTEERING AS |
| 417-43-57330 - HOSE | 208-03-64210 - CUSHION | 209-53-11981 - SHEET |
| 234-25-31250 - SPACER | 20K-57-32860 - BEARING | 20N-30-71221 - SHAFT |
| 42T-56-H0P42 - LOCK | 22B-54-16541 - SEAL | 58E-54-1A670 - GUSSET,MIDDL |
| 208-01-41531 - BRACKET | 2A5-54-15930 - HANDRAIL | 5035356 - CLAMP |
| 421-04-H0P01 - GASKET | 5062083 - FLAT METAL B | 837070139 - MOUNTING |
| 6156-11-7100 - HOUSING ASM | 21M-54-15540 - DUCT | 86624 - GUIDE |
| 6251-11-1200 - CYLINDER HEA | 195-49-16191 - HOSE ASS'Y | 426-43-27180 - HOLDER |
| 31928799 - ALLEN SCREW | 79667873 - NIPPLE | 835330716 - SCREW |
| 208-63-53171 - TUBE | 56E-54-23721 - SHEET | 237-54-13211 - PLATE |
| 46112240 - COCK | 17015 - BUSHING, RED | 6712-11-5710 - MUFFLER |
| 707-36-13260 - PISTON | 23B-40-61131 - HOSE | 21N-54-35452 - WIPER MOTOR |
| 419-15-13720 - COVER | 417-46-35210 - WEIGHT, COUN | 6150-21-5620 - PLUG |
| 702-16-54001 - PILOT VALVE | 6732-21-3180 - HOUSING,TIMI | 37A-54-11991 - GASKET |
| 198-54-78970 - PLATE | 234-54-31171 - PIN | 281-35-13280 - NIPPLE |
| 561-52-61140 - BOOT | 23A-70-12122 - BRACKET | 714-17-Z0013 - XTRANSMISSIO |
| 89738K - CONNECTOR | 569-03-42190 - HOSE | 707-97-07360 - HOUSING |
| 21D-43-11170 - LEVER | 6685-61-5543 - GASKET | 6218-31-1421 - PULLEY |
| 21T-54-67791 - COVER | 735030C91 - TURBO | 21N-30-00130 - CARRIER ROLL |
| 195-928-2250 - PIN | 6151-71-5550 - CLAMP | 30720999 - SCREW |
| 56B-06-11423 - WIRING HARNE | 431942 - SCREW | 5028812 - ADAPTER ST L |