Komatsu HD785-7 Rigid Dump Truck parts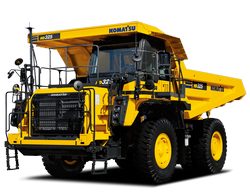 Komatsu HD785-7 Dump Truck - it is a big machine. It is a Rigid Dump Truck and works in difficult operating conditions. That's why this machine sometimes needs maintenance.
Our online parts store give you an access to more than 500 000 Komatsu parts that we have in our inventory.
Here is some more information about Komatsu HD785-7 Rigid Dump Truck:
ENGINE POWER
895 kW / 1.200 HP @ 1.900 rpm
NOMINAL PAYLOAD
91 metric tons
BODY CAPACITY, HEAPED
60 m³

ENGINE
Model -> Komatsu SAA12V140E-3
Type -> Common rail direct injection, water-cooled, turbocharged, after-cooled diesel
Engine power
at rated engine speed -> 1.900 rpm
ISO 14396 -> 895 kW/1.200 HP
ISO 9249 (net engine power) -> 879 kW/1.179 HP
No. of cylinders -> 12
Bore × stroke -> 140 × 165 mm
Displacement -> 30,48 l
Max. torque -> 518 kgf-m
Governor -> Electronically controlled
Lubrication system
Lubrication method -> Gear pump, force lubrication Filter Full-flow filter
Air-filter type -> Dry type with double elements, precleaner and evacuator valve
If you send us your request, we will make you an offer for original and Aftermarket Komatsu parts for your Komatsu HD785-7 Rigid Dump Truck.
Below is a small list of Komatsu parts for this equipment. However, if you are interested in something - please use the site search.
| | | |
| --- | --- | --- |
| 426-62-24330 - HOSE | 17M-15-41141 - HOUSING | 51091198 - HOSE |
| 21T-62-67621 - TUBE | 5035221 - HOUR METER | 426-46-34111 - BAR |
| 195-06-76821 - SWITCH BOX | 566-03-6A165 - SHROUD | 51745898 - HOSE ASSY |
| 20T-54-84650 - SEAL | 5025659 - SLEEVE | 17A-15-00630 - SHAFT ASM |
| 707-99-43500 - KIT, CYL SEA | 424-62-31281 - TUBE | 203-01-71170 - HOSE |
| 8296-70-6531 - DOOR | 9411648 - NUT | 700-92-11880 - SPRING |
| 22B-06-11171 - COVER | 22F-04-31151 - HOSE ASS'Y | 6732-21-3430 - BEARING |
| 650255C1 - RING | 20Y-30-47120SG - CYLINDER | 206-06-A1450 - HARNESS |
| 562-13-51360 - COUPLING | 235-809-6361 - HOSE ASSY | 6246-41-1100 - CAMSHAFT ASS |
| 425-93-41680 - PLATE | 25922N - MUFFLER | 417-54-A2310 - HINGE-LH |
| 708-23-13621 - VALVE PLATE | 42U-07-H0P13 - WIPER ARM | 42U-70-H0R66 - TUBE |
| 208-27-11323 - SHAFT | 56B-50-14003 - XCYLINDER AS | 705-17-43490 - GEAR |
| 209-54-74931 - SHEET | 62919 - TUBE ASM | 42N-54-14500 - BRACE ASSY. |
| 203-62-63730 - CLAMP | 281-15-13470 - FLANGE | 5229683 - EVAPORATOR |
| 6262-71-5420 - BRACKET | 65132240 - BUSH | 5286186 - HYDRAULIC HO |
| 232-950-2262 - ROD | 21T-54-31361 - DOOR | 42A-43-51142 - CABLE |
| 21N-03-37261 - HOSE | 419-S62-5120 - BRACKET | 84169 - CPSCRW |
| 5003489 - ROLLER | 569-07-82620 - SHEET | 203-26-61160 - GEAR |
| 425-07-31340 - HINGE | 79435773 - BARREL COVER | 200320491 - PIN |
| 205-01-K1370 - SEPARATOR | 423-925-5451 - LOCK | 207-62-21971 - HOSE ASS'Y |
| 206-03-35561 - BRACKET | 2A6-62-12220 - HOSE | 41F-S05-1840 - TUBE |
| 58B-33-00200 - PARKING BRK | 21P-979-K460 - DRIER | 411-44-11420 - NUT |
| 17A-54-28721 - COVER | 56D-52-12272 - TUBE | 195-54-69691 - PANEL |
| 6202-K2-9901 - GASKET KIT | 20S-70-71571 - PIN | 208-979-7821 - SEAL |
| 195-54-75811 - HOOD | 195-22-80051 - XPOWER TRAIN | 421-54-22740 - COVER |
| 8240-32-1220 - NUT | 17M-03-54130 - BRAKE | 424-875-1160 - SEAT P60 |
| 790-402-1201 - SLING | 729566 - DEF 2X2.5 GA | 714-07-27151 - SPRING |
| 708-2L-24630 - SPRING | 21P-62-K1960 - HOSE | 56D-34-11102 - BRAKE ASS'Y |
| 42C-62-14144 - TUBE P60 | 416-S62-4240 - HOSE | 708-27-22150 - O-RING |
| 6735-F0-0010 - ENGINE ASS'Y | 20Y-06-A1930 - CABLE | 7839-23-3203 - CONTROLLER,S |
| 5224336 - TANK | 51616898 - MINIMESSUNIO | 418-54-51160 - BRACKET |
| 417-22-12910 - BOLT | 5225156 - HYD PUMP | 561-86-88340 - WIRING HARNE |
| 208-53-13680 - SHEET | 421-03-11461 - CAP | 21X-27-31110 - SPROCKET |
| 51656898 - HOSE | 700-12-31410 - RING | 20Y-06-23940 - CLIP |
| 418-62-13840 - HOSE | 708-8H-04132 - CRADLE | 600-184-1310 - COVER ASS'Y |
| 561-27-71220 - COVER | 21T-06-64271 - WIRING HARNE | 42U-43-27220 - TUBE |
| 9410386 - CONN | 6755-81-7300 - AIR CLEANER | 42U-70-H0R11 - SCREW |
| 425-06-33630 - SWITCH | 232-44-54720 - ELBOW | 428-46-16141 - TUBE |
| 992064 - SWITCH | 30773699 - BOLT | 23B-40-32610 - UNION |
| 93615040 - MOTOR PROTEC | 425-15-05500 - SHIM KIT | 708-2H-24260 - STOPPER |
| 427-15-13241 - GEAR | 425-06-22711 - FUSE BOX | 561-22-71102 - CASE ASS'Y |
| 58E-80-03830 - FLAP,MUD FRO | 58F-00-00090 - SUSPENSION,K | 799-201-1450 - ADAPTER |
| 561-22-70205 - XFINAL DRIVE | 707-04-00220 - TILT CYLINDE | 600-488-1204 - CONTROLLER A |
| 259-58-24600 - PUMP | 707-99-74410 - KIT, CYL SEA | 21T-53-31560 - PLATE |
| 5231134 - VALVE | 20Y-60-K1480 - GAUGE | 208-979-7150 - BRACKET___P6 |
| 6202-12-5660 - CLAMP | 195-30-62681 - RING | 6735-71-4190 - TUBE INJ FUE |
| 20G-26-11231 - SHAFT | 6221-81-6810 - GASKET | 20Y-54-53360 - WIPER ARM |
| 6553-71-8110 - SEAL | 421-43-36134 - SWITCH | 561-02-74790 - BRACKET LH |
| 5066653 - BUNK | 23B-25-11120 - GAUGE | 566-40-11341 - PIN |
| 363-43-16110 - BRACKET | 42N-02-12160 - HOSE | 175-03-31227 - GUARD |
| 205-04-72120 - HOSE | 426-15-15840 - PLUG | 37A-98-11170 - PLATE |
| 21T-54-75570 - PLATE | 56D-15-18121 - TUBE | 426-30-12130 - BAND |
| 21K-70-71491 - SPACER | 6261-61-3180 - ADAPTER | 561-46-73101 - FRAME SUB AS |
| 6732-61-3420 - BEARING,BALL | 17097 - ROD, SAW CHA | 707-76-12520 - BUSHING |
| 421-33-32241 - DISC | 6271-81-4520 - WIRE | 425-S05-3392 - PLATE |
| 20T-62-81950 - HOSE | 569-63-62140 - XCYLINDER | 421-46-44110 - COVER |
| 6754-71-5541 - RETAINER-INJ | 20M-43-71480 - SPACER | 562-15-23311 - COUPLING |
| 238-46-11810 - HITCH | 6271-81-1910 - SENSOR | 209-63-06470 - CYLINDER ASS |
| 21T-68-68220 - TUBE | 844020374 - VALVE-PPC LE | 22N-63-02153 - CYLINDER ASS |
| 569-43-88660 - TUBE | 6211-11-5890 - GASKET | 5036929 - PISTON RING |
| 21W-62-31211 - HOSE | 21T-01-00010 - SHIM KIT | 51031498 - WASHER |
| 707-98-24010 - KIT, CYL SEA | 6275-81-6370 - BOLT | 2A5-62-13310 - BRACKET |
| 20Y-06-42130 - SWITCH | 6212-31-6120 - BUSHING | 21T-62-64240 - ELBOW |
| 195-60-52321 - TUBE | 79381373 - VALVE | 529902720 - SCREW |
| 416-64-A5131 - VALVE ASSEMB | 802090014 - WASHER | 418-46-42260 - PIN |
| 421-46-A1510 - GUARD | 198-54-79511 - COVER | 707-36-22610 - PISTON |
| 195-38-11310 - GEAR | 21W-978-3180 - CONDENSER | 21N-53-32690 - SHEET |
| 251311S - GASKET | 195-06-75210 - HARNESS,WIRE | 21M-62-14580 - HOSE |
| 423-43-48521 - HOSE | 94046140 - HOSE 1=1 ME | 76972173 - DISC, OUTER |
| 707-88-26190 - BRACKET P60 | 79407473 - SLIDING WIND | 419-07-13100 - HEATER |
| 19M-06-28450 - WIRING HARNE | 702-21-07640 - SOLENOID VAL | 20Y-06-31980 - WIRE.HARNESS |
| 705-18-03850 - CARRIER | 17A-54-46432 - BRACKET | 17M-54-52340 - BRACKET |
| 6127-21-3160 - GROMMET | 3055423R93 - NOZZLE HOLD. | 195-43-43260 - SPRING |
| 419-963-AD70 - BRACKET,RELA | 75574 - WEAR-PL | 6732-21-5720 - GUIDE |
| 421-06-A1581 - WIRING HARNE | 20Y-27-21170 - GEAR | 327134R91 - SEAL |
| 5053784 - PISTON | 421-06-12152 - WIRING HARNE | 51251398 - HOSE |
| 22P-973-1220 - TUBE | 201-973-7150 - HOSE | 8240-70-2222 - PLATE |
| 235-60-34430 - JOINT | 421-62-45640 - HOSE | 6261-11-2490 - BRACKET |
| 423-62-41570 - HOSE | 9411104 - ELBOW | 6212-62-8520 - TUBE |
| 22L-54-22561 - SHEET | 207-62-41270 - HOSE | 37289399 - UNION |
| 23B-40-32400 - VALVE | 56D-06-15151 - COVER | 5232596 - ROTATOR G171 |
| 707-56-50740 - DUST SEAL | 707-36-12460 - PISTON | 234-60-32380 - JOINT |
| 42C-54-13431 - COVER | 281-15-13490 - BUSHING | 707-71-35180 - COLLAR |
| 6209-51-5150 - ADAPTER | 56B-15-18172 - TUBE | 58B-04-00200 - PLATE |
| 6219-71-4760 - HOSE | 6742-01-5185 - TUBE,WATR IN | 425-03-43490 - HOSE |
| 179583H1 - PIN | 90936740 - COVER | 3946056S - SERVICE PT |
| 419-43-11141 - LEVER | 6162-25-4251 - SEAL | 206-06-K1170 - WIRING HARNE |
| 201-60-71700 - MOTOR ASS'Y | 6150-71-5141 - PIPE | 423-62-43140 - PLATE |
| 883330C2 - SHIM | 5036179R - ROTATOR AV1 | 44083740 - SCRAPER |
| 22P-54-22351 - SHEET | 21M-27-00110 - SPACER ASS'Y | 9960635 - BUSHING |
| 2A5-46-15190 - SHEET | 22B-70-23660 - BUSHING | 6252-71-4140 - BRACKET |
| 426-60-31870 - SOLENOID | 421-62-25120 - TUBE | 206-06-35731 - BRACKET |
| 20T-978-8280 - PULLEY | 423-62-33611 - TUBE | 799-609-2600 - KIT |
| 6215-61-1150 - BODY | 206-979-K121 - EVAPORATOR | 195-06-75121 - HARNESS, WIR |
| 419-971-3110 - GUARD | 22U-54-42770 - SHEET | 58B-MH-AK010 - W/M MOUNT KI |
| 17M-15-05110 - SERVICE KIT | 707-86-67970 - TUBE | 20Y-06-58221 - WIRING HARNE |
| 395-70-13980 - PLATE | 5075258 - MEASURING-TA | 21N-43-37271 - LEVER |
| 20Y-54-71661 - SHEET | 417-W22-1120 - FLANGE | 56B-15-15870 - COVER |
| 32463440 - VALVE | 20U-62-43231 - HOSE | 709-82-12200 - VALVE,LOADER |
| 207-30-75320 - SHAFT | 6131-11-1290 - NUT | 561-43-83380 - TUBE |
| 417-06-13412 - BRKT LH COVE | 22P-54-11611 - COVER | 195-50-41290 - PLATE |
| 5204132 - BLOCK | 714-07-18631 - SCREW | 175-03-32117 - TUBE |
| 198-54-74671 - COVER | 20G-06-K2190 - BRACKET | 3A1-62-14121 - HOSE |
| 22888KF - BOLT - .5" X | 6215-51-1500 - OIL PUMP ASM | 423-56-H3B00 - SUN VISOR |
| 97219340 - HYDR. CYLIND | 66381 - LATCH, | 17135R1 - PIN |
| 23A-60-42460 - HOSE | 23B-02-34240 - TUBE | 428-15-12730 - PISTON |
| 56B-93-15230 - PLATE | 209-62-41531 - BRACKET | 426-93-A2511 - DECAL,FRONT |
| 195-98-26760 - MARK | 6732-21-3220 - SEAL,REC RIN | 36828840 - NIPPLE |
| 22M-62-17340 - HOSE ASSY. | 5216853 - PIN | 6210-21-8751 - BREATHER |
| 36650840 - GASKET | 362-06-11140 - GAUGE | 17A-61-21521 - HOSE |
| 79848873 - SEAL KIT | 42C-S95-3290 - JOINT P60 | 21P-60-K3780 - RING |
| 195-54-43241 - GRIP | 419-N24-H660 - SWITCH,PRESS | 6218-71-5611 - TUBE |
| 42N-20-11120 - UNIVERSAL JO | 6154-17-AF20T1 - ENGINE ASS'Y | 42N-46-14590 - HOSE |
| 235-06-13370 - SWITCH | 6215-21-7230 - PLATE | 22P-32-11170 - BUSHING |
| 5218287 - ANTENNA | 271264 - NUT | 569-20-71000 - PROPELLER SH |
| 42U-40-22000 - STEERING VAL | 22B-54-34650 - SEAL | 22B-70-22570 - PLATE |
| 566-89-8G121 - SHEET | 6732-81-6710 - BOLT | 207-62-A3510 - HOSE |
| 58E-57-10010 - SEAT,OPERATO | 423-54-A2780 - SEAT | 5237032 - POTNETOMETER |
| 203-32-00311 - TRK LINK ASY | 6261-71-7261 - PLATE P6 | 707-44-11180 - PISTON RING |
| 195-06-54481 - WIRING HARNE | 569-44-61114 - WIRING HARNE | 836659566 - VALVE |
| 207-26-11490 - COLLAR | 671011C2 - GASKET | 21T-979-6280 - HOSE |
| 417-03-21160 - PLATE | 6751-21-5420 - CONNECTOR-OI | 233-32-00033 - CYLINDER |
| 90459A - ELBOW | 208-62-72740 - HOSE | 711-60-16940 - TUBE |
| 42C-60-15320 - HOLDER | 6212-11-4420 - HOSE | 23B-16-11260 - FLANGE |
| 20Y-46-42252 - SEAL | 56B-22-30000 - REAR AXLE AS | 600-311-9121 - FUEL FILTER |
| 17A-54-22140 - COVER | 6136-21-3631 - COVER | 8248-75-2971 - ROLLER |
| 195-15-49530 - RING | 707-40-50050 - RETAINER | 421-54-24410 - STEP |
| 21K-54-74290 - FRAME | 51021098 - Thread pin | 6735-11-4110 - COVER |
| 56D-22-11202 - PINION ASSY | 5007733 - WASHER | 195-40-11180 - PISTON |
| 22U-62-23970 - HOSE | 195-30-01491 - TRACK ROLLER | 711-04-12660 - PLATE SPACER |
| 64742640 - BUSH | 6141-21-5812 - GASKET | 417-925-5220 - DOOR |
| 20Y-54-26510 - COVER | 714-07-29340 - BEARING | 5075130 - HYDRAULIC HO |
| 708-2H-21630 - COVER | 5034999 - SEAL | 22U-53-31440 - FLOOR |
| 94134240 - TOOTH | 22B-54-27341 - LOCK ASS'Y | 76716073 - SEAL KIT |
| 418-22-27220 - SHAFT | 5079489 - ELECTRIC CAB | 175-43-41451 - BRACKET |
| 922319C1 - SEAL& PLATE | 21W-26-00102 - MACHINERY | 418-54-43490 - SHEET |
| 21K-06-72611 - WIRING HARNE | 58C-00-00160 - SUPPORT K,RH | 707-52-11610 - BUSHING |
| 232-801-3450 - CABLE | 23B-809-9160 - TUBE | 21K-03-71561 - SHEET |
| 569-50-11230 - U-PACKING | 234-27-31290 - SPACER | 561-85-62121 - WIRING HARNE |
| 840220111 - PUMP ASSY(AS | 425-07-31360 - LOCK | 22B-26-11230 - FILLER |
| 425-62-41510 - BRACKET | 203-62-61351 - HOSE | 22M-54-31304 - COVER ASS'Y |
| 42C-40-12210 - KNOB | 21T-06-31650 - COVER | 707-39-90050 - RING |
| 42U-56-H0P13 - PLUG | 76871573 - NOZZLE | 23B-809-7114 - BRACKET |
| 42T-56-H0P37 - SCREW | 58D-04-00220 - HOSE,E06-D06 | 6217-61-6630 - CONNECTOR |
| 21905 - O-RING, PRES | 207-03-71441 - SEAL | 21U-43-32371 - BOOT |
| 617330016 - CLIP | 424-54-31361 - SPRING, GAS | 209-54-77461 - FRAME |
| 566-13-86602 - VALVE ASS'Y | 206-03-72181 - SHROUD | 21T-38-31421 - BRACKET |
| 21T-43-67161 - COVER | 561-95-83730 - SWITCH ASS'Y | 6262-51-8120 - SPACER |
| 6212-15-3701 - NOZZLE | 5074067 - HOOD | 22M-06-24112 - WIRING HARNE |
| 209-26-71341 - BEARING | 419-02-61430 - HOSE | 8296-70-1421 - LINER |
| 6215-51-5890 - JOINT | 208-03-77240 - BRACKET | 175-03-41530 - PULLEY |
| 56B-54-28791 - PLATE | 5065887 - O-RING | 58F-EP-AK140 - PWR MOD REPA |
| 723-15-13500 - CONTROL VALV | 714-11-15391 - VALVE | 423-03-H2170 - TUBE |
| 2A5-54-11851 - COVER | 421-U12-3240 - BOLT | 22U-62-42560 - HOSE |
| 423-22-21240 - WASHER | 42N-70-11360 - SHOE-OUTRIGG | 236-46-13460 - PIN |
| 562-13-56710 - COVER | 22U-54-35520 - NET | 22K-46-21430 - SEAL |
| 58B-00-00840 - BOOT,WIRE | 17A-30-00620 - TRACK ROLLER | 23B-43-32611 - TUBE |
| 58F-60-41670 - CHANNEL A. | 3F3065058 - UNION | 201-03-71810 - TANK |
| 6731-31-2150 - PISTON KIT | 205-931-6140 - BOLT | 427-15-15003 - VALVE ASSEMB |
| 208-54-41552 - FRAME | 616200C1 - NUT | 58F-EP-AK040 - BRK ACC CONV |
| 6261-81-6580 - COVER | 707-04-07200 - CYLINDER ASS | 56E-50-28330 - VALVE CORE |
| 20Y-43-15192 - LEVER | 561-74-A3740 - SHIM | 209-62-78620 - HOSE |
| 3945140S - SERVICE PT | 707-00-0H830 - SWING CYLIND | 9409955 - PLUG PIP1/16 |
| 6162-25-7790 - GUIDE | 206-26-71240 - BEARING P60 | 940455C2 - WATER HO 1=5 |
| 709-61-11740 - RETAINER | 708-3M-04030 - CASE ASS'Y | 330562R1 - CAPSCREW |
| 6735-61-2130 - SEAL,ORING | 423-960-A040 - SEAT KAB 555 | 427-62-12621 - TUBE |
| 20Y-62-22771 - HOSE | 6162-13-5690 - TUBE | 17A-22-14161 - BUSHING |
| 419-09-H2080 - O-RING | 421-06-23640 - PLATE | 6240-11-9910 - BAND |
| 207-62-62240 - HOSE | 195-32-11137E - LINK | 561-40-61820 - ROD HEAD |
| 21N-62-18690 - TUBE | 195-04-34110 - HOSE | 203-63-65171 - TUBE |
| 790-471-1061 - TUBE | 207-54-76410 - FRAME | 198-30-54170 - COVER |
| 3939404S - SERVICE PT | 21T-04-31190 - CONNECTOR | 20G-60-K4860 - RING |
| 17A-61-21410 - HOSE | 6207-61-8230 - TUBE | 395-56-11730 - GLASS |
| 2A5-53-12710 - LOCK ASS'Y | 206-62-73170 - TUBE | 203-06-56410 - BRACKET |
| 6206-21-4012 - HOUSING ASS' | 561-92-62310 - CYLINDER | 419-15-16370 - PLATE |
| 209-64-16450 - HOSE | 42C-54-14880 - STEP | 21K-03-41460 - HOSE |
| 195-13-13420 - FILTER | 416-62-11110 - BODY | 425-32-15340 - PIN |
| 20Y-60-K1520NK - TANK | 708-3S-15790 - SEAL | 23B-25-71120 - PISTON |
| 20Y-54-73220 - SHEET P60 | 19M-30-16140 - COLLAR | 707-86-22180 - TUBE |
| 421-16-11561 - TUBE | 708-2H-22320 - SHAFT | 6731-71-1230 - XPUMP FUELIN |
| 201-943-7120 - COVER | 209-03-41530 - SHEET | 6252-81-9170 - BRACKET |
| 421-U44-5790 - BRACKET | 561-54-62761 - WEATHER STRI | 421-54-32480 - SEAL |
| 205-60-51190 - ACCUMULATOR | 423-877-3520 - HOSE | 22B-04-21A51 - TUBE |
| 56B-54-18442 - COVER | 209-46-41850 - SHEET | 5083515 - PIN |
| 69242400 - BUSHING | 21P-62-K2180 - ELBOW | 708-2L-22130 - COUPLING |
| 21W-62-99895 - PLUG | 21T-53-33860 - BRACKET | 427-46-12180 - COVER |
| 51777498 - HOSE ASSY | 23B-950-2170 - FILTER | 80649073 - DIPSTICK |
| 6745-11-1190 - CYLINDER HEA | 206-03-31490 - SHEET | 425-03-33651 - BRACKET |
| 425-15-22680 - GEAR | 56B-07-12764 - BRACKET | 209-70-71641 - SHIM |
| 235-22-11880 - SPROCKET | 20Y-977-A720 - TUBING | 22K-54-21590 - BRACKET |
| 799-601-9280A - ADAPTER | 22M-54-24680 - TRIM | 209-63-02381 - XCYLINDER AS |
| 939838C4 - PIN | 708-23-00930 - RELIEF VALVE | 423-03-41230 - OIL COOLER |
| 723-60-23900 - VALVE ASS'Y | 21N-38-00090 - PTO ASS'Y | 516-61-11580 - ELBOW |
| 22F-62-23310 - HOSE | 30198 - YOKE,ROD | 203-62-62322 - HOSE |
| 312606601 - REAR SUPPORT | 56D-30-11201 - RIM ASS'Y | 418-17-54510 - PLATE |
| 20Y-32-02111 - SHOE ASS'Y | 343904R1 - RING | 418-22-47050 - XDIFF ASSY |
| 730846C1 - SPRING | 6110-73-3140 - NUT | 600-816-2420 - SENSOR |
| 6271-G0-0021T3 - ENGINE ASSY | 20Y-03-41681 - OIL COOLER | 425-S05-2210 - PLATE |
| 56B-15-05060 - SERVICE KIT | 567-50-75002 - SUSPENSION A | 6162-53-1280 - BUSHING |
| 700-72-31210 - SPRING | 205-62-71230 - ELBOW | 209-54-63891 - COVER |
| 6710-11-1860 - GROMMET | 20T-01-71250 - TAPE | 50177498 - UNION |
| 37152040 - HOSE | 6212-51-1510 - GEAR | 20Y-06-15930 - TERMINAL |
| 421-07-23980 - SHEET | 64660A - FILTER O | 417-22-31990 - NUT |
| 56D-07-21201 - COMPRESSOR K | 86529M - MUFFLER | 425-Z90-4270 - SHEET |
| 71139373 - CYLINDER | 23B-952-6560 - WIRING HARNE | 707-44-90120 - RING |
| 5246102 - CABLE | 76872073 - SEAL KIT | 8240-54-1631 - BRACKET |
| 21W-98-41770 - PLATE | 4691563 - PIN | 23B-70-31523 - HOLDER |
| 721-11-12660 - XCYLINDER | 22U-54-29550 - SUPPORT | 701-40-51130 - BODY |
| 21T-06-64351 - SWITCH ASS'Y | 723-11-29670 - BOLT | 50990598 - SCREW |
| 51945598 - SEAL RING | 51491398 - O-RING | 37B-942-1300 - AIR CONDITIO |
| 569-86-88610 - DIODE | 42U-23-H0R05 - SHIM | 419-43-37421 - TUBE |
| 707-59-70220 - XROD,PISTON | 22B-54-27561 - BRACKET | 56D-89-32262 - CABLE |
| 6206-51-9221 - JOINT | 23B-06-44393 - PANEL | 42U-09-H1730 - UNION |
| 5080085 - CHAIN | 5027274 - SPRING | 22L-46-R1121 - BUSHING P60 |
| 795-471-1511 - PLATE | 5052120 - SENSOR (REP | 21S-98-32171 - PLATE |
| 5221823 - HYD CYLINDER | 209-72-11172 - PIN | 62054040 - SUCTION PIPE |
| 195-22-71101 - VALVE ASS'Y | 5247663 - LOCK RING | 723-48-24700 - CONTROL VALV |
| 22J-54-15413 - SEAL | 42T-22-21321 - PLATE | 22B-62-33441 - HOSE |
| 723-19-16900 - CONTROL VALV | 42T-57-H0P43 - BALL BEARING | 5050521 - SCREW |
| 20Y-06-23451 - SWITCH | 3F1041627 - HOOD,LH | 56B-54-22521 - COVER |
| 195-54-89940 - SEAL | 723-61-23100 - VALVE ASS'Y | 65571640 - NUT |
| 21N-27-31221 - PIN | 561-93-6A111 - PLATE | 707-G0-01080 - CYLINDER ASS |
| 419-15-17141 - GASKET | 58F-01-00260 - XALTERNATOR | 208-979-7811 - SEAL |
| 20Y-62-53290 - CLAMP | 5071233 - LINK | 6114-41-2210 - GUIDE |
| 17M-15-42140 - SPACER | 421-62-41520 - HOSE | 2A5-03-13211 - FRAME |
| 20K-60-31470 - VALVE,SOLENO | 17M-22-47440 - PIPE | 600-468-1700 - CONTROLLER A |
| 42N-56-11960 - WASHER | 20Y-62-17310 - HOSE | 209-62-79440 - HOSE |
| 20U-54-24661 - PLATE | 22M-62-32131 - HOSE | 707-88-25190 - CLAMP |
| 56B-01-12912 - COVER | 417-06-42740 - CABLE | 419-54-61740 - SHEET |
| 56B-92-12121 - NET | 175-862-5340 - HOSE | 417-22-66130 - HOSE |
| 23B-952-1560 - BRACKET | 6526-81-1080 - TUBE | 206-54-23180 - SHEET |
| 75705873 - FLANGE | 69381900 - SEAL | 21K-62-73730 - HOSE |
| 209-60-76101 - VALVE ASS'Y | 6754-21-5710 - DIPSTICK | 28162 - KEY |
| 426-S33-1880 - VALVE | 561-46-62561 - BRACKET | 569-15-12890 - SEAL RING |
| 208-979-6470 - HOSE | 203-62-52350 - HOSE | 616B-SE-0011 - SHORT BLOCK |
| 561-57-81101 - SEAT ASS'Y | 6217-71-5580 - BRACKET | 21N-54-41751 - SUPPORT |
| 423-43-47341 - LEVER | 701-51-05010 - SERVICE KIT | 5063481 - CAP |
| 21T-54-66370 - CABLE | 209-63-53320 - XROD | 234-70-82230 - COVER |
| 502457988 - CORE ELECTRO | 419-46-12321 - SHIM | 8234-62-1181 - HOSE |
| 561-54-61870 - STAY | 207-53-00020 - DOOR ASS'Y | 20E-30-K1360 - FELT |
| 17A-54-45131 - COVER | 6211-31-1570 - PULLEY | 363-06-36170 - PLATE |
| 58B-80-00040 - RETAINER,PLA | 5046344 - SLEEVE | 198-32-31483 - MASTER SHOE |
| 421-54-43450 - PLATE | 195-03-14421 - CABLE | 796-427-1400 - WRENCH ASS'Y |
| 64714 - PIN,DOWE | 97073840 - COLLAR BUSHI | 6261-21-3880 - SEAL |
| 427-S33-1240 - SENSOR | 21D-64-11330 - GASKET KIT | 90618K - CLAMP |
| 51474598 - HOSE | 930739C1 - SPACER | 561-54-81142 - SHIM |
| 423-46-15111 - PACKING | 45685740 - BOLT | 17A-71-46320 - PLATE |
| 426-16-11760 - TUBE | 6212-61-3721 - BEARING | 416-57-A1420 - SUPPORTSKIT |
| 21W-70-41740 - BUSHING | 600-487-1702 - CONTROLLER A | 51605198 - HOSE |
| 23B-735-3113NK - SUPPORT | 855021111 - O-RING | 836869340 - EEM2 UNIT |